For the next stop on the trip with my parents, we spent two nights at the 131-room Maison Rouge Strasbourg, which belongs to Marriott Autograph Collection.
Strasbourg is a ridiculously cute town that's worth a visit, as I've never been anywhere quite like it, and it has both German and French influences (given its history). Those of us into points are lucky, as Maison Rouge is right in the heart of the city, and is affiliated with Marriott.
There's a lot I liked about this hotel, including the history combined with the charming decor (the hotel dates back all the way to 1387!), the friendly service, the ideal location, and the tasty breakfast. There were also some things I didn't love, though, like the bizarre gym, the fee to use the spa facilities, and the sort of soulless food & beverage outlets.
Let's get into the review…
Booking Maison Rouge Strasbourg
I booked our rooms at Maison Rouge Strasbourg with cash. The rate was roughly €200 per night per room, which seemed reasonable, given how much hotels everywhere else are costing at the moment. I booked our stay through the Marriott Luminous program, which offers free breakfast and room upgrades subject to availability (since technically my Marriott Bonvoy Titanium perks only apply to one room).
As a point of comparison, if redeeming points, the hotel would have cost 46,000 Bonvoy points per night. I value Bonvoy points at 0.7 cents each, meaning an award stay would have cost the equivalent of ~$322. So I paid cash, because I'd rather redeem points for potentially higher value redemptions.
Maison Rouge Strasbourg location & parking
Maison Rouge couldn't have a more central location in Strasbourg, and you can easily explore the entire area by foot. Strasbourg is really pedestrian friendly but not at all car friendly, so don't expect that you'll need a car while here, unless you're looking to explore the region. The property is located on one of the city's main streets.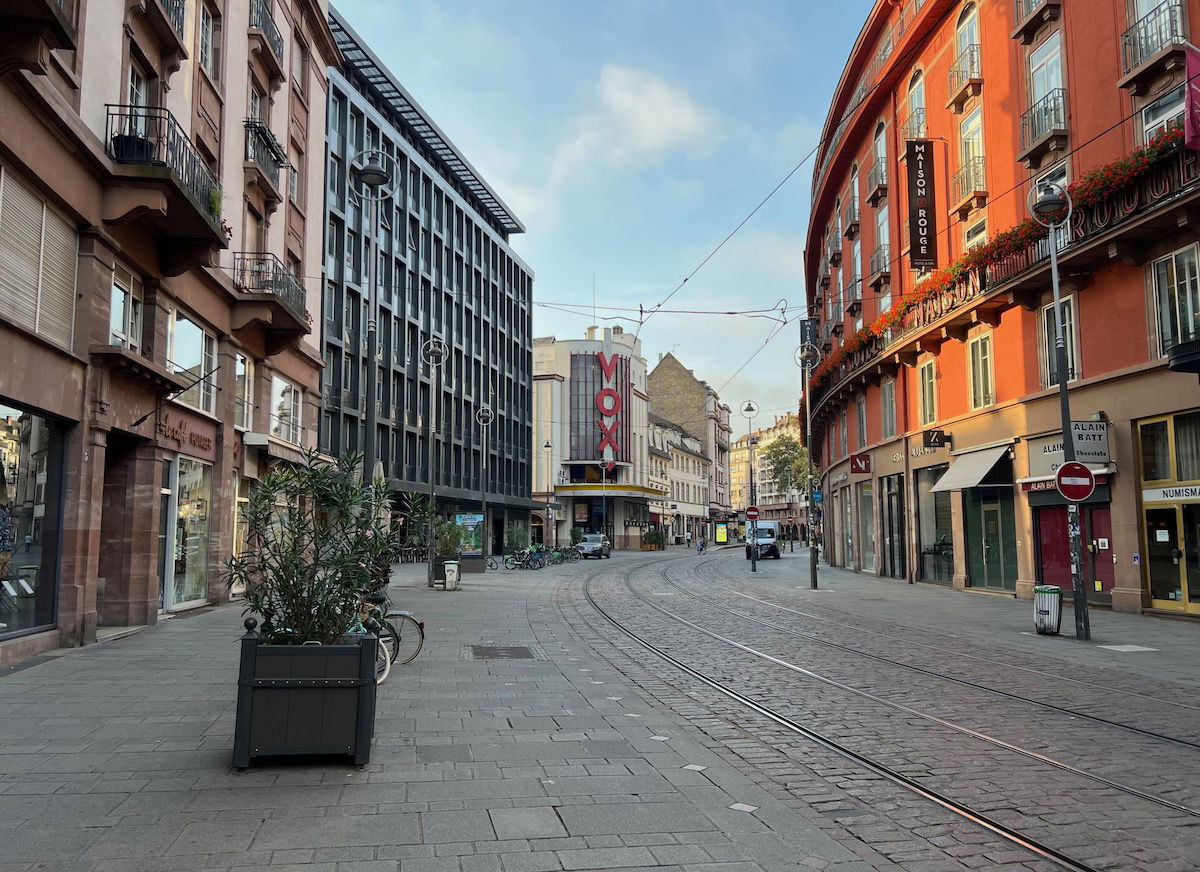 "Maison Rouge" translates from French to English as "red house," so you can guess what color the hotel's exterior is.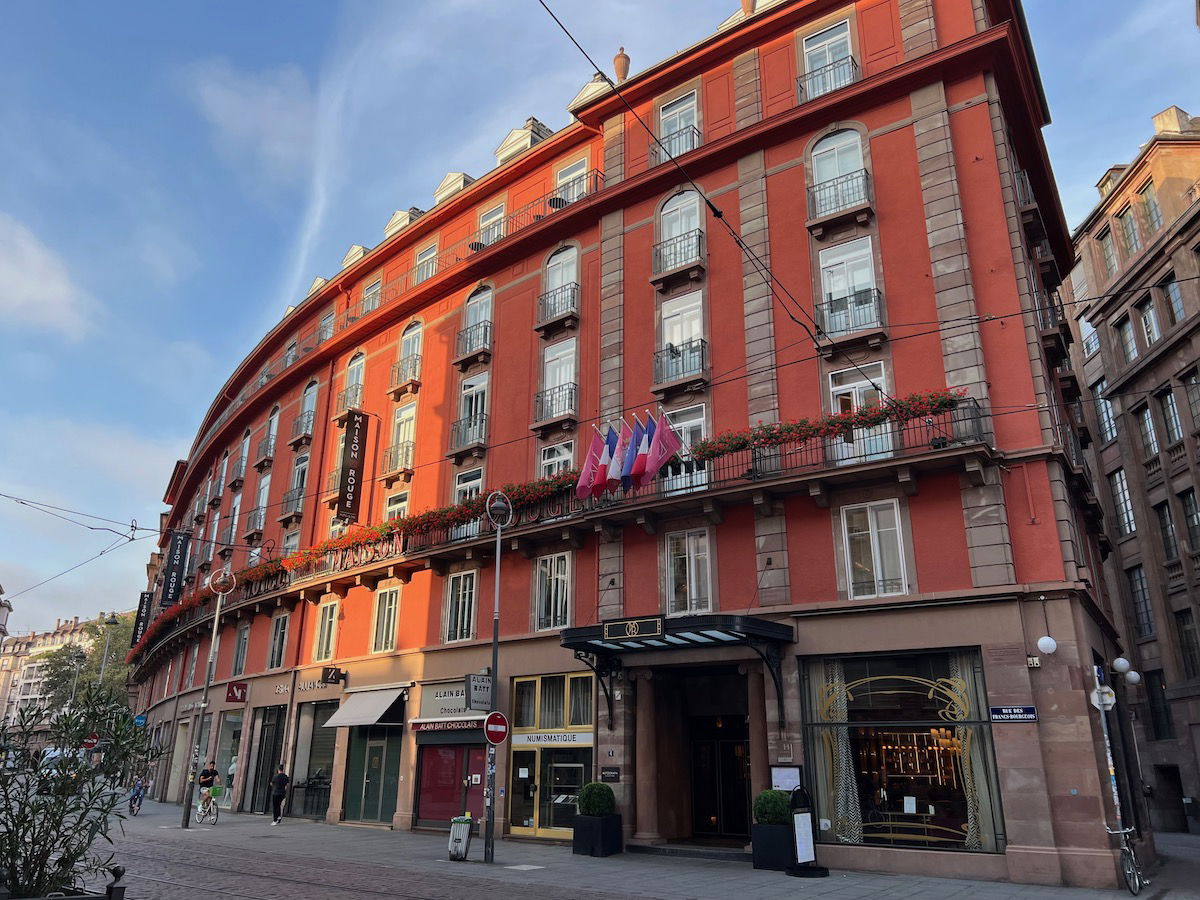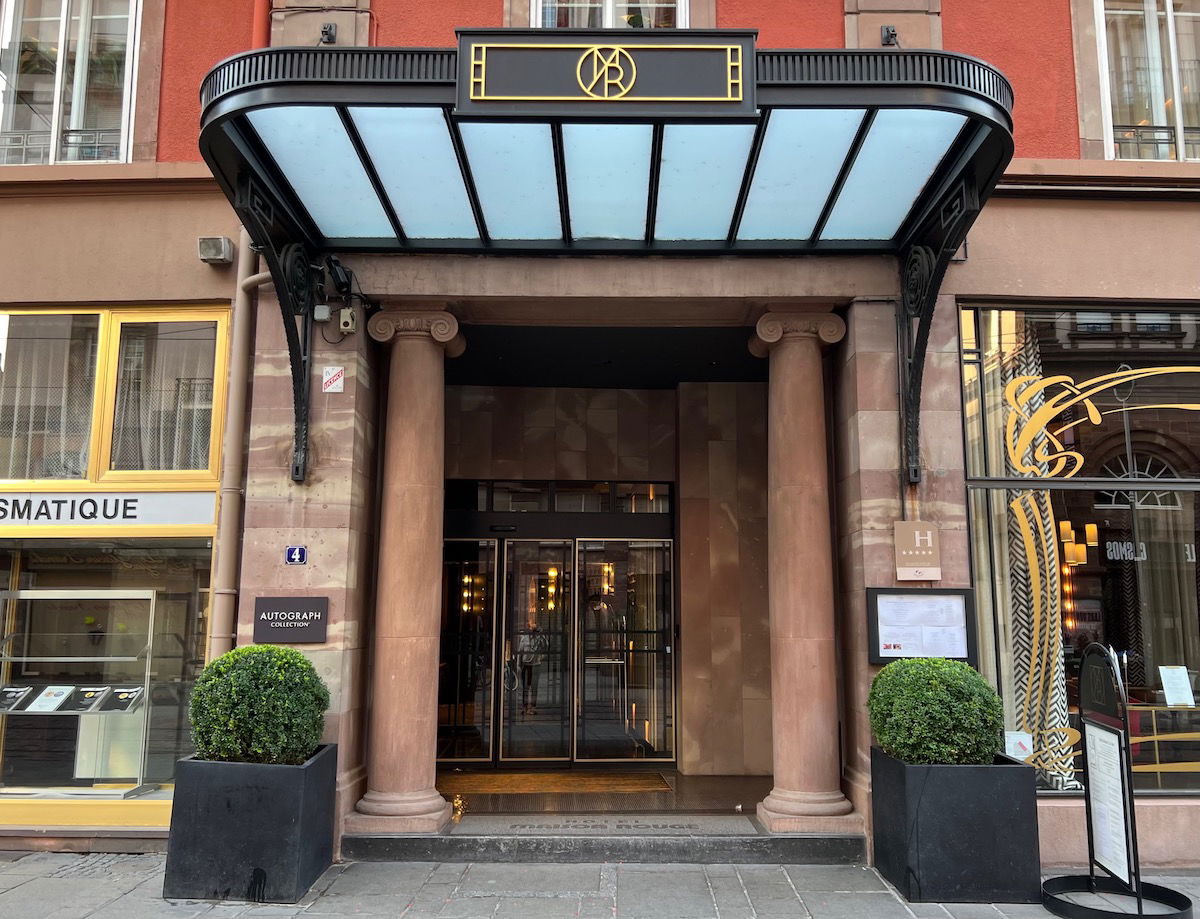 If you're driving to the hotel (as we were, since we made previous stops at the Marriott Heidelberg and Roomers Baden-Baden), note that you'll need to make parking reservations with the hotel in advance. The hotel has very limited parking, since space comes at a premium in Strasbourg. Parking costs €50 per day, which is obviously pricey, but seems fair, given the very limited space.
When you reserve a parking spot, the hotel will send you very detailed instructions about how to drive to the hotel. You'll want to take note of these, because it requires entering a PIN code, and driving down streets that don't seem like they should be open to cars.
In terms of our trip, the drive from Baden-Baden took just 45 minutes, and was quite easy. If you were to fly into Strasbourg Airport (SXB), that's about a 20-minute drive or about a 40-minute train ride from the hotel. Alternatively, if you fly into Frankfurt Airport (FRA), you can expect a journey time of around 2.5 hours either by car or train.
Maison Rouge Strasbourg lobby & check-in
Despite Maison Rouge being a historic hotel that dates back a long time, the property has warn and modern decor. The hotel's lobby is small but well appointed, with two reception desks, access to the staircase and elevator, and a single couch, which is the only place to sit in the lobby. The lobby is connected to Le 1387, the hotel's main restaurant.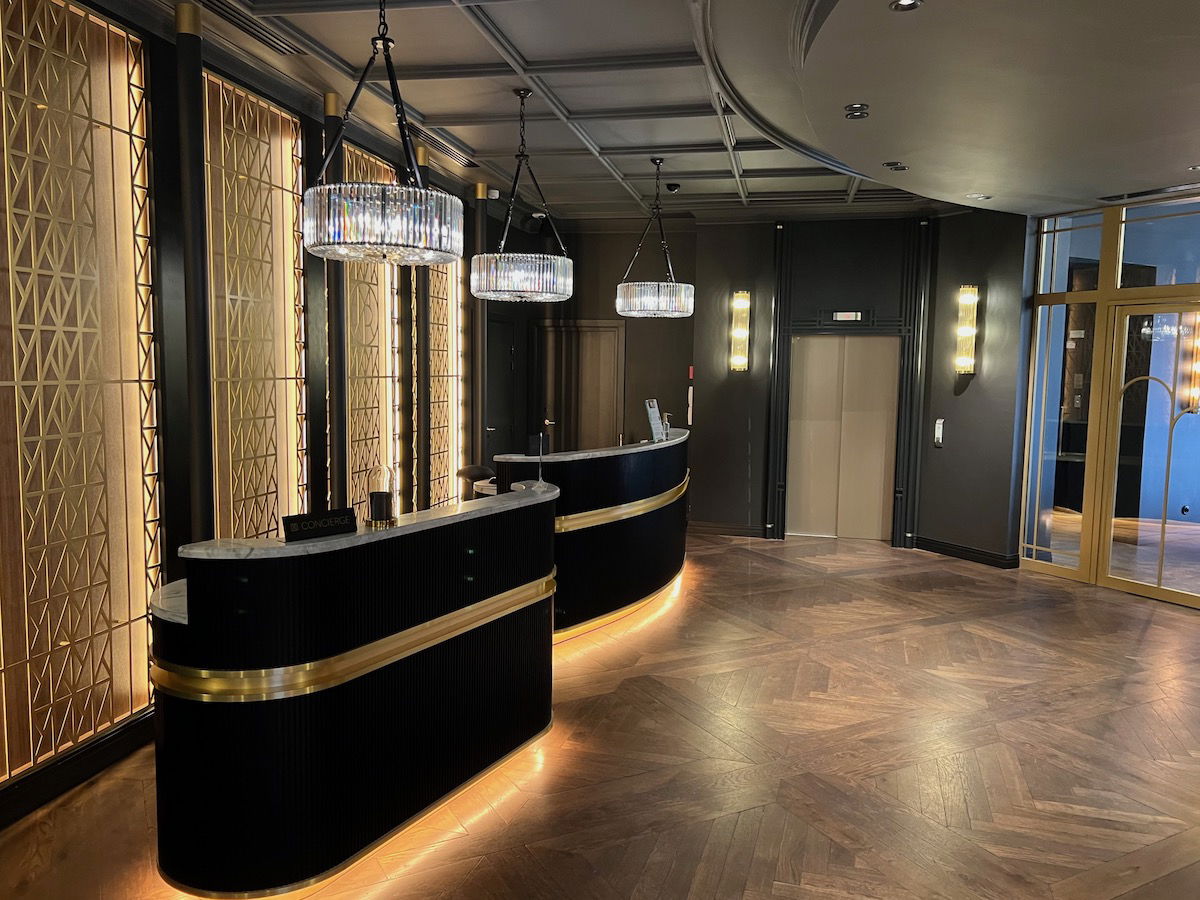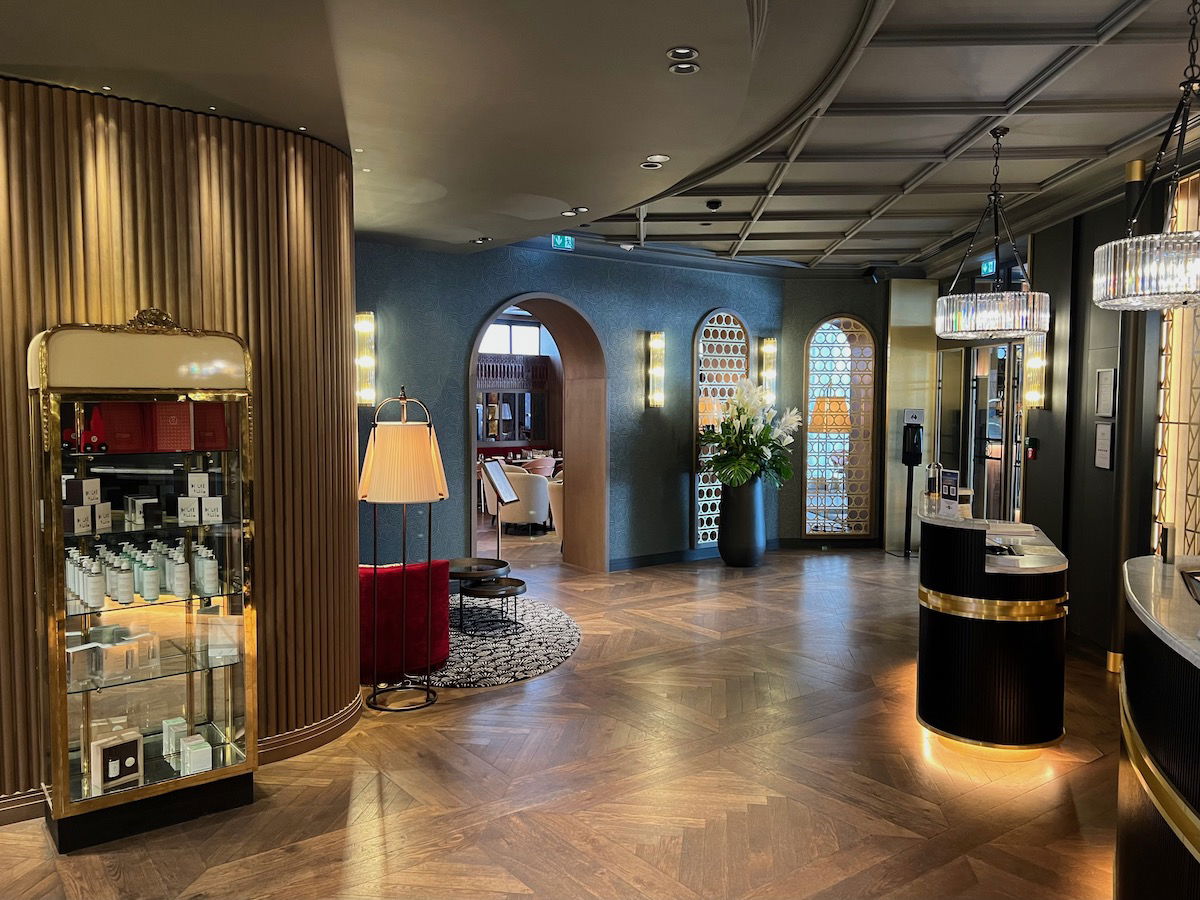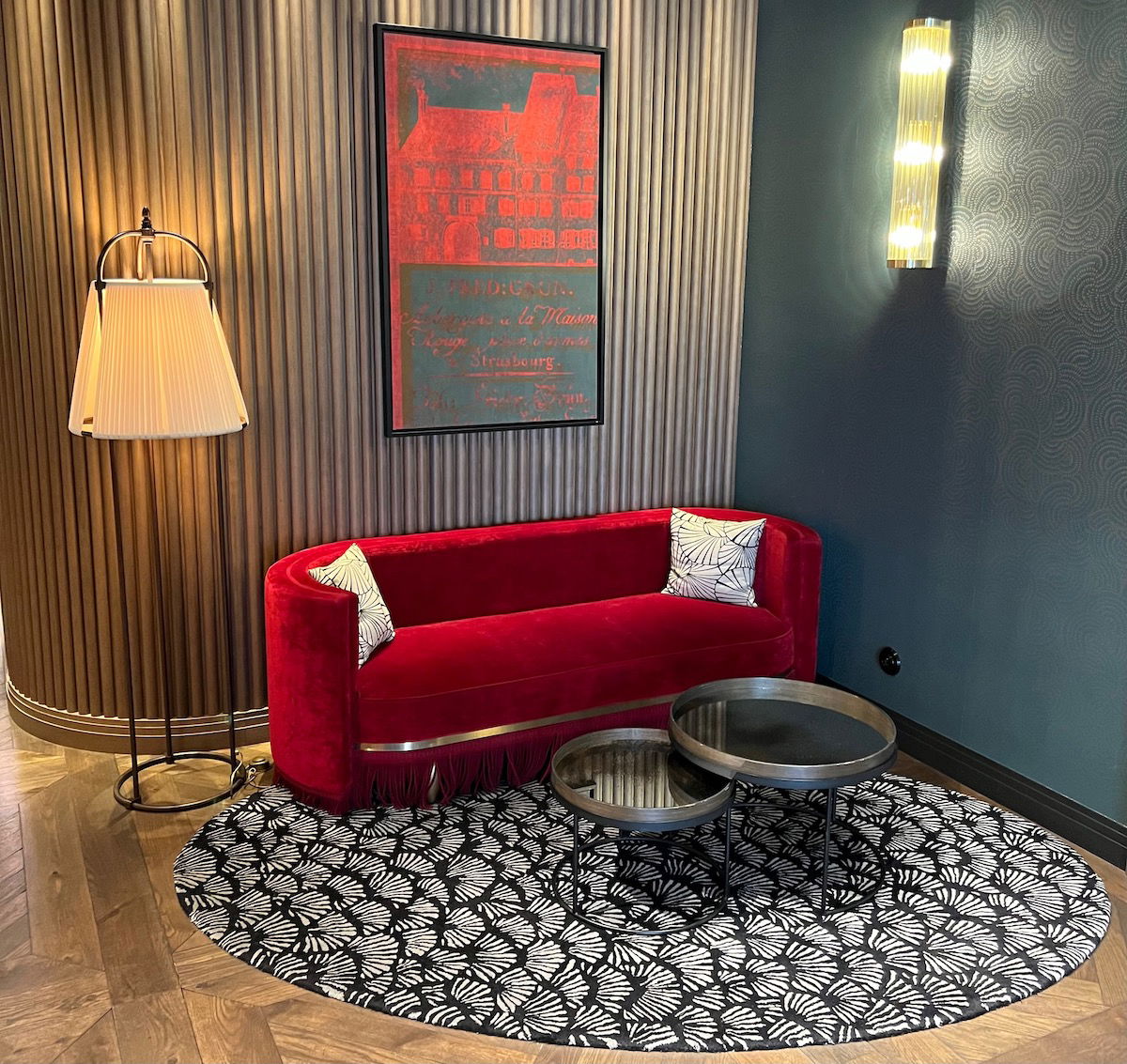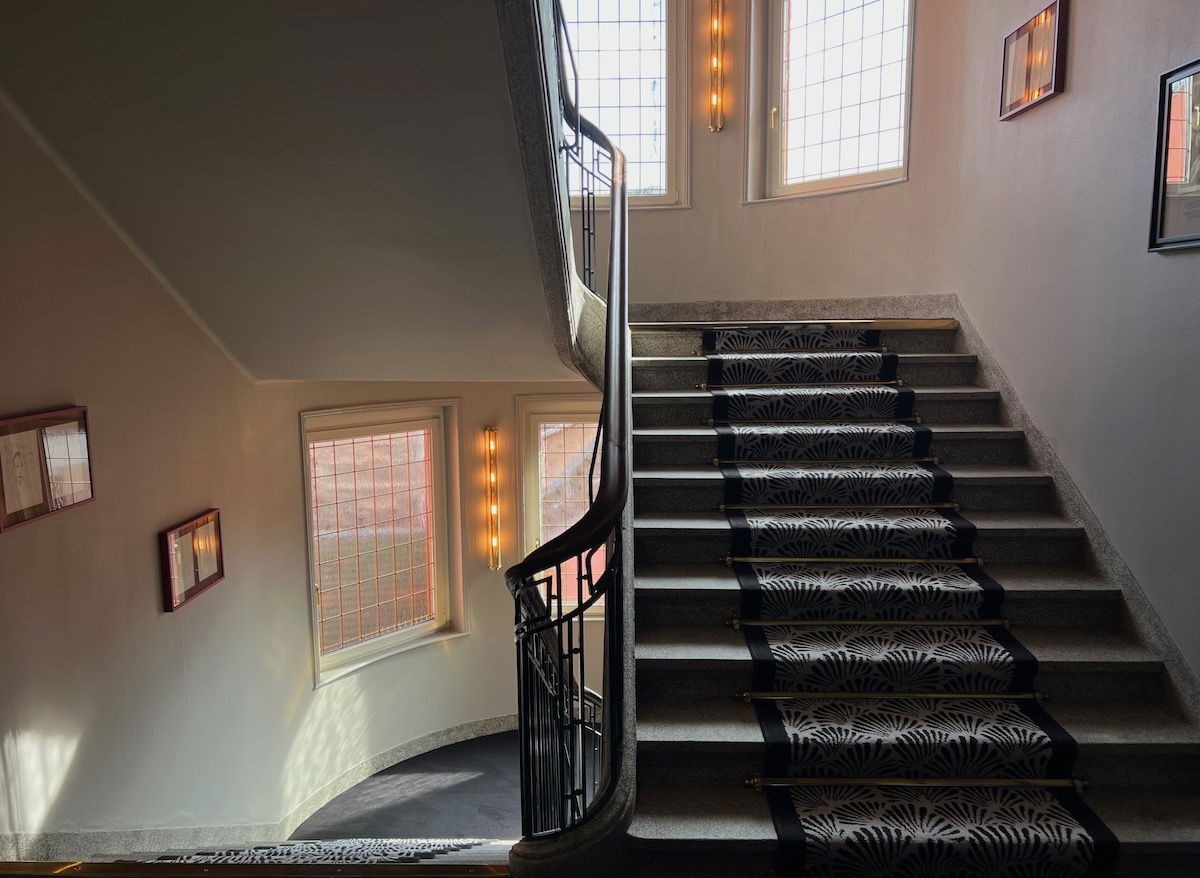 Our check-in process was efficient and friendly. Rooms at the hotel are on the small side, and the hotel has only seven suites, so suite upgrades are rare. However, two of our rooms were upgraded to privilege queen larger guest rooms, while one of our rooms was upgraded to a privilege triple guest room.
With keys in hand, we headed up to the fourth floor, where all of our rooms were located (the hotel has six floors).
Maison Rouge Strasbourg privilege queen larger guest room
The hotel has an unconventional layout, given that it's actually made up of several buildings. Despite that, the design is really cool.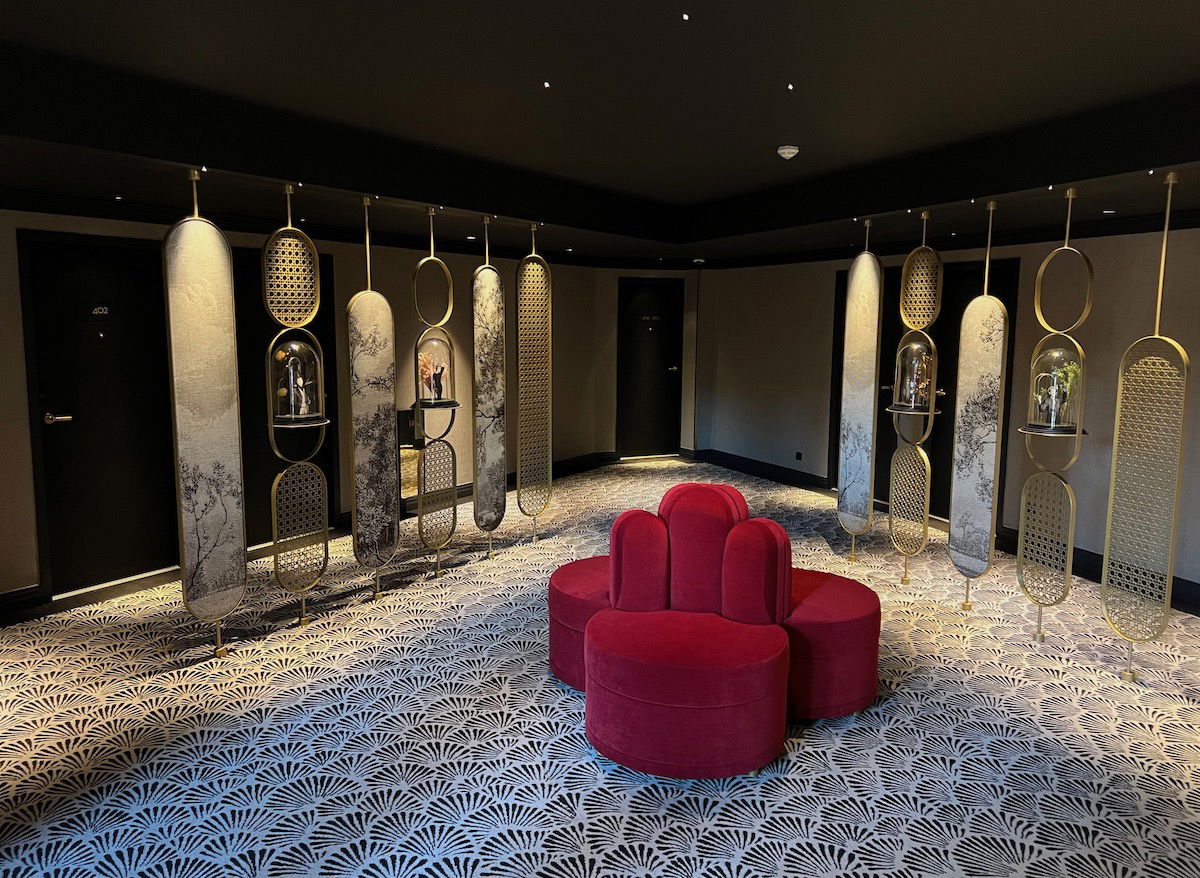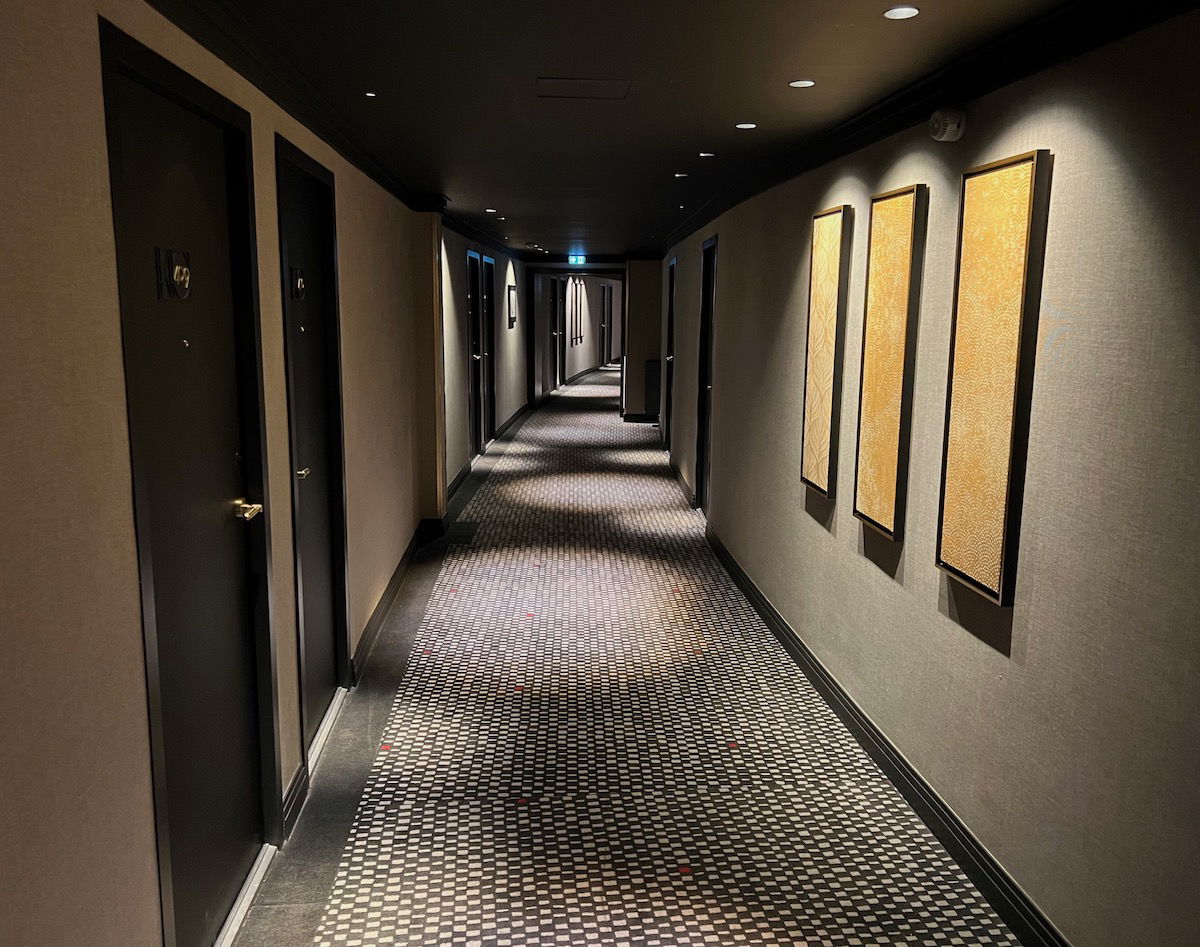 Two of the rooms we were assigned were 404 and 405, which were behind a shared door. Let's first take a look at room 405, a privilege queen larger guest room. These rooms are marketed as being 258 square feet (24 square meters), though I think there's a bit of variance, since the hotel's layout means that not many rooms are the same.
The room felt modern, fresh, and charming. It had an entryway with the bathroom straight ahead, and then the the rest of the room to the left.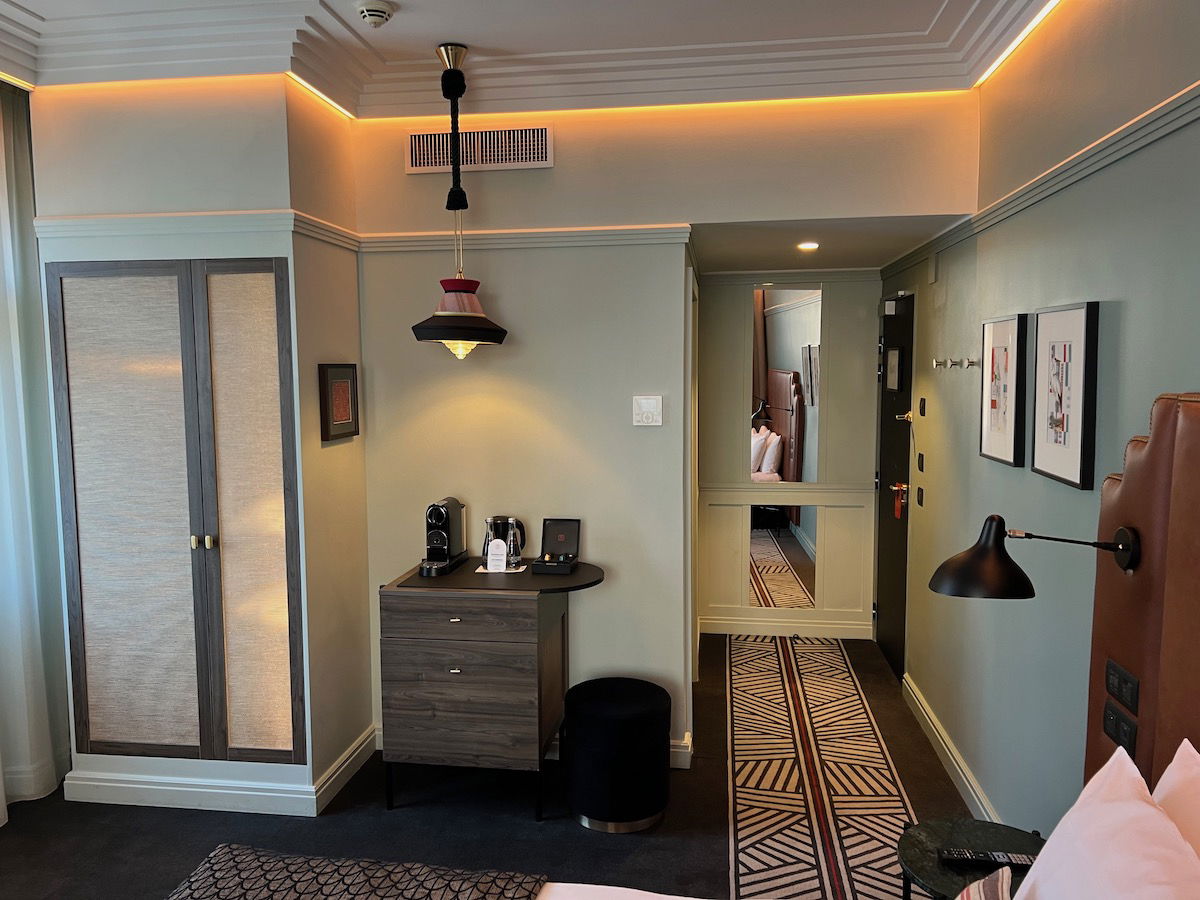 The room had a queen size bed, a desk with a chair, a wall-mounted TV, and a closet in the corner.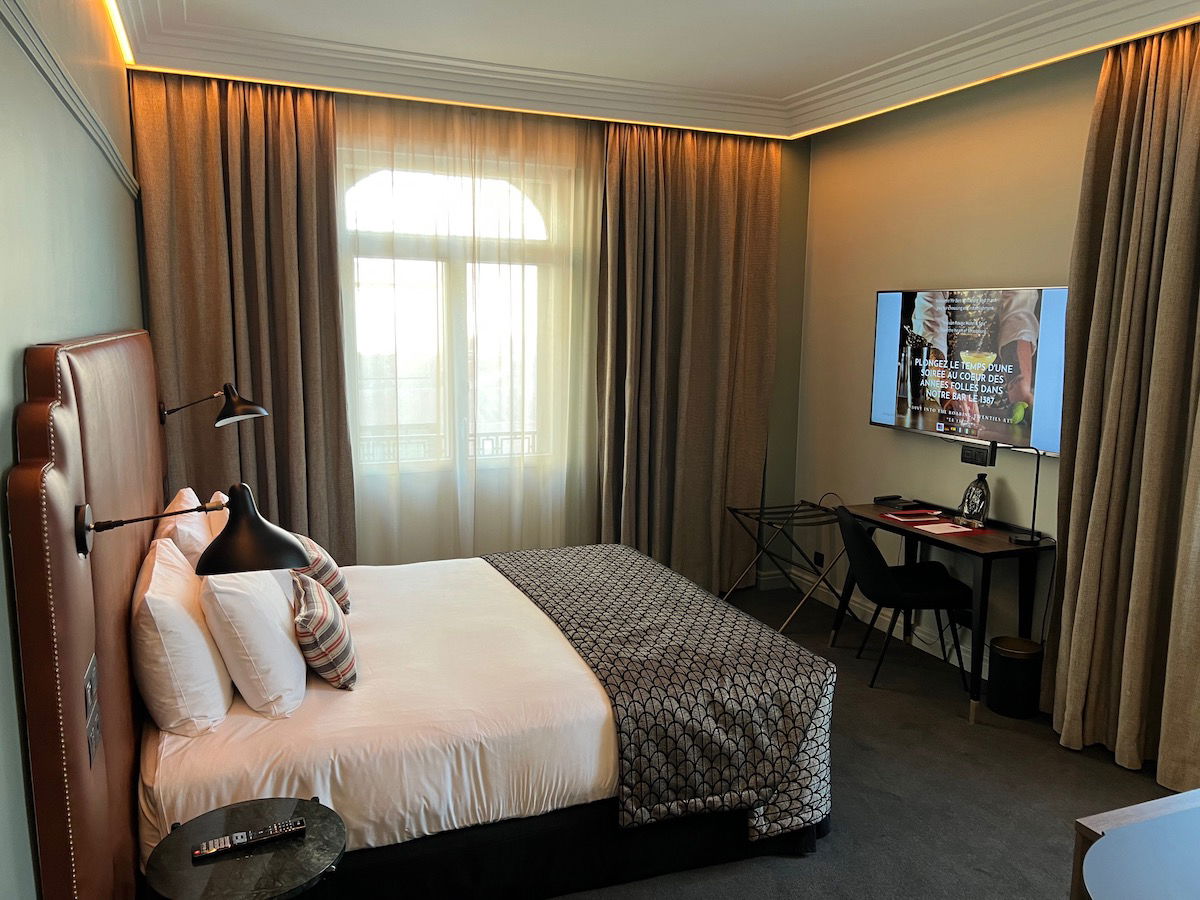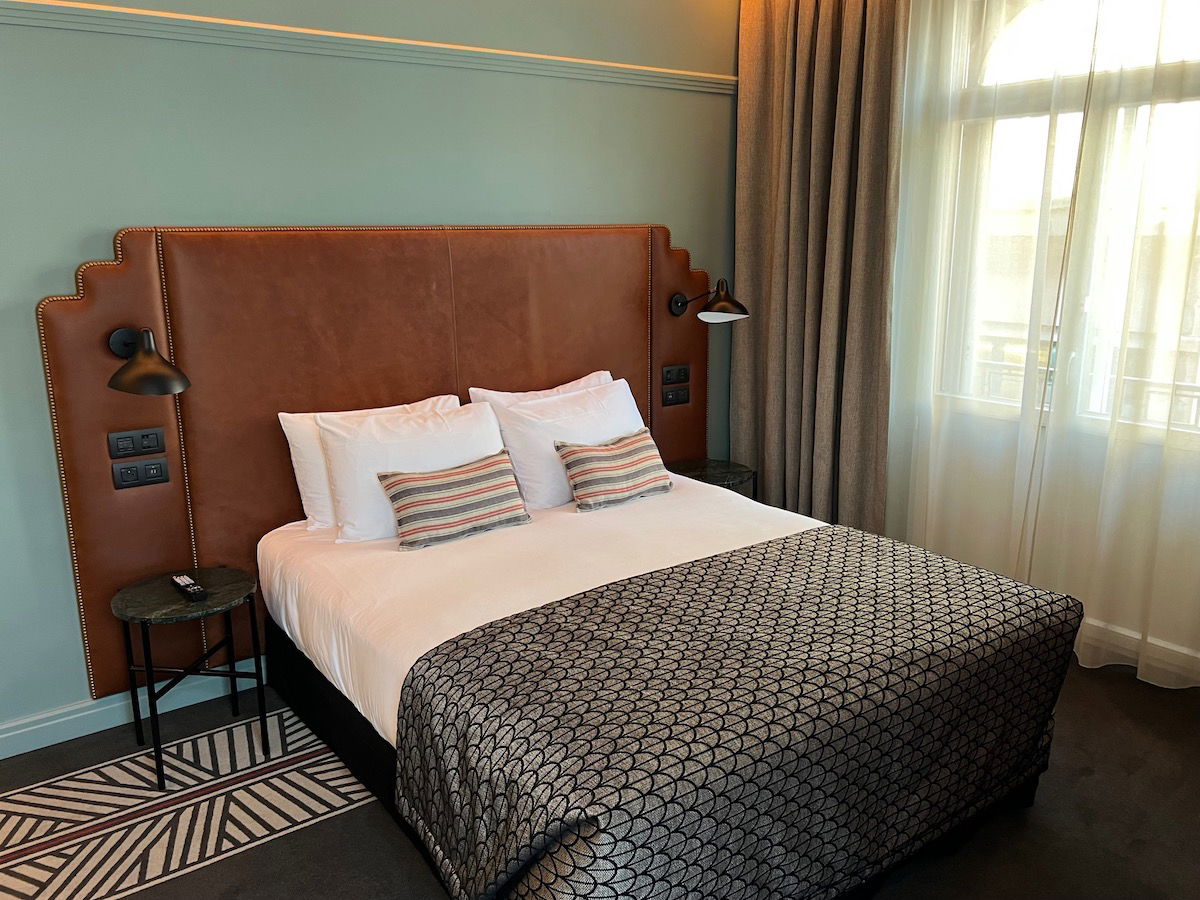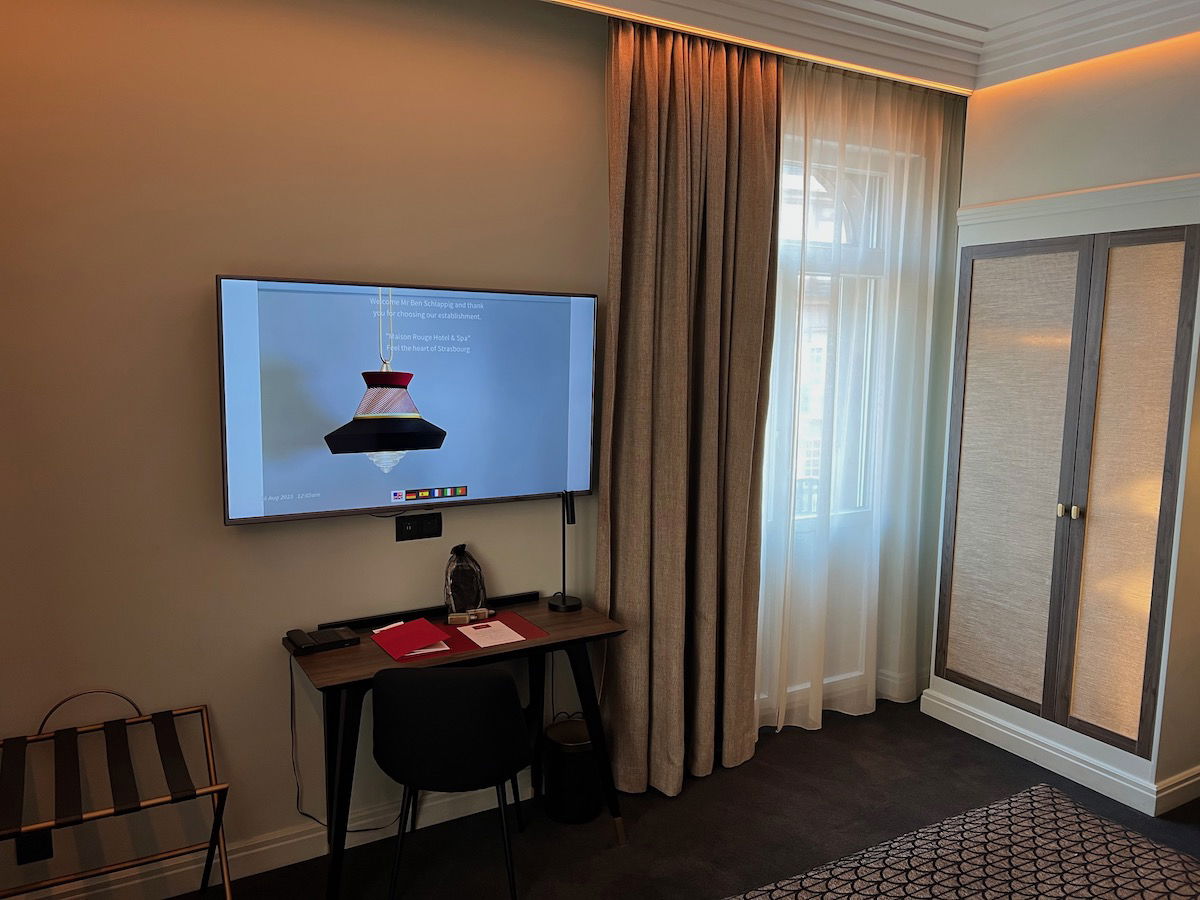 There was a minibar area, featuring a Nespresso machine, a kettle, a couple of complimentary bottles of Evian water, and a minibar with drinks and snacks for purchase.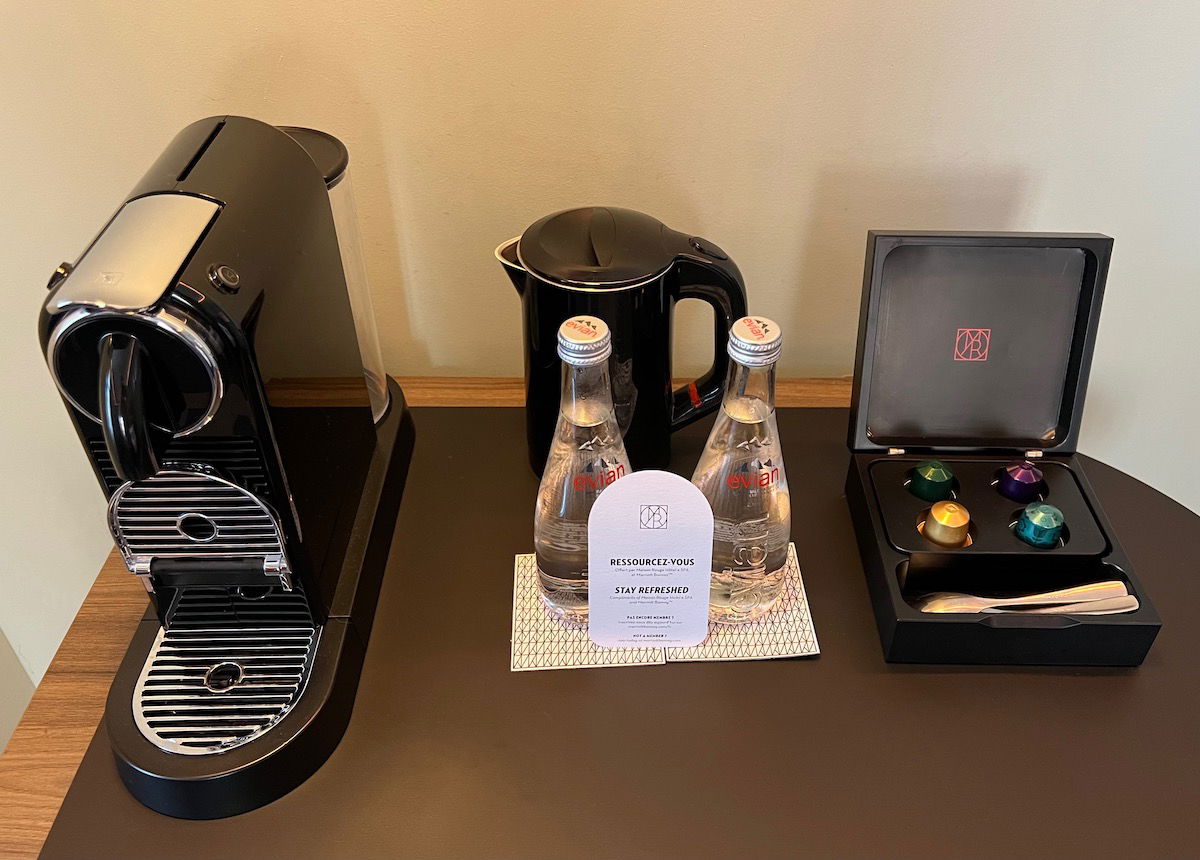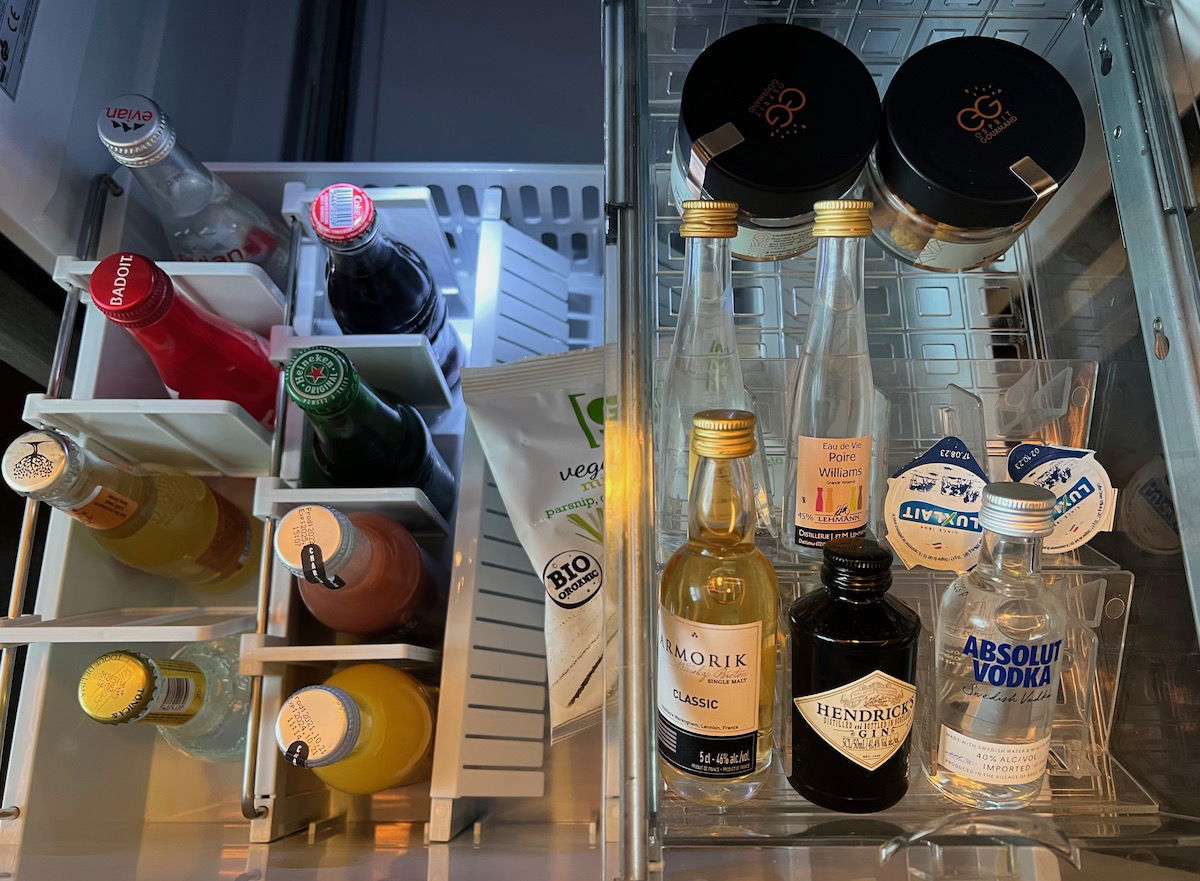 There was also a welcome amenity with some L'Occitane amenities.
The room had a couple of windows, but was on the dark side. That's understandable, given how old the building is, and floor-to-ceiling windows weren't really a thing at the time (never mind that it wouldn't match the aesthetic of the city).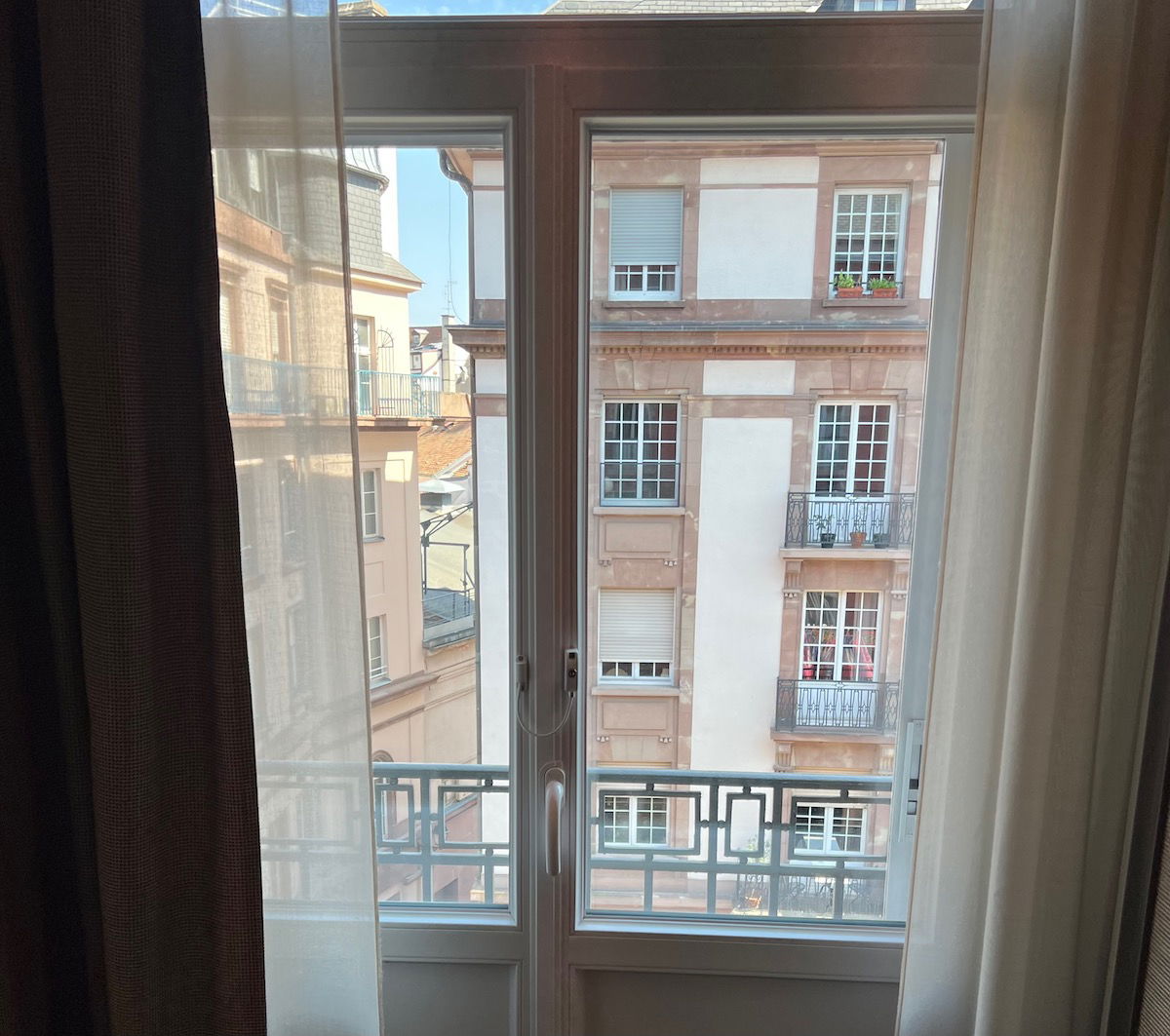 The bathroom was on the small side, and had a sink, a toilet, and a walk-in shower.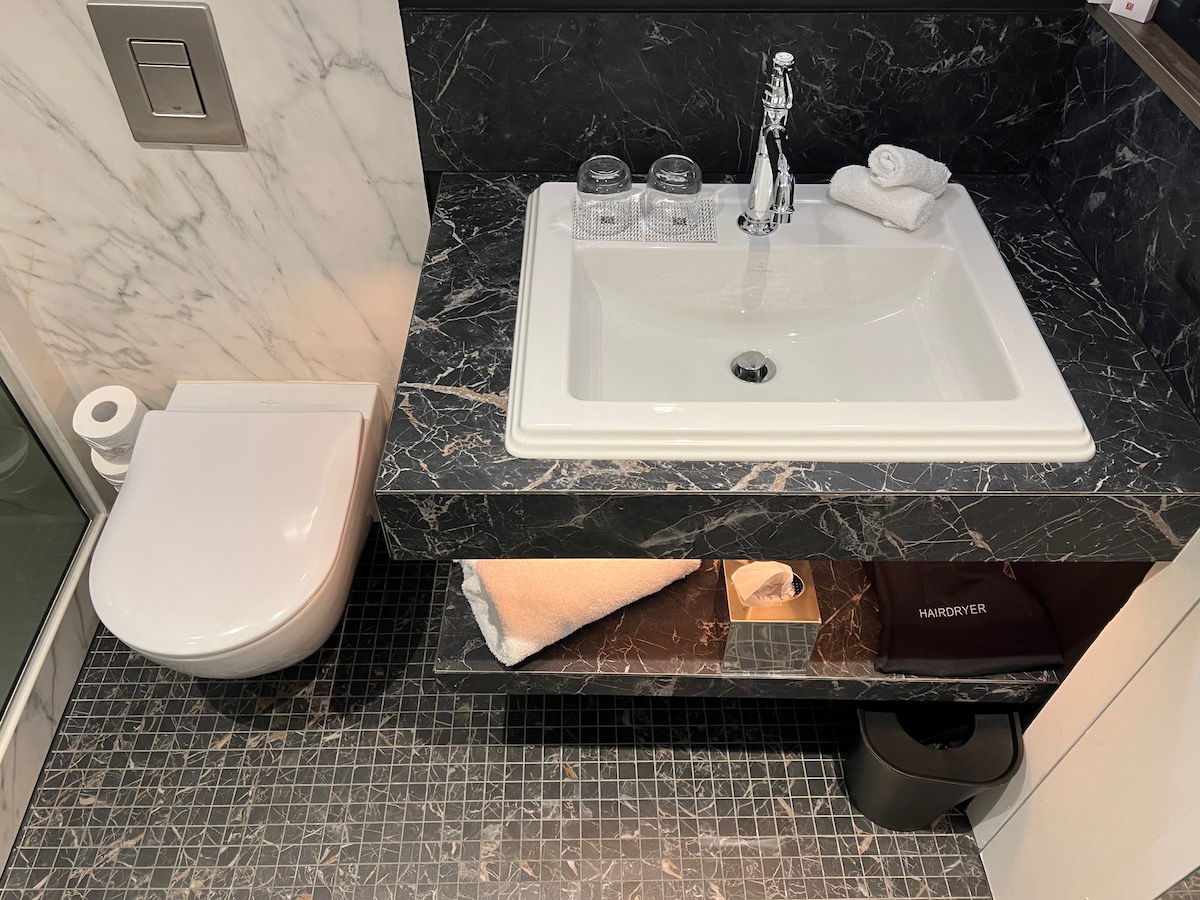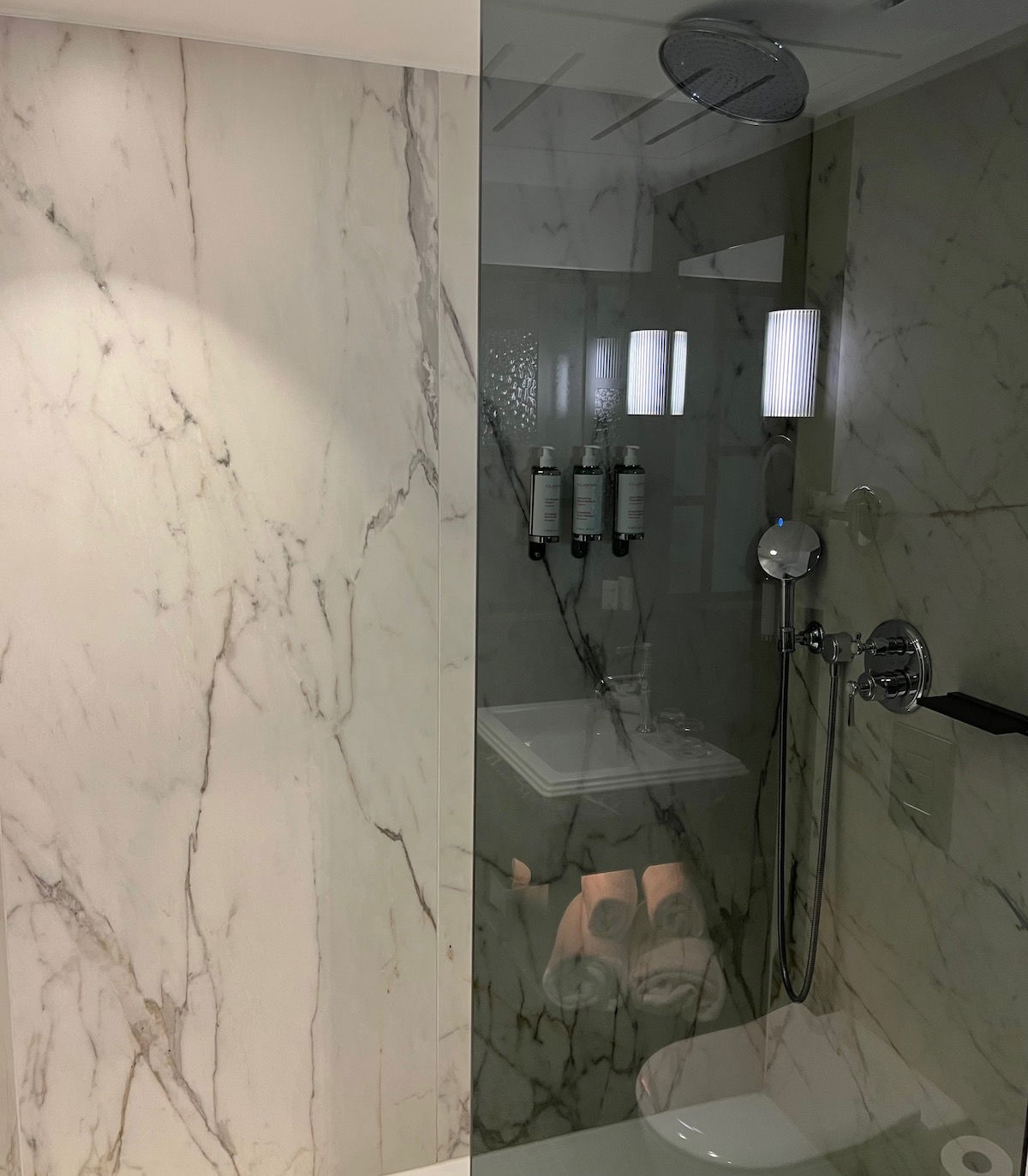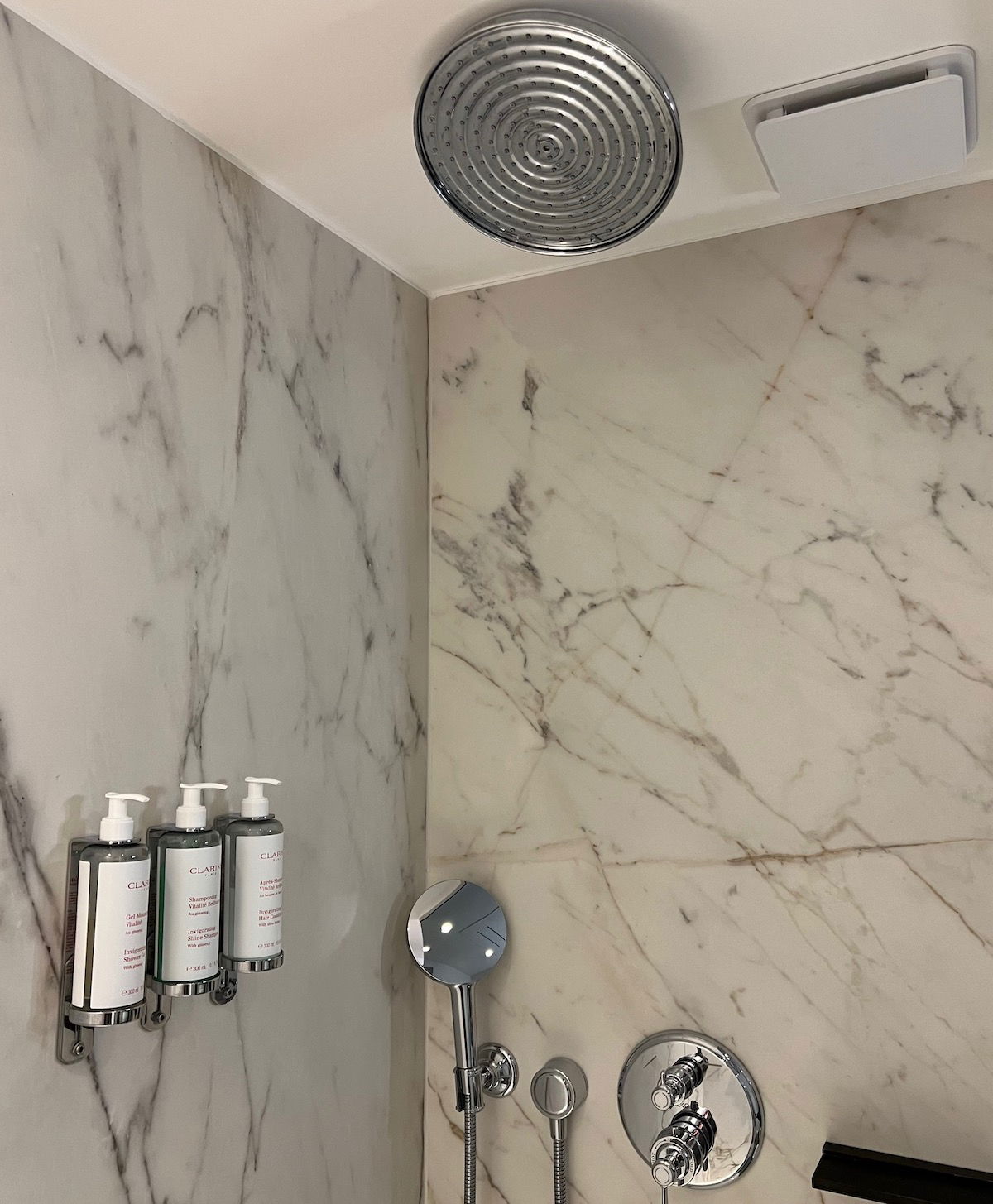 Toiletries were from Clarins, and were in reusable containers.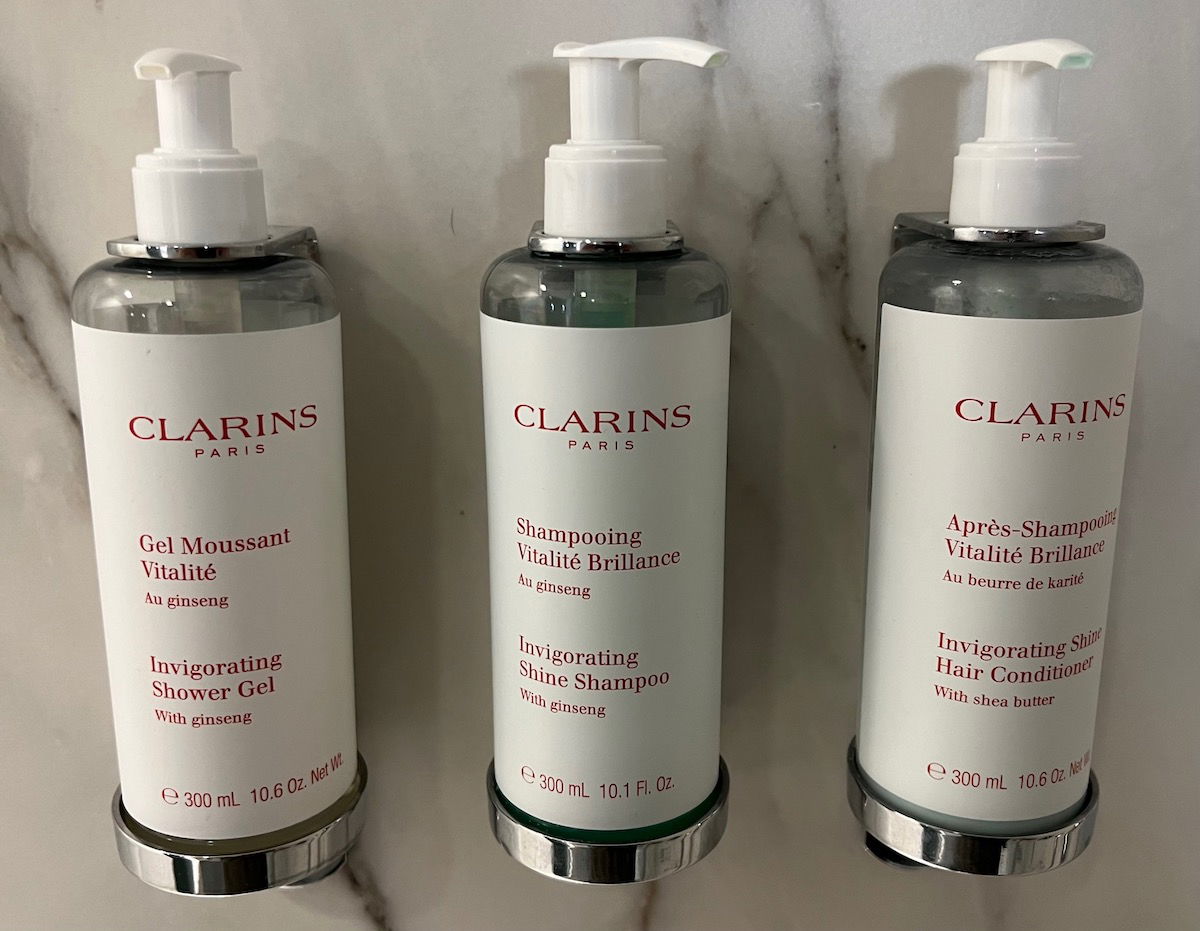 Maison Rouge Strasbourg privilege triple guest room
Now let's take a look at room 404, which was described as a privilege triple guest room with twin beds. At first I was scratching my head about this, as the idea seems to be that the room has two twin beds, and then has a couch that can convert into a third bed. Fortunately (for our purposes) that didn't seem to be the case.
This room is marketed as being 323 square feet (30 square meters), but felt larger to me. It featured a queen size bed, a (very wide) chair that I guess can be converted into a twin bed, two chairs and a coffee table at the foot of the bed, and then a desk at the far end of the room.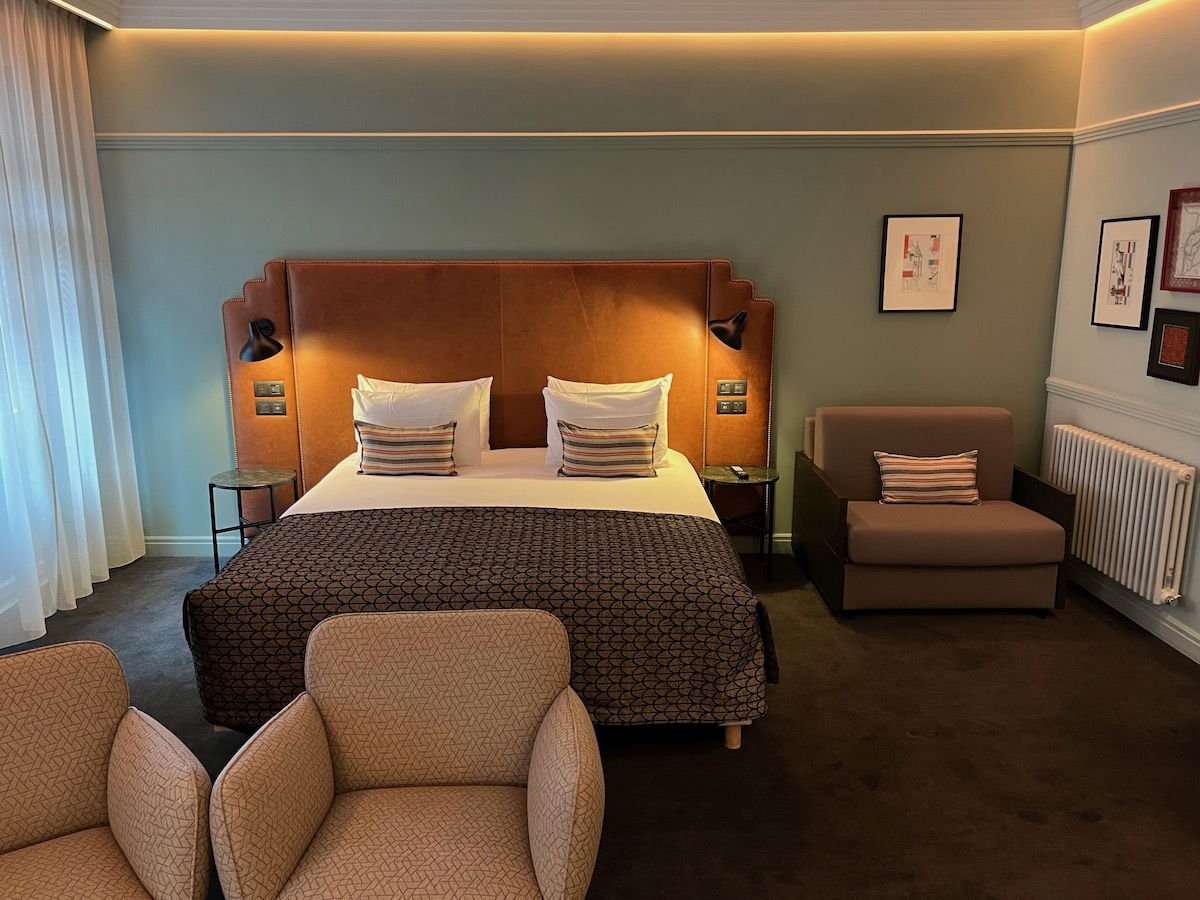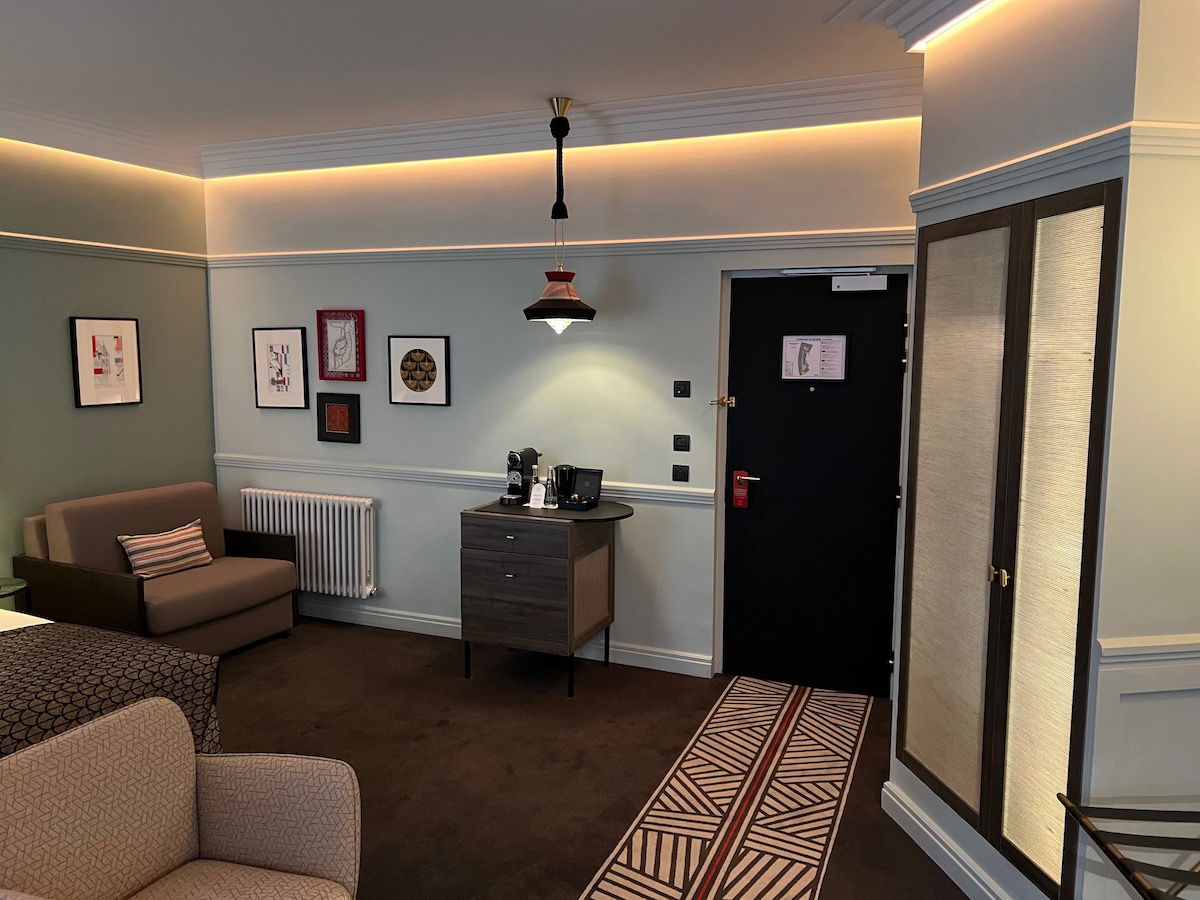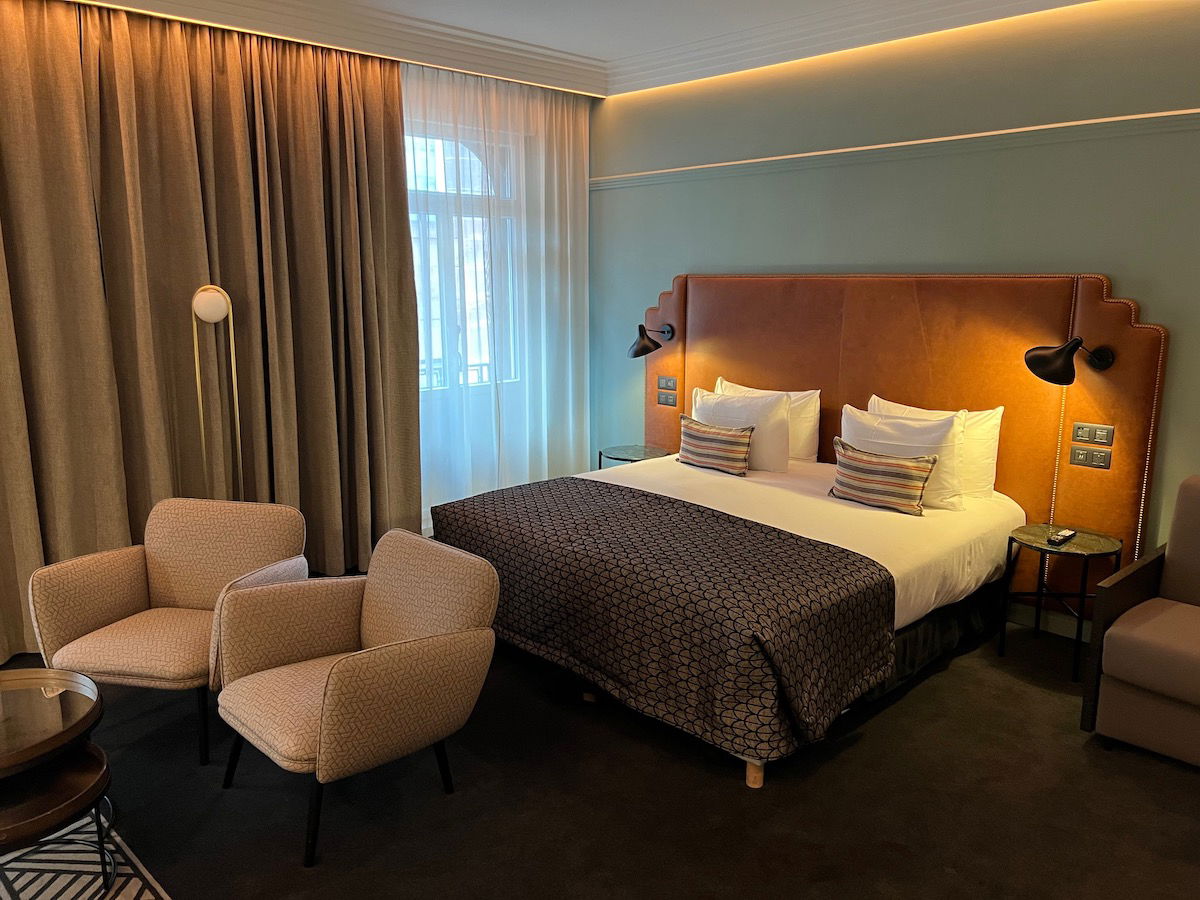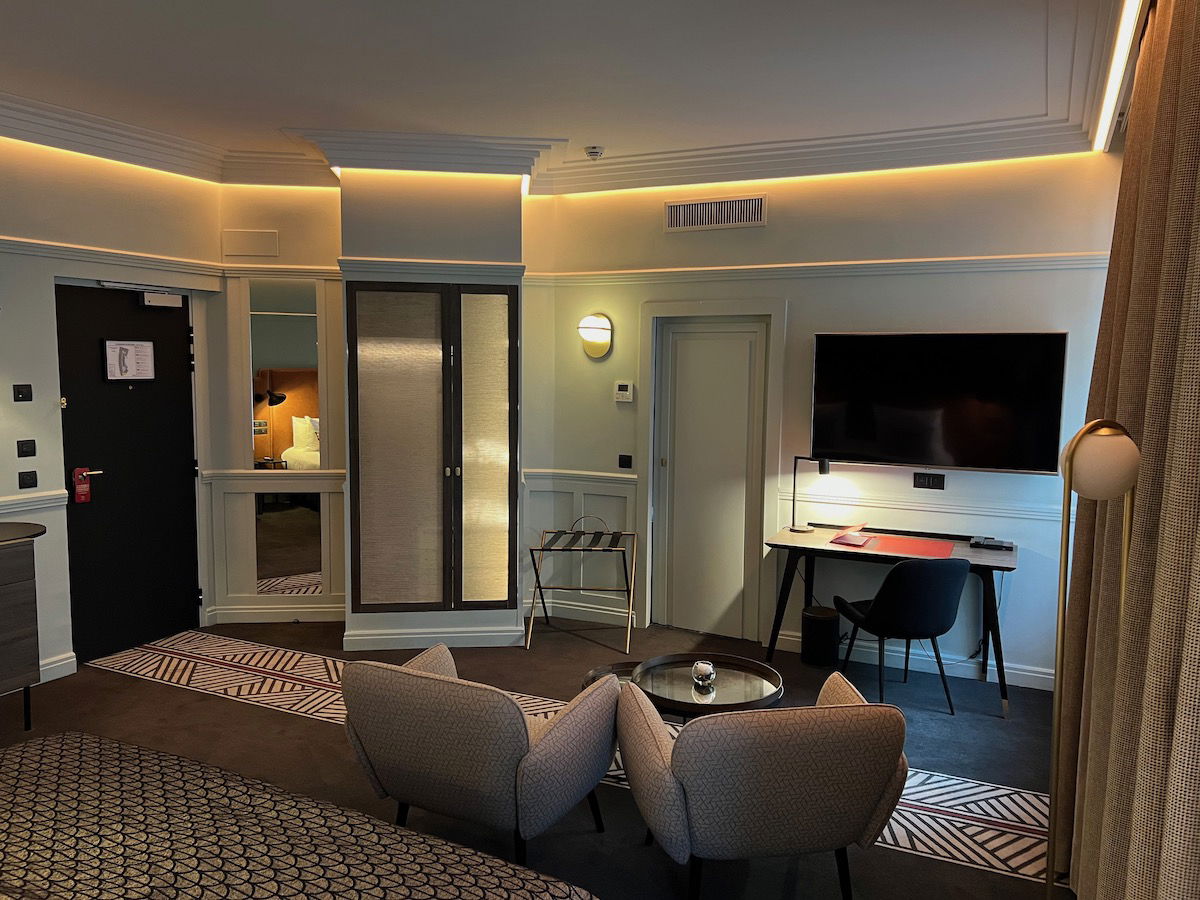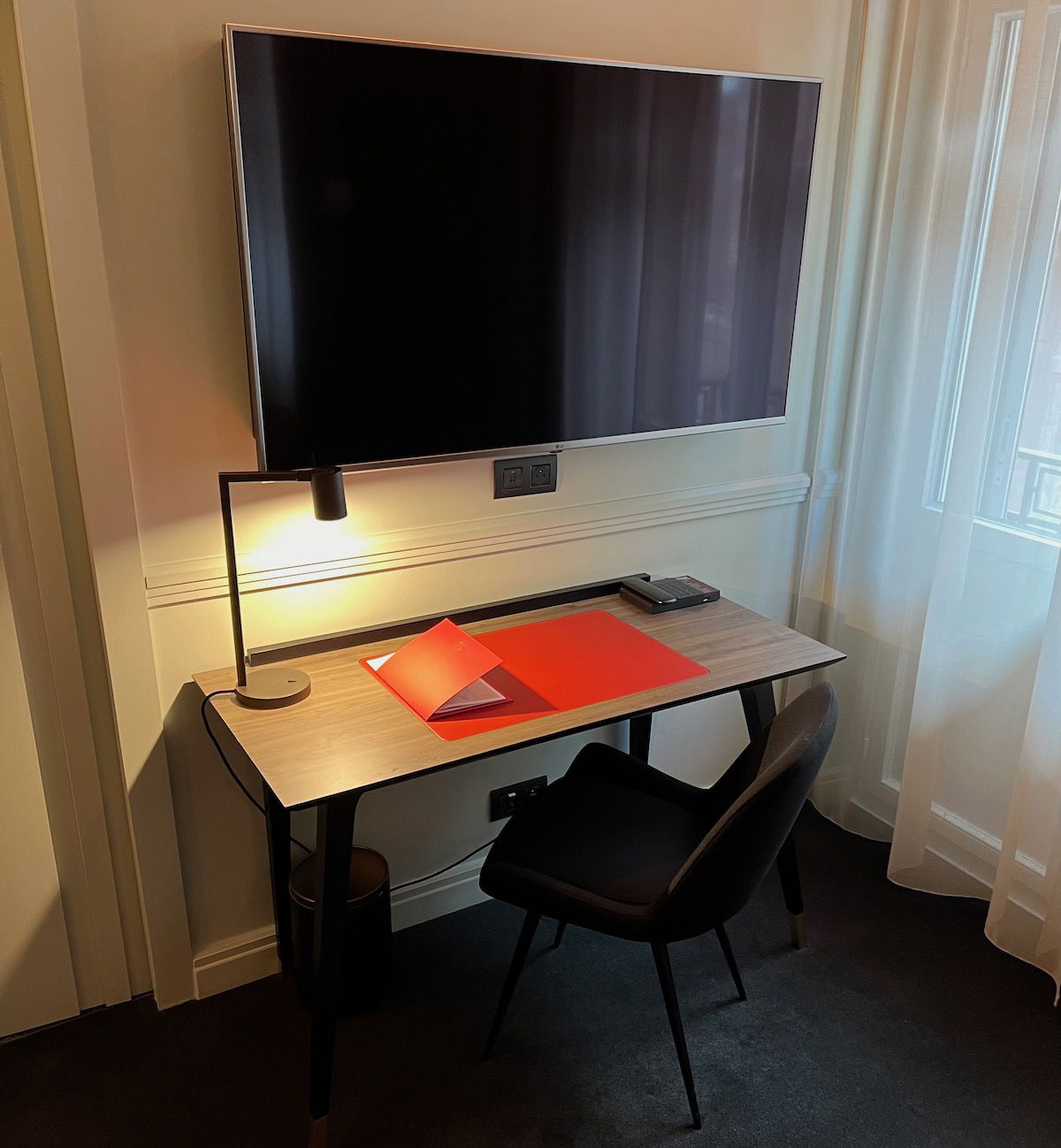 The bathroom was quite a bit larger than in the other room, and had a sink, a toilet, and a shower and tub combo.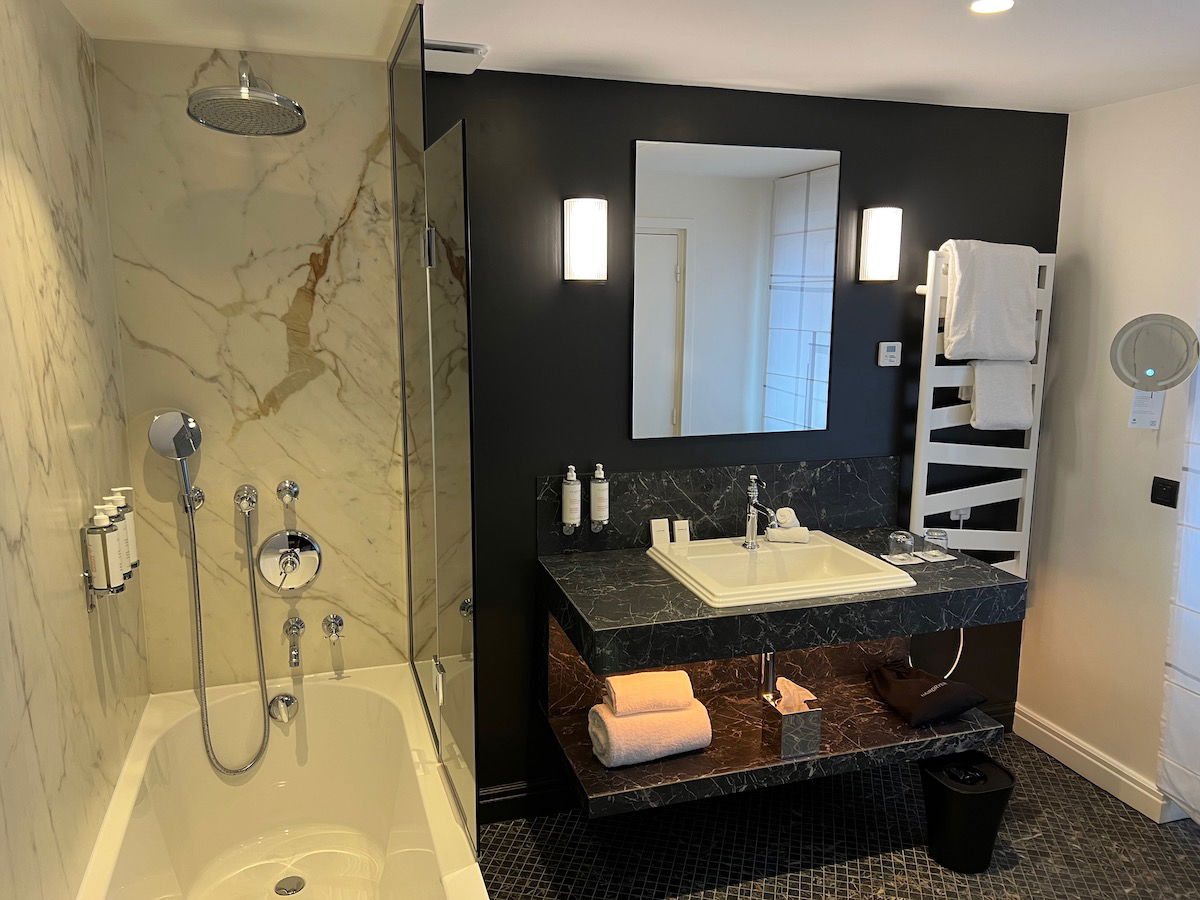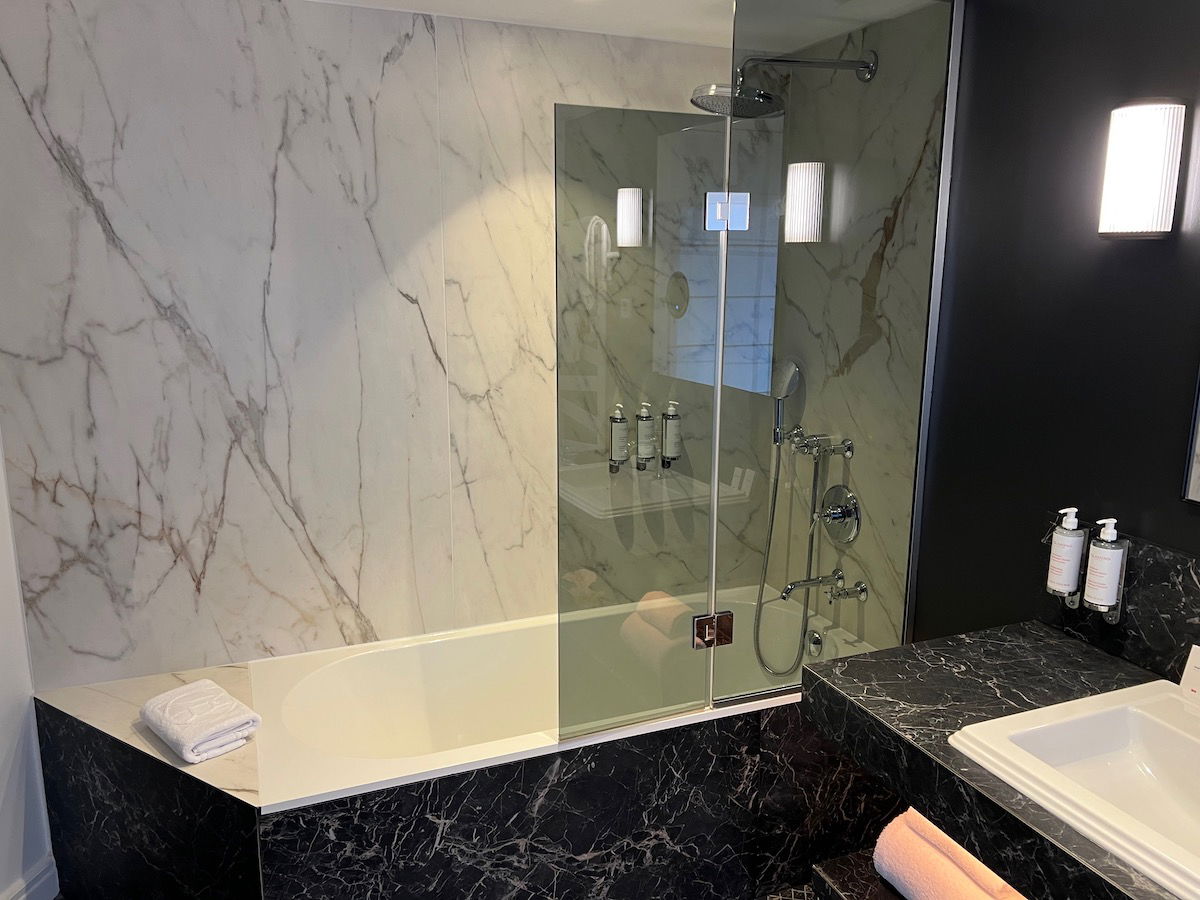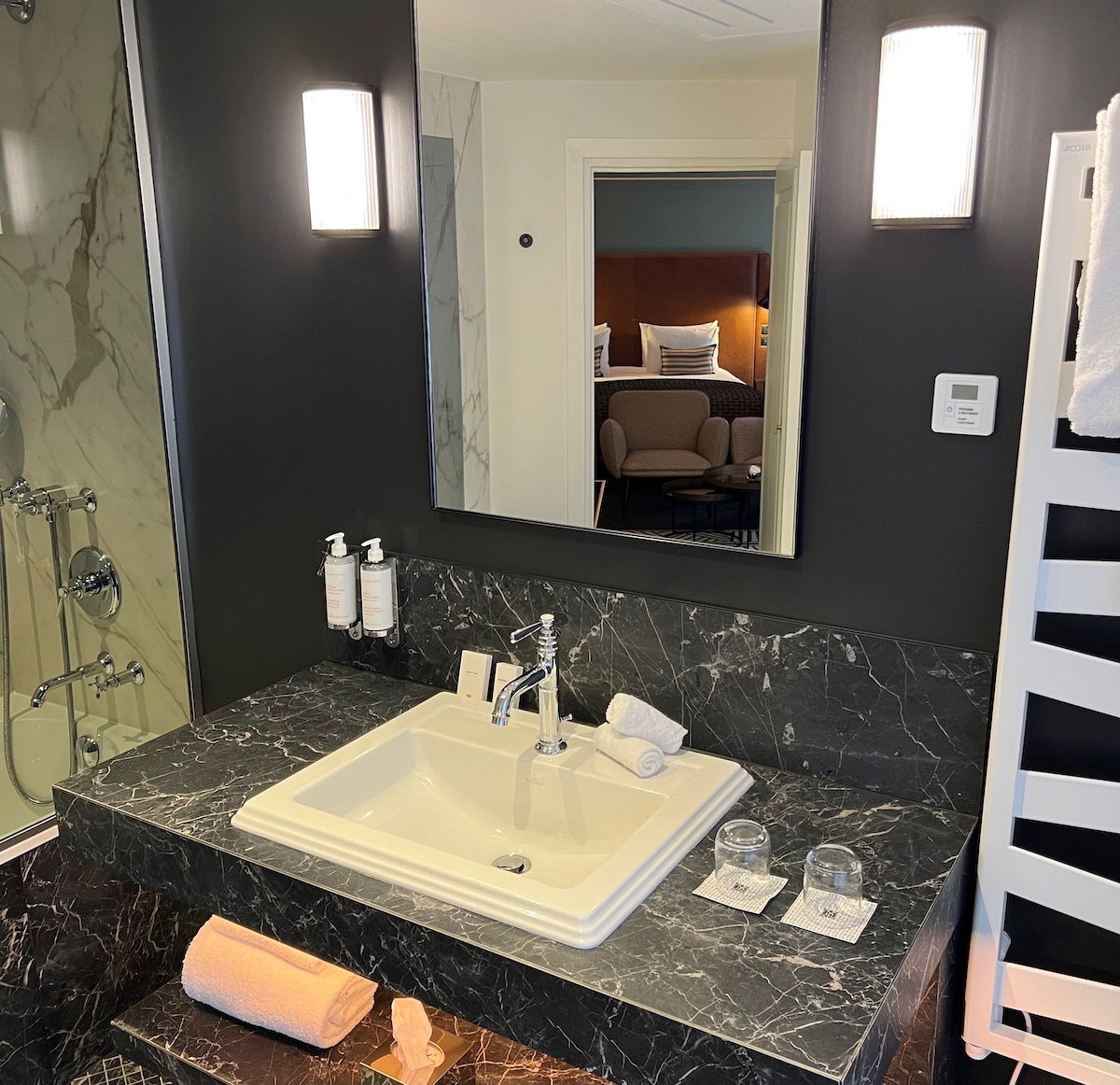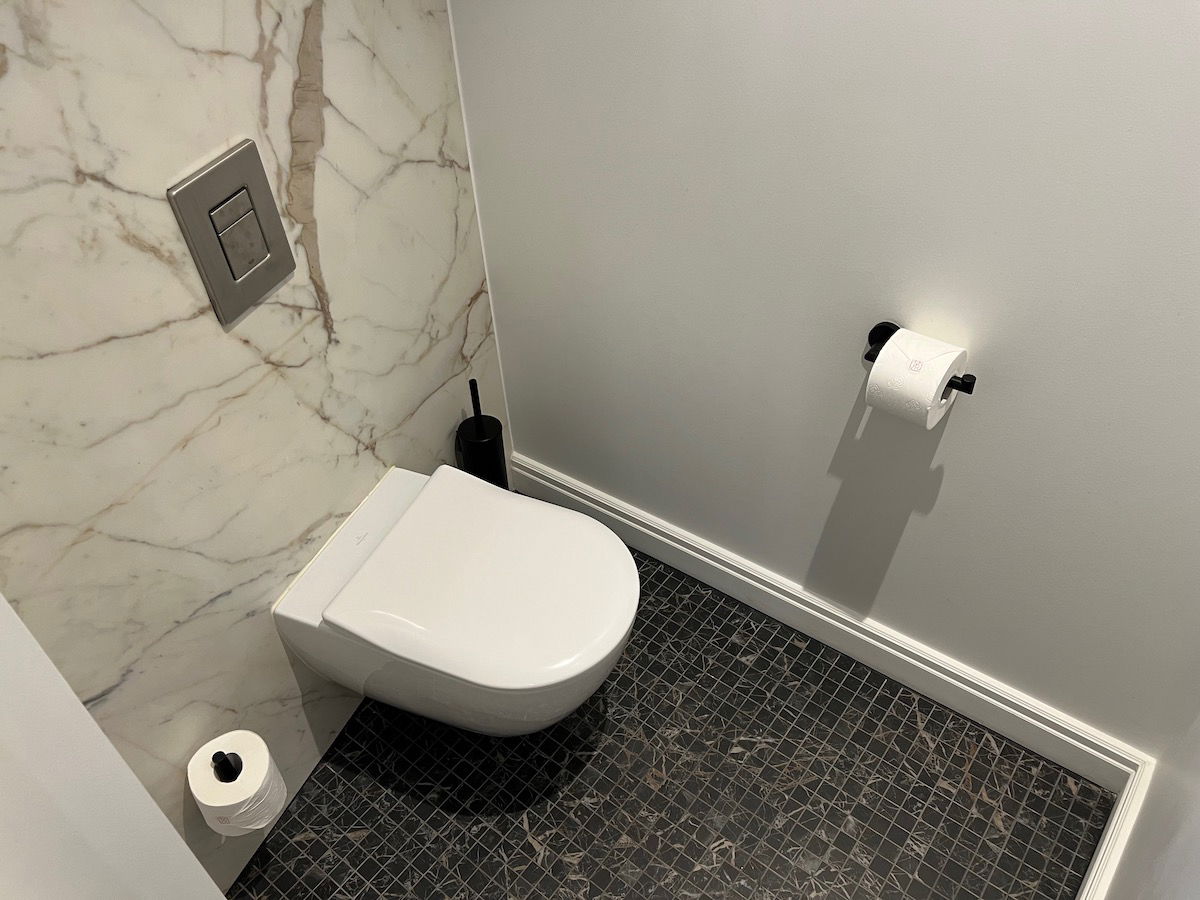 The only downside to this room is that it had even less natural light than the other room, and had almost nothing in the way of views, due to how close it was to another building.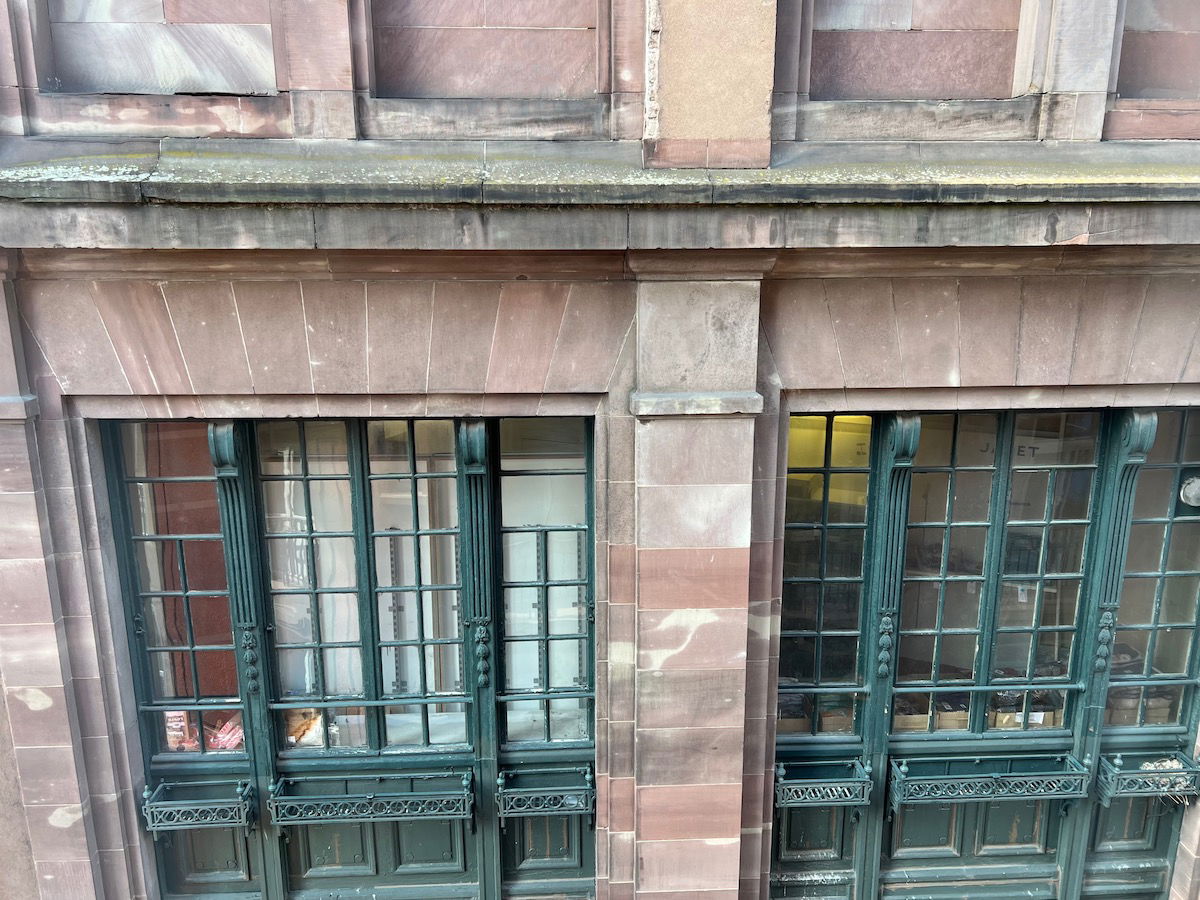 All-in-all, we were pleasantly surprised by the rooms. Furthermore, this was the only hotel we stayed at this trip that offered nightly turndown service, which is a nice touch.
Maison Rouge Strasbourg Les Salons Mistinguett (breakfast)
Maison Rouge serves breakfast daily from 6:30AM until 10:30AM (until 11AM on weekends) at Les Salons Mistinguett. This is located on the first floor, one level above the lobby. I can't help but feel like the hotel's food and beverage outlets are horribly underutilized, because this restaurant is gorgeous, yet is only open for breakfast.
Is this one of the nicest hotel breakfast rooms ever, or what?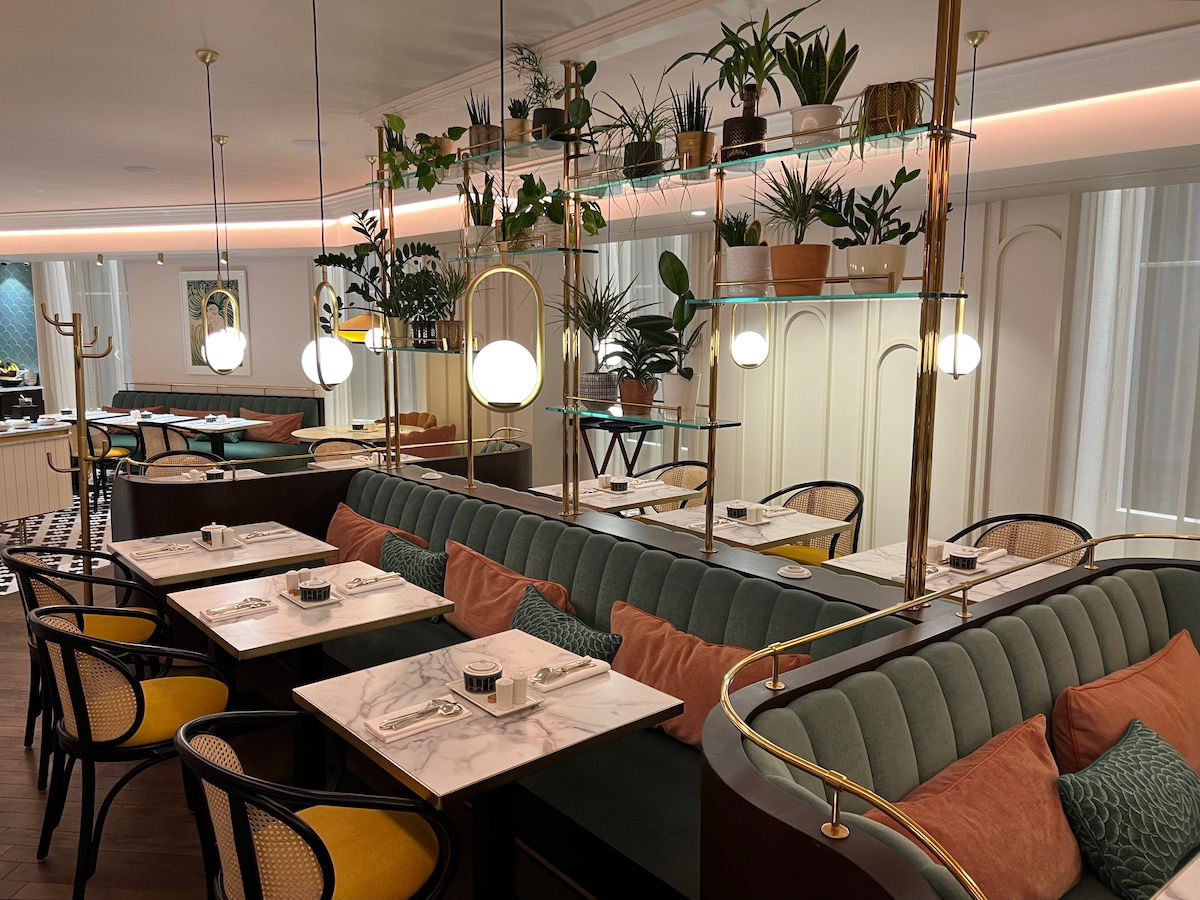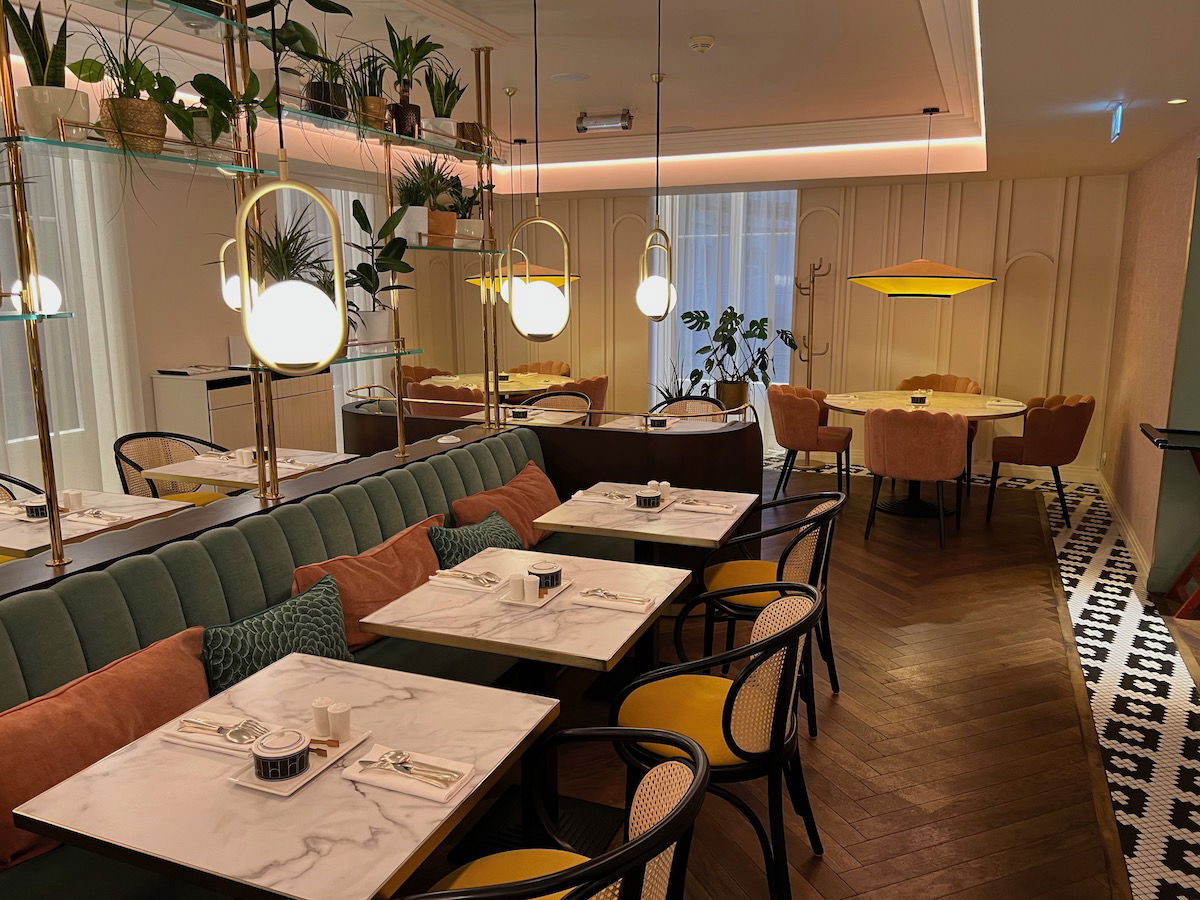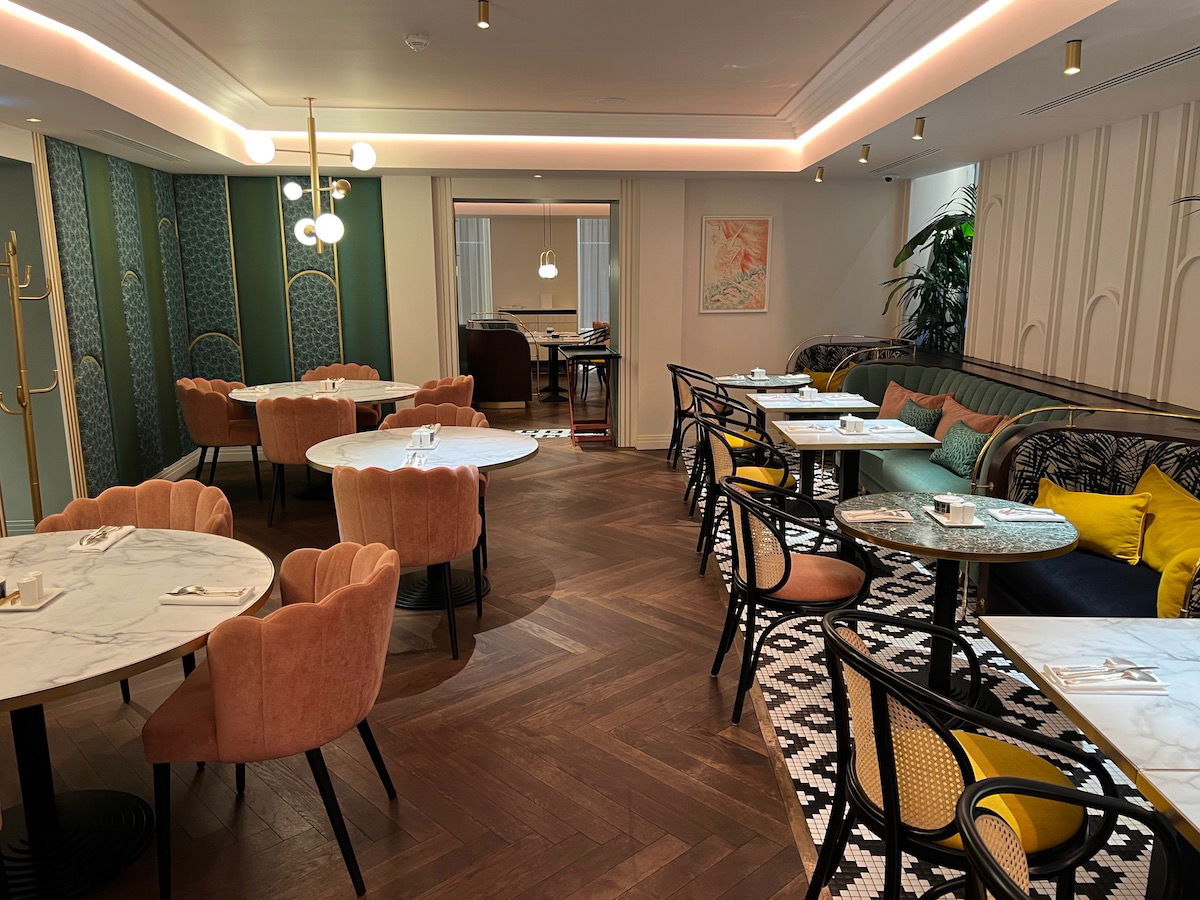 Breakfast consisted in part of a buffet. The Alsace region of France is known for its cuisine, and my gosh, this breakfast buffet was simply so high quality. You could definitely tell that you were in France rather than Germany.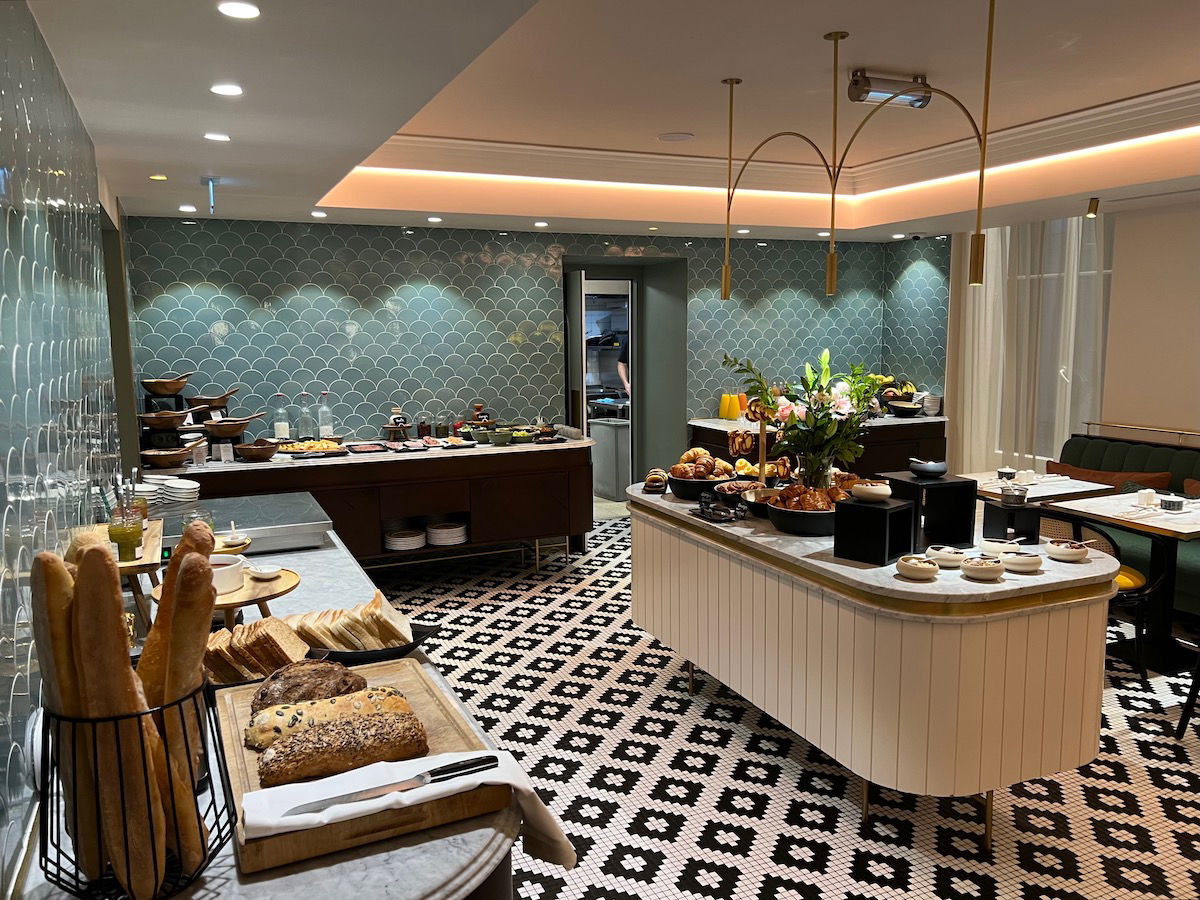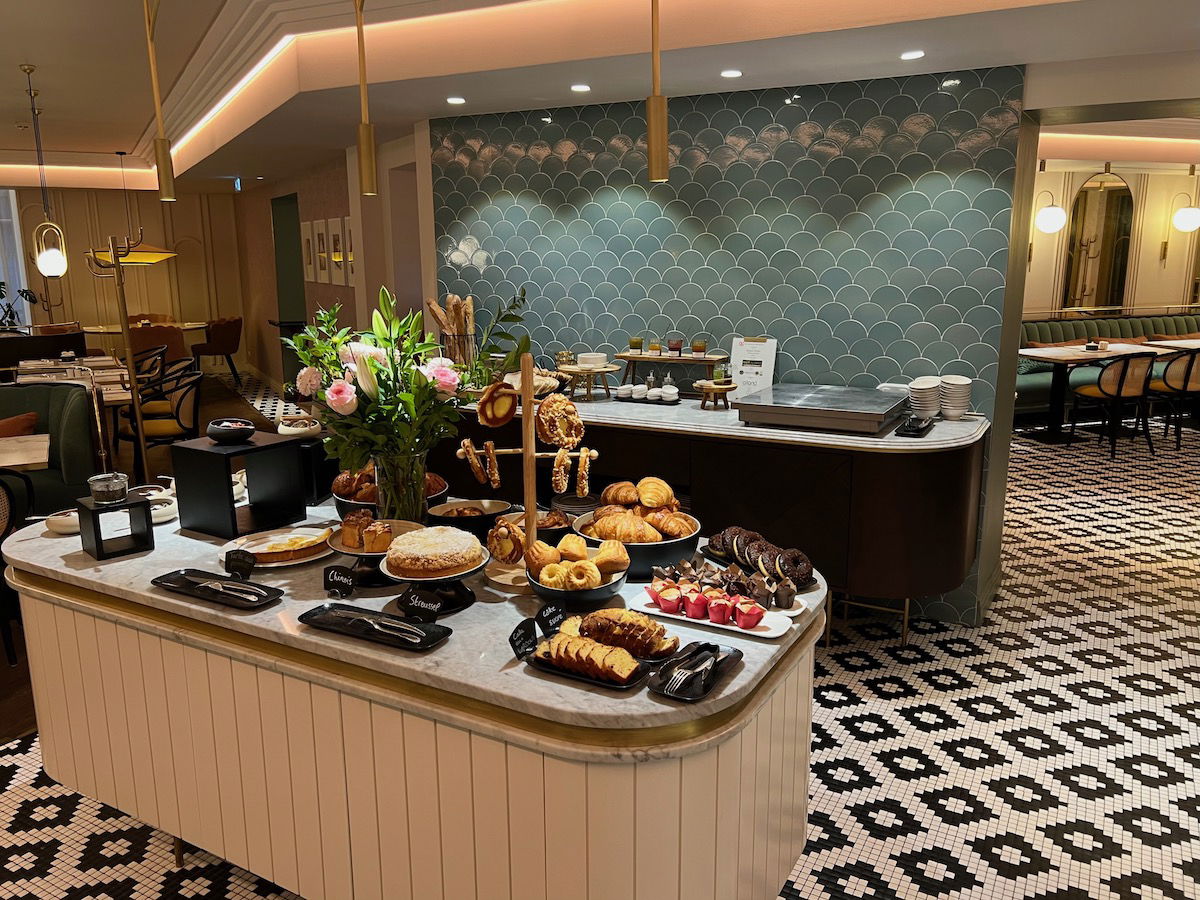 Breakfast included a variety of fresh fruit, yogurt, cereal, cold cuts, veggies, all kinds of bread, pastries, and more. The selection of sweets was most tempting, and I even indulged in some of those (which I don't usually do at breakfast).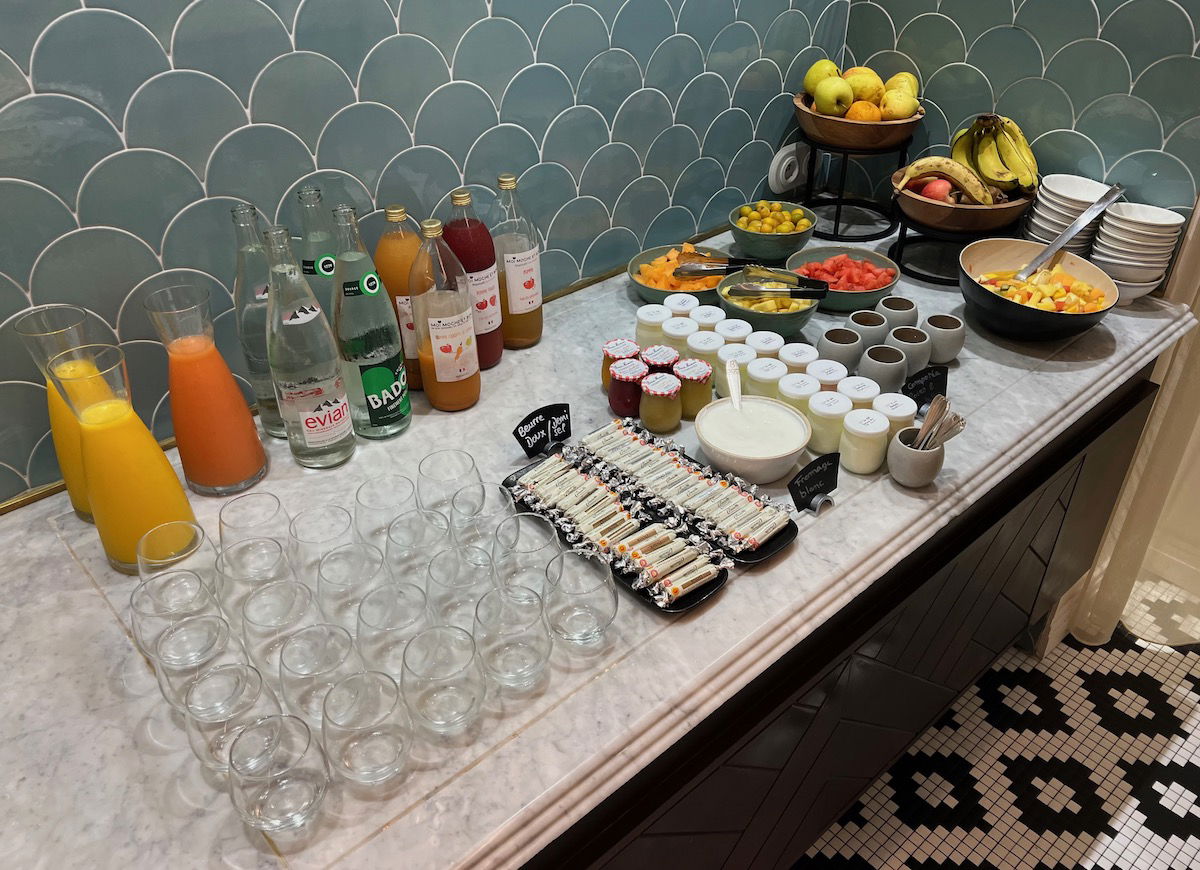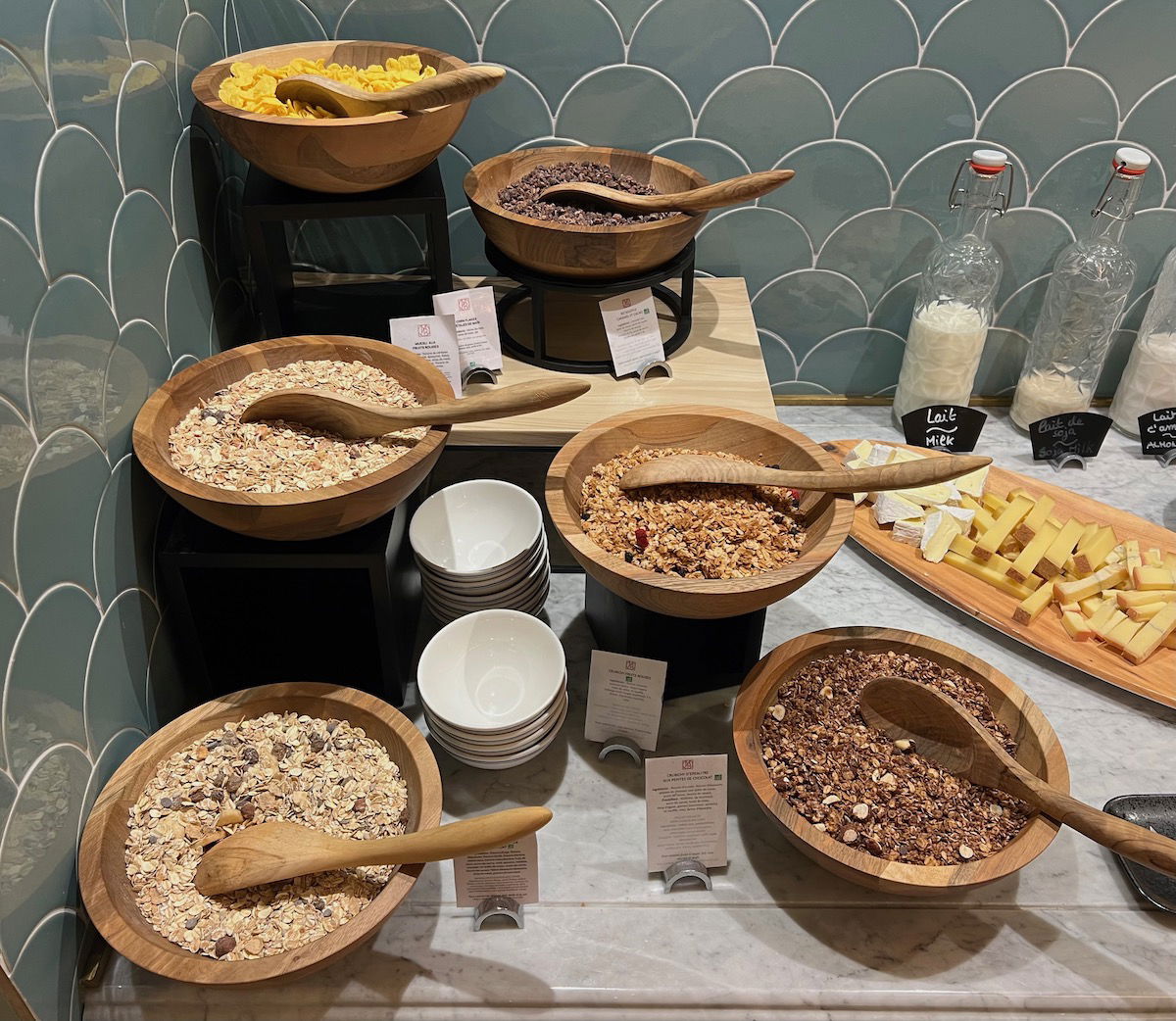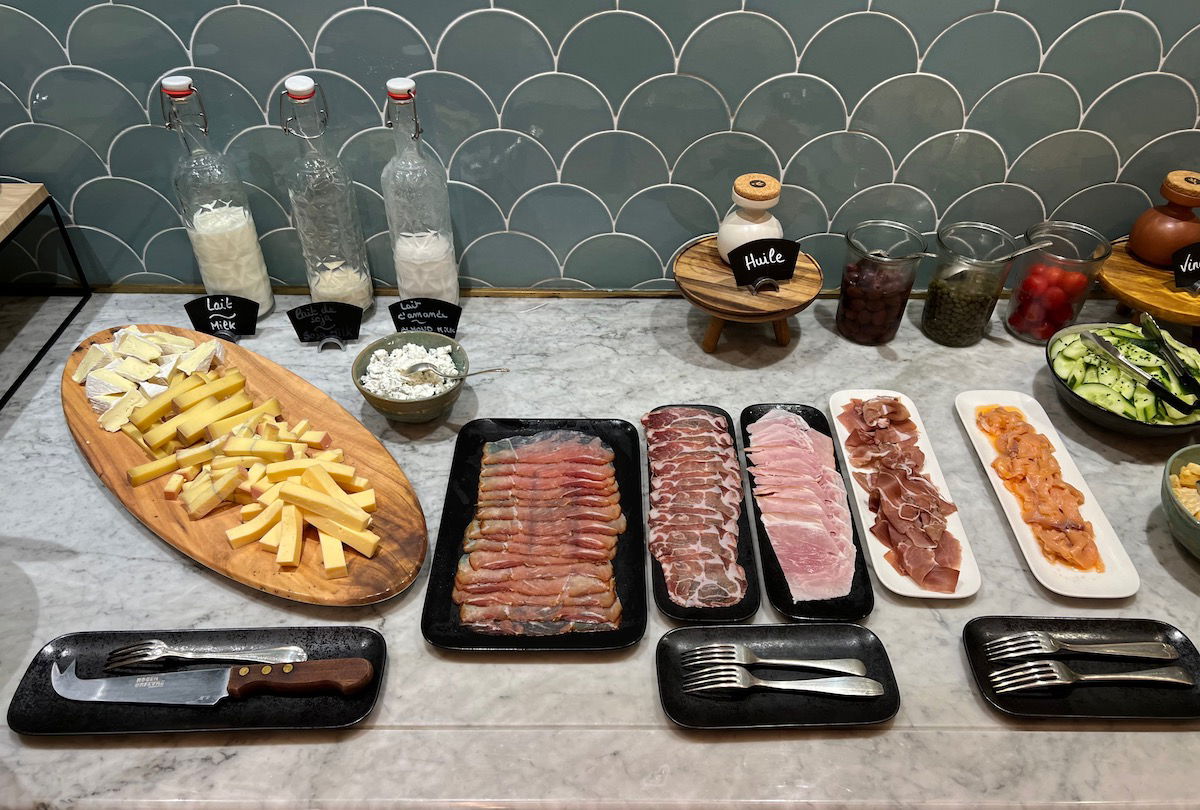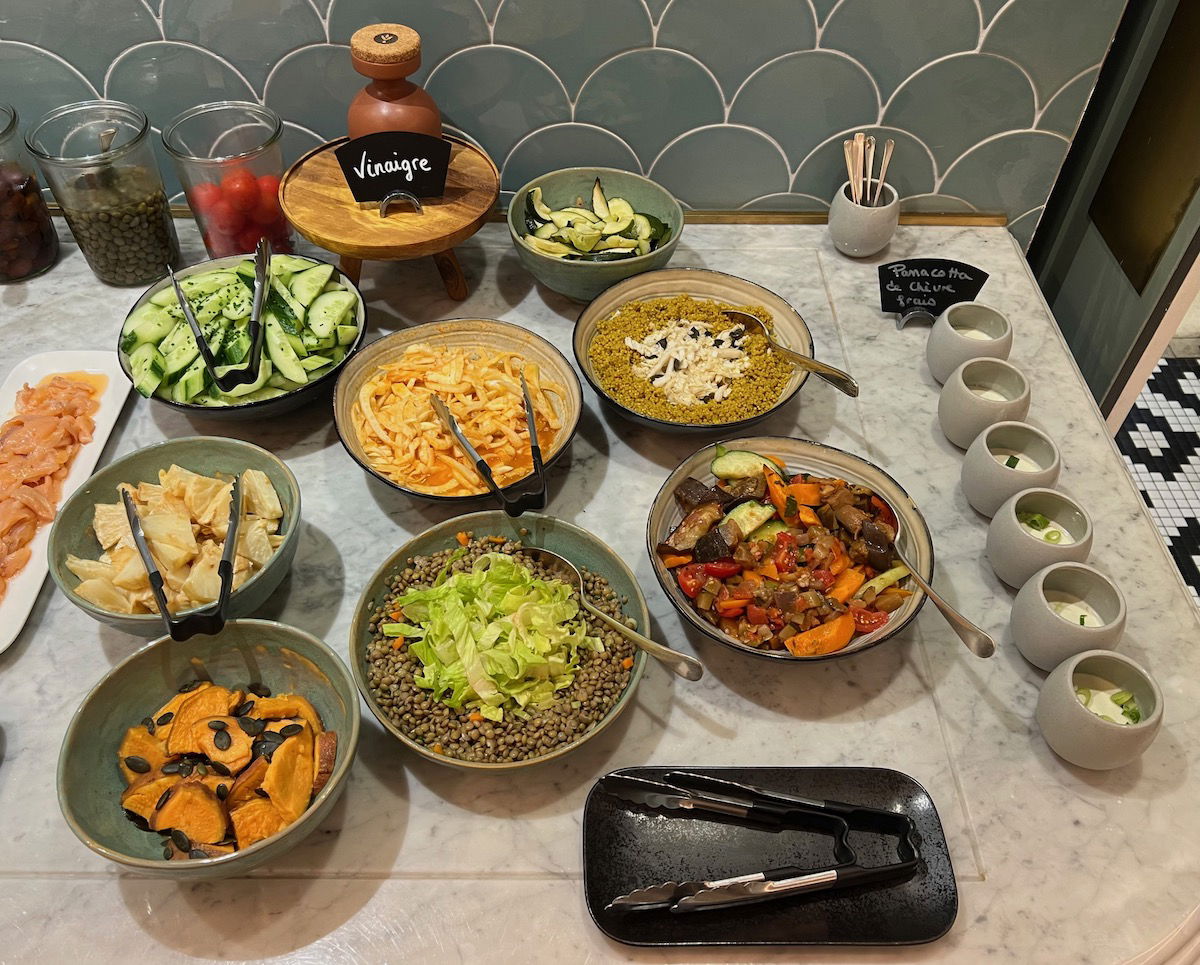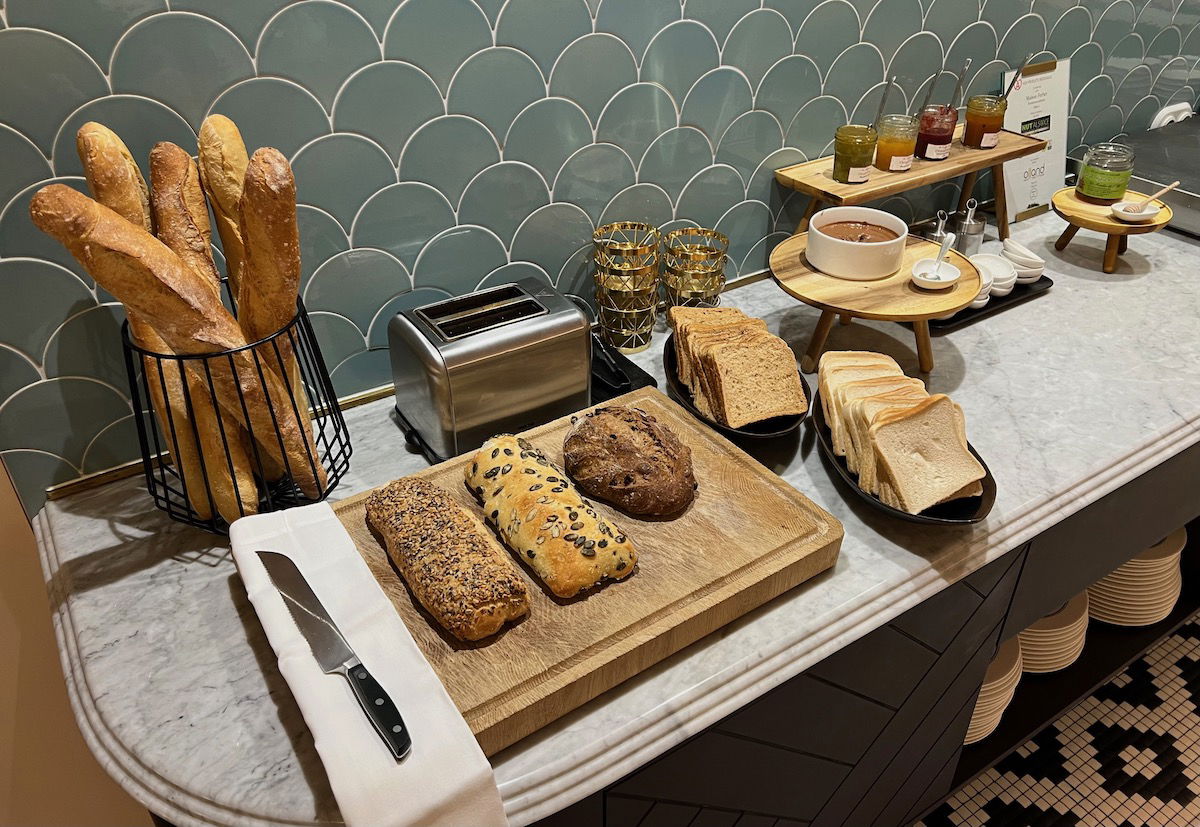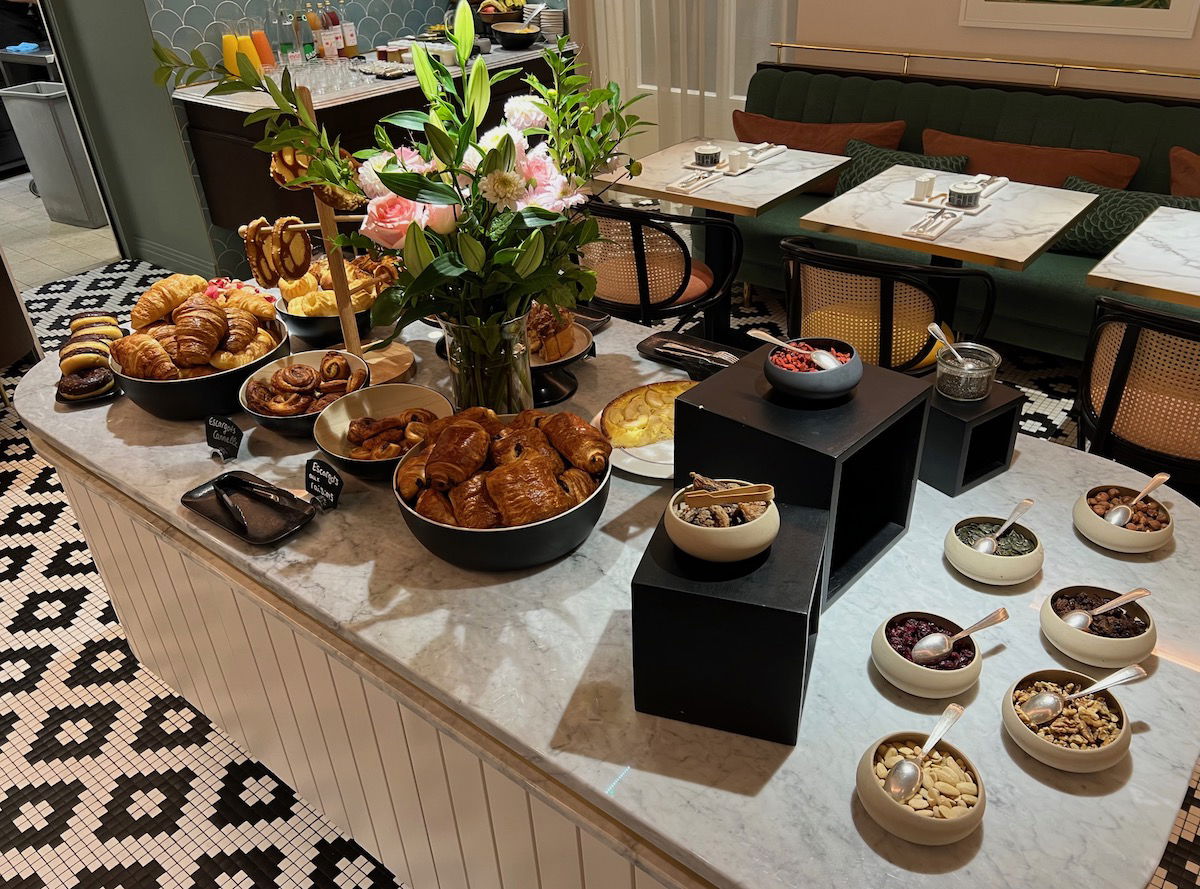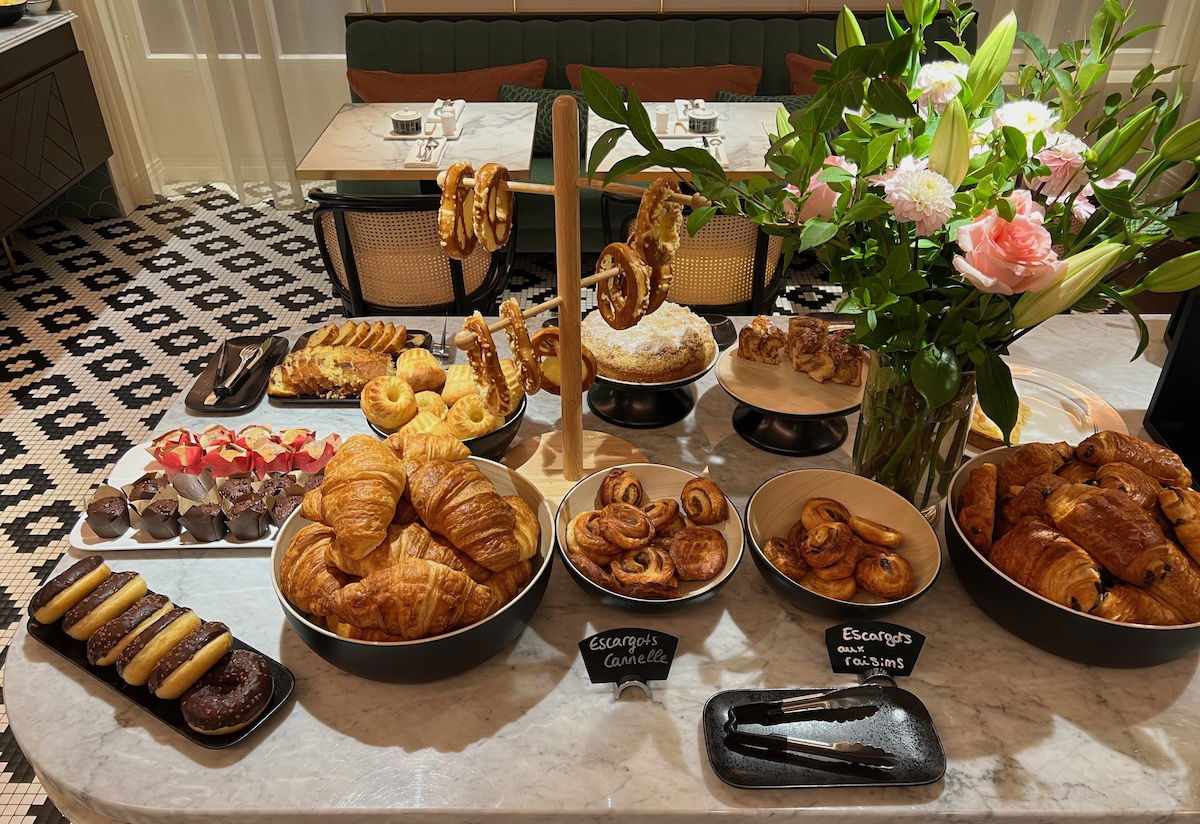 There were also three hot options, intended more as complements to the a la carte egg dishes. This included tomatoes and mushrooms, sausage, bacon, and hash browns.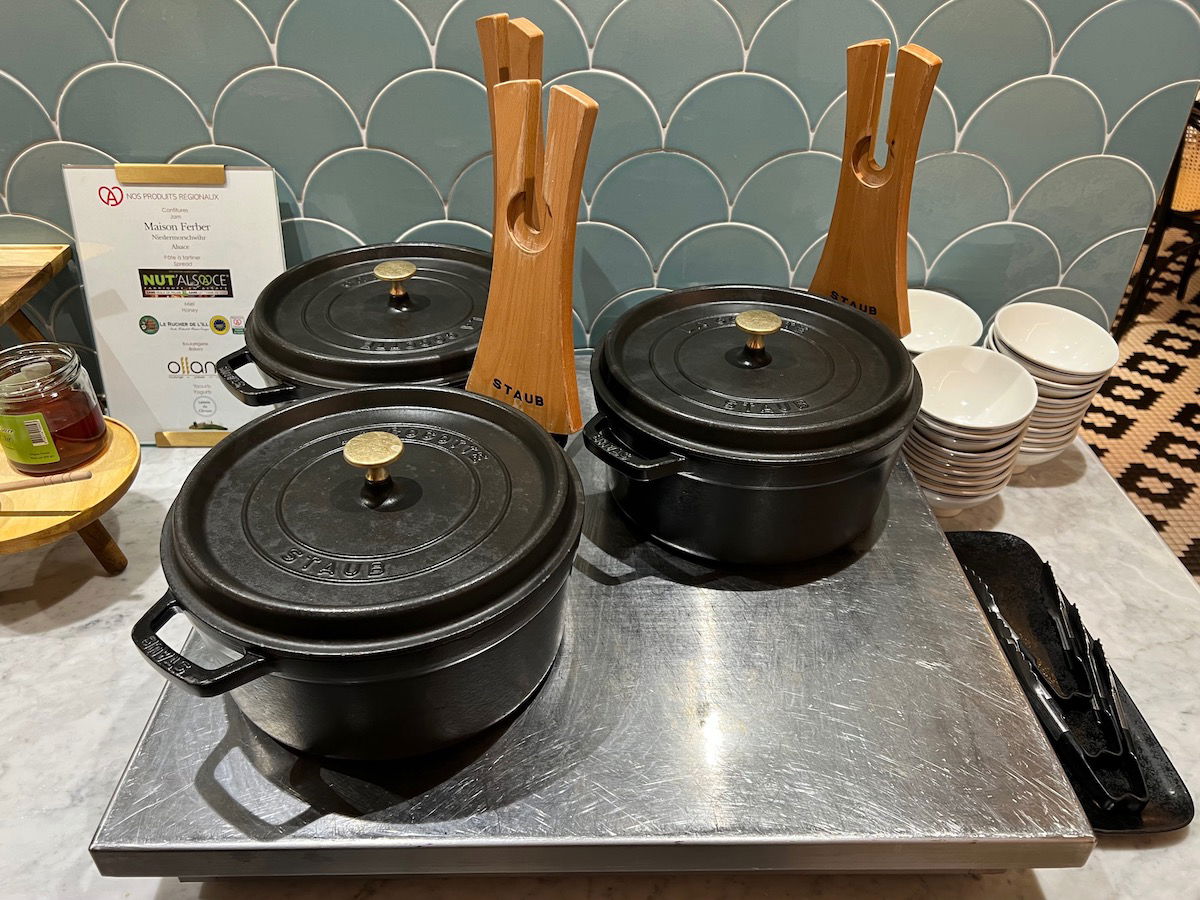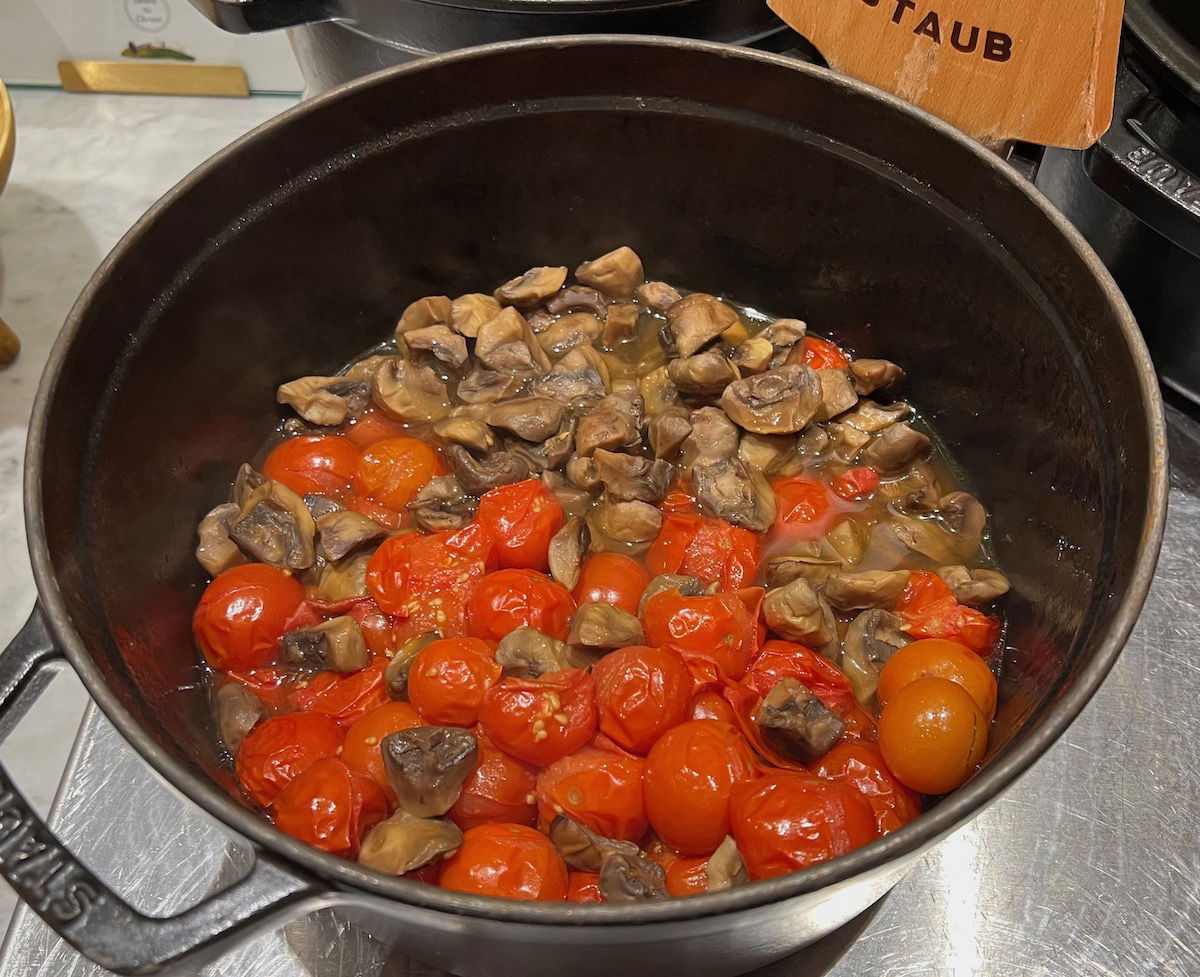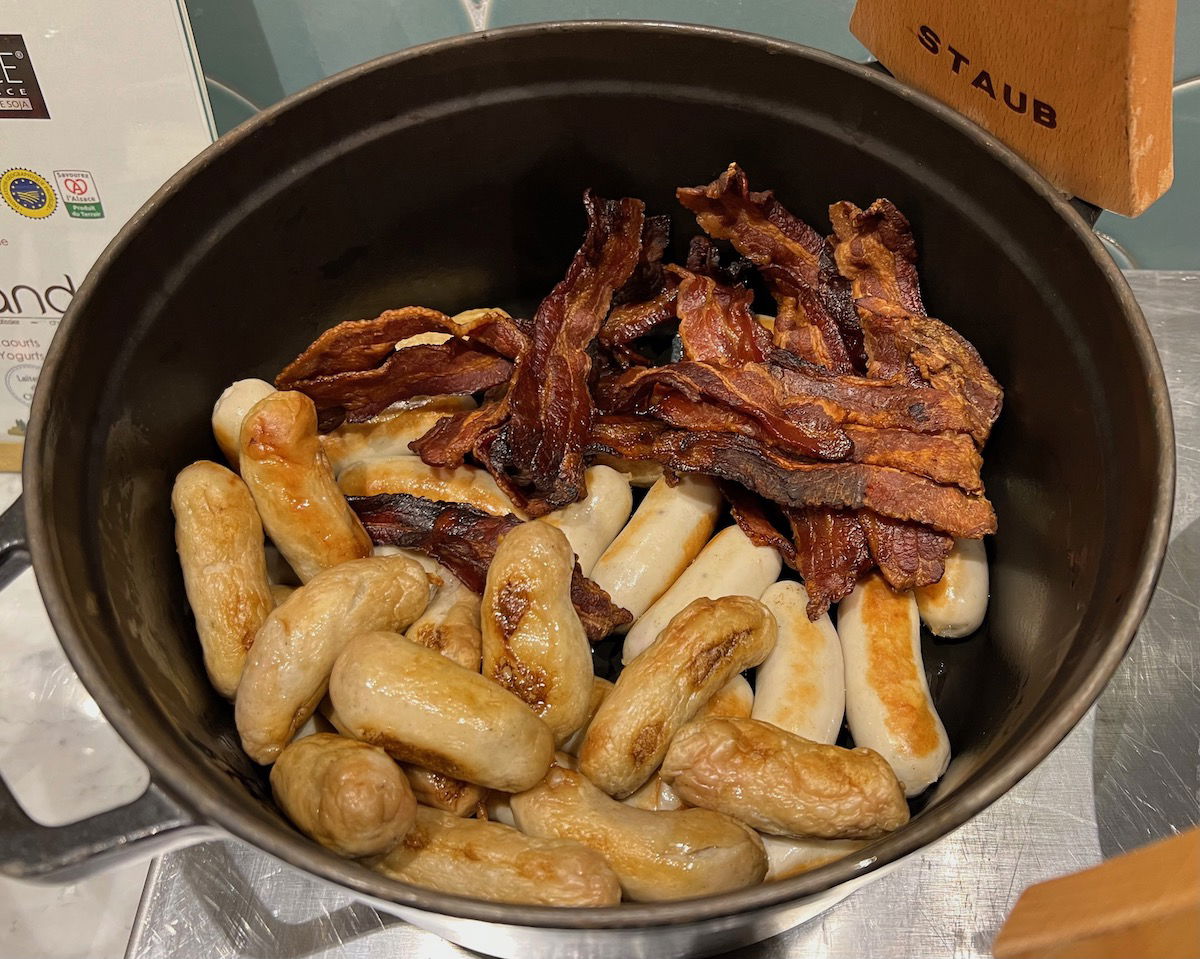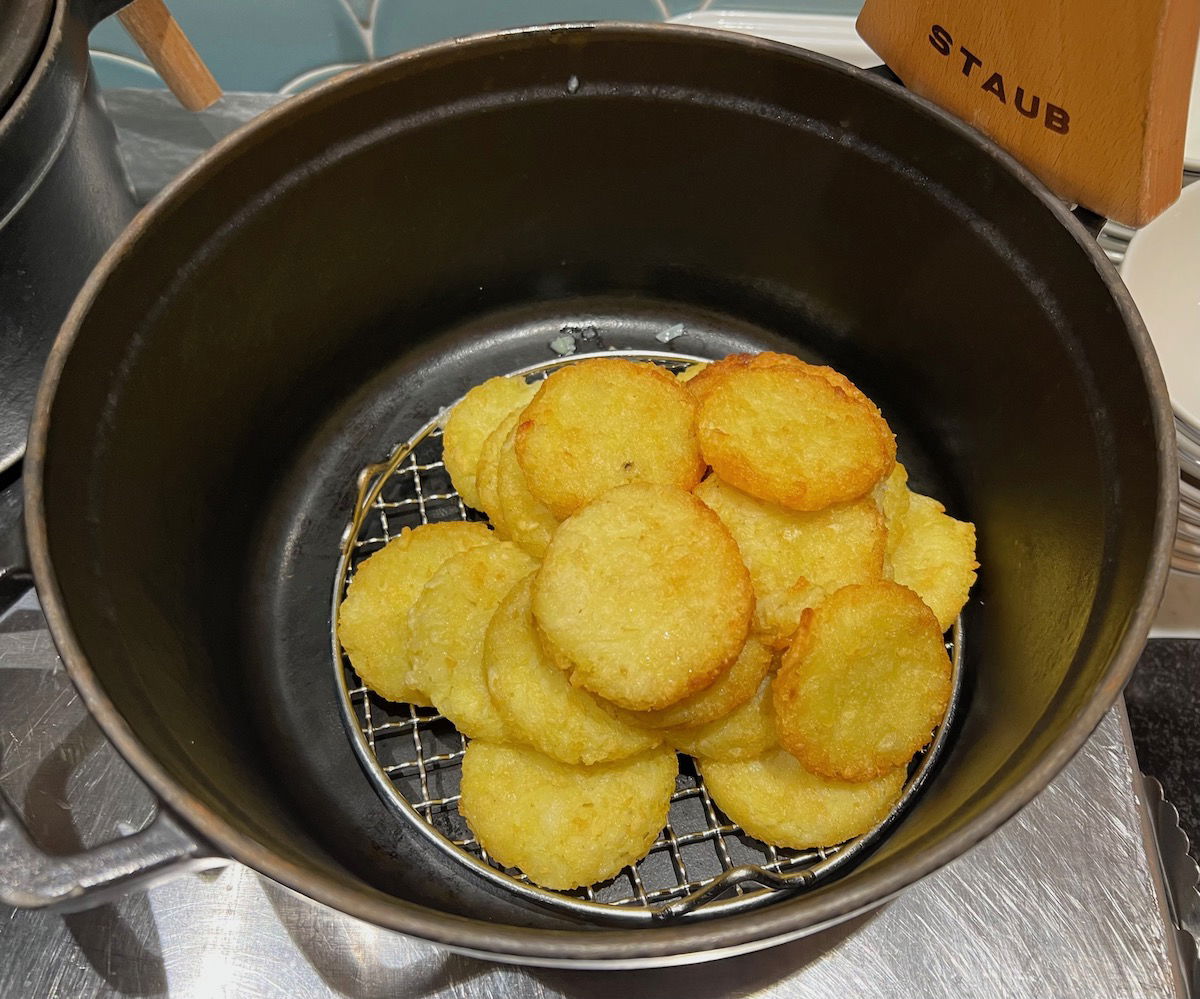 In addition to the buffet, there was a menu off of which you could order unlimited things.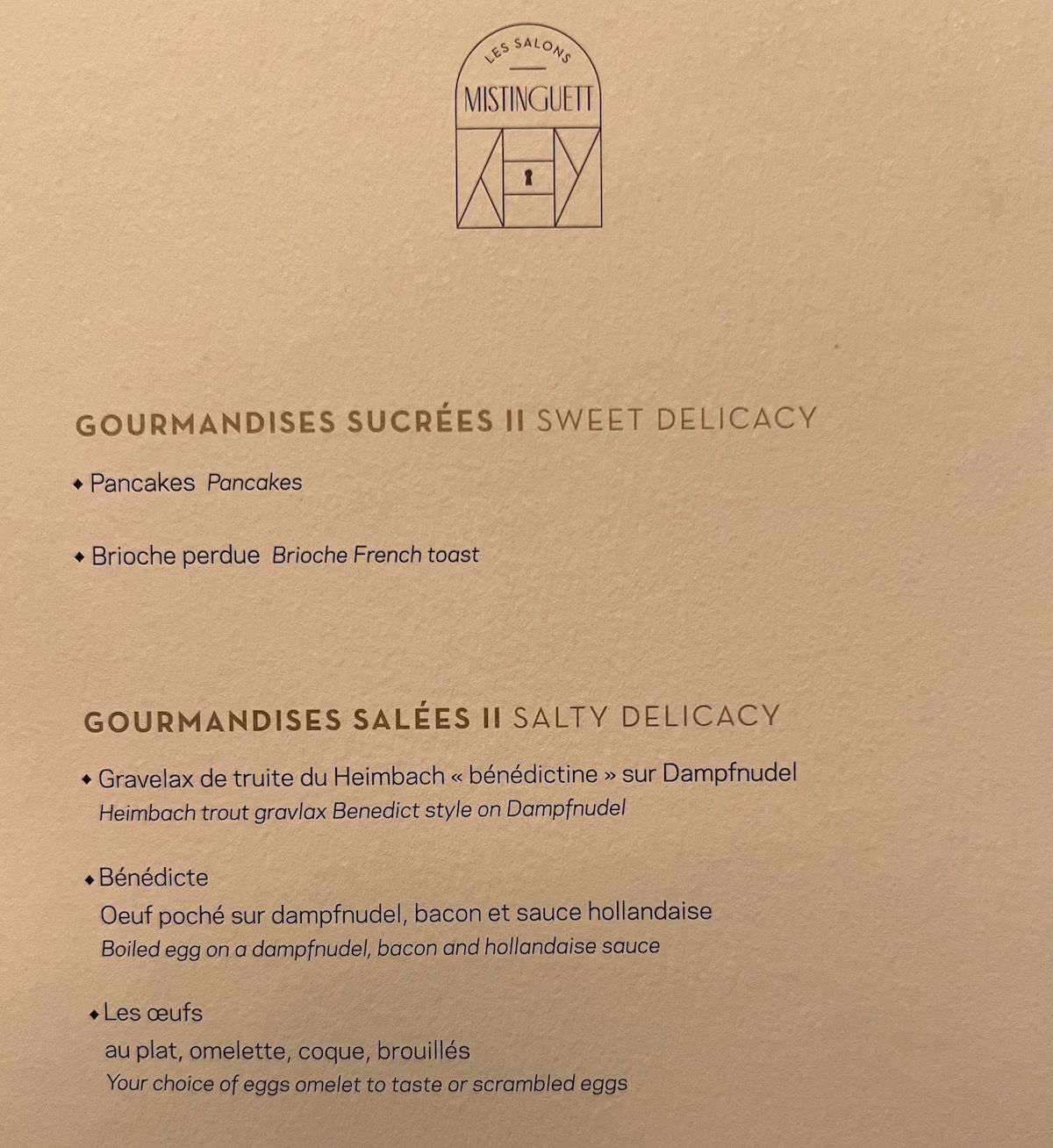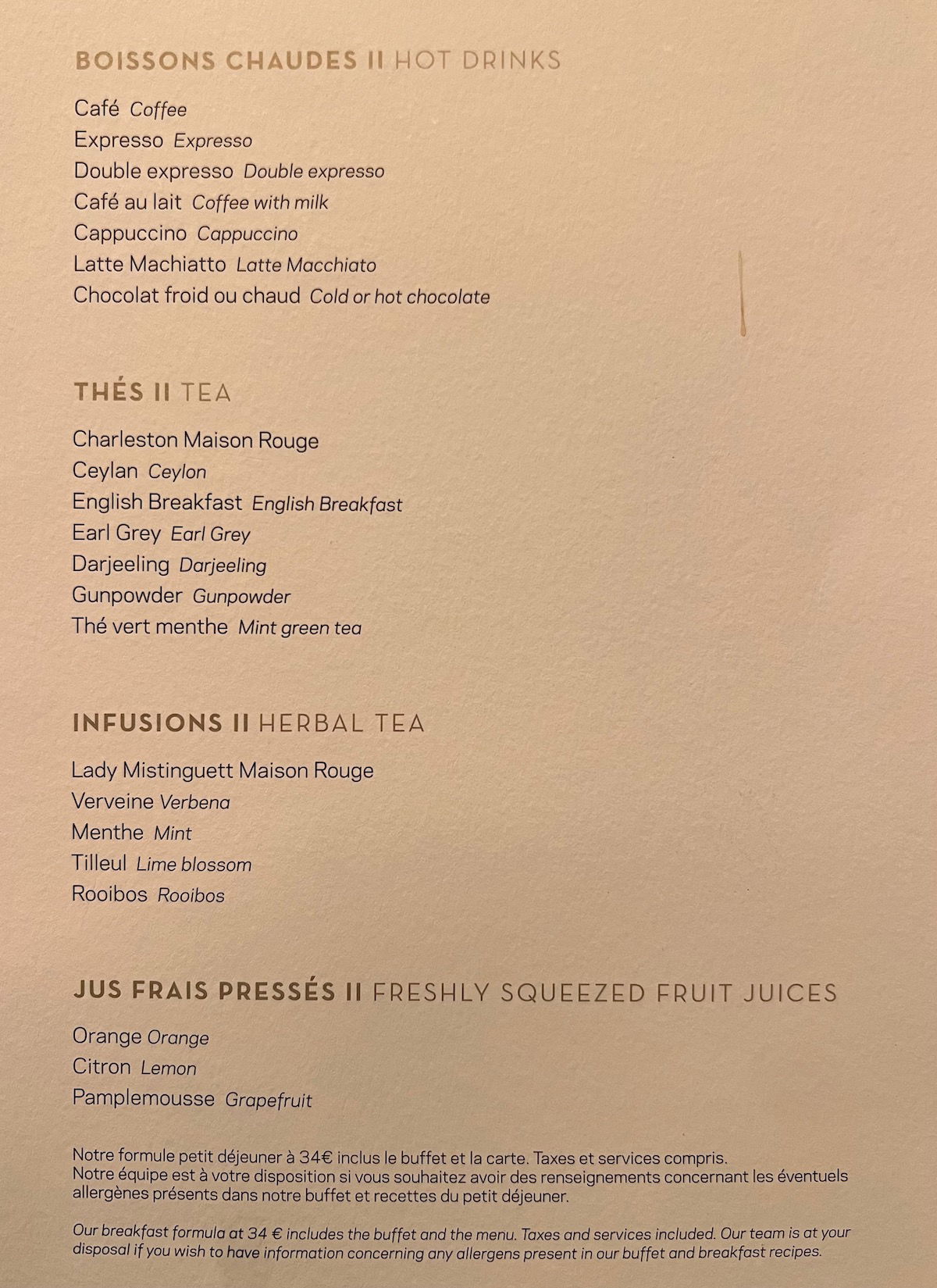 I ordered the veggie omelet one morning and the salmon benedict another morning, while we also shared a french toast.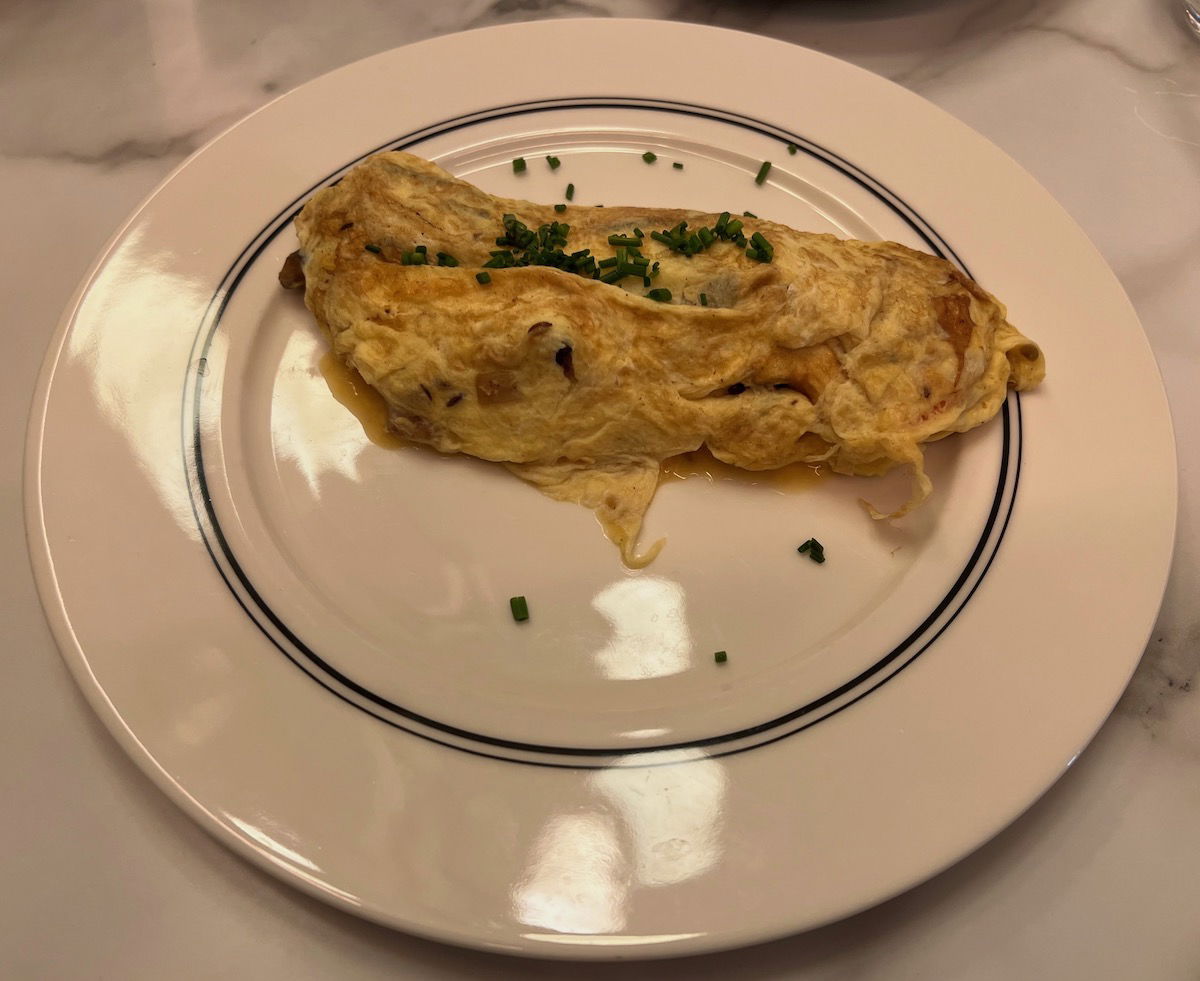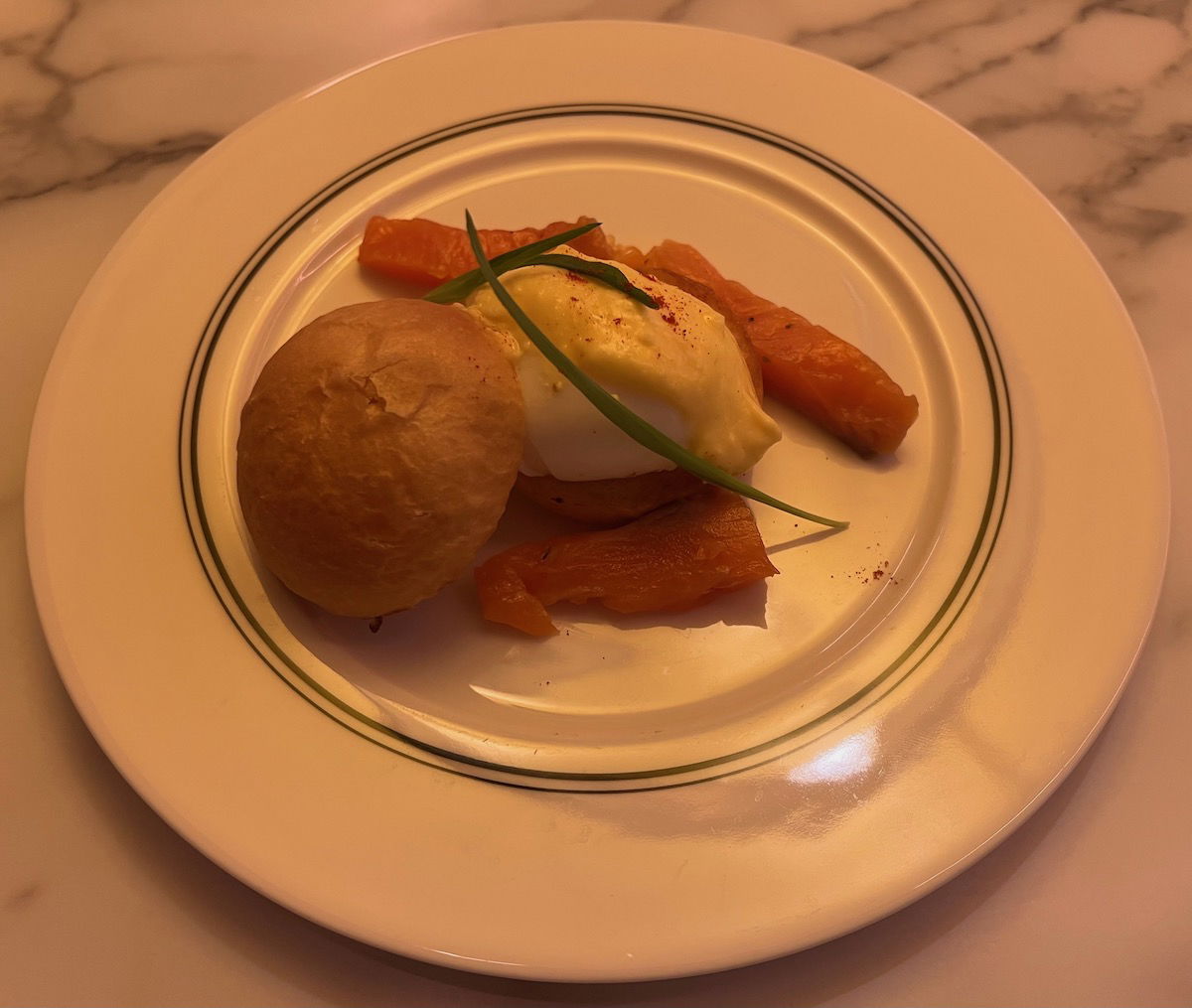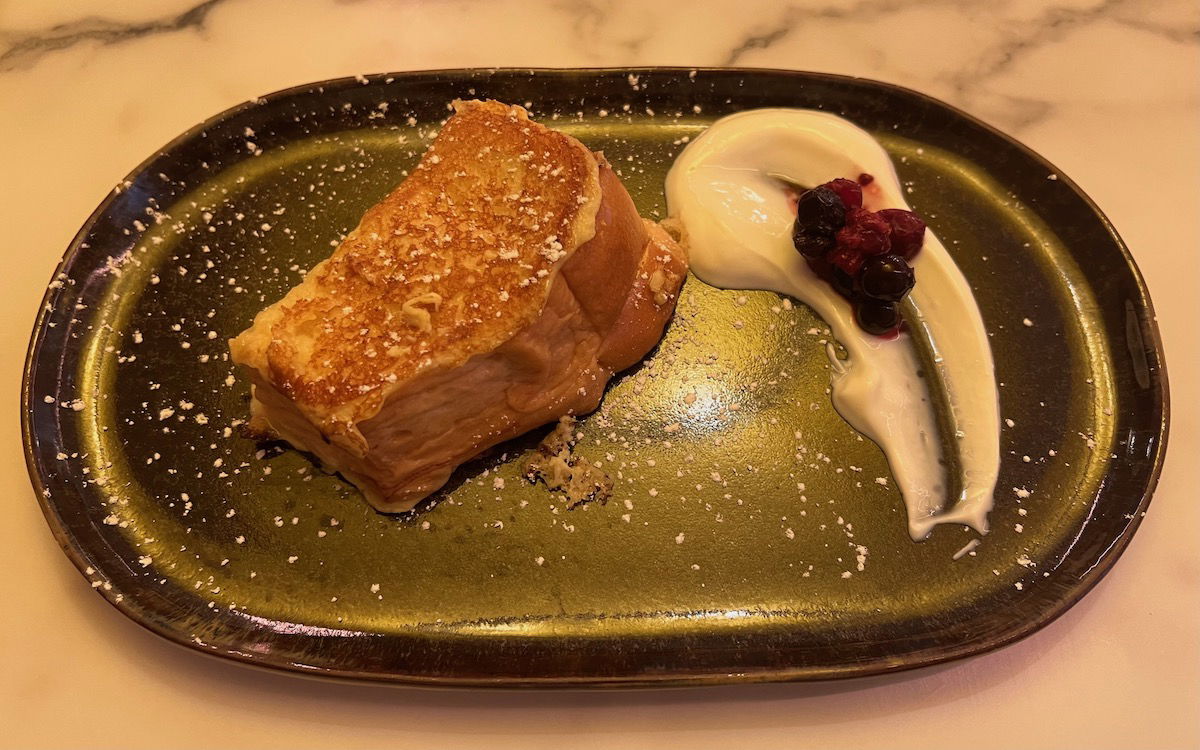 Coffee was provided by the friendly servers in the restaurant, and I enjoyed both the filter coffee and cappuccino.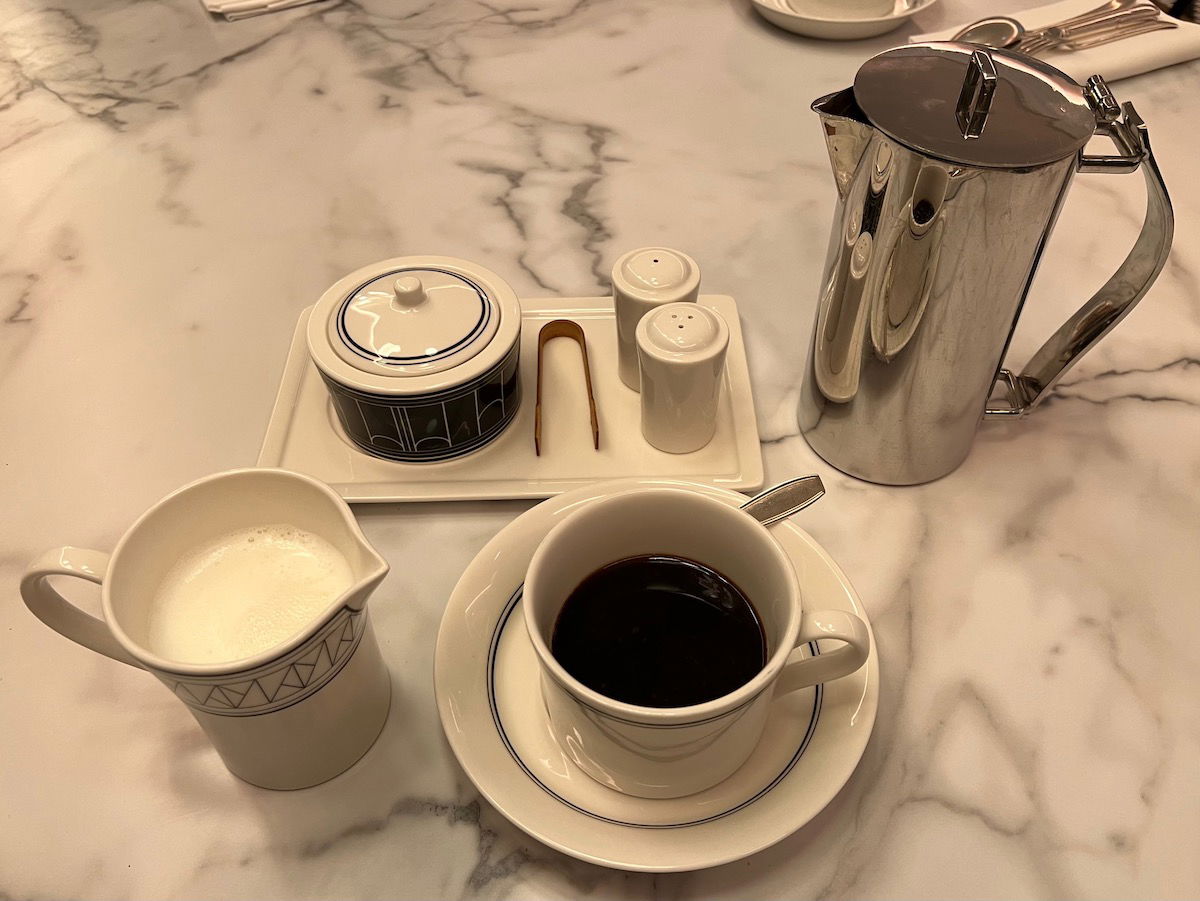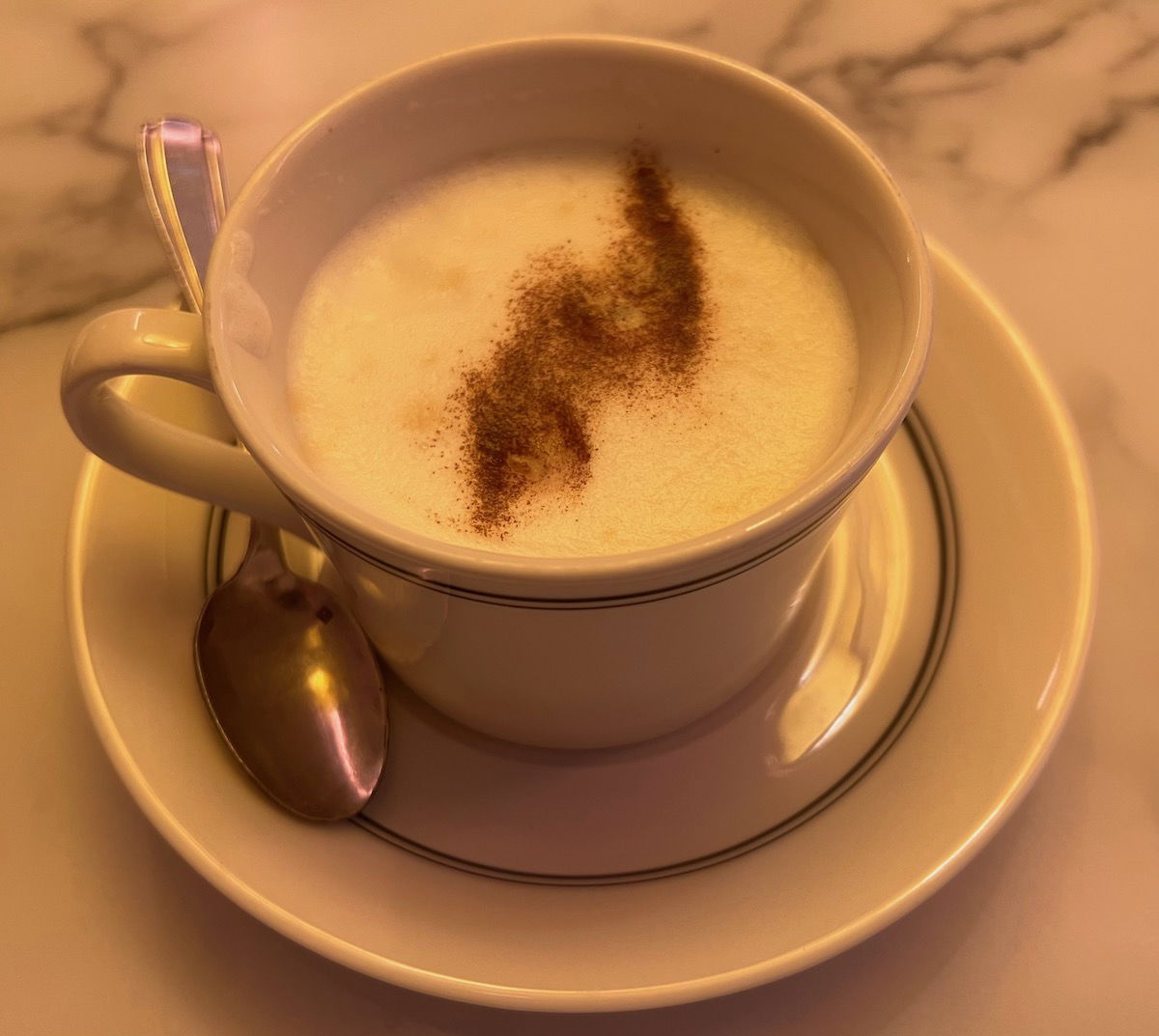 Maison Rouge Strasbourg Le 1387 (lunch & dinner)
Le 1387 is Maison Rouge's signature restaurant, and it's named after the year that the hotel initially started operations (obviously it looked different at the time!). The restaurant is open daily from 12PM until 10PM (until 10:30PM on Fridays and Saturdays), and serves drinks, lunch, and dinner.
The restaurant is quite a pretty space, with dining tables, smaller tables for drinks, and a bar. The restaurant serves local cuisine, and you can find the menu here.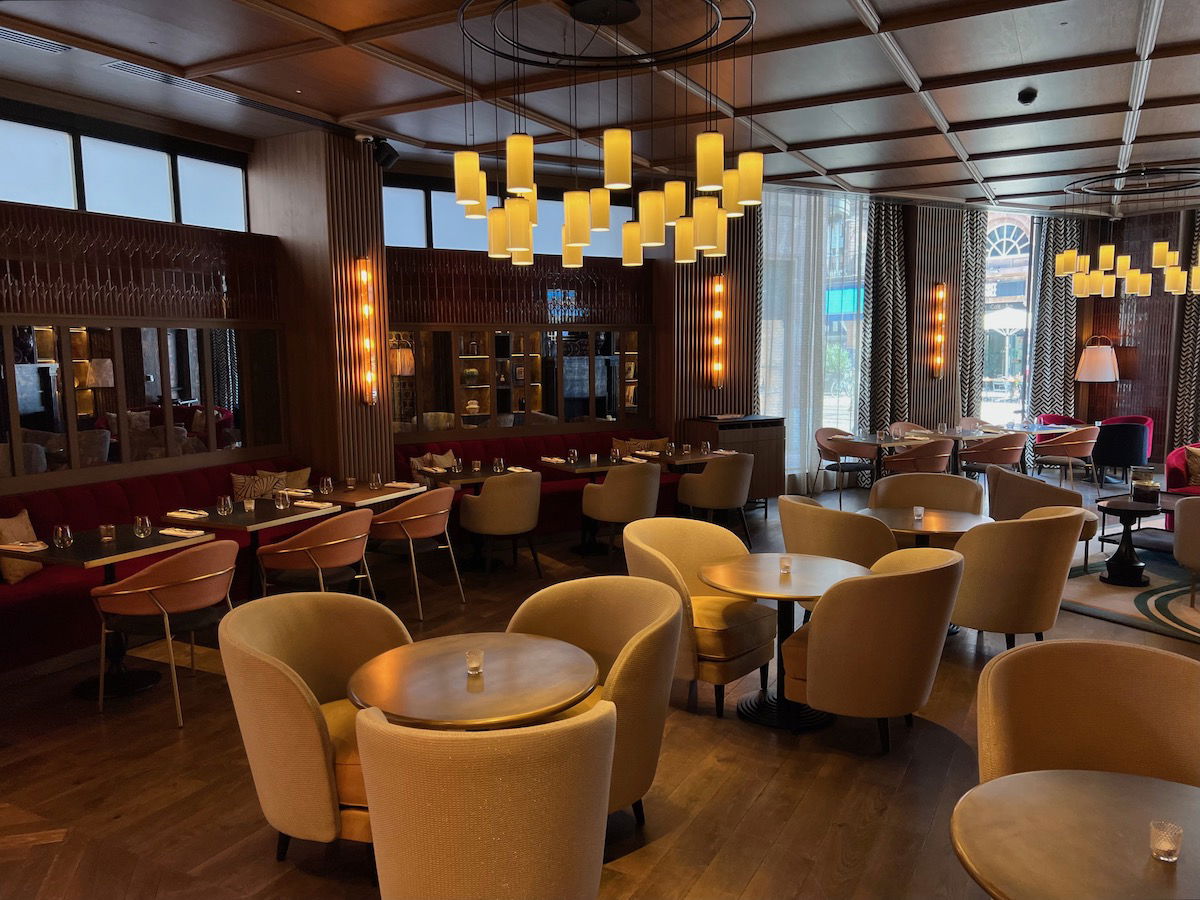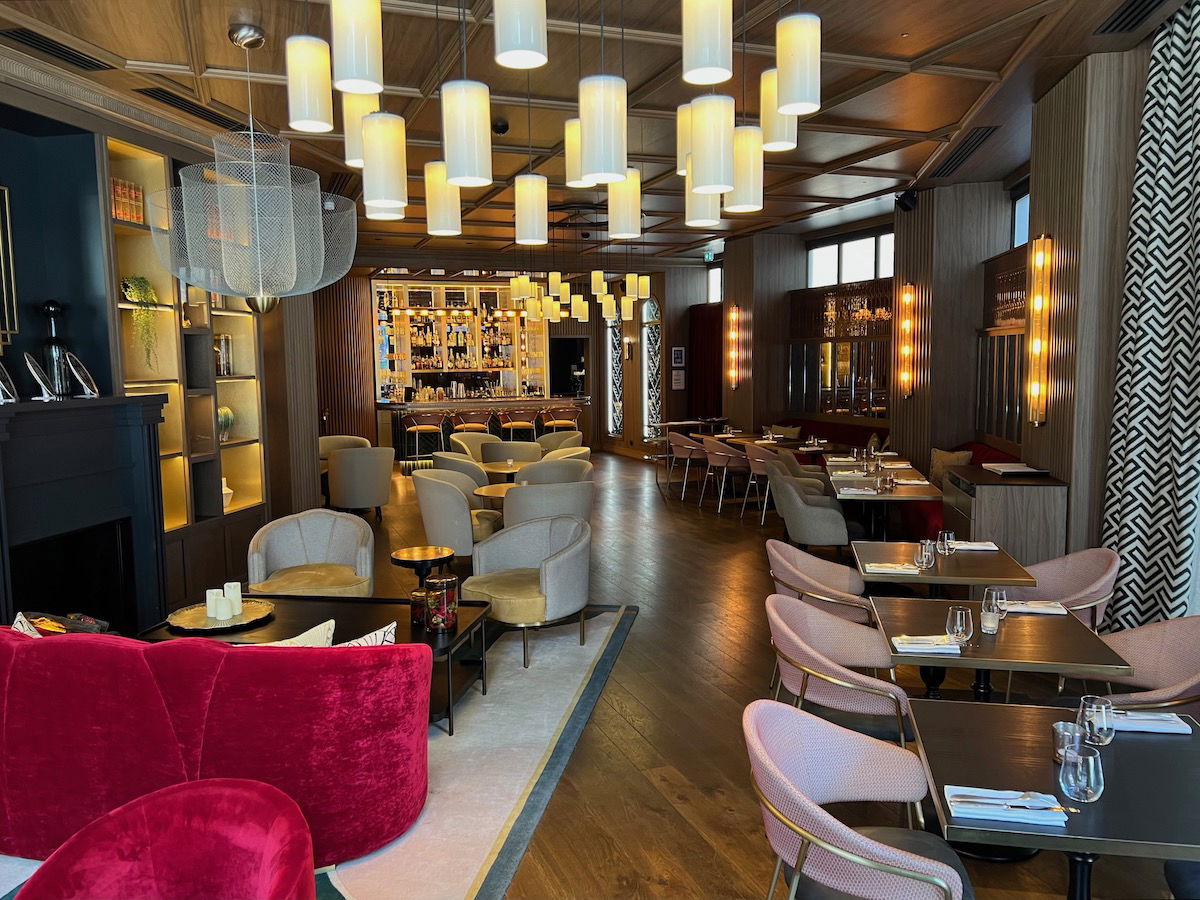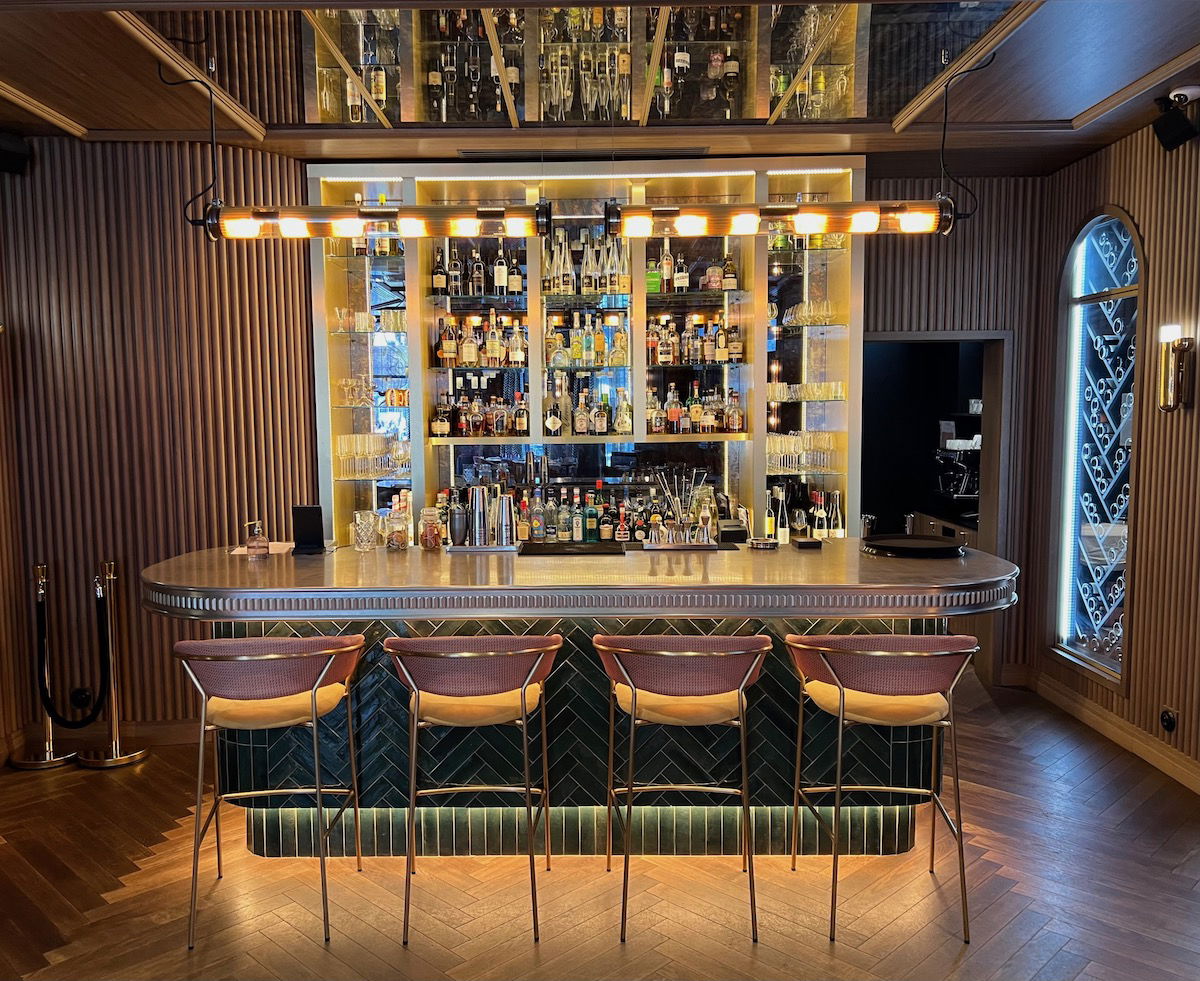 Unfortunately there was a lack of outdoor seating, as there were just two small tables outside. That's not the hotel's fault, as there's just not much outdoor seating in this part of town, as this is the most heavily trafficked street in town.
We sat here one evening and had drinks. We quickly regretted that when a guy walking by stopped at our tables, claimed to sense American accents, and then proceeded to share his opinions on US politics for about 10 minutes (and I won't even get into the claims he was making)…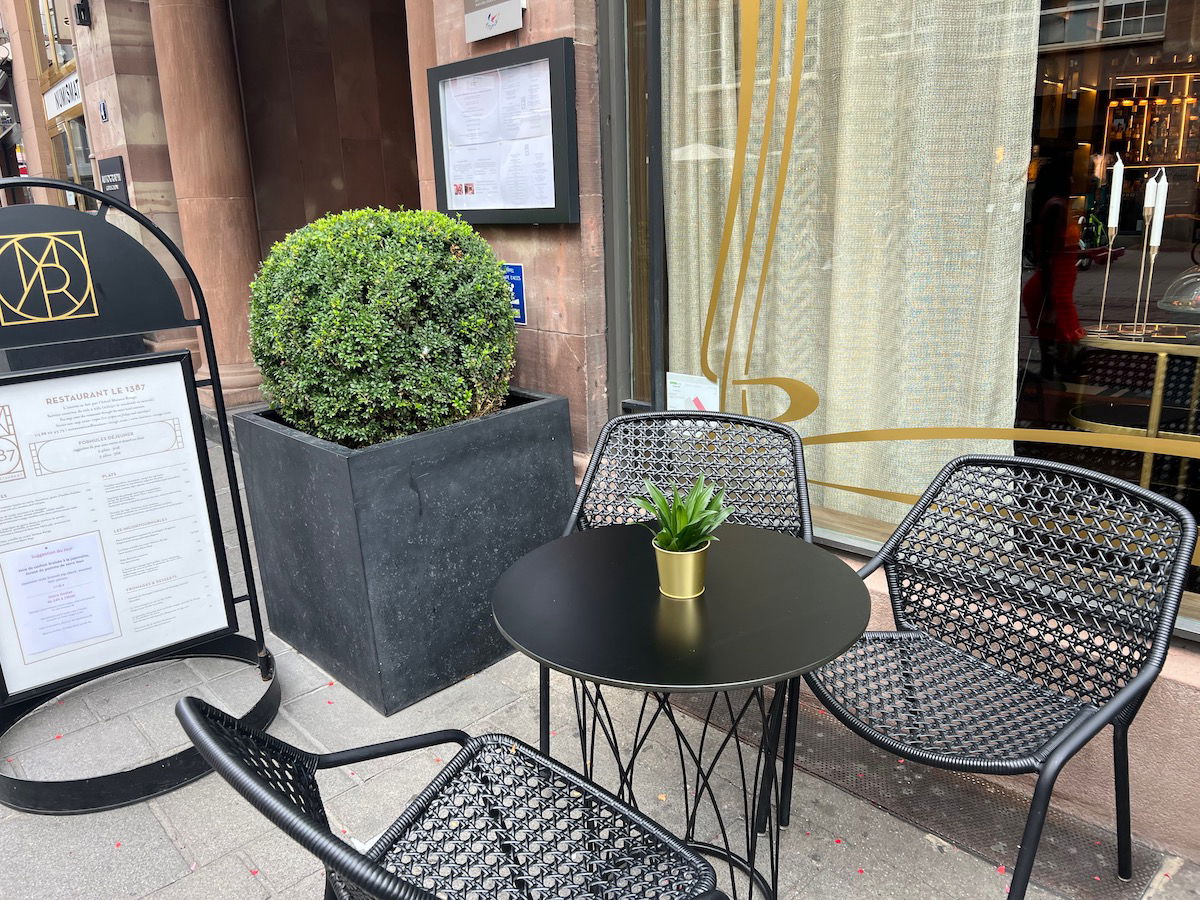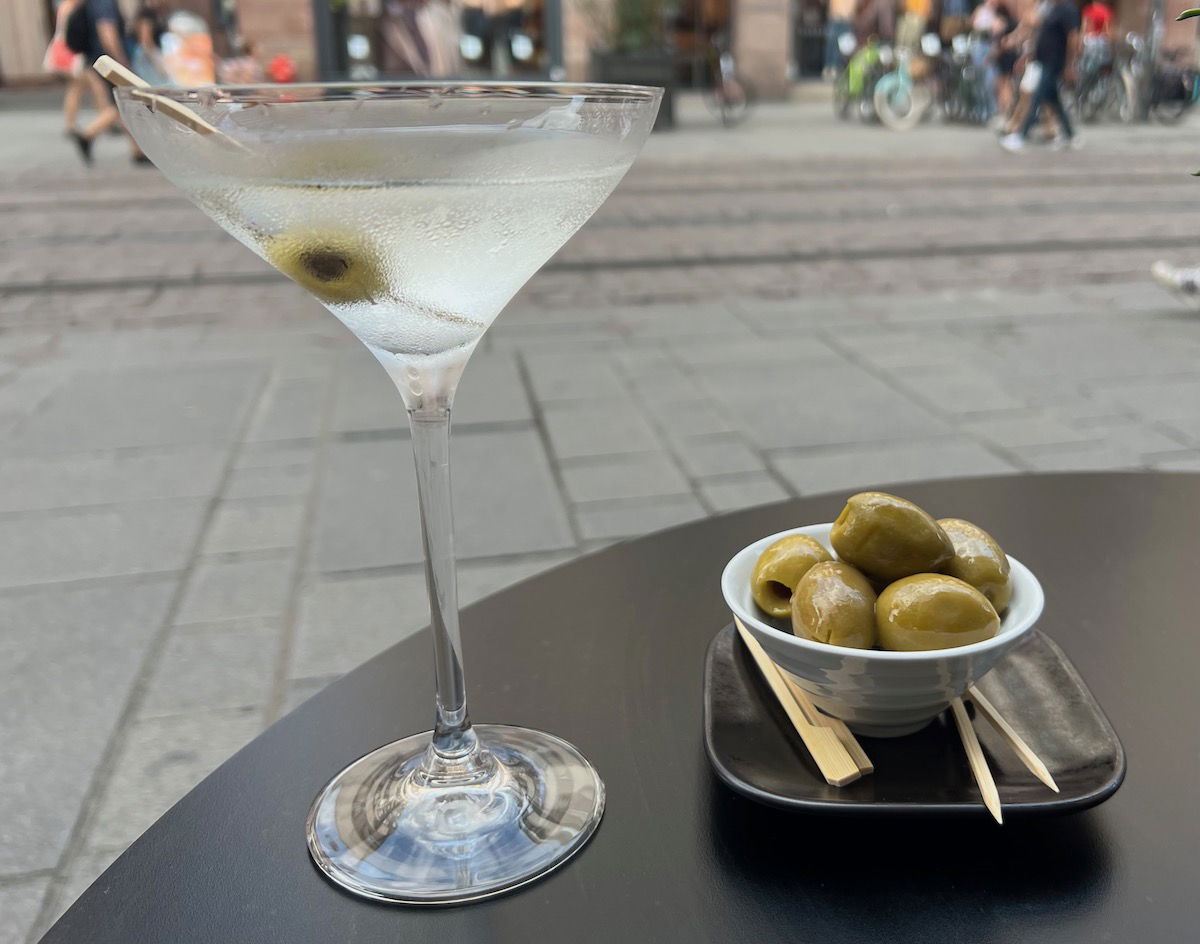 Look, unfortunately the problem with the restaurant is that it was just always empty. I didn't see a single person having lunch or dinner there. And maybe this sounds strange, but that kind of made the hotel feel a bit soulless, given the lack of any public spaces with any "action." The lobby has a single couch, then there's a breakfast room, and then this is the only other real public space.
Maison Rouge Strasbourg gym & spa
Maison Rouge Strasbourg has a gym and spa on the second floor, and unfortunately this is where the hotel confuses me. The gym is accessible by guests 24/7, and has wooden equipment that looks beautiful, but is severely lacking.
The equipment included two bikes, a rowing machine, a sloped treadmill, and a bench. However, there weren't any weights, beyond some "bags" that you could lift, each weighing a few pounds. Honestly, this is possibly the least functional gym I've seen at any hotel. What am I missing?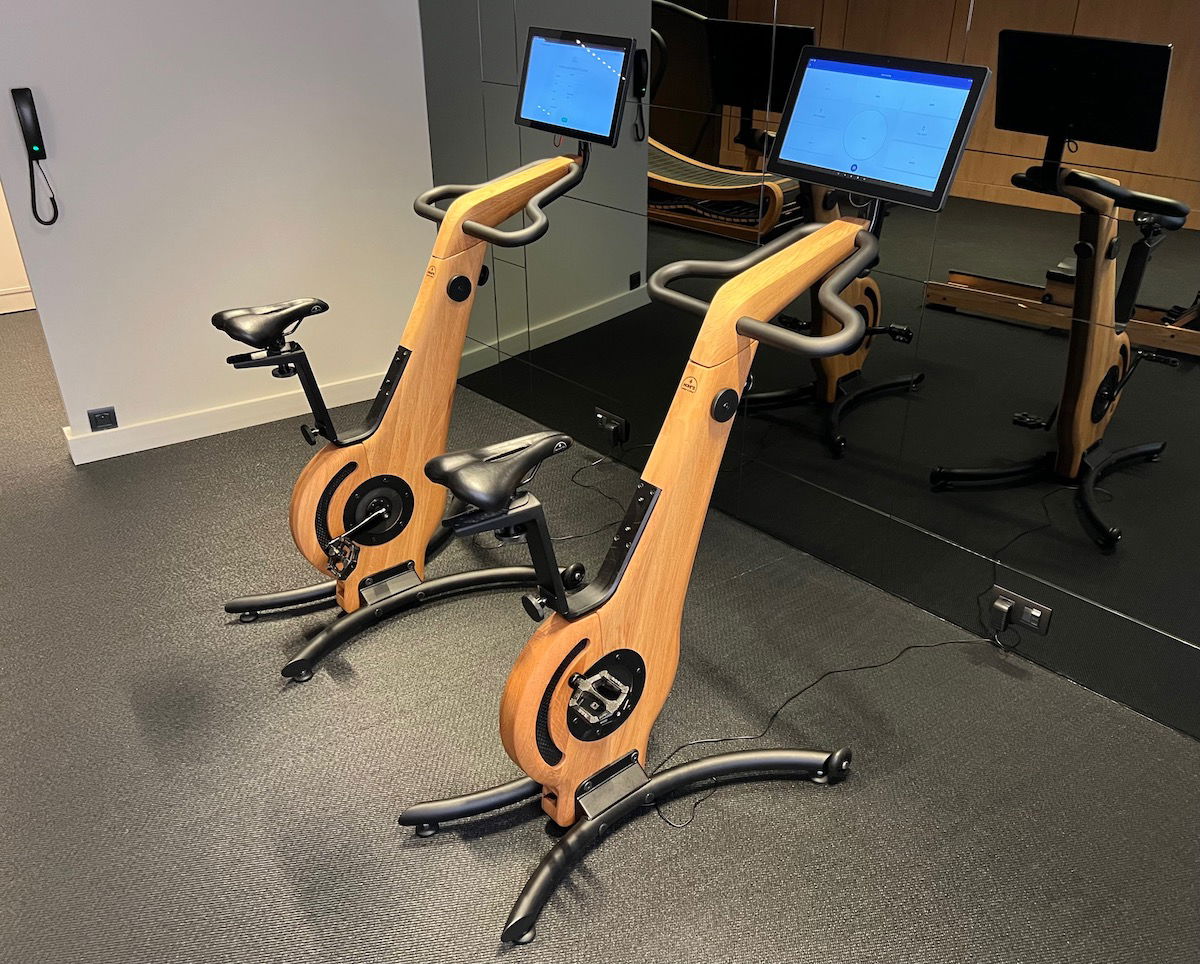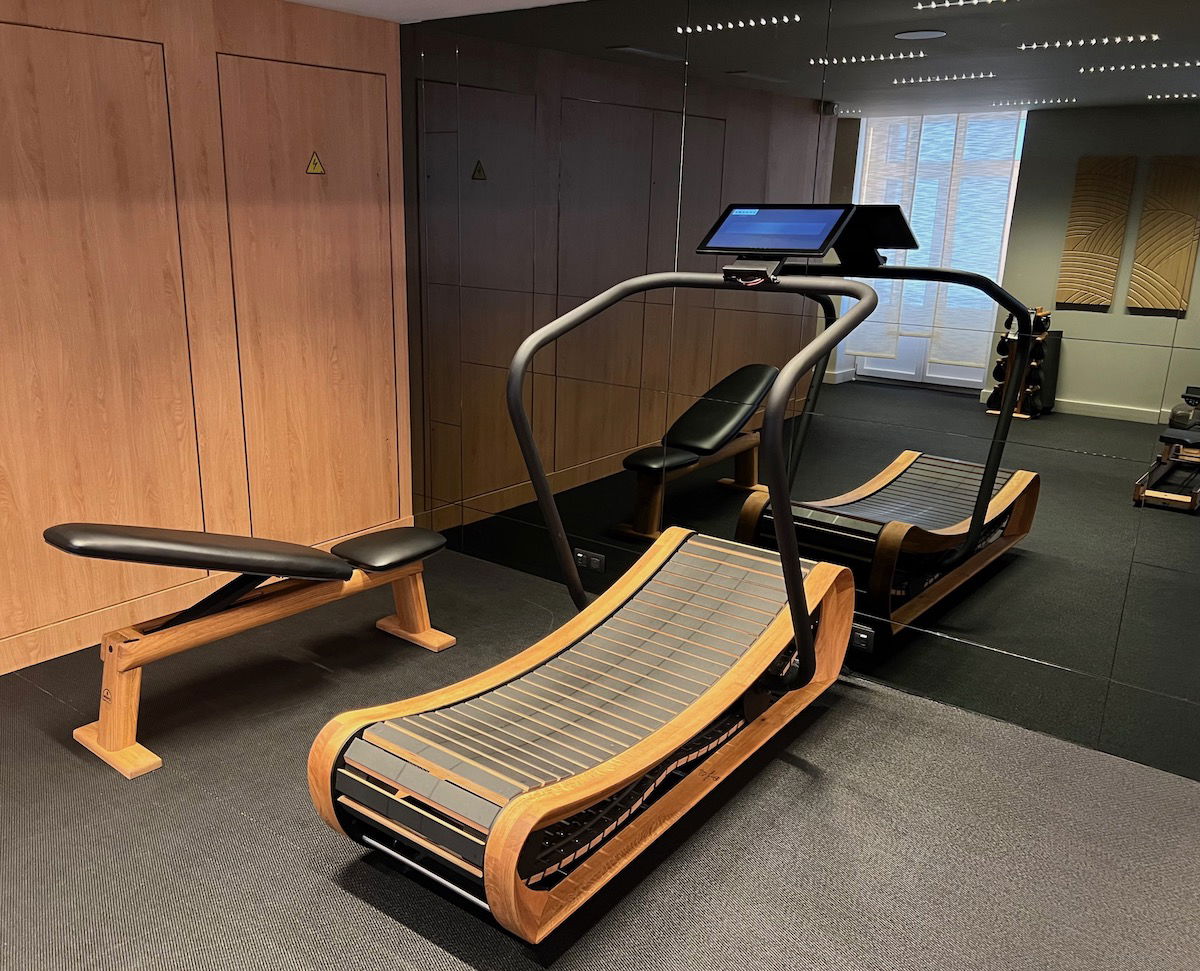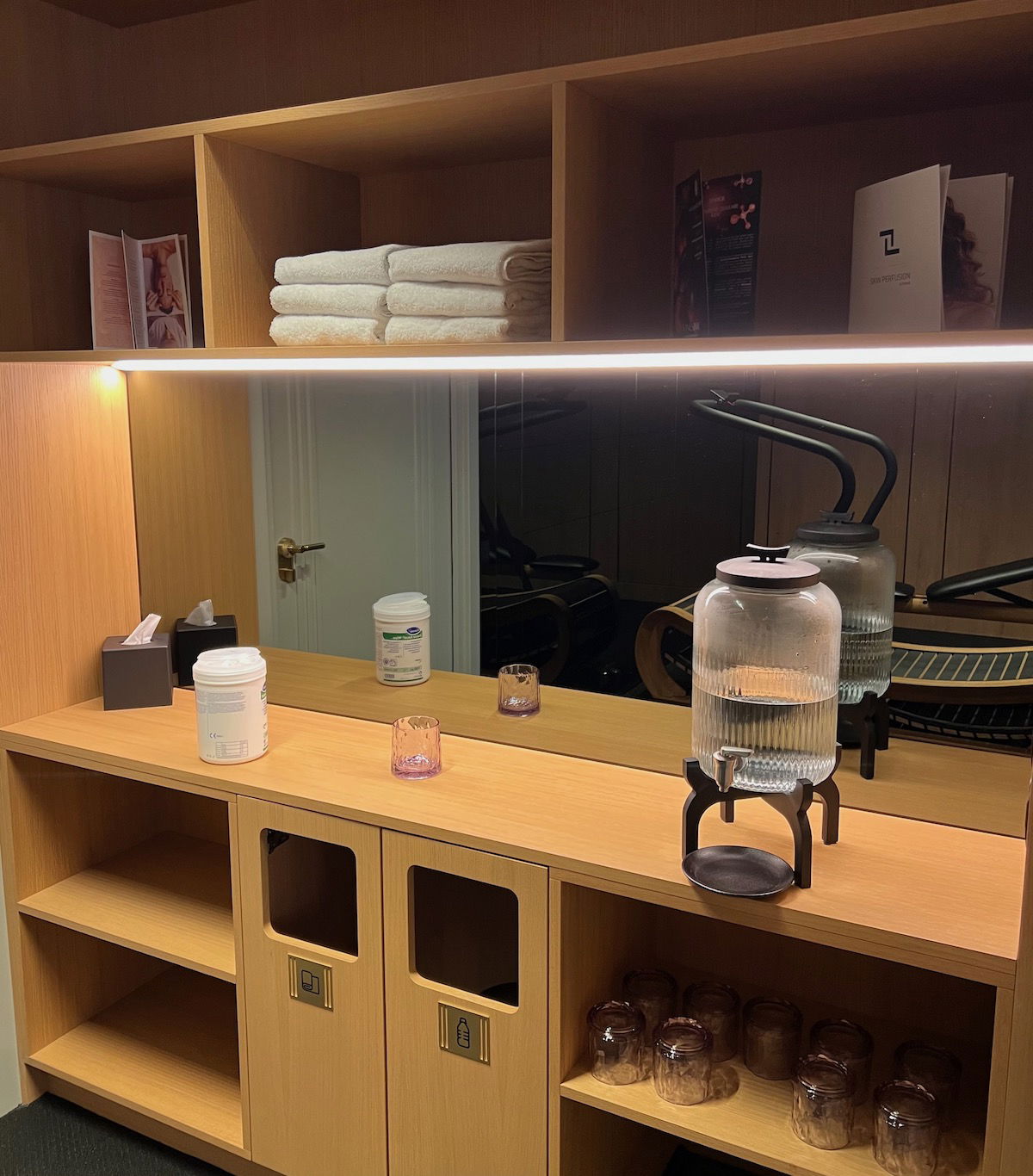 Maison Rouge also has a spa, located on the first floor. You can find the treatment menu here. While the hotel has a hammam, sauna, and jacuzzi, there's a fee of €25 for hotel guests to use this for a period of 60 minutes. Most people don't visit Strasbourg to use a spa, so unfortunately that's all I can report back on regarding that.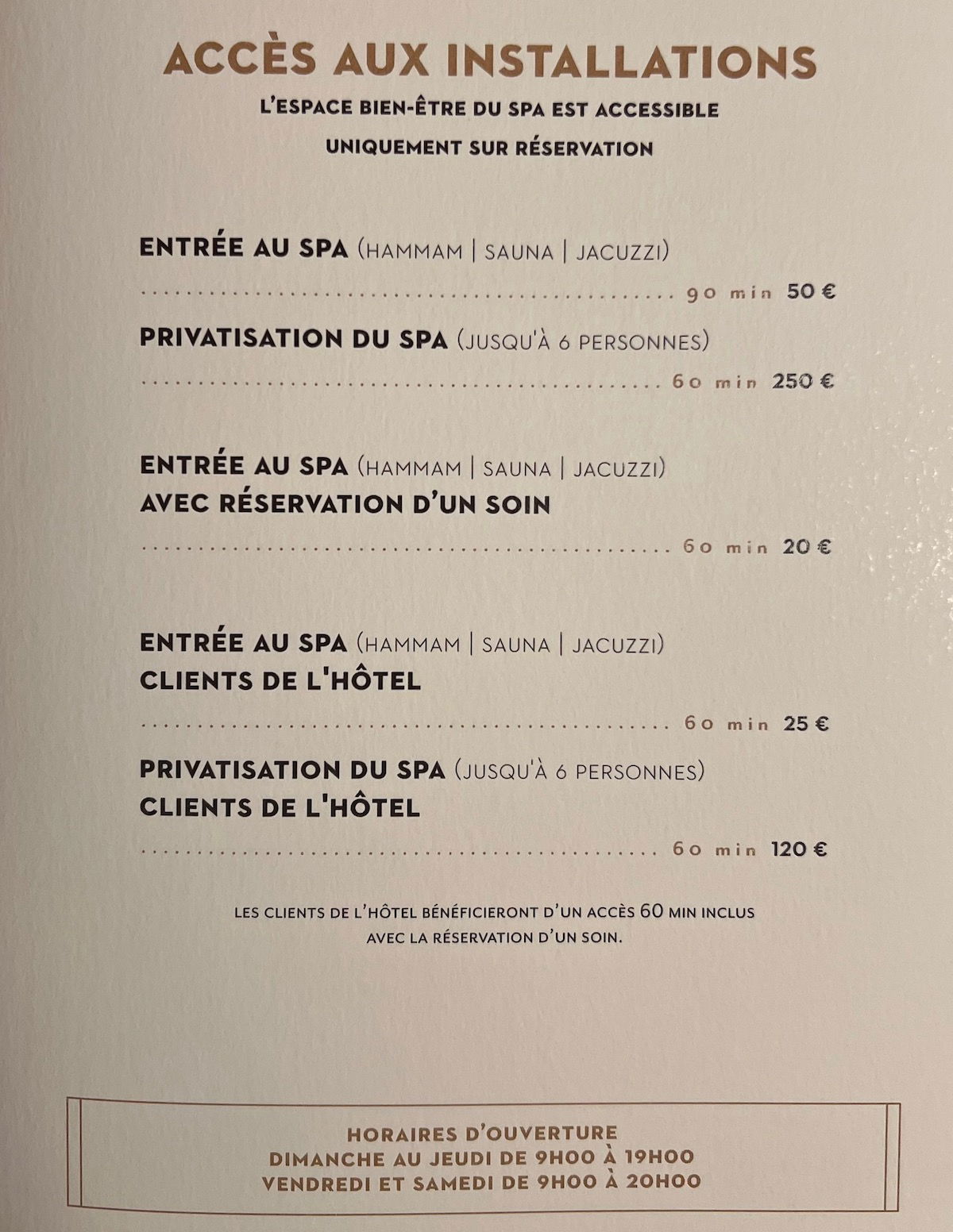 Impressions of Strasbourg
Strasbourg is unlike any place I've ever been. The city has an incredible amount of history, and over the years changed hands between France and Germany several times. As a result, you'll notice quite a few influences from both countries. Strasbourg is also home to the Council of Europe, so Lufthansa operates an interesting "shuttle" flight here.
Strasbourg — particularly the Petite-France area — is so cute that it almost doesn't feel real, and like it's something you'd find at Disney. There are cobblestone streets, endless restaurants and cafes, and beautiful historic buildings.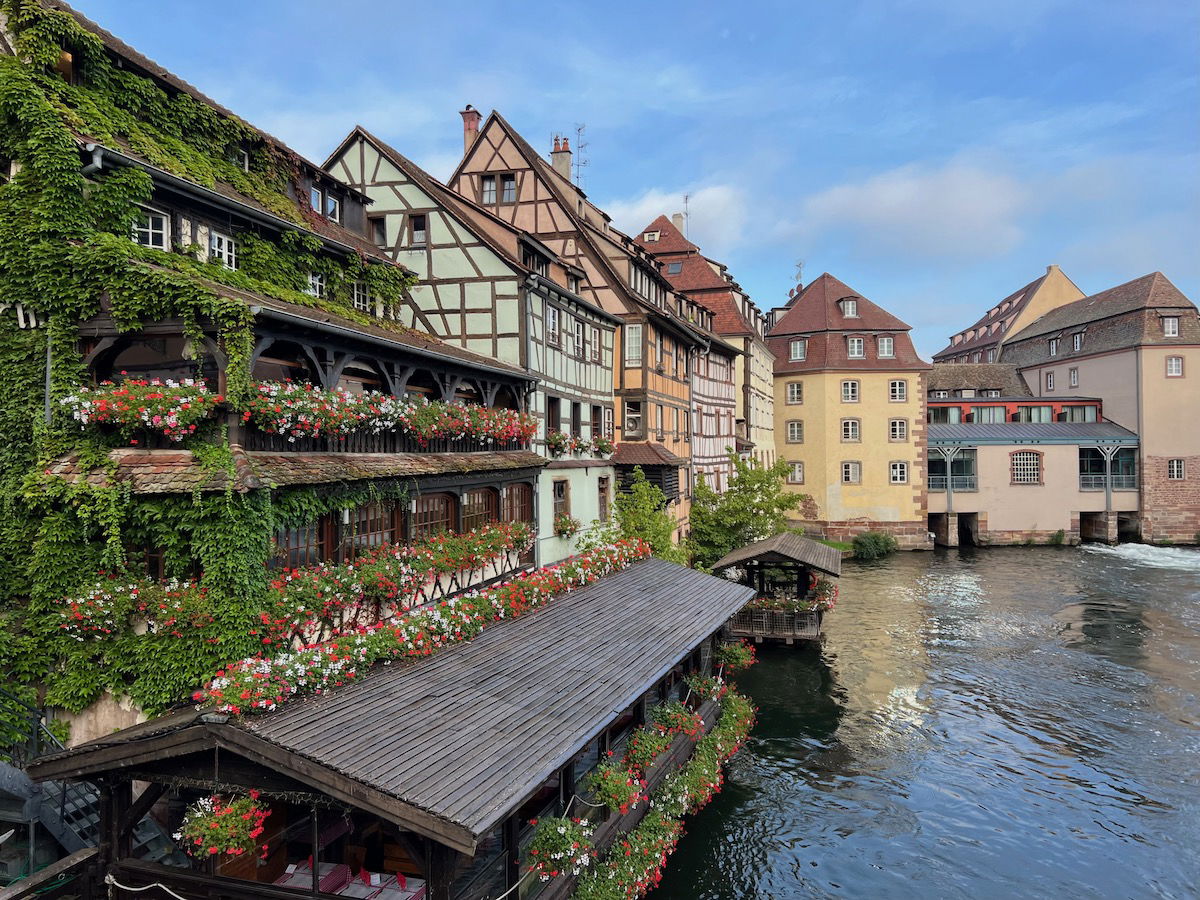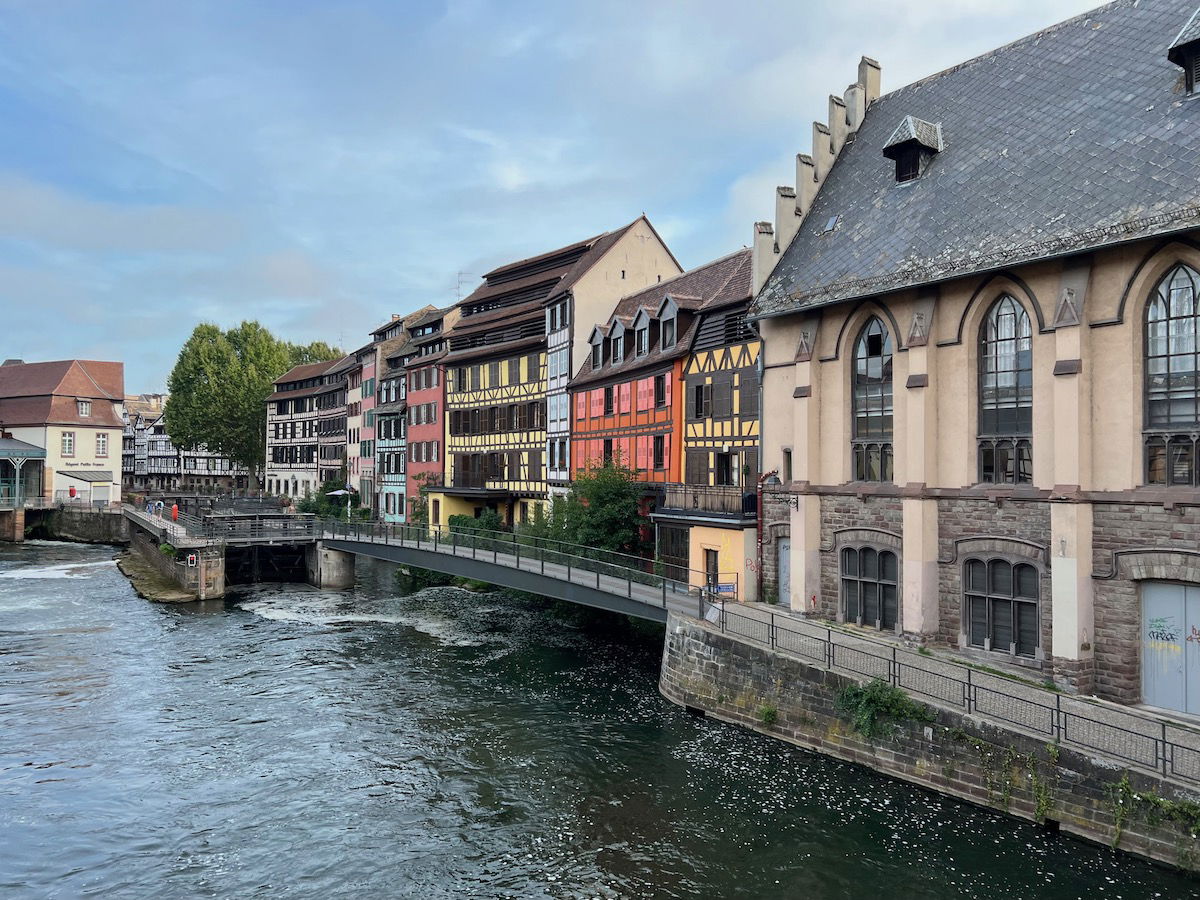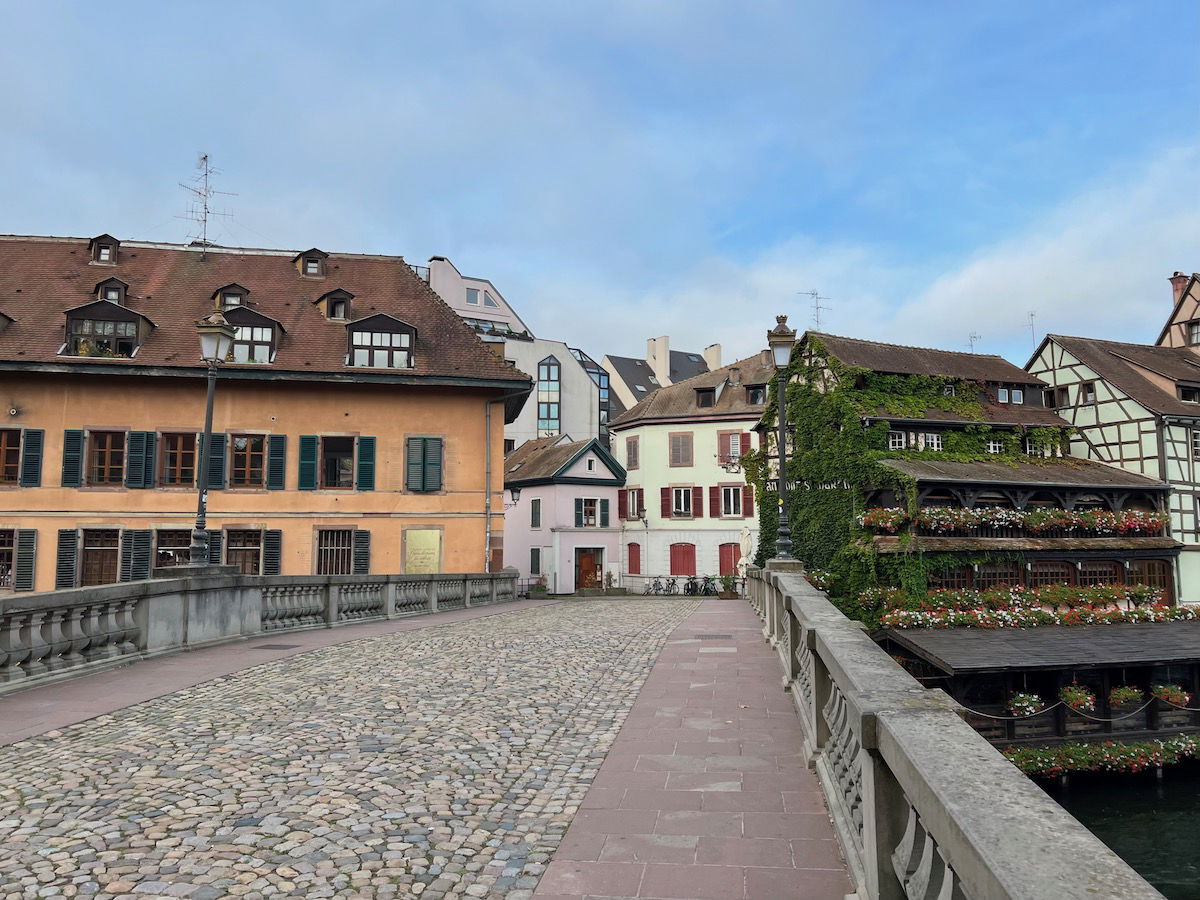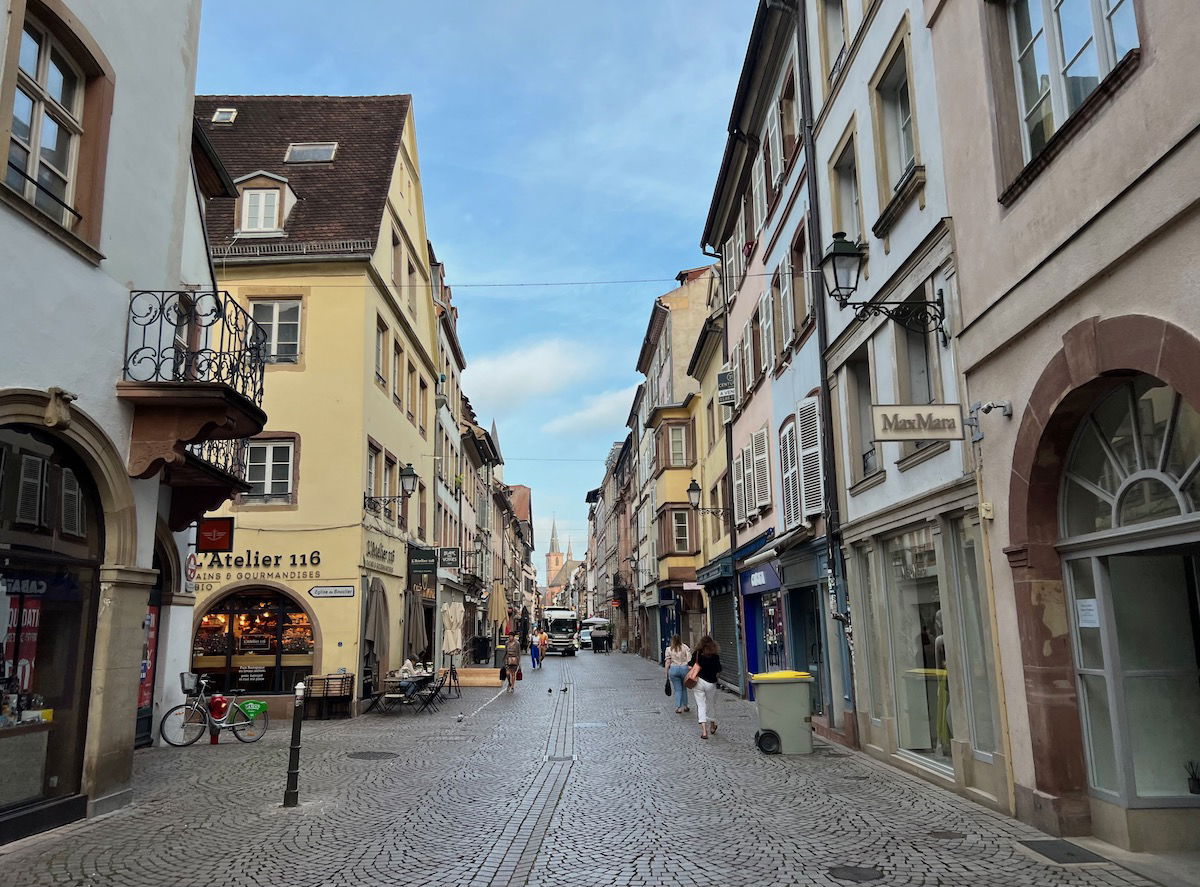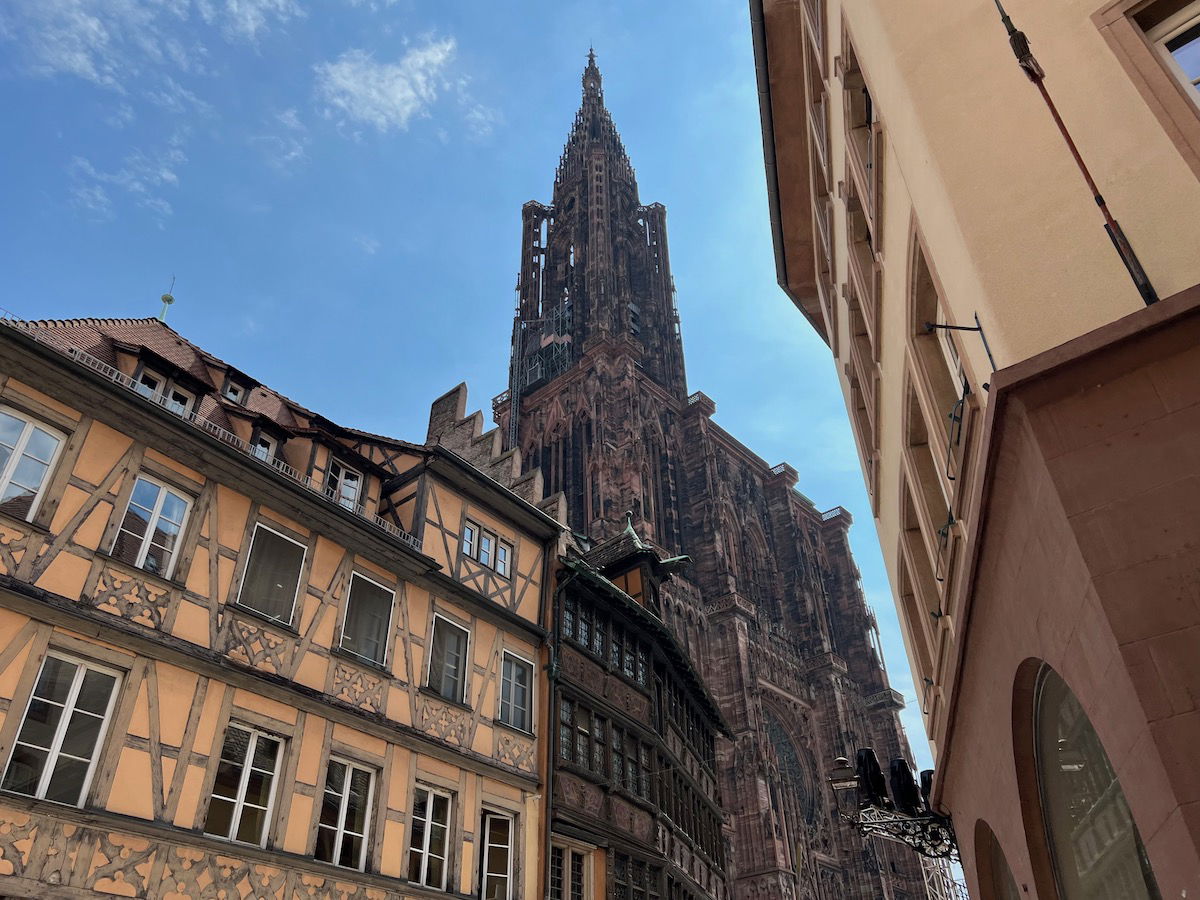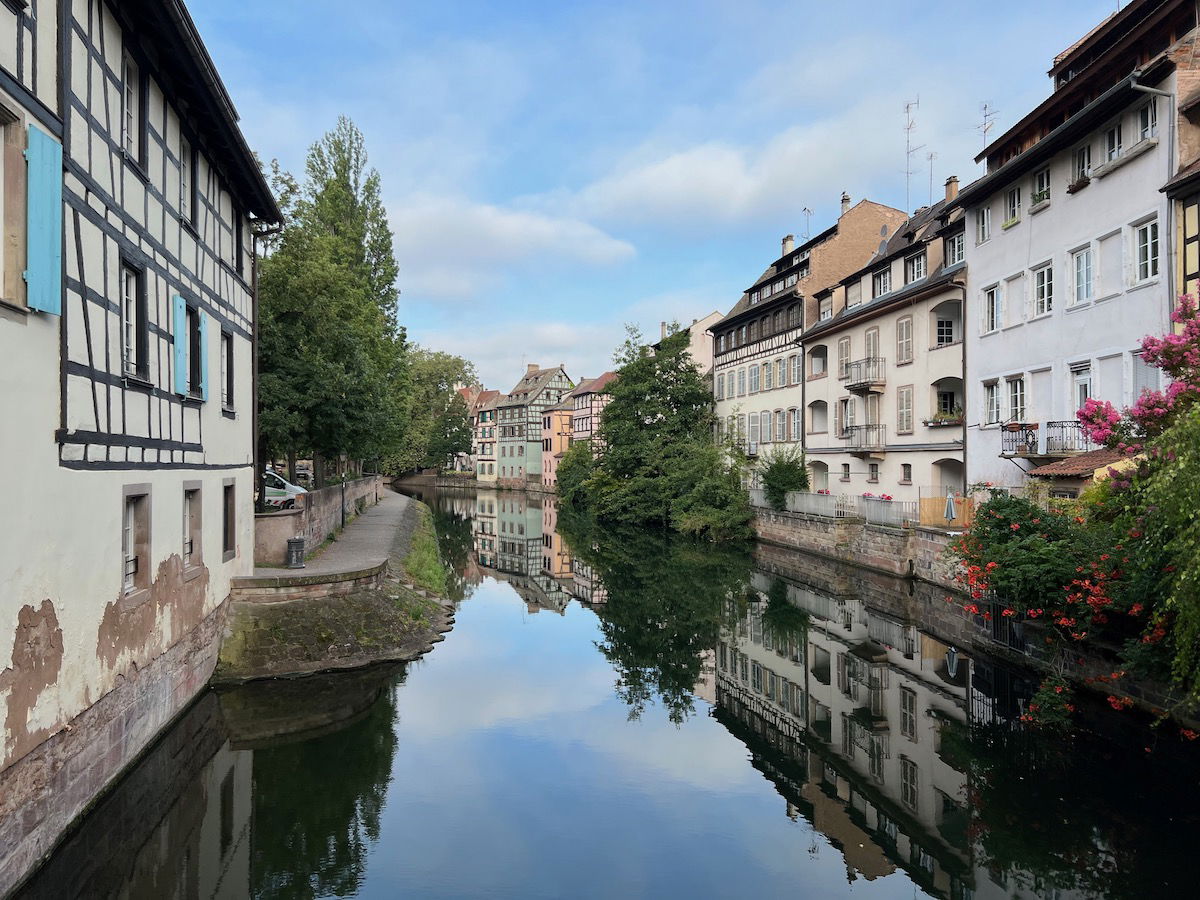 Strasbourg is also the capital of the the Alsace region, which is known for its gastronomy. I can only describe the food in the region as being extremely rich, with endless meat and cheese. My dad and my mom's partner were in heaven with the food, while my mom and I are less enthusiastic about that kind of food. But we still found lots of tasty dishes, and we spent a lot of time at cafes and restaurants just taking in the views.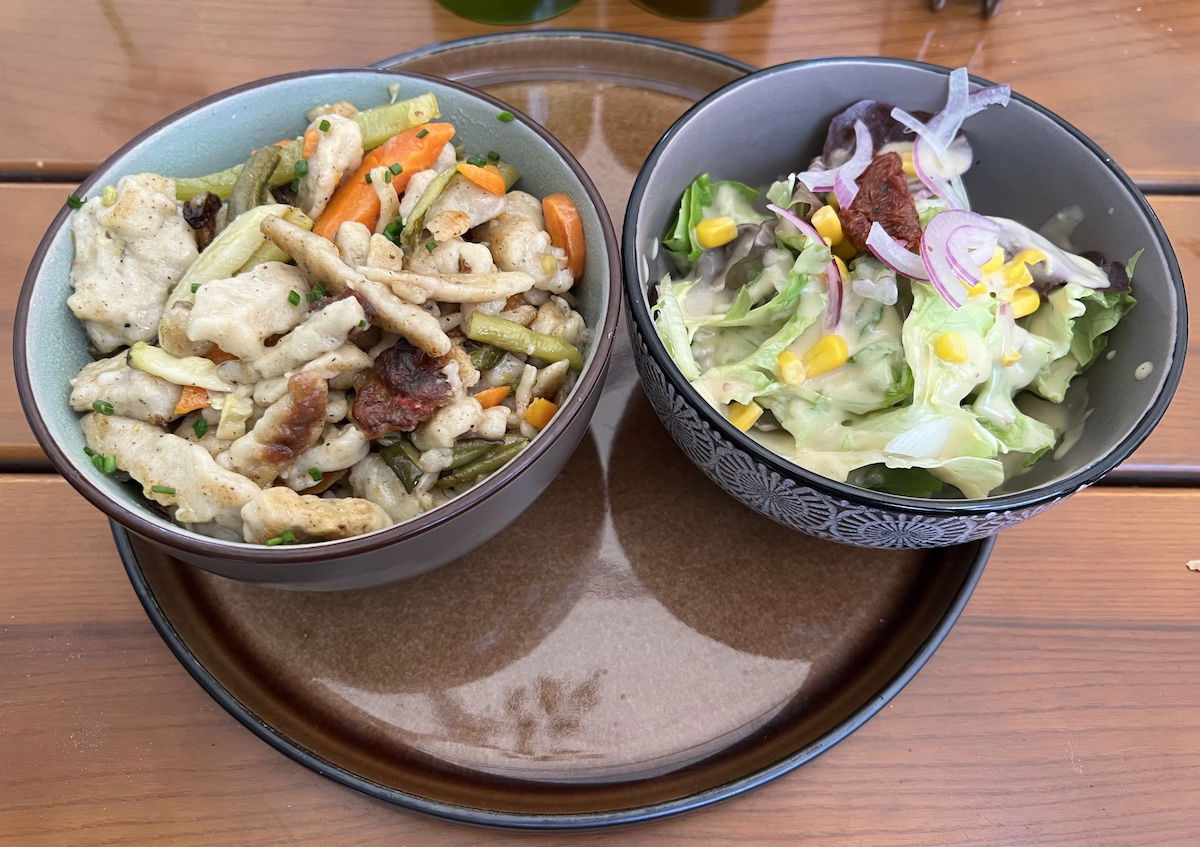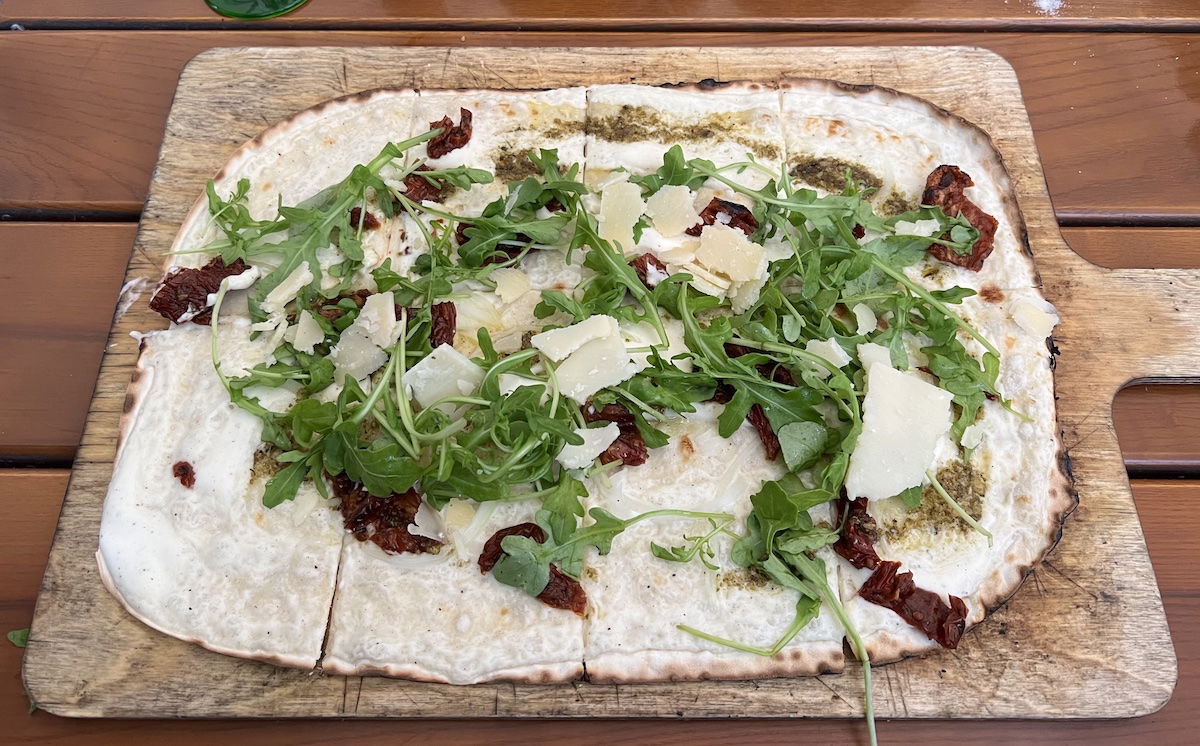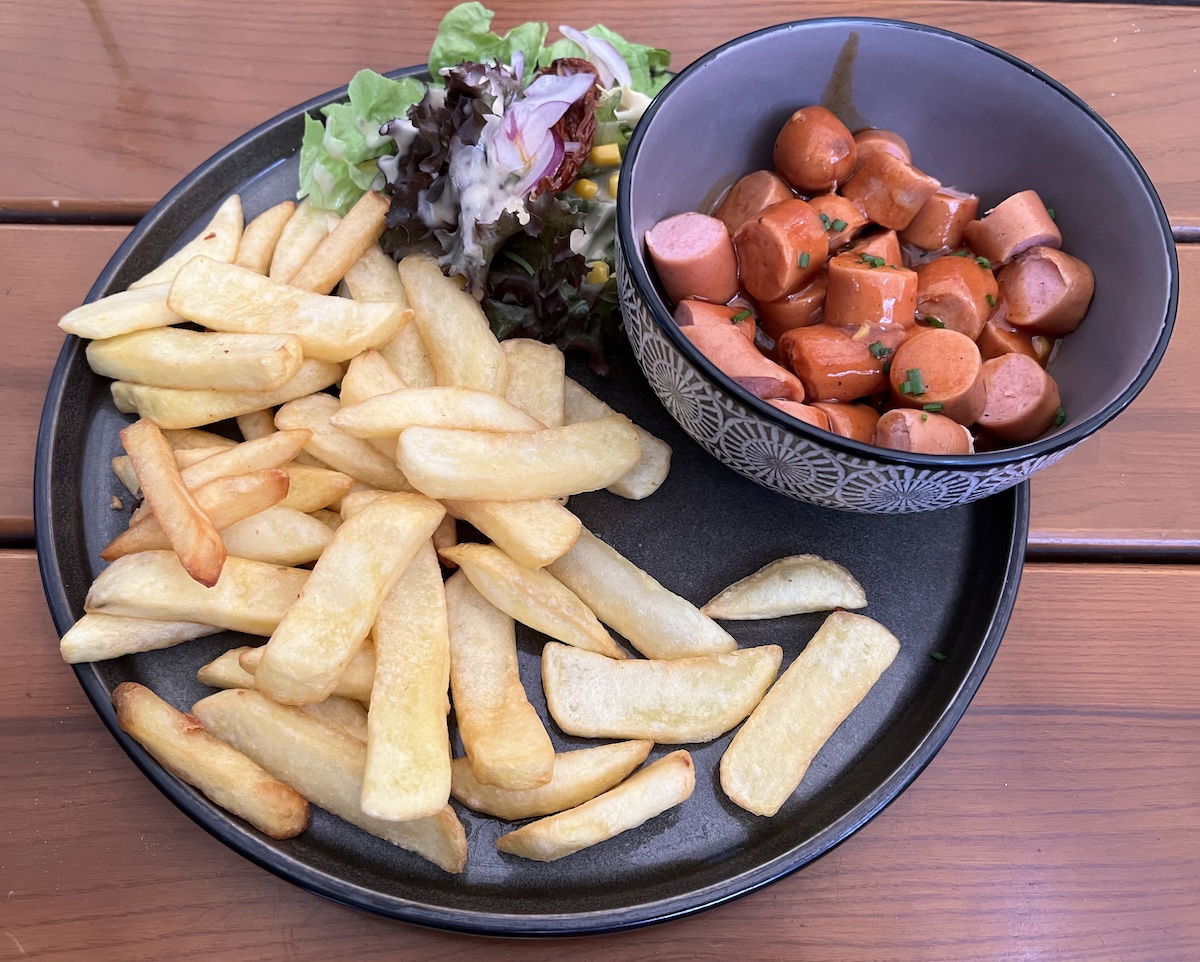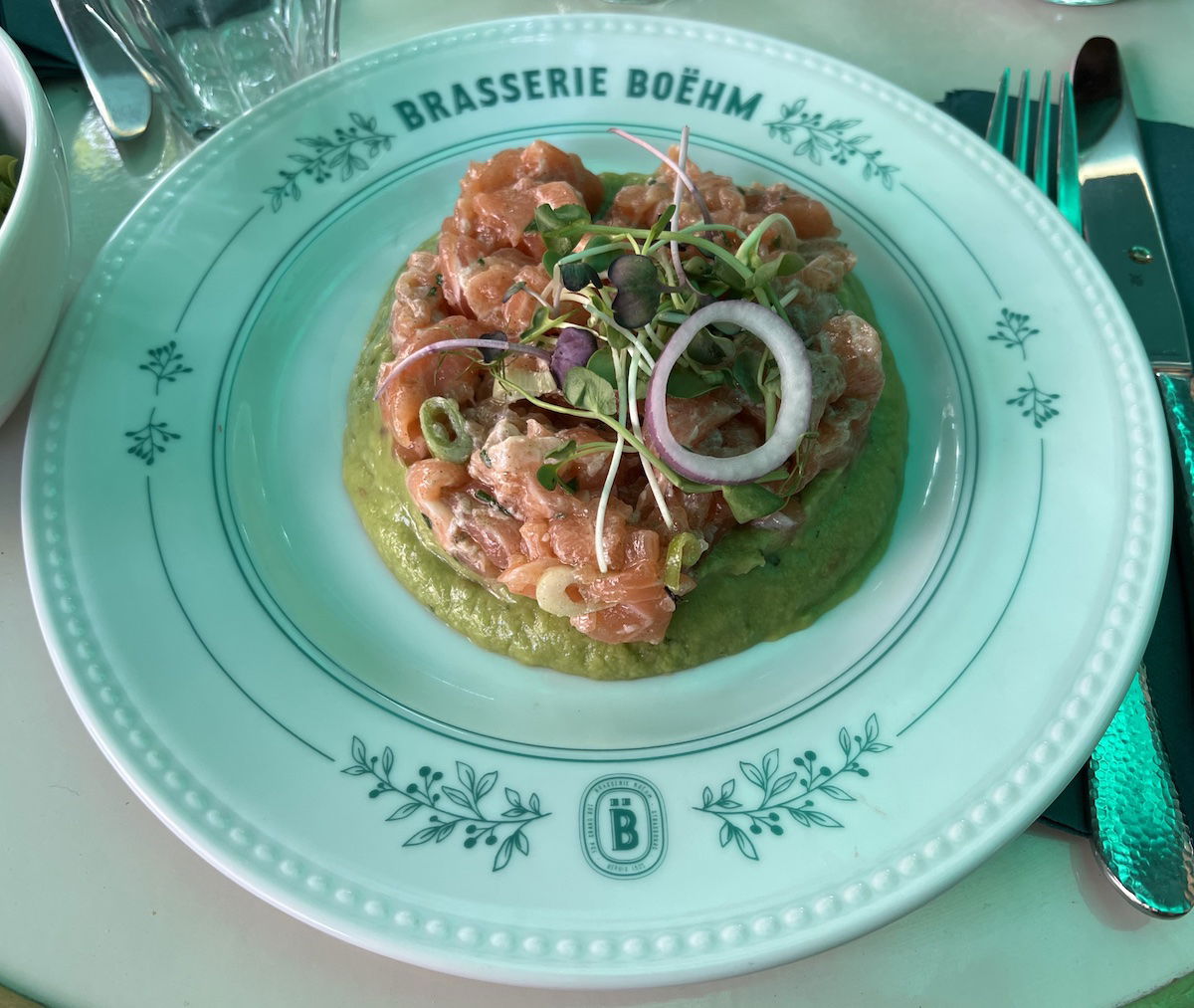 Bottom line
Marriott's Maison Rouge was a fantastic base from which to explore Strasbourg. The hotel has a lot of history, a modern yet charming design, a central location, and an excellent breakfast.
However, there are also some areas that left a bit to be desired — the gym wasn't functional, you have to pay to use the spa facilities, and while the hotel has two very nice restaurants, one is only open for breakfast, and the other appears to not be very popular. So the hotel sort of lacks a pulse, though fortunately with Strasbourg right outside your door, that's not really a big deal.
The main reason you want to stay at Maison Rouge is because Strasbourg is awesome, and well worth a visit. If you're going to visit, it doesn't get much better than Maison Rouge, best I can tell.
What do you make of Maison Rouge Strasbourg?