I'm writing a series of posts about some of the tools and services I most use for managing, earning, and redeeming points. While I often mention these websites and services in passing, I've never written dedicated posts about them, so that's what I'm trying to do now.
In this post I wanted to talk about how and why I use Seats.aero, which is an award search tool that's useful even if you're an advanced miles and points geek. In separate posts I talked about Google Flights, AwardWallet, ExpertFlyer, point.me, aeroLOPA, and more.
What is Seats.aero?
Seats.aero is an award search tool that will show you award availability across entire regions, allows you to search with instant results, and also allows you to create free alerts to find award flights. Seats.aero supports 13 frequent flyer programs, and it can be awesome if you're looking for a premium cabin award that can be hard to get, whether that's a Lufthansa first class award seat, or a Qatar Airways business class award seat.
As far as award search tools go, I'd say that Seats.aero and point.me are kind of opposites:
Seats.aero is most useful for those of us who are huge points nerds, and who know exactly how rewards currencies work, and know exactly what we're looking for
point.me is most useful for everyone else (which is a much smaller portion of our community, but a much bigger portion of the overall population), as it demystifies the world of first and business class redemptions, with a comprehensive search tool that walks you through the process of booking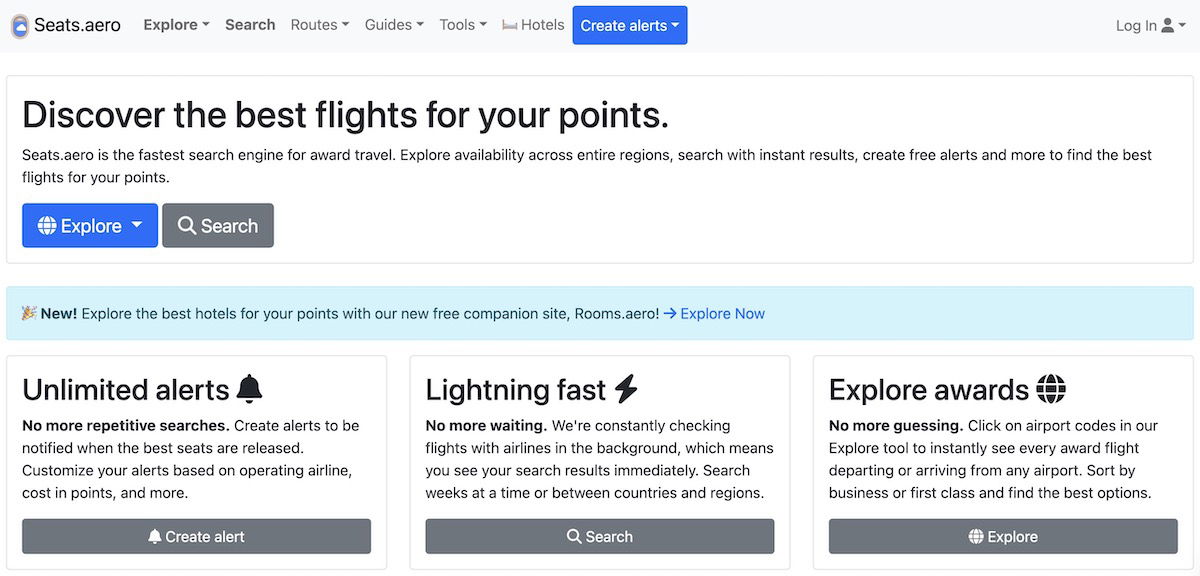 How much does Seats.aero cost?
One awesome thing about Seats.aero is that you can use the site for free, though with limited capabilities. Still, I'd say the free services can add a lot of value. Alternatively, you can buy a pro plan for $9.99 per month or $99.99 per year. That offers the following three primary incremental perks (in addition to supporting the site):
The ability to search award space for a full year, rather than only 60 days in advance
The ability to create alerts with advanced filters
The ability to receive text notifications for alerts, rather than just email notifications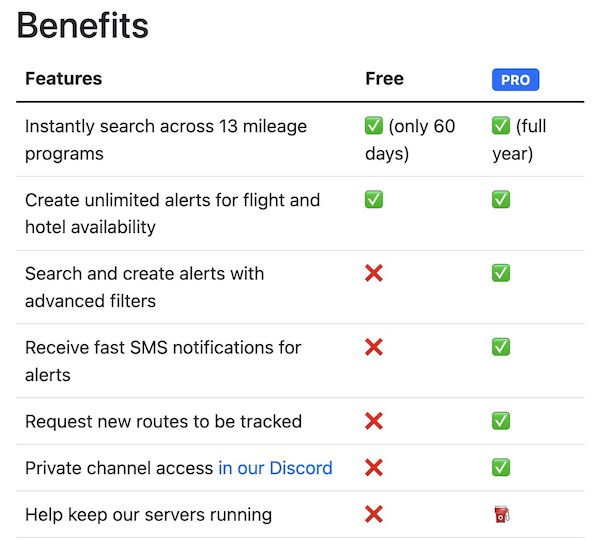 How do you use Seats.aero?
What makes Seats.aero unique is that you don't actually perform any award searches individually. Instead, Seats.aero refreshes all award availability for its supported programs several times per day, and then you can essentially search the database to see what's available. That's awesome in terms of how quickly you can search availability.
The catch is that since these searches aren't performed in real time, award availability may not always be accurate. So always cross reference what you see on Seats.aero with the program you'd book through, so that you don't transfer points based on availability that's no longer there. Some premium cabin award seats can disappear really quickly. Let's take a look at all of this in a bit more detail.
Seats.aero supports 13 frequent flyer programs
Seats.aero currently searches award space through 13 frequent flyer programs, most of which partner with major transferable points currencies. These programs include the following:
Aeromexico Club Premier
Air Canada Aeroplan
Air France-KLM Flying Blue
Alaska Mileage Plan
American AAdvantage
Avianca LifeMiles
Delta SkyMiles
Emirates Skywards
Qantas Frequent Flyer
SAS EuroBonus
United MileagePlus
Virgin Atlantic Flying Club
Virgin Australia Velocity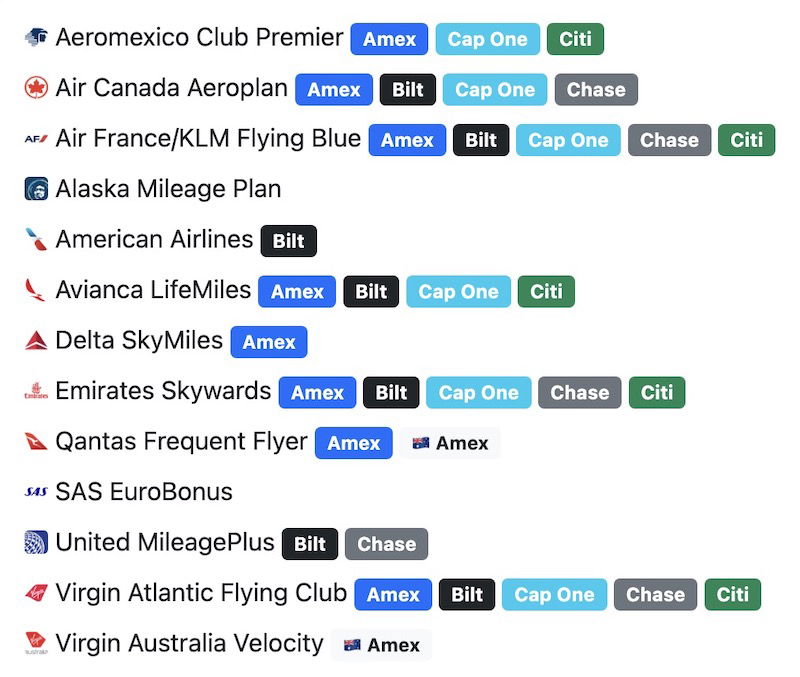 Seats.aero specific route award finders
When you go to the "Routes" section of Seats.aero, you can click on any of the above programs, and then see award availability on a variety of routes over a wide set of dates. For example, say you select Emirates Skywards as the program.
You'll see a list of all routes that Seats.aero has award availability for on Emirates.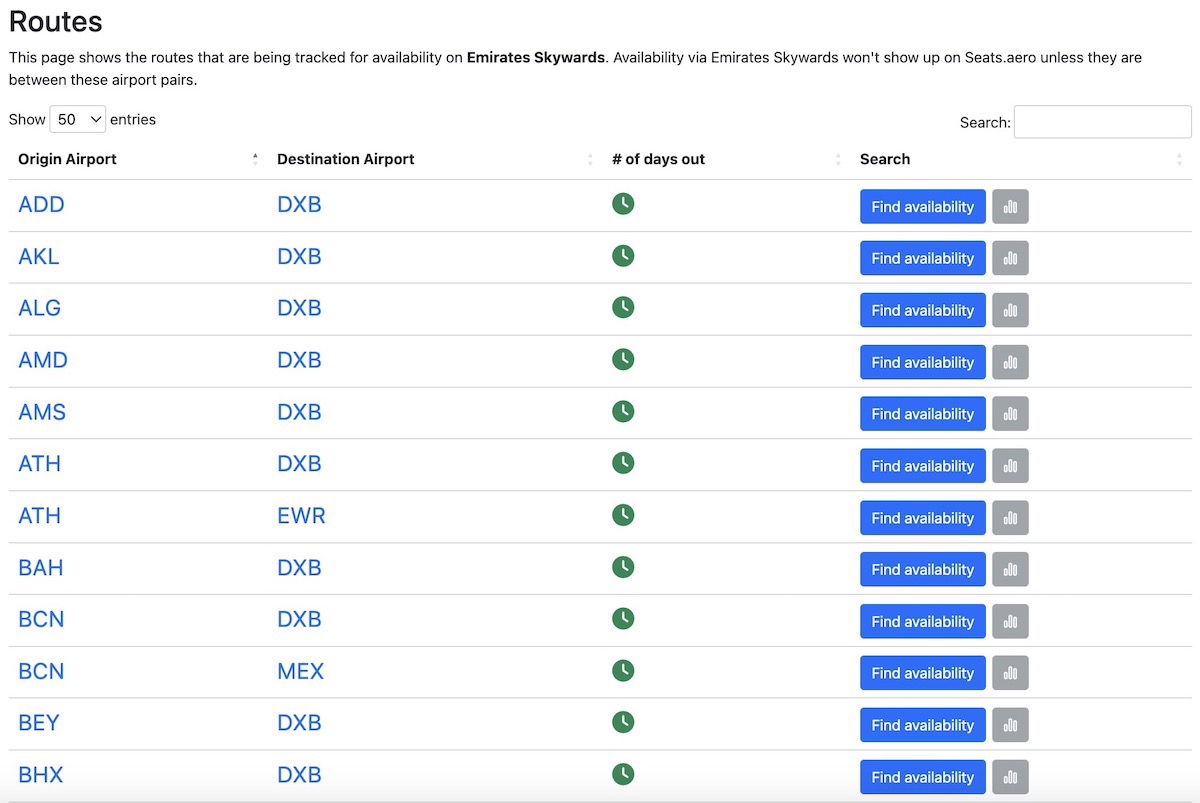 You can further customize this by just typing an airport code into the search bar at the top right. For example, I entered "IAH," so I could see award availability to and from Houston. On the next page I could select which direction I want to see availability for, and could then click "Find availability."

You'll then see a chronological display with all dates that have award availability.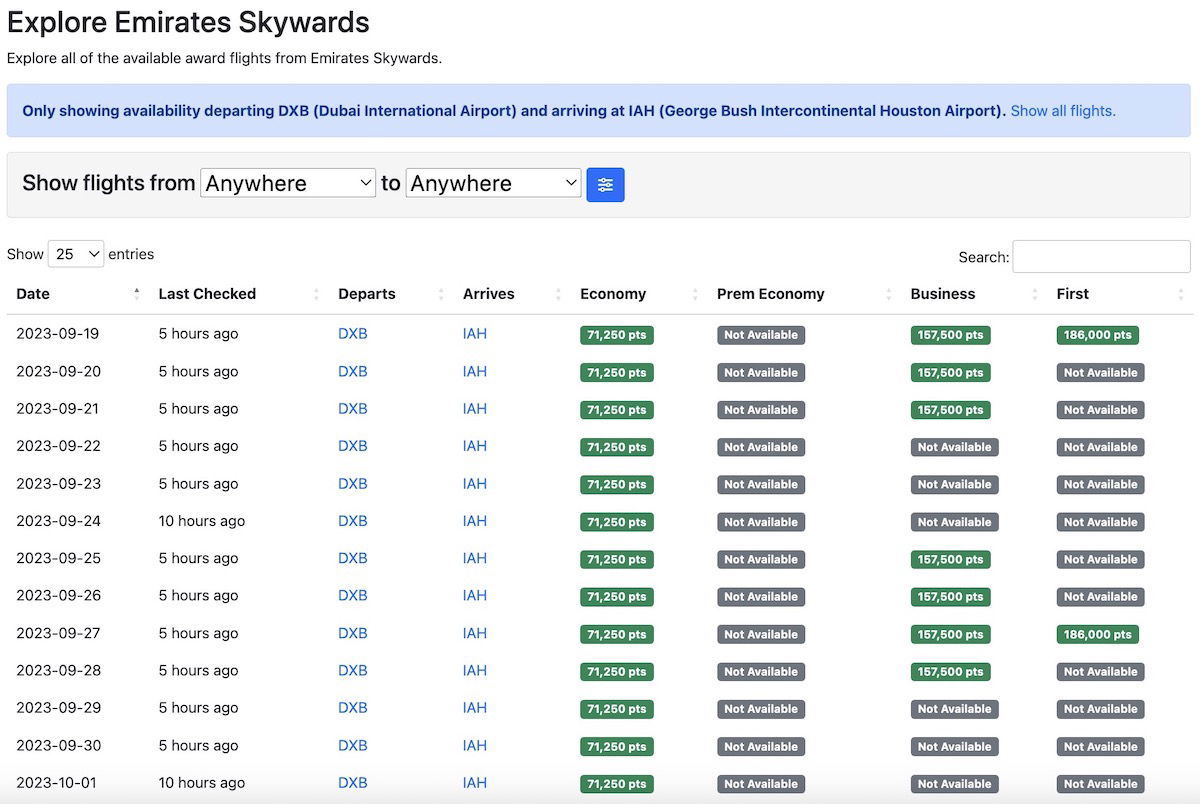 You can also sort this by class of service. By clicking on the "First" column, I could see all the dates in the next 60 days with first class award availability (with a paid subscription, you could see availability for a whole year).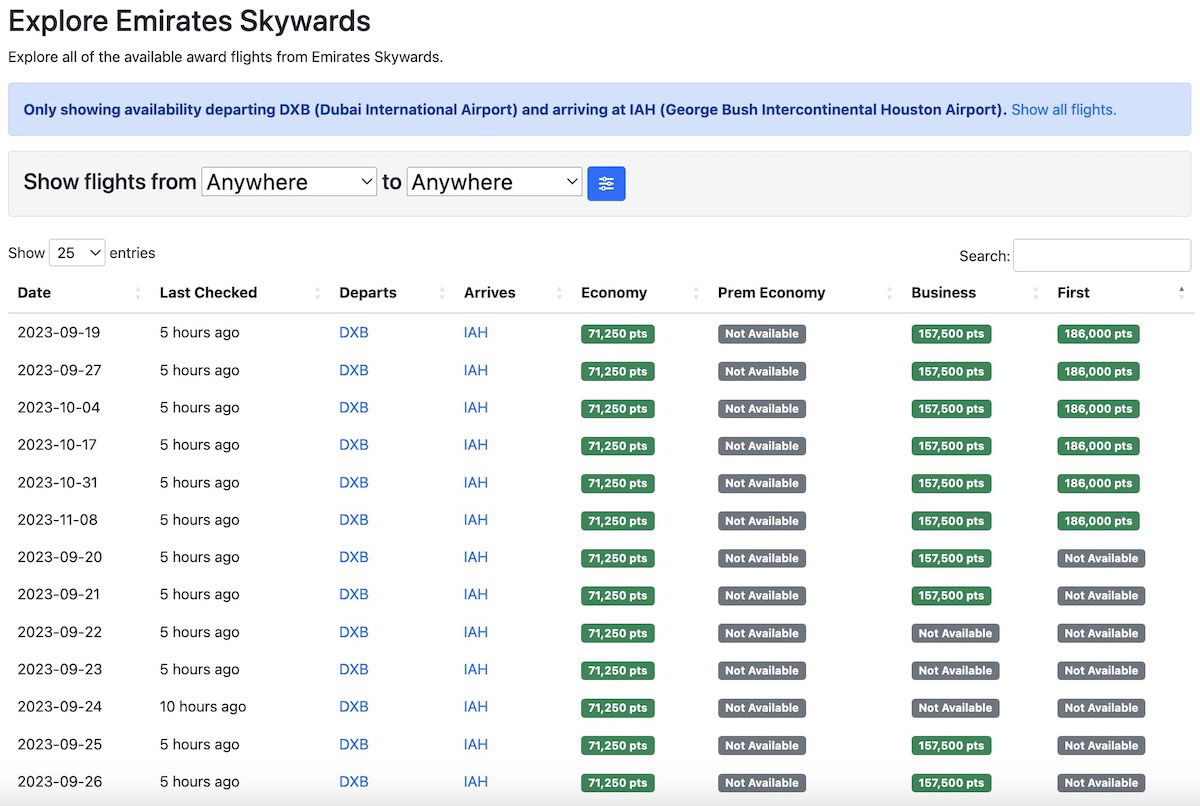 Seats.aero specific product award finders
One of my favorite things about Seats.aero is that if you go to the "Tools" section, you'll see several search options that are specific to certain products. For example, there's a Lufthansa first class finder, and a Qatar Airways business class finder.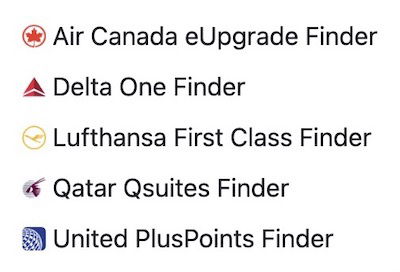 If you click the "Lufthansa First Class Finder," you'll see a chronological list of all Lufthansa flights that have first class award availability.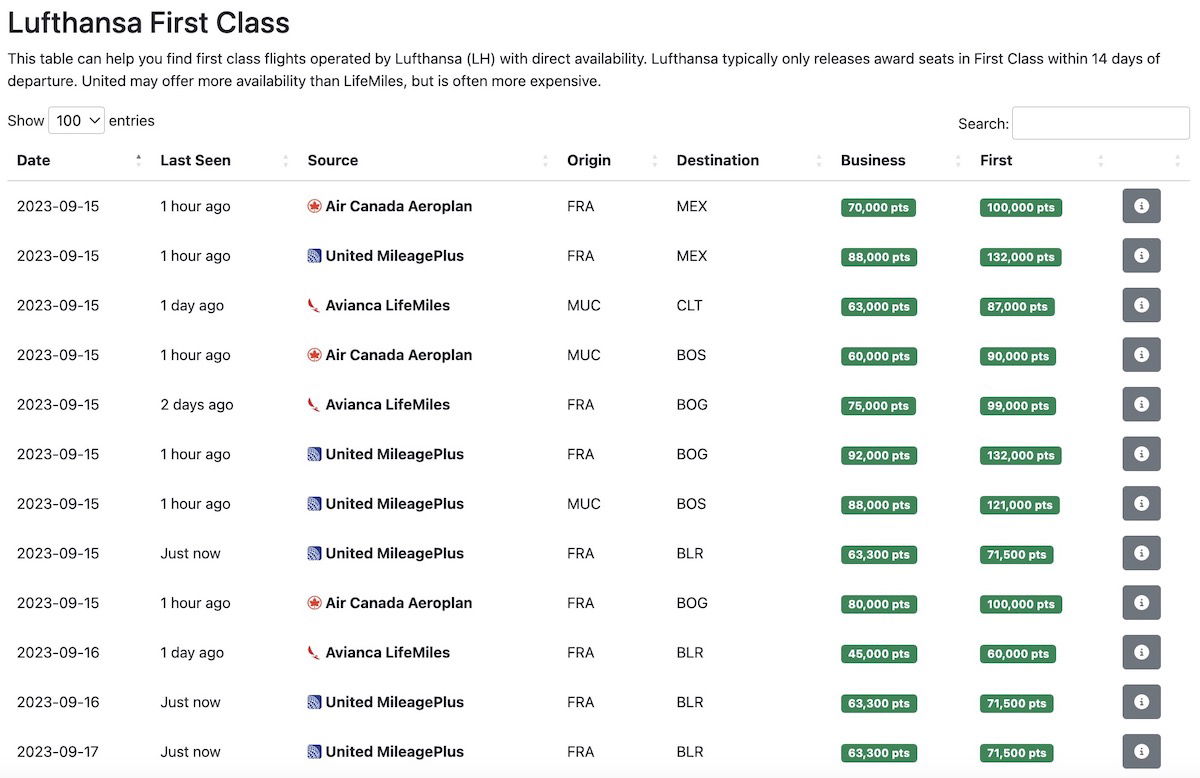 It will default to showing all routes, but in the top right you'll see a search tool, where you can type in an airport code, if you want to narrow down results to a single airport. For example, I typed in "IAD," to see award availability to and from that airport.

A similar feature exists for Qatar Airways business class, where you'll see a chronological list of all Qatar Airways business class awards.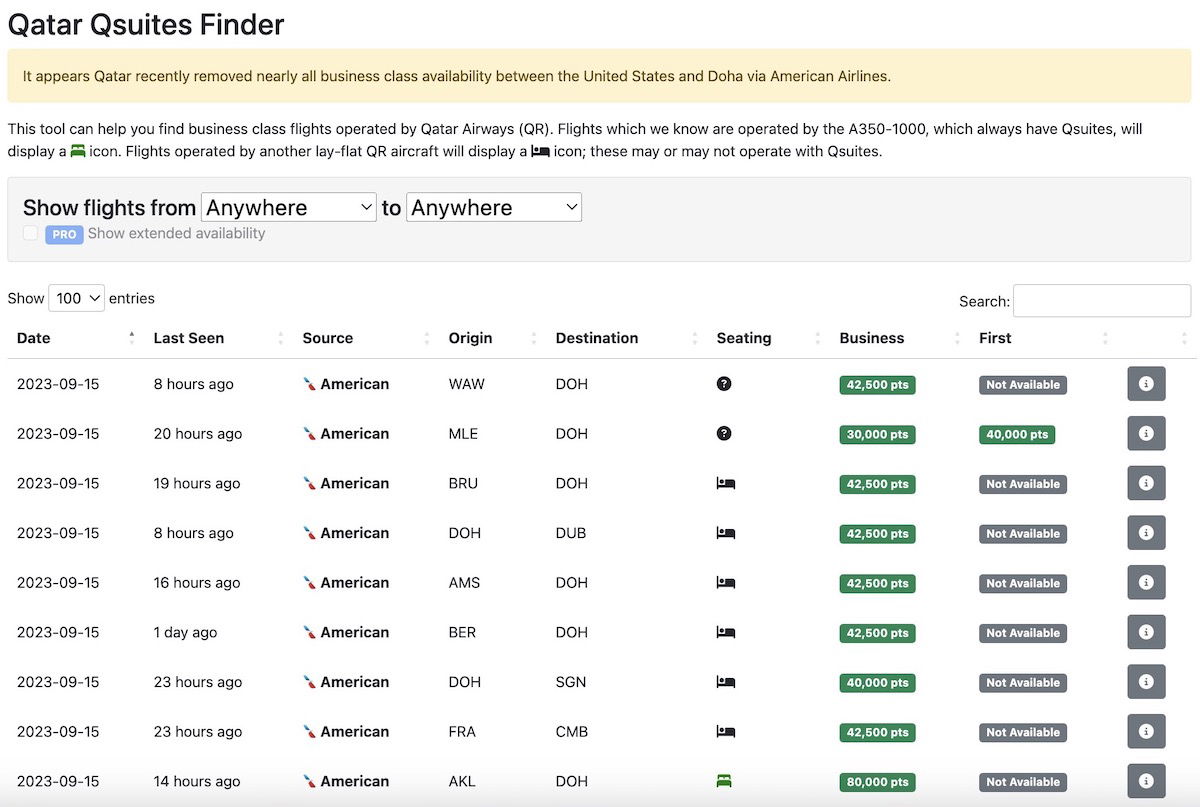 Much like with Lufthansa, you can enter an airport code, and then you'll see options narrowed down to that airport. You can also search by region, under the "Show flights from" section.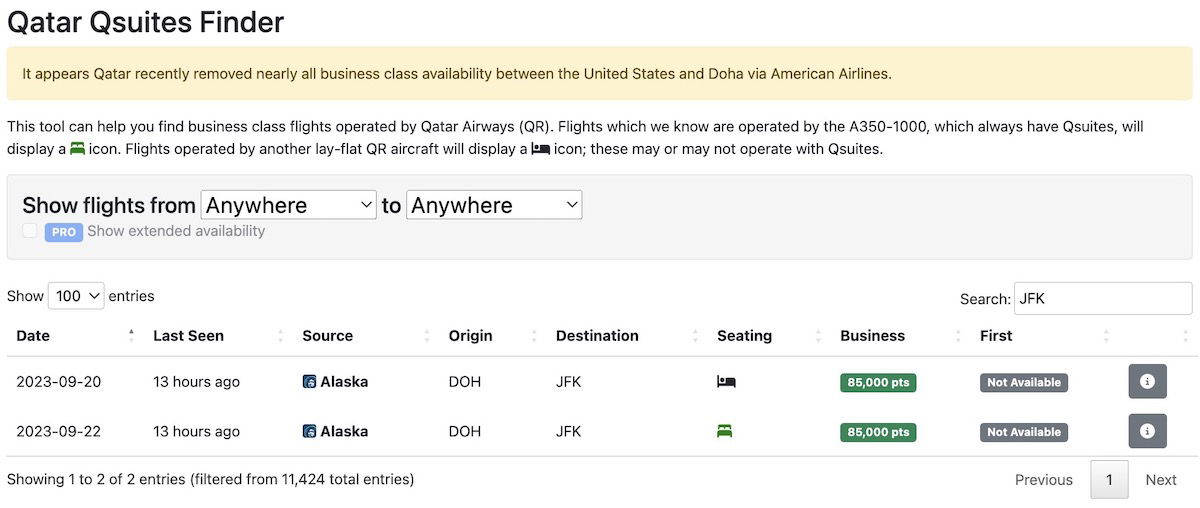 Seats.aero award alerts
Seats.aero allows you to create free award alerts, which is awesome. However, this doesn't work the same way as award alerts with ExpertFlyer, for example. With Seats.aero award alerts, you can specify the program, the date of travel, the origin, the destination, and the class of service.
You'll then be alerted when Seats.aero finds any available itinerary. For example, if you set an alert for Boston to Doha (hoping for nonstop availability), you'll be alerted if there's any award route that becomes available between the two cities. This could include a British Airways routing through London, or an American and Qatar Airways routing through another city. There's no way to request to only be alerted if a nonstop flight becomes available.
So this can be really useful, just have the right expectations.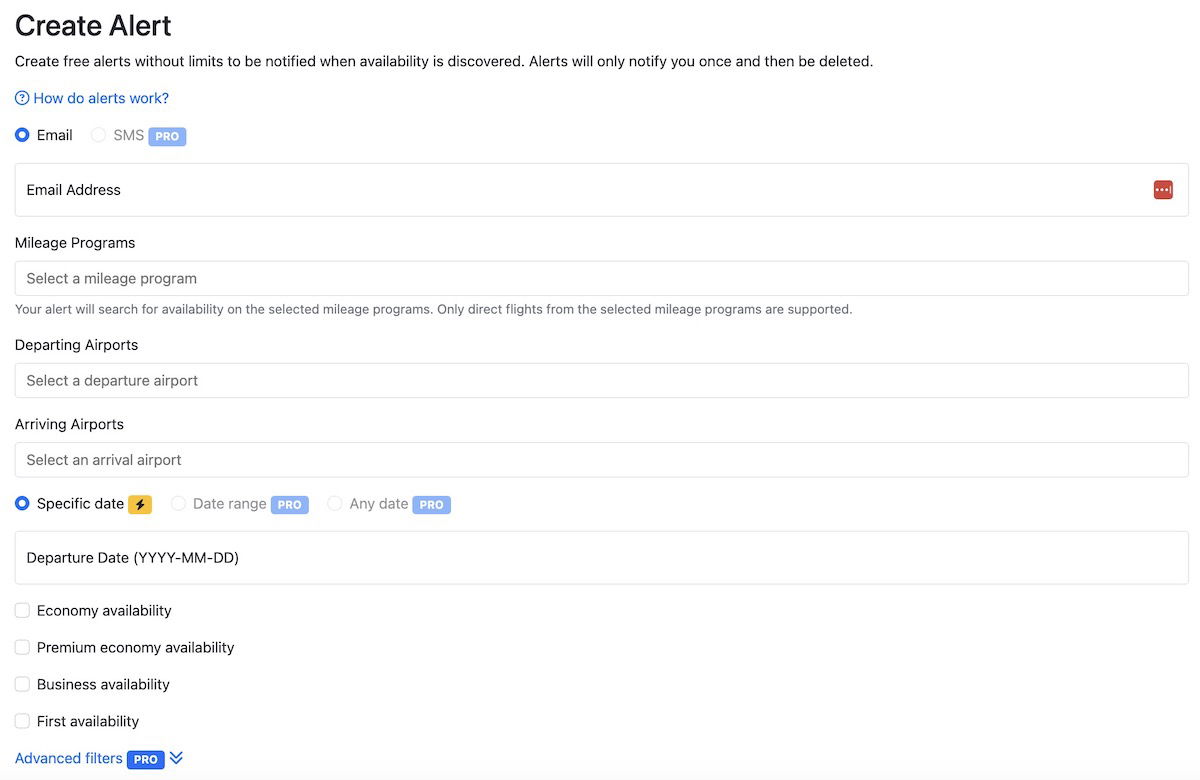 Bottom line
If you're someone who loves searching for award availability, then absolutely add a bookmark to Seats.aero. The service constantly refreshes award availability across over a dozen frequent flyer programs, and then presents that availability in an easy to understand way.
This site can even be used for free with some limitations, and it can be a great way to find some of the more unicorn awards out there, whether it's Lufthansa first class or Qatar Airways business class.
Like I said, this isn't a tool I'd recommend sending to your friend who is just learning how to use points. However, for those of us who know what we're doing, Seats.aero can save you time, and also just generally be fun to browse to get an overall sense of award availability trends.
If you've used Seats.aero, what was your experience like?