Just as I'm obsessed with miles and points, I also have an unhealthy interest in commercial aviation. That's to say that I love learning everything about planes, including those that I'm flying on, as well as those I just see overhead.
In this post I wanted to talk briefly about Airfleets, which is my favorite website for tracking the history of a plane. I love Flightradar24 for flight tracking, FlightStats for tracking a flight's status, and Airfleets for tracking the history of a plane.
What information does Airfleets provide?
Airfleets is a website that essentially tells you everything you could want to know about the history of the commercial airplanes you're flying on (or even those you're not flying on). You can either look up planes by their registration codes, or you can track the fleet of an airline in general.
Airfleets will tell you:
How many planes and what type of planes an airline has in its fleet
How old the planes are, and if they used to fly for any other airlines
A ranking of how old a carrier's planes are in comparison to other airlines flying the same types of planes
If you just generally want to poke around and have fun, I think the best option is to search by airline. You can either go to this page to search an airline by name, or more often than not I just Google the name of the airline followed by "Airfleets."
Let me use Delta Air Lines as an example. If you go to Delta's fleet page, you'll see various details about the fleet, including the active fleet, parked fleet, and planes the airline has flown in the past.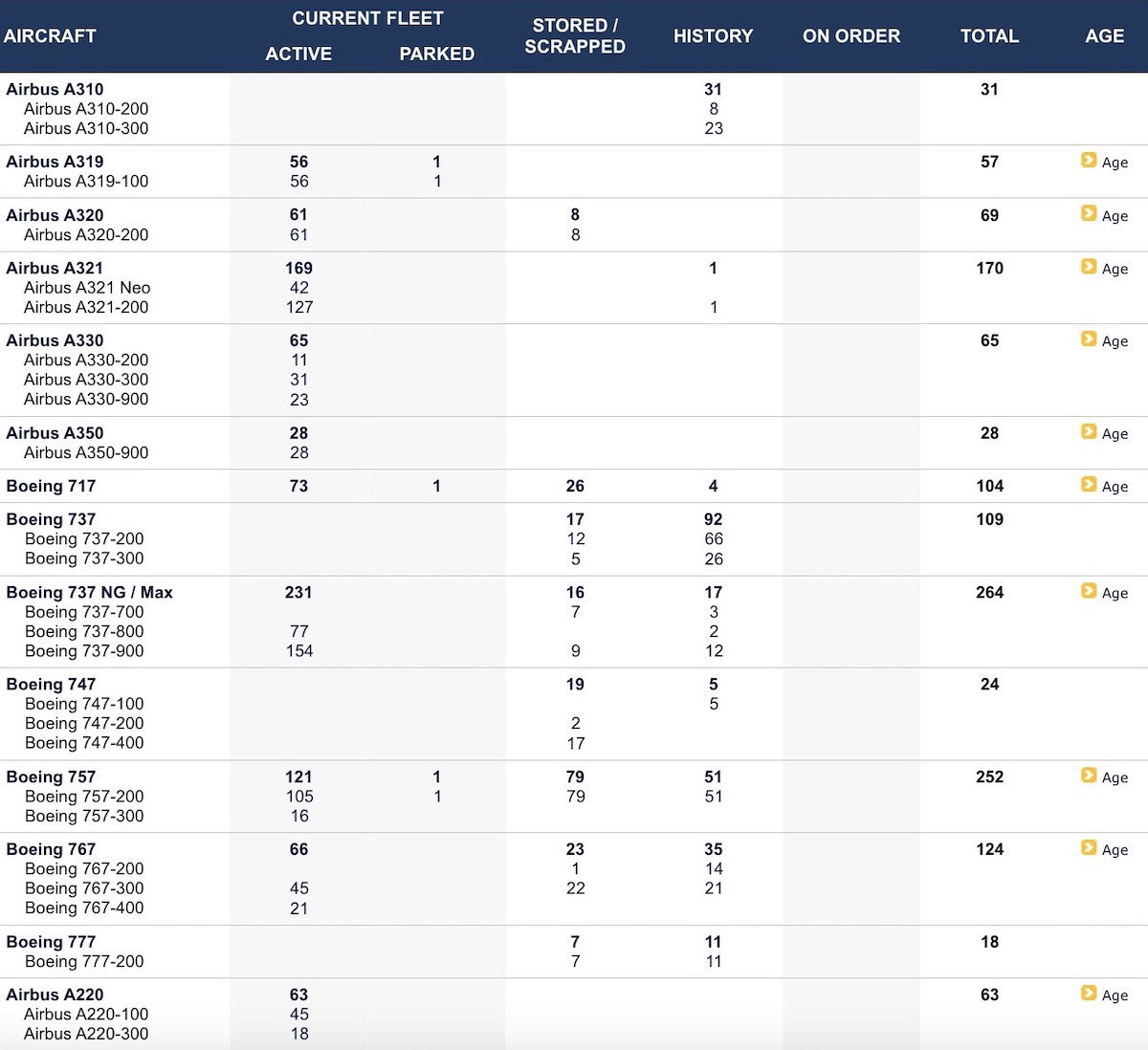 You can click on the numbers in any column to see more details for a specific aircraft type within the fleet. For example, if you click on A320, you can see the manufacturer's serial number (MSN), registration, delivery date, and more, for each A320 in the fleet.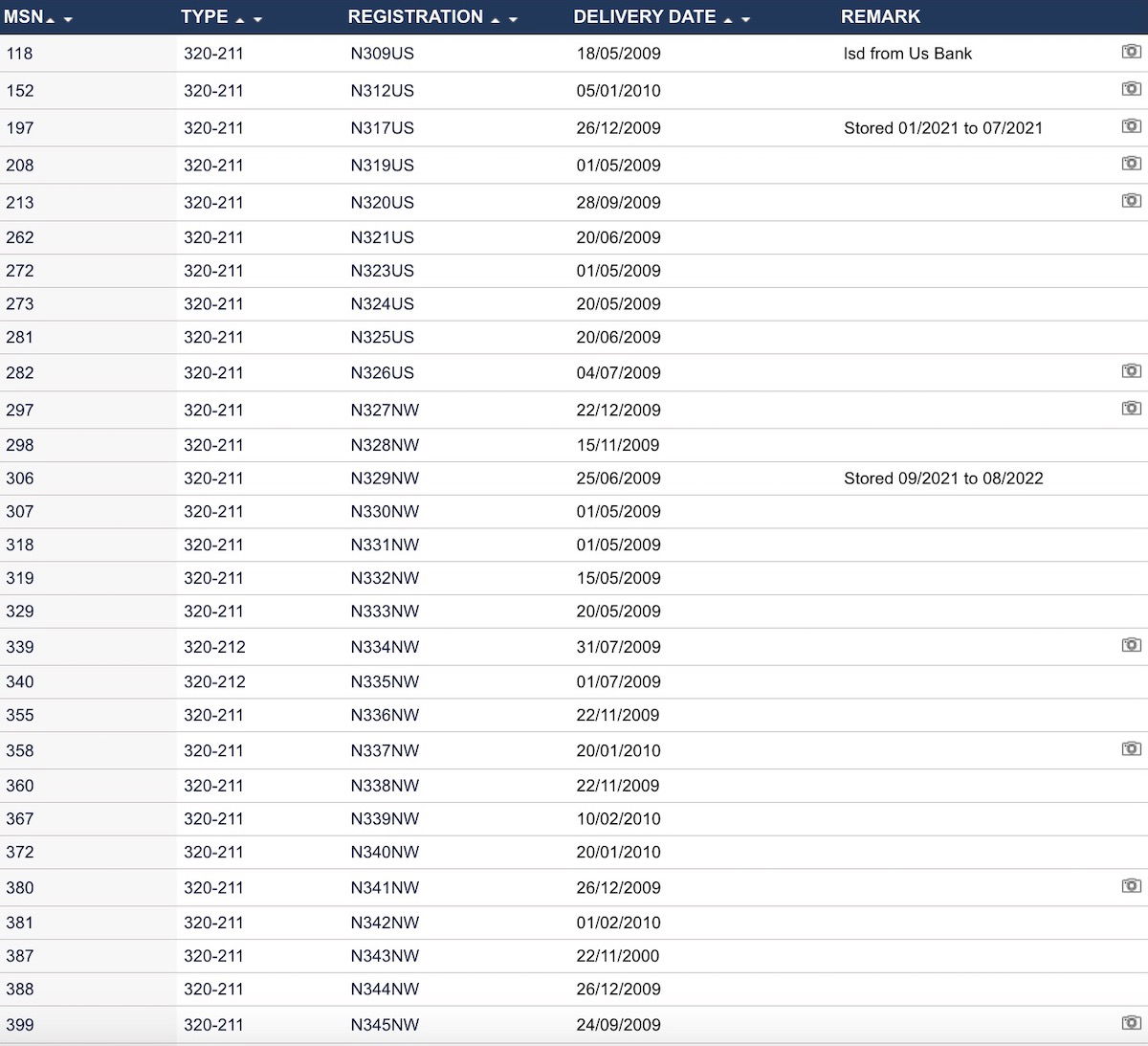 Note that the delivery date only reflects when the plane was delivered to the airline, so it doesn't reflect the overall age of the plane. To find out the true history of the plane, click on the specific registration code. For example, if you click on the first one (N309US), you'll see that the A320 is actually about 33 years old, as it first flew for Northwest for 19 years, before technically being delivered to Delta (when the airlines merged).

Going back to the main fleet page, I love clicking on the "age" button, to both see the average age of a particular plane in a carrier's fleet, and to see how that fleet age compares to other airlines operating the same type of plane. As you can see in the case of Delta, the Atlanta-based airline operates some old planes. For example, Delta A320s are an average of 28 years old, meaning Delta's A320 fleet is among the oldest in the world.

And if you think Delta's fleet has some history, check out the fleet of Montreal-based charter airline Nolinor.

The airline operates the world's oldest 737 still in service. Specifically, I'm talking about the 737-200 with the registration code C-GNLK. The plane entered service in 1974, so it has been flying for nearly 50 years.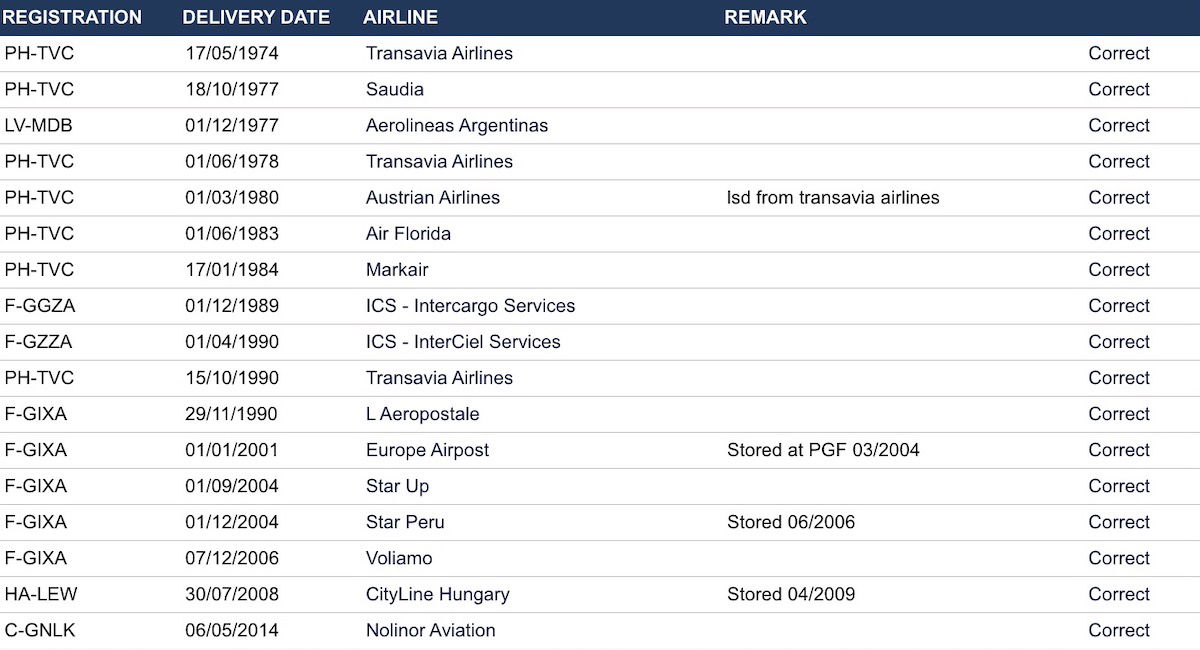 HOW COOL IS THAT PLANE'S HISTORY?! Transavia, Saudia, Air Florida, Star Peru, etc.?!
I should mention that Airfleet's data isn't going to be 100% accurate every time, so only use this for amateur plane tracking purposes, and not for any serious matters.
How do you figure out a plane's registration code?
In addition to aimlessly browsing Airfleets, I also look at the site when I'm about to board a flight:
I'm always curious how old a plane is (though I can often roughly figure that out based on the registration code and type of plane, at least for the airlines I frequently fly)
I'm always curious if a plane has flown for another airline
How do you figure out a plane's registration code? If you're at the airport, you can do so visually. The registration code is usually written near the back of the plane — in the below picture it's N324RA.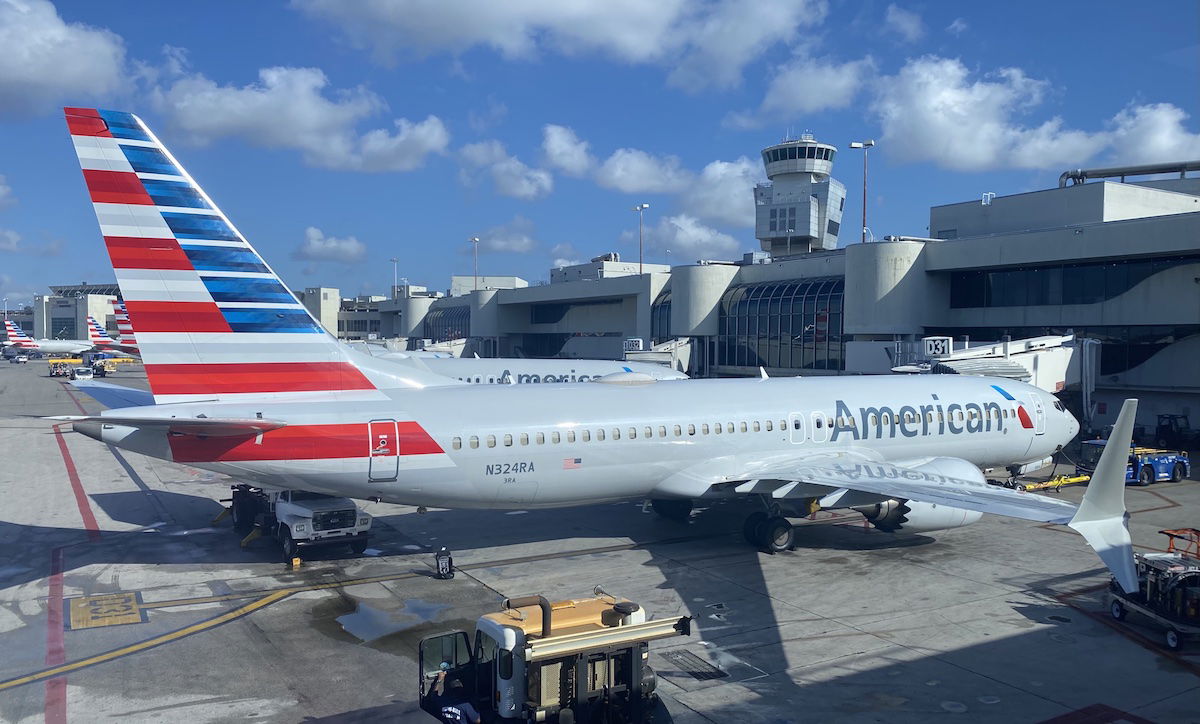 Okay, the reality is that I know there won't be much history there — based on looking at the plane, I know it's a 737 MAX 8 (you can tell based on the "zig-zag" engine design), and I know it'll be at most several years old, give or take. And that is indeed confirmed when I check — the plane was delivered to American in late 2017.

If you want a plane with a bit more history, take a look at the below Boliviana de Aviacion plane with the registration code CP-2880.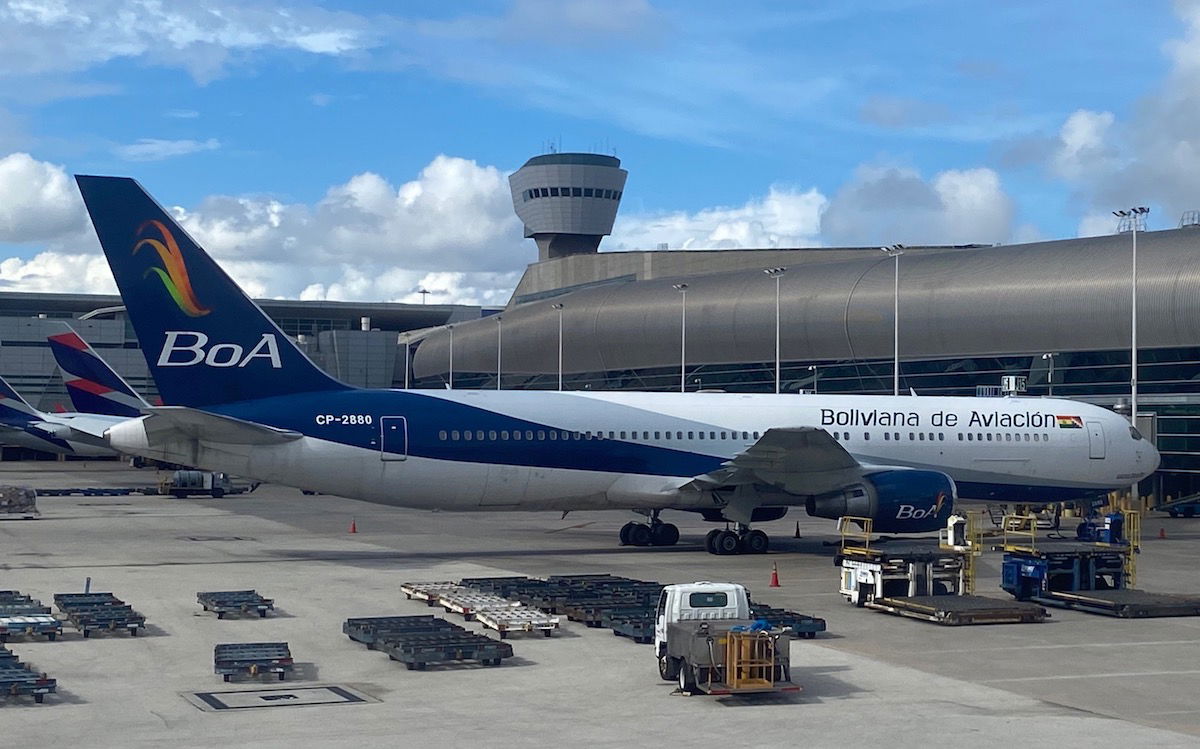 Okay, while the plane did end up being retired in 2021 (I took this picture a few years ago), it had quite a 27 year career, and flew for Alitalia, TAM, and more.

If you're at a gate and can't actually see the plane's registration code, you can cross-reference Flightradar24. If you look up a flight number there, it will typically show the registration code for the plane operating the flight, which you can then use to look up the history of the plane.
Bottom line
Airfleets is my favorite website for tracking the history of a plane. As an avgeek I could spend hours per day just looking up the history of various planes. Fortunately I don't spend quite that much time on the website, but I do sometimes end up going down rabbit holes and looking at just how well traveled some planes are.
It's always fun to see a plane that has been flying for a long time, and in some cases has even been based on three or four continents. If you're as much of an avgeek as I am and haven't played around with Airfleets yet, you're missing out.
Anyone else enjoy using Airfleets as much as I do?