For the return portion of our brief trip to Greece, we spent a night in Rome, prior to our ITA Airways flight to Miami. For our overnight we decided to check out the 114-room Bulgari Rome, which is the brand's newest property, having just opened in June 2023 (I've previously reviewed the Bulgari Milan and Bulgari Dubai).
This is a special property for the brand, given that Bulgari was founded in Rome around 140 years ago, so now the brand is coming full circle, opening a hotel there as well.
I'm happy to report that the Bulgari Rome is gorgeous, my favorite Bulgari property I've stayed at. The hotel has a stunning aesthetic, excellent dining outlets and bars, friendly service, a beautiful pool area and spa, and a central location.
I think the one thing to keep in mind compared to other luxury properties is that the Bulgari brand is very much targeted at those who are otherwise into the brand, and fashion more broadly. So not only is the guest profile different than some other luxury properties, but you almost feel like you should "dress the part" here, more than at some other comparable hotels.
Anyway, let's get into the review…
Booking the Bulgari Rome
Even though Bulgari is a collaboration with Marriott, the brand unfortunately doesn't participate in Marriott Bonvoy. That means you can't earn or redeem points for stays at Bulgari properties, and also can't take advantage of any Bonvoy elite benefits. It sure would be nice if that changed, just as Ritz-Carlton Reserve has joined Marriott Bonvoy.
As you'd expect, rates at the Bulgari Rome vary seasonally, given that Rome has so much demand in summer. For the night we were staying, the cash rate would have been €1,600. That was within €50 of the rate at both the St. Regis Rome and Rocco Forte's Hotel de Russie or Hotel de la Ville. Travel demand to Europe is strong, eh?
For what it's worth, Ford got a travel advisor rate for our one night stay (so we received a discounted rate). All opinions expressed are my own, and haven't been reviewed by the hotel.
The best way to book a stay at any Bulgari property is through a travel advisor affiliated with the Marriott STARS program, so you can receive extra perks, like complimentary breakfast, a room upgrade subject to availability, a hotel credit, and more. Since STARS is Marriott's own proprietary program, these upgrades are prioritized over those through Amex Fine Hotels & Resorts, Virtuoso, etc.
Bulgari Rome location
The Bulgari Hotel Rome has a central location, at Piazza Augusto Imperatore, in the Campo Marzio district. This is within walking distance of the Spanish Steps, Via del Corso, and more. If you're coming from Rome Fiumicino Airport (FCO), the hotel is about a 40-45 minute drive, depending on the traffic.
While this is a brand new hotel, as you can tell from the exterior, the building has quite some history. It was designed by architect Vittorio Ballio Morpurgo and built in 1938.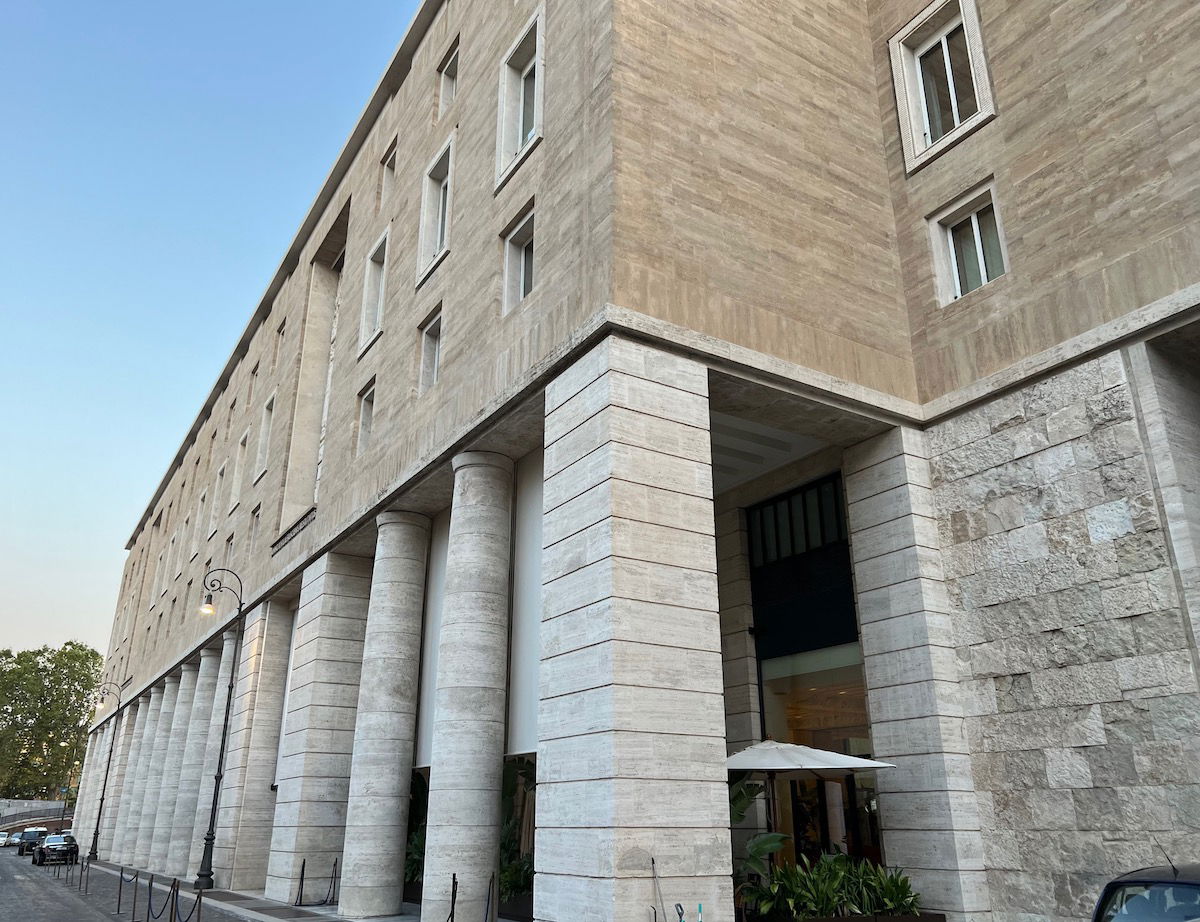 Bulgari Rome lobby & check-in
When you enter the Bulgari Hotel Rome, you may at first wonder if you're in a museum, a high-end store, or a hotel. The architecture is very cool, and just inside the entrance you'll find a hallway with all kinds of Bulgari jewelry pieces on display.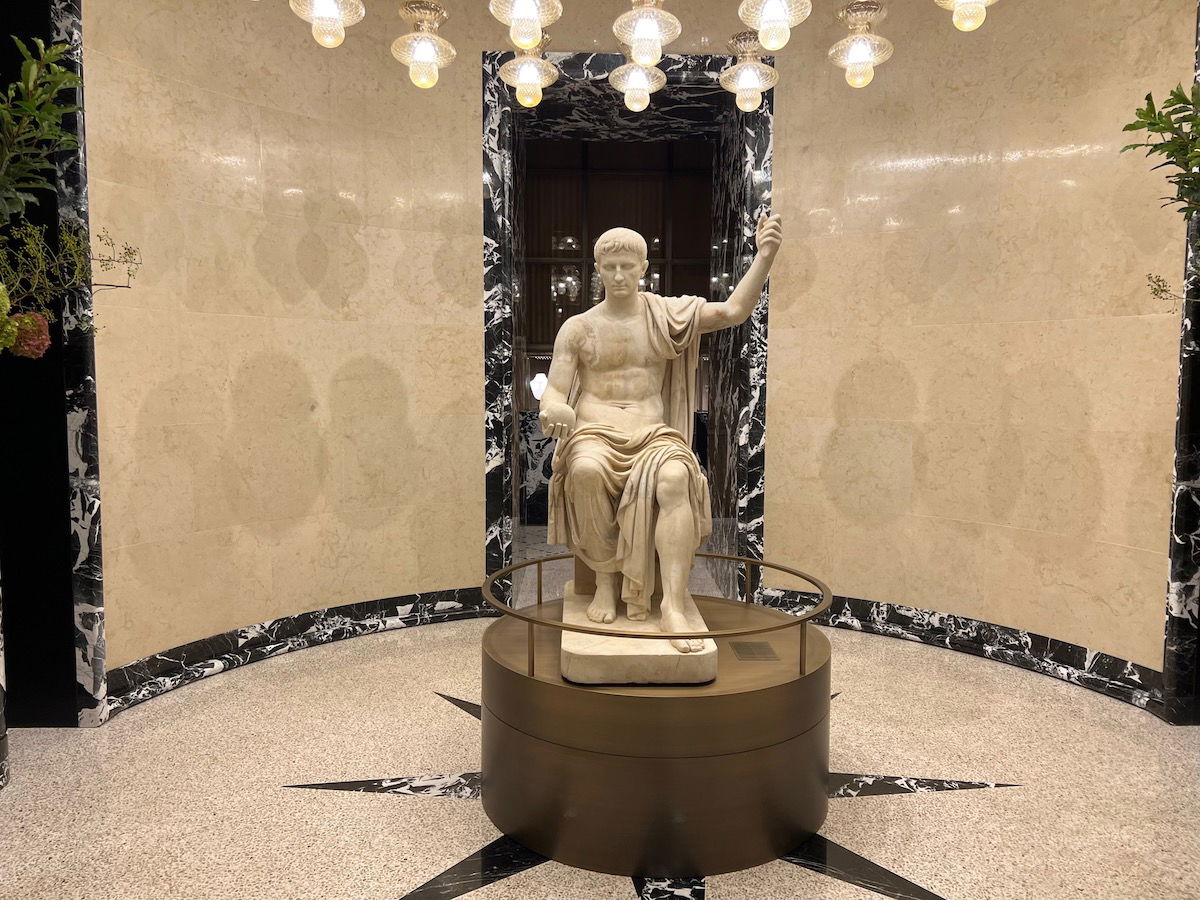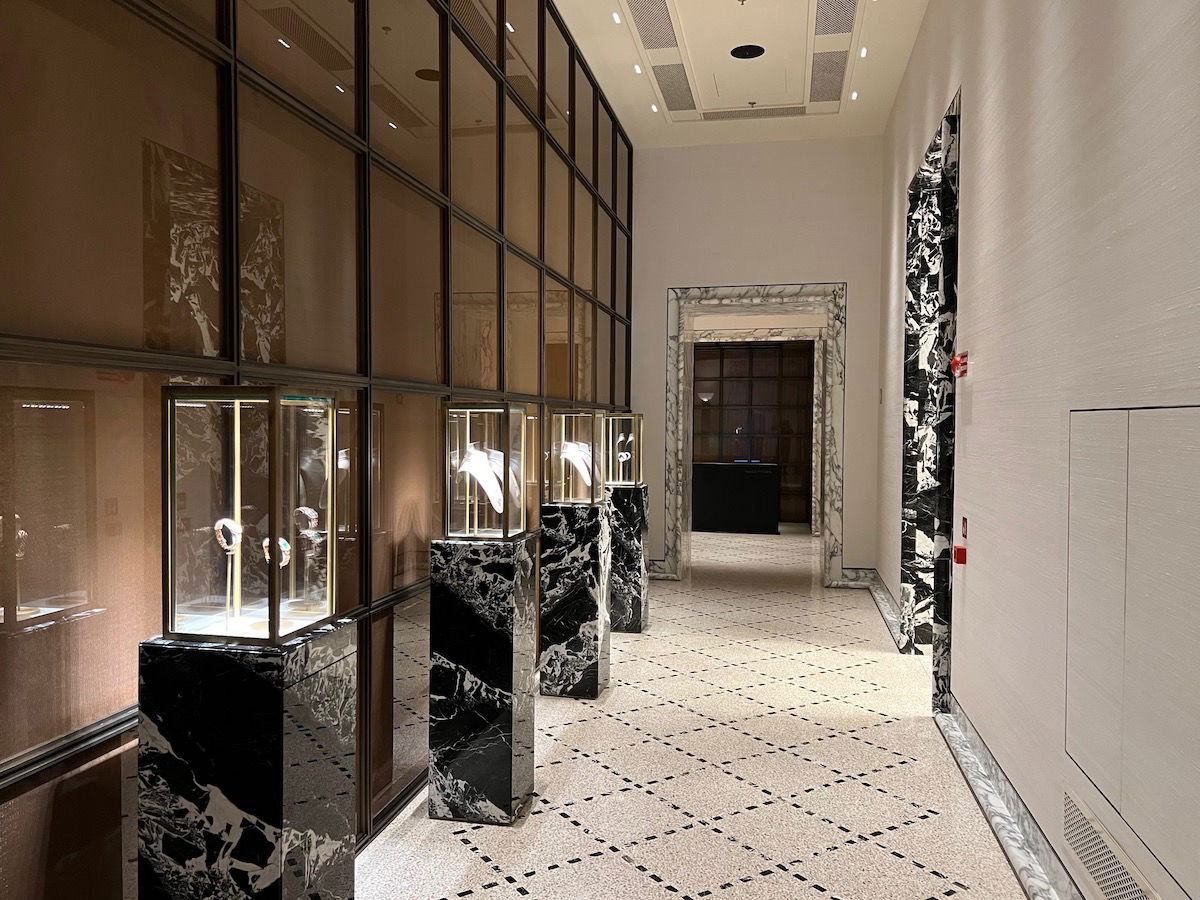 Inside the entrance to the hotel and to the right is the reception and concierge desk, where we were warmly greeted and promptly checked in.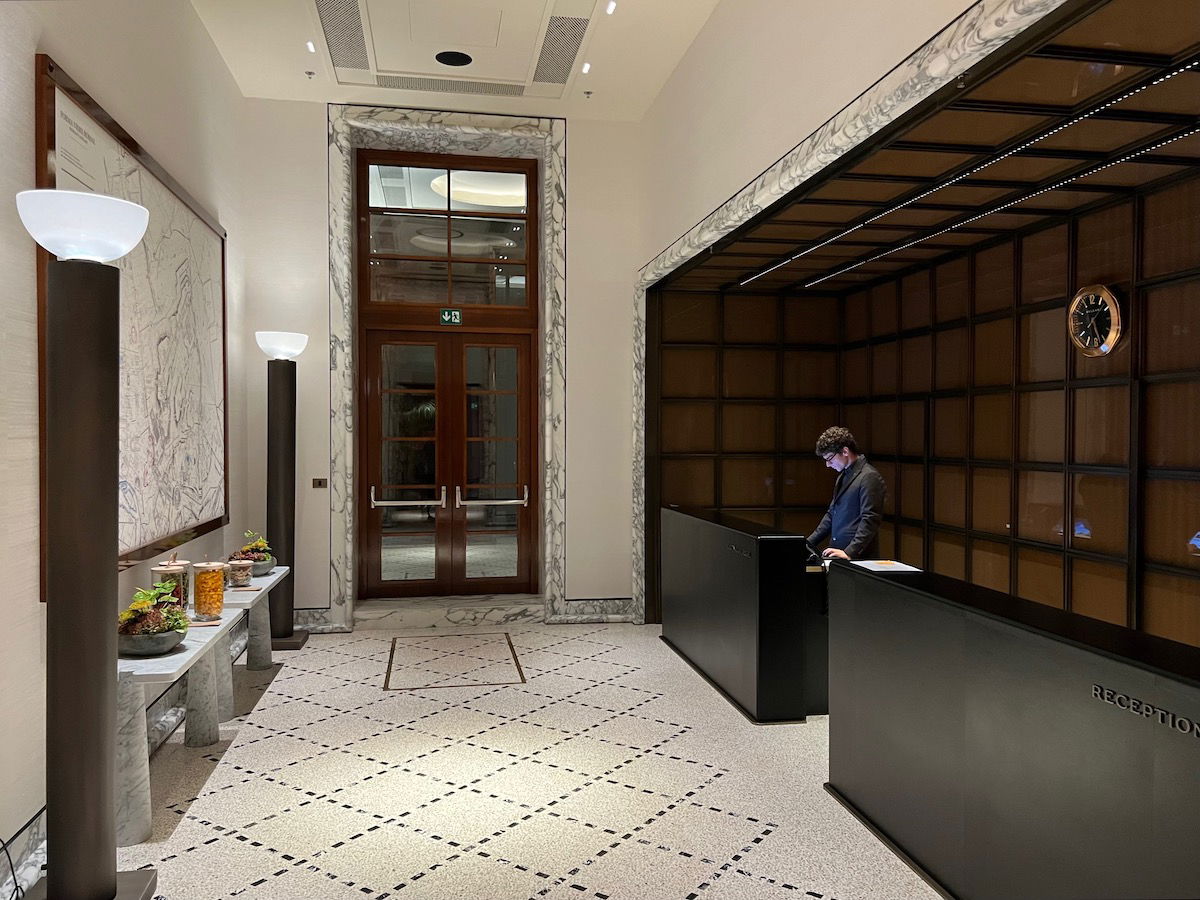 The hotel elevators are immediately next to reception, and can whisk you up to the guest rooms or rooftop restaurants.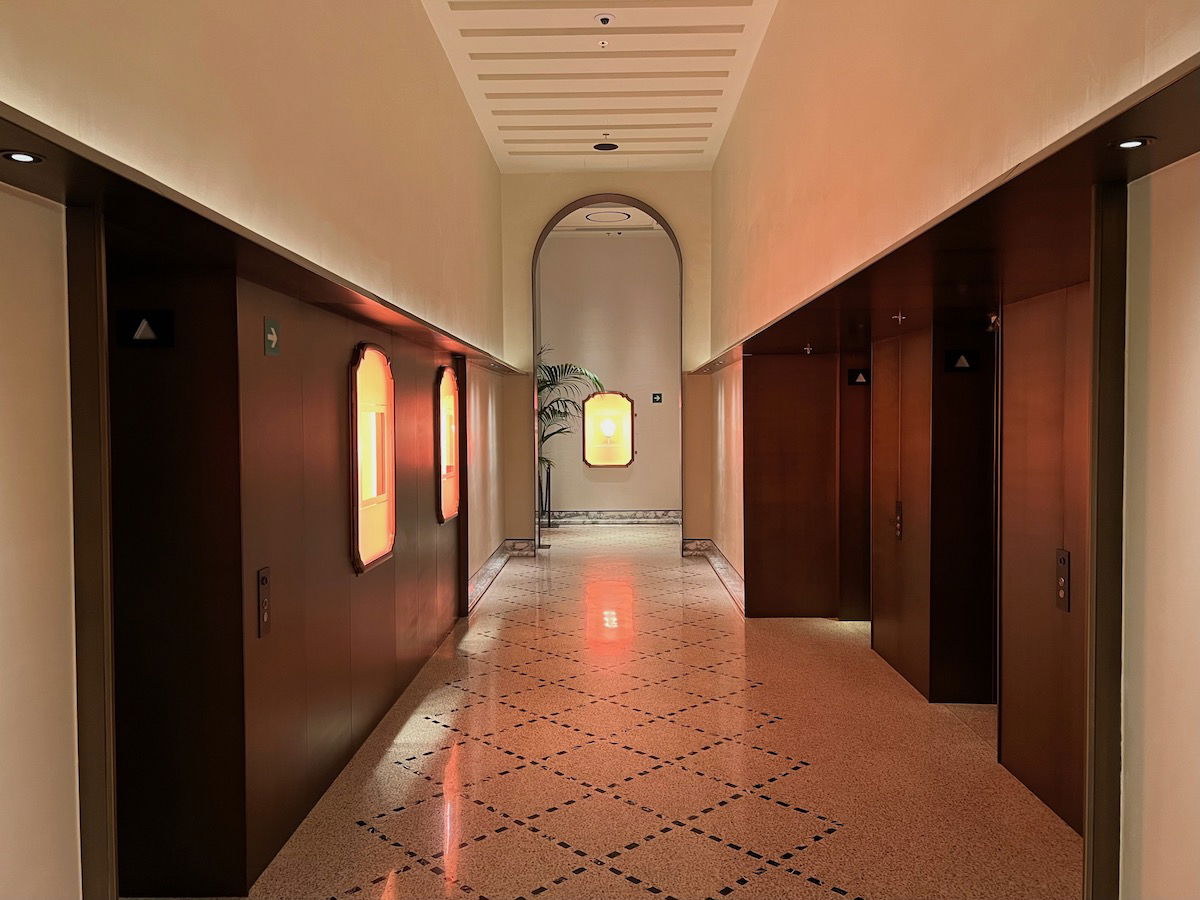 Now, you might be thinking "wait a minute, is there no seating in the lobby?" The hotel does have The Bulgari Lounge, which is totally hidden, and is exclusively reserved for hotel guests. The door isn't even marked, so you'd have to know to go here.
This is a cozy area that feels a bit like a combination of a study and and a speakeasy, with couches, cafe-style tables, an outdoor terrace, and more. You can just relax here, or there's also the ability to be served food and drinks. What a cool and private lobby concept!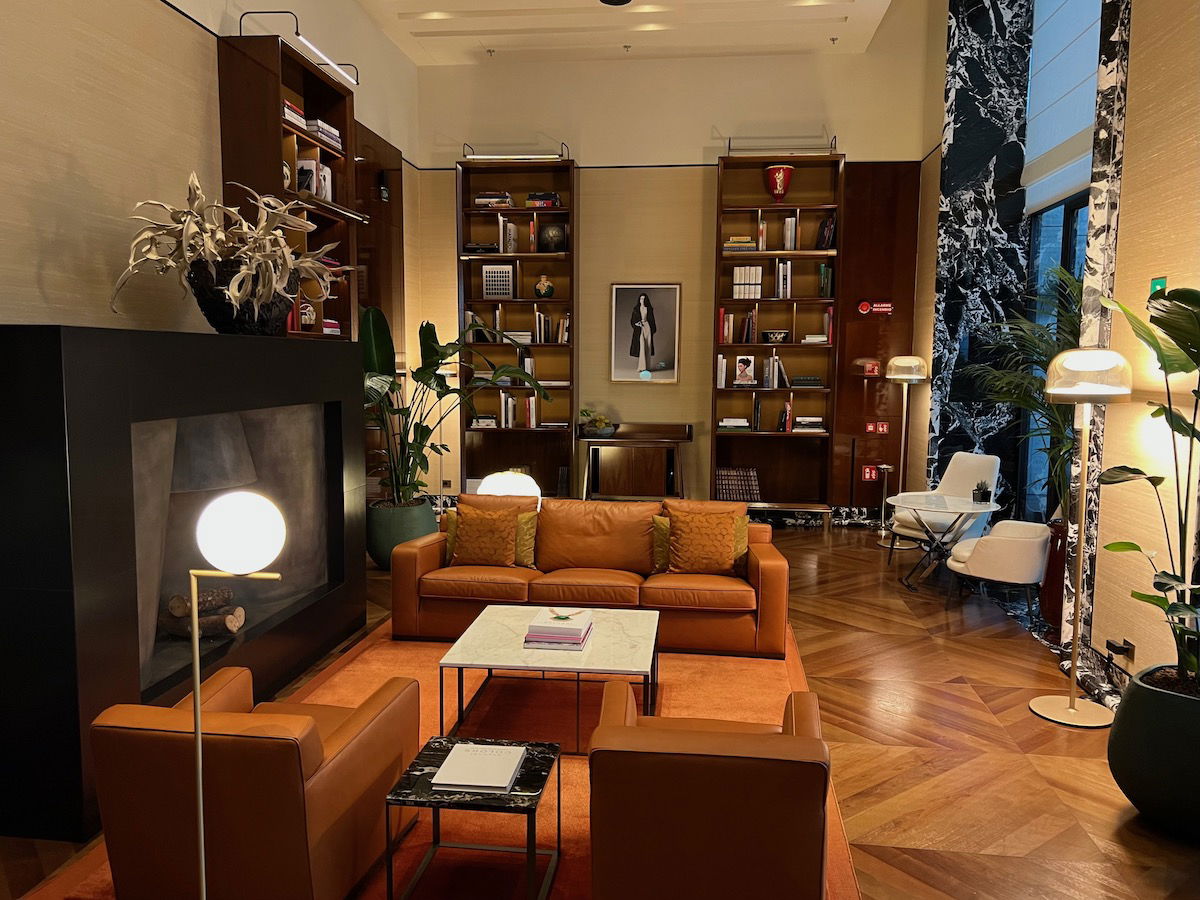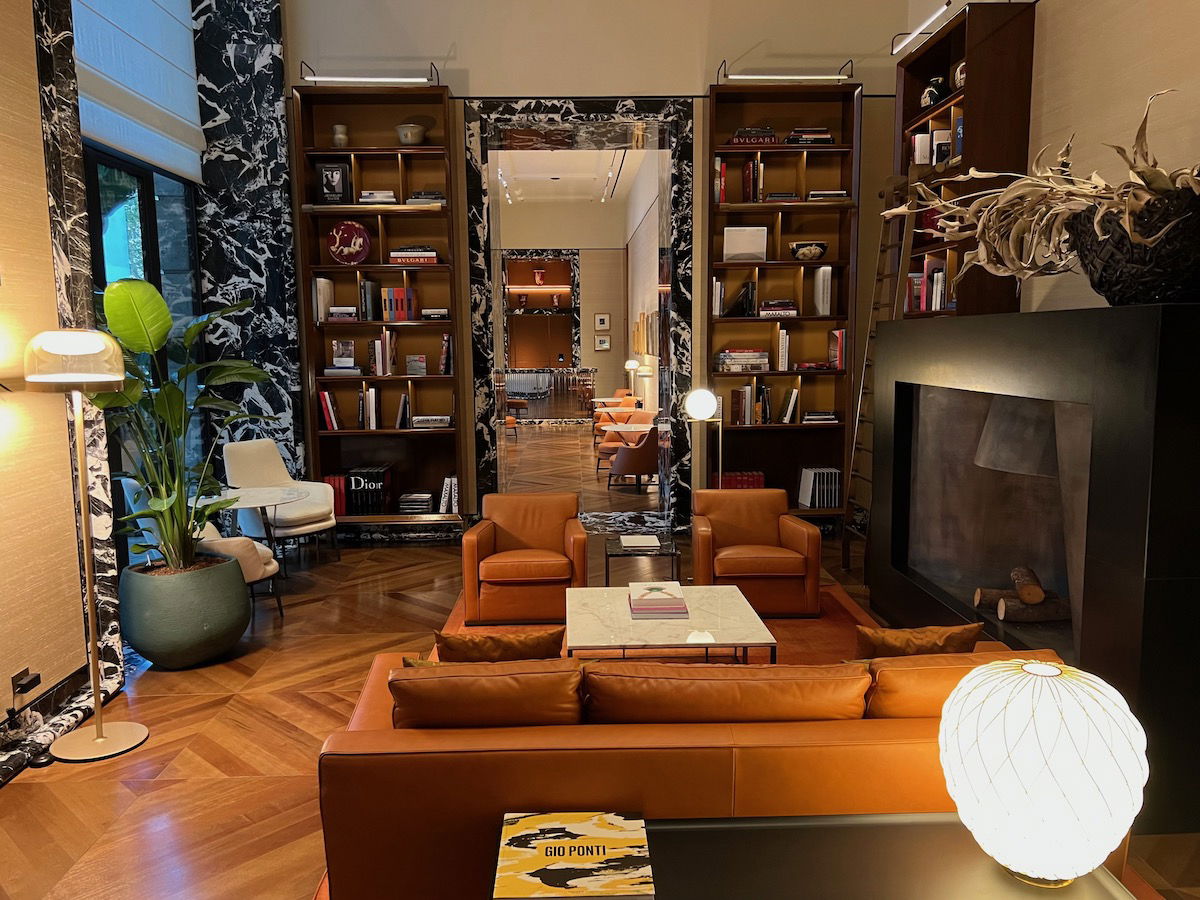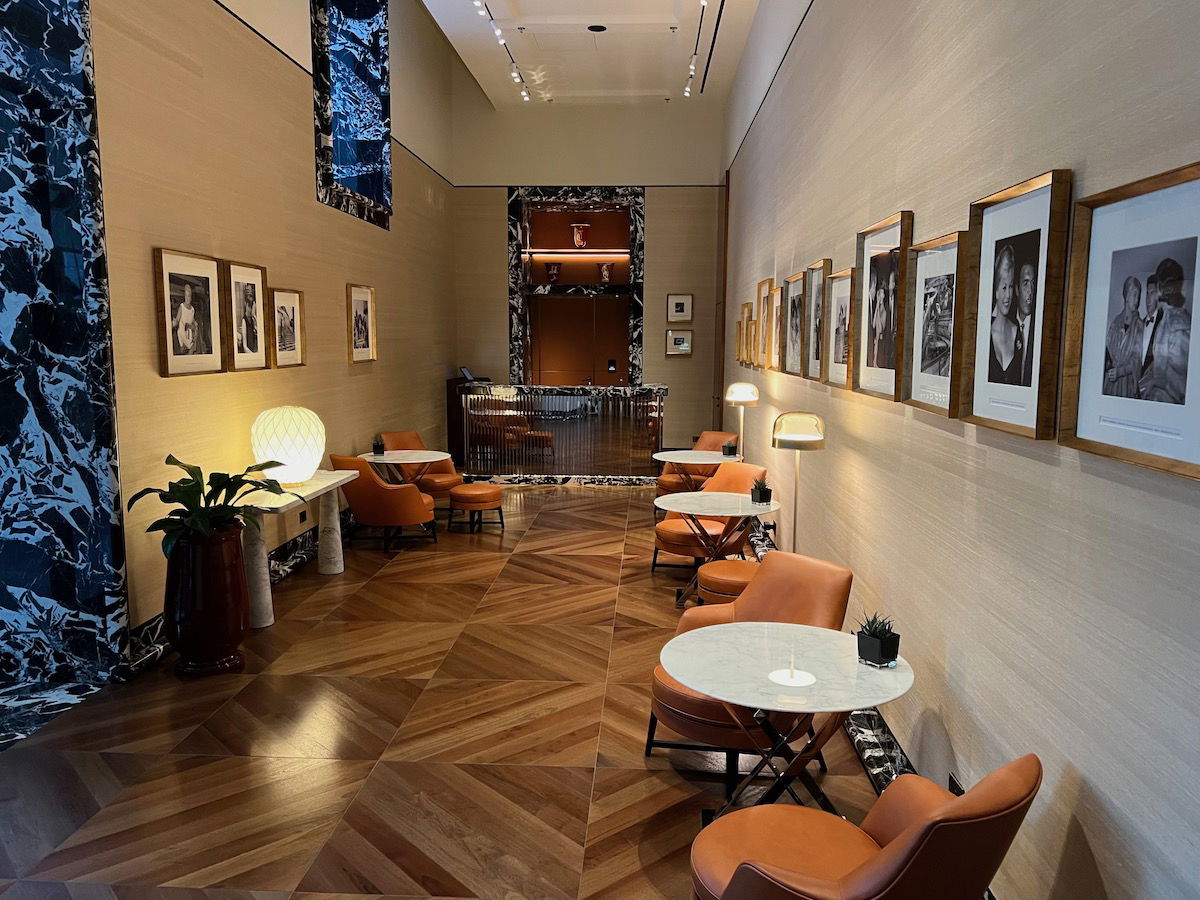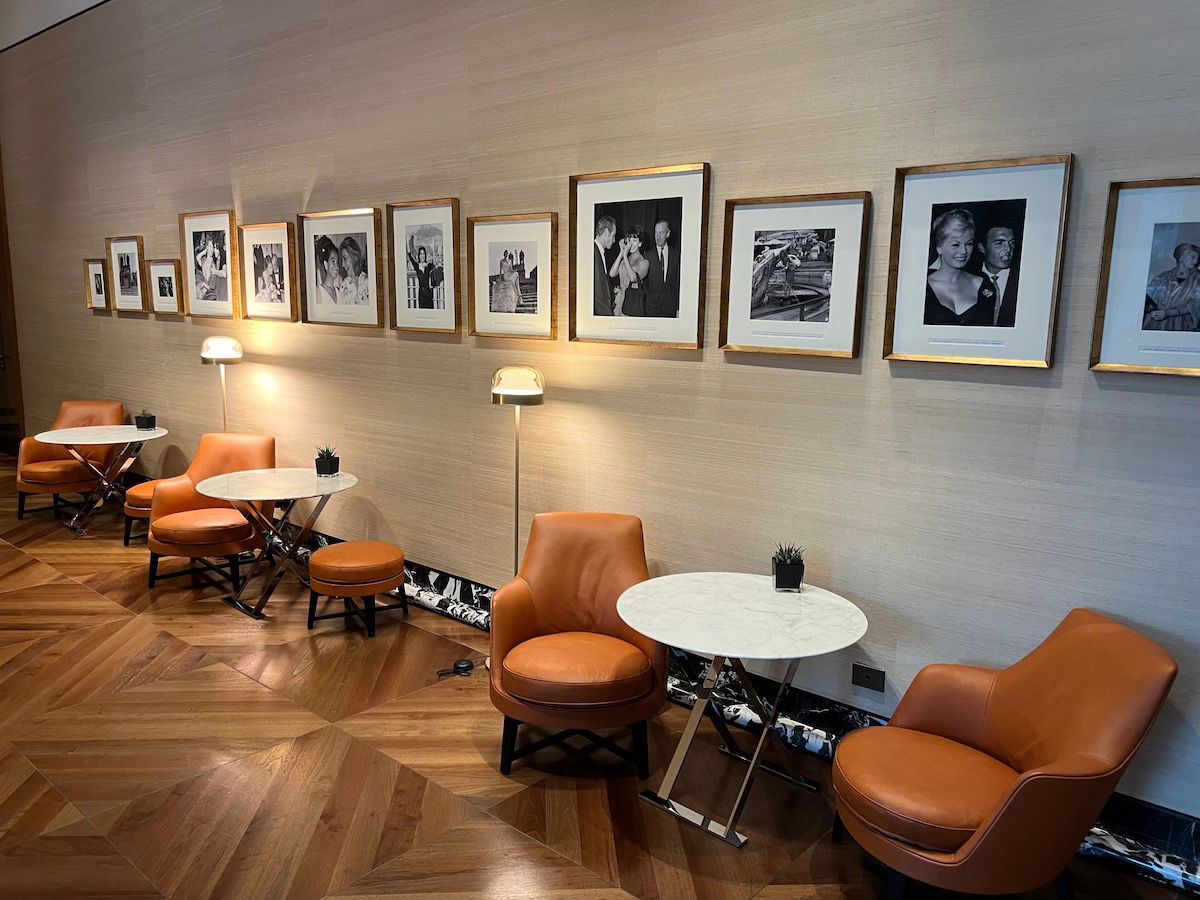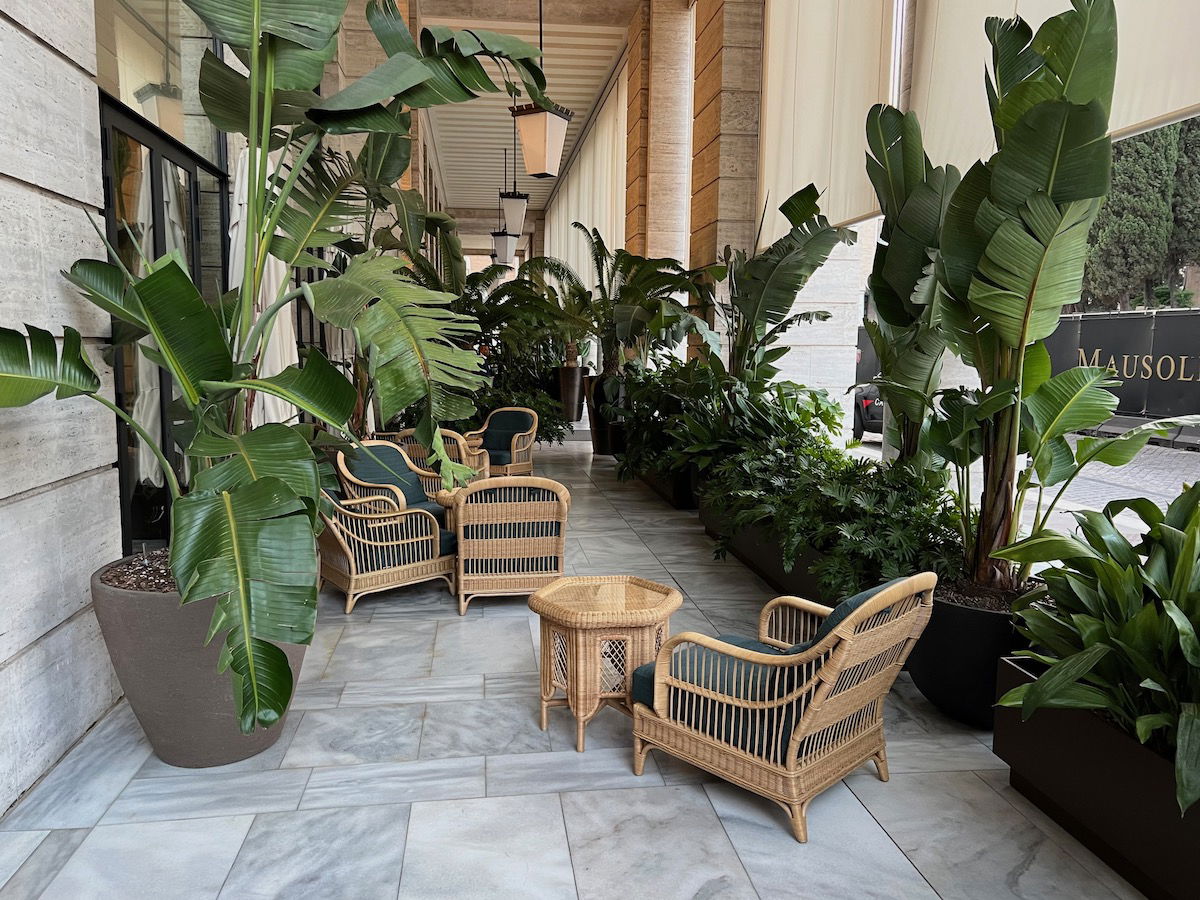 Bulgari Rome junior suite
Upon check-in we were escorted to our room on the fourth floor (the hotel has six floors). You can access this either via the elevators, or via the gorgeous staircase.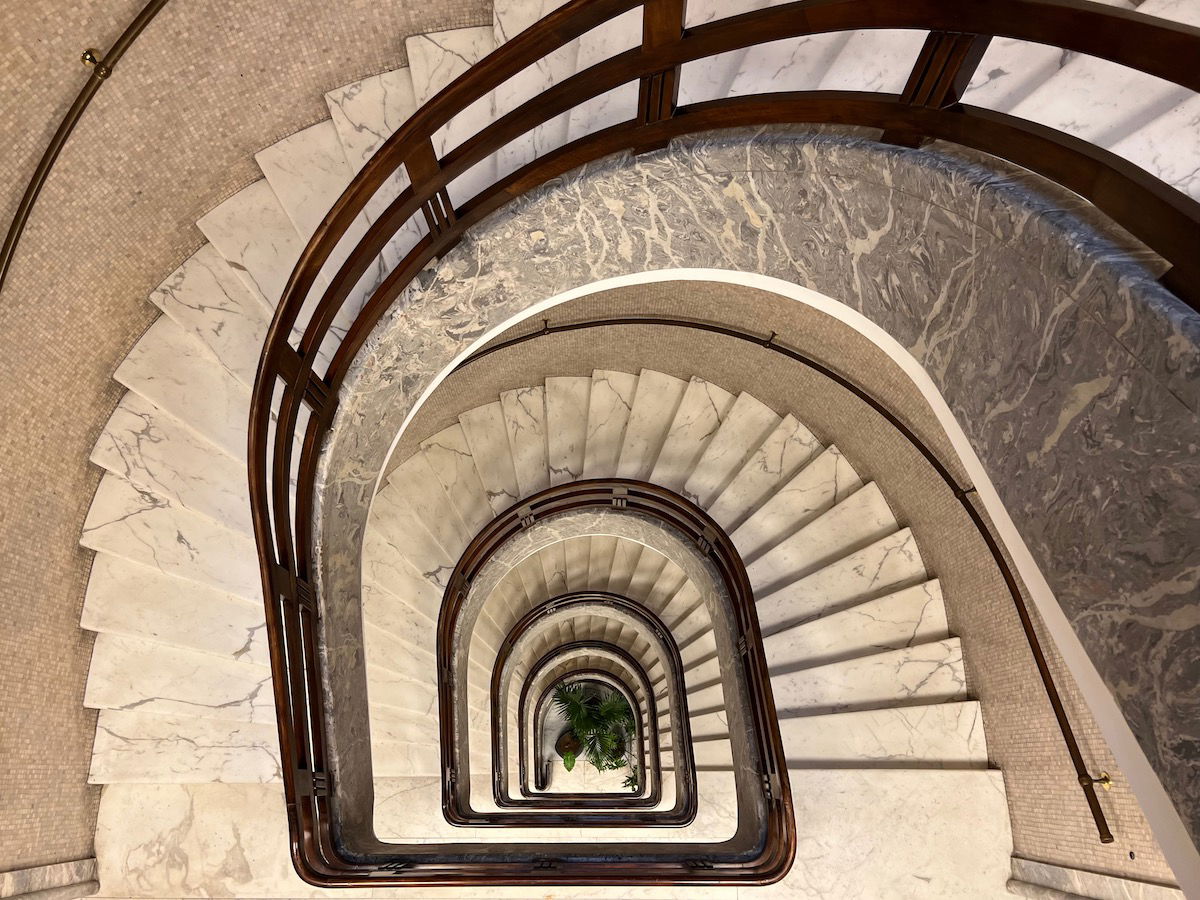 The hotel's hallways are elegant, with dark colors that almost make you feel like you're on a yacht.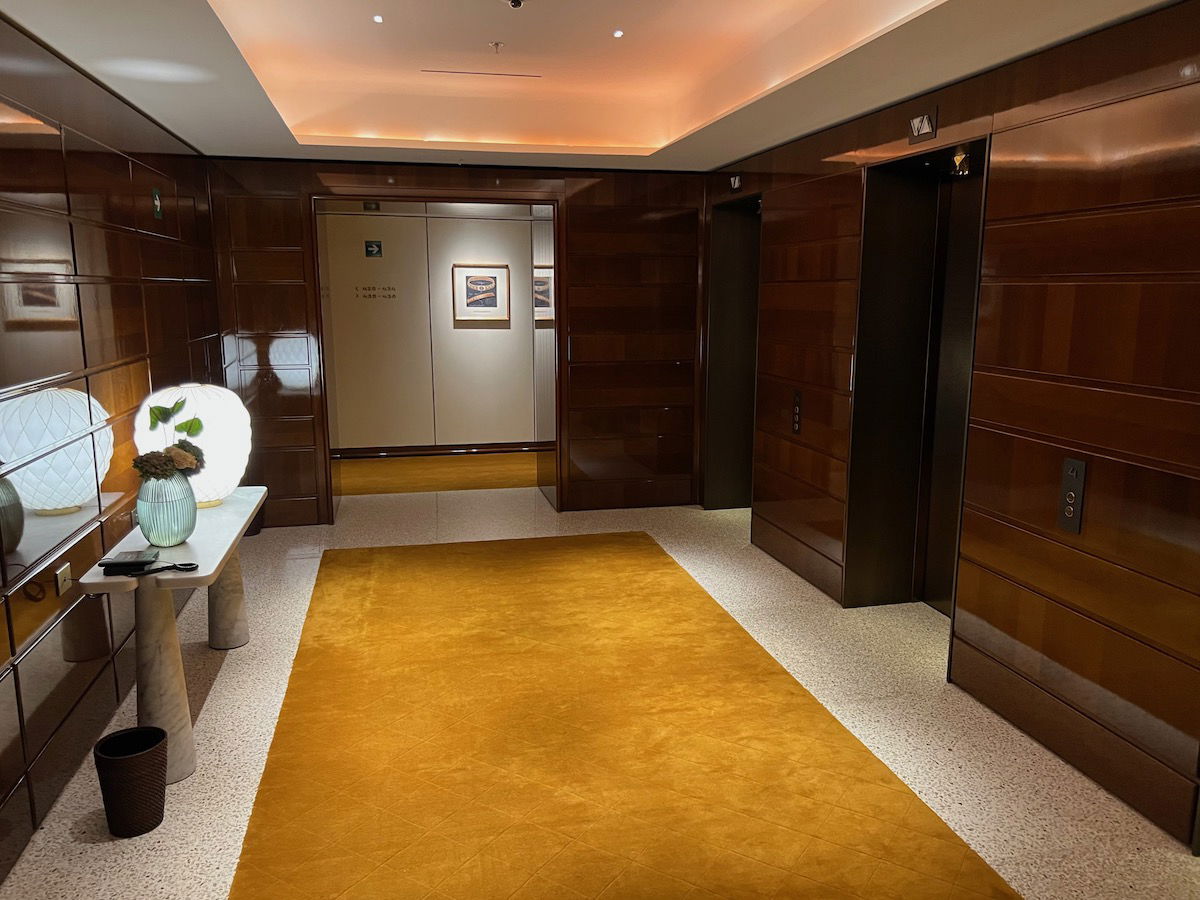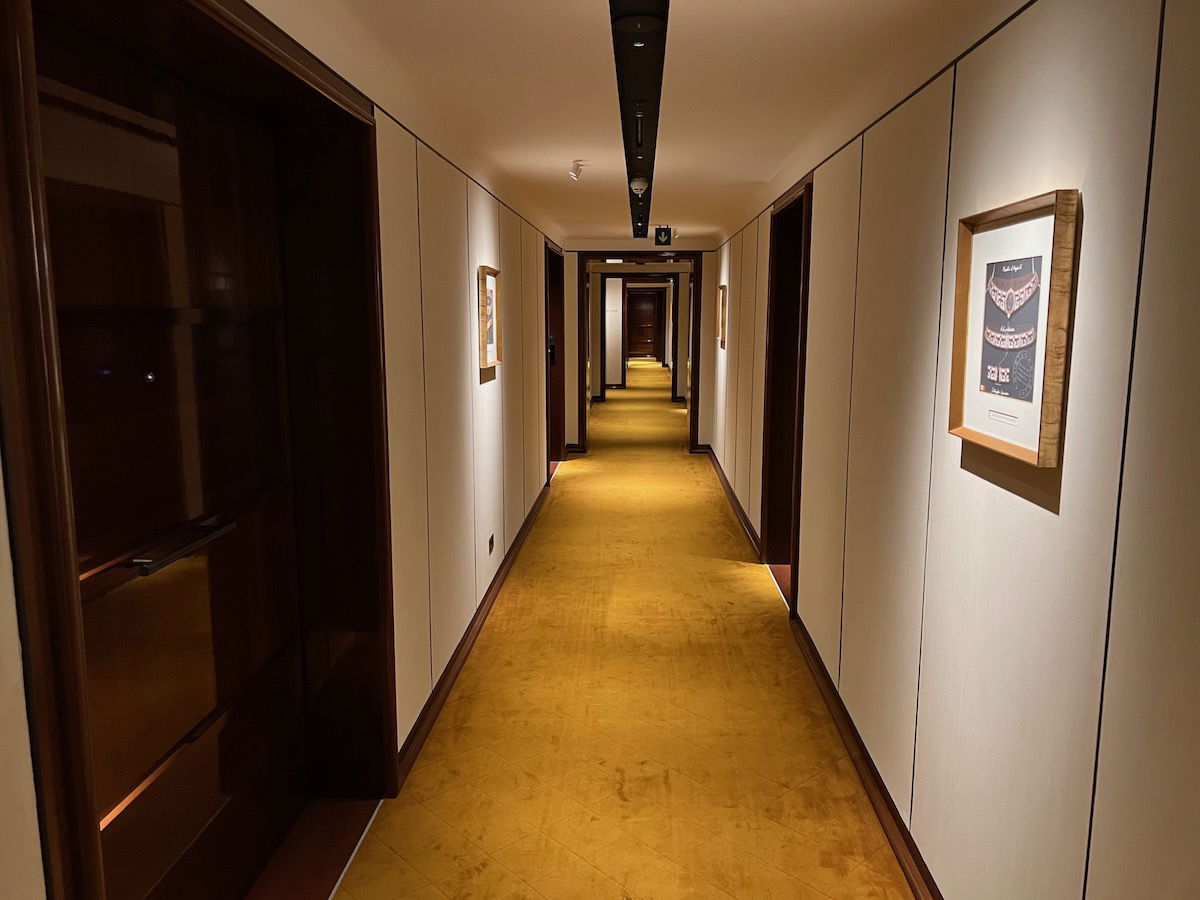 We were assigned room 424, a 51 square meter (550 square foot) junior suite. Interestingly the hotel has 30 junior suites, so it's tied for being the most common room type in the hotel.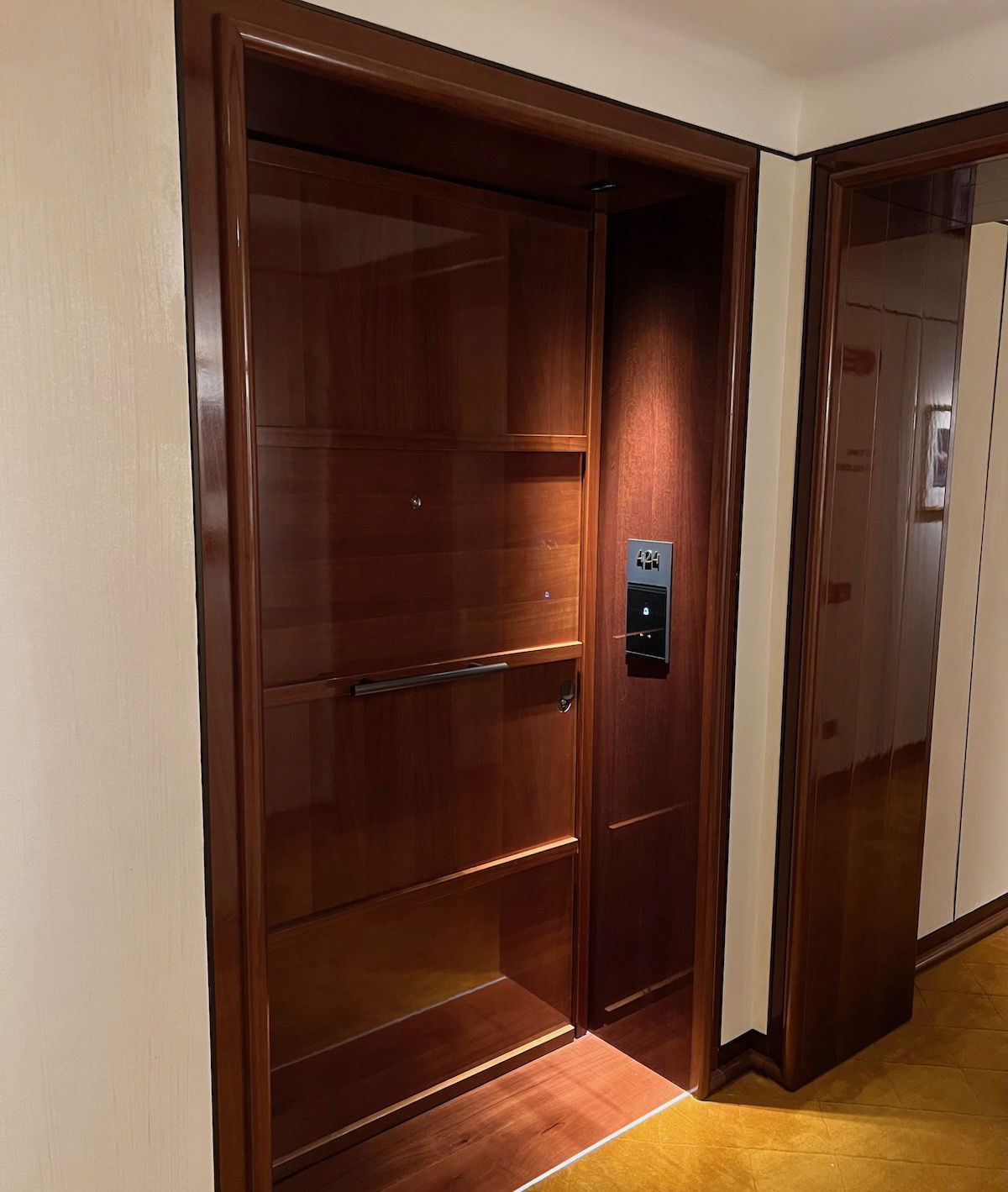 The junior suite was spacious and had lots of natural light. I was impressed by the attention to detail in the design, from the wall and ceiling accents, to the furnishings.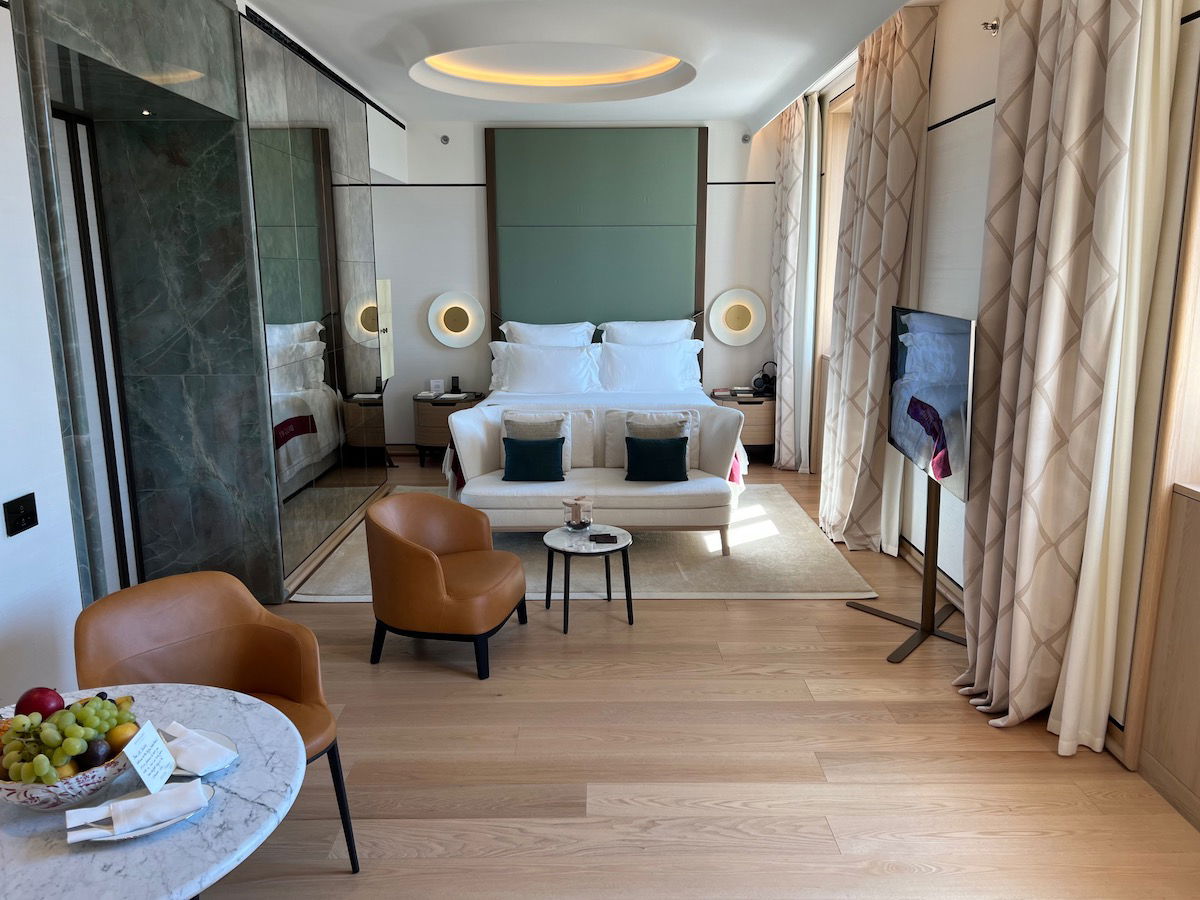 As you'd expect from a junior suite, the living area and bedroom area were all in one big room. The living area had a dining table with two chairs, then a couch with a chair, and a TV.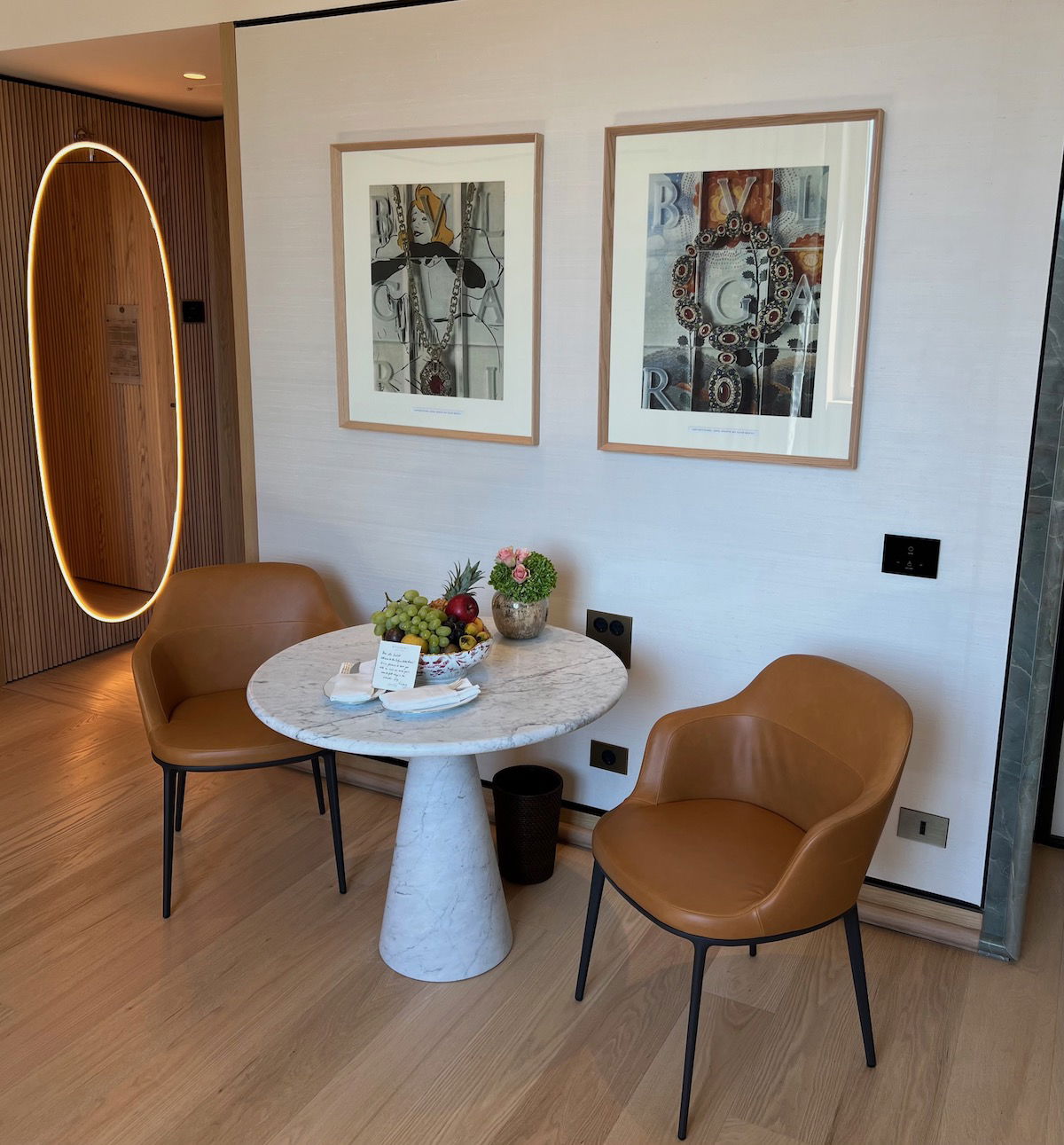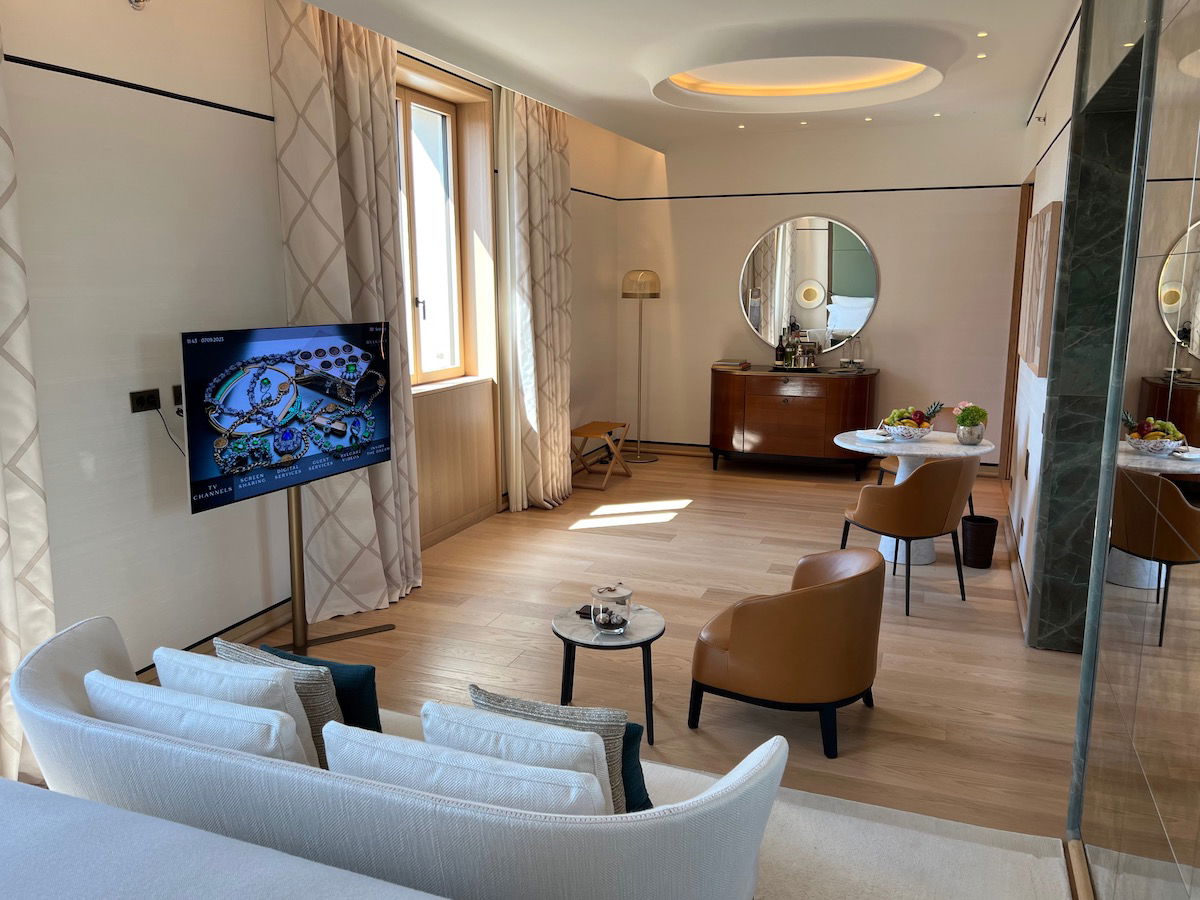 Then the bedroom area had a soft and plush king size bed. There's even a pillow menu, should you want to customize your type of pillow.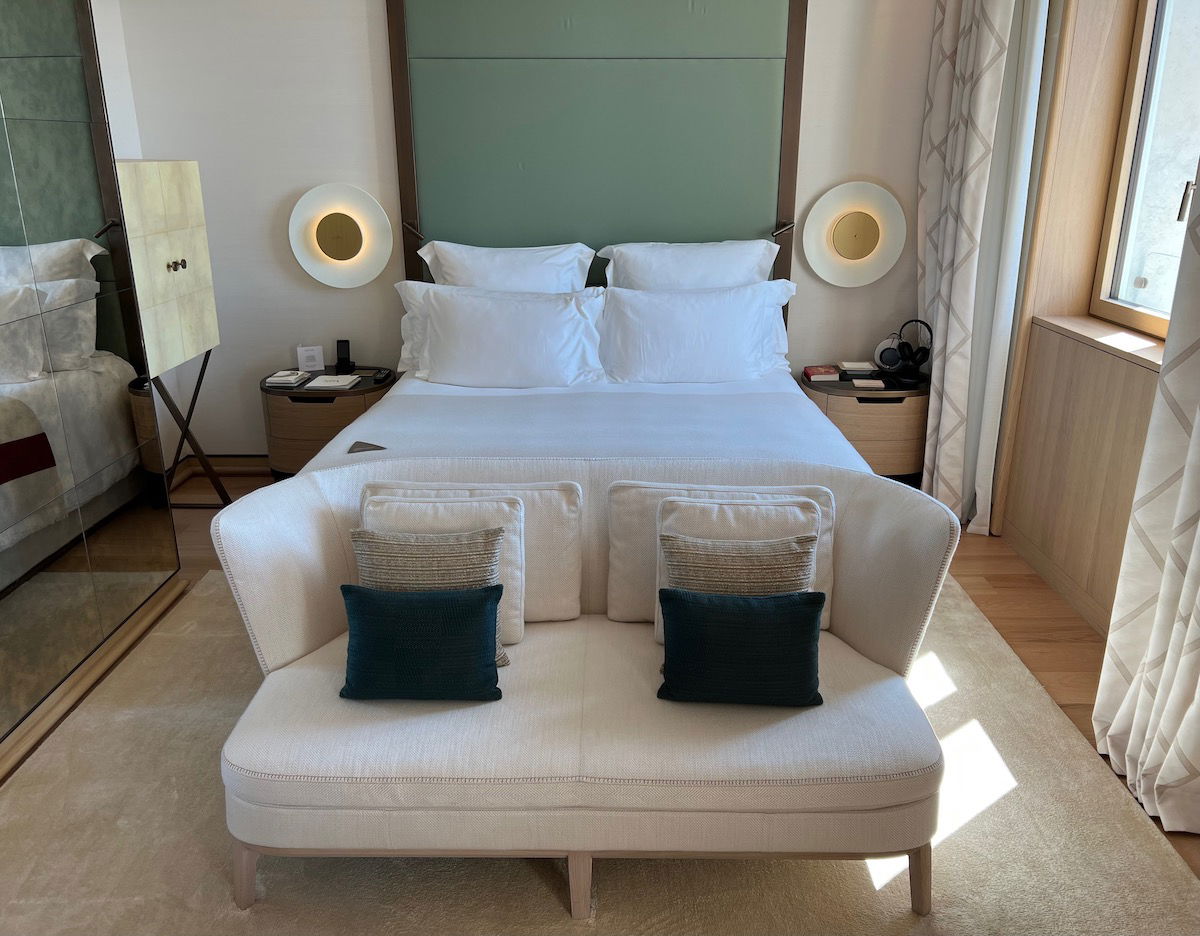 The bedside had great tech, including charging outlets and a panel that allows you to control all of the room's functions. There was even a speaker and some headphones on the bedside table.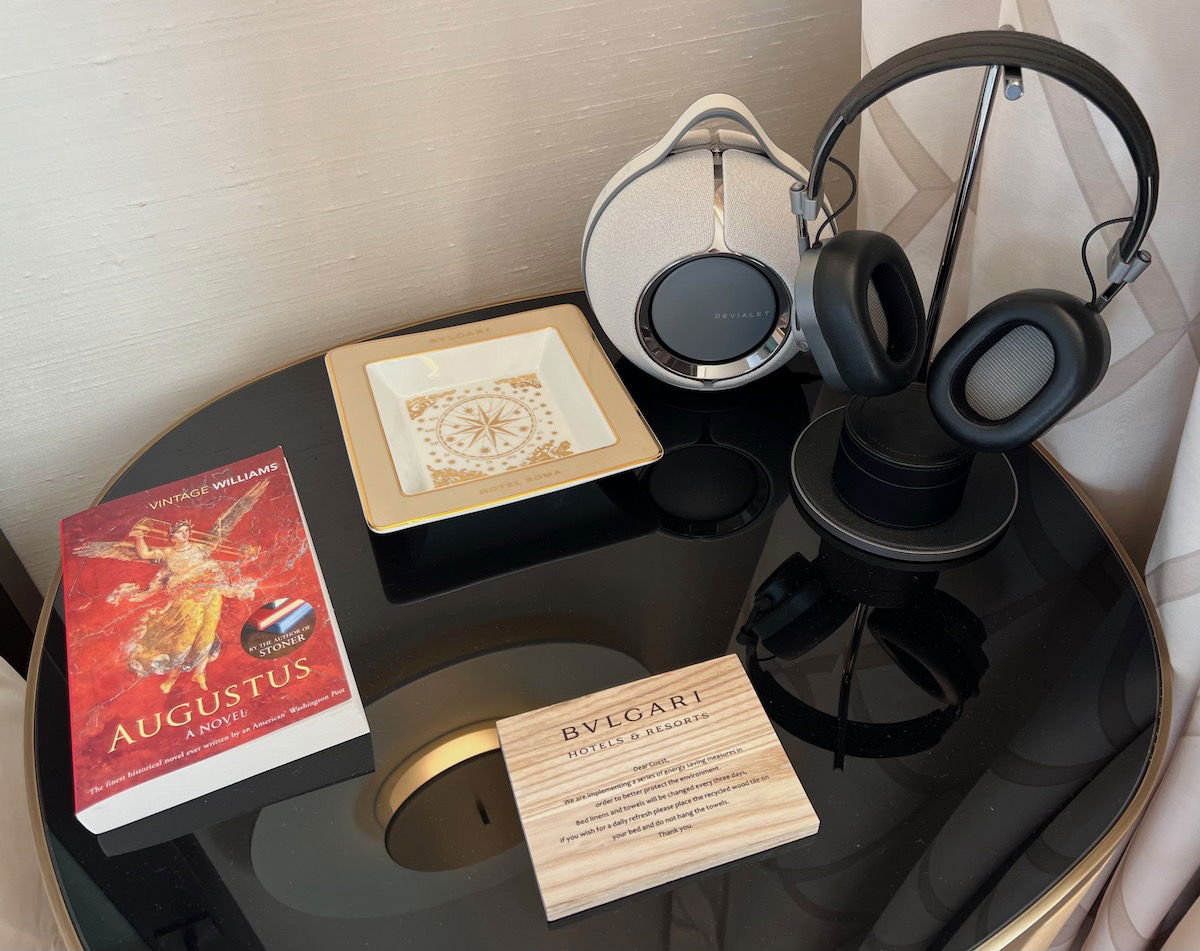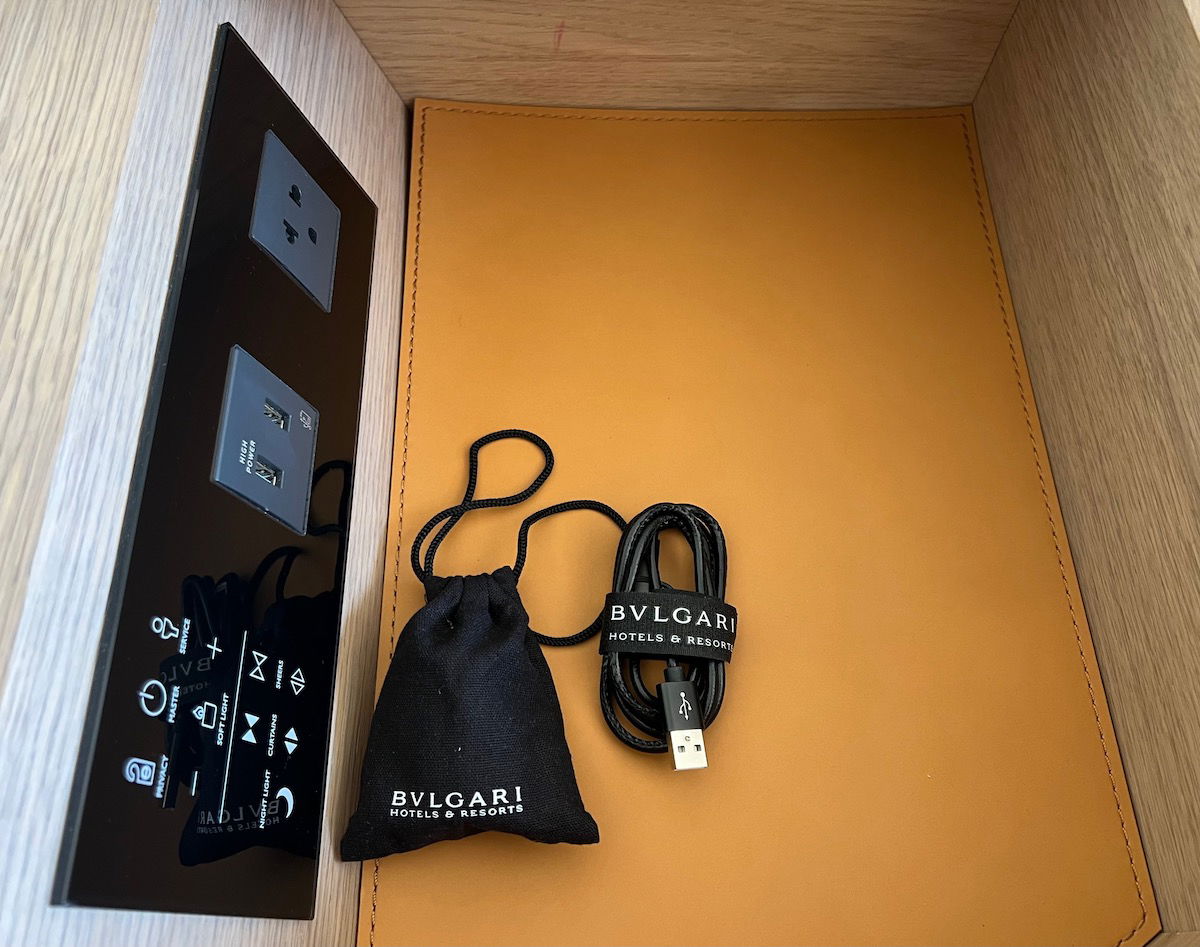 Back near the entrance to the room was the minibar area, with a large selection of drinks and snacks for purchase.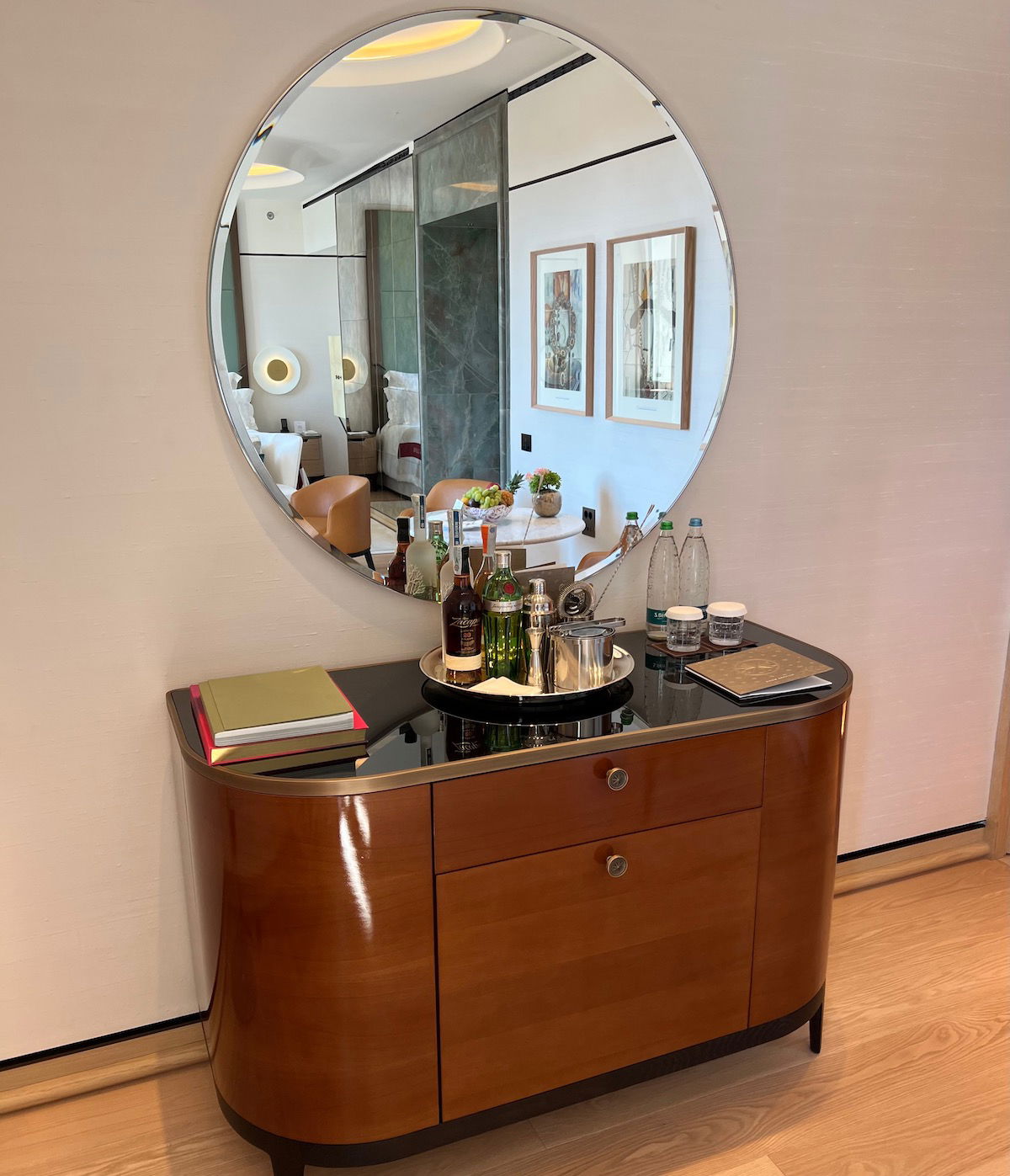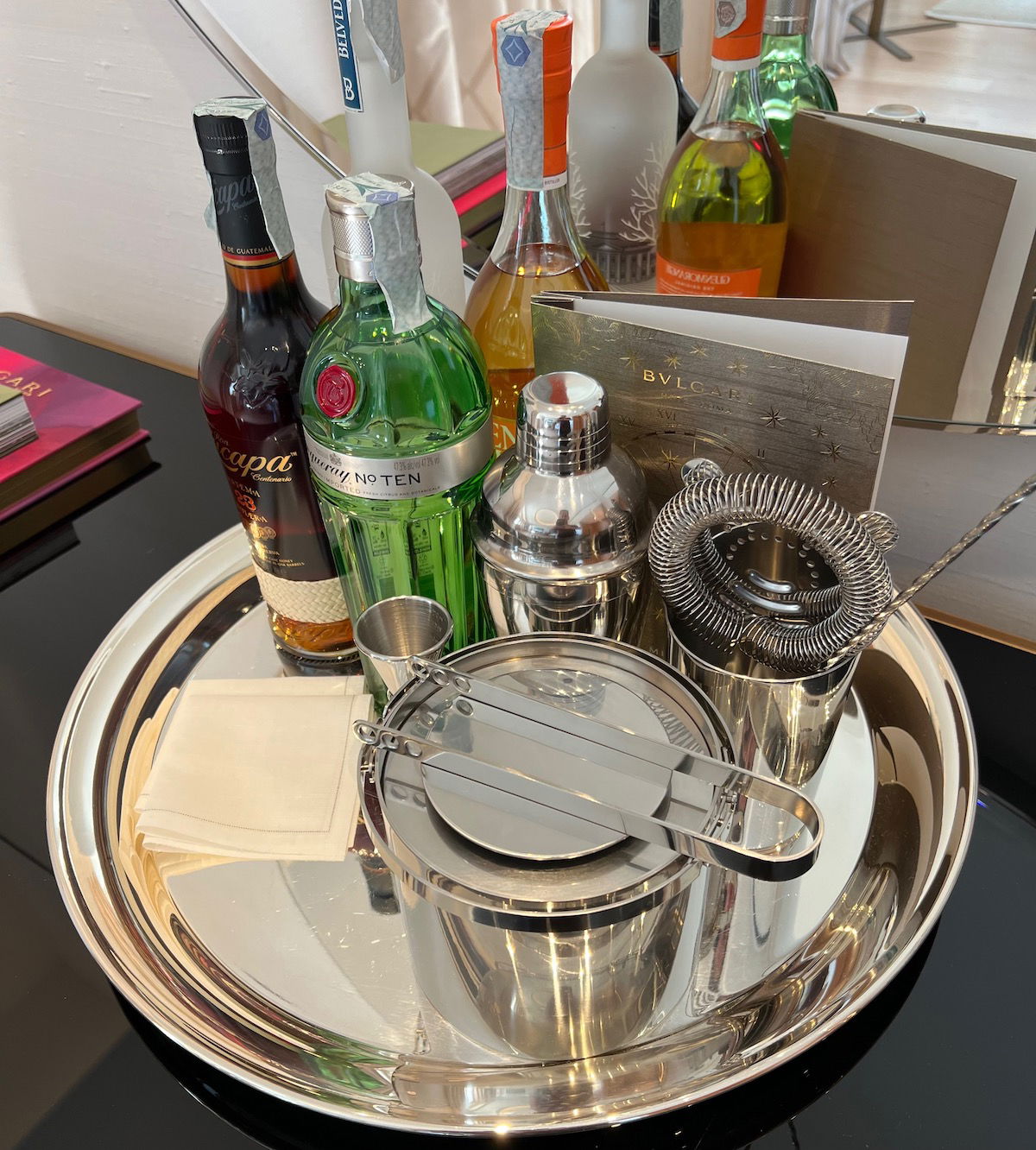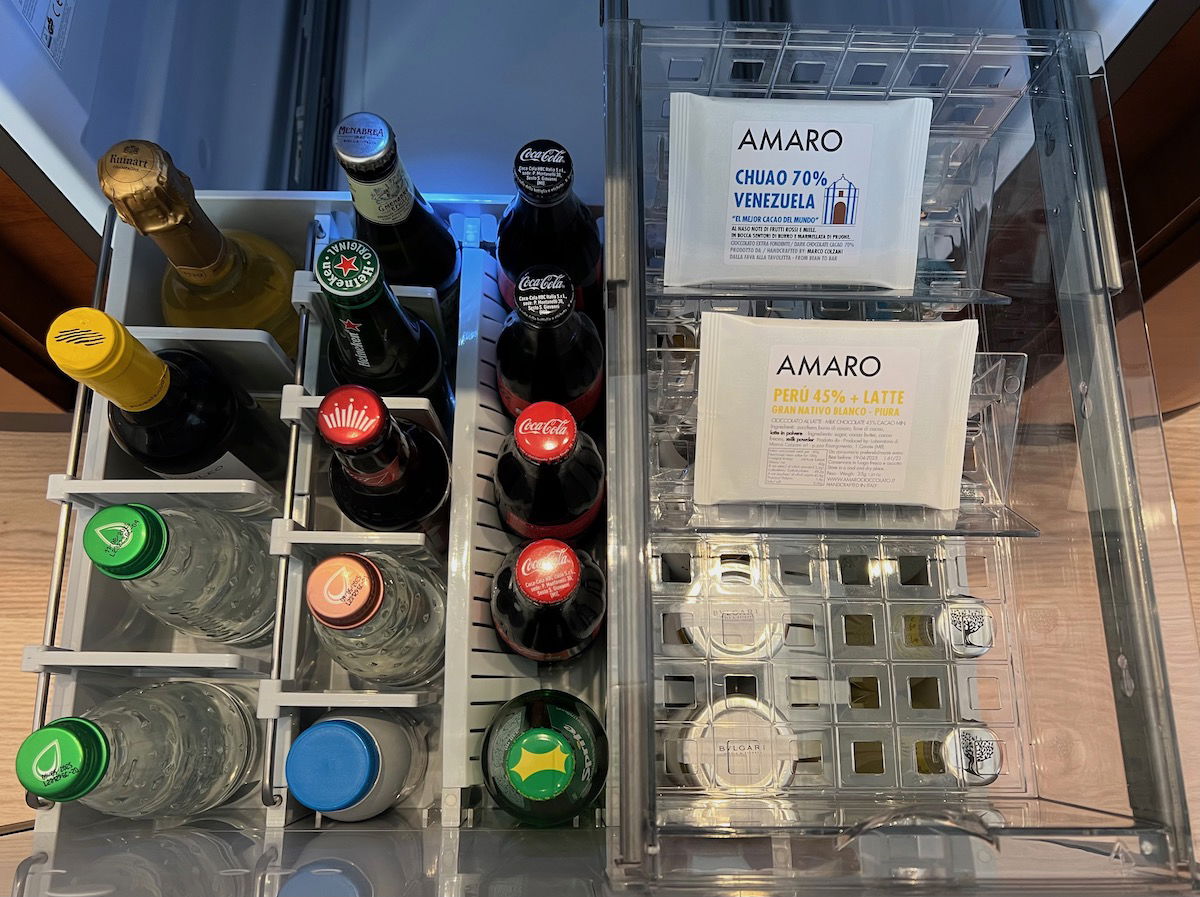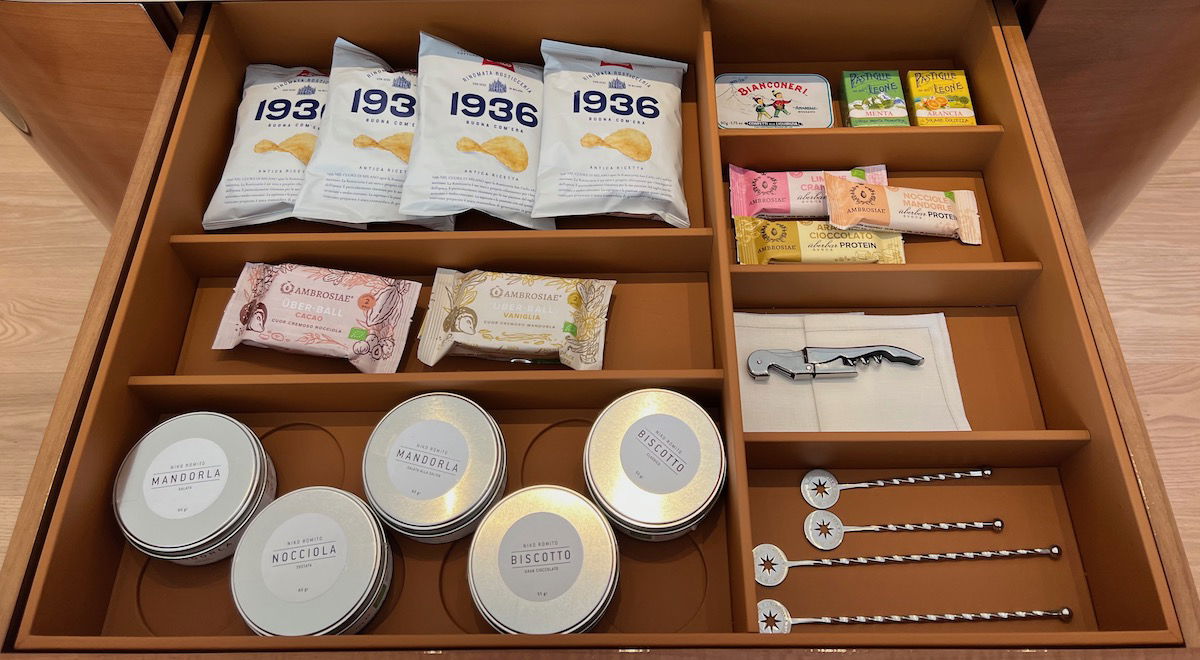 There was also a complimentary Nespresso coffee machine, plus a selection of tea.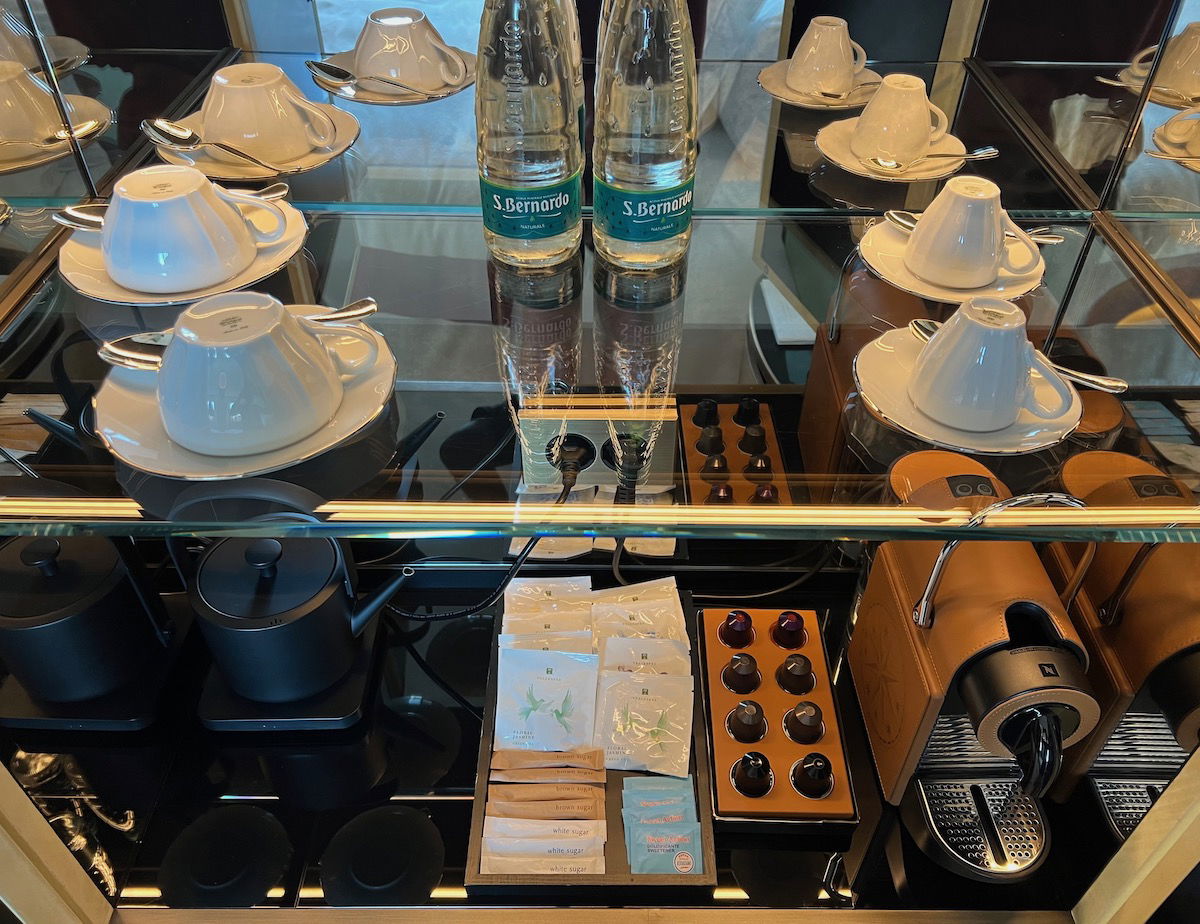 Also waiting in the room was a welcome gift consisting of a fruit plate, as well as some delicious amaretti di mombaruzzo sweets.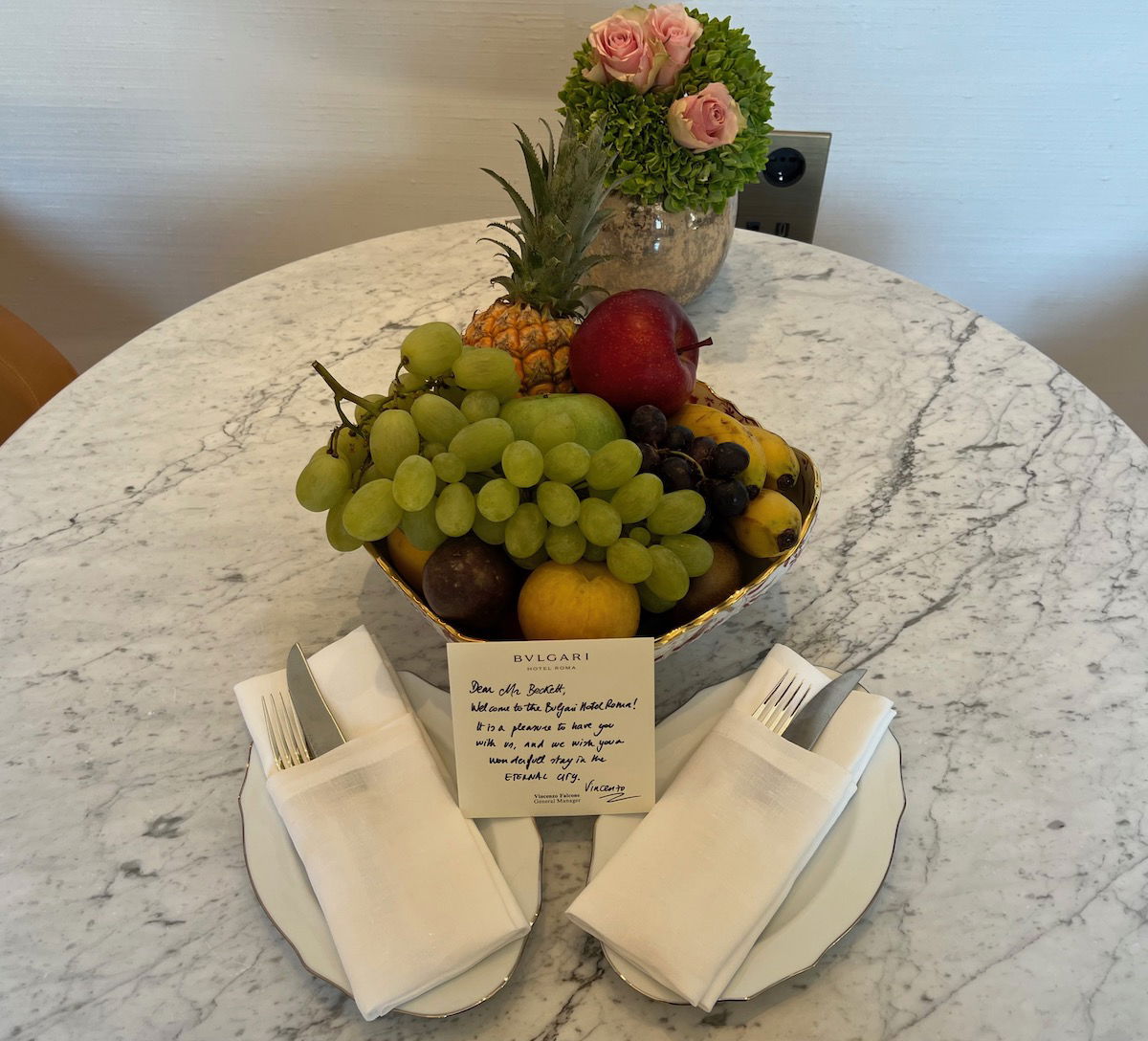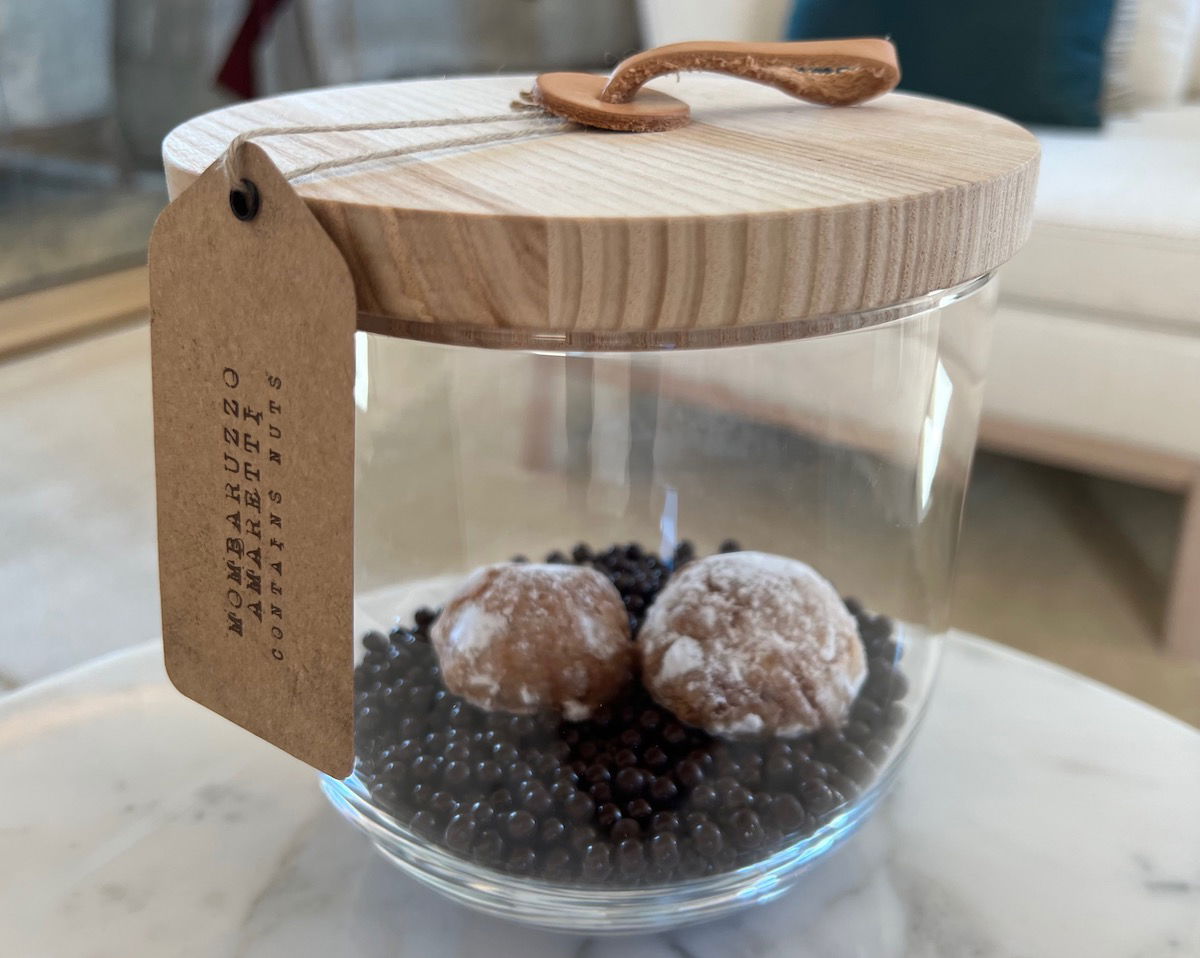 The bathroom entrance was near the center of the room, and it stretched nearly the entire length of the room.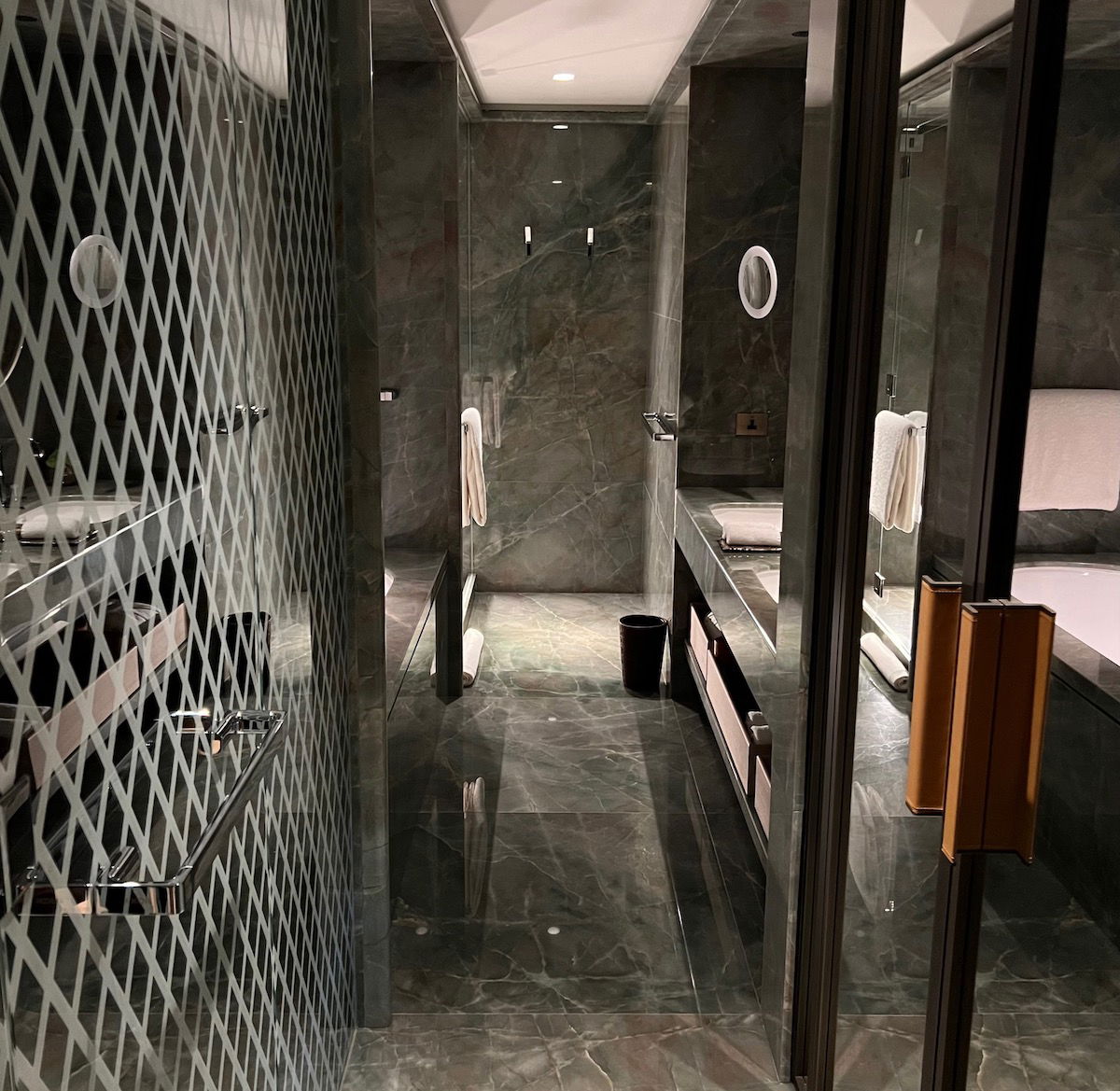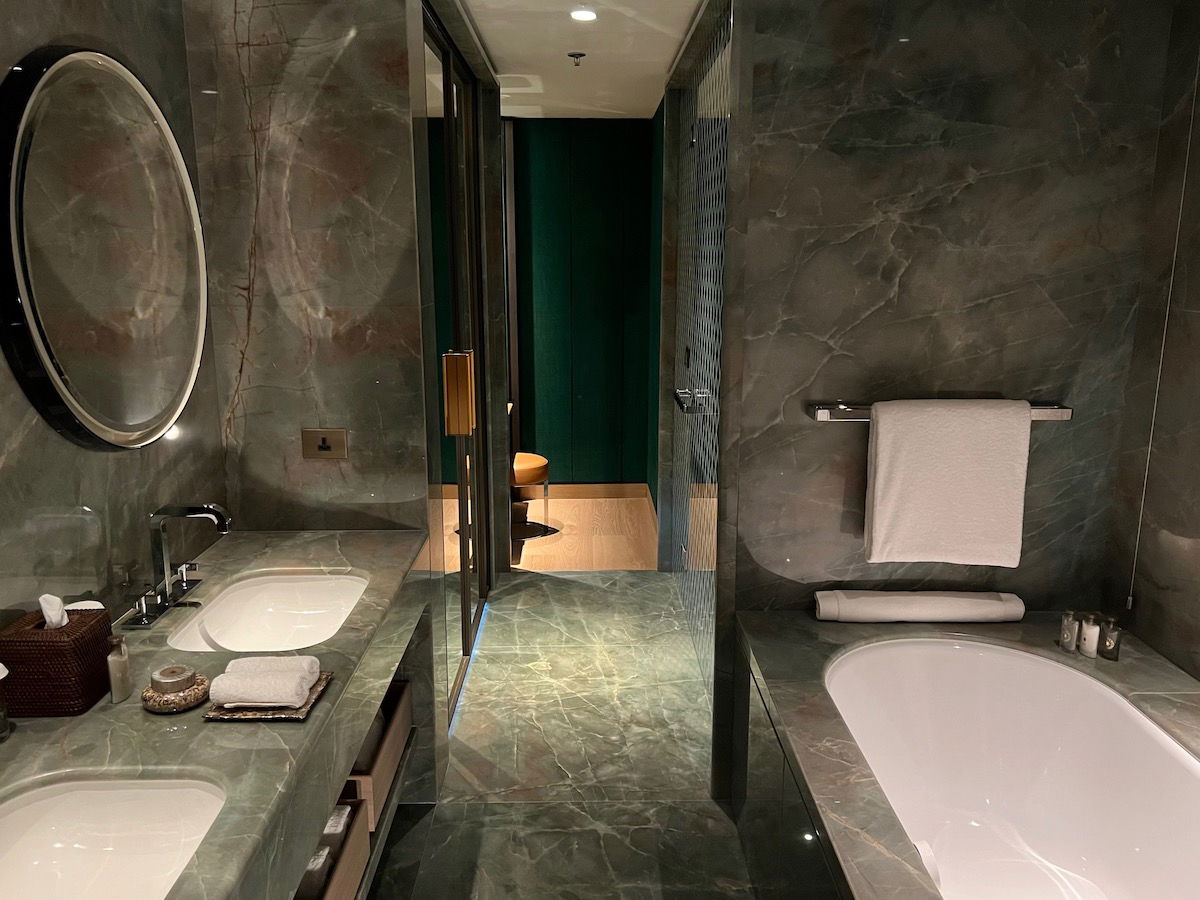 The bathroom had double sinks, a soaking tub, a huge walk-in shower, a room with a toilet and bidet, and a vanity at the far end of the bathroom.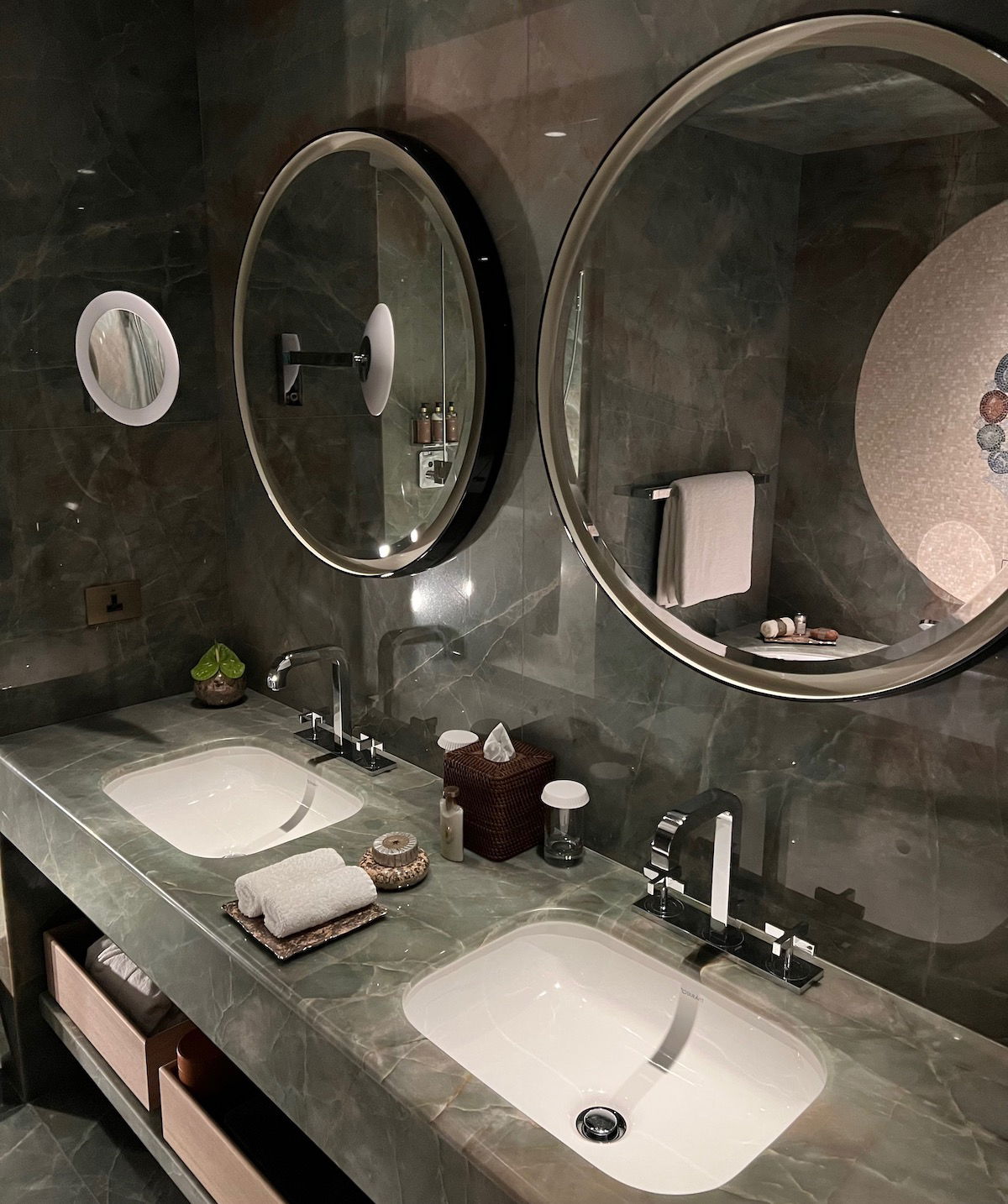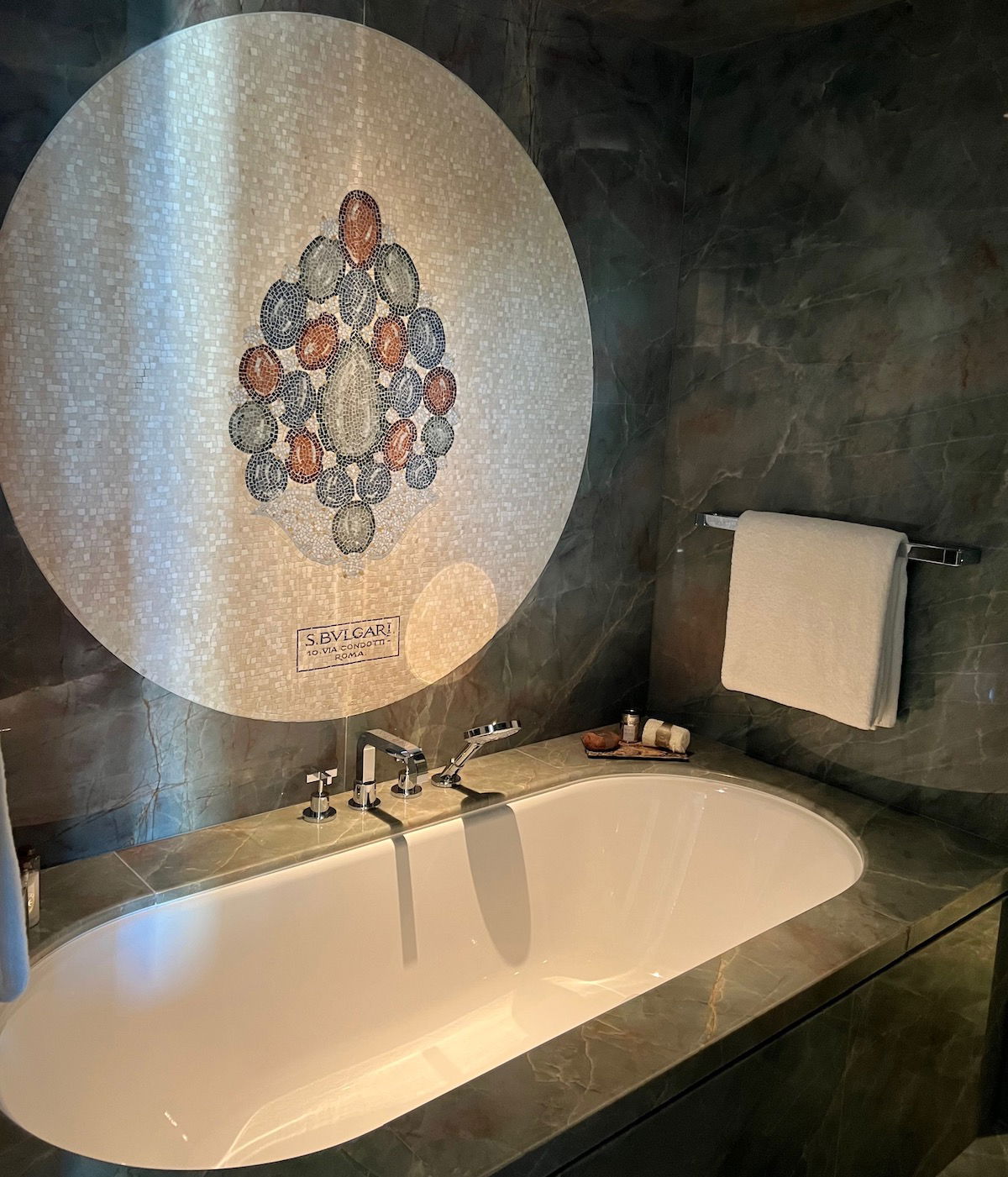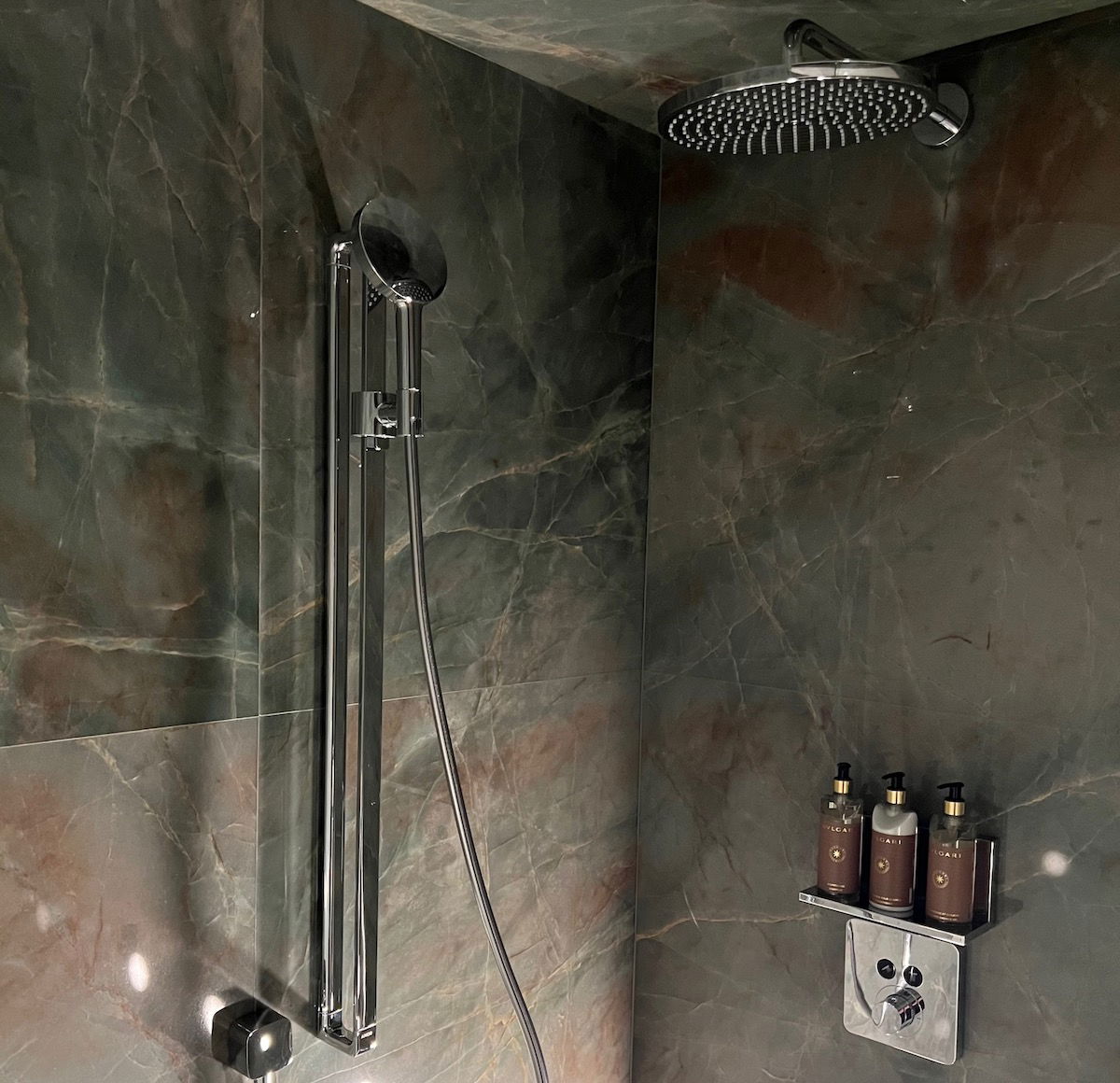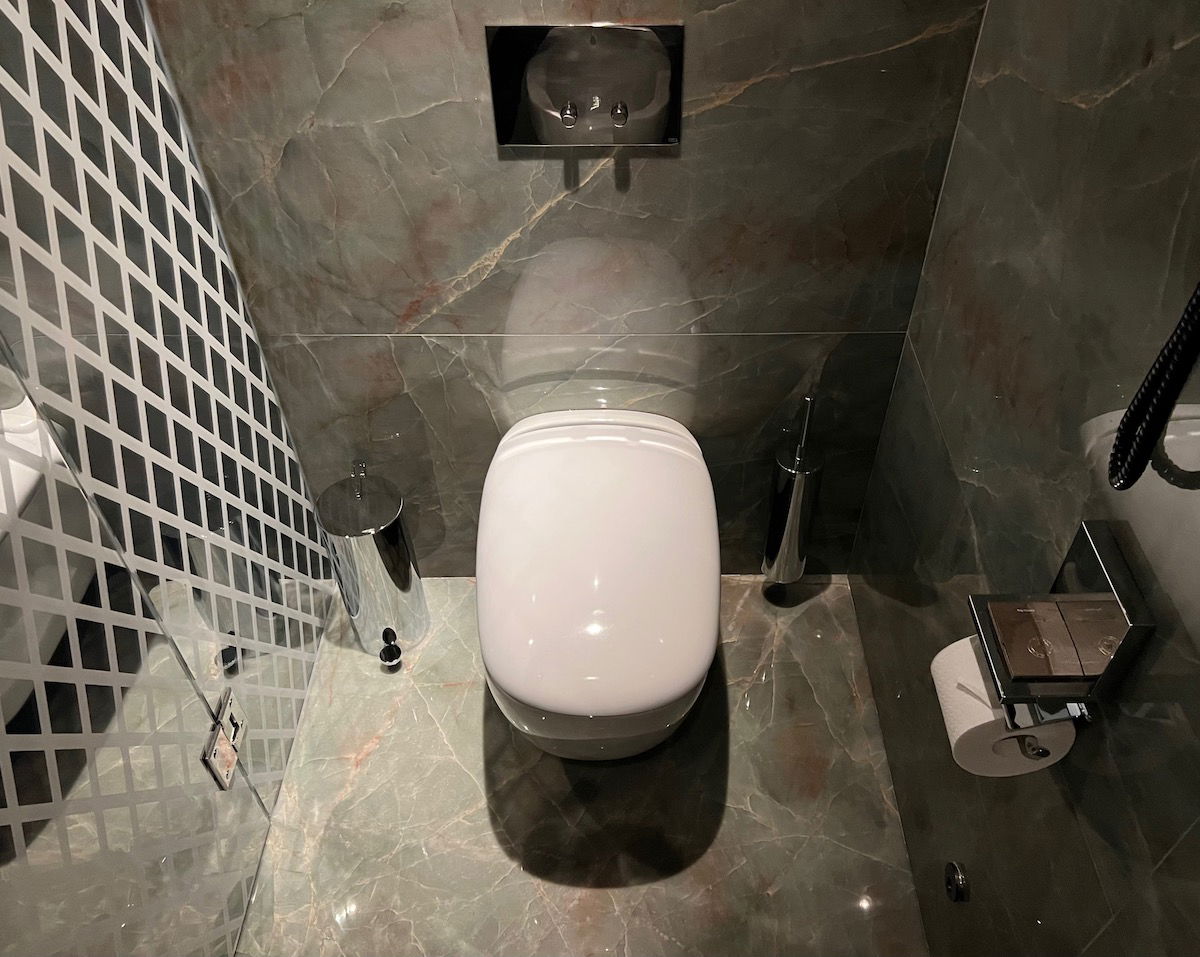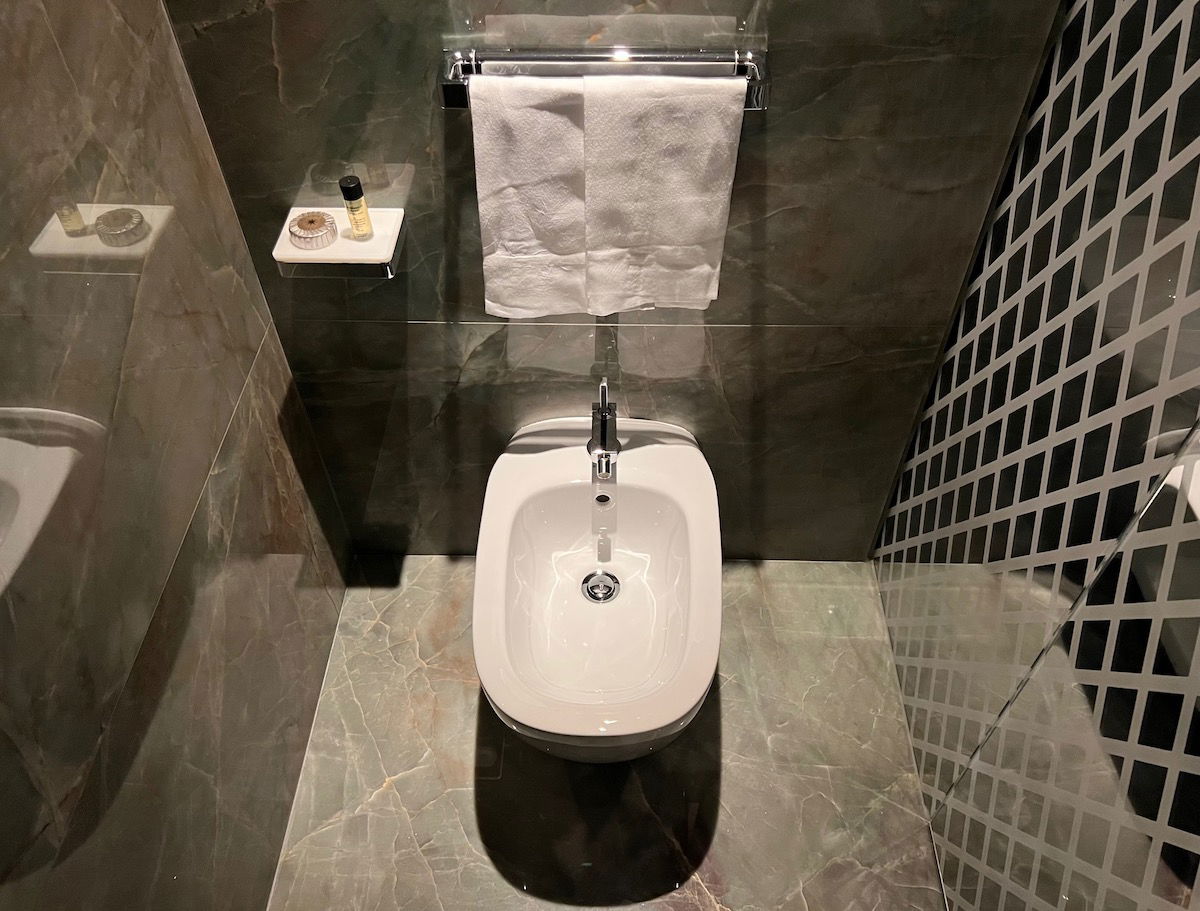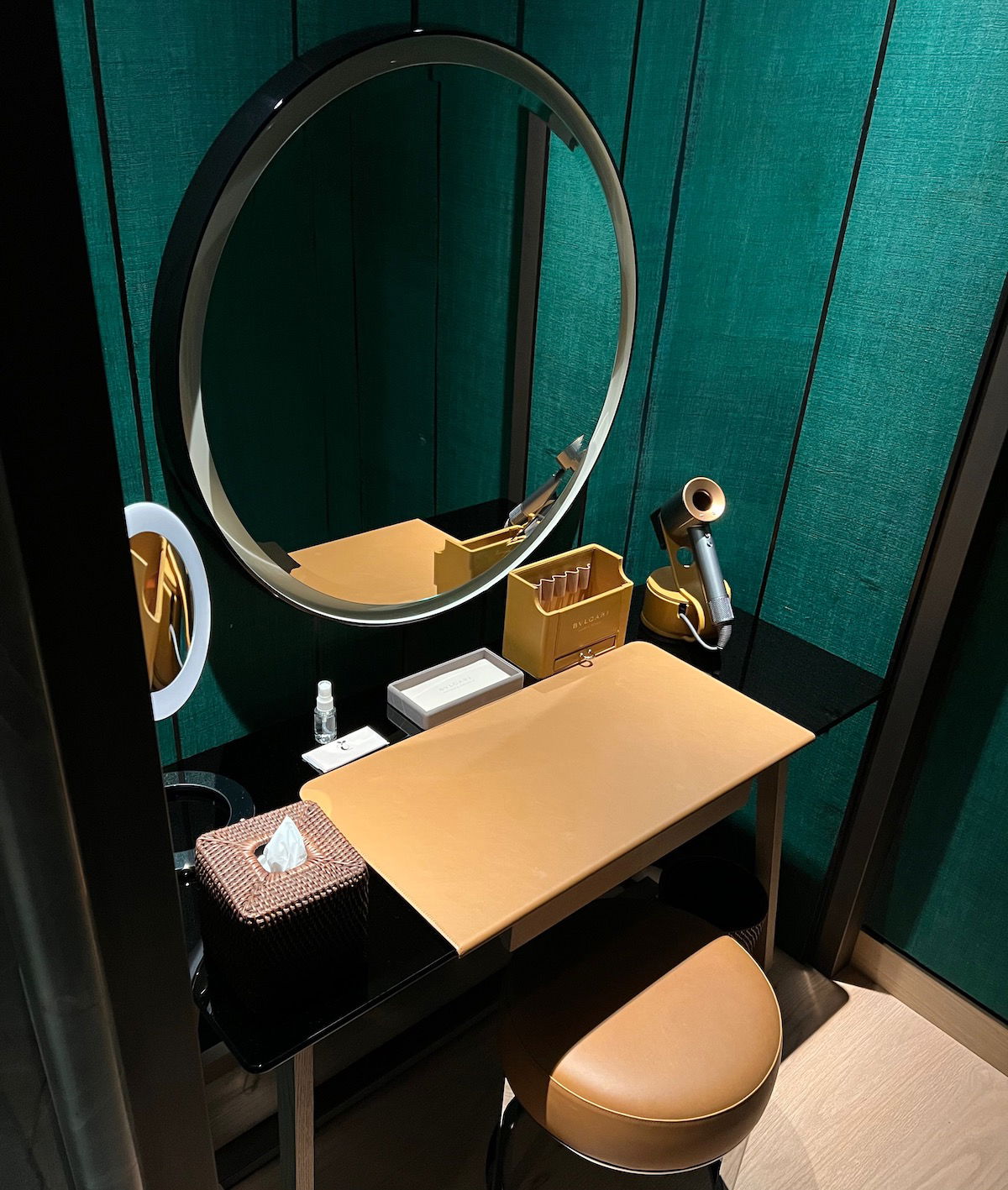 As you'd expect, toiletries were from Bulgari, and were in individual containers.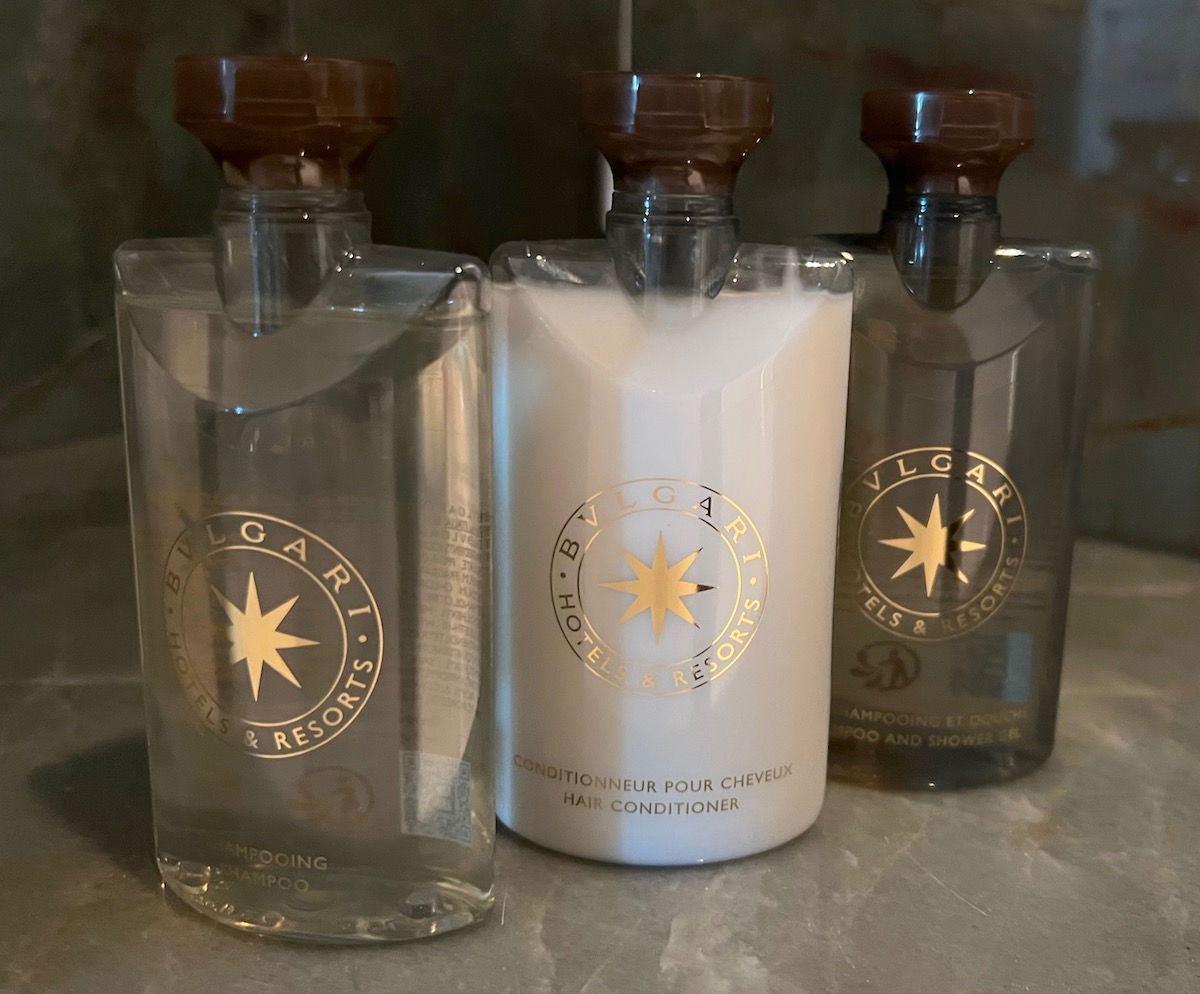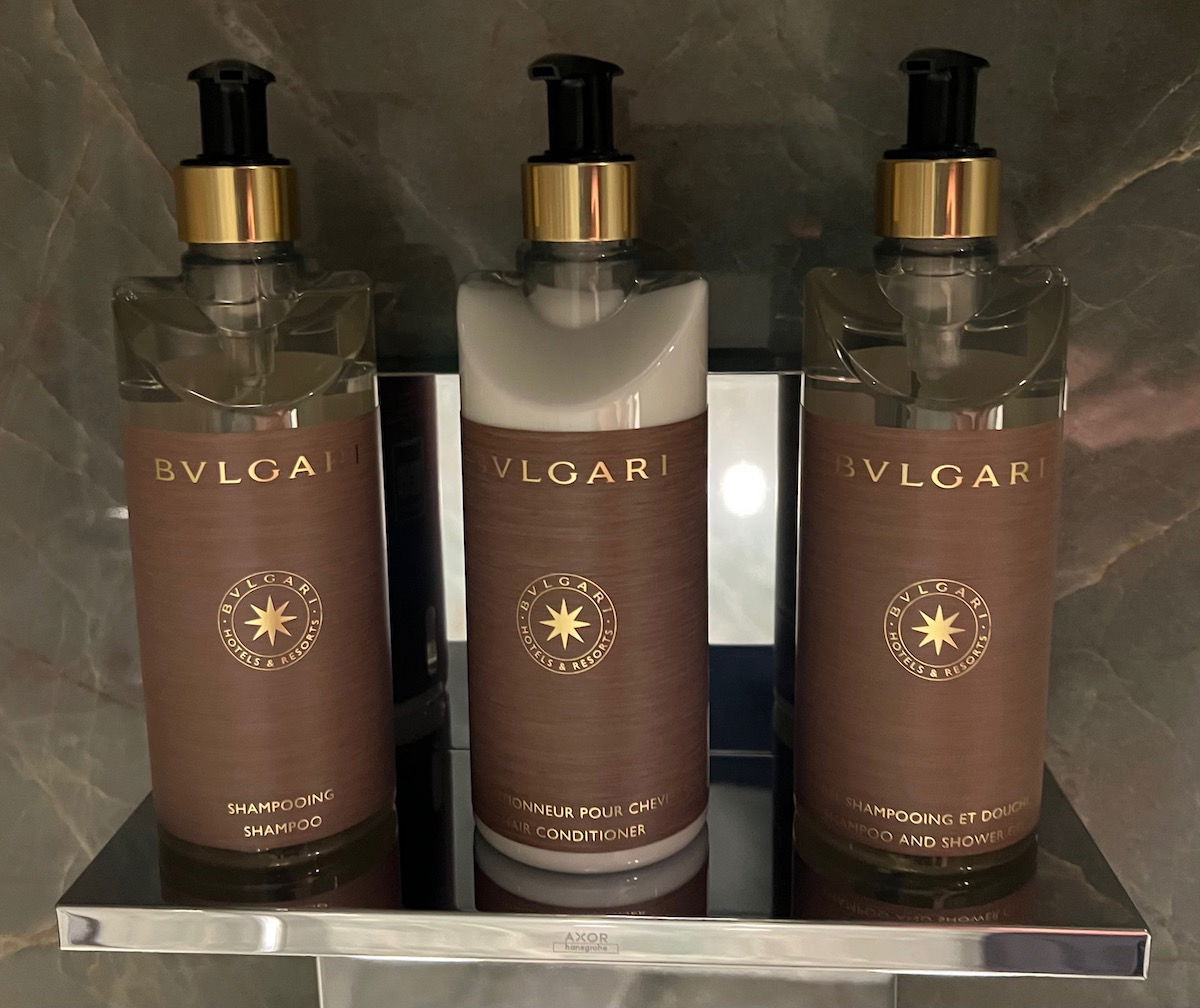 I liked the basket of basic amenities that were underneath the sink, as these are all things you otherwise typically have to call the front desk to request. It's nice to have these all handy.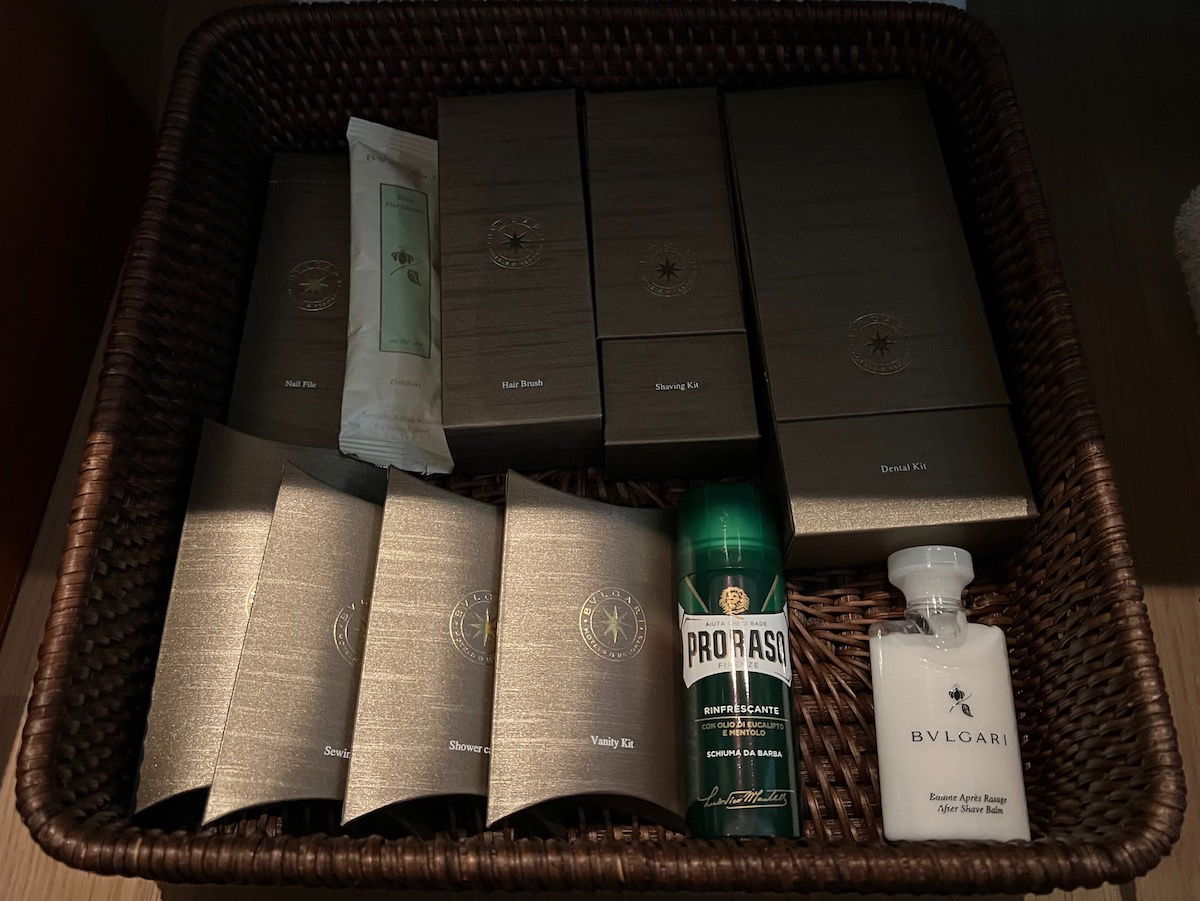 Our room faced the Mausoleo di Augusto, so that's a pretty cool view to have. Note that there seems to be some construction going on there at the moment (as it's temporarily closed), but noise wasn't an issue during our stay, and we didn't see anyone working on it.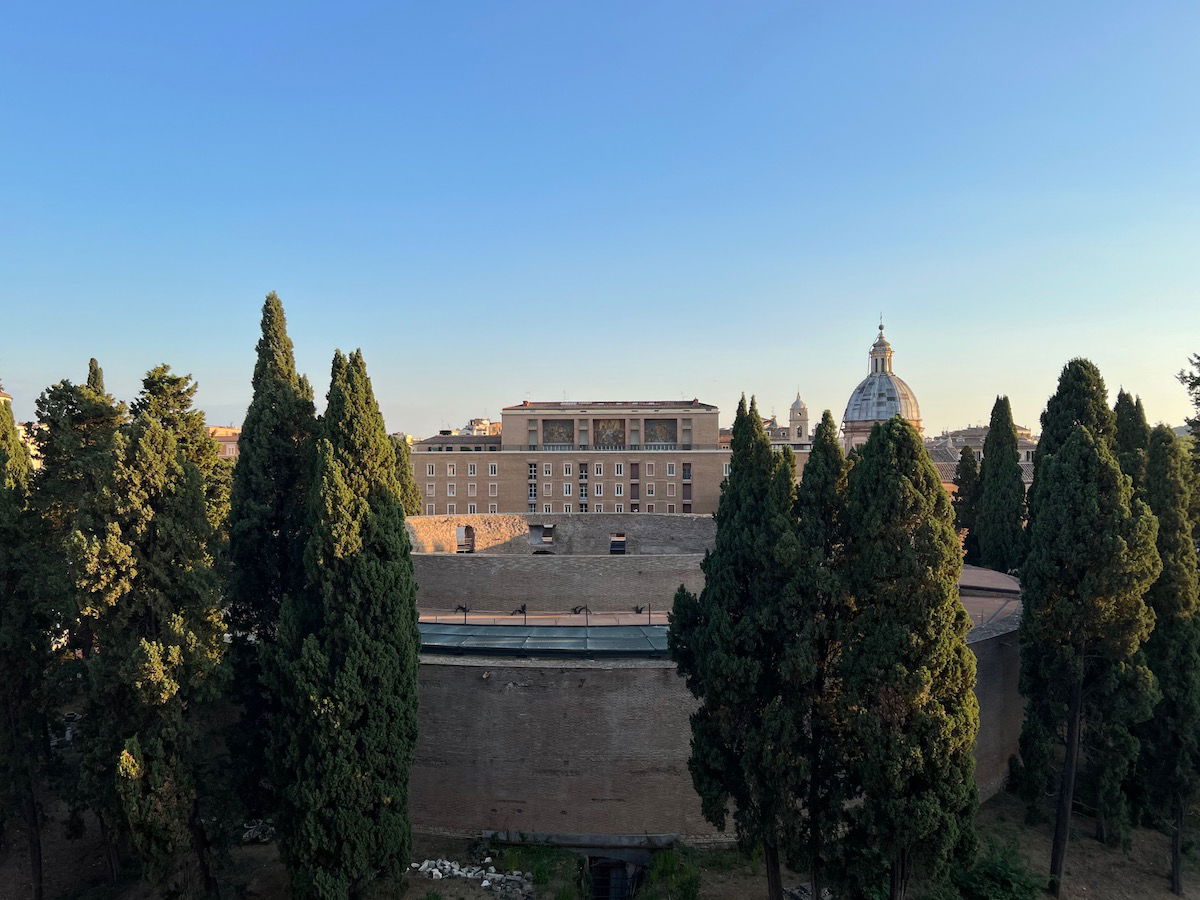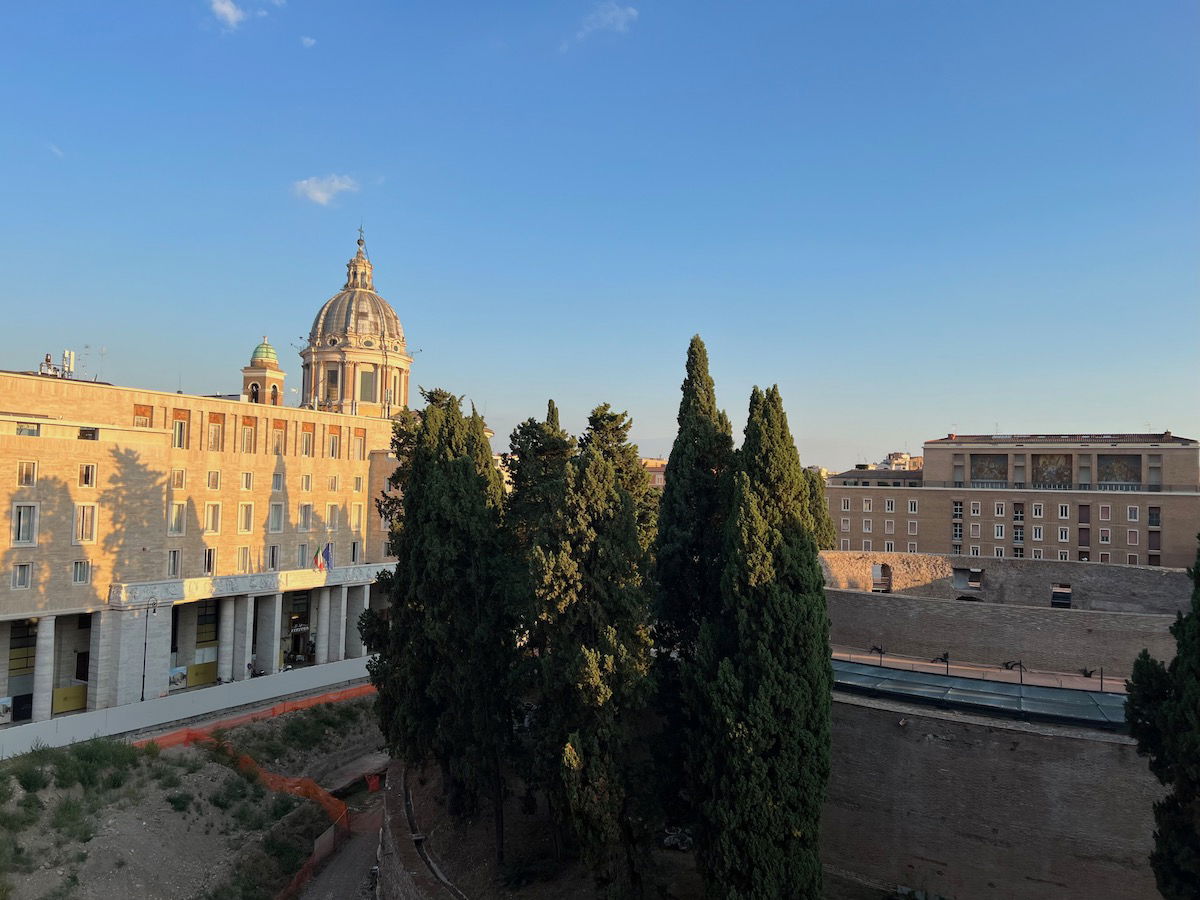 In the evening, turndown service was provided, and as seems to be standard for the Bulgari brand, tea was served with this. On top of that, we were both given customized luggage tags, which is a standard treat given at Bulgari properties on the last day of a stay (or the only night of your stay, if you're only there for one night).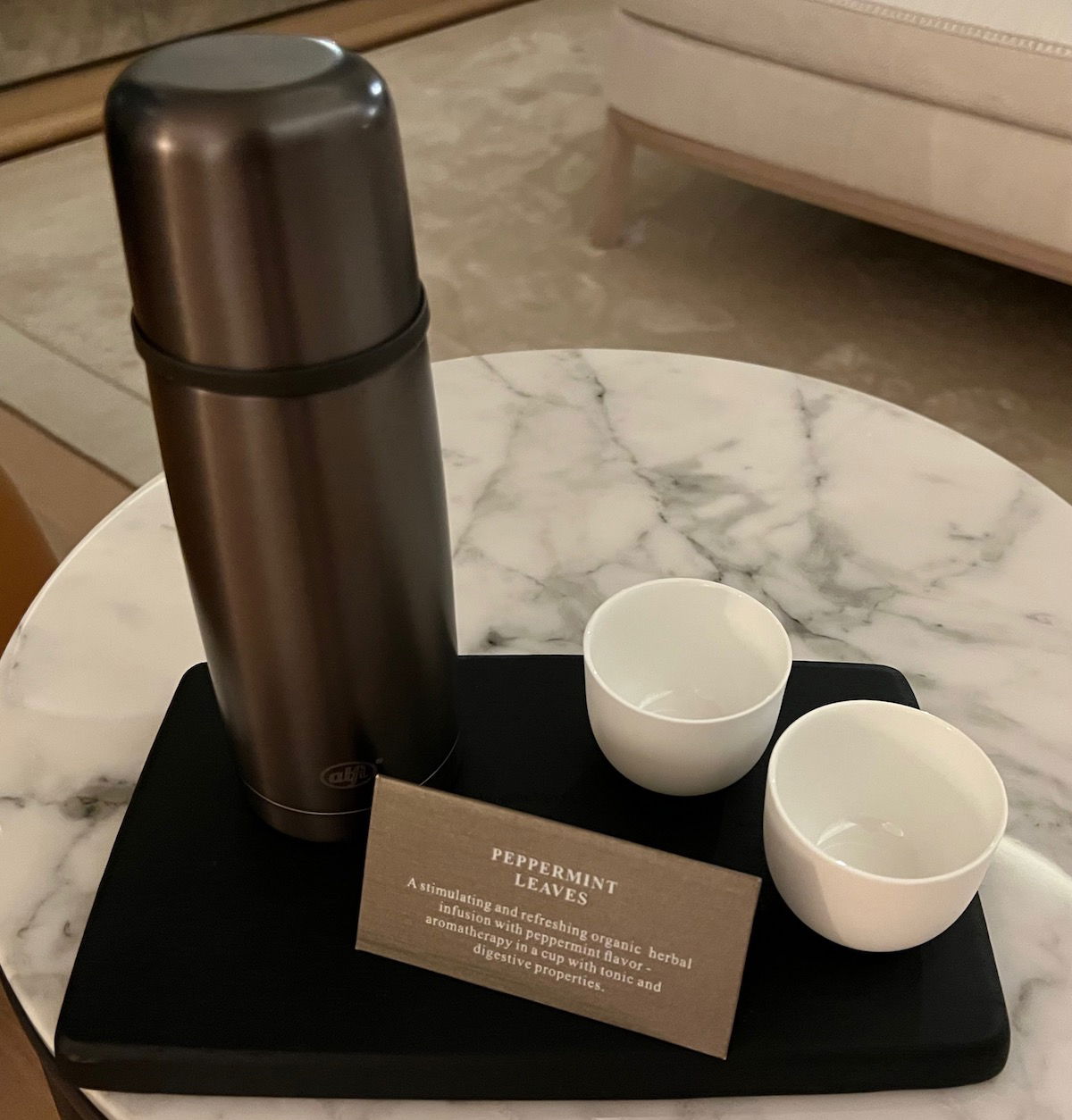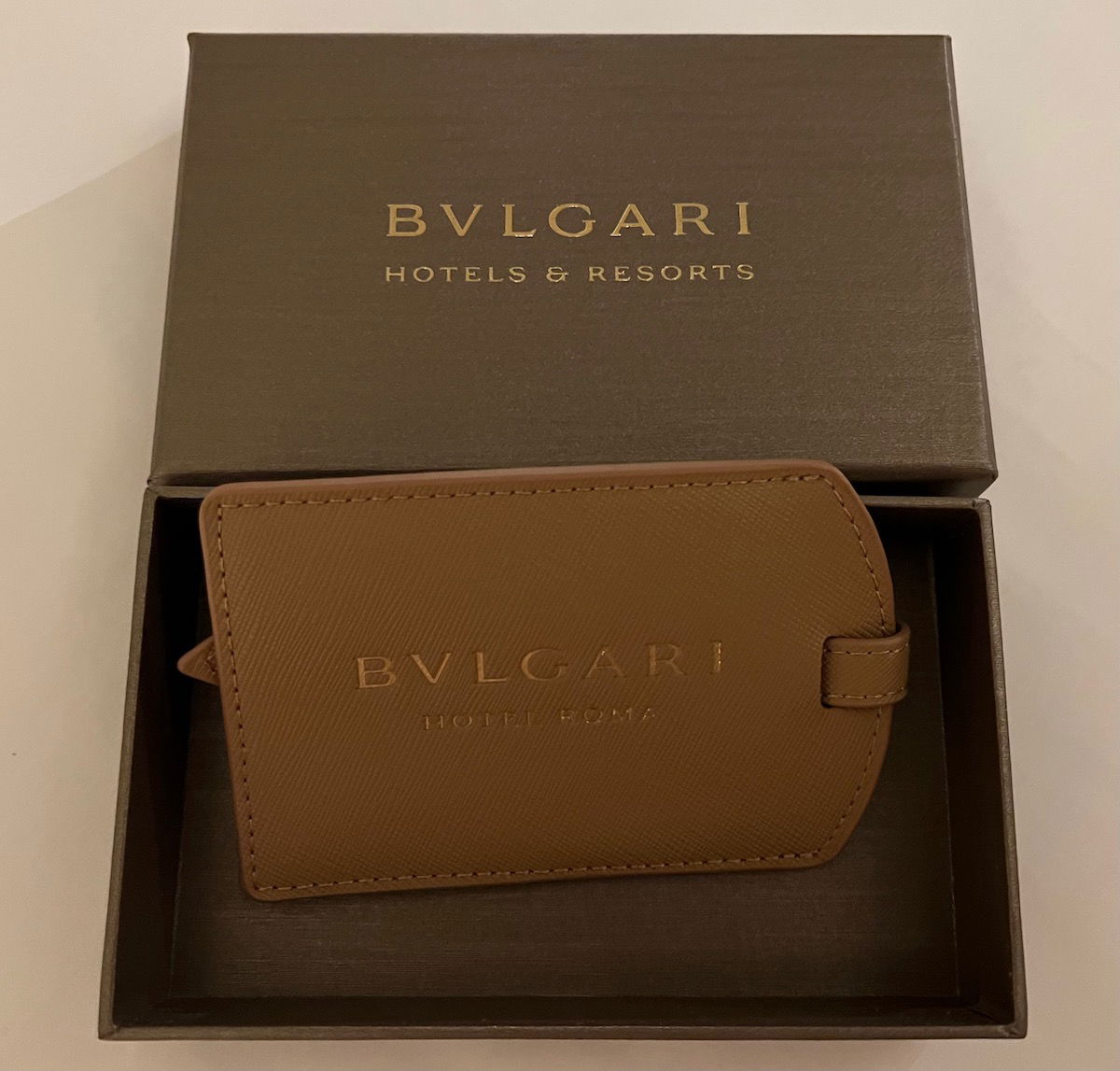 All-in-all, I thought the room design was fantastic. At the two previous Bulgari properties I stayed at, I thought the design was a bit style over substance, while I thought this room was both beautifully appointed and functional.
Bulgari Rome pool & spa
The Bulgari Hotel Rome has a massive wellness area, spread across three floors (floors two, one, and minus one). Visually the best part of this area is the 25-meter indoor swimming pool, located on level one, which has to be one of the coolest-looking indoor pools I've ever seen.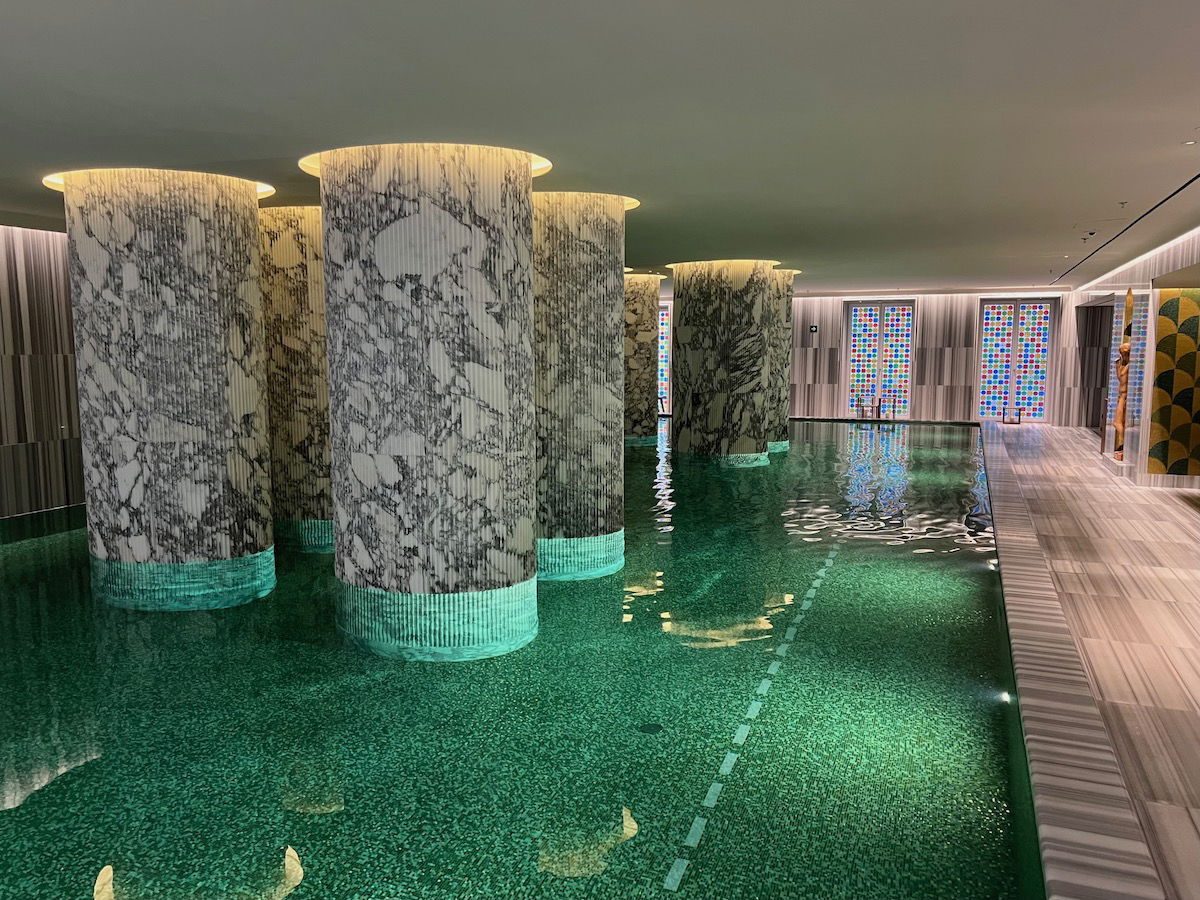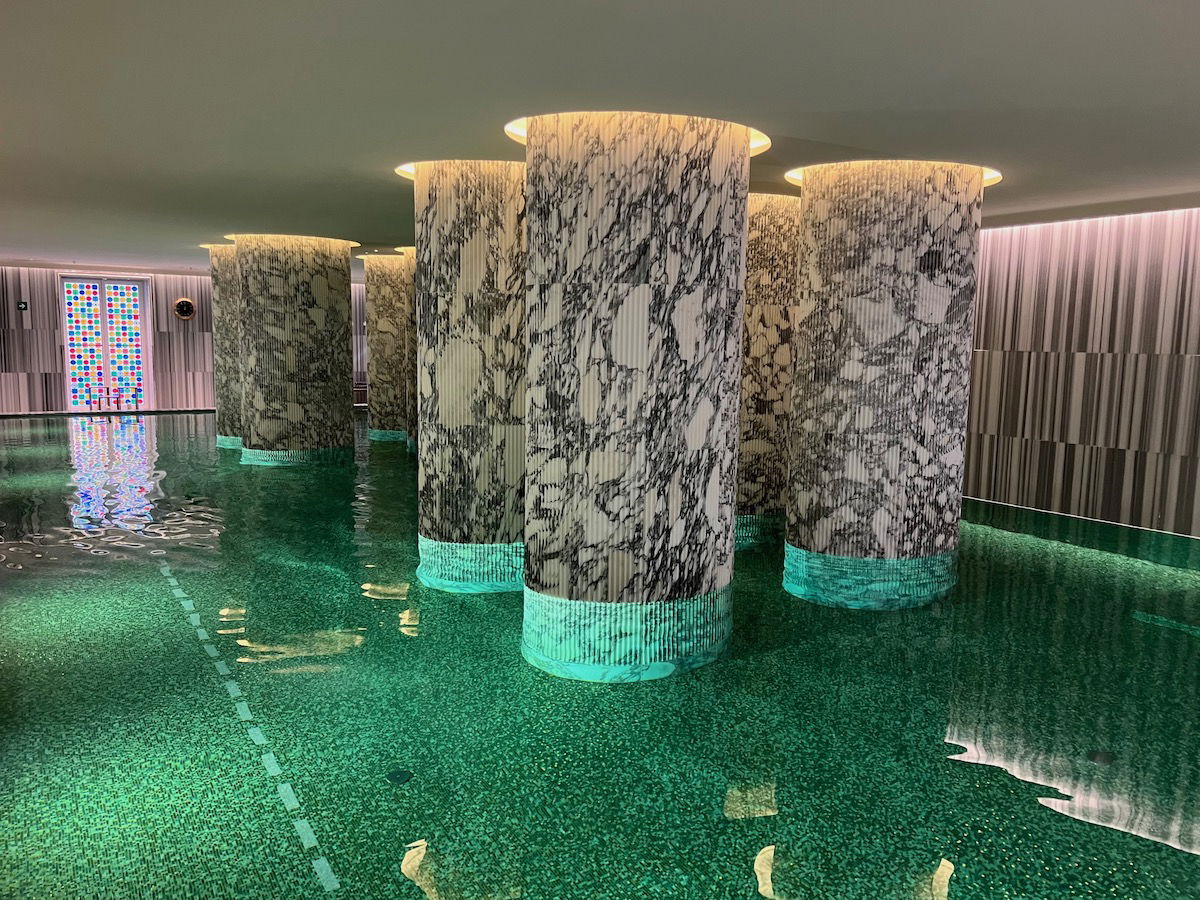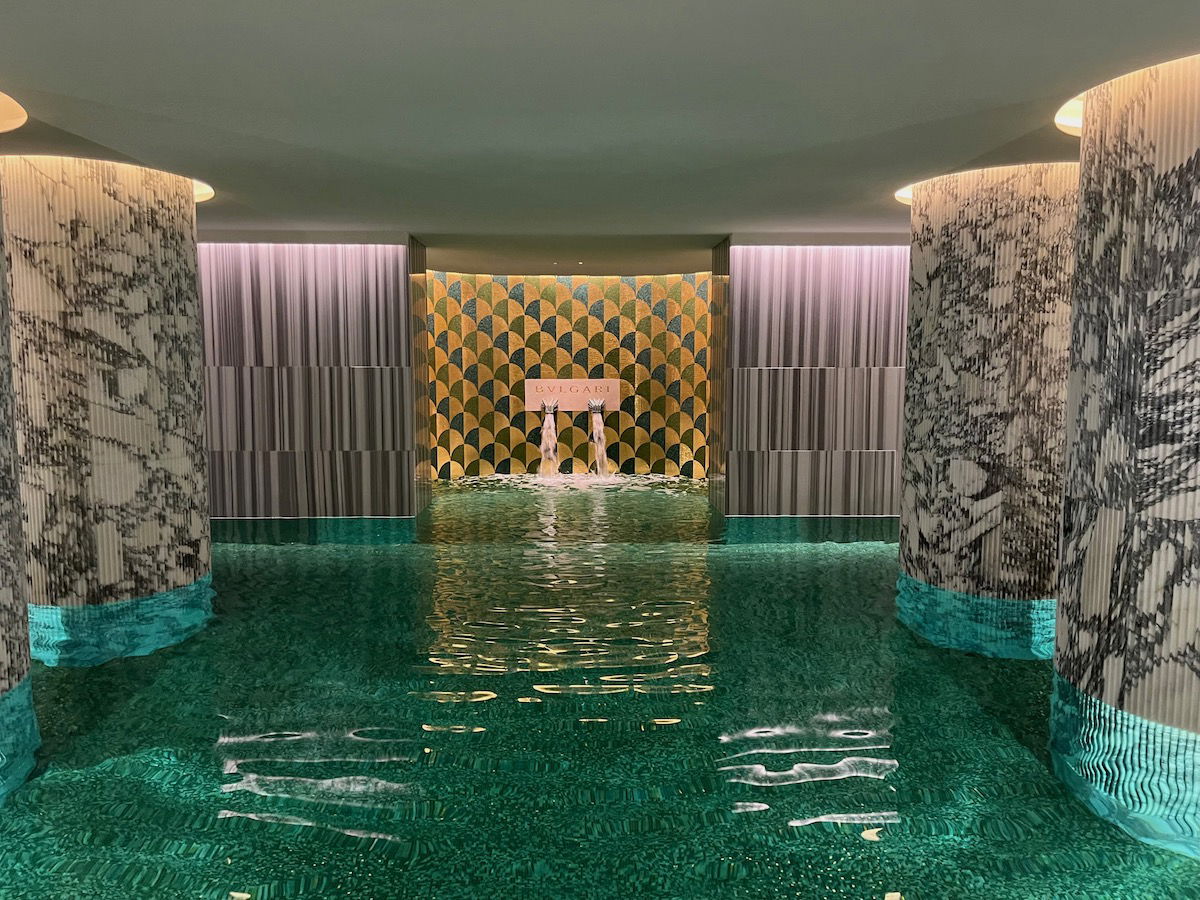 Now, there were two things about the pool that weren't ideal. First of all, personally I love when these kinds of pool areas have hot tubs, though unfortunately this one didn't. Furthermore, while the columns look super cool, they're not very functional for swimming, as the 25-meter pool is basically wide enough for one person to swim the entire length.
The pool area did have plenty of lounge chairs, though, and it was a nice area to relax.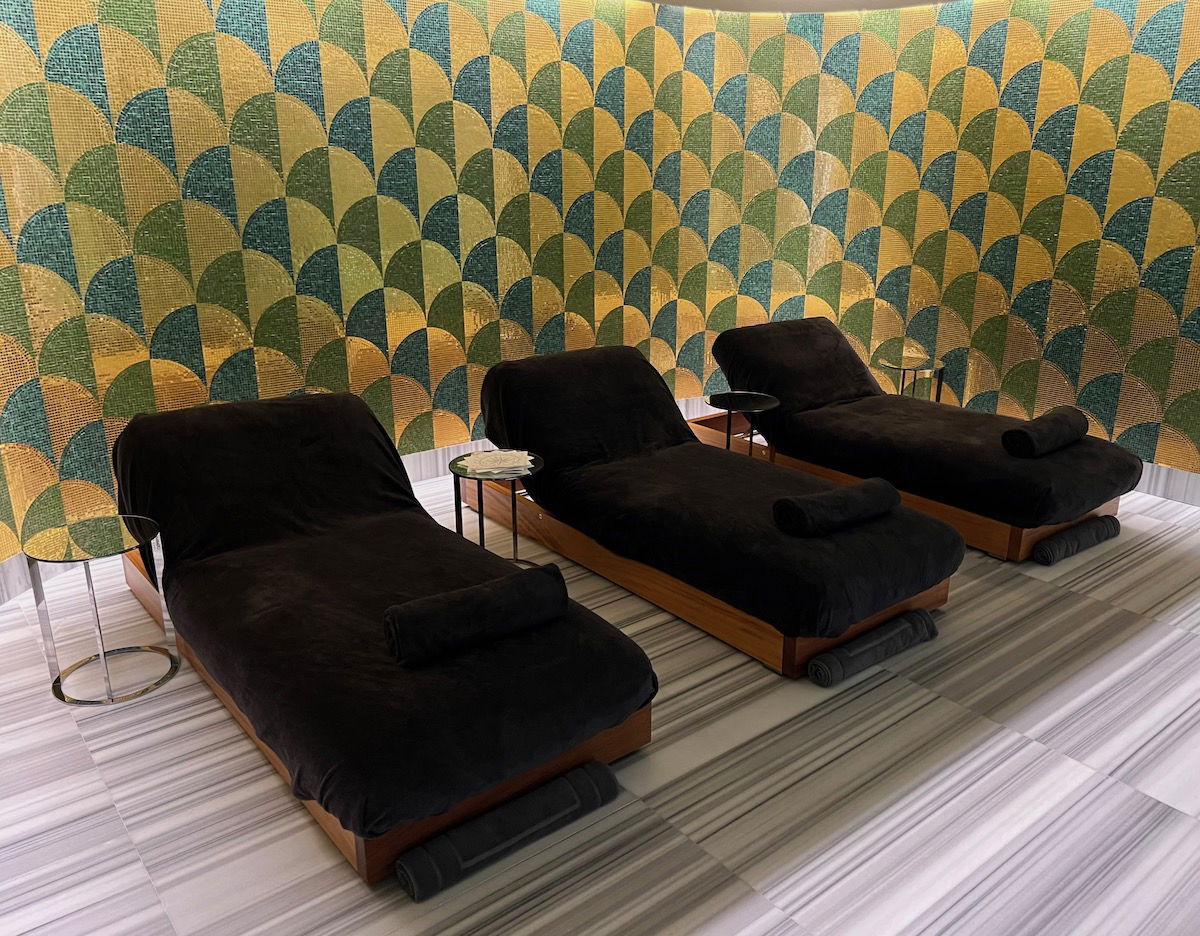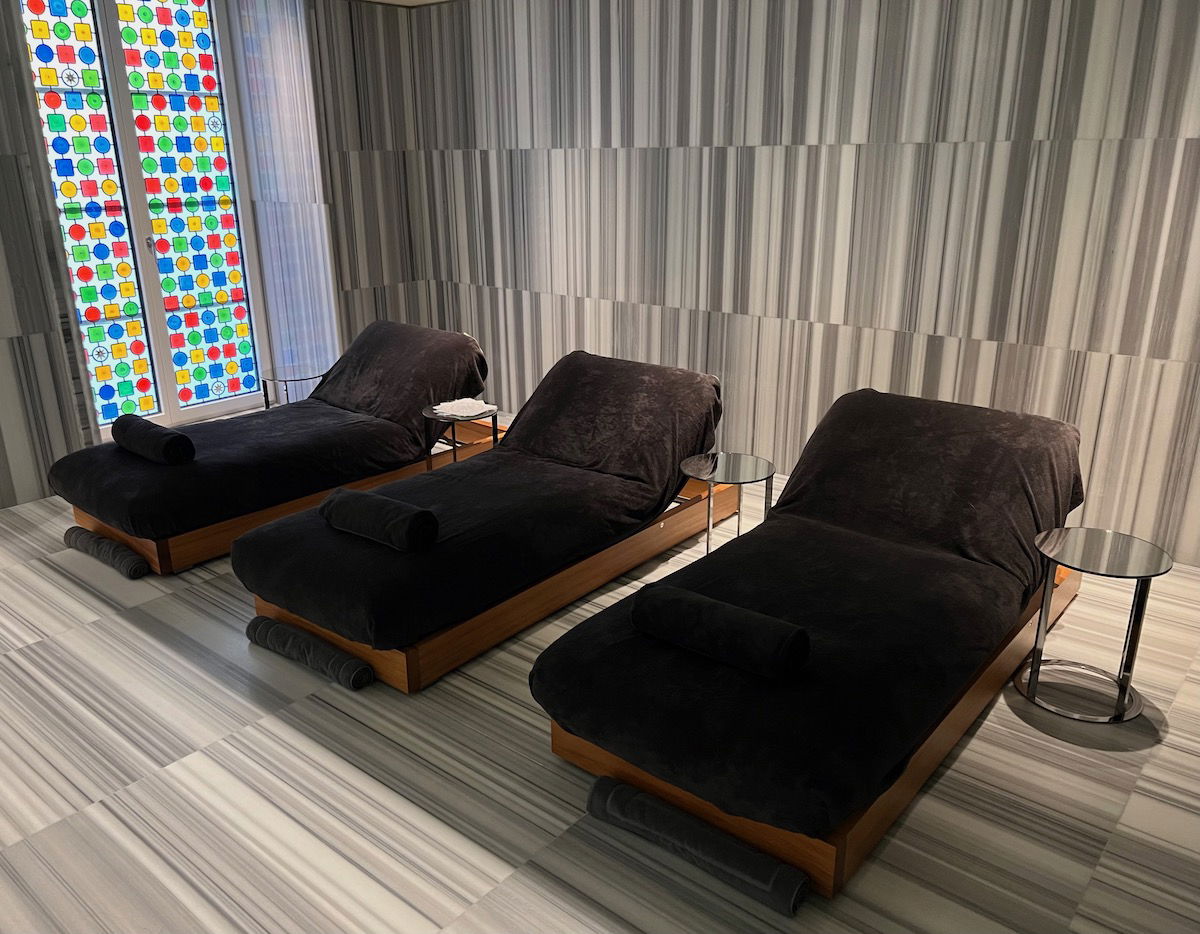 The main spa area is located on level minus one, and this area also has a sauna and steam room.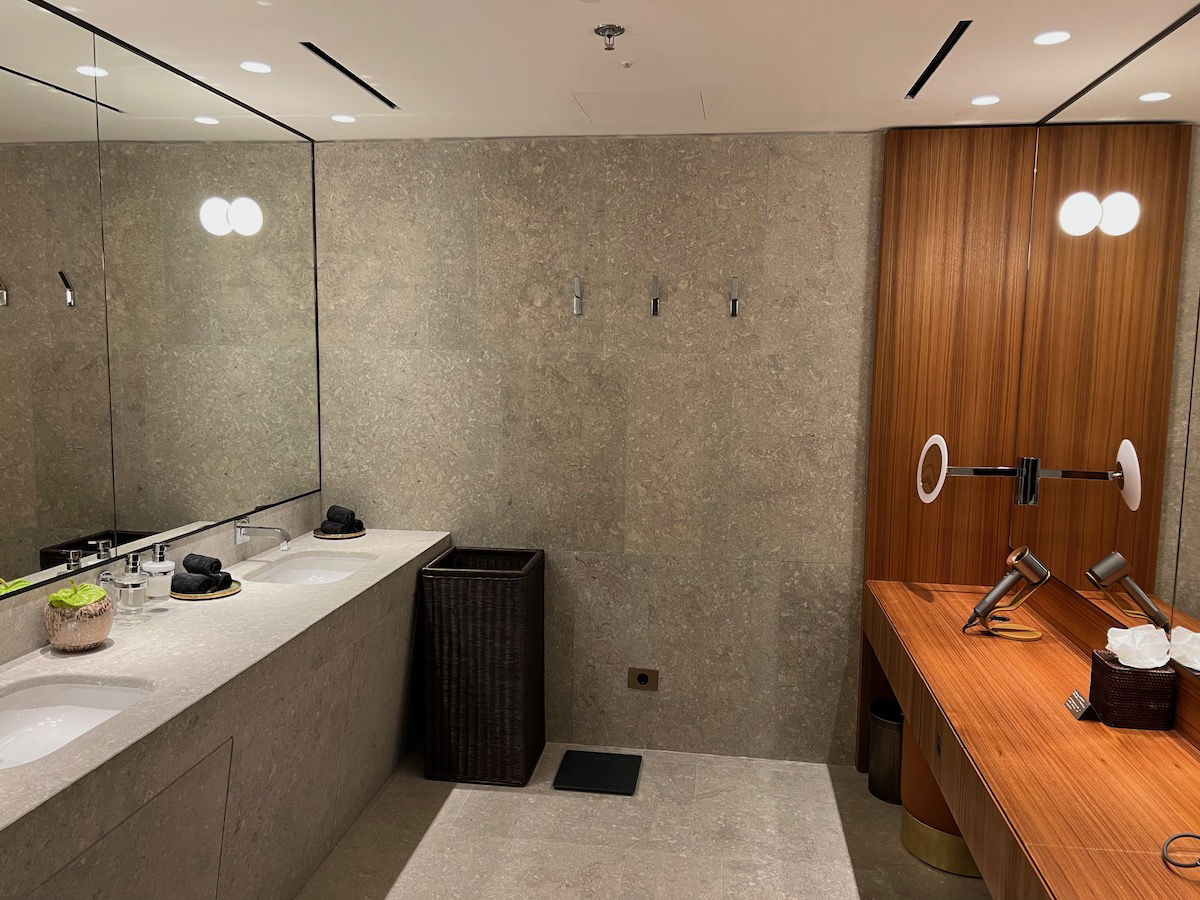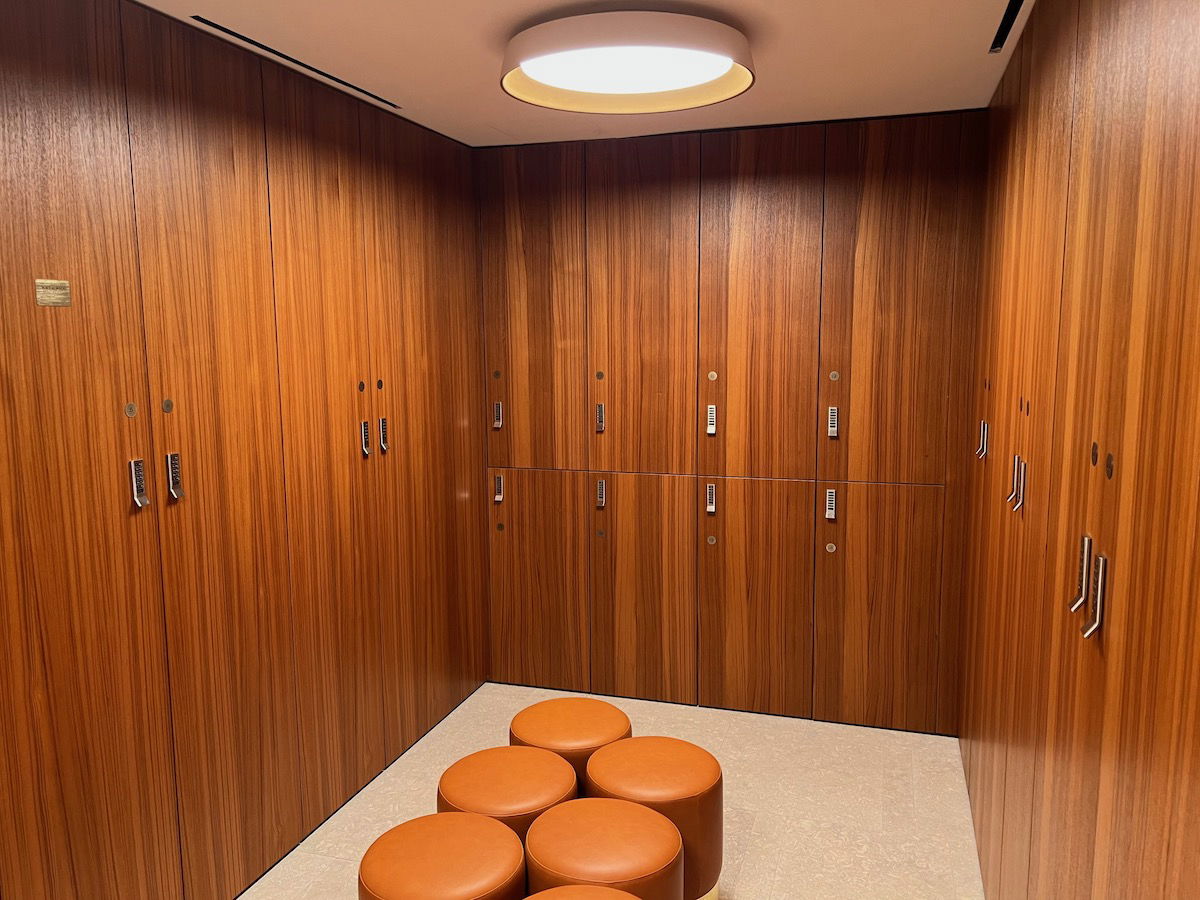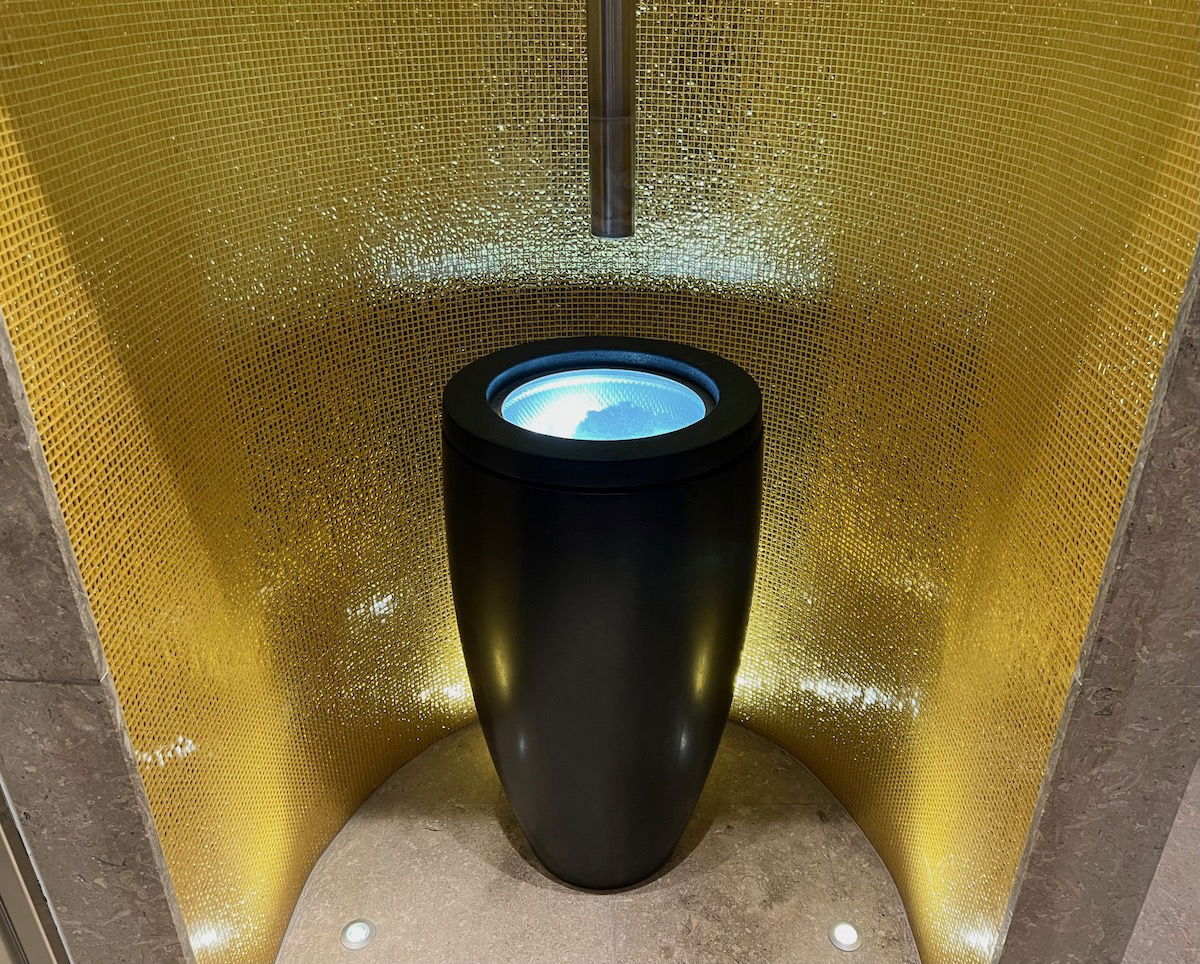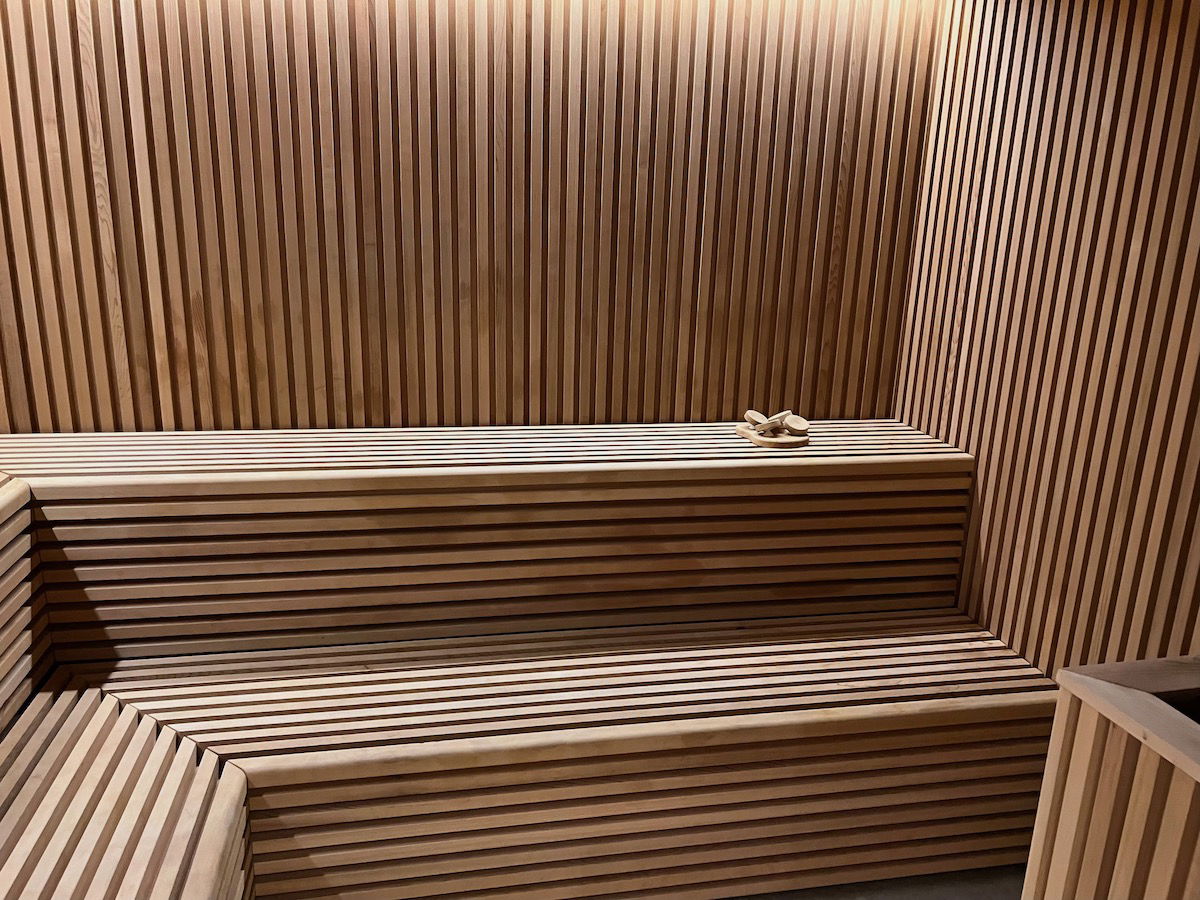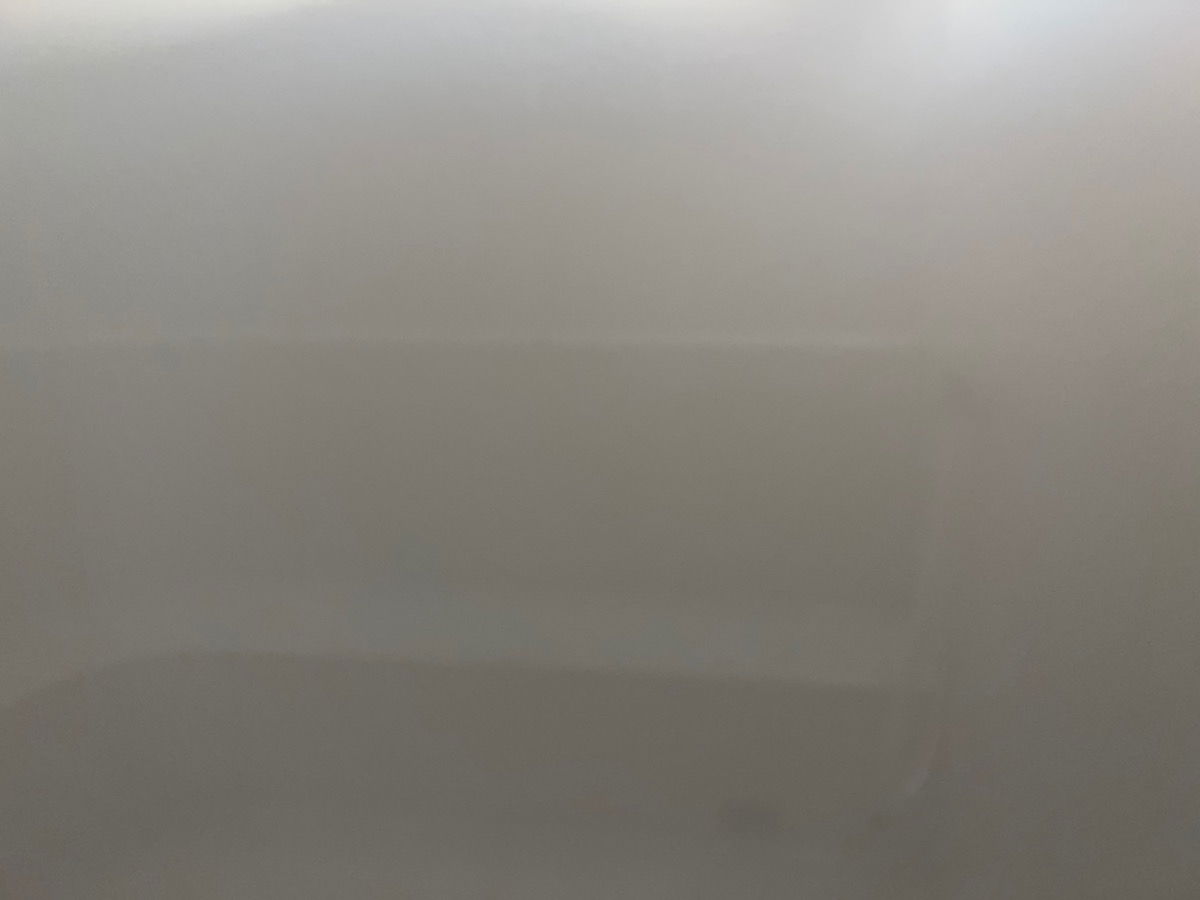 We didn't get any spa treatments during our short stay, but the spa treatment area is large, and there are plenty of options to choose from. You can find the spa menu here.
Bulgari Rome gym
The Bulgari Hotel Rome has a 24/7 gym that's located on the third floor. The gym is modern but on the small side. Then again, that's pretty common at city hotels in Rome. The equipment was great, though, and there were a variety of weight and cardio options.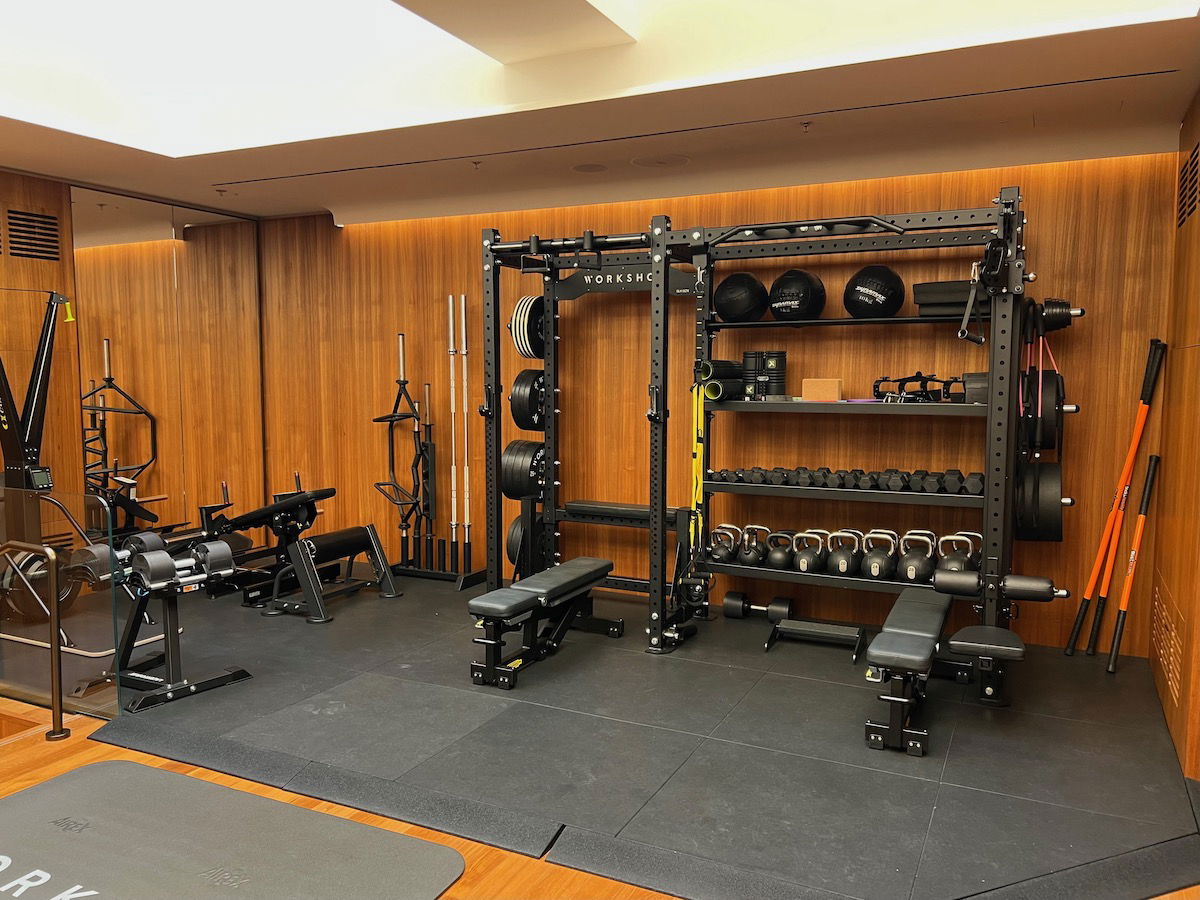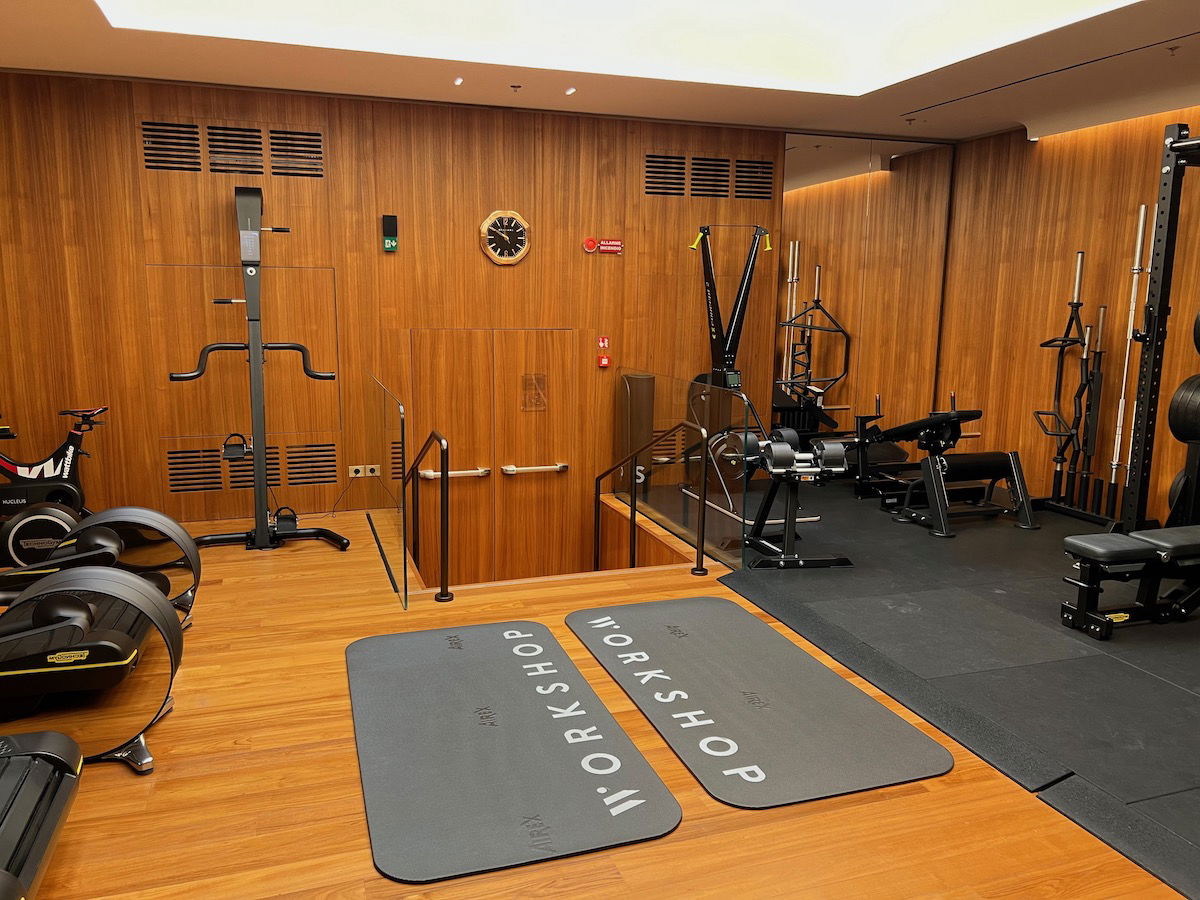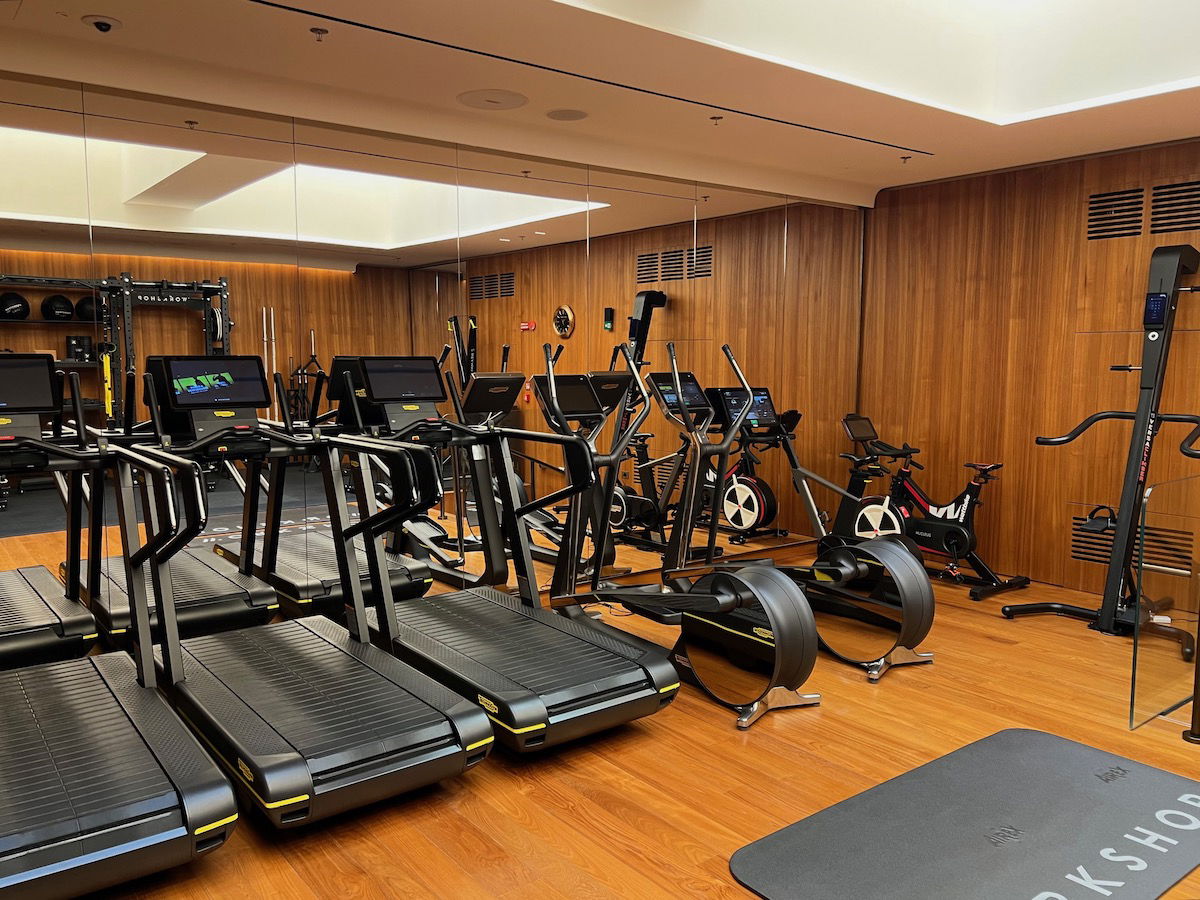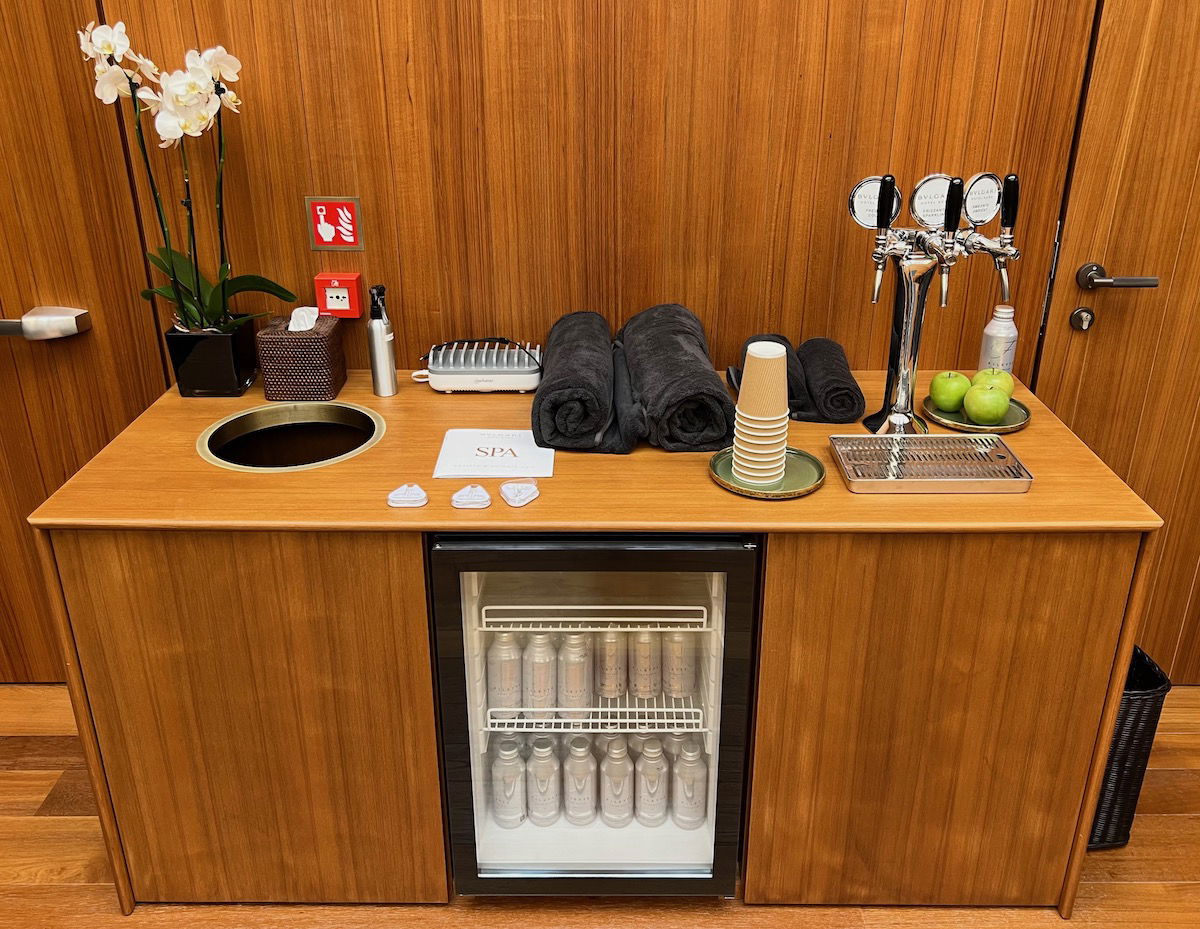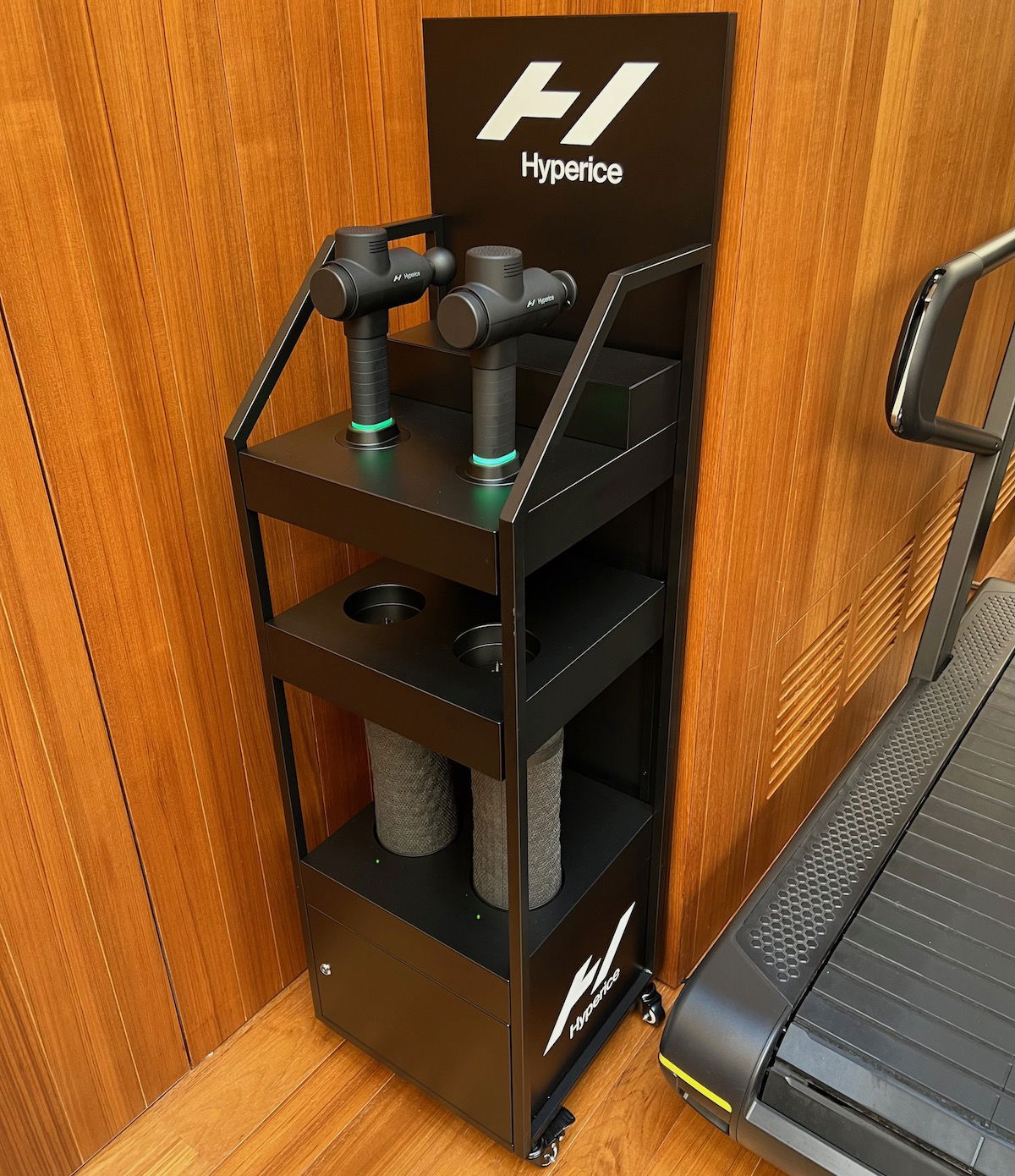 Dining at Bulgari Rome
Bulgari properties place a huge emphasis on food and beverage outlets, and this location is no exception. While some hotels struggle to get outside guests to visit, that's definitely not the case at the Bulgari Rome.
What's interesting is how consistent the Bulgari brand is with its food and beverage outlets, as each hotel has an Il Ristorante Niko Romito, plus an Il Caffe location. Personally I love that consistency, as you know exactly what to expect. If you're looking for something more Rome-specific, there's no shortage of great restaurants in the neighborhood.
In addition to The Bulgari Lounge (exclusively for hotel guests), the hotel has four other food and beverage outlets:
The hotel has Il Caffe, serving breakfast, plus an all-day dining menu and drinks
The hotel has Il Ristorante Niko Romito, the signature restaurant that serves lunch and dinner
The hotel has The Bulgari Bar, the signature all-day bar next to Il Ristorante Niko Romito
The hotel has La Terrazza, the rooftop bar that's an amazing spot for watching the sunset
Let's take a look at each of these options.
Bulgari Rome Il Caffe
The Bulgari Hotel Rome's Il Caffe is located on the lobby level, and it's open daily from 7AM until 12AM. It serves breakfast in the morning, and then an all-day menu, plus a selection of drinks, throughout the day. This is an elegant restaurant with both a large indoor seating area along a central corridor, plus a very nice terrace. This was very popular with outside guests, and was busy all hours of the day.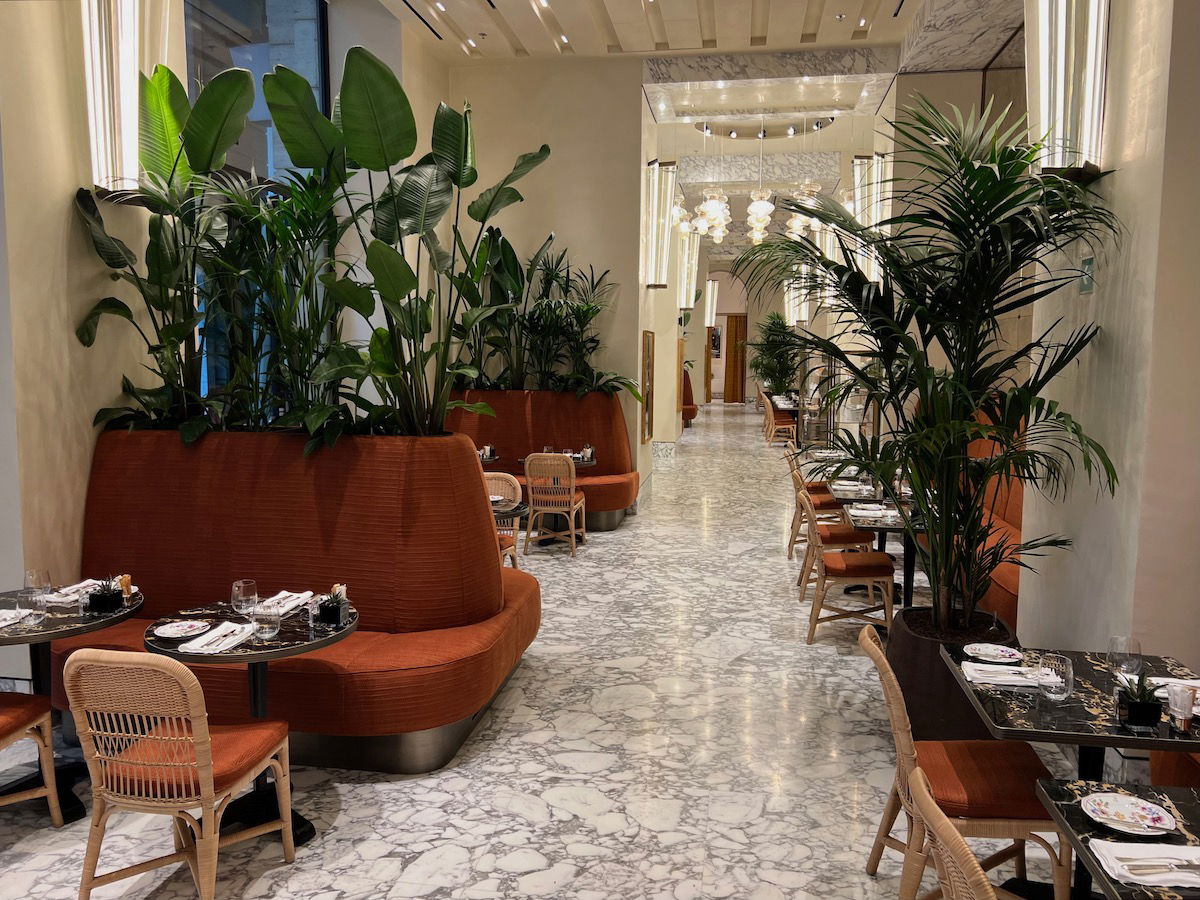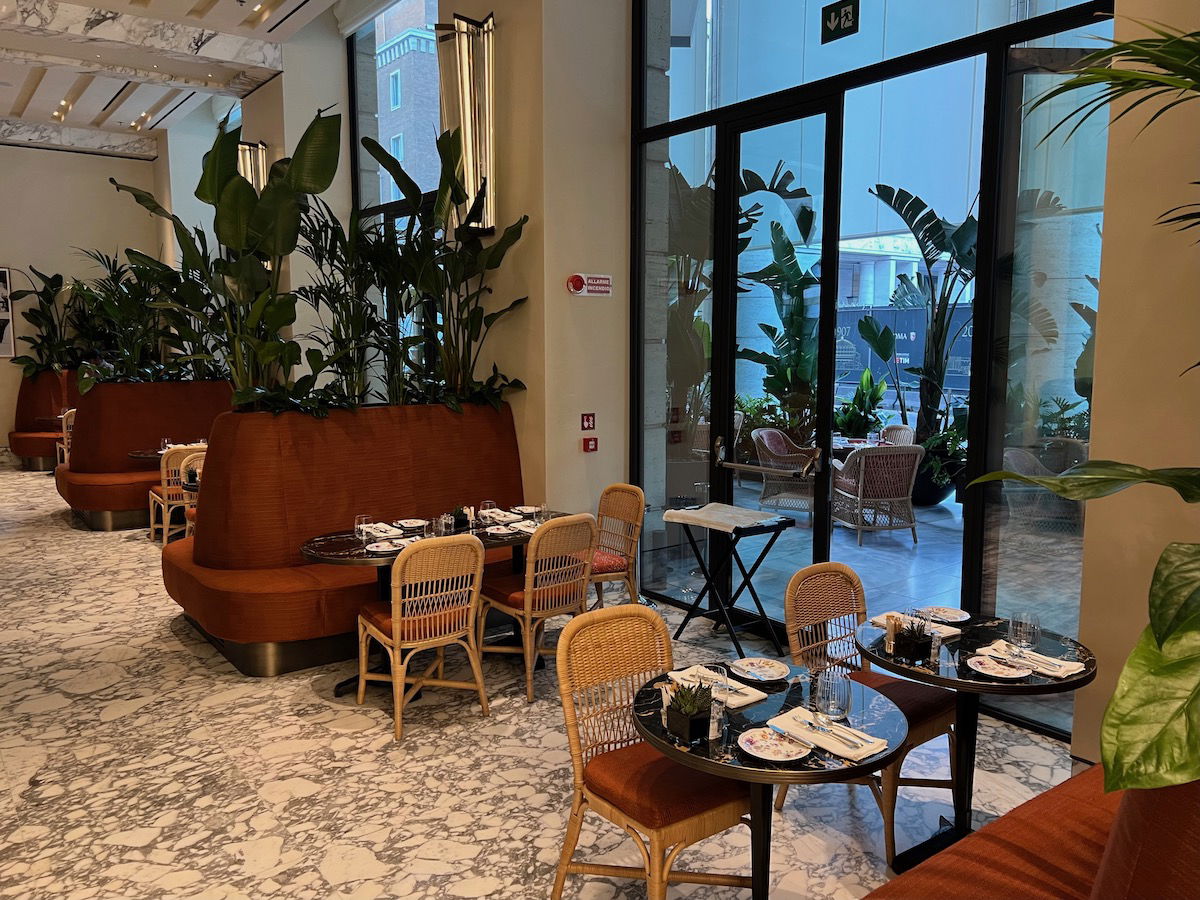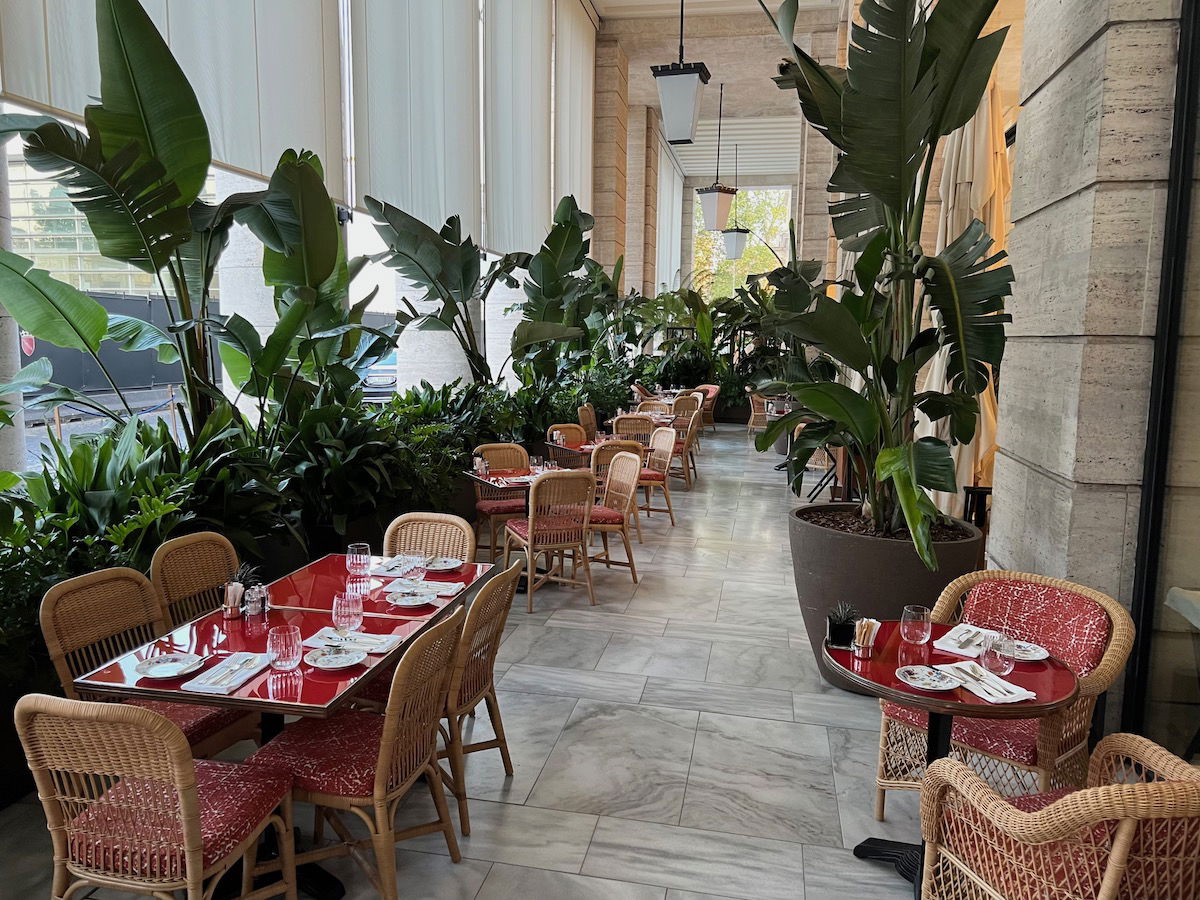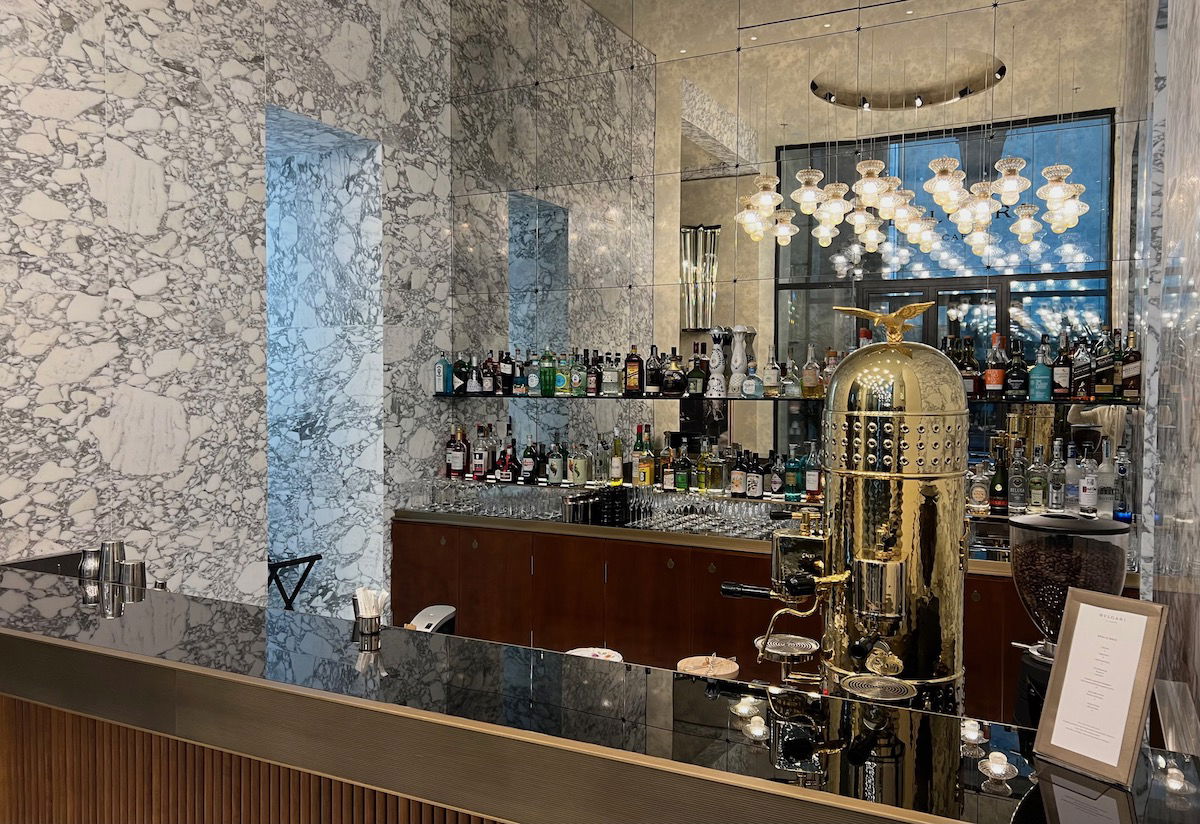 Our stay at the Bulgari Rome included breakfast, and you can find the breakfast menu here. The restaurant has both an a la carte menu, plus a set menu. To drink, I had a cappuccino, which was sublime. Ugh, they don't make them like this in the United States (well, at least not on a widespread basis).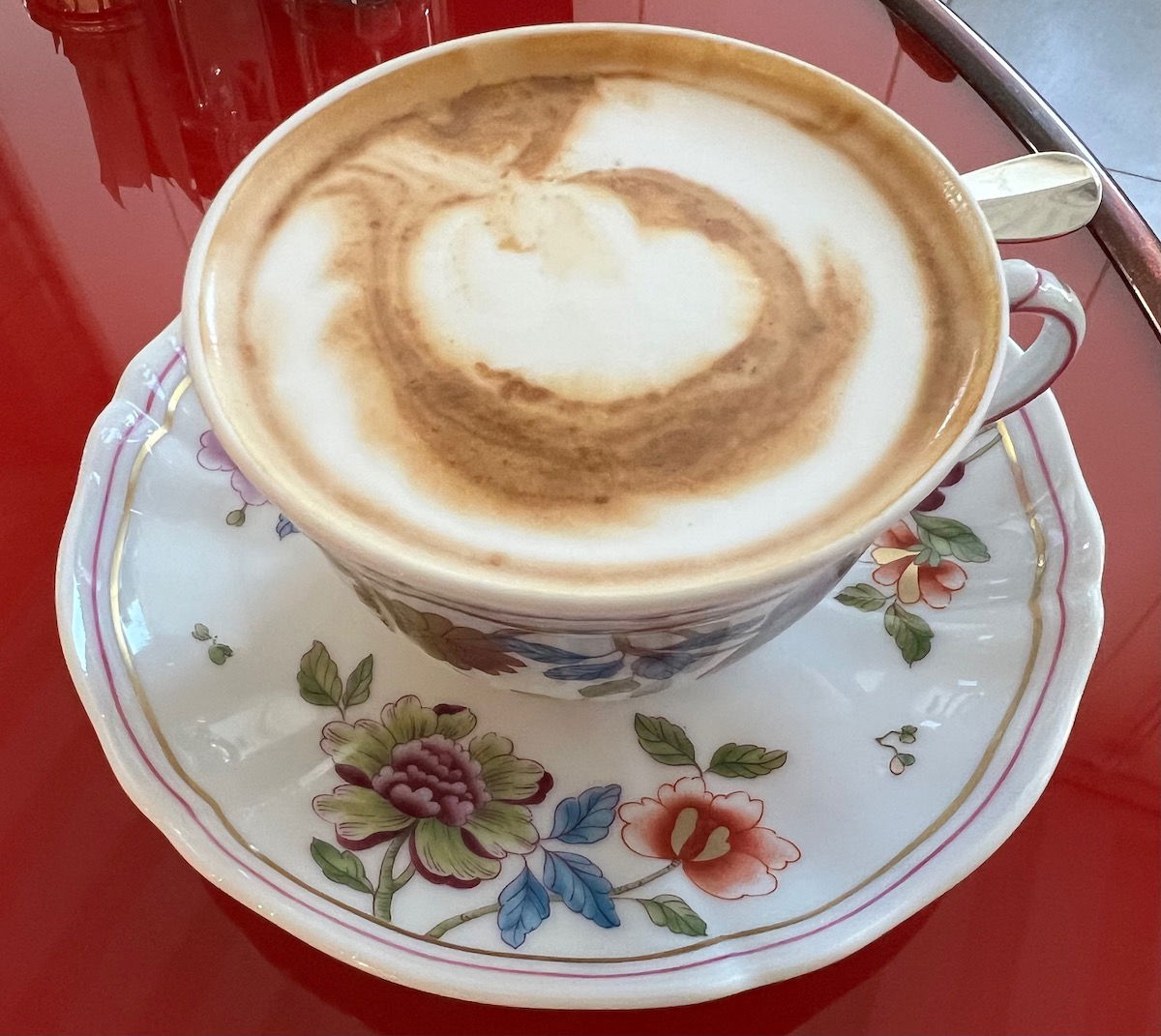 We ended up ordering two of the breakfast sets (one healthy breakfast and one Middle Eastern breakfast), and it ended up being way too much food. We were first offered a basket with a selection of bread.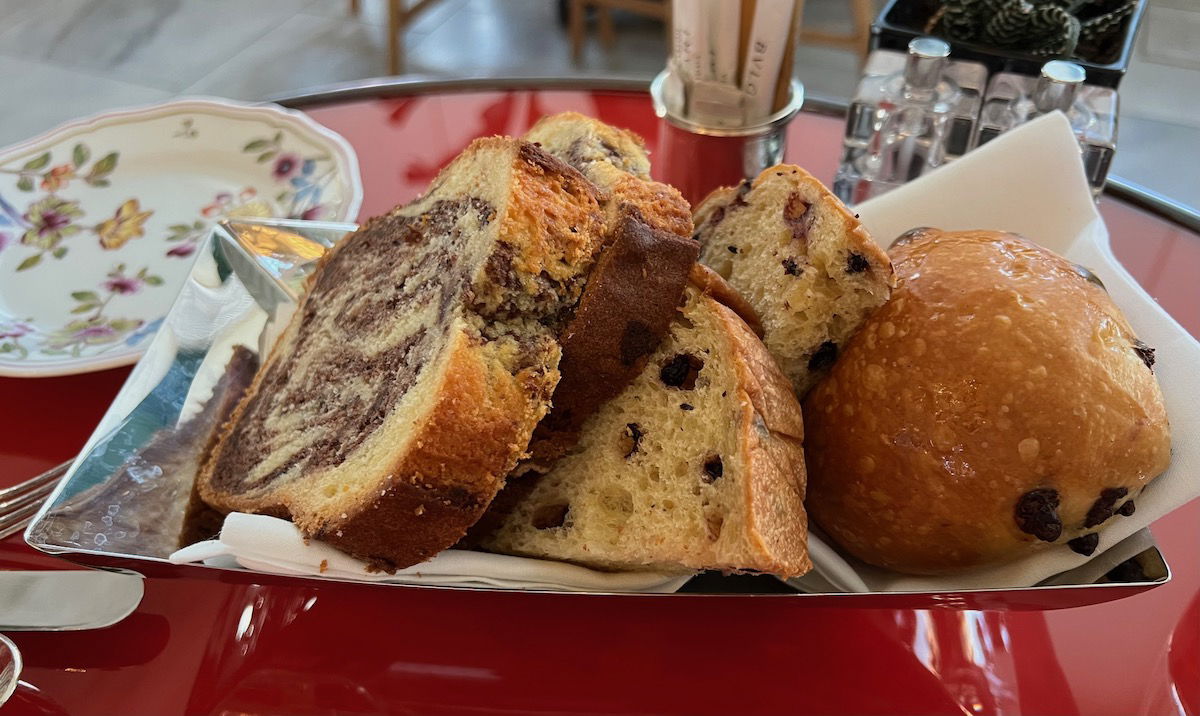 Then we were brought halloumi with tomatoes, shakshuka, veggies, ful medames, an egg white omelet, two fruit plates, stewed apples, granola and berries, yogurt, and chia pudding. Even if breakfast is included, one breakfast is really enough for most people to share. Goodness…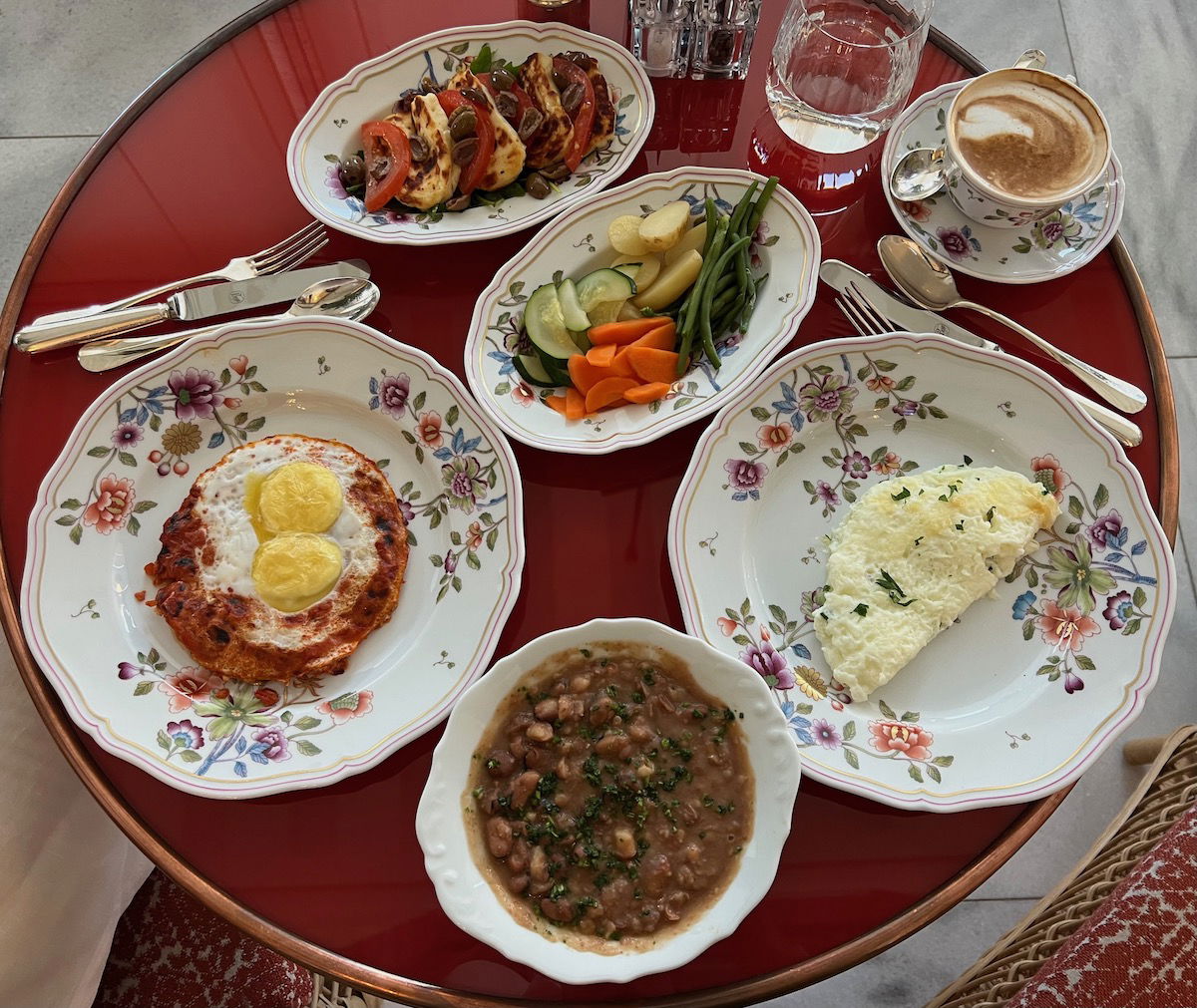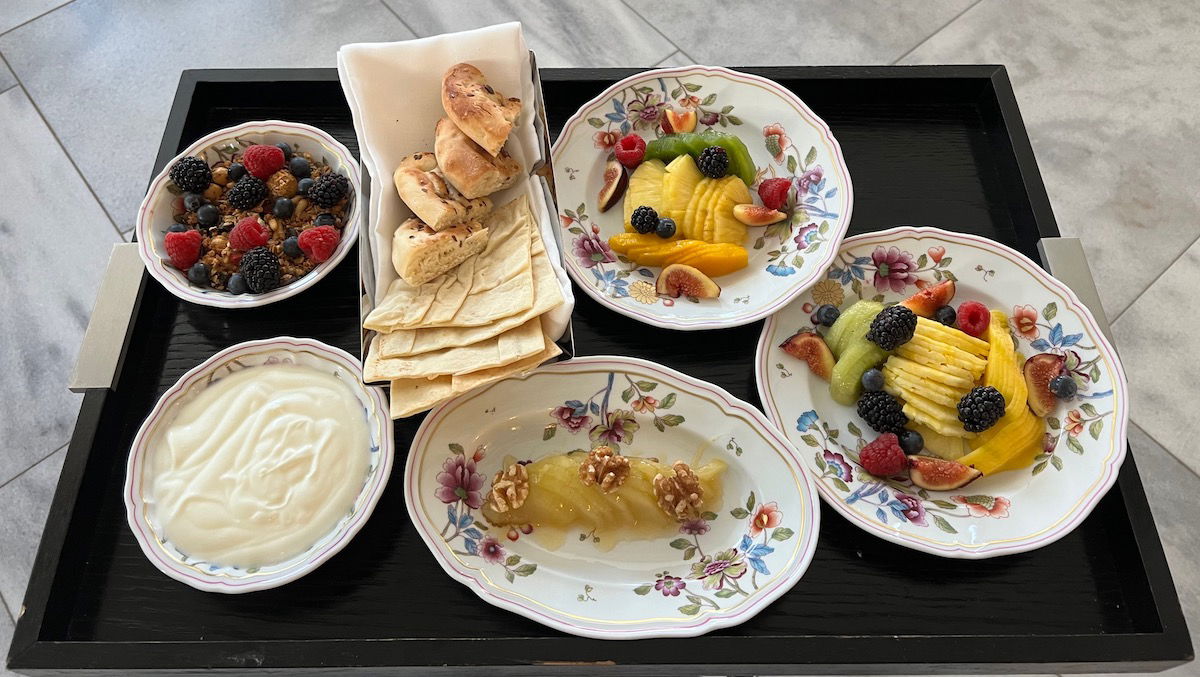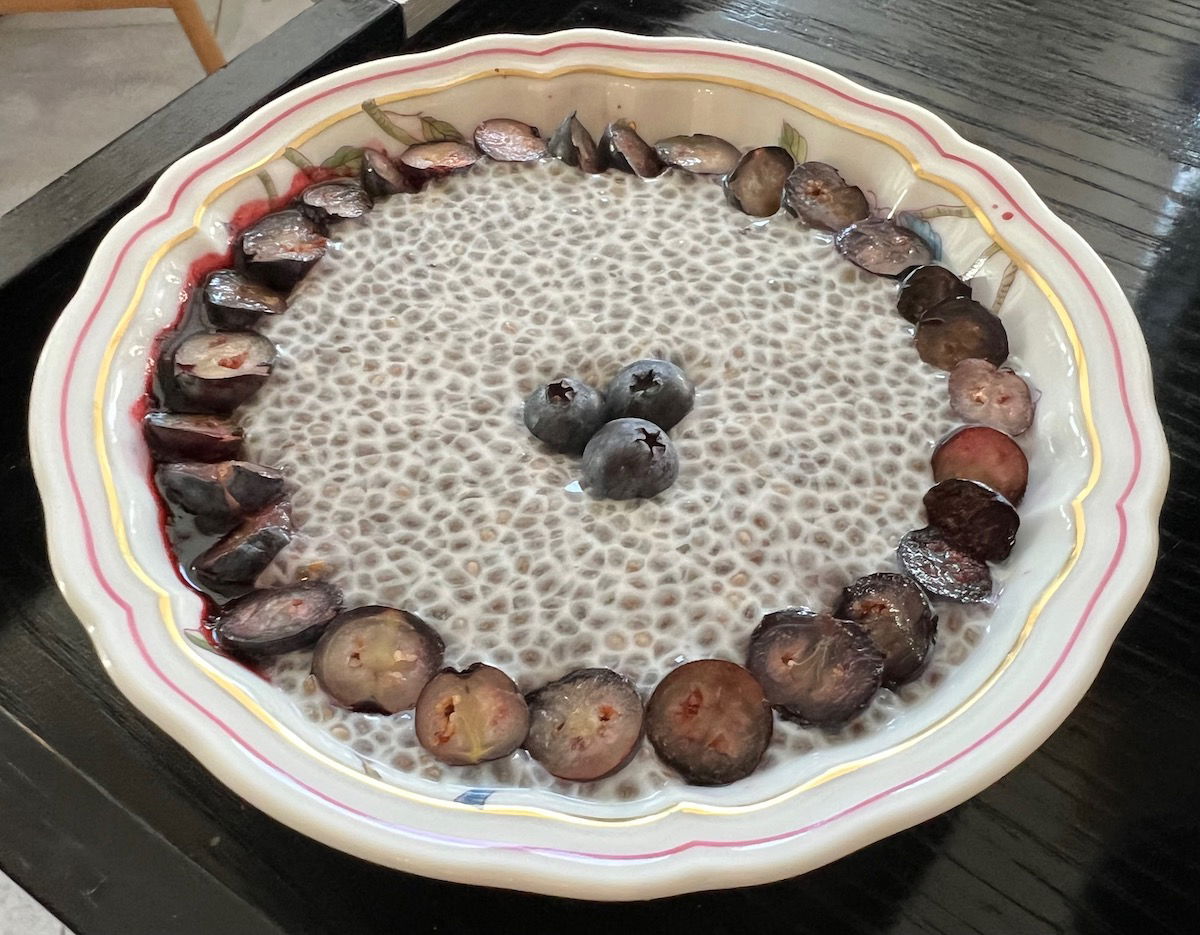 We also ended up deciding to have an afternoon snack here, and you can find the all-day menu here. We were offered a tasty selection of bread upon sitting down.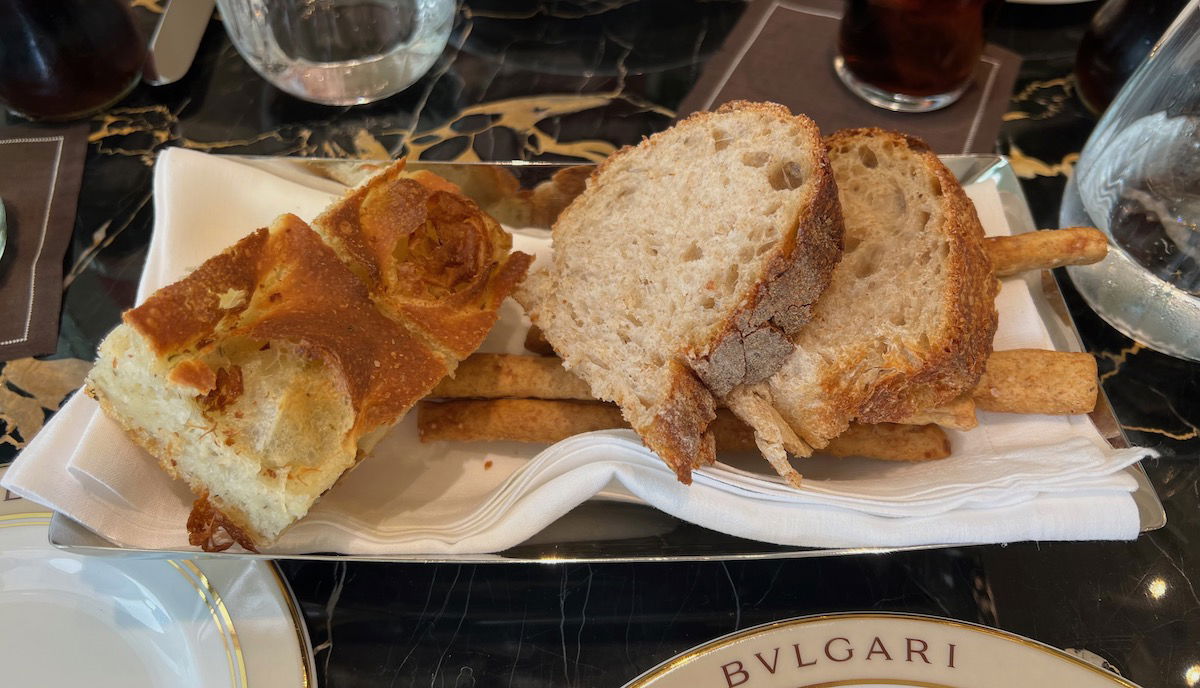 We then decided to split the tomato bruschetta, the tuna, tomato, and capers salad, and the tonnarelli pasta with pecorino cheese and black pepper. They already separated out the portions for us onto two plates, so I'd say all the portions were quite generous, and this was more filling than we expected.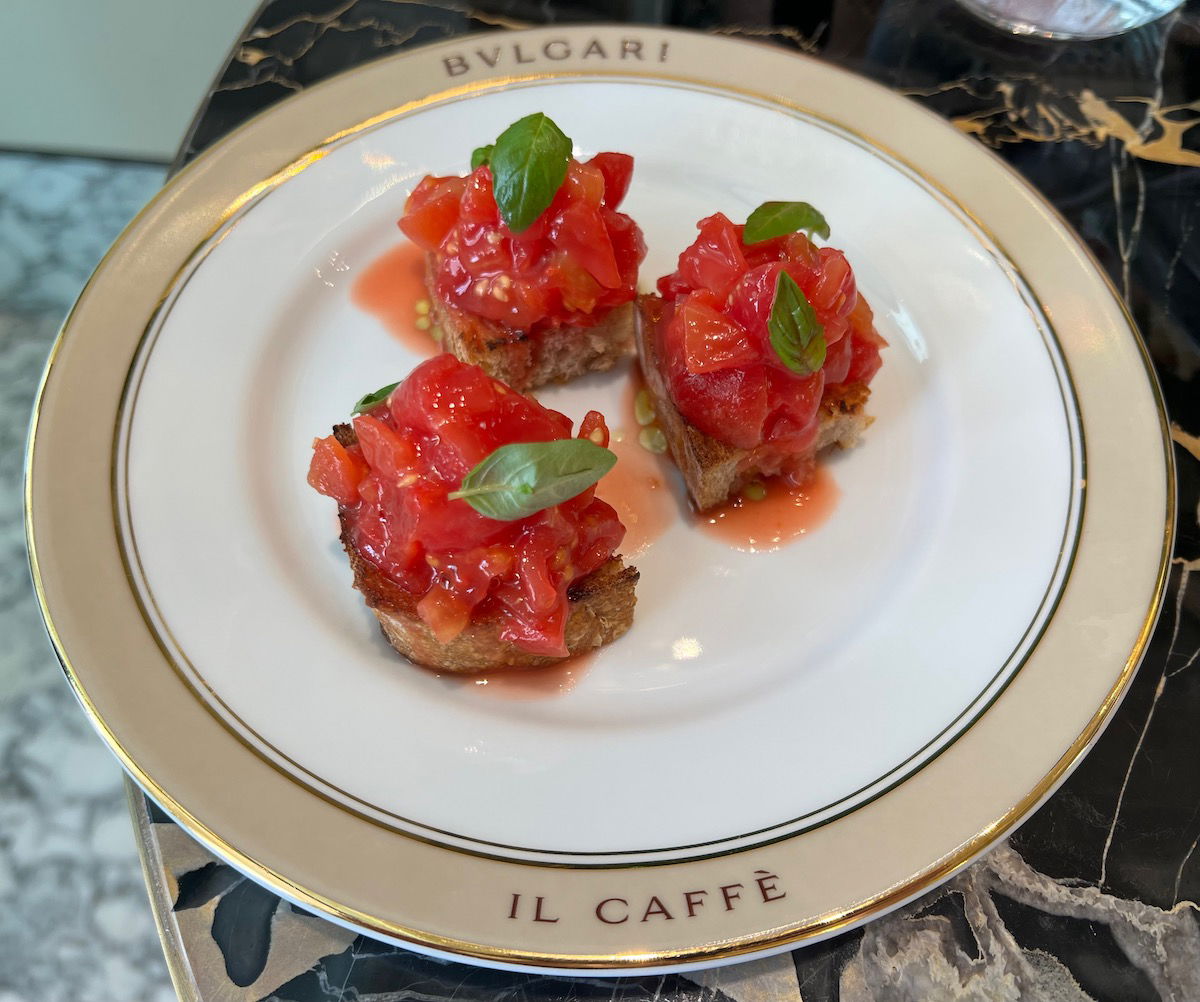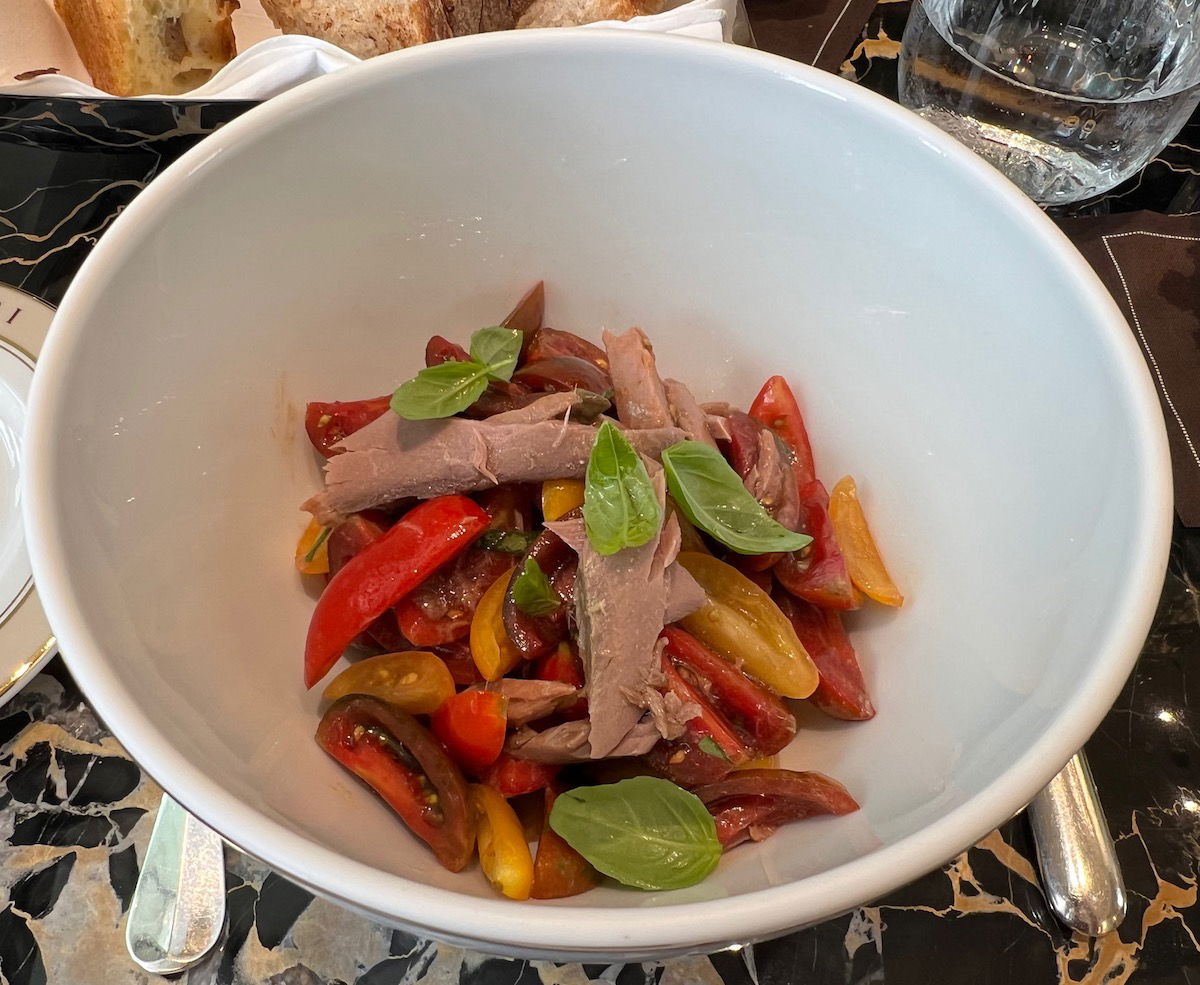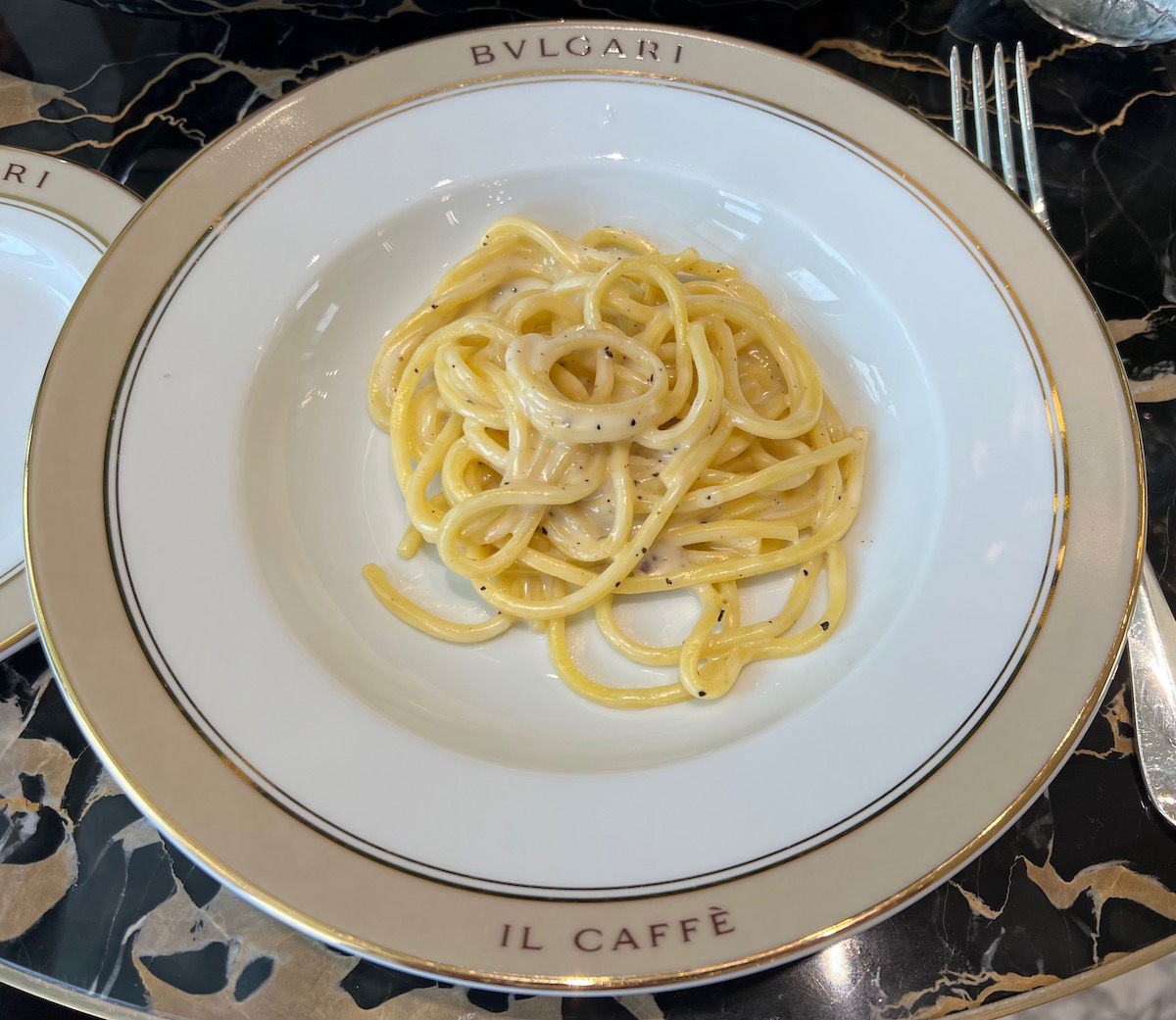 Bulgari Rome Il Ristorante Niko Romito
Il Ristorante Niko Romito is the Bulgari Rome's signature restaurant, and it's located on the fifth floor. It serves lunch (from 12PM until 3PM) and dinner (from 7PM until 11:30PM) daily.
There's a collaboration between Bulgari and Niko Romito, so each Bulgari property has one of these restaurants. We've eaten at these when we stayed at Bulgari properties in the past, and the experiences are consistently excellent.
The restaurant is a beautiful space, with both a nice indoor dining room, plus a pretty terrace.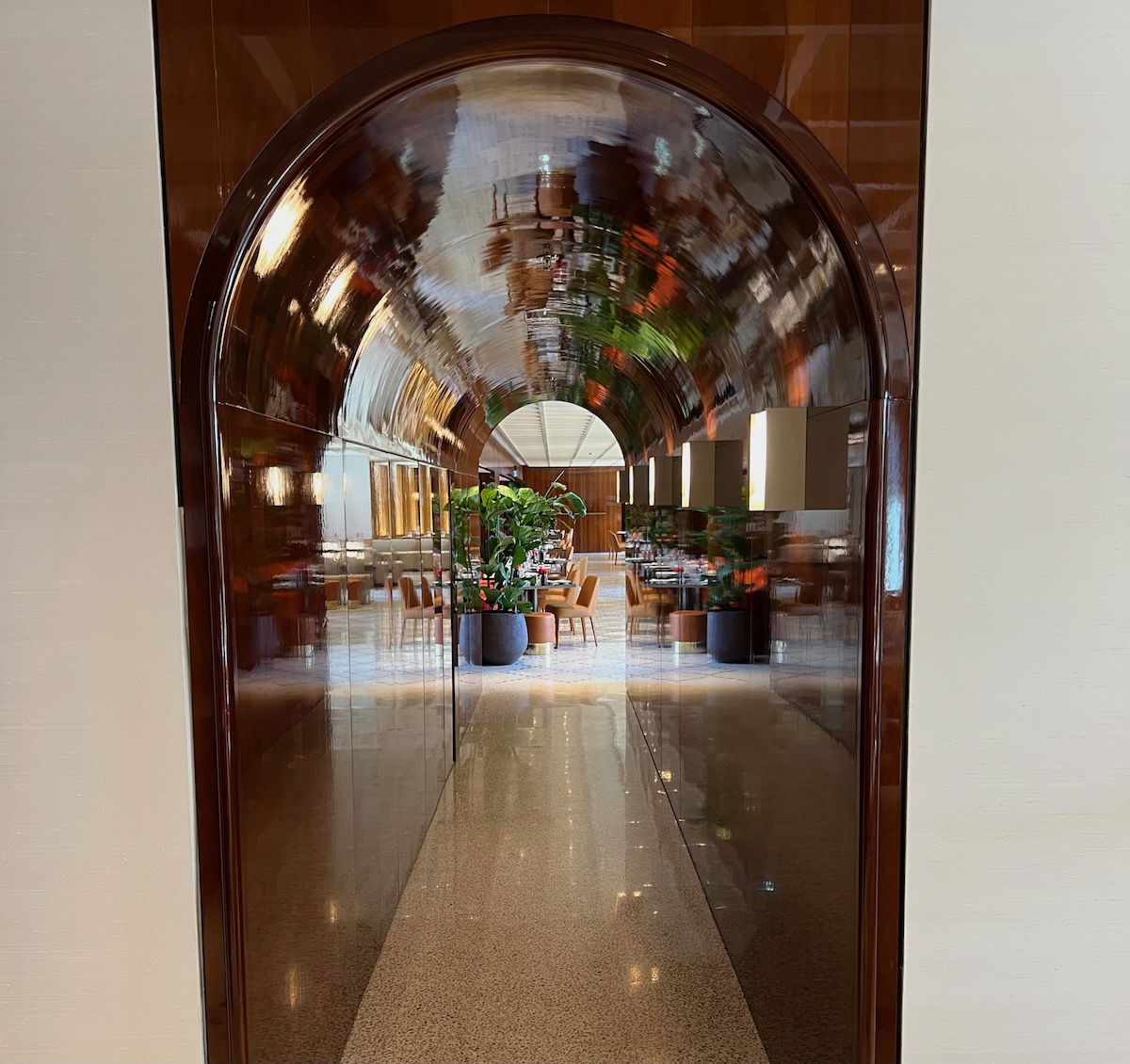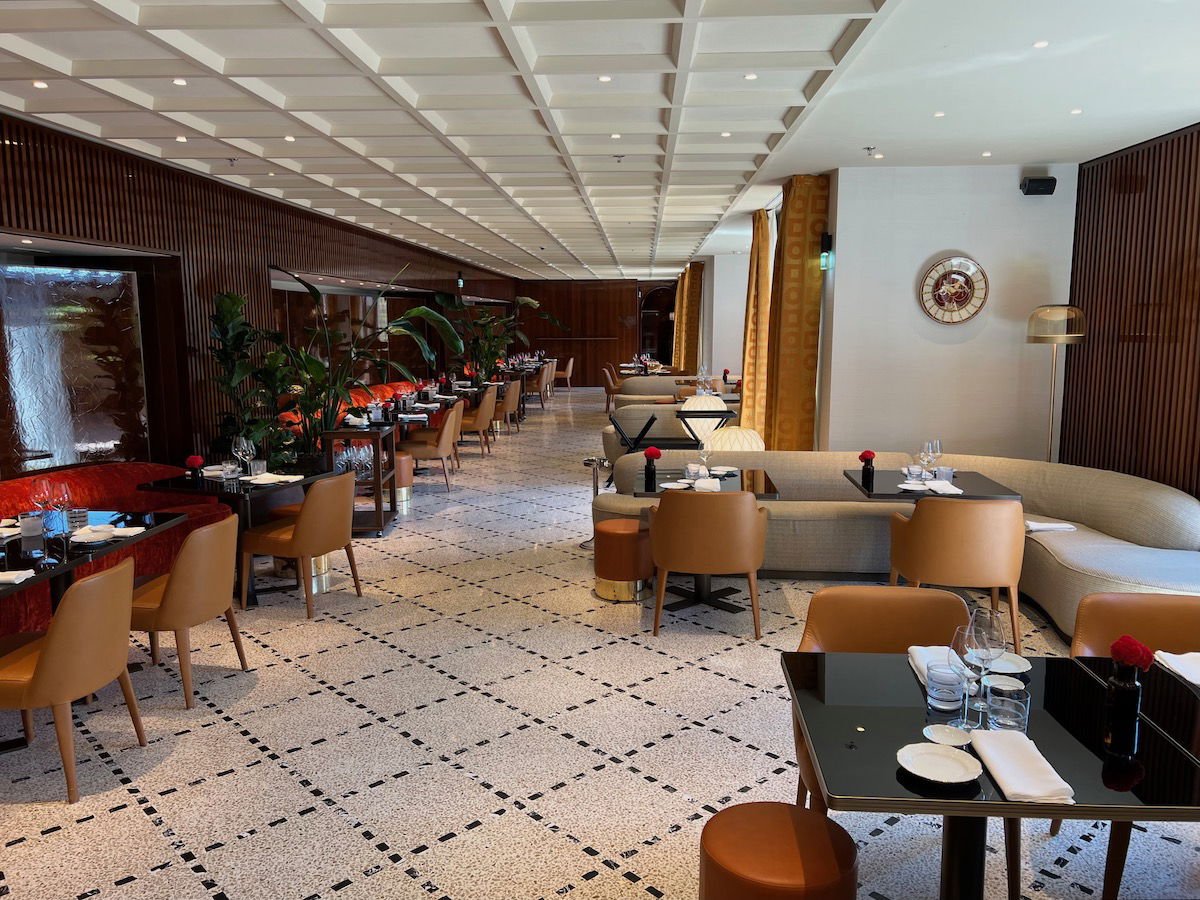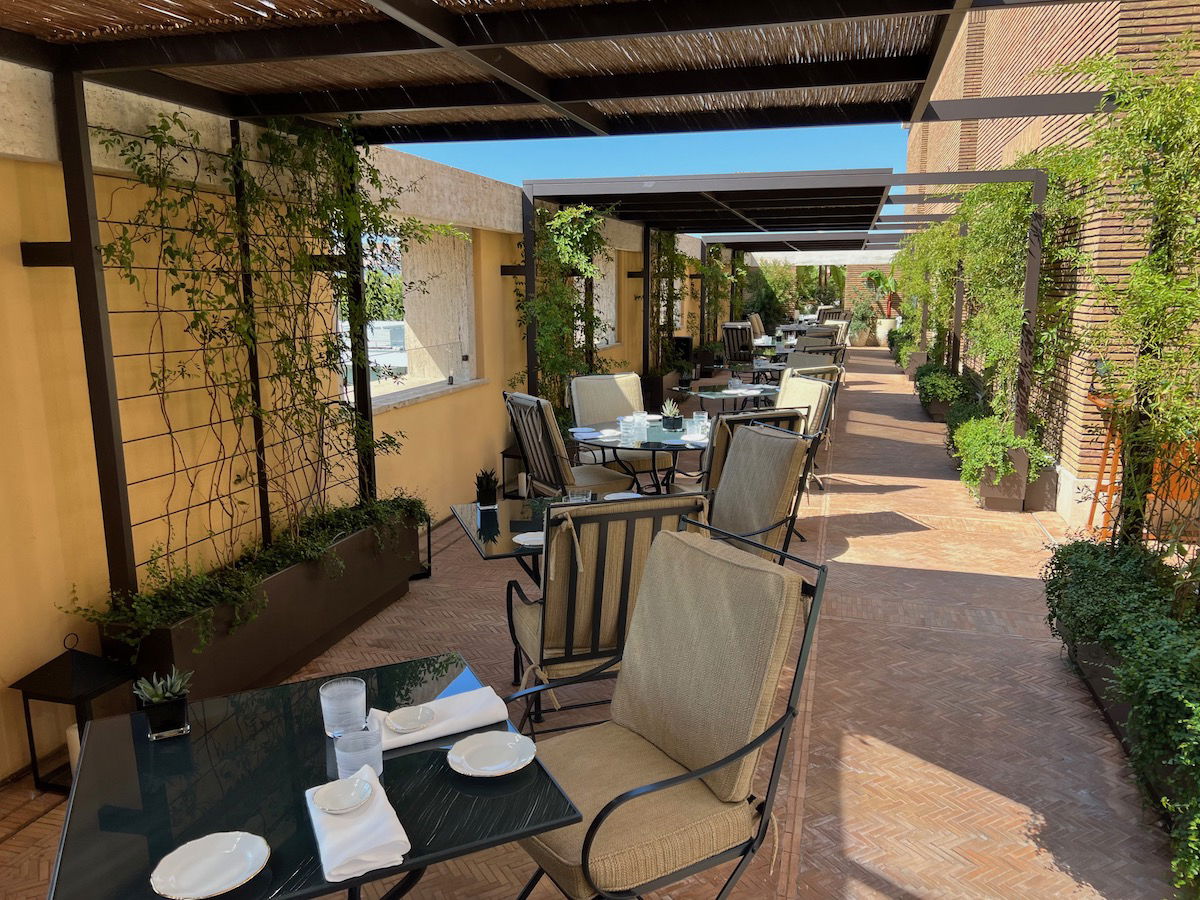 We had a lovely meal here, and you can find the dinner menu here. At the start of the meal we were offered tomato gazpacho and a selection of tasty bread.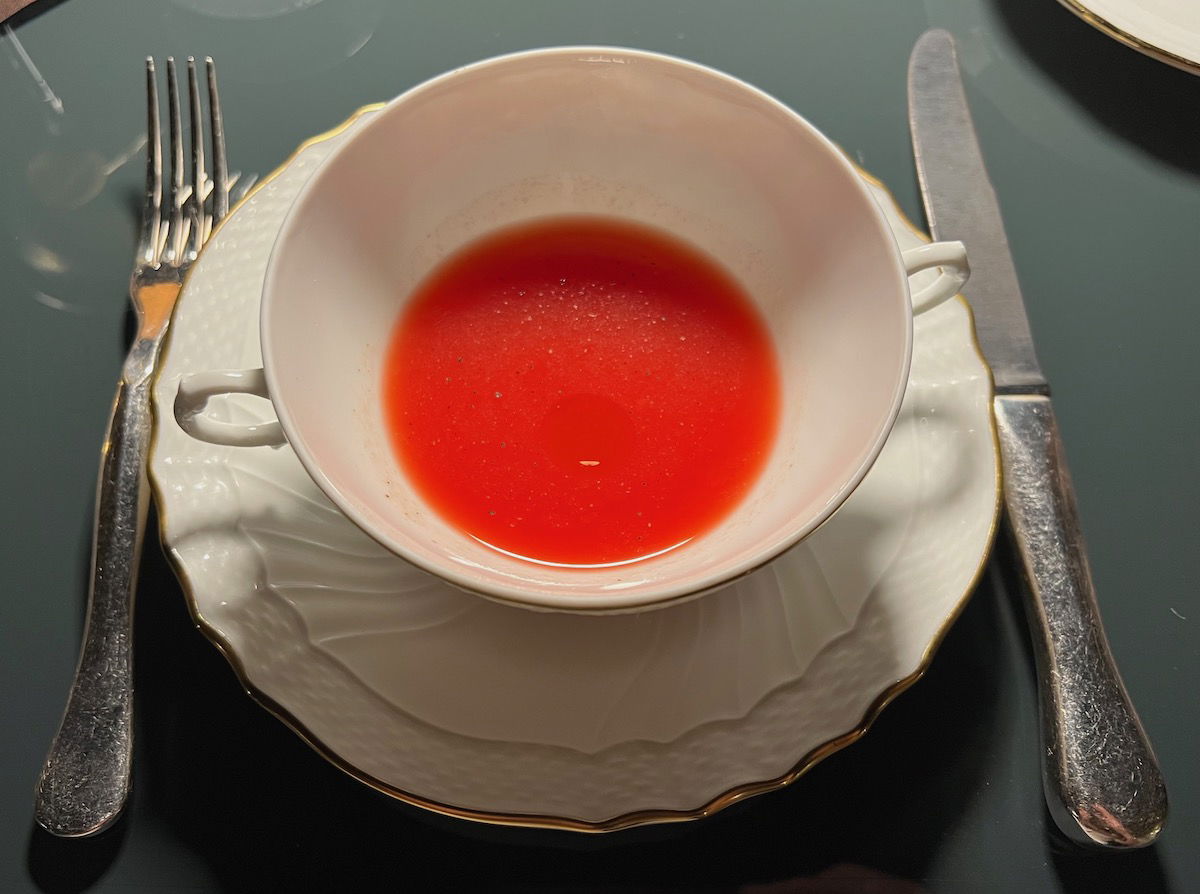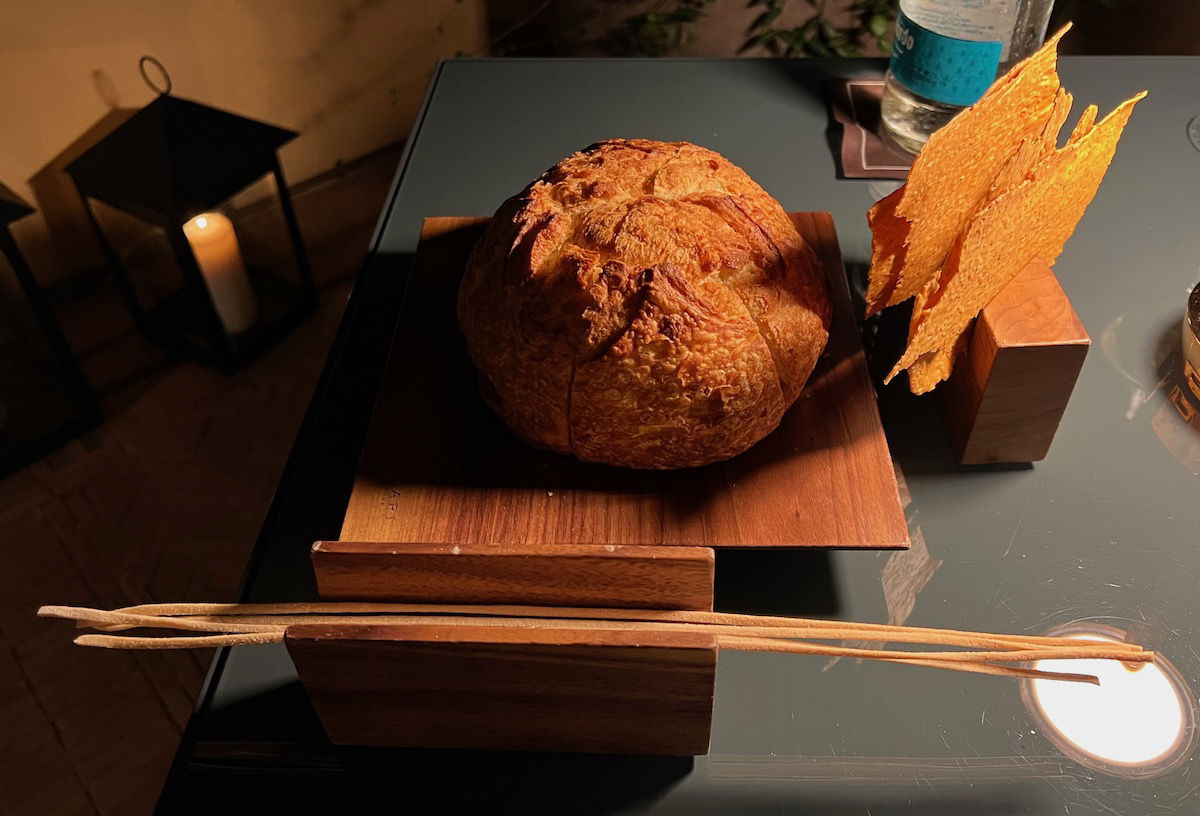 We weren't that hungry, due to what we ate earlier in the day. So to eat, I ordered the steamed sea bass with capers, lettuce, and lemon, while Ford ordered the veal Milanese style.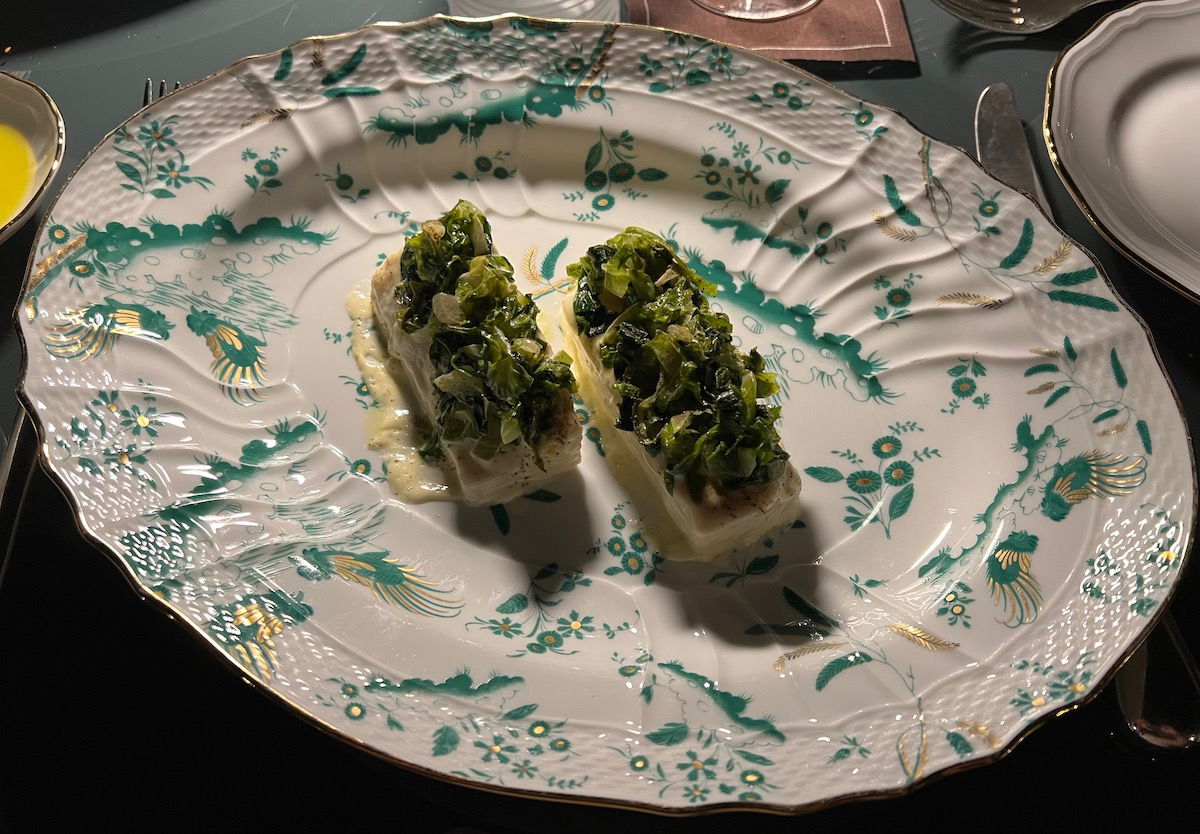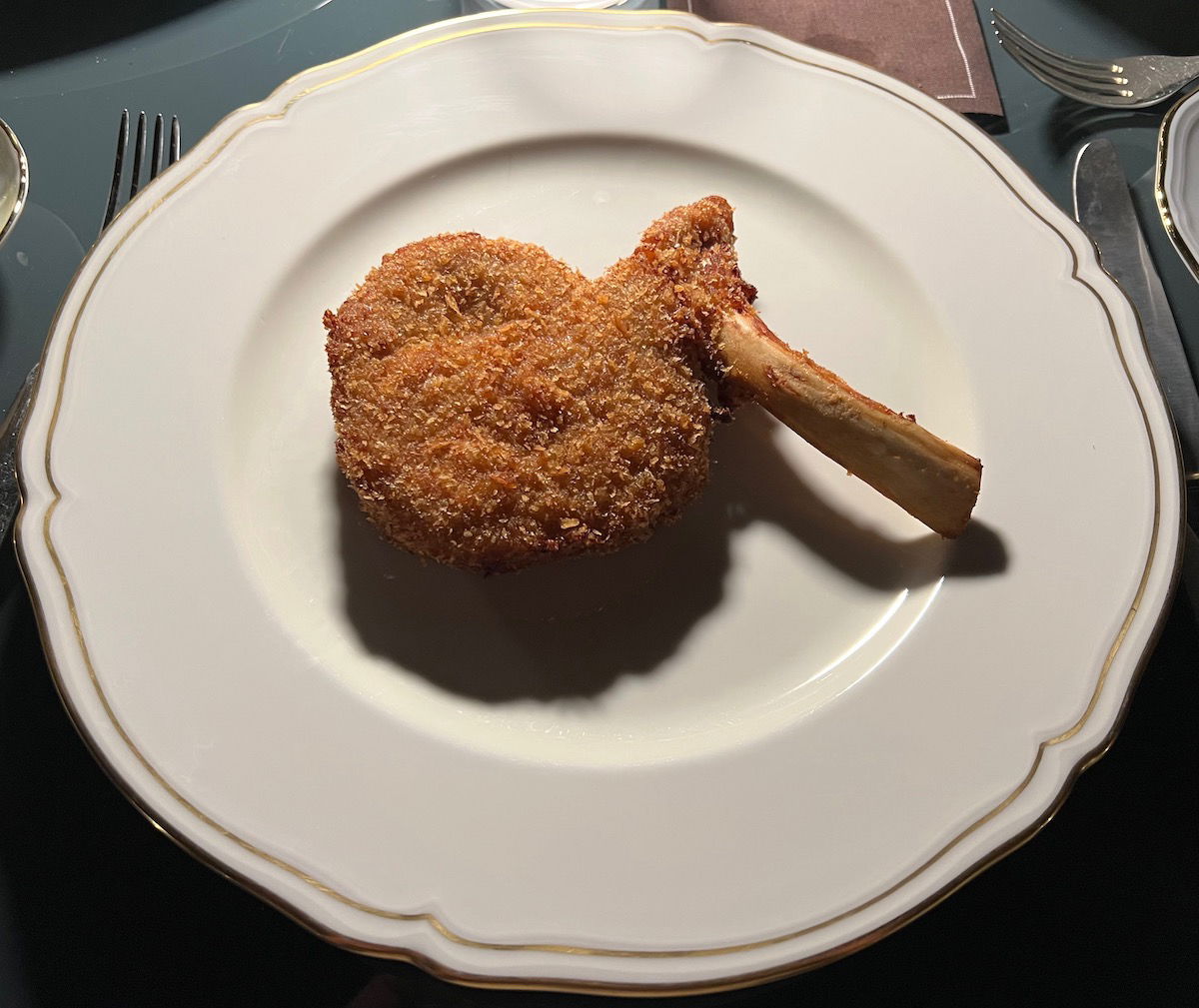 This came with an amazing array of sides, all of which we enjoyed.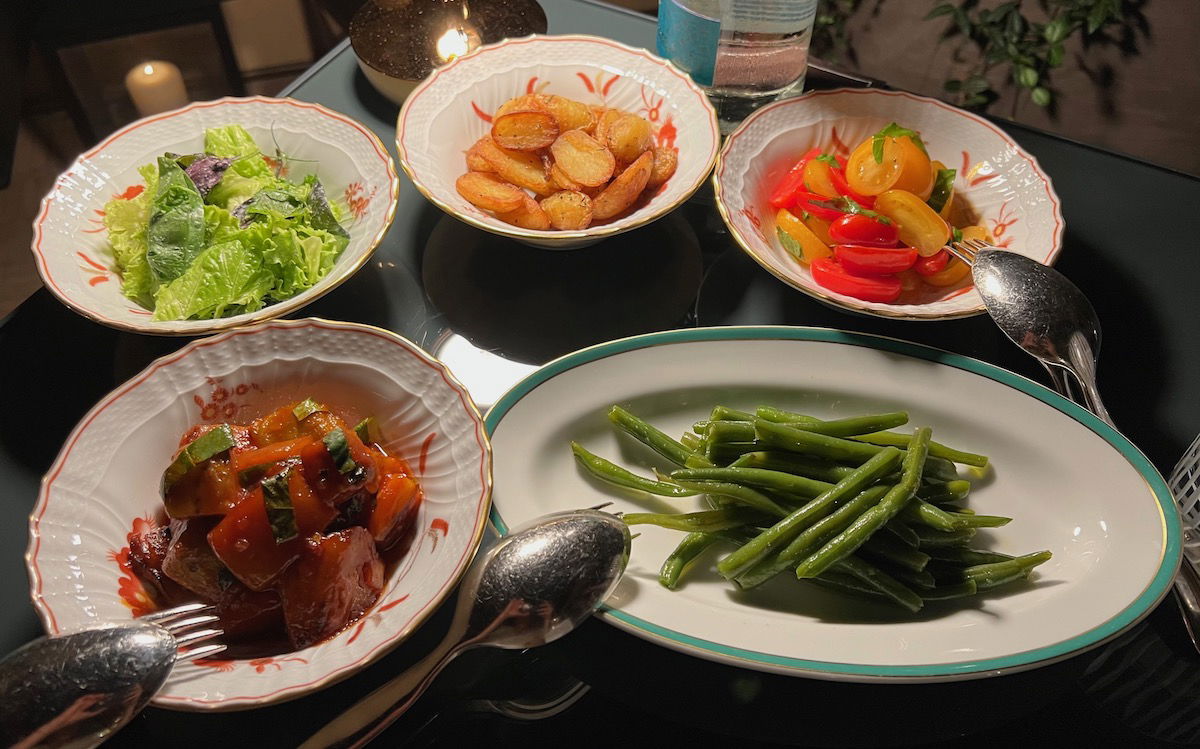 Gosh this was a filling meal. At the end of the meal we were quite full, so skipped dessert. However, we were still offered an infusion of lemon from the kitchen.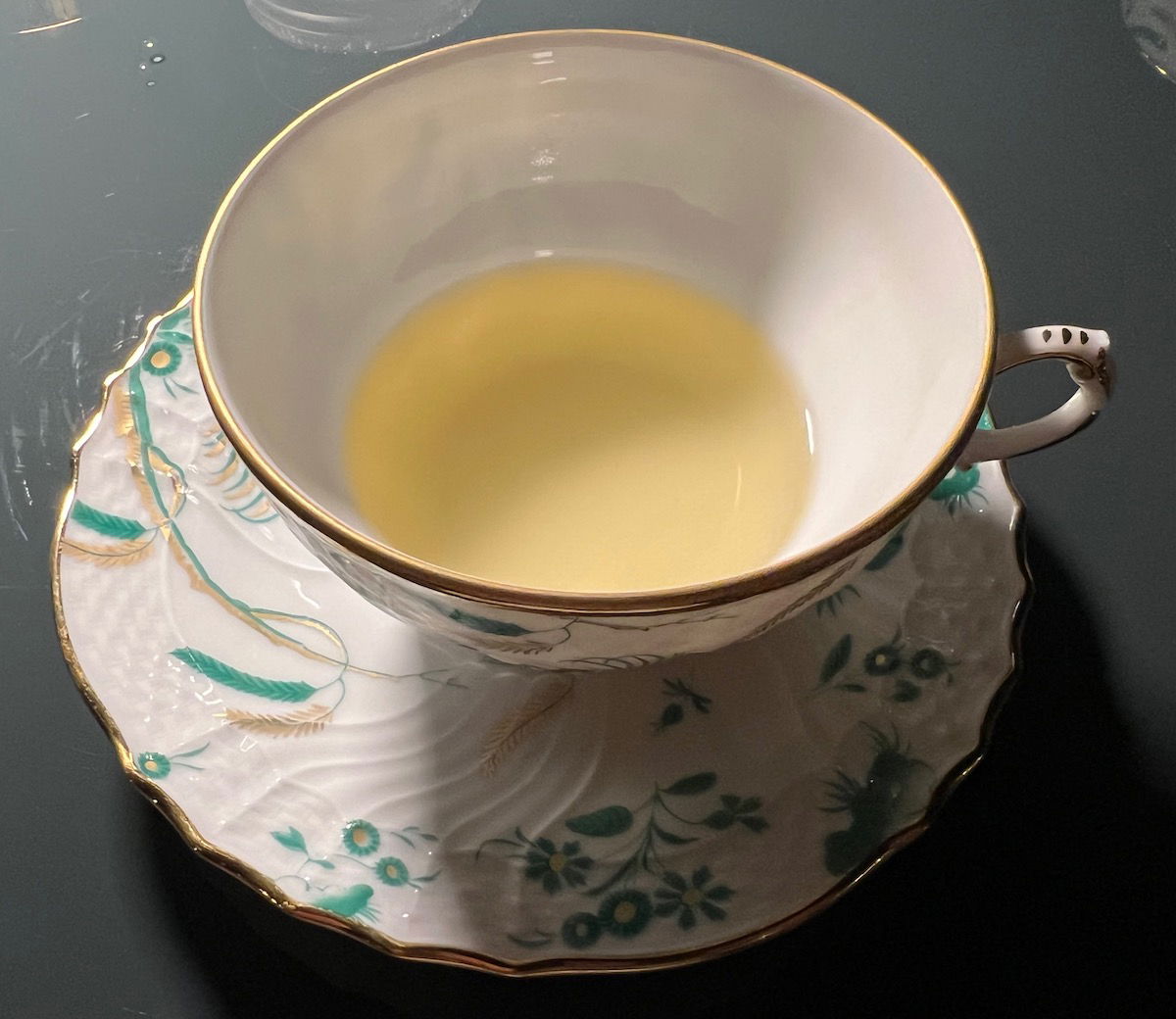 Bulgari Rome Bulgari Bar
The Bulgari Bar is located immediately next to Il Ristorante Niko Romito, and it's open daily from 9AM until 2AM, for anyone who wants to grab a drink or snack. You can find the menu here.
It's a stunning bar area, and perhaps what's most remarkable is the outdoor terrace. It's so cool to get outdoor space like this in a city hotel.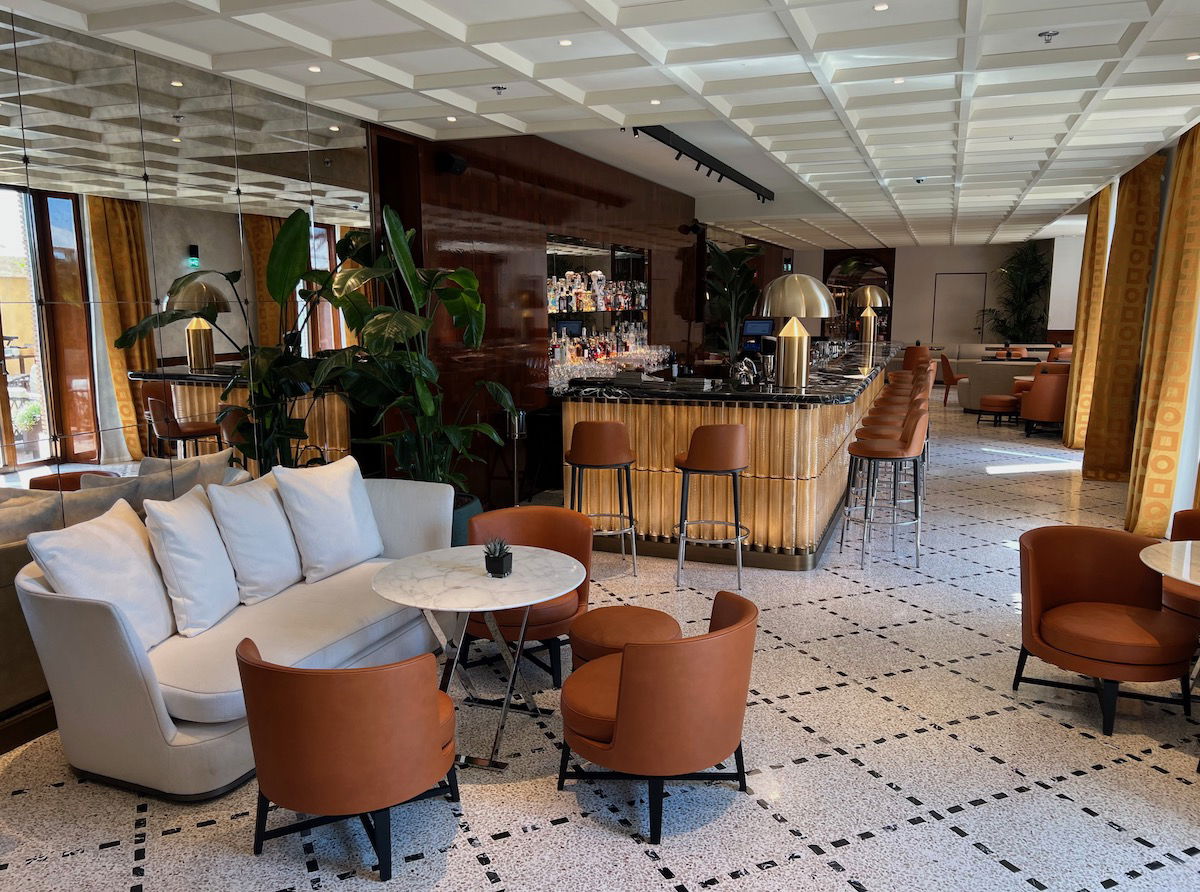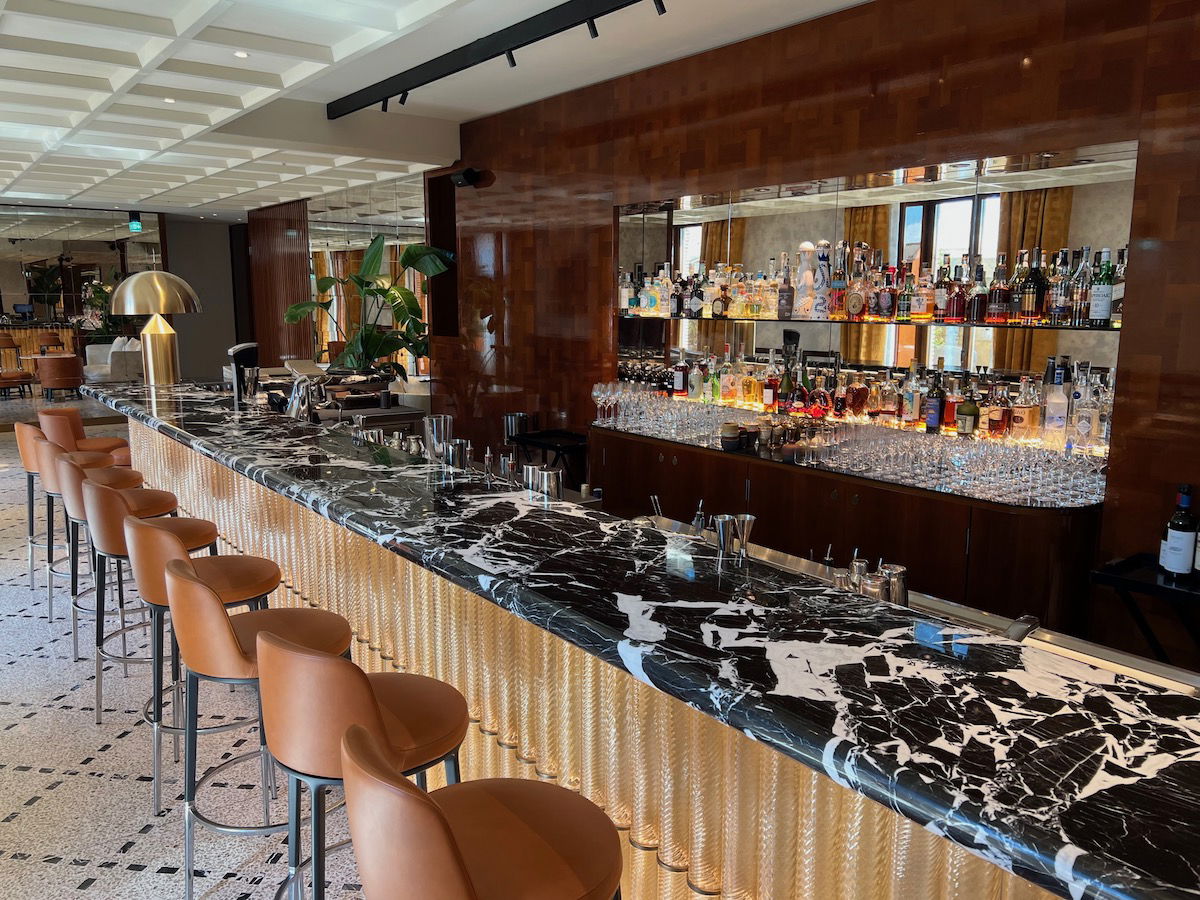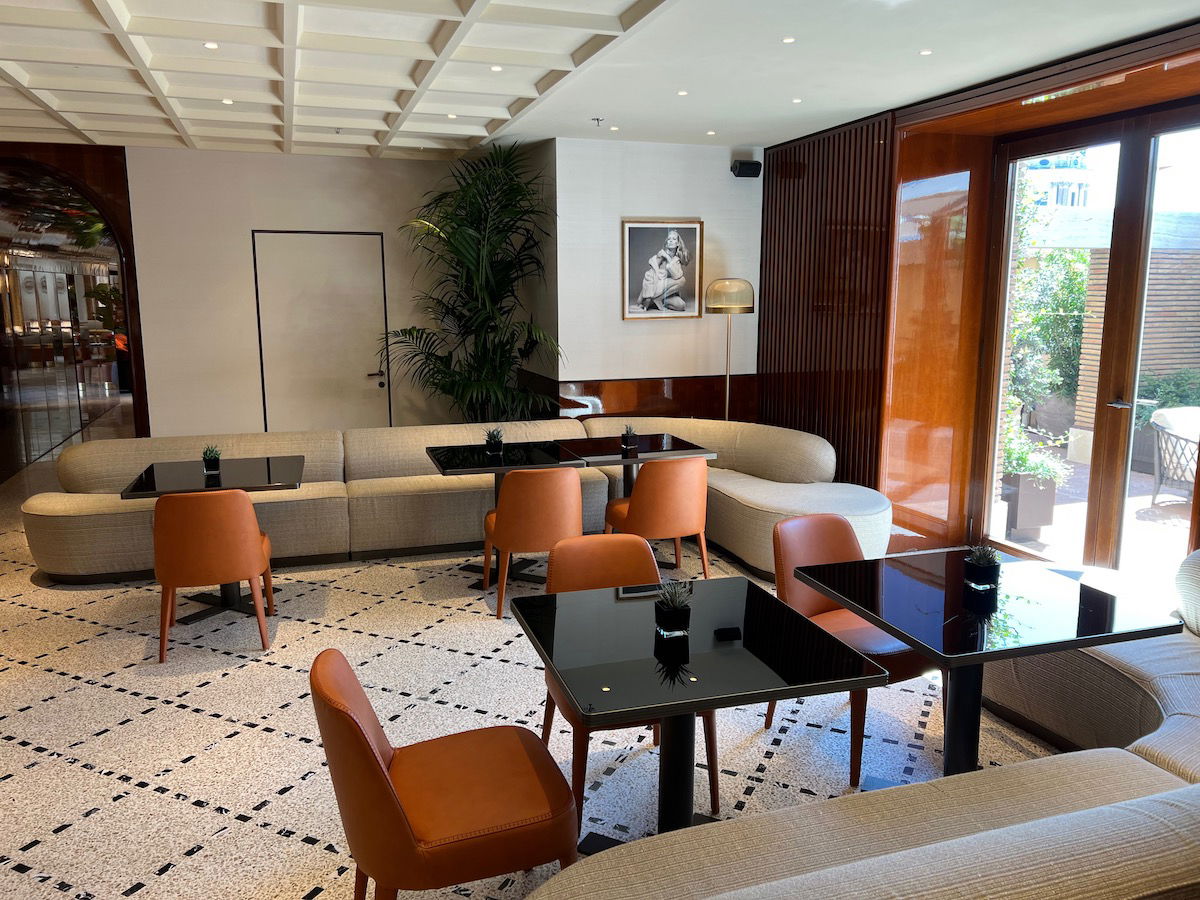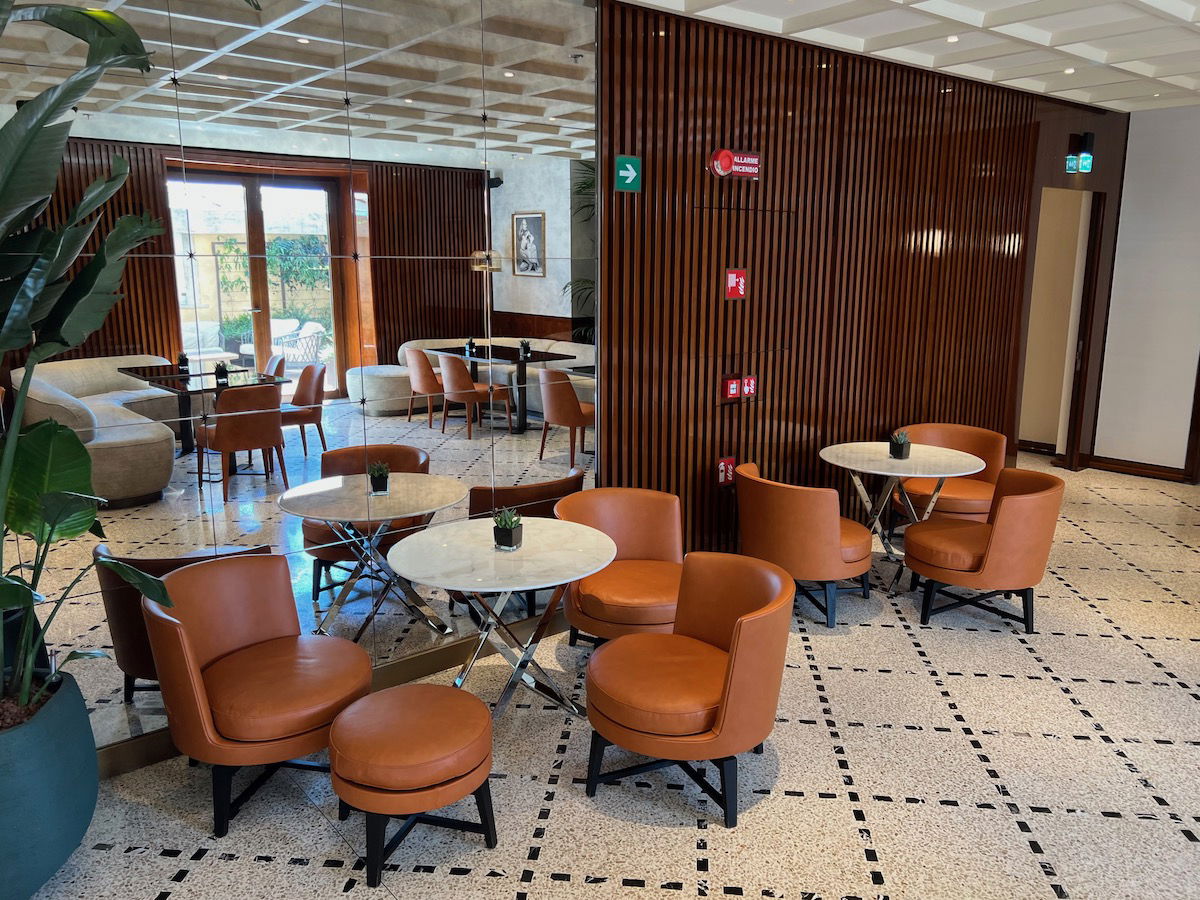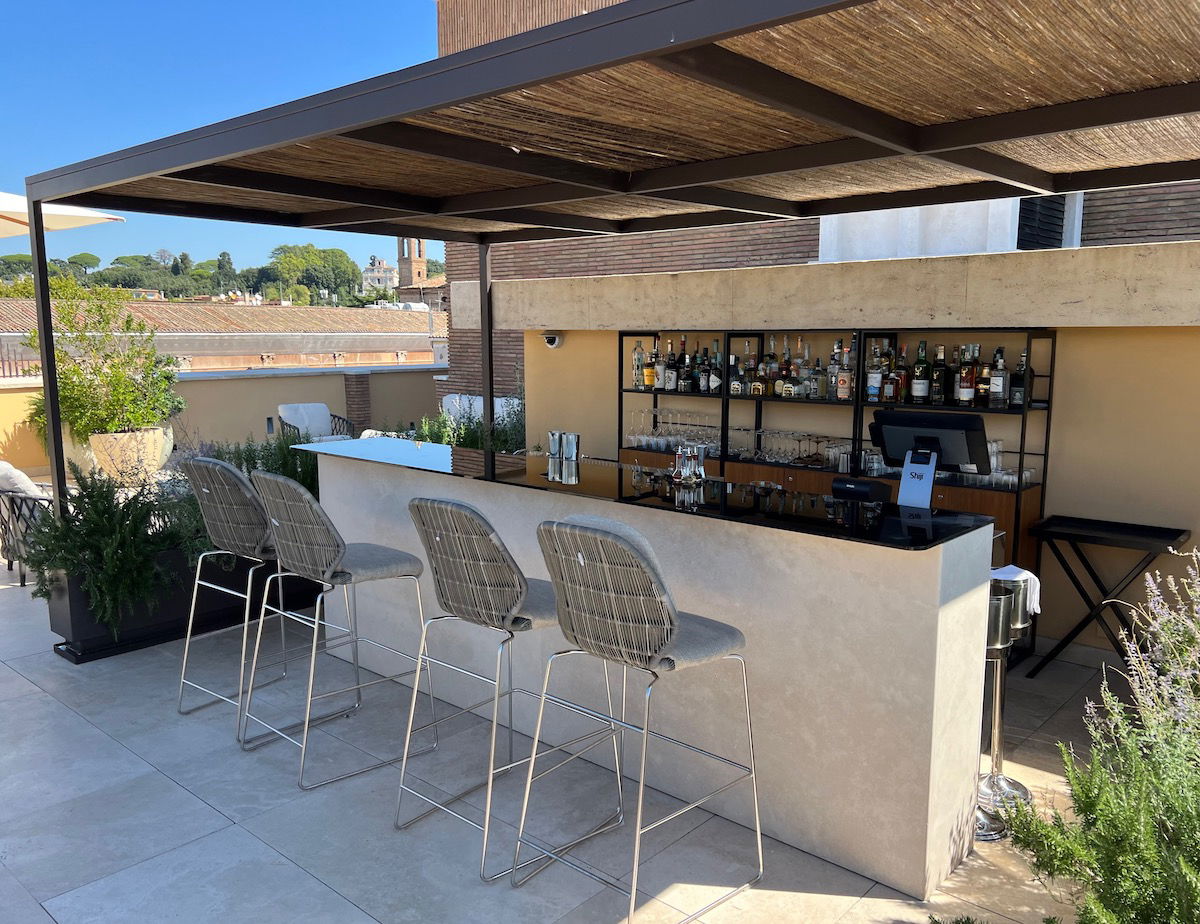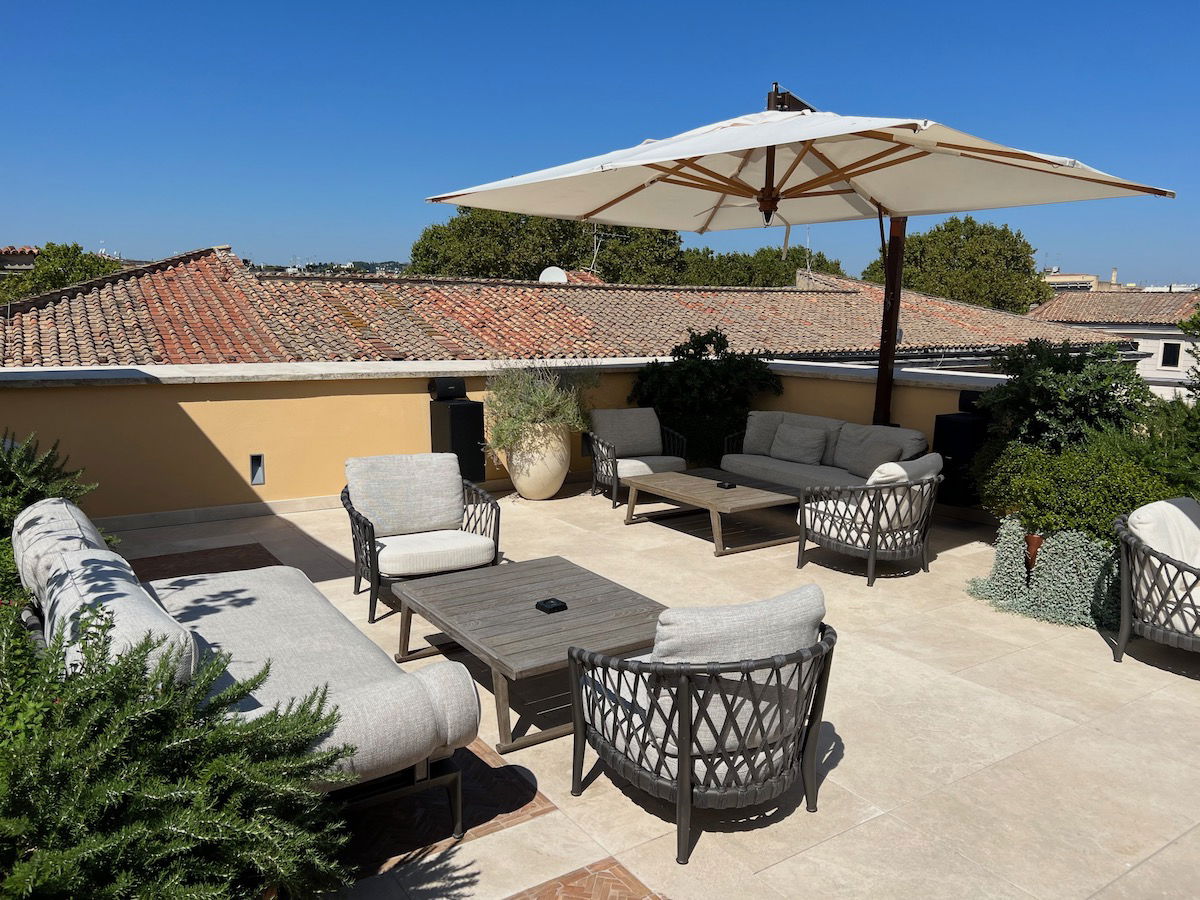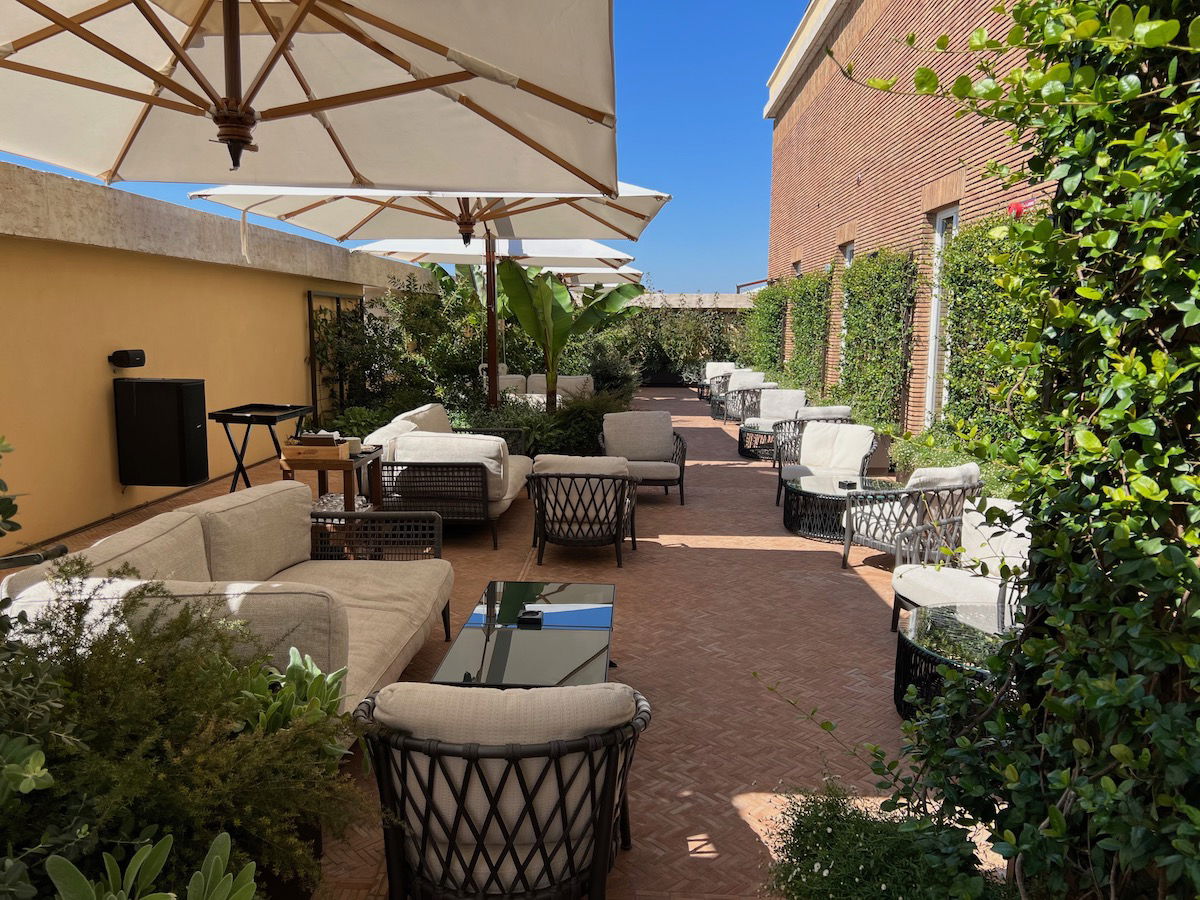 We didn't end up having anything here, because I can't eat and drink everything, and there are only so many hours in the day — sorry!
Bulgari Rome La Terrazza
The Bulgari Bar isn't the only outlet at the Bulgari Rome with an outdoor, rooftop terrace. Actually, I'd argue that perhaps the coolest space in the entire hotel is La Terrazza, the hotel's seventh floor rooftop terrace bar. This requires taking up an extra set of elevators and then going up a set of stairs, as it's above all other points at the hotel.
La Terrazza is open daily from 10AM until 5PM for hotel guests, and from 6PM until 1AM for everyone else. Reservations here are recommended, especially around sunset time.
La Terrazza has all kinds of greenery, plus lots of private seating areas spread out across the rooftop, so you really have a huge amount of privacy. There's even a DJ up there most evenings.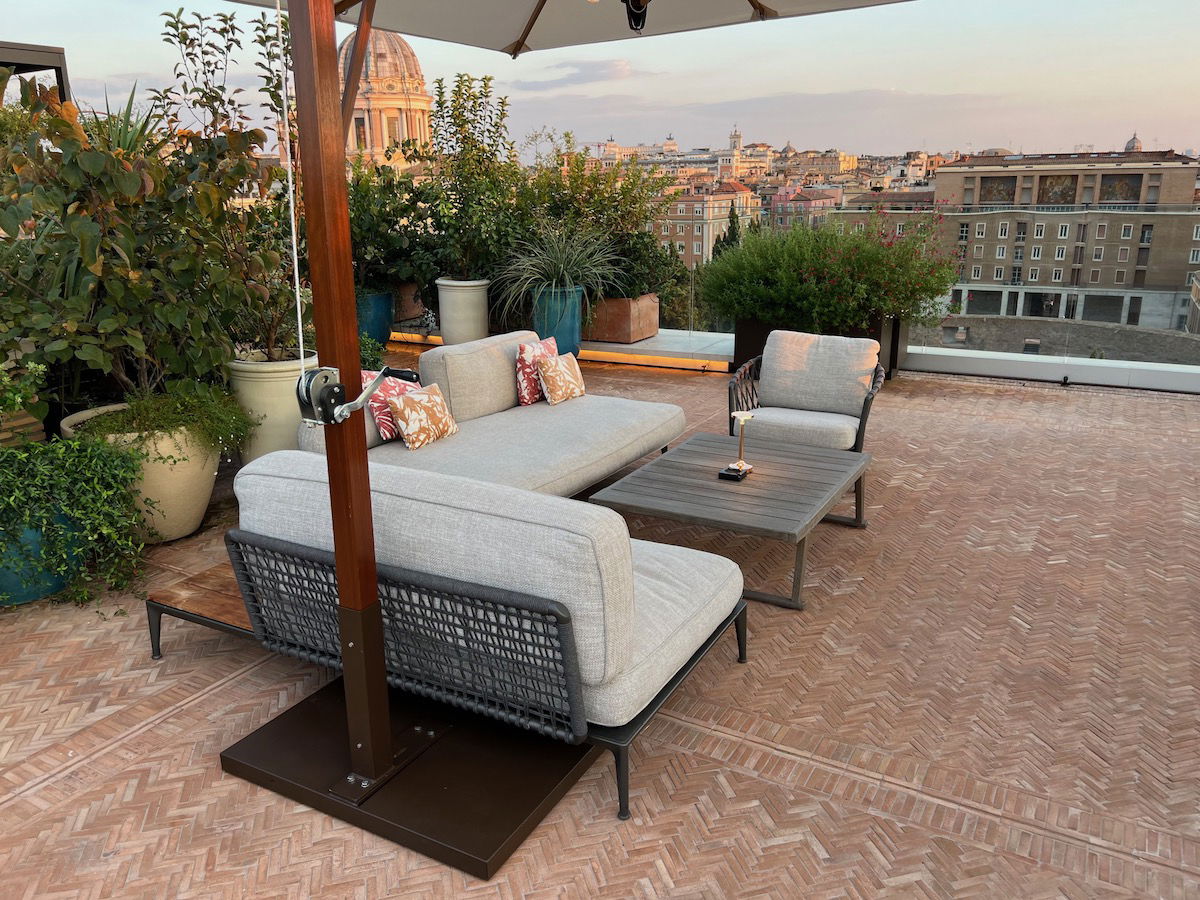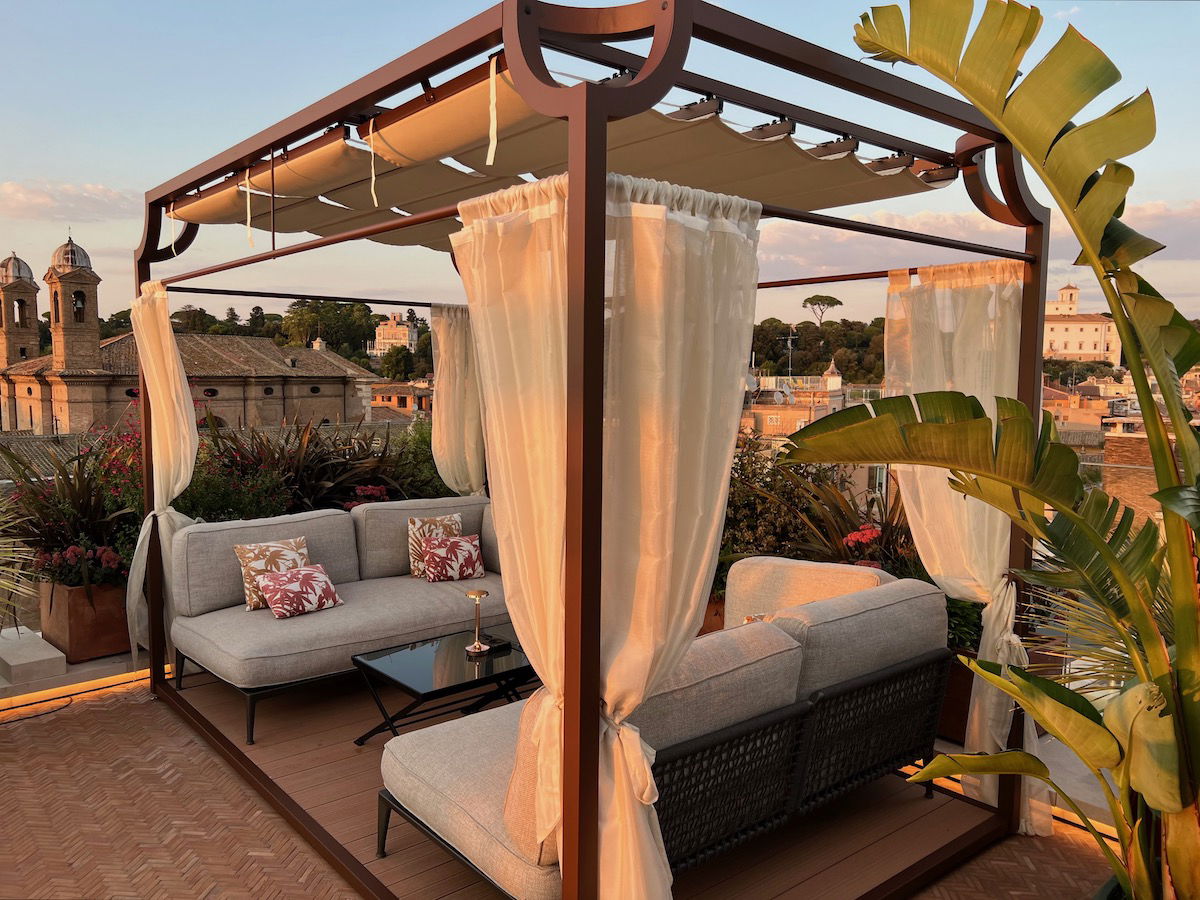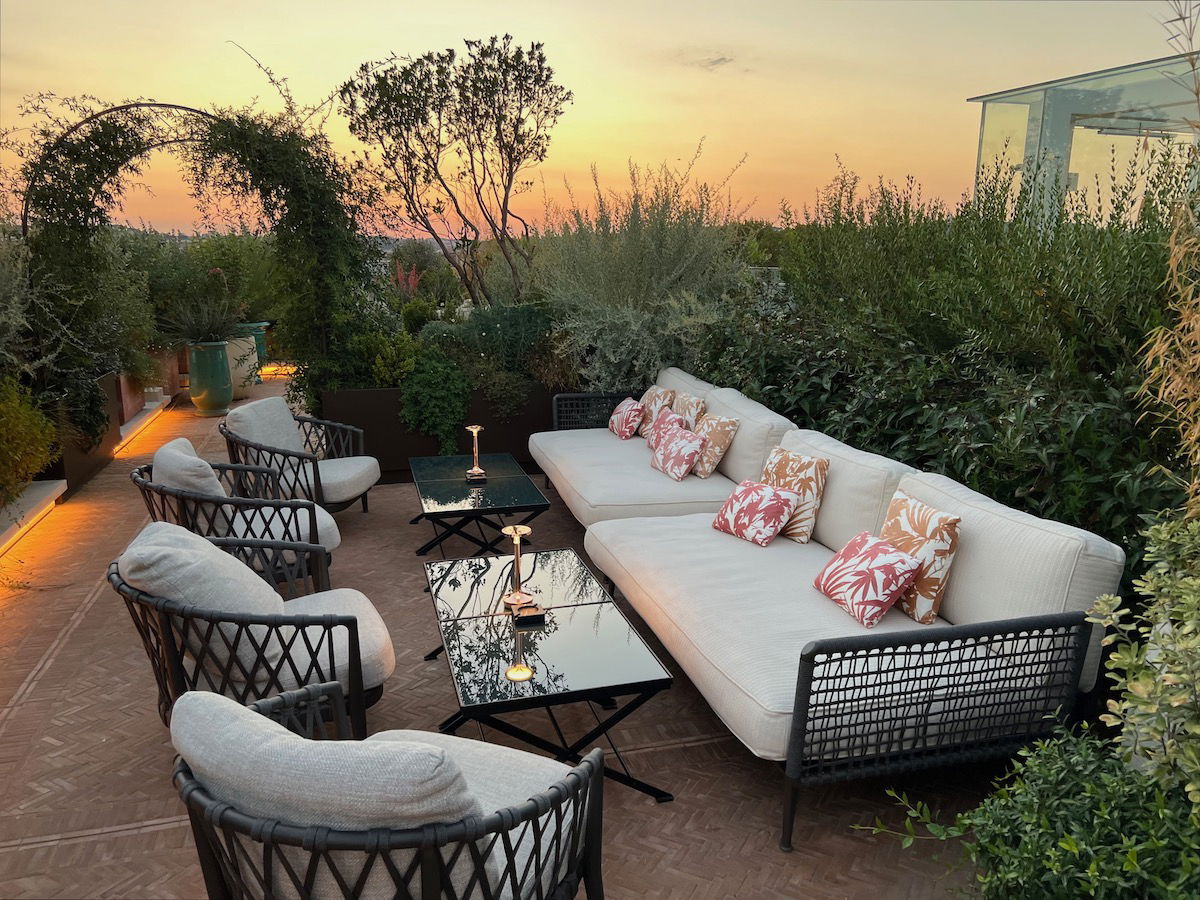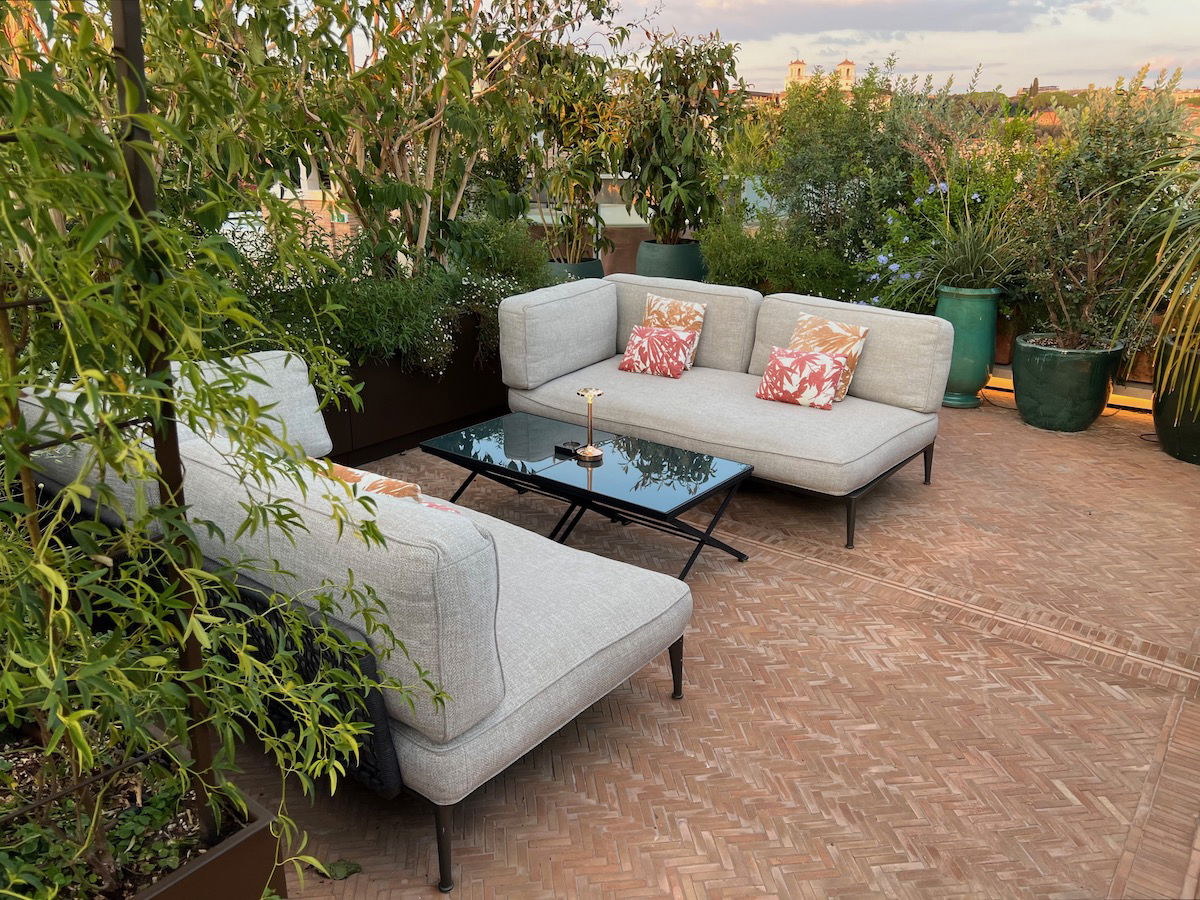 The views are tough here as well…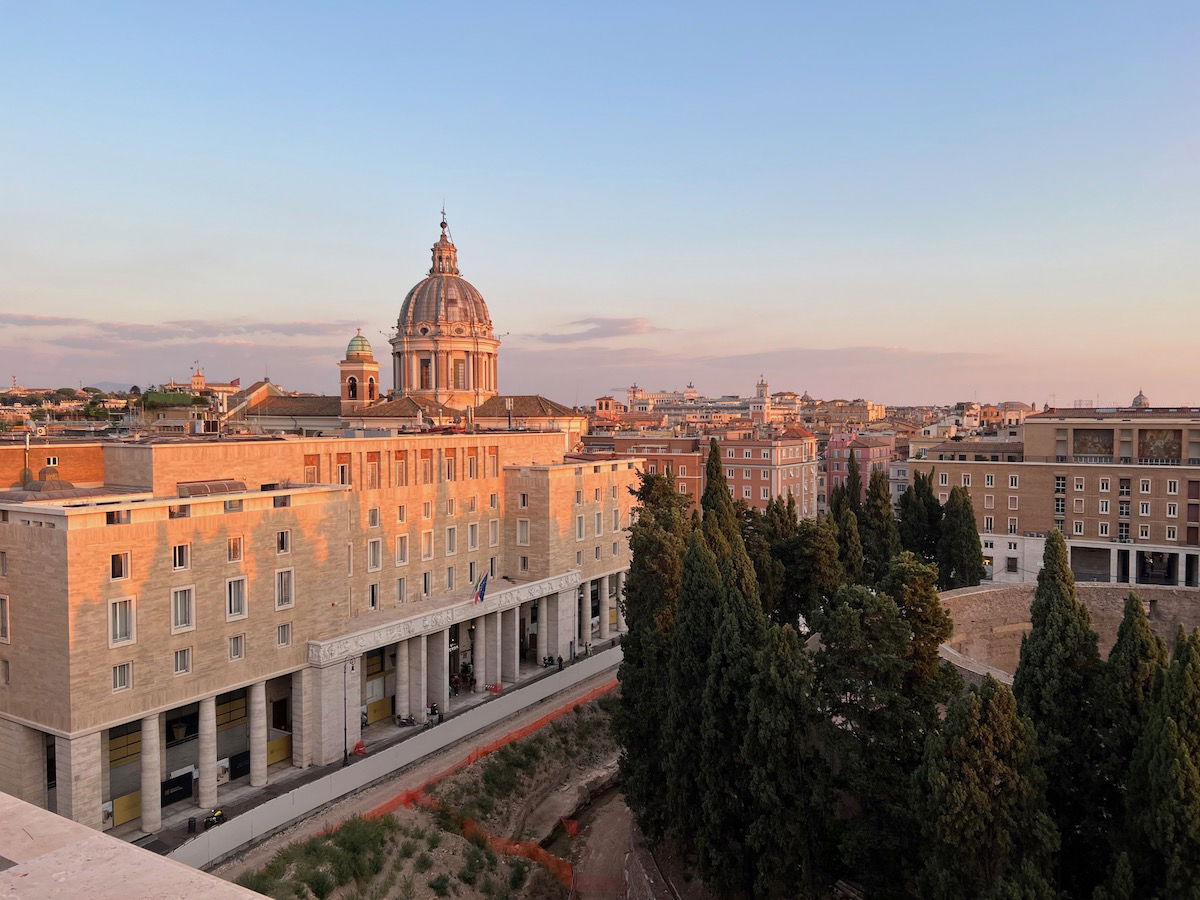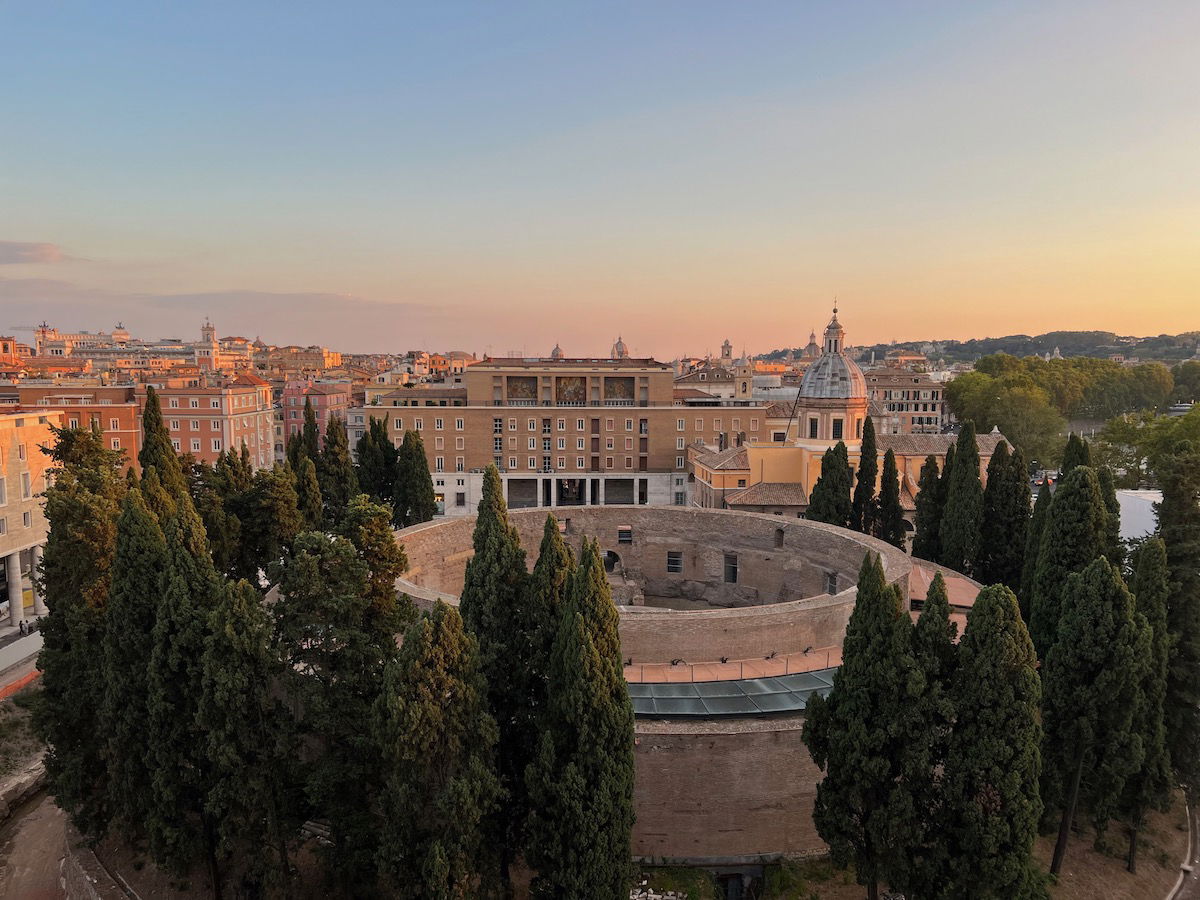 We came here for pre-dinner drinks, and I had an excellent dirty martini (rare in Europe, outside the UK), and Ford had a negroni. As is customary in Italy, we were offered a huge selection of snacks to go along with this.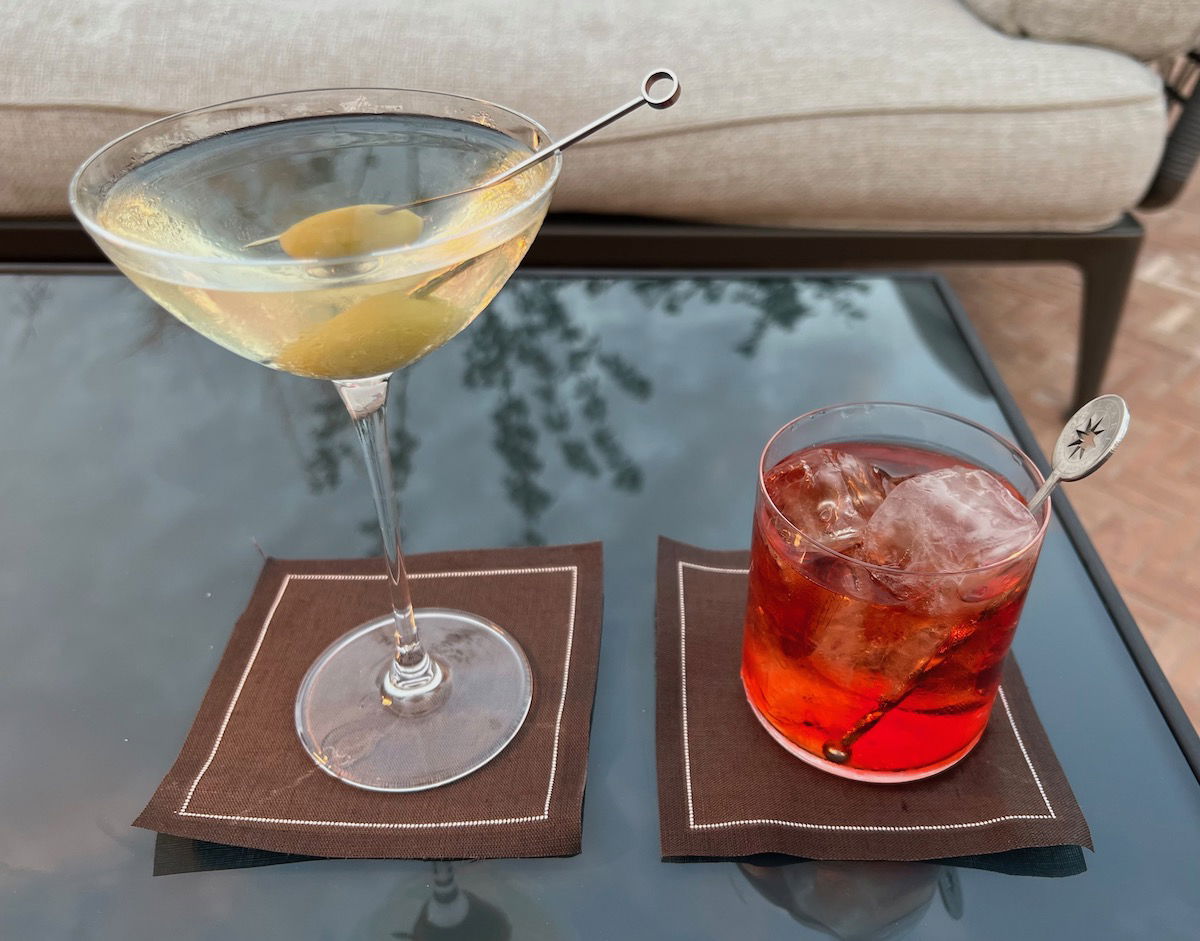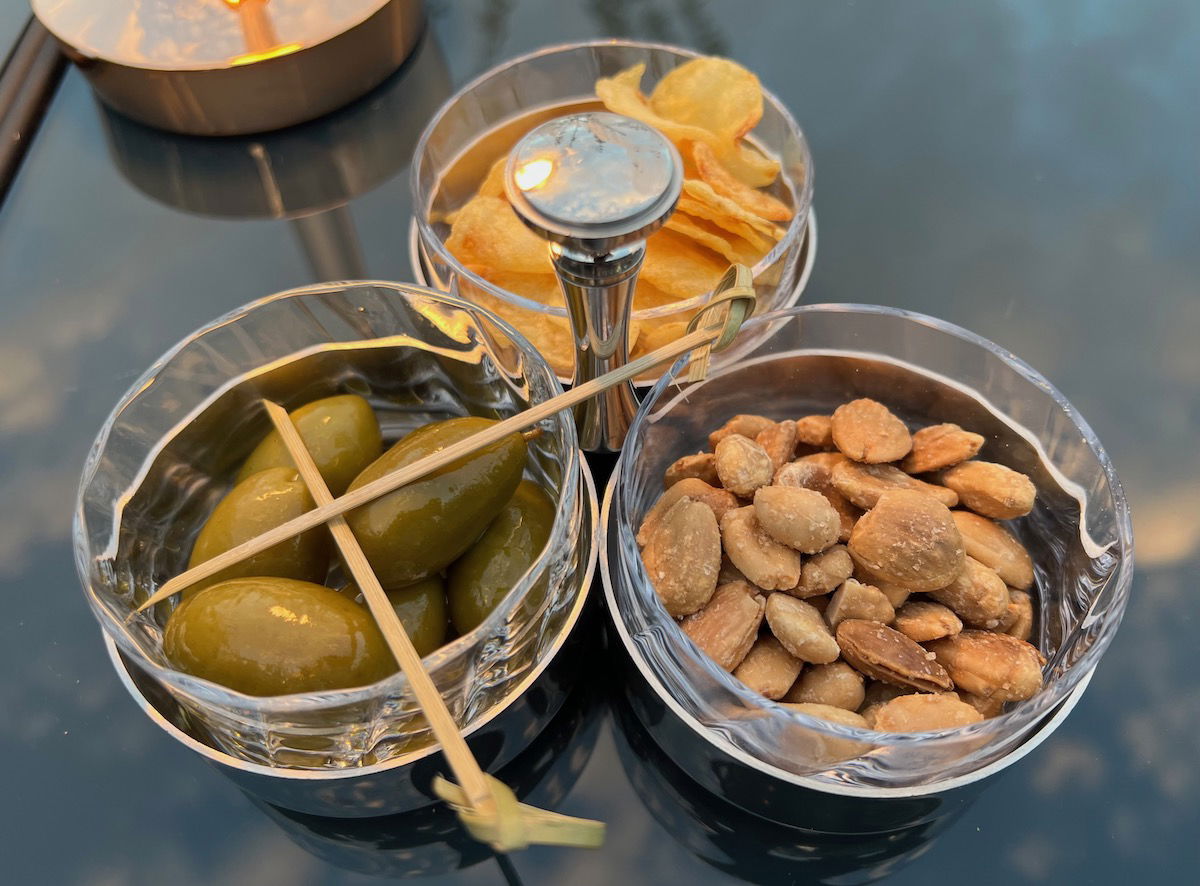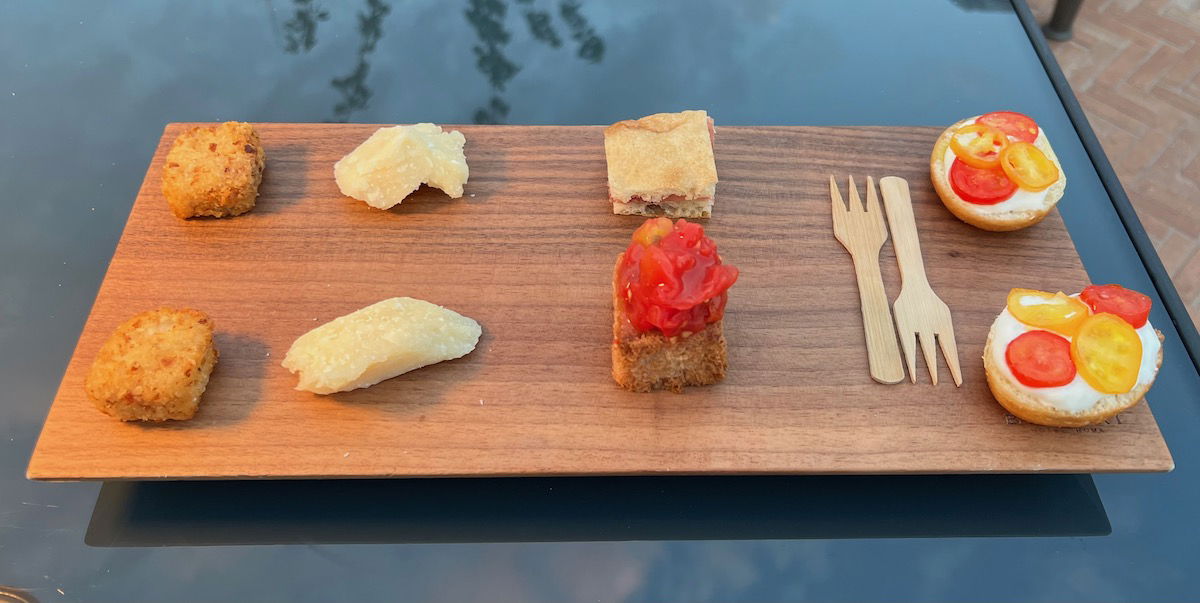 Bottom line
The Bulgari Rome is my favorite Bulgari property I've stayed at. This is a top notch hotel, with amazing design (combining the historic "bones" of the building with modern luxury), a central location, very nice rooms, impressive food and beverage outlets, a beautiful spa and pool, and friendly service.
Not surprisingly, this comes at a price, and the hotel is priced in line with the other best hotels in the city, and unfortunately there's no way to redeem points for this experience (at least not yet).
The only other thing I'd caution is that if you're looking for more a traditional classic design and don't want to feel like you're at a fashion show, something like Rocco Forte's Hotel de Russie or Hotel de la Ville might be a better option.
What do you make of the Bulgari Hotel Rome?