By now, you're probably familiar with our yearly gift guide—it's a labor of love that we release every year full of gift ideas for everyone from your mom to that friend who already has everything. But what you might not know is how that gift guide makes its way from a gigantic spreadsheet of hundreds of gifts to the final product that you know and love.
For weeks before it's put together, all of our editors join together to fill a massive doc full of everything we've seen throughout the year that we think is cool or unique or might just have an eye on ourselves. Every single gift is considered, but of course, they don't all make the cut—but that doesn't mean they aren't still on our lists (and let me assure you: when you look at products for your job all day, you know what the best of the best for the year is, and it leads you to a pretty bomb Christmas list).
These are the things we as editors have on our Christmas lists this year—from cult-favorite hair dryers to the coolest shoes we spotted this year to backups of our already-favorite products. Not sure what to ask for or gift this year? Start here.
LED TECHNOLOGIES, INC.
There is no shortage of skincare devices on the market these days, but the one thing I struggle with is figuring out where to start. This Anti-Aging & Acne LED wand is exactly the simple tool I've been searching for. It tackles both wrinkles and acne (shout out to everyone else who suffers from both—yay us!) using advanced light therapy in just three minutes each day. Three settings allow users to choose whether they want to target acne, aging, or both, allowing you to tailor your routine with the ebbs and flows of your skin.
—Garri, Senior Managing Editor
Calpak
I have been eying this specific cosmetic case for years now, and this year, it's finally time to replace my existing case with one that has way more space and organization. I love the dual clear compartments that make it easy to get to all of your products out without having to dig or dump out your entire bag just to find one lip liner. This bag comes in three sizes, but I'd be lying to myself if I thought I could fit all of my toiletries in anything smaller than the largest option. I've done my fair share of research on the best of the best cosmetic cases on the market, and IMO, this is a top tier choice which has landed it a spot at the top of my wishlist.
—Hailey, Assistant Editor
GLDN
I've been obsessed with this dainty signet ring since I first laid eyes on it. I love how simple and understated it is while the personalization makes it super special. This is the kind of ring I'd make a part of my daily accessory arsenal.
—Garri, Senior Managing Editor
CB2
This is niche, but I'm obsessed with a good bust. IMO, it is the perfect decor piece. I've found a few from Amazon, but this one has been on my wishlist for a couple years now because it's one of those things I really want, but feel weird spending this much on a decor piece for myself (mom, if you're reading, this is what I want for Christmas). It's the perfect size (bigger than any other I've found online, but not like take-over-your-counter top big), and I love the glossy black finish–it makes a classic bust design a little more modern and on-trend.
—Josie, Podcast Host & Wellness Editor
Lisa Says Gah
I have been on the hunt for a fun pair of shoes that I can keep casual or dress up to wear to dinner that also aren't a pair of boots for what feels like forever now, and I think I finally found the pair of my dreams. Mules and clogs have been trending for quite some time now (I'm a Birkenstock Boston girl 'til I die) so I feel like I'll get a good wear out of these for a while, and I'm absolutely obsessed with this shade of green. I'm really embracing a more chic grandma-esque aesthetic come 2024, and these are a perfect gateway for that.
—McKenna, Branded Content Editorial Assistant
Stakt
I have no idea why no one has thought of this mat before, but it's genius and I need it. It's a stackable mat, which means you can use it as a regular yoga mat for all your sun salutations (it's extra cushioned for additional support than your usual flimsy yoga mat though), but you can also use it for other workouts too: stacking it completely turns it into a block for added versatility in workouts, or you can fold over one part at a time for additional cushion (like for your knees when kneeling, or for your forearms during plank). Plus, because it's stackable it's way easier to transport than rolling up a yoga mat. Trust me: This is going to be a game-changer for all of our workouts.
—Josie, Podcast Host & Wellness Editor
Oddli
I find myself outside sitting on a blanket to read or knit or have a picnic with friends several times a week–whether it's at the park, beach, or even just in my own backyard. Because of that, I've had my eye on this high quality, ethically made blanket made for either the outdoors or indoors for a minute now. Every single one is unique, and I'm absolutely obsessed with the mismatch pattern. Plus, it's huge so I can fit as many friends or snacks on it as my heart desires.
—McKenna, Branded Content Editorial Assistant
Gorjana
Each year, I have a little bit of a theme to my holiday wishlist. This year, it's accessories—because TikTok has informed me that I have been "wearing" my clothes instead of "styling" them. One of my personal style goals for 2024 is to become a ring-wearing girlie, and I'm obsessed with this pink heart gemstone ring from Gorjana. This is the kind of item that I would probably not purchase for myself, but would also wear every single day if I were to receive it as a gift. Plus, I think a chunky ring like this one to start my collection will motivate me to buy some stacking rings to balance it out on the rest of my fingers.
—Emma, Podcast & Editorial Assistant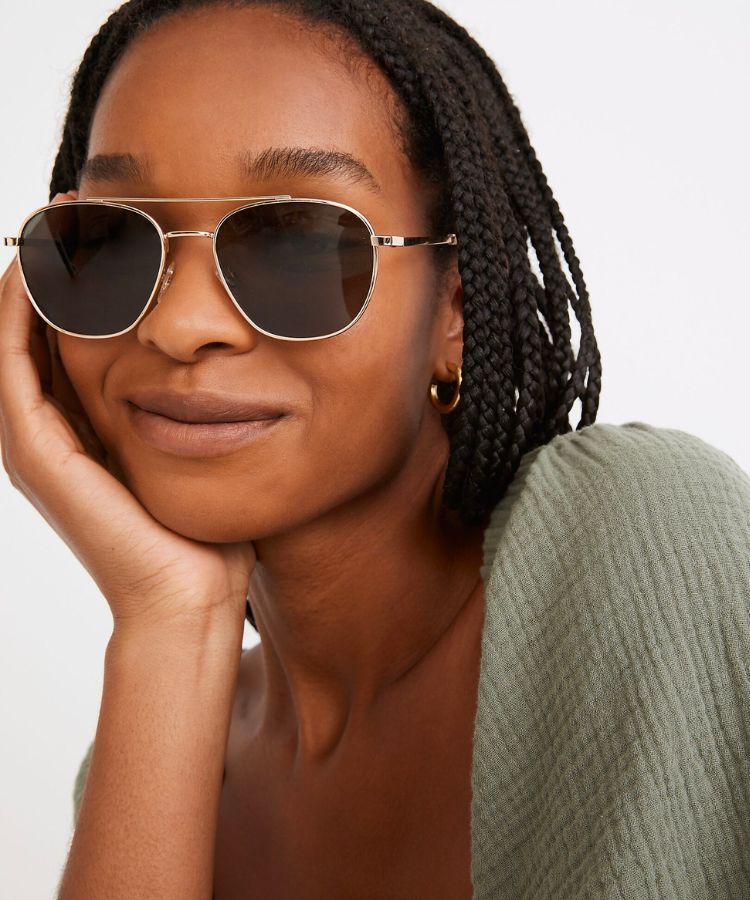 Madewell
My accessory game took a step down in 2023 when I tragically lost my favorite pair of sunglasses from Madewell, so I'm on a mission to fill the aviator-shaped hole in my heart this holiday season. While I would love to try a trendier shape of sunglasses, I also know that it's important to me that my accessories never really go out of style, which is why I love the black-on-black frame and lenses of this pair. My face shape is also super square, so I'm excited to stick with what I know what works for me: a pair of shades that I can wear with just about anything.
—Emma, Podcast & Editorial Assistant
Sézane
I have been eyeing these boots in the Polished Camel all season, and I envision wearing them with boot cut jeans or a wool skirt or dress for the holiday season. I love a heeled boot, but stay away from anything too high because I want them to be functional for walking, so the small heels and rubber soles will be perfect for the city trips I have planned. The patent leather exterior is really going to dress up any outfit I pair them with.
—Cassie, Social Media Editor
Fawn
I love slinging on my trusty belt bag when I'm heading out and about, but I don't love when it ruins an otherwise cute outfit. This faux leather version is a big step up from the basic nylon ones, but it's still just as functional, thanks to the adjustable straps and multiple zippered compartments.
—Jessica, Lifestyle Editor
Leatherology
I'm far from a minimalist when it comes to beauty products, so I struggle with makeup bags because they never seem to fit everything I want to cart around. This makeup case is large enough to fit my excessive amount of "essentials" and beautiful enough to sit on the bathroom counter all the time.
—Allyson, Editor-in-Chief
Seiko
I literally cannot function if I'm not wearing a watch on my wrist, and while I love my gold Casio that I wear daily, lately I've wanted to switch things up as we head into fall and winter. That's where a leather watch comes into play. I love the idea of mixing the deep leather of the watch with the gold metal of the other jewelry I wear everyday, and a rich brown leather creates a great contrast between the two. It's moody, it's elegant, and it's sure to last forever. It's giving Nancy Drew vibes in the very best way.
—Bella, Editorial Fashion Assistant
Hourglass
The Hourglass Ambient Light powders are like nothing else I've ever put on my face. They give you a lit-from-within glow that's not at all sparkly and make you look like you have a filter on your skin. Their holiday palettes are, in my opinion, the best way to invest in them, because you get a bronzer, finishing powders, a blush, and a highlighter all in one palette. I use mine almost every day—I just started hitting pan on the one I got last December—so 2023's version is at the top of my wishlist this year. Trust me: It's the addition to your makeup routine you didn't know you needed.
—Madeline, Fashion Editor
Bearaby
I cannot sleep without my weighted blanket, but the one I have doesn't exactly fit with the rest of my decor. I've been eyeing this beautiful knit weighted blanket from Bearaby for years—maybe this year I'll finally take the leap and gift it to myself.
—Garri, Senior Managing Editor
Amika
I have had restock alerts on for this Amika thermal brush for MONTHS. Now that it's in stock (and we're conveniently approaching the holidays), this is one of the top items on my list. I'm always so drawn in by tutorials of how to use this on TikTok, and I think it'll be great for blowout touch ups—plus, my fiancé will be happy not to be woken up by the noise of my Dyson Airwrap.
—Ashley, Brand Partnerships Manager
Dr. Dennis Gross
These peel pads may just be my roman empire. I add them to my cart at least once a week, but that price point is just a little bit too high for me to justify right now. As a girl trying to upgrade her skincare routine (and one who is easily influenced by the rave reviews from her colleagues and friends) these are definitely on my wish list.
—Abi, Social Media Assistant
Ninja
As a big smoothie and protein shake girly, this blender is on my wish list so I can start making my own at home instead of overspending by buying them out. I love that this one is small and will fit in my apartment kitchen and won't be a huge mess to clean up afterwards, which is usually a big put off for me when it comes to using the full-sized blenders.
—Keeley, Senior Social Media Editor