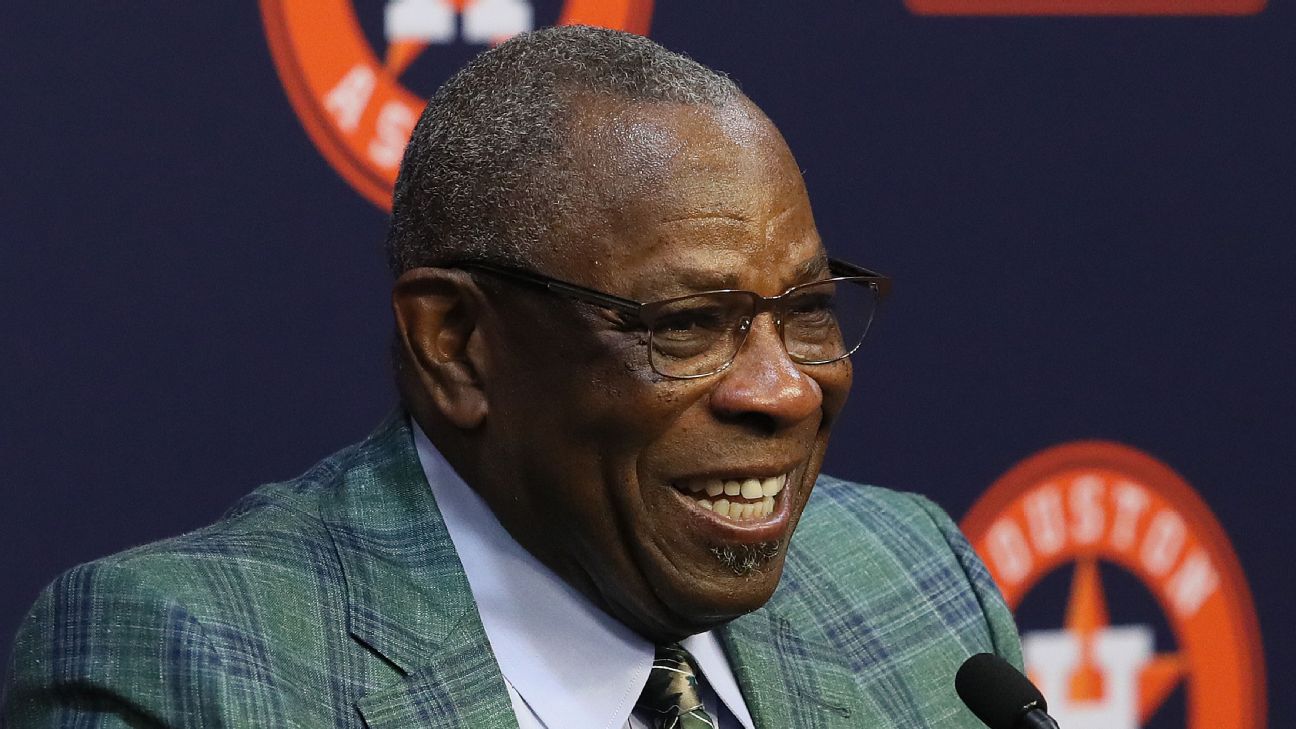 Dusty Baker has chewed his final toothpick and chewed out his last umpire in the major leagues.
The 74-year-old Houston Astros manager confirmed his retirement Thursday after 26 seasons as a big league skipper.
"I would first like to say thank you to [Astros owner] Jim Crane and family for giving me this opportunity over the last four years," Baker said Thursday. "It has been a tremendous honor to be the leader of this ballclub. Thank you to the fans for their unwavering passion. The amount of love I've received in my time in Houston has been unmatched.
"Thank you to all my players and coaches for their many sacrifices on our multiple pursuits to a World Series title. You all gave me all you had every day, and that's all I can ever ask for. Lastly, I want to say thank you to all my friends and family. I have immense gratitude for all of the love and support you have shown me throughout the years, and I can't say thank you enough. This isn't a goodbye, it's simply a 'see you later.'"
Congratulations Dusty on an incredible managerial career 🧡

Thank you! pic.twitter.com/QkdoB7ekVn

— Houston Astros (@astros) October 26, 2023
Baker ranks seventh with 2,183 wins, and all eligible managers with 2,000 wins are in the Hall of Fame. He became the first Black manager to reach that milestone and would be the first inducted into Cooperstown.
Baker's defending World Series champion Astros lost to the Texas Rangers in seven games in the AL Championship Series, which ended Monday.
He compiled a record of 2,183-1,862 (with one tie) across 4,046 games on the bench for the San Francisco Giants (1993-2002), Chicago Cubs (2003-06), Cincinnati Reds (2008-13), Washington Nationals (2016-17) and Astros (2020-23). He is the only manager to lead five different teams to division titles and was the National League Manager of the Year in 1993, 1997 and 2000.
His Astros won the AL West for the third straight season in 2023. In 2022, the Astros defeated the Philadelphia Phillies in six games to win the World Series.
Baker helped restore luster to a franchise embarrassed by a sign-stealing scandal that ultimately led to suspensions for general manager Jeff Luhnow, manager A.J. Hinch and bench coach Alex Cora.
"When we hired Dusty four seasons ago, we felt that he was the right person to guide this club during a tumultuous time — and we were right," Crane said. "The success we've had under Dusty on the field is obvious, and the impact that he has had on our players, our organization and within our community has been tremendous. Dusty is a Hall of Famer as a manager, but more importantly, he is a Hall of Fame person. It has been an honor to have him as our manager."
Baker was a two-time All-Star outfielder who played 19 seasons with the Atlanta Braves (1968-75), Los Angeles Dodgers (1976-83), Giants (1984) and Oakland A's (1985-86). He compiled 1,981 hits with 242 homers and 1,013 RBIs in 2,039 games.