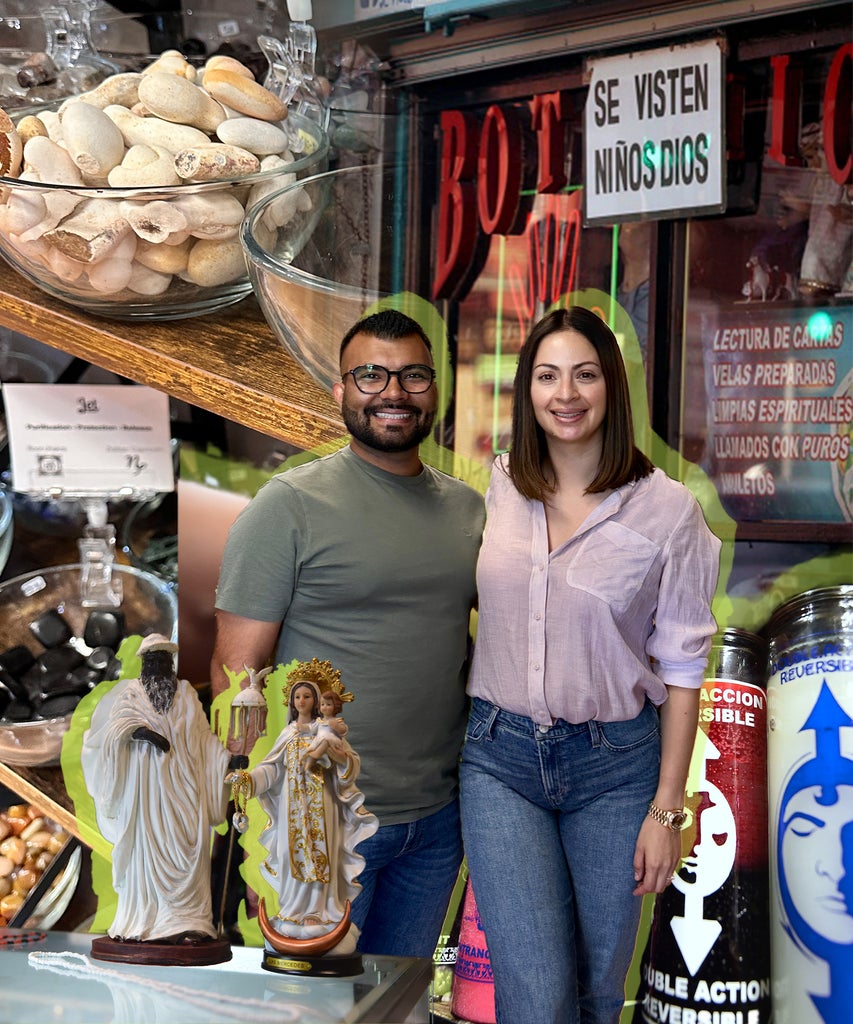 Michael Cardenas started shopping at botánicas at 12 years old. While visiting family in San Diego, his aunt secretly took him to Botánica Mama Roots, one of the oldest botánicas in Southern California. 
"I'm now 37, and my obsession with botánicas and occult shops never went away after that," Cardenas, a professional witch and psychic medium leading spell work services through his brand Olde Ways, tells Refinery29 Somos. 
Most of Cardenas' Mexican and Trinidadian families didn't believe there was anything magical about their rituals. Yet, his Catholic grandmother was private and secretive about her elaborate altars adorned with saints, candles, and goblets of water — most of which she purchased at botánicas. 
Botánicas are stores that sell religious and spiritual products such as medicinal herbs, incense, smudge sticks, oils, and statues of saints and African idols. Botánica translates from Spanish to "botany" or "plant store" and speaks to the role plants and herbs play in Afro-Caribbean, African, and Christian religions, as well as the spiritual beliefs that the shop owners hold. Across the U.S., you will mostly find botánicas — which might also offer spiritual services, tarot readings, and egg cleanses — in Latine neighborhoods. 
Abbey Santiago, a Taíno Dominican bruja and energy healer based in New York City, has visited botánicas from Los Angeles to Puerto Rico and many places in between. Santiago shops at botánicas at least once a month and shares her hauls with her more than 100,000 followers across YouTube and TikTok.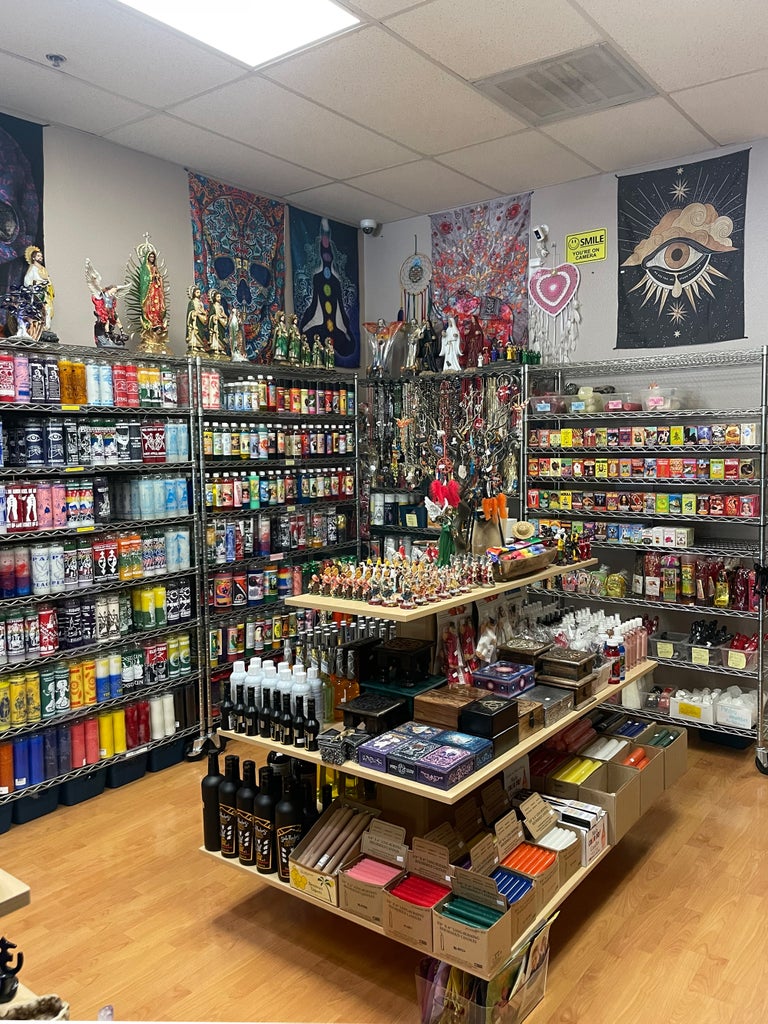 "Botánicas have historically helped those in the diaspora maintain the spiritual traditions of the [Caribbean] islands. They are important spaces to highlight the complex spiritual systems that we practice today," she says. "Botánicas are a great place to ask questions, seek elders in different African traditional religions, get books and spiritual tools for your journey."
Not everyone who patronizes botánicas is religious or subscribes to a single spiritual practice, though. For multidisciplinary healer Melanie Santos, botánicas have been a constant throughout her spiritual journey. 
"Visiting botánicas has always filled me with cultural pride. It's a home for the ancestral traditions that live on, despite racism and persecution throughout centuries. It's also very nostalgic for me," Santos says. "Seeing the statues and plants in the front window, being greeted by the smell of candles and herbs, making a monetary offering if possible upon entering, watching all the colors of the candles, glass, and bottles fill the room, and the person attending the store scoping you out to see if there's anything that you need help with. It's a whole experience and a very comforting one regardless of which botánica I go to."
While a staple in our communities for decades, the demographics of botánica owners and shoppers have changed in recent years, with more non-Latines embracing the shops. To honor and celebrate their roles in Latine neighborhoods across the country, we spoke with four store owners about how they are preserving the culture of botánicas. 
Tell us about your journey leading Botánica La Caridad for nearly 30 years?
I was born and raised Catholic and became a Santero when I was 26. I first offered services such as readings and cleansings from my apartment, and then I opened my first location in 1998 in a tiny storefront. We have since moved a couple of times, each time into a larger space. Our customer base is about 75% Latine, but the newcomers to the botánica are increasingly diverse. 
Business has always been great, but in challenging moments like the beginning of the Covid-19 pandemic, we were so lucky to do well. We couldn't keep up with the demand for candles. It was a time when people were scared and needed to hold onto their faith. 
How have people's perceptions of botánicas changed over the years?
It used to be that people would come to the botánica in hiding. They wouldn't want their friends or family to know that they were here. Now they are more open-minded about spirituality and what the gringos call the New Age movement, but spiritual practices have been a part of Latine culture our entire lives. It's something we embrace, even those who do not consider themselves spiritual. 
In our culture, it's common for us to enjoy a té de manzanilla with rosemary and honey when we feel sick. We commonly use herbal baths or egg cleanses. Now people outside of our culture are embracing the power of natural herbs and spirituality, and we are here to help everyone on their journeys.
Botanica La Caridad, 1815 Blanco Road, San Antonio, Texas 
What inspired you to start both a traditional botánica and a modern botánica?
Botánica El Secreto first opened in October of 2016. My husband Pedro's mother had opened a small spot inside Price Breakers Indoor Bazaar in San Diego without telling anyone. That's how the botánica got its name El Secreto because my mother-in-law kept it a secret from us until she asked us for help running it. We offer something for everyone here, whether you are looking for esoteric tools, Santería items, Santa Muerte items, an apothecary, candles, incense, talismans, charms, or crystals. If you don't find what you need, we will do our best to bring it to you. 
When the Covid-19 lockdown of March 2020 shut down El Secreto, I had to do something to help keep income coming in. I packed up the crystals I had in a small section of El Secreto and brought them back home to Madera. I set up my crystals, incense, and other botánica products on our dining room table. 
One random Sunday, I streamed a live sale on Instagram. Within weeks, we had a whole second shop: The Good Vibe Crystal Shop & Botánica. Our specialty there is crystals and minerals, but you can still find your botánica goods and services in the same place.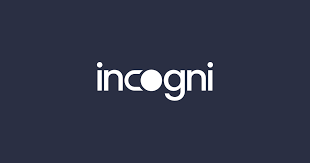 How are you contributing to the culture of botánicas in California?
We offer a safe space for people wanting to keep a connection with their ancestors' practices and tools, allowing them to continue to follow the path of previous generations. We also offer that same safe space to anyone who is curious to learn about those alternative practices and tools. 
We strive to provide something for everyone. You can come in, ask for anything, and never feel judged because we believe spirituality is not a one-size-fits-all path. We feel our spaces allow seasoned practitioners, newer generations, and first-timers to explore and gather and keep the botánica culture and history alive. 
Botanica El Secreto, 1021 Highland Ave A 43, National City, California 
The Good Vibe Crystal Shop & Botanica,1643 N Schnoor Ave, #107, Madera, California
Marlene Vargas and Alex Naranjo, House of Intuition in California & Miami Beach
How does House of Intuition bring a modern spin to the traditional elements of a botánica?
Walking into botánicas can sometimes feel intimidating, especially if you aren't already being mentored by elders. When starting House of Intuition, we knew we wanted to be a botánica where you could find what you need to build your own church or altar at home. For the folks who go to botánicas, their homes are their temples, and that's where they practice their spirituality. We want you to make your spirituality your own and see what resonates with you. 
We opened up in 2010. Our store had the more typical botánica look: We had deep red maroon walls, dark flooring, low lighting, and it was kind of cluttered. A couple of years later, we adopted a more modern look with a black-and-white checkered floor look to resemble the balance of white — associated with being cleansed and with your higher self — and black, which represents the ego and negative energy. 
When we first opened, we only taught tarot. We didn't know that we were going to organically develop a modern botánica and eventually open up 10 stores. At the time, it was common in Los Angeles to find specialized crystal stores, herb stores, and botánicas. But no one combined all of that the way we did. 
In the past, spirituality was frowned upon because people thought it was pure witchcraft or evil, but botánicas are alive and well because people are genuinely curious and interested in being educated. At House of Intuition, we want to teach you about rituals, teach you how to burn that candle, and teach you how to call your own ancestors.  
We want House of Intuition to be a place of empowerment, a place to show people your destiny is in your hands.
House of Intuition has locations across California and one in Miami Beach, Florida.  
Jason Mizrahi, Original Botánica in the Bronx, New York 
How has your family supported the culture of botánicas in New York?
My family owned one of the first botánicas in the 1920s in Spanish Harlem. After my father served in the Korean War, he joined my uncle, who was then running that botánica. They had their retail store, and they also distributed to smaller botánicas all around New York, the Caribbean, and other countries. In the late 1960s, my dad opened two botánicas on Bathgate Avenue in the Bronx, where my family was from. 
By way of learning Ladino from my grandfather, who was a Sephardic Jew from Turkey, my dad spoke Spanish and could communicate with Dominicans and Puerto Ricans immigrants moving to the Bronx in the '60s. In 1975, he bought a building on Webster Avenue, and we've been here ever since. I would come to work with my dad as a kid, and I would work with him on weekends and during summer vacations. By the time I graduated college, my dad was 65 and he gave me the choice to take over the business: I said yes, and since 1997, I've been leading the business. We also still distribute wholesale to botánicas around the city and now around the world. 
Botánicas are deeply embedded in Latine communities. It's just as important as groceries, daily staples, and cleaning supplies. People make sure to stop at the supermarket for their food and at the botánica to buy their candles and incense for the week. While the neighborhood has become more Dominican — half of our staff is Dominican — we have continued to serve people who come from all parts of the country and the world. 
How does Original Botánica keep up with the times?
Up until about 10 years ago, we solely relied on brick-and-mortar sales. Nowadays, we sell more on a daily basis online than in person. We also have a large presence online with tips on how to perform rituals and how to use products, and we have a robust blog on our website. Up until recently, botánicas have been secretive about this information; it wasn't really talked about. 
When our long-time store employee Luisa de la Rosa moved to New Jersey to support her family, she stayed involved and became the face of Original Botánica when we launched a series of instructional videos on how to perform spiritual rituals. It is our hope that these videos can help reach people who don't have a local botánica where they can go for advice and counsel. 
Original Botánica, 2486 Webster Avenue, the Bronx, New York
The following interviews were edited for length and clarity. 
Like what you see? How about some more R29 goodness, right here?