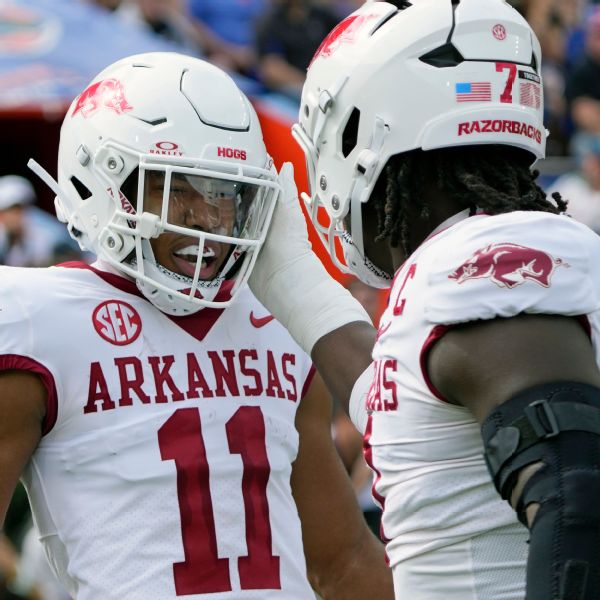 GAINESVILLE, Fla. — KJ Jefferson connected with Tyrone Broden for a 4-yard score in overtime that lifted Arkansas to a 39-36 victory at Florida on Saturday, ending a six-game skid for the Razorbacks and giving them their first win in the Swamp in six tries.
In Kenny Guiton's first game in control of playcalling duties after a shakeup on Arkansas' staff, the Razorbacks (3-6, 1-5 SEC) ended Florida's five-game winning streak at home and might have knocked the Gators (5-4, 3-3) out of bowl contention in embattled coach Billy Napier's second season.
Headed into a bye week on Oct. 22, Guiton took over for offensive coordinator and quarterbacks coach Dan Enos, who was fired following a 7-3 loss to Mississippi State.
Jefferson threw for 255 yards and two touchdowns and ran for 92 yards and a score Saturday. Much of his damage came late, but the most memorable play was a 20-yard scamper in overtime in which Jefferson ran over several defenders. He found Broden for the winner two plays later.
"It's a big deal to come to Florida and win," Arkansas coach Sam Pittman said. "They earned that. We have never had a bad football team. We've had some bad luck and bad coaching mistakes but never a bad team."
Florida had a chance to win it at the end of regulation, but Trey Smack missed a 44-yard field goal attempt wide right.
"It was as good a win I've been a part of," Pittman said. "Ever."
Florida's special teams were mostly a debacle, hardly a surprise given their season-long issues. The Gators botched an extra point in the third quarter and forced Smack's attempt to be 5 yards longer than expected because of an illegal substitution penalty.
The Gators had been looking to become bowl-eligible again under Napier. Now, win No. 6 looks to be a long shot at best.
Florida's final three games of the regular season are at No. 13 LSU, at 14th-ranked Missouri and at home against No. 4 Florida State, a daunting stretch in which Napier's team could be a double-digit underdog in each game.
Arkansas looked like it would dominate early. The Razorbacks drove 75 yards for a touchdown on their opening possession and on the next play Jaylon Braxton returned a fumble 33 yards for a score after stripping Ricky Pearsall. It was 14-0 before the Gators had picked up a first down.
But Florida rallied and took advantage of several short fields to not only get back into the game but to take the lead in the second half.
The return of Raheim "Rocket" Sanders helped Arkansas' cause. He finished with 103 yards on 18 carries in his return from a knee injury. Sanders sat out Arkansas' prior two games and missed five of the previous seven. The preseason All-American selection ran for 1,443 and 10 touchdowns in 2022.
"In two weeks' time a lot of stuff went on in the program," Pittman said. "And the kids just stayed with us and stayed believing."
The Associated Press contributed to this report.