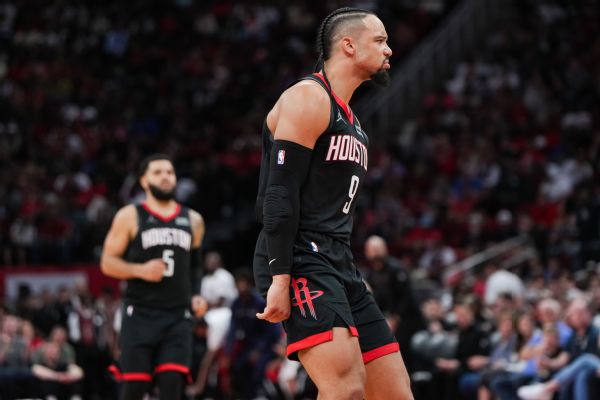 Rockets forward Dillon Brooks — who made waves during last season's playoffs when, as a member of the Grizzlies, he called LeBron James "old," dared the Lakers superstar to score 40, then struck him in the groin in Game 3 — isn't changing his approach leading into their rematch Wednesday in Houston.
"Ready to lock him up," Brooks said Tuesday, according to the Houston Chronicle. "He's shooting the ball well. He's been playing well. So I'm just there to make him tired, make him get into that fourth quarter early."
Brooks' "bear-poking" didn't do much to help the Grizzlies' cause last April, as they were bounced from the first-round series in six games by the Lakers, with James recording 22 points and 20 rebounds in Game 4 for the first 20-20 line of his career.
The Grizzlies opted against attempting to re-sign Brooks in free agency this summer because of his often-antagonistic antics, among other factors. He subsequently agreed to a four-year, $80 million contract with the Rockets.
James has publicly sidestepped questions about Brooks' comments, though his social media activity in the wake of Los Angeles' close-out win was less veiled.
"I feel like he (James) controls the media," Brooks said Tuesday. "I feel like a lot of guys, you know, have these podcasts and love social media, but I don't really like it. I don't really like media. If I didn't have to talk to you guys I wouldn't talk to you guys. And you know, I just block it out and just play basketball."
Brooks, 27, is averaging 16.3 points, 4.7 rebounds and 2.2 assists in his first season with the Rockets (3-3), who are riding a three-game winning streak. James, 38, is averaging 25.3 points, 8.4 rebounds and 5.9 assists for the 3-4 Lakers.
"Full-courting him when he wants to bring it up," Brooks said of his plan for guarding James. "Any time he's posting up on the block, I'm bumping him. Bumping him on the jog back. If he's guarding me I want to attack him. Just getting him into multiple actions."
For all his talk of resuming their rivalry, however, Brooks insists: "It ain't about me or him."
"That's what the matchup says in the beginning of the game: L.A. Lakers versus Houston Rockets," he said. "It's about us getting the win and keeping the win streak going."
The Associated Press contributed to this report.