We had a rather roundabout journey for our trip to Kyoto, as we decided to cross the Pacific in Starlux Airlines' A350 business class, flying from Los Angeles to Taipei. I was really excited about this flight, because Taiwan-based Starlux prides itself in being a "detail-oriented luxury airline," which kind of counters the industry trend nowadays.
How was our long haul Starlux business class flight? Well, I'm a bit conflicted. On the one hand, it's objectively one of the best business class products out there, with an incredible seat, free Wi-Fi in business class, lots of great amenities, and solid catering.
However, perhaps ironically, I found that attention to detail was lacking at so many points in the experience. These are all minor things individually, but I expect a bit better from an airline that prides itself in its attention to detail. From Starlux not participating in TSA PreCheck, to the rather limited menu when departing Los Angeles, to the menu just not being entirely accurate, to the crew lacking attention to detail, I just think there were a lot of easy areas where the experience could be improved.
Anyway, let's get into the review…
How I booked our Starlux Airlines business class tickets
I booked our Starlux Airlines business class tickets using Alaska Mileage Plan, thanks to the partnership between the two airlines. This was when the partnership first launched, and award pricing was great, and availability was plentiful (unfortunately that changed very quickly, and pricing is now much higher).
At the time, I booked the following in business class for a total of 75,000 Alaska Mileage Plan miles plus $46.60 in taxes and fees per person (the first segment cost 60,000 miles, the second segment cost 15,000 miles):
9/28 JX1 Los Angeles to Taipei departing 12:50AM arriving 5:40AM (+1 day)
9/29 JX820 Taipei to Osaka departing 8:30AM arriving 12:05PM
Starlux Airlines business class lounge & boarding
The Starlux check-in counter at Tom Bradley International Terminal opened at 9:15PM (just over 3.5 hours before departure), right around the time that we arrived.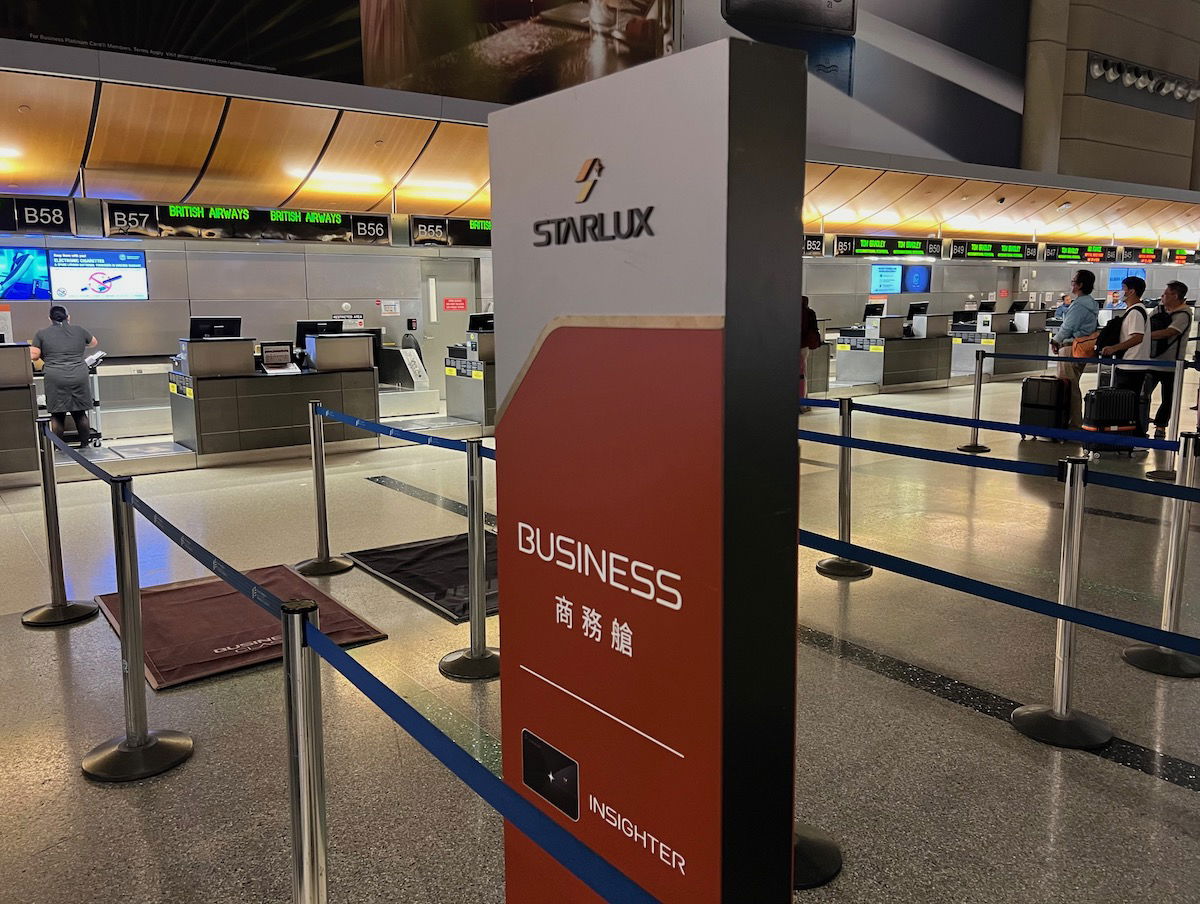 The check-in process was efficient, and the agents managed to issue our boarding passes all the way to Osaka. Starlux is a partner of the Los Angeles Dodgers, so it's cute how the boarding passes have Dodgers branding, and we were even given a Dodgers-themed passport holder as a gift (the Dodgers branding continued onboard the plane).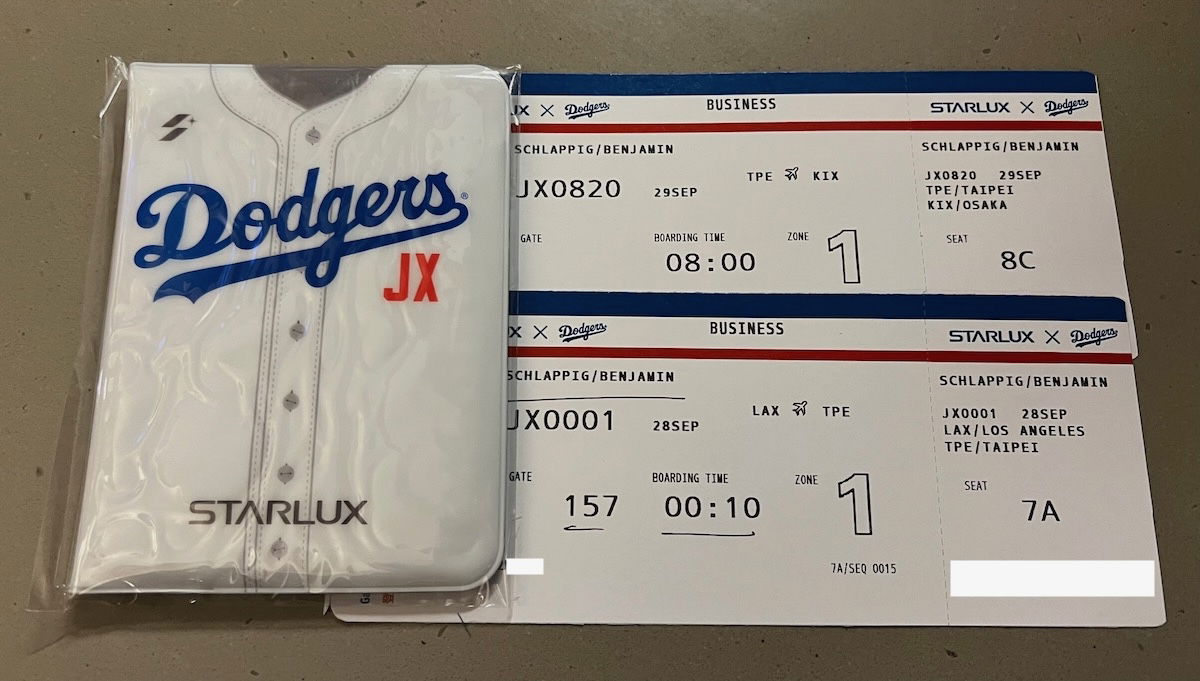 From there we headed toward security. Frustratingly, Starlux doesn't yet participate in the TSA PreCheck program, so we had to go through regular security. It was rather chaotic, and all passengers had to have their belongings sniffed by dogs. This caused some confusion, since the officers would yell at passengers to walk quickly and side-by-side past the dogs, but a lot of people didn't speak English, so that just caused the officers to… yell louder? Anyone know what they're checking for? Explosives? Drugs?
Once through security, Starlux business class passengers are sent to the oneworld Lounge LAX. I should mention that if you're a oneworld Emerald member you won't be able to use the Qantas First Lounge when flying Starlux. That's because Starlux isn't part of oneworld, but rather the airline just contracts for its passengers to use that lounge.
Our flight was scheduled to depart from gate 157, with boarding at 12:10AM, 40 minutes before departure. Our flight was operated by the roughly one-year-old A350-900 with the registration code B-58502.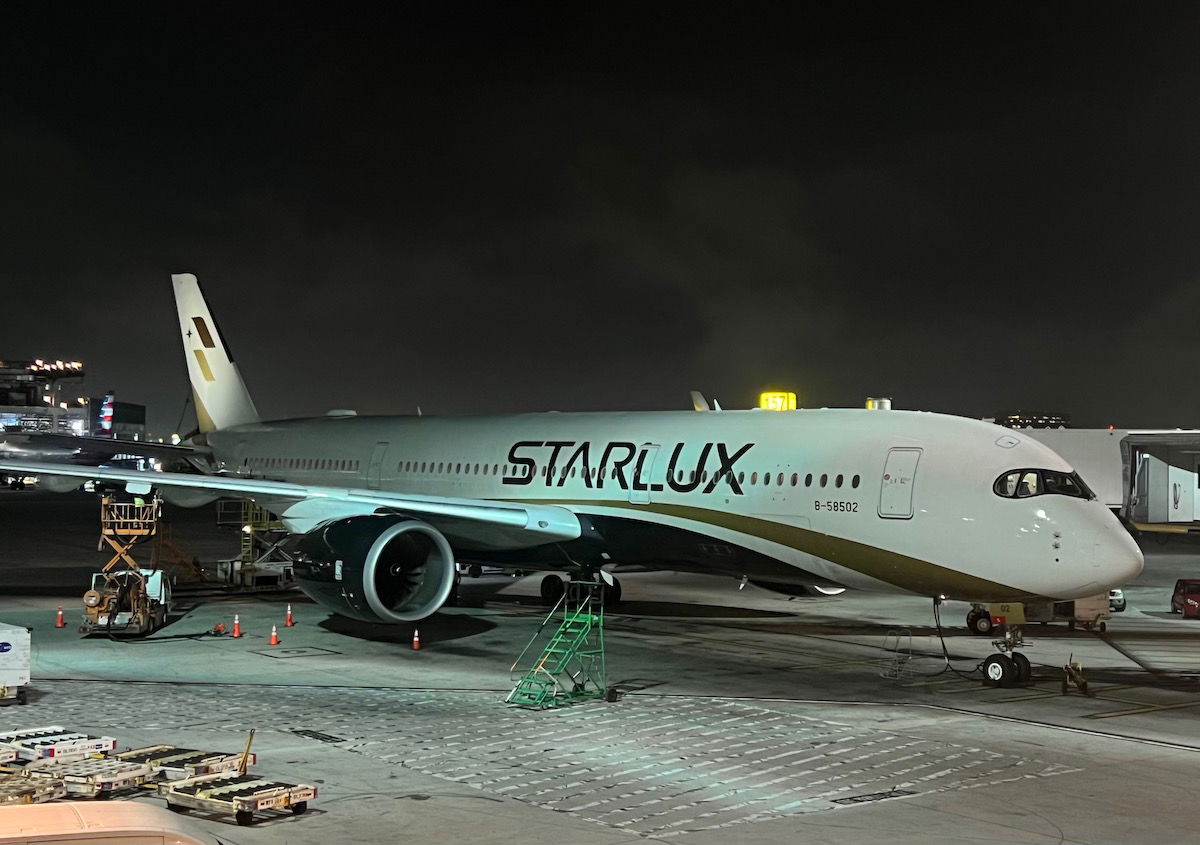 Boarding did indeed start at exactly 12:10AM, with business class passengers being invited to board first. Funny enough, at the gate immediately across from us, an EVA Air flight to Taipei was boarding at exactly the same time. There sure is a lot of capacity between Los Angeles and Taipei!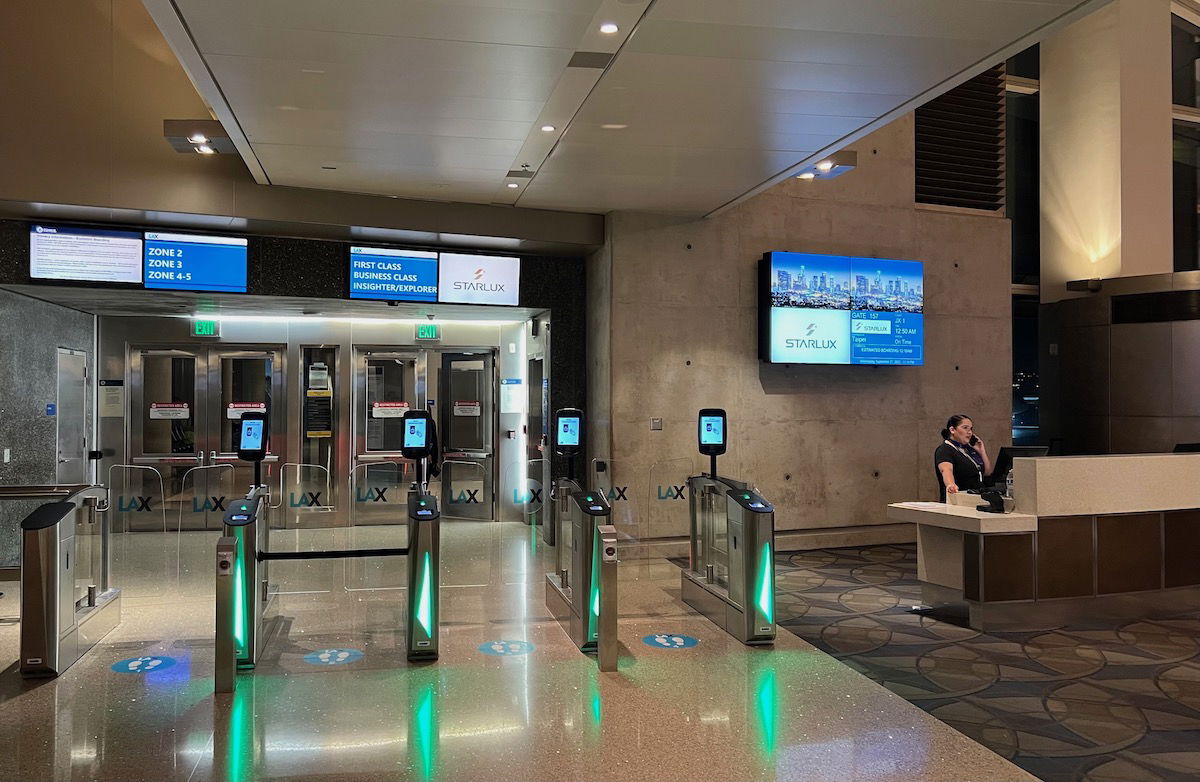 Starlux Airlines A350 business class cabin & seats
We boarded through the second set of doors, where we were greeted by the friendly crew, and pointed left into business class. Between doors one and two, Starlux has a total of 30 seats, comprised of four first class seats (which I'll talk more about in a bit) and 26 business class seats.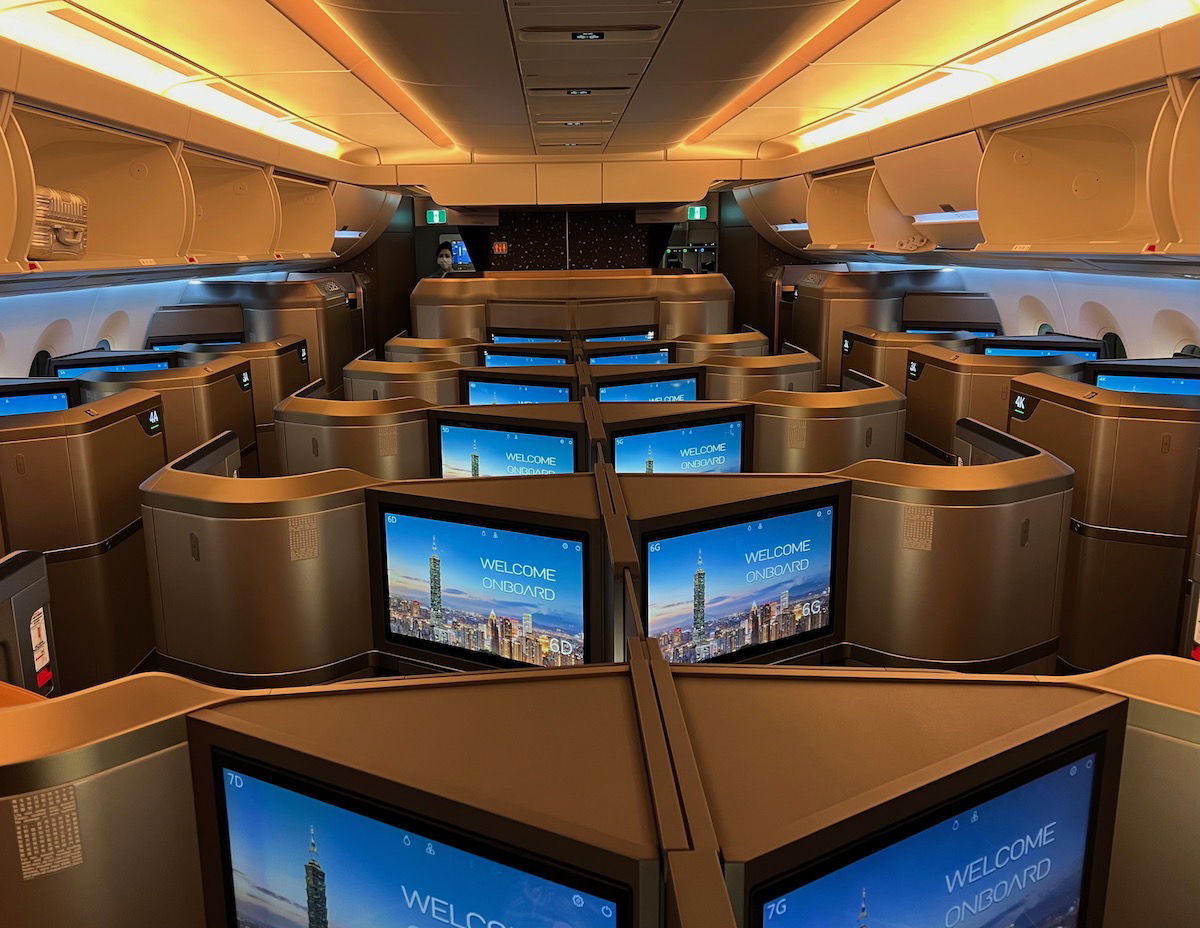 Business class seats are in a 1-2-1 configuration, and Starlux is the launch customer for the new Collins Aerospace Elements product. This is the newest reverse herringbone seat out there, and it's honestly exceptional, better than previous generation products.
I love Starlux's cabin finishes, from the seat trim, to the bulkhead design. It's definitely a more interesting cabin than you'll find on most other airlines.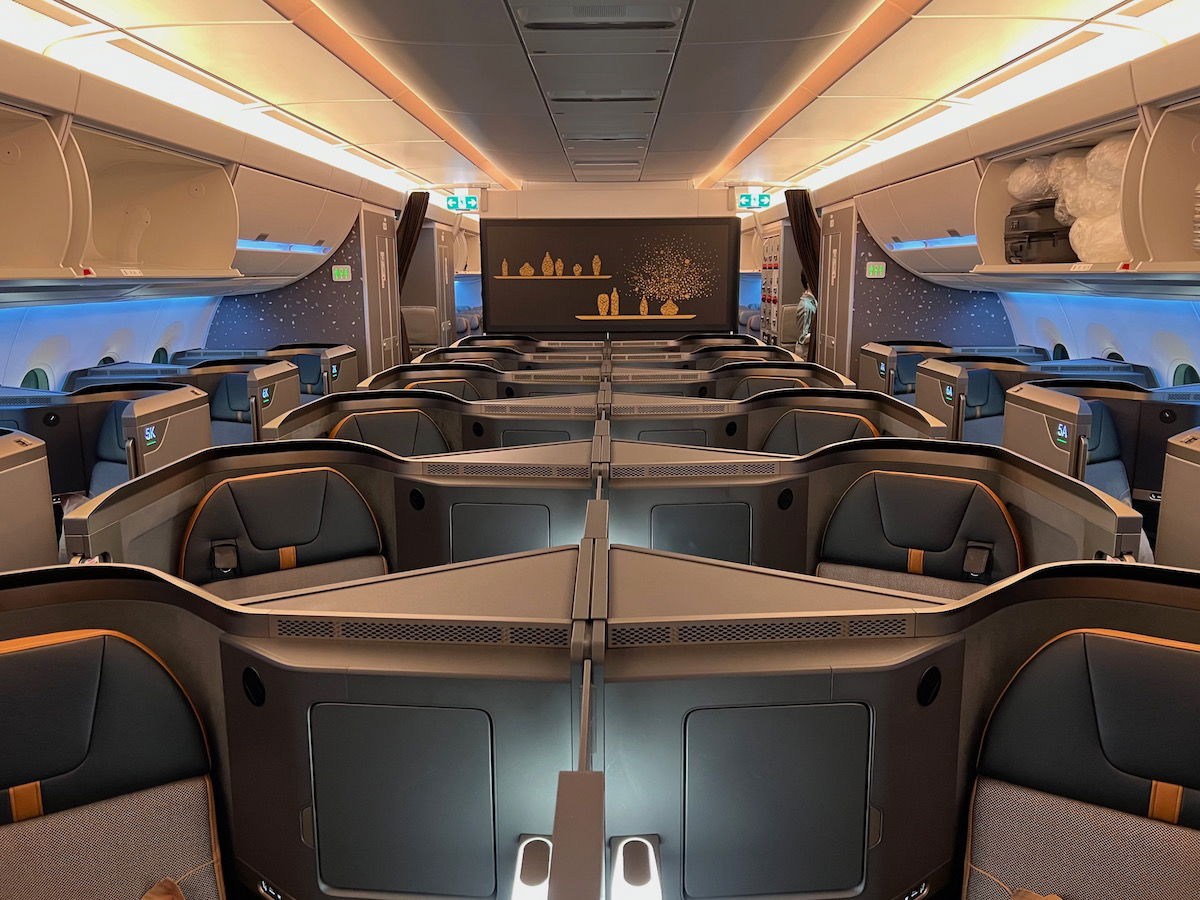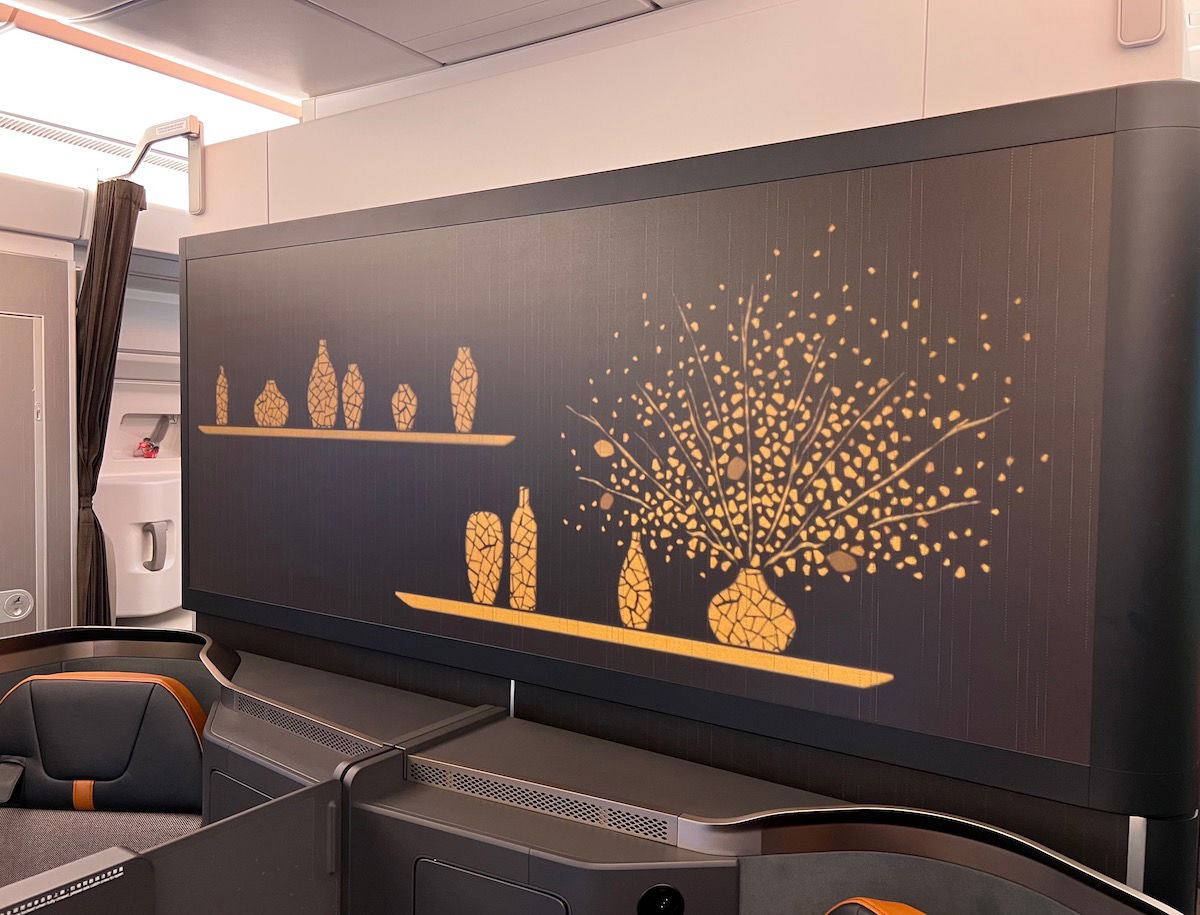 In the center section of the aircraft, there are seven pairs of business class seats, for a total of 14 seats. If you're traveling with someone, you may prefer these seats, so that you can more easily enjoy the flight with your companion. Note that if you're traveling alone, there's a privacy partition that can be extended between seats, so that you still have full privacy.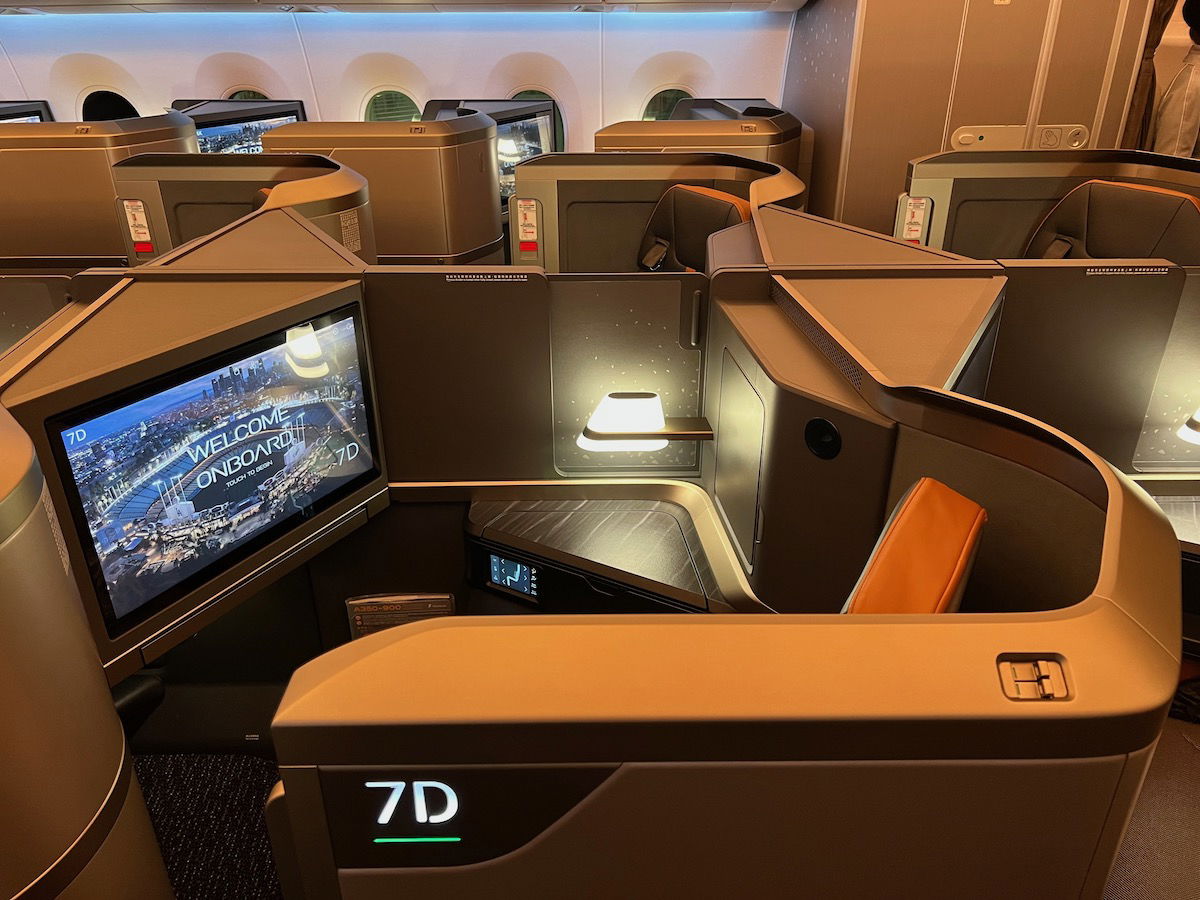 Along the windows, there are six rows of seats on each side, for a total of 12 seats.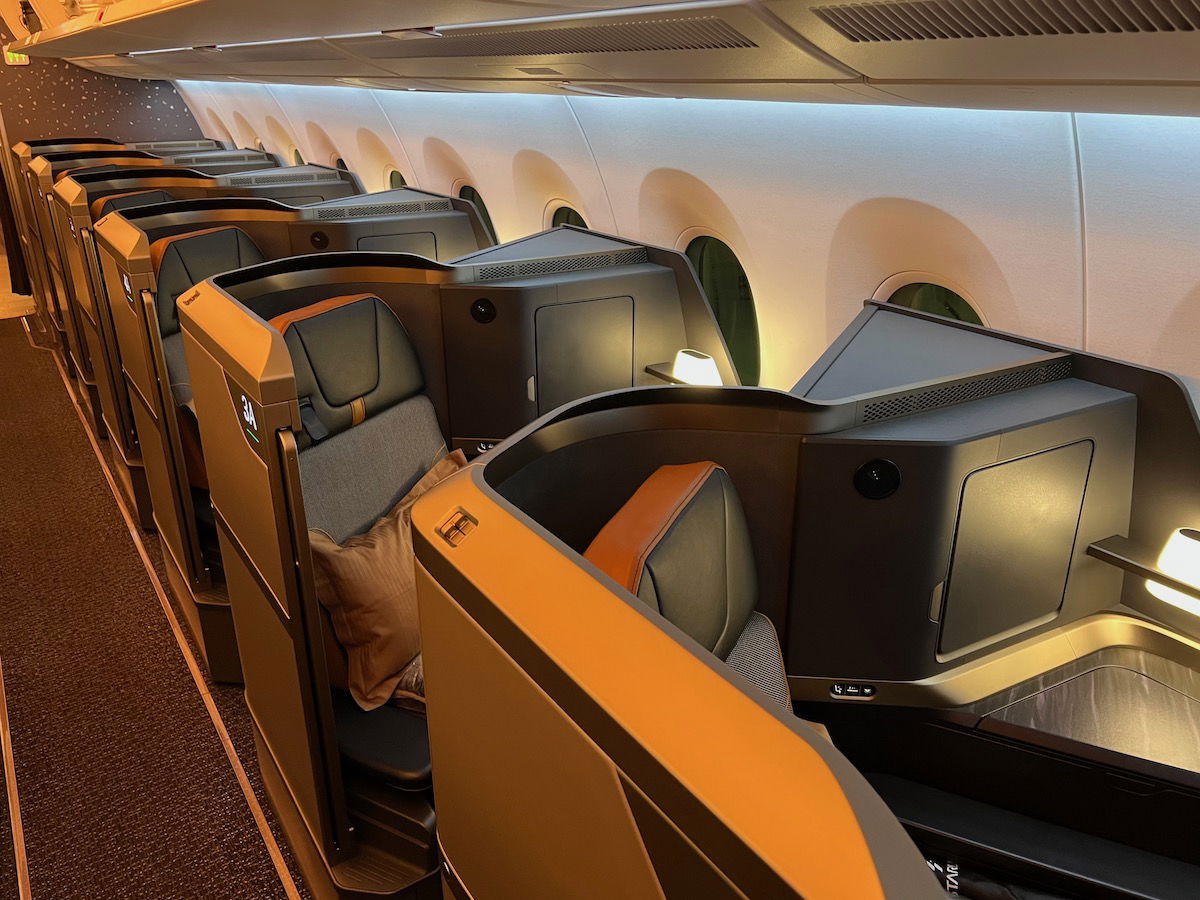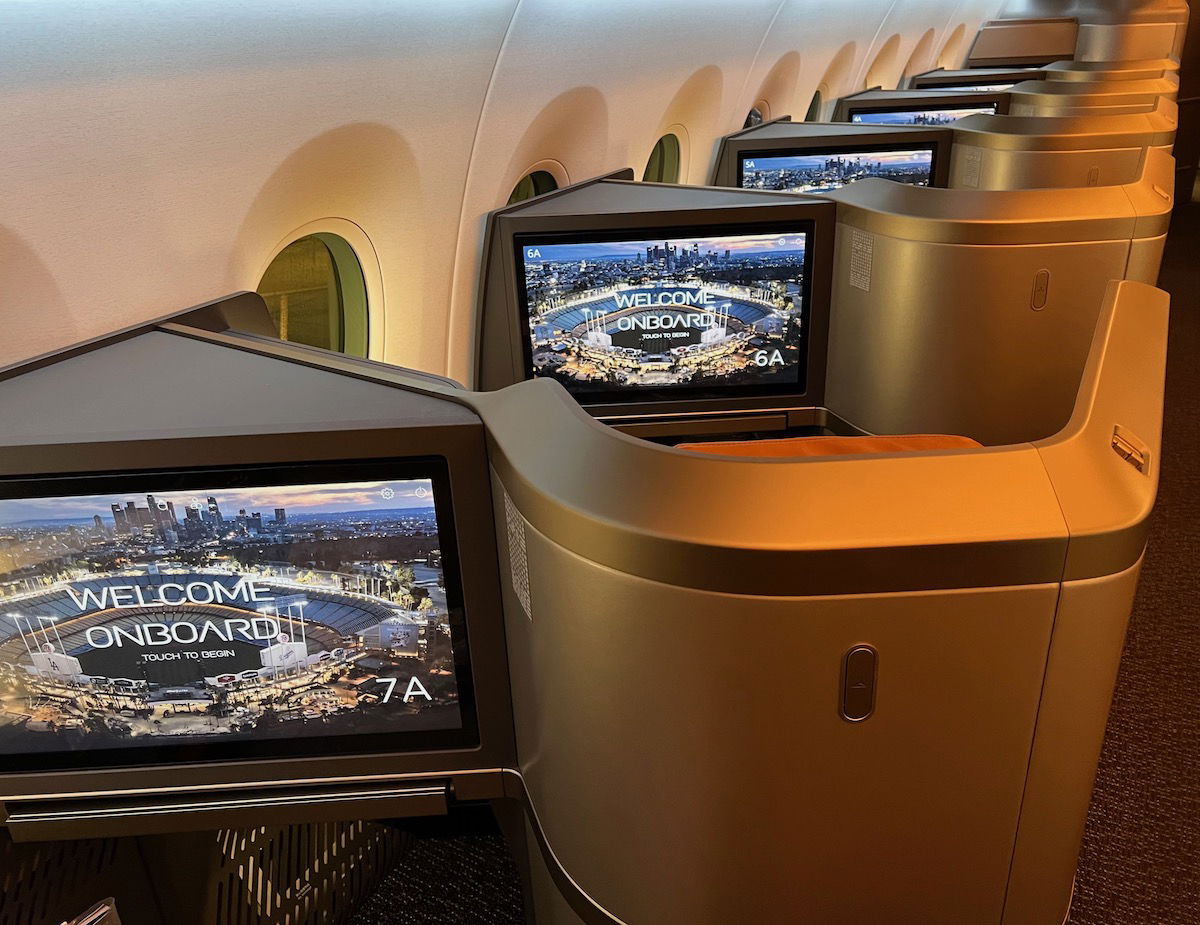 On this flight, I assigned myself seat 7A (the seat in the last row on the left side), while I assigned Ford seat 6A, right in front of me. If you want to look out the window, I wouldn't recommend sitting in row seven (though it was a moot point on this overnight flight).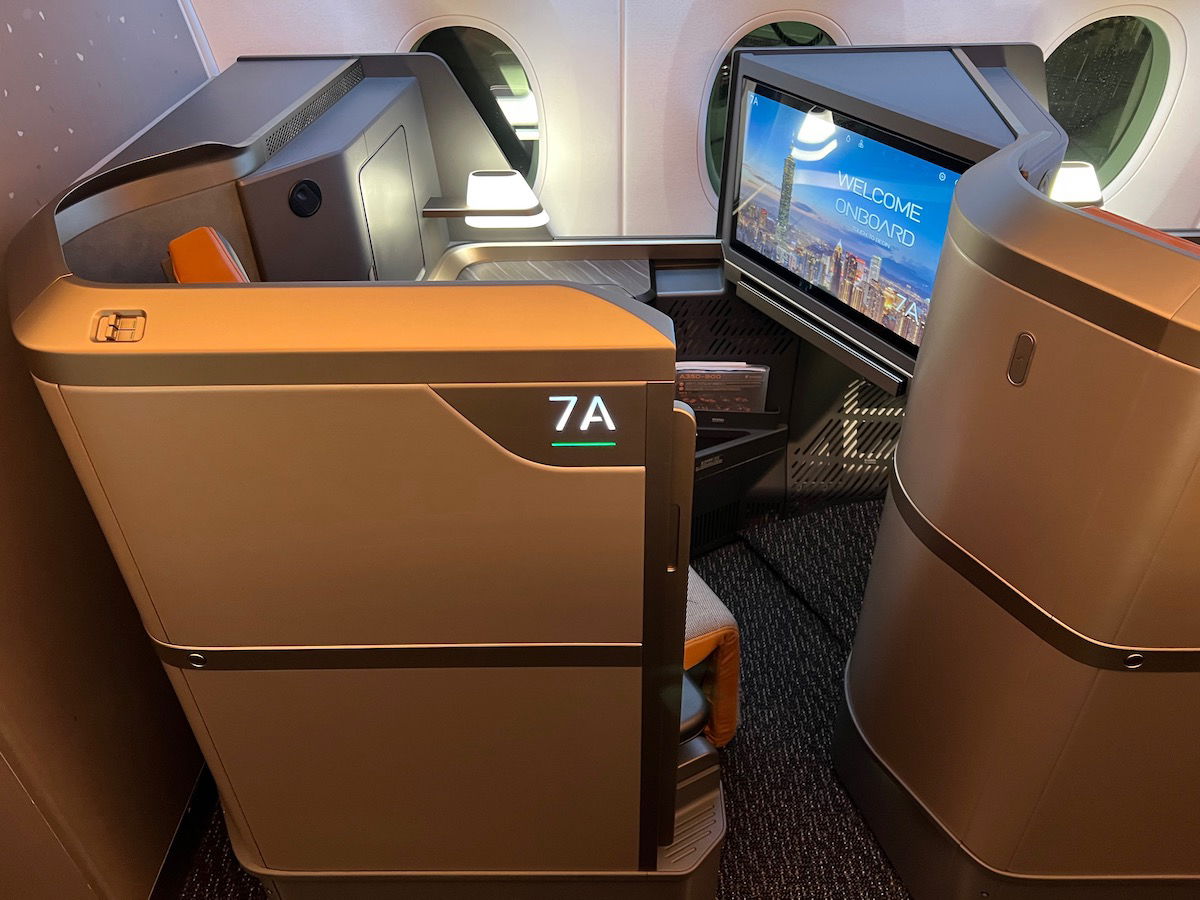 This is the best reverse herringbone seat out there, plain and simple. That's true in terms of the finishes, the amount of space offered, and the technology.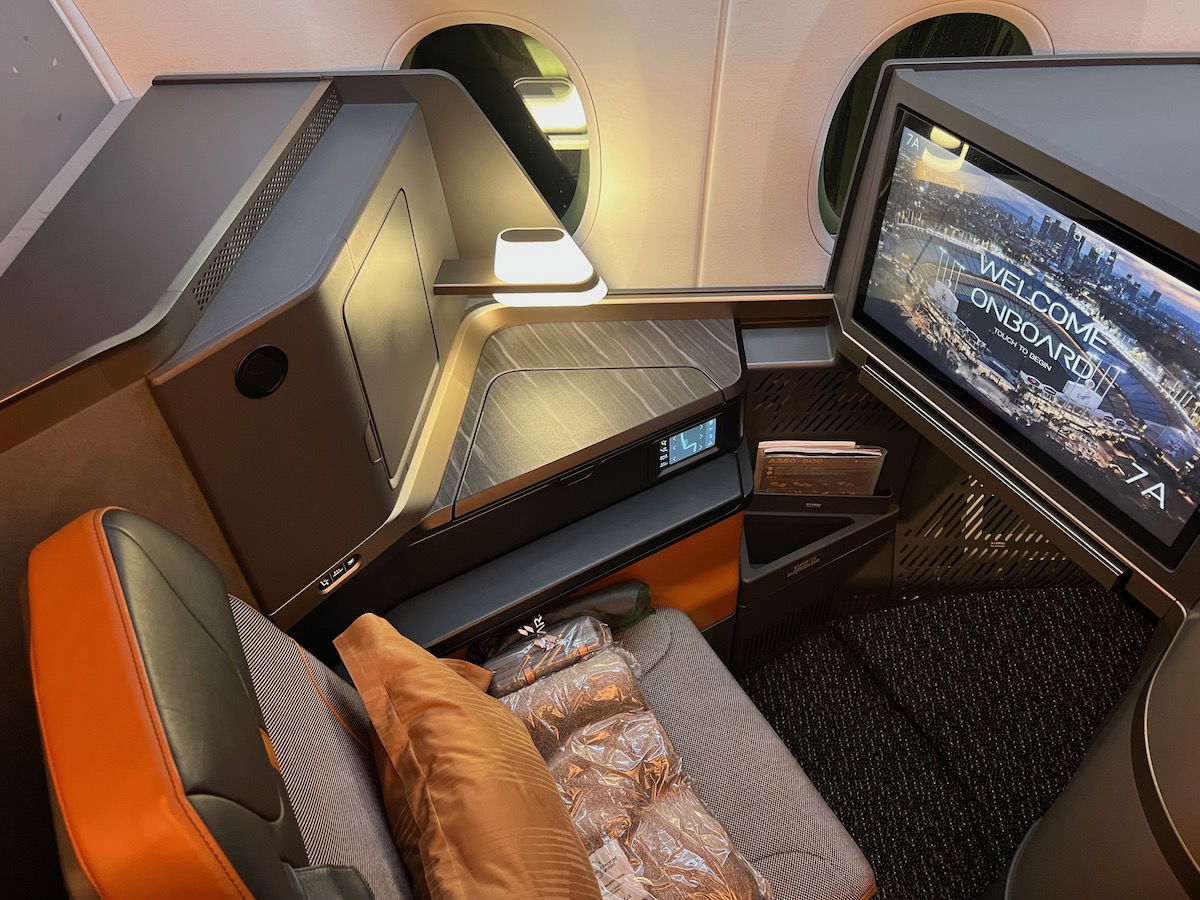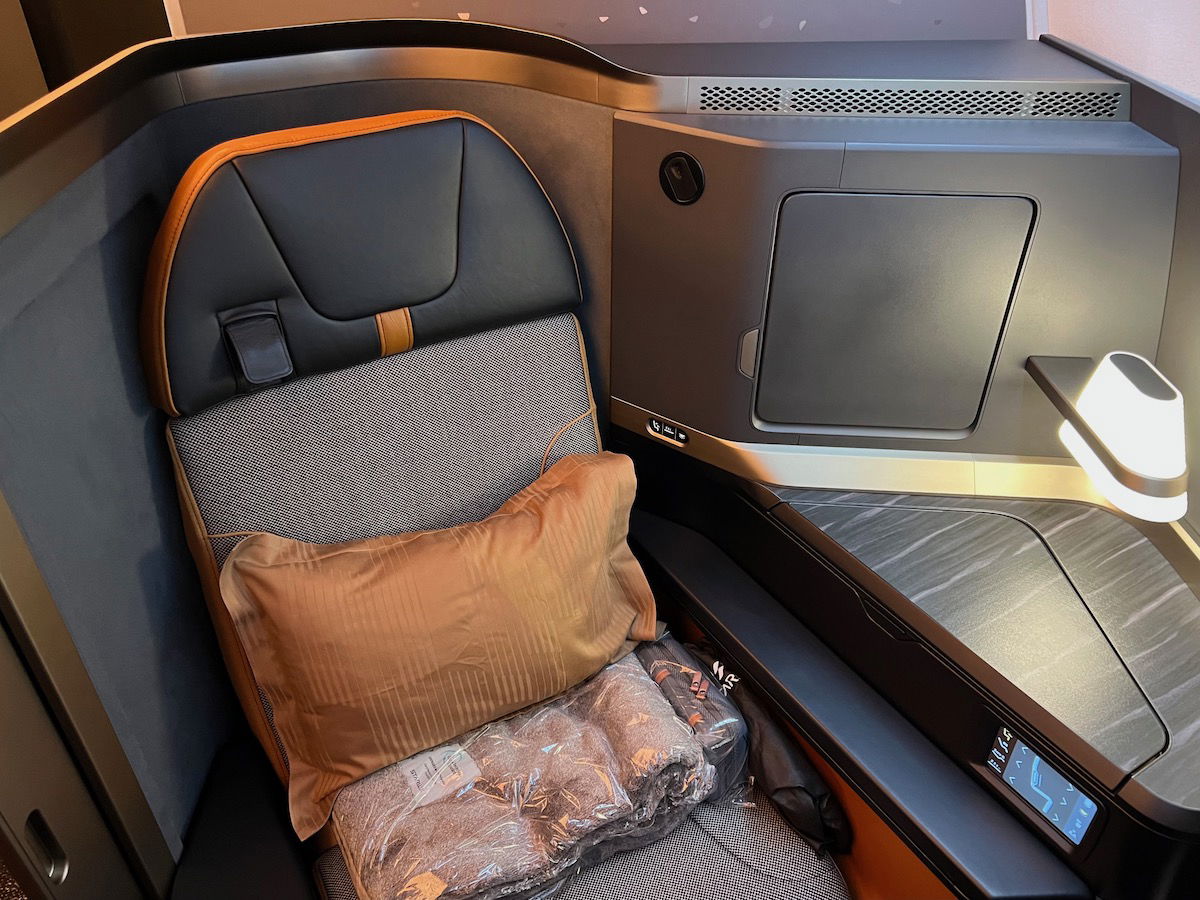 Each seat has quite a large counter to the side of it, with an elegant lamp that has multiple dimming functions. There's a button on the counter that you can push to expose a fairly shallow storage compartment, where you could place items like your passport and phone.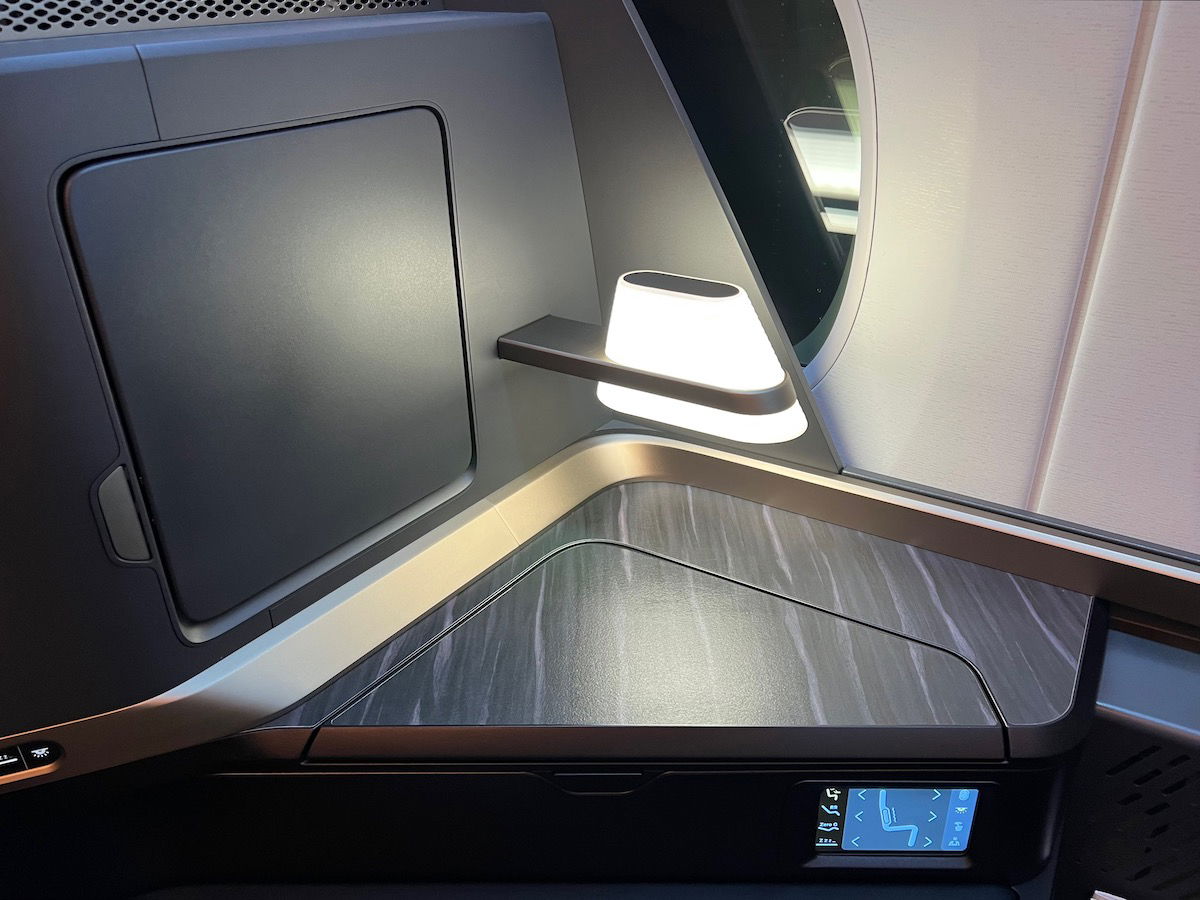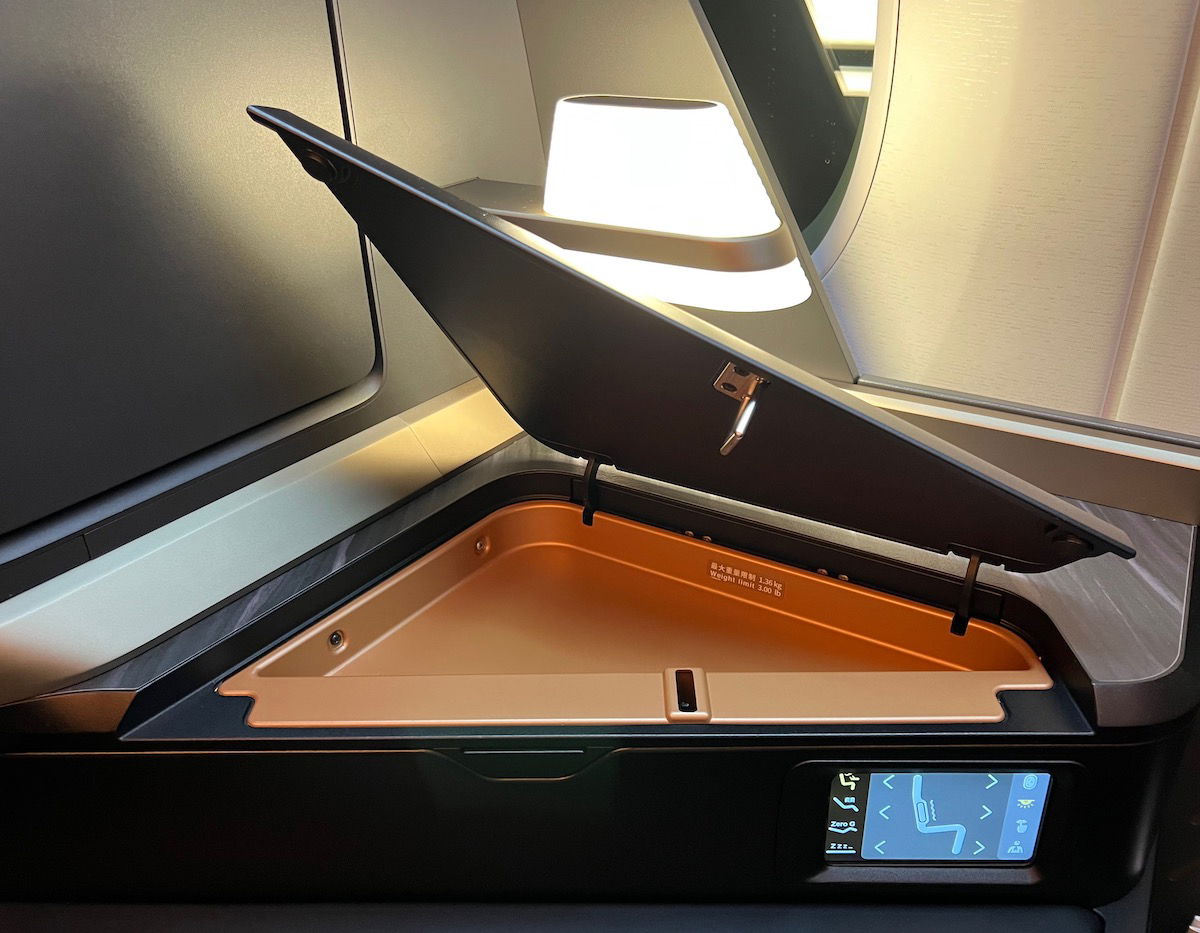 There's a monitor immediately underneath that counter where you can control all of the seat functions, including selecting the unique "Zero G" option.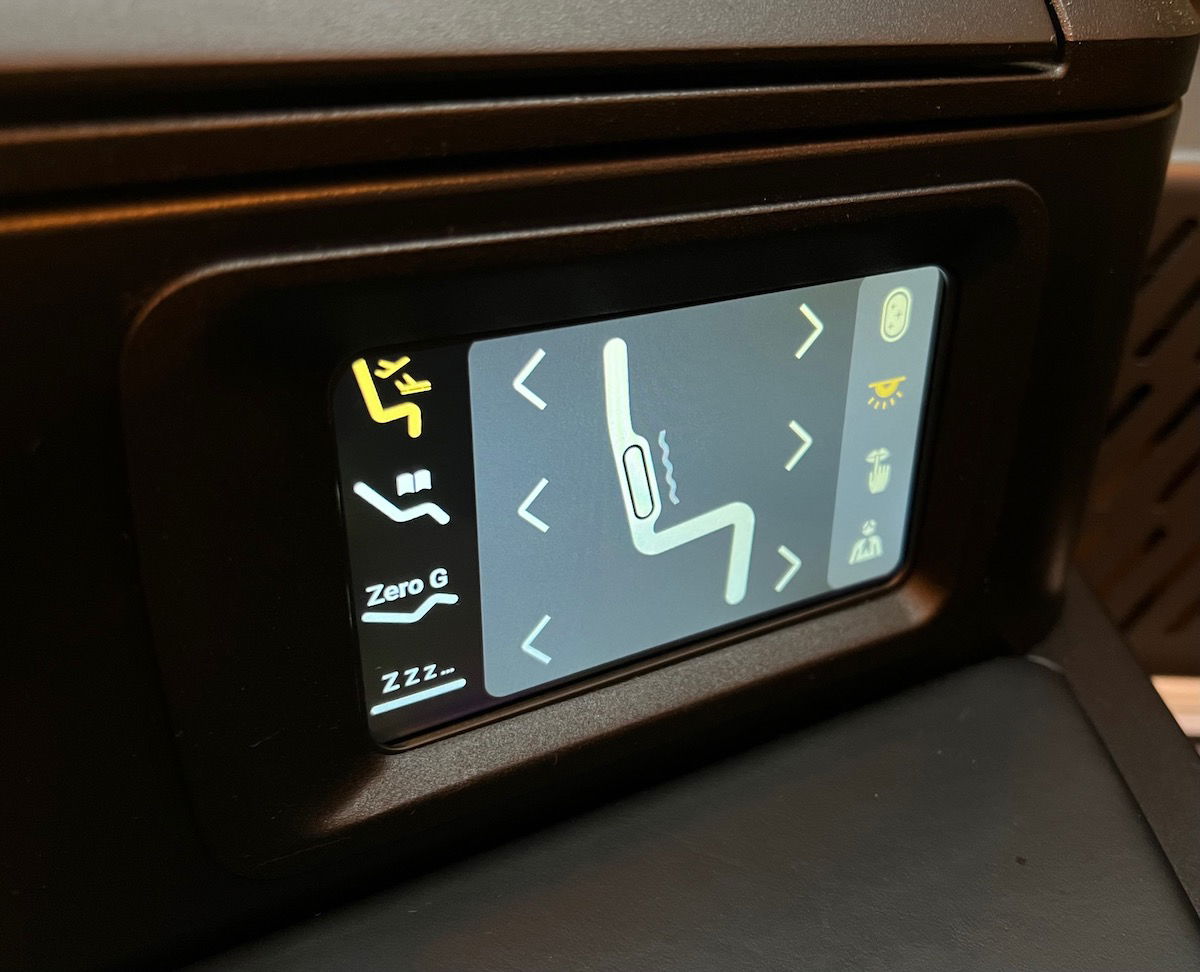 There's a large enclosed storage compartment to the side of the seat, which contains a mirror, a hook for headphones, the entertainment controller, and the headphone jack. On top of that, this compartment has four charging options, including an AC power outlet, a USB-A outlet, a USB-C outlet, and wireless charging.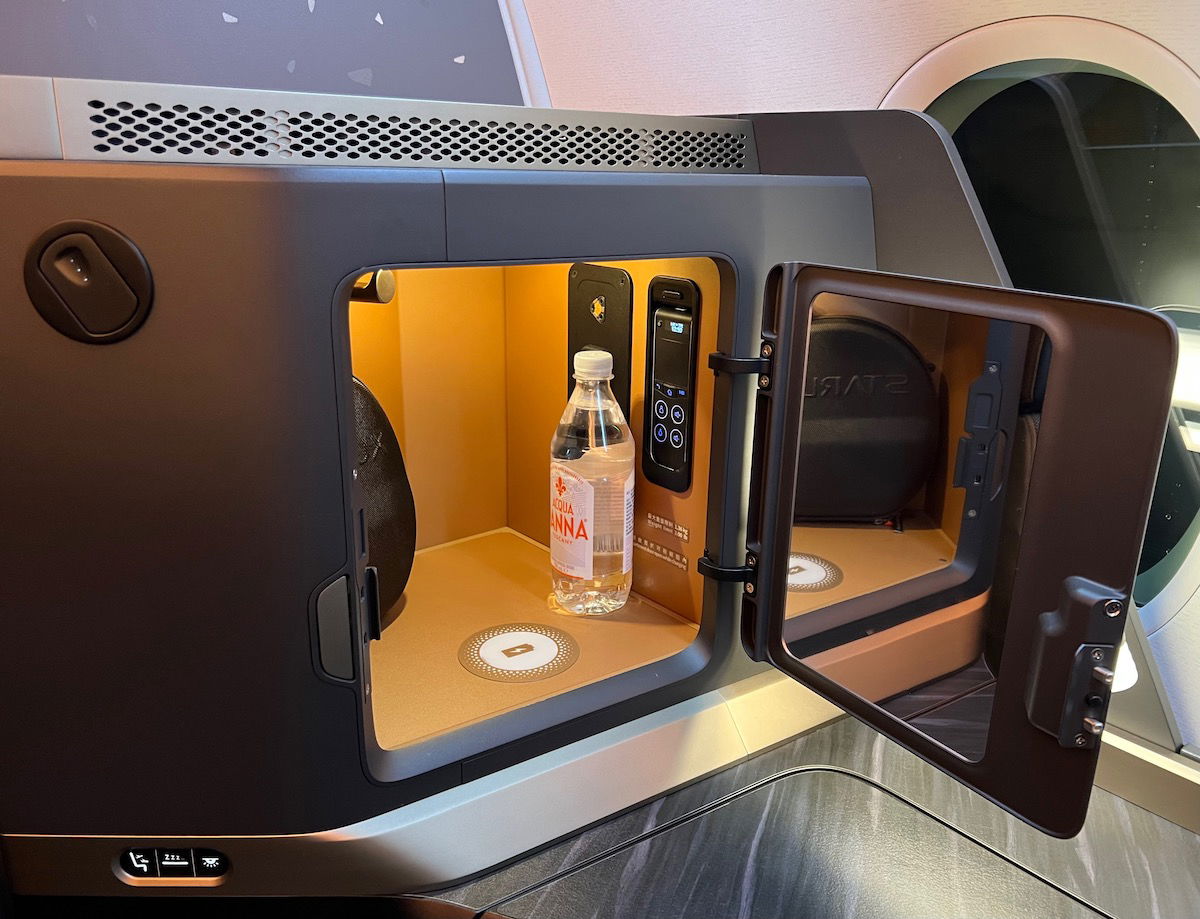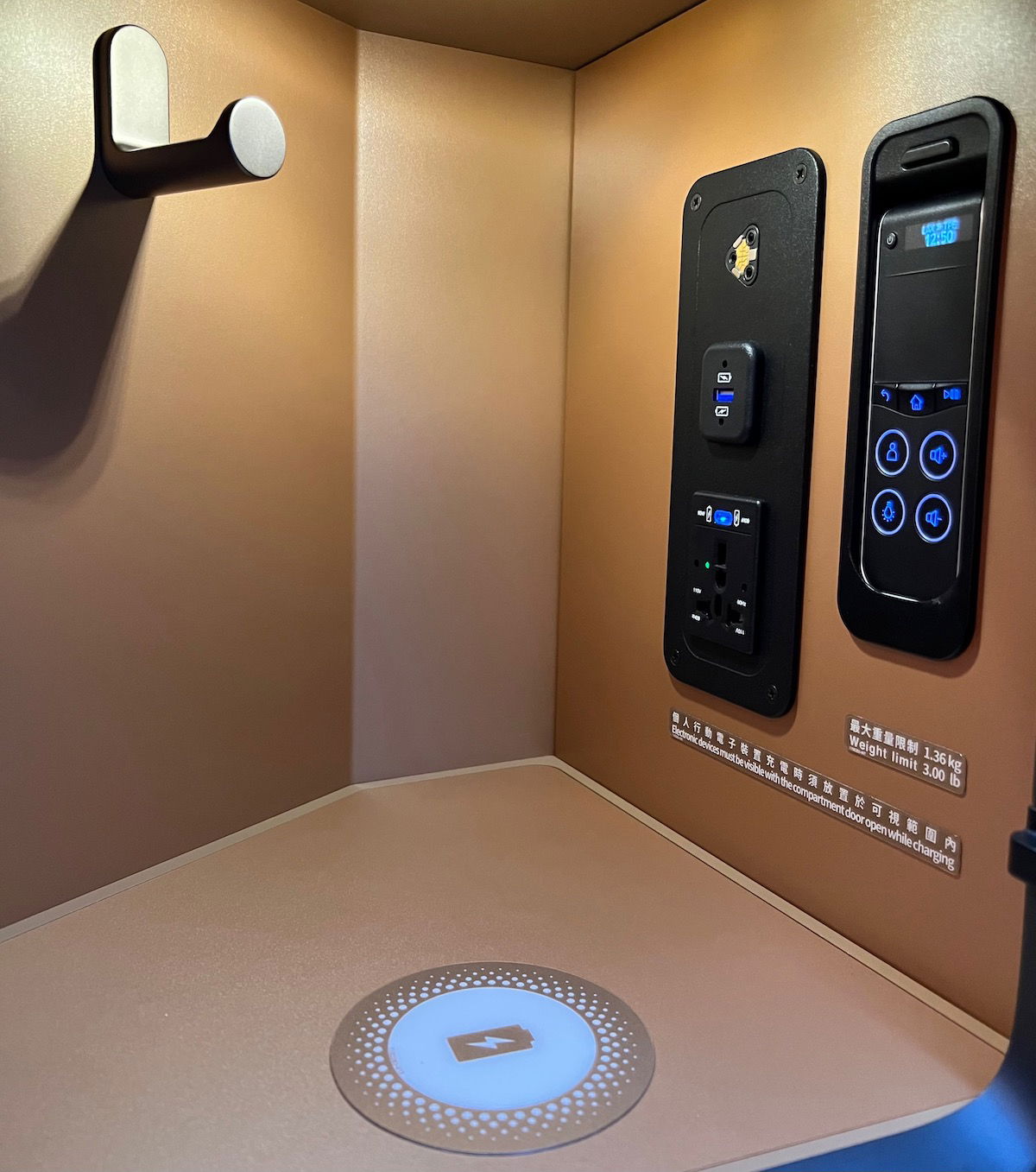 On the other side of the seat is the absolutely massive 24″ 4K screen. This has to be one of the best entertainment screens you'll find on any airline in business class.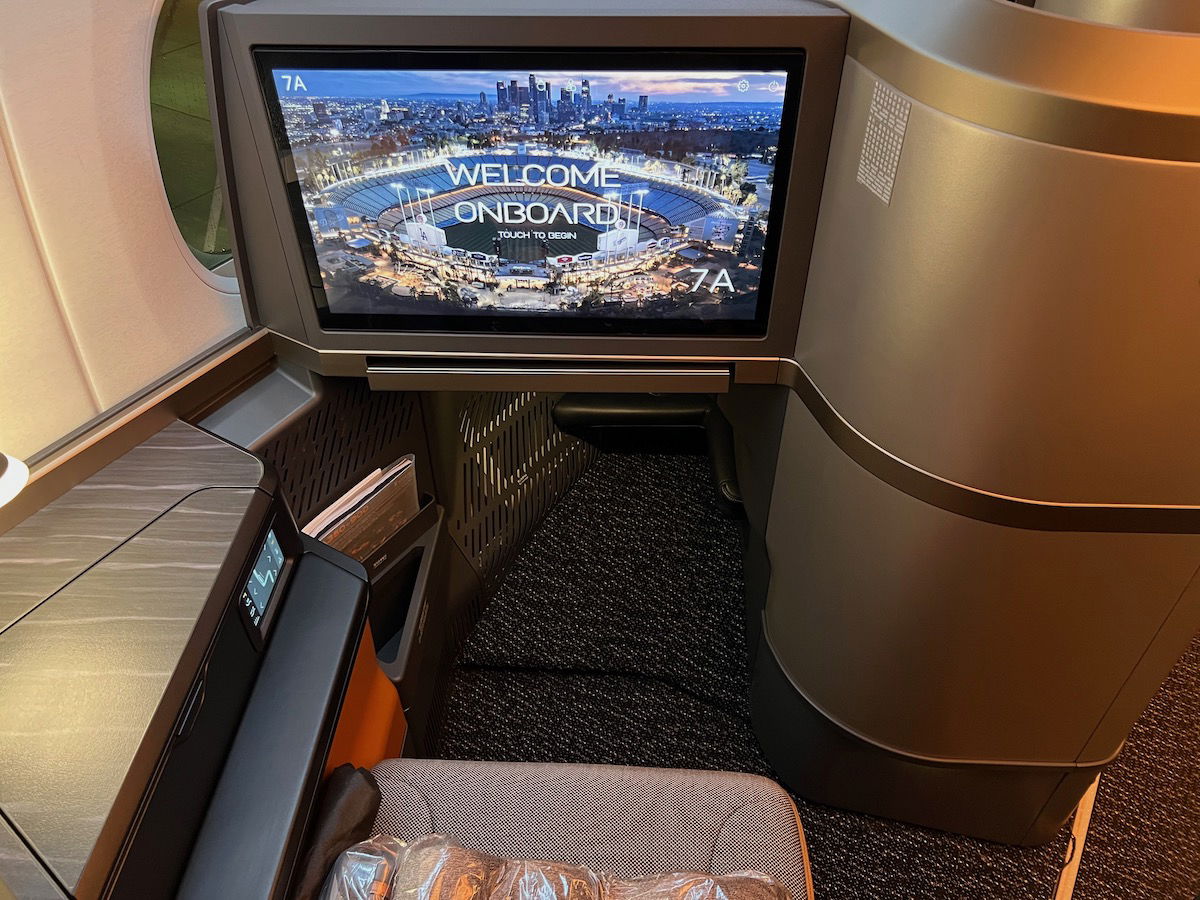 The tray table extends from underneath the entertainment screen, and can be folded over in half. I appreciate that aspect of the design, since it's possible to get up from your seat while the tray table is extended. The catch is that this tray table has some serious wobbling issues — at cruise altitude it vibrates up and down, even when there's not turbulence, so hopefully that's something that can be figured out.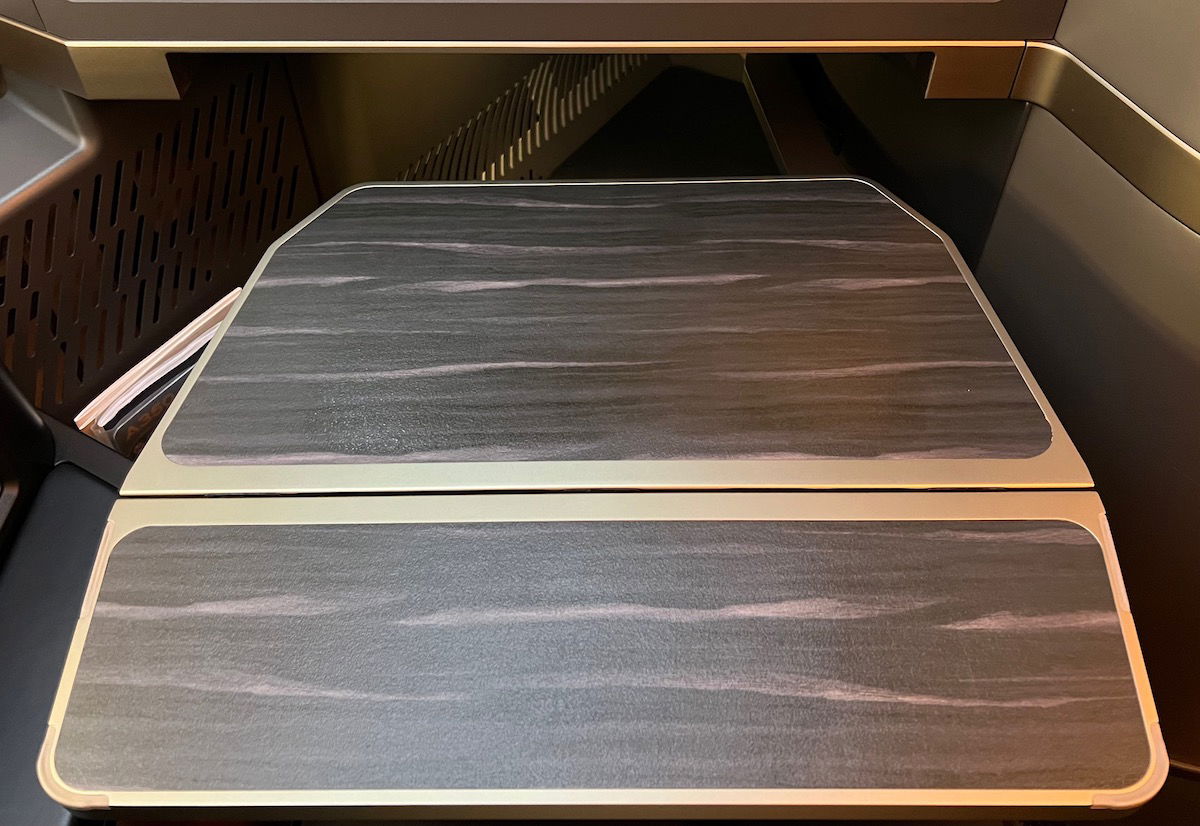 One of the greatest advancements with this reverse herringbone seat is that the footwell is significantly larger than in previous generation reverse herringbone seats. This makes a world of difference when trying to get comfortable to sleep.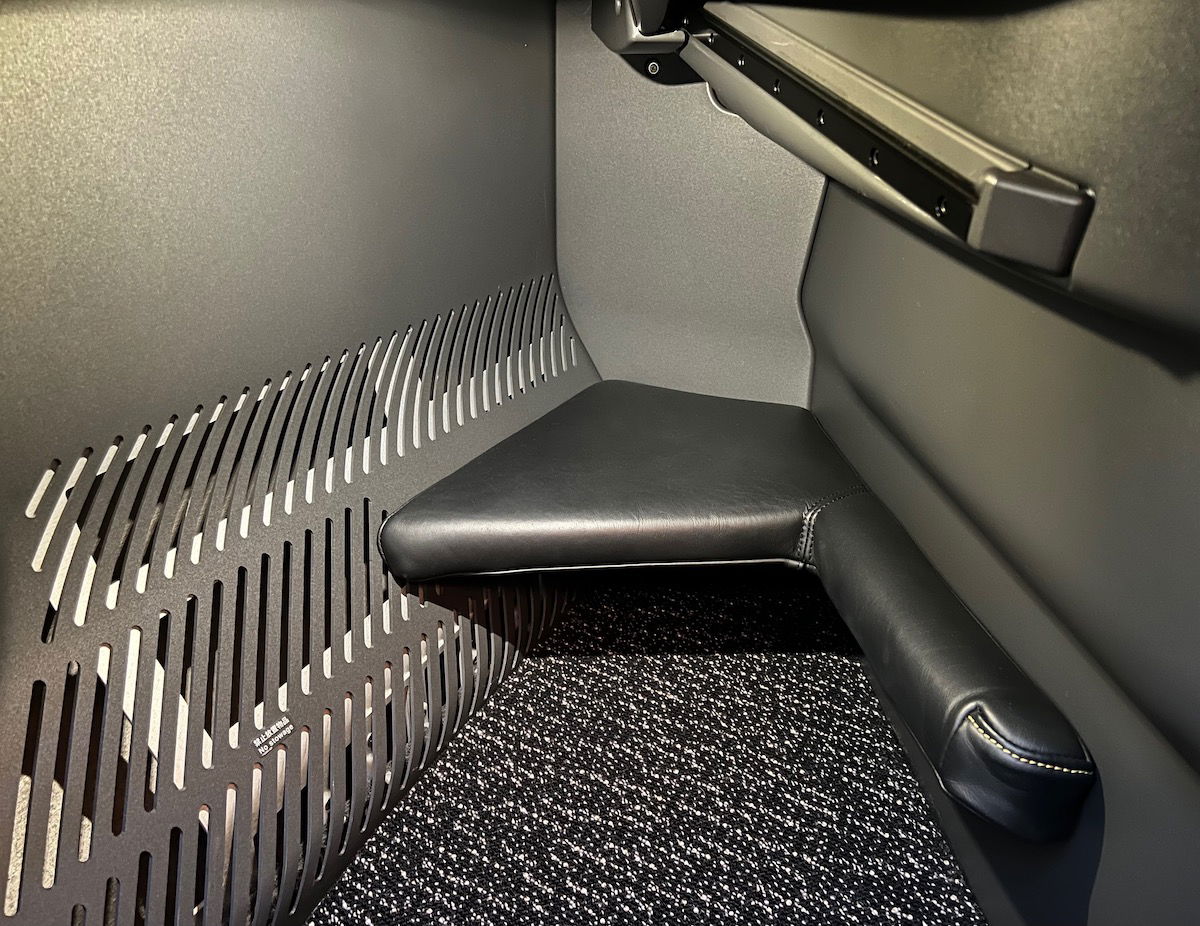 To the side of the footwell and to the left is the literature pocket, as well as a small, exposed storage compartment.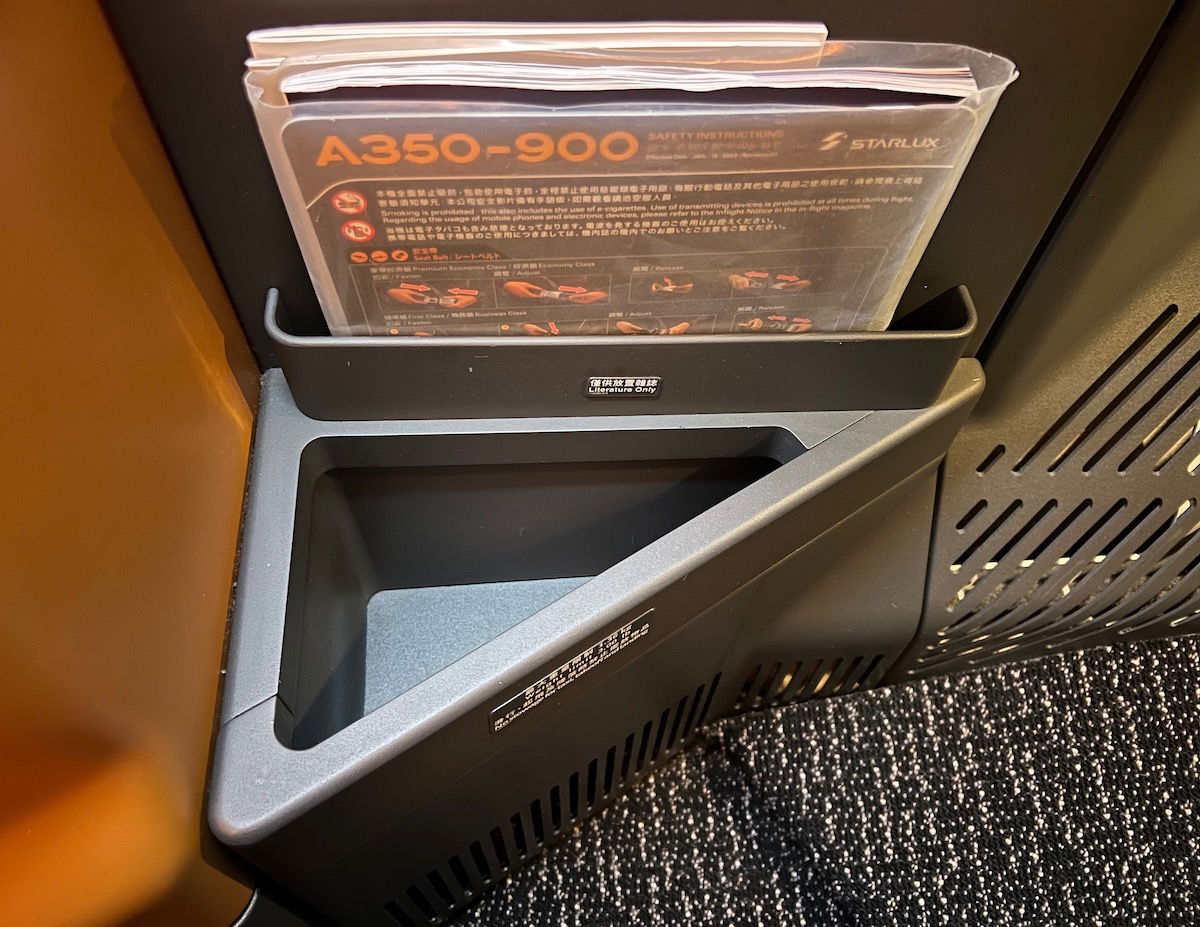 As is increasingly becoming the norm nowadays, each seat has a 48″ door, for added privacy. I found this to be easy to use.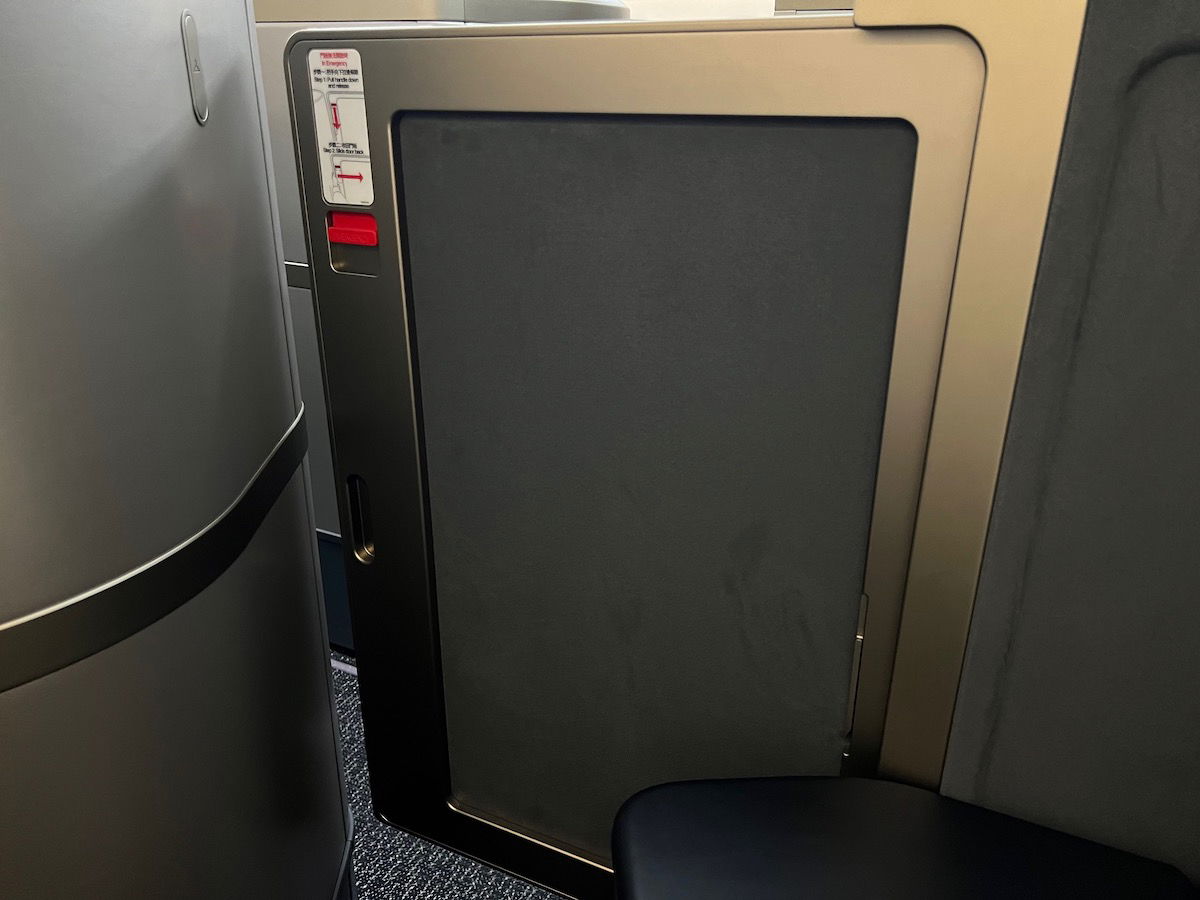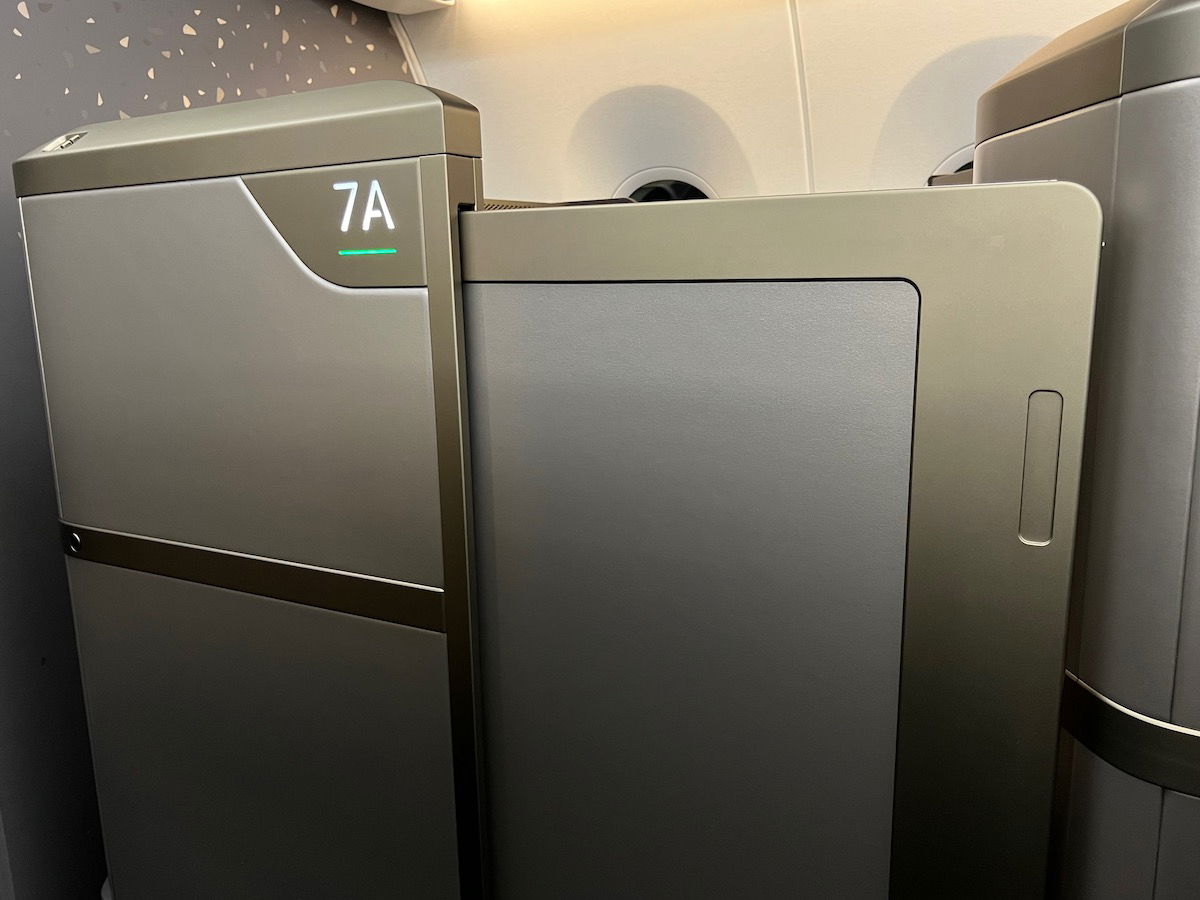 Another interesting aspect of this plane is that Starlux is one of the first airlines to get the A350 with the slightly wider interior cabin. This also includes the introduction of dimmable windows, which is a feature that was previously common on the 787. So rather than using a shade you have to pull up and down, you instead just push a button. Unfortunately I couldn't really properly test this, since it was dark for the entire flight.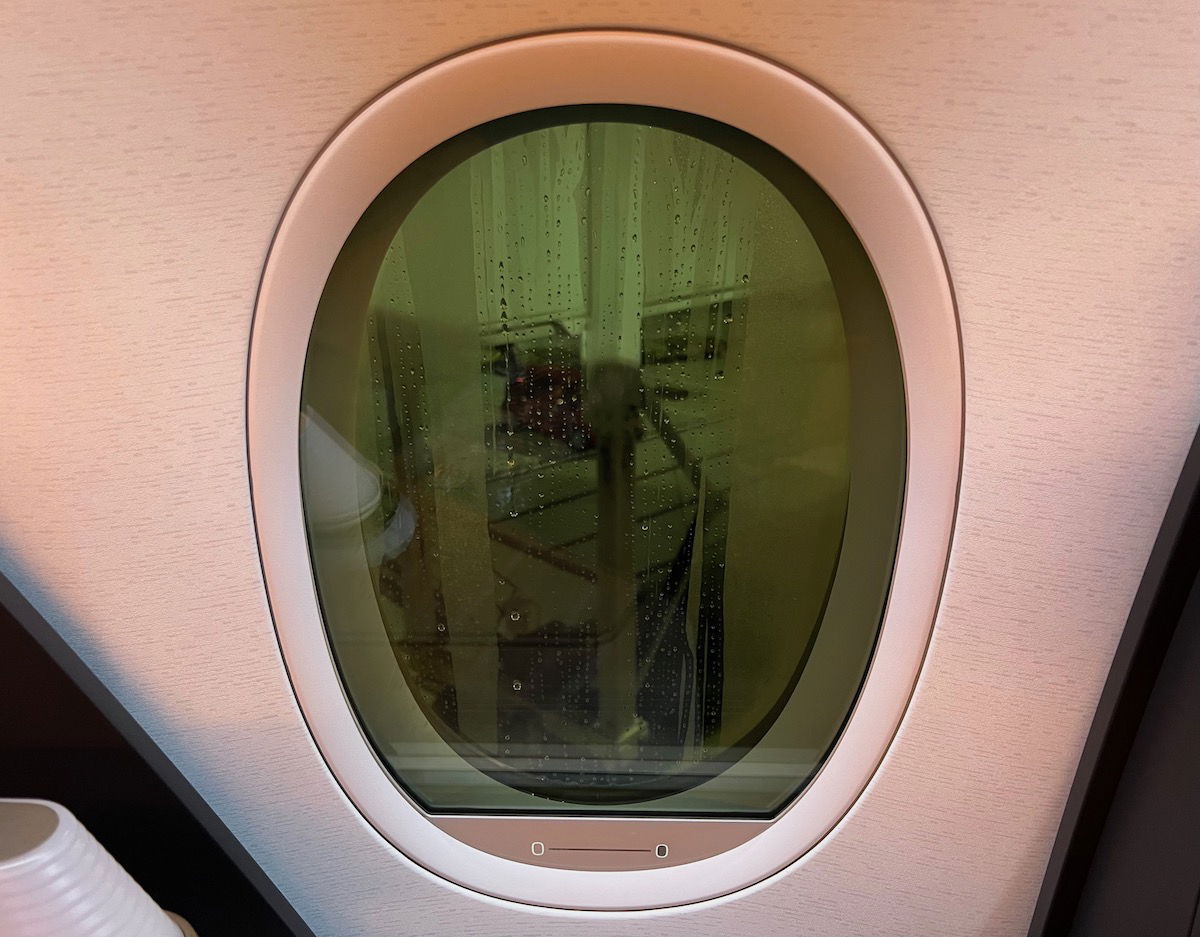 One downside to this product is that there were no individual air nozzles, but rather the overhead console just had reading lights. At least the cabin wasn't kept too warm.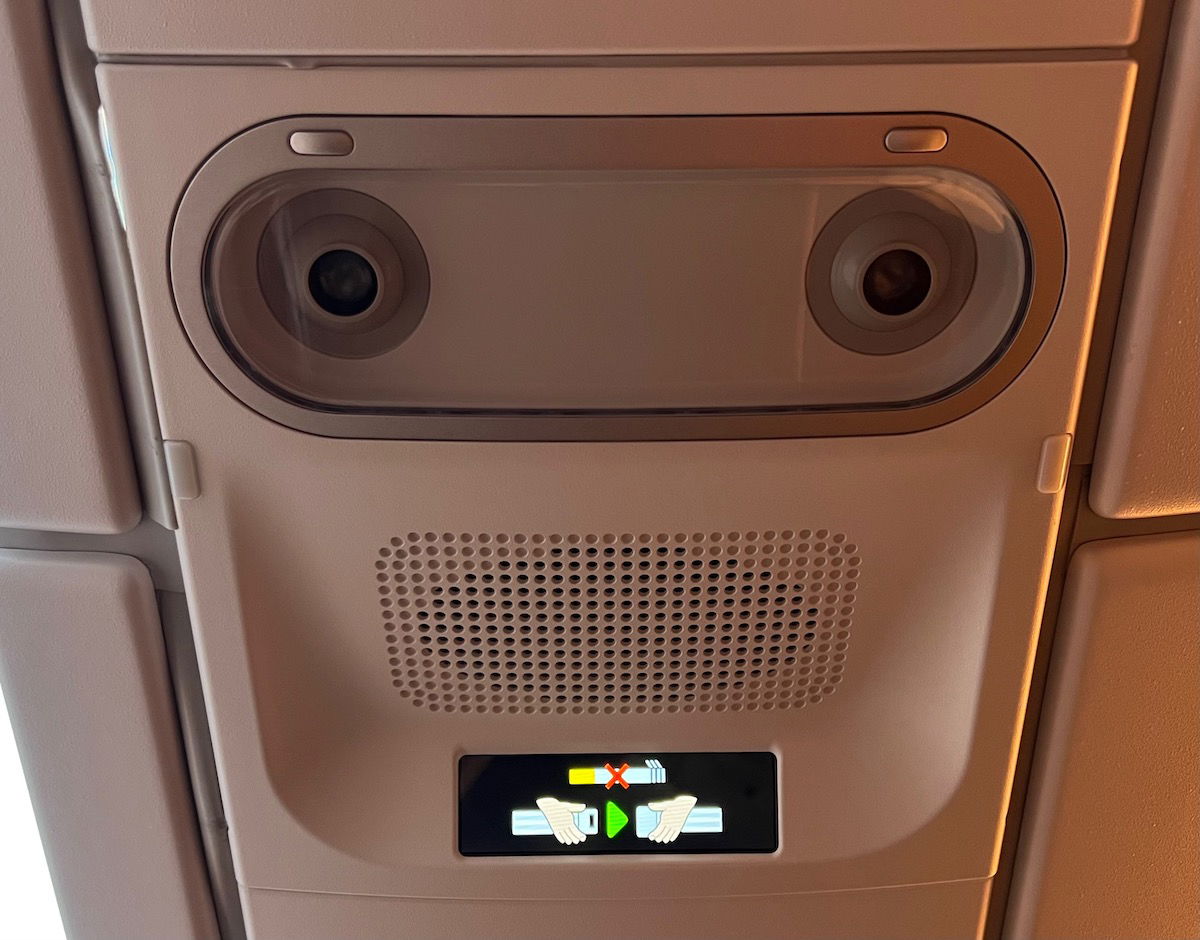 Starlux Airlines A350 first class cabin & seats
Starlux Airlines has first class on its Airbus A350s, though it's a rather unusual concept. First class is immediately in front of business class, as it's simply the first row of seats in the cabin. There's no separation between the cabins, as there are no curtains or bulkheads.
So there are a total of four first class seats, in a 1-2-1 configuration. First class has 60″ doors and 32″ entertainment screens. It's a perfectly nice hard product, though nothing remarkable. Frankly, the product reminded me a lot of British Airways' 787 first class.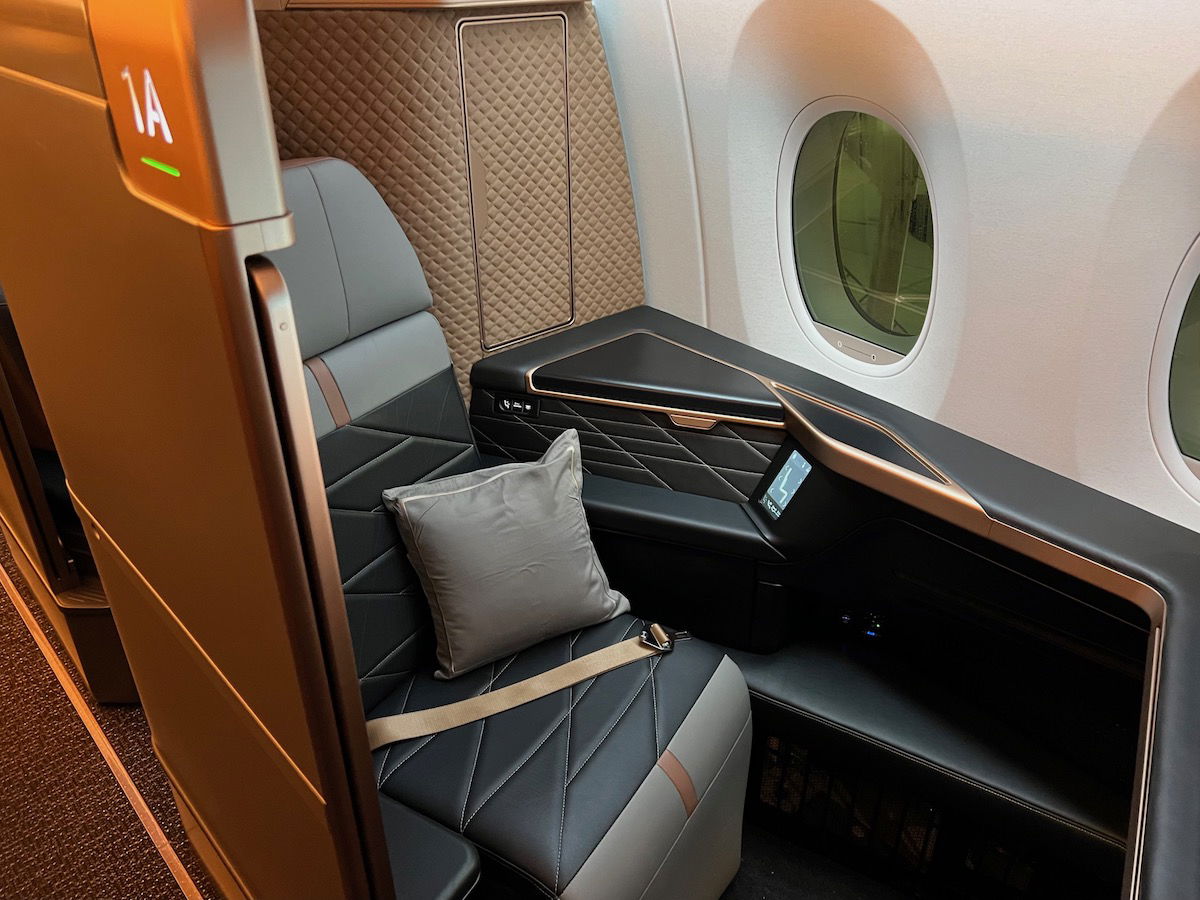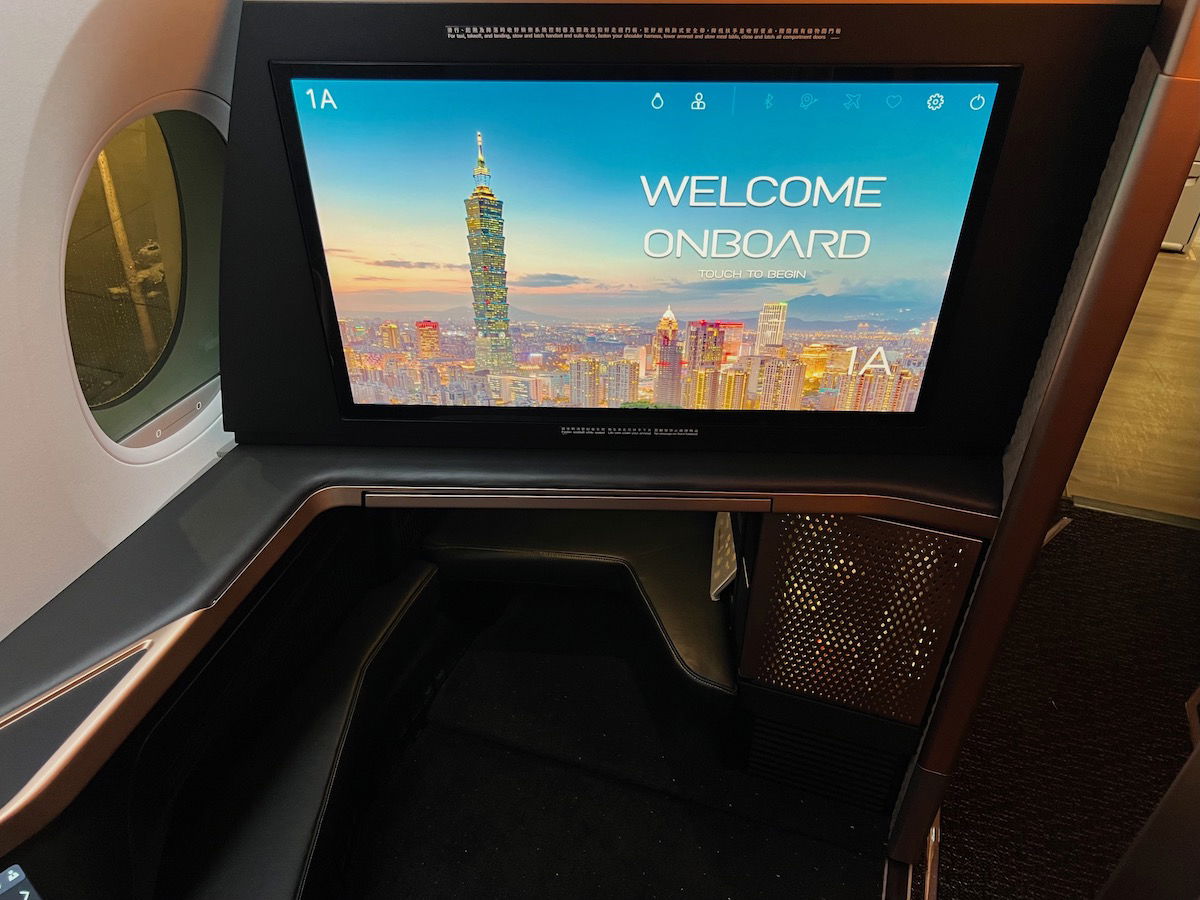 I'm not sure I understand Starlux's strategy here. The carrier's first class pricing is outrageously high, given the lack of differentiation. And on this flight first class was totally empty. It seems to me like Starlux should either turn this into a premium business product, or otherwise offer more reasonable upsell opportunities. Simply flying this cabin around empty on a vast majority of flights doesn't seem like it's good for business.
Starlux Airlines business class amenities
Starlux Airlines offers its business class passengers a ton of amenities. Waiting at each seat upon boarding was a pillow and blanket, both of which were great. They were plush and substantial, without being overly warm. When it was time for bed, there was also a mattress pad, which I'll talk more about later.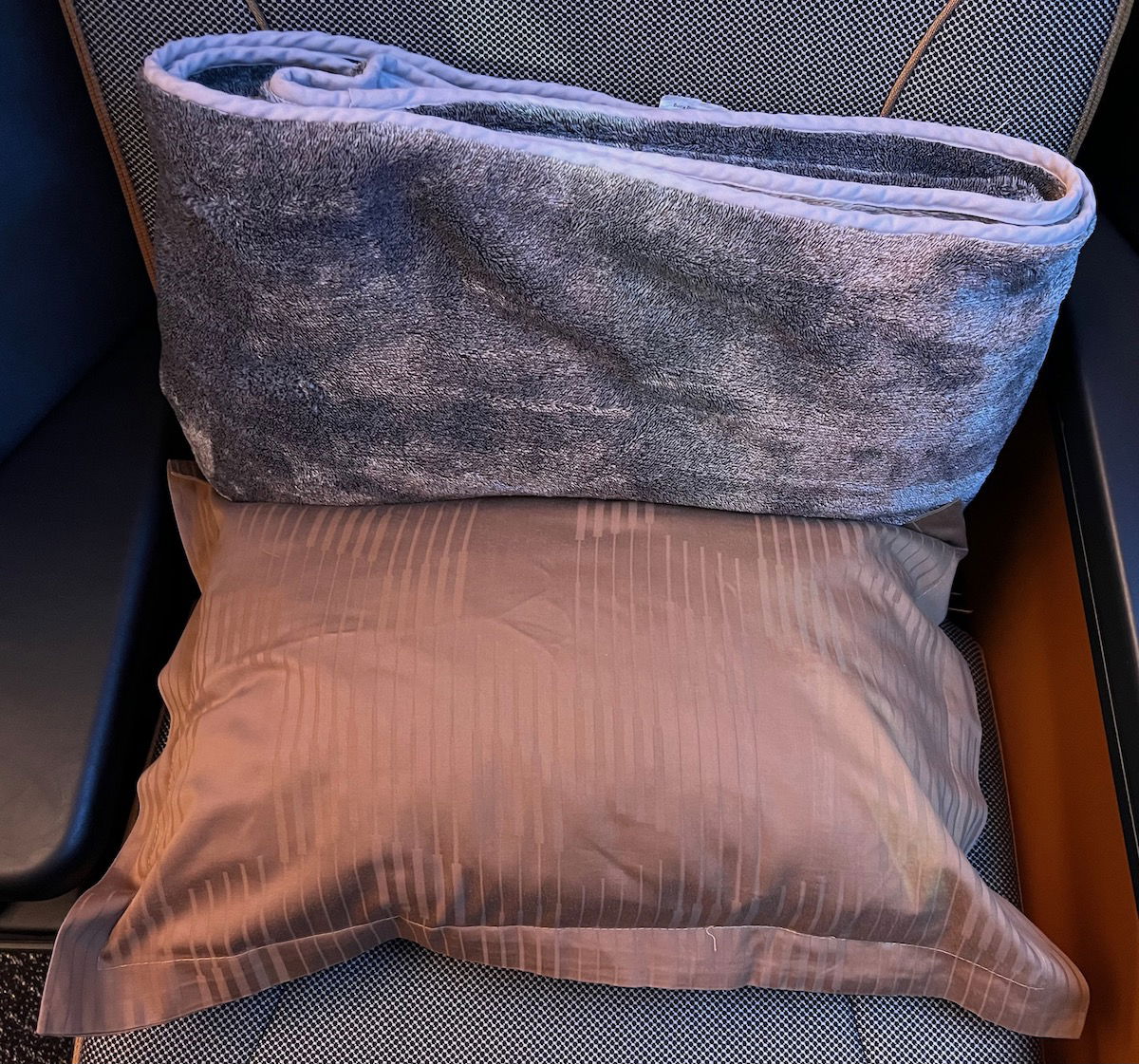 Also waiting at each seat were a pair of Starlux branded noise canceling headphones, which I found to be high quality. Then again, there's not as much of a need for that as in the past, thanks to the bluetooth audio offered with the entertainment system.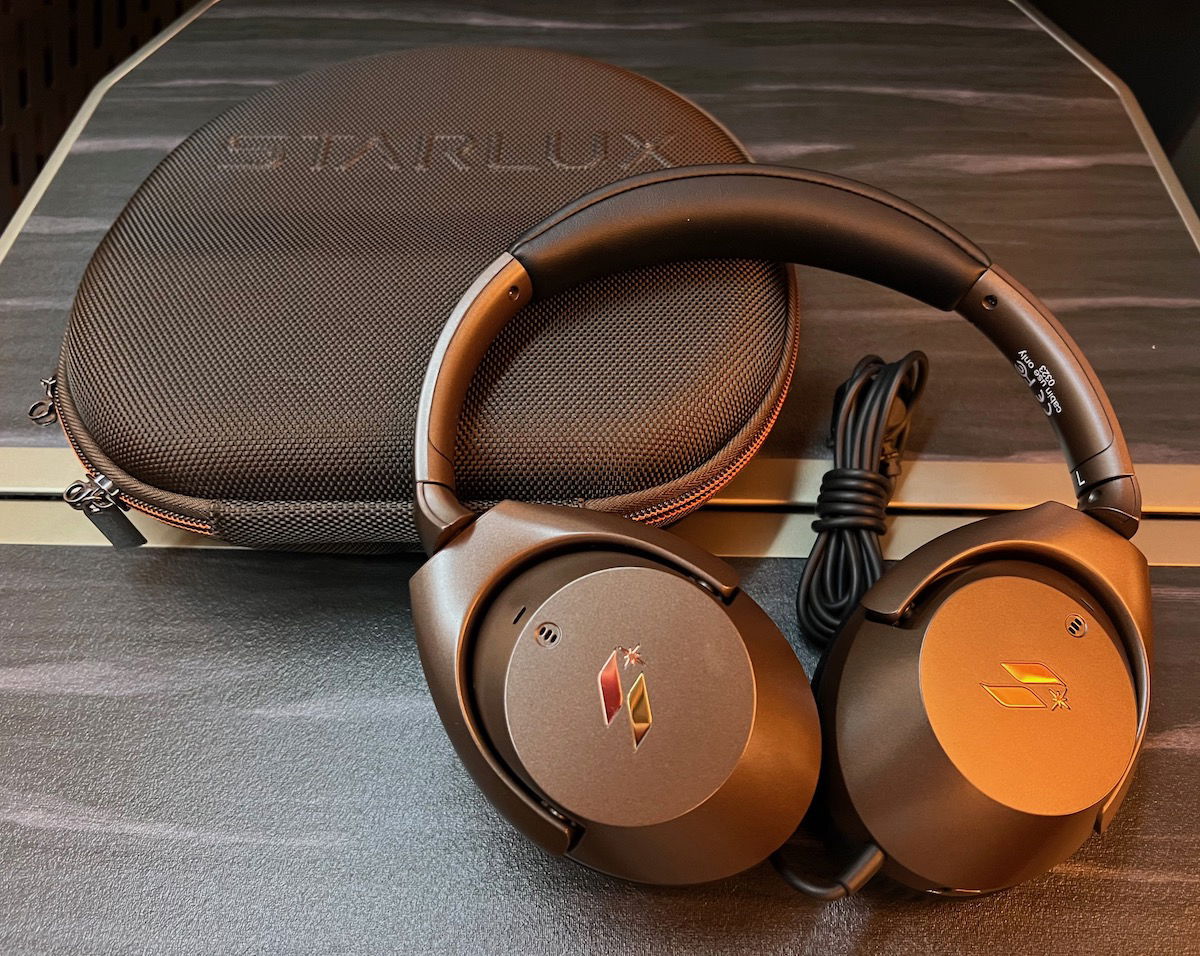 As soon as we settled in, the flight attendants came by our seats to introduce themselves, and show us the seat features — "can I familiarize you with the environment of the seat?"
We were also offered pre-departure drinks immediately. The airline doesn't offer pre-departure drinks of choice, but rather offers a signature drink on each flight. On this flight it was a honey, peppermint, cucumber, and passionfruit juice, served with a warm towel. Yum.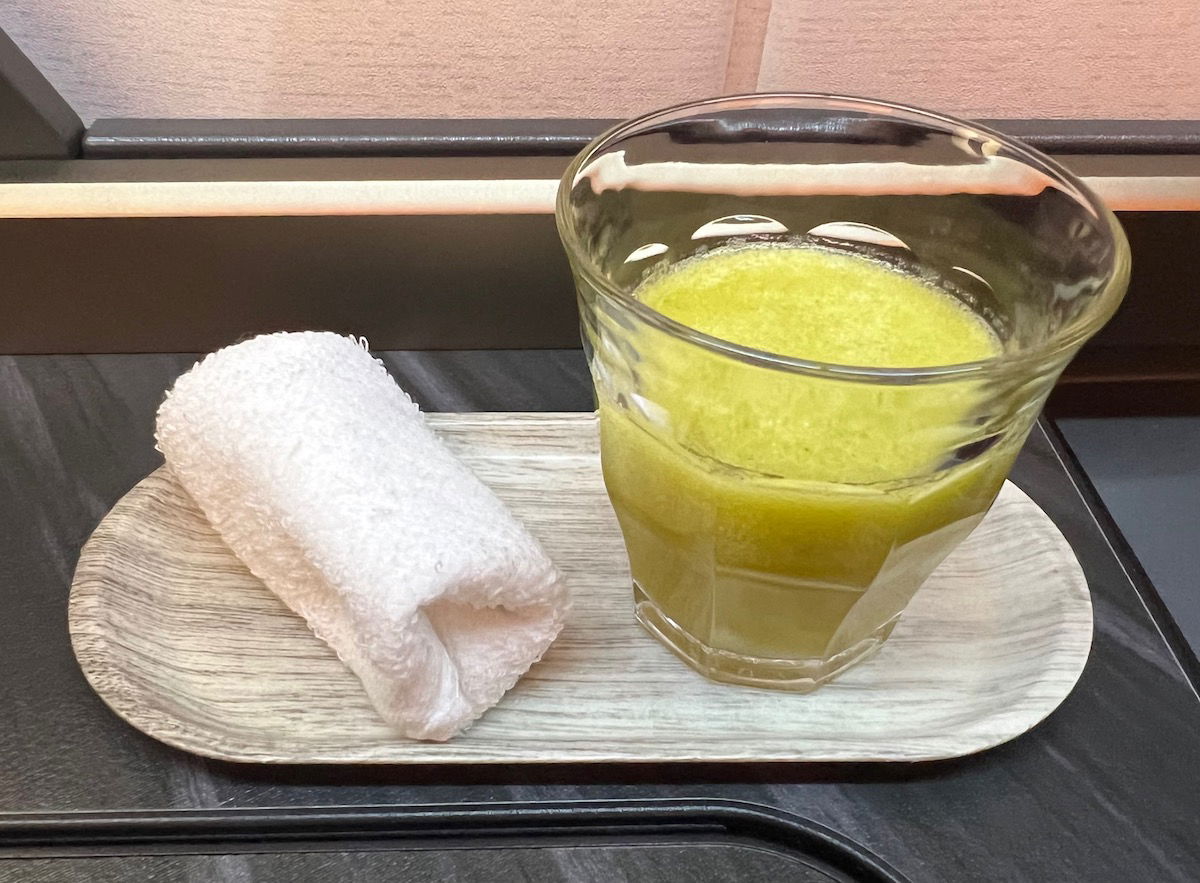 We were also presented with very nice BRIC's amenity kits, containing products from Huygens. This included eyeshades, earplugs, a dental kit, socks, a hair brush, lip balm, lotion, and a facial mist.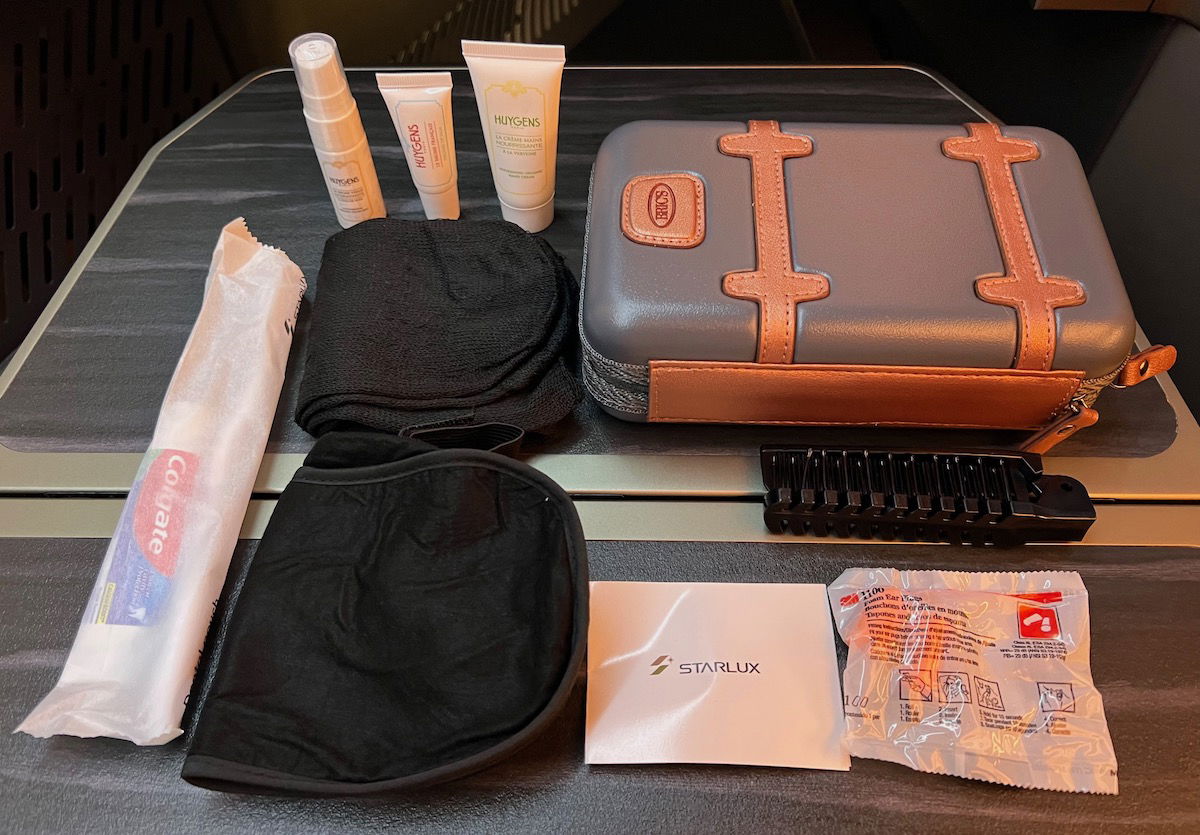 Next up, we were offered pajamas. It's always a treat to get pajamas in business class, and these were among the highest quality pajamas I've ever been offered on a plane, as the materials felt great.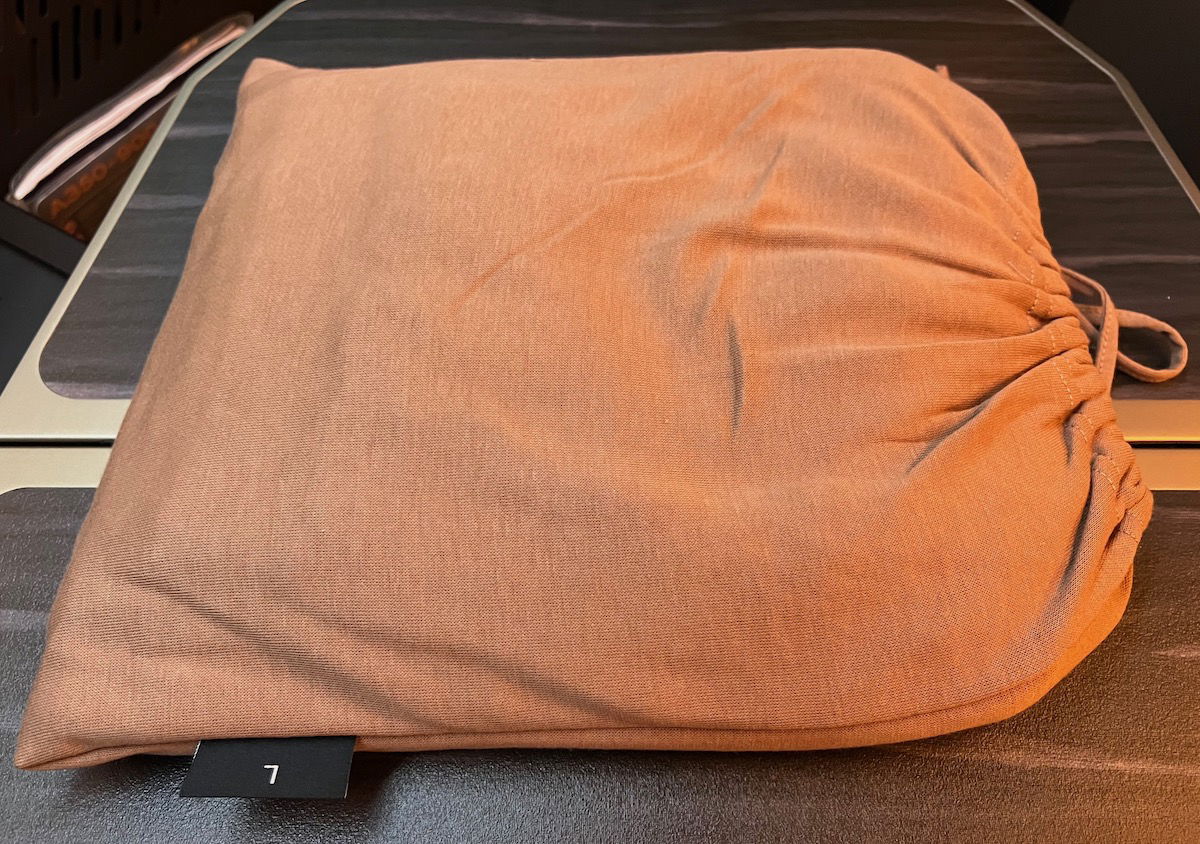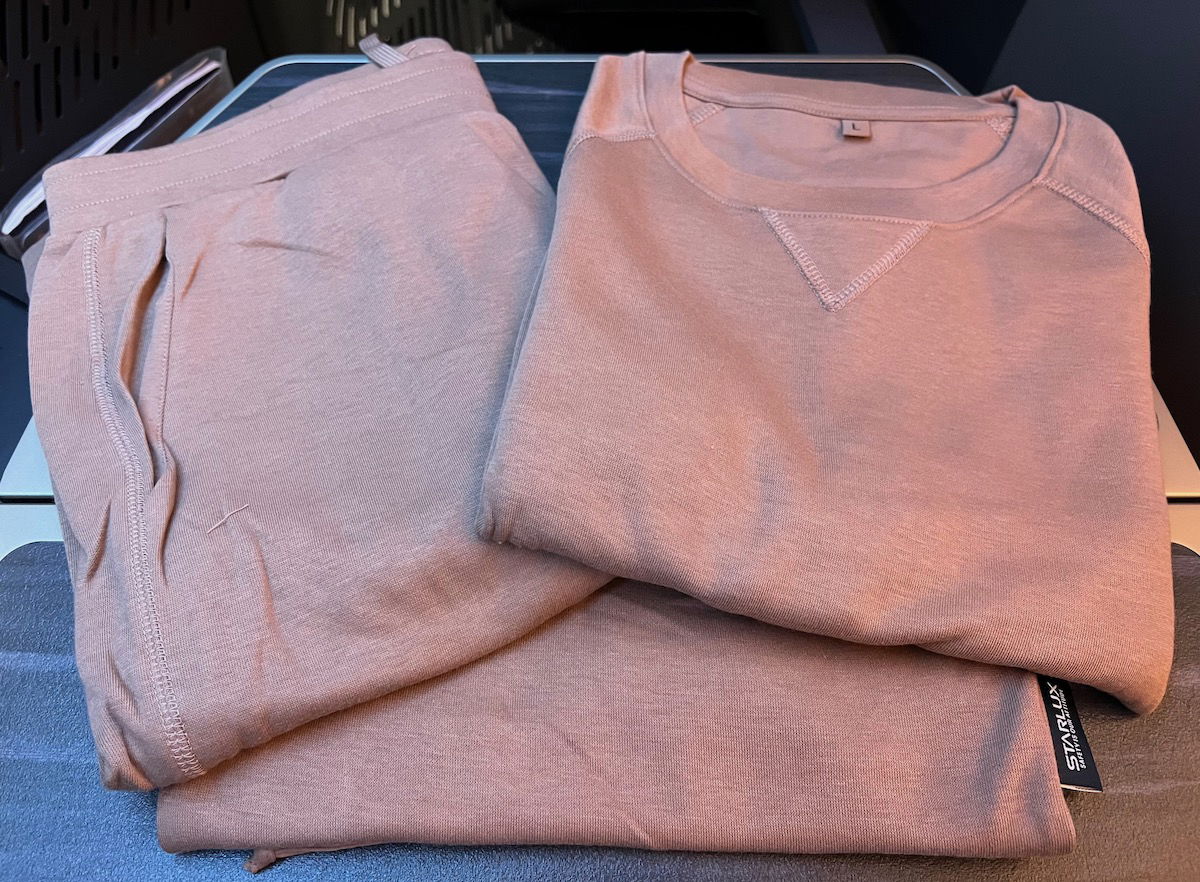 We were also given some slippers, along with a shoe bag.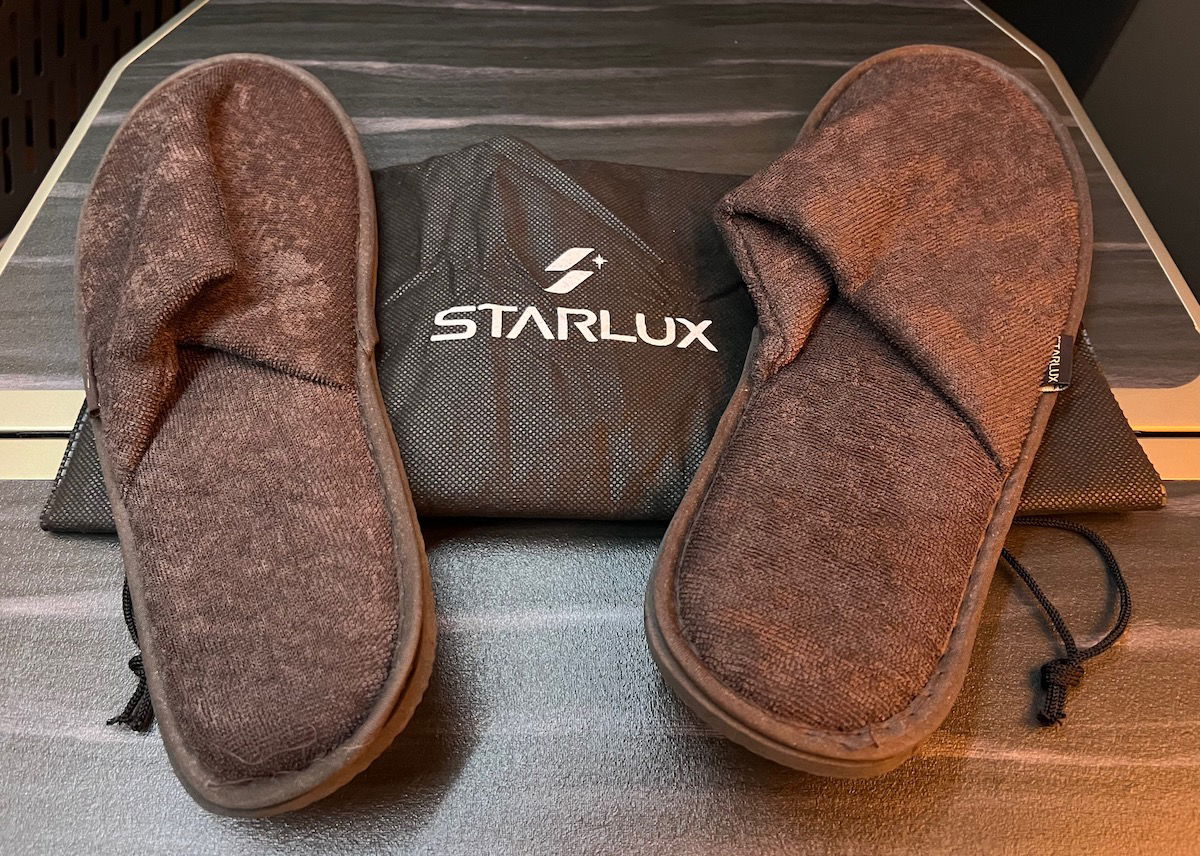 Last but not least, we were presented with the menu and drink list for the flight.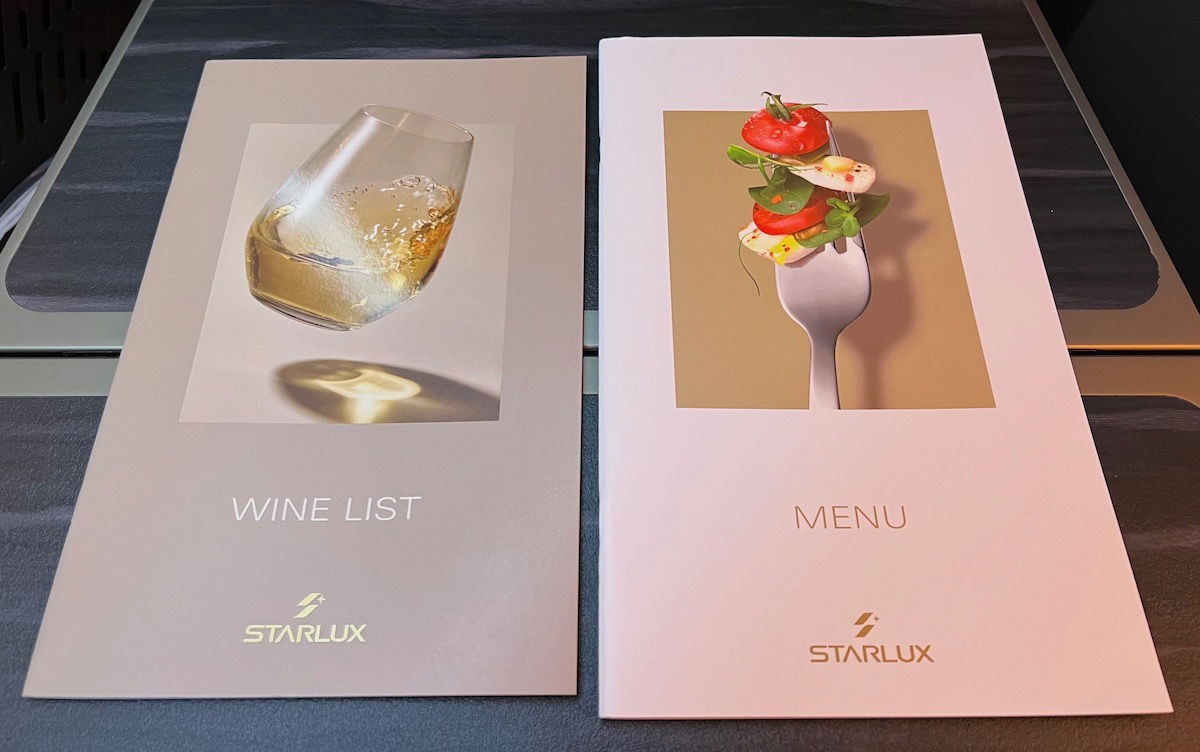 All-in-all, you won't find many business class products out there offering more amenities than this!
Starlux Airlines A350 business class entertainment & Wi-Fi
Starlux's 24″ 4K televisions in business class are so high quality. The system was also easy to use, thanks to the touch screen feature, plus the intuitive interface.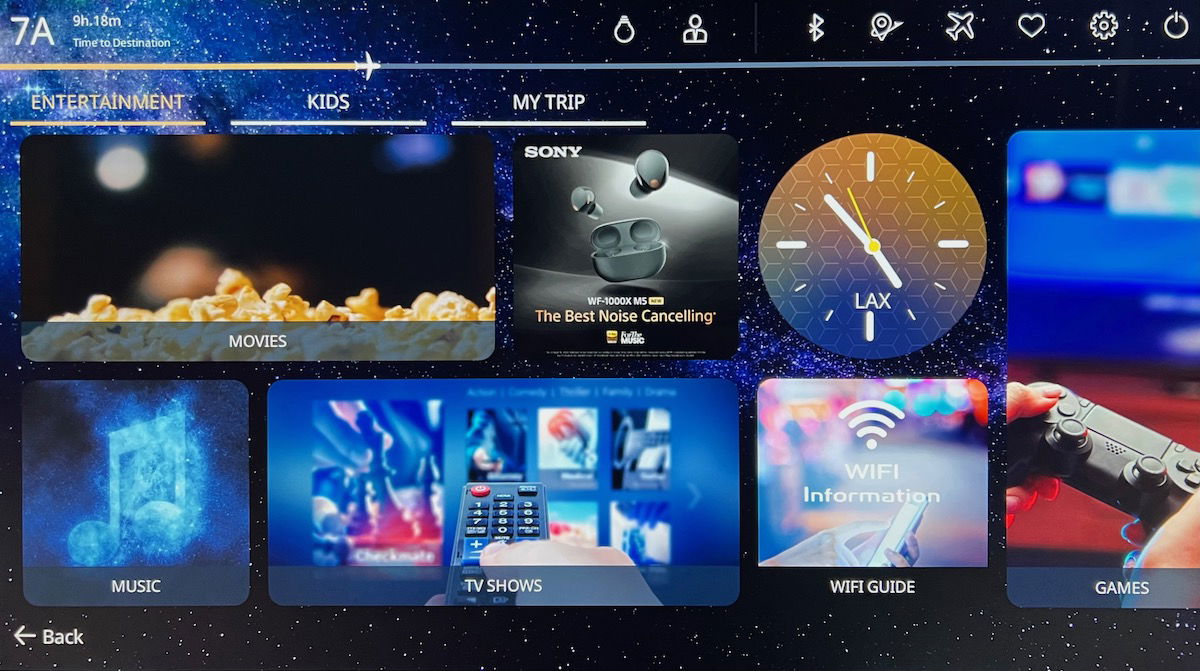 I also loved the fact that the entertainment system had bluetooth audio, so that you could use your own headphones with the entertainment system. I'm happy to see this increasingly common feature among airlines.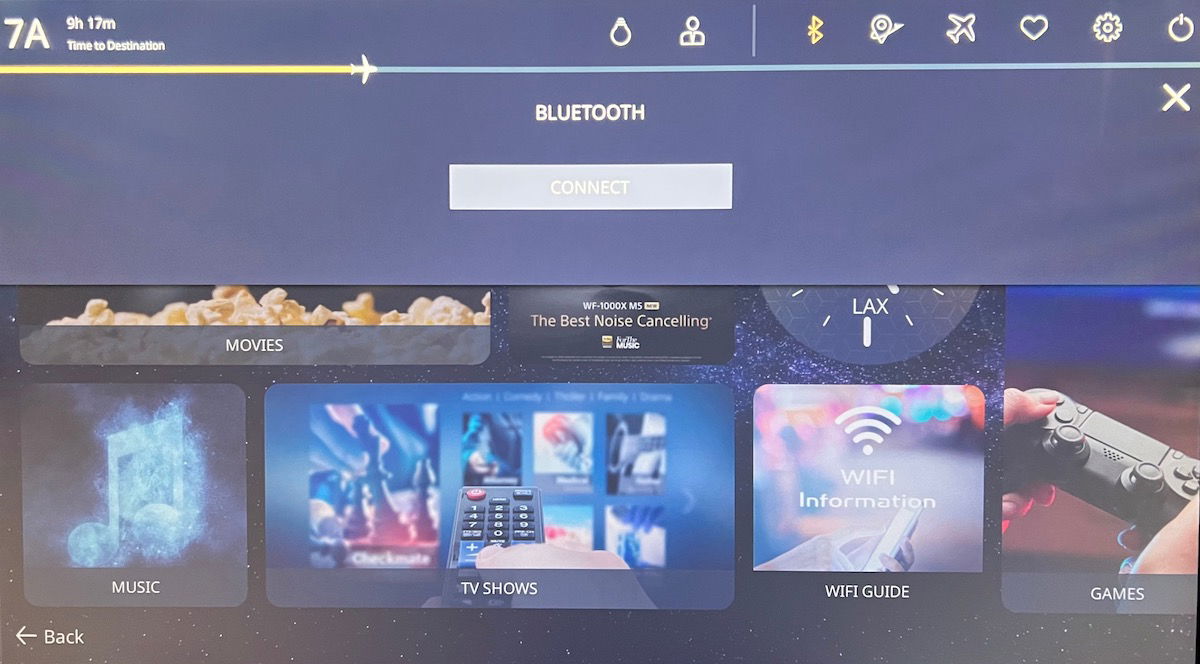 The entertainment system contained movies, TV shows, audio, and games. While the system as such was great, unfortunately the selection wasn't quite as exciting. I counted a total of just over 130 movies, and just under 80 TV shows. The selection was heavily geared toward Asian options rather than Western options, so I'd plan accordingly in terms of bringing your own entertainment.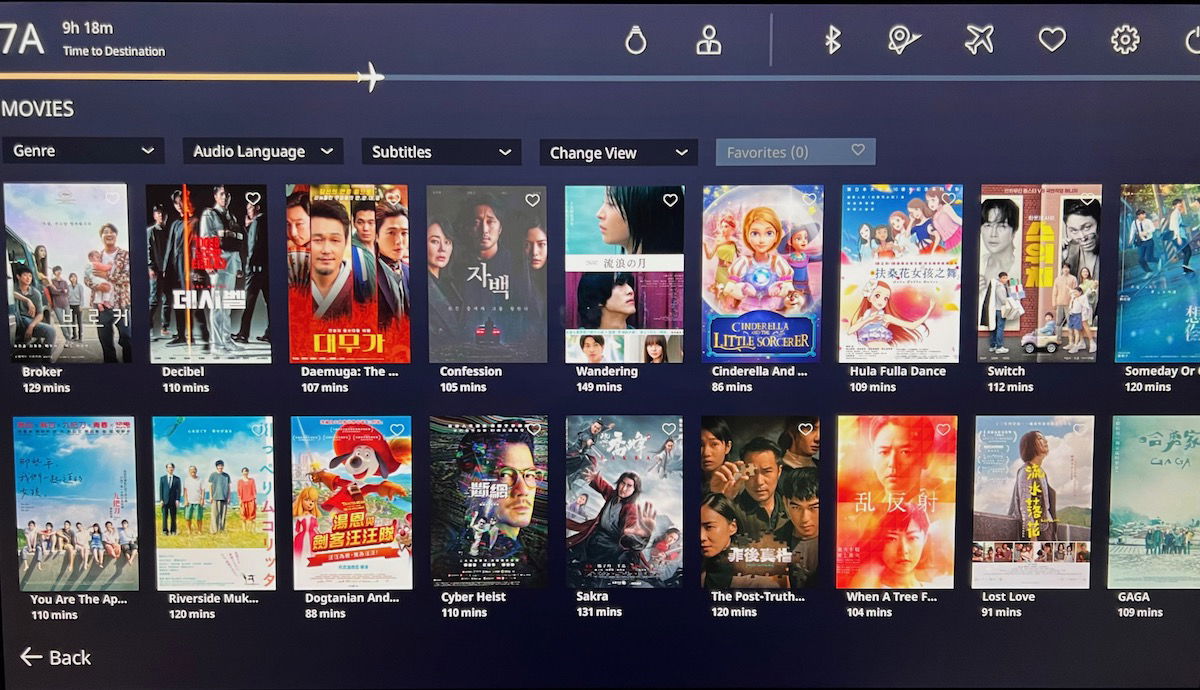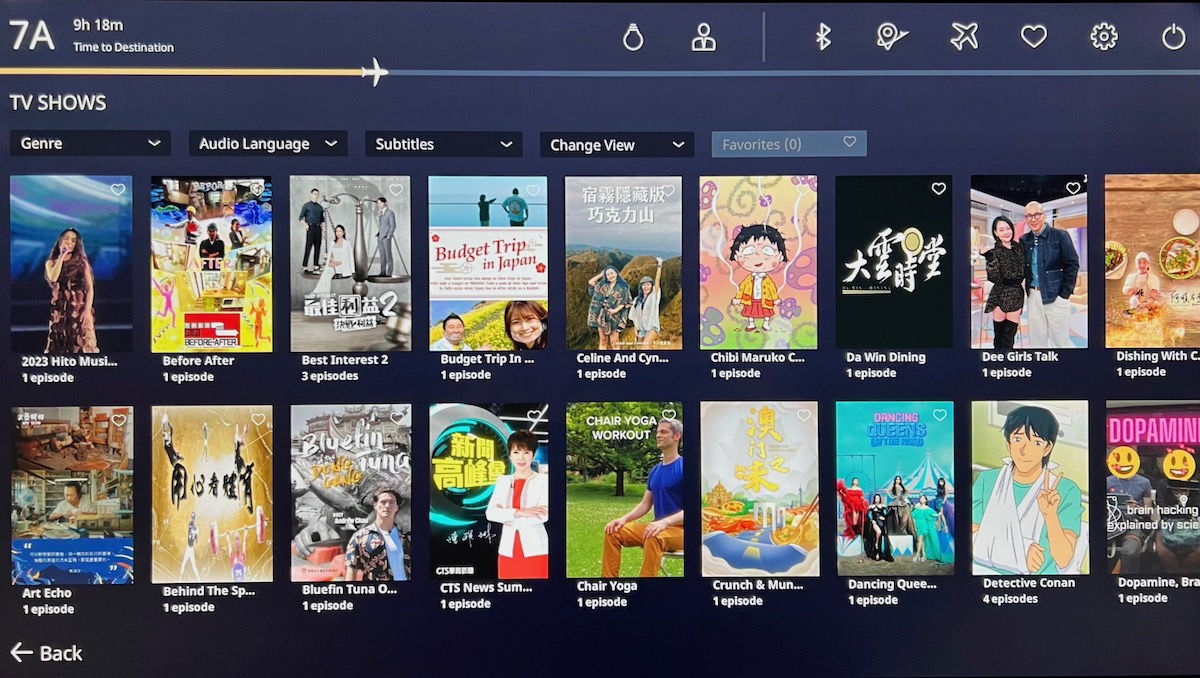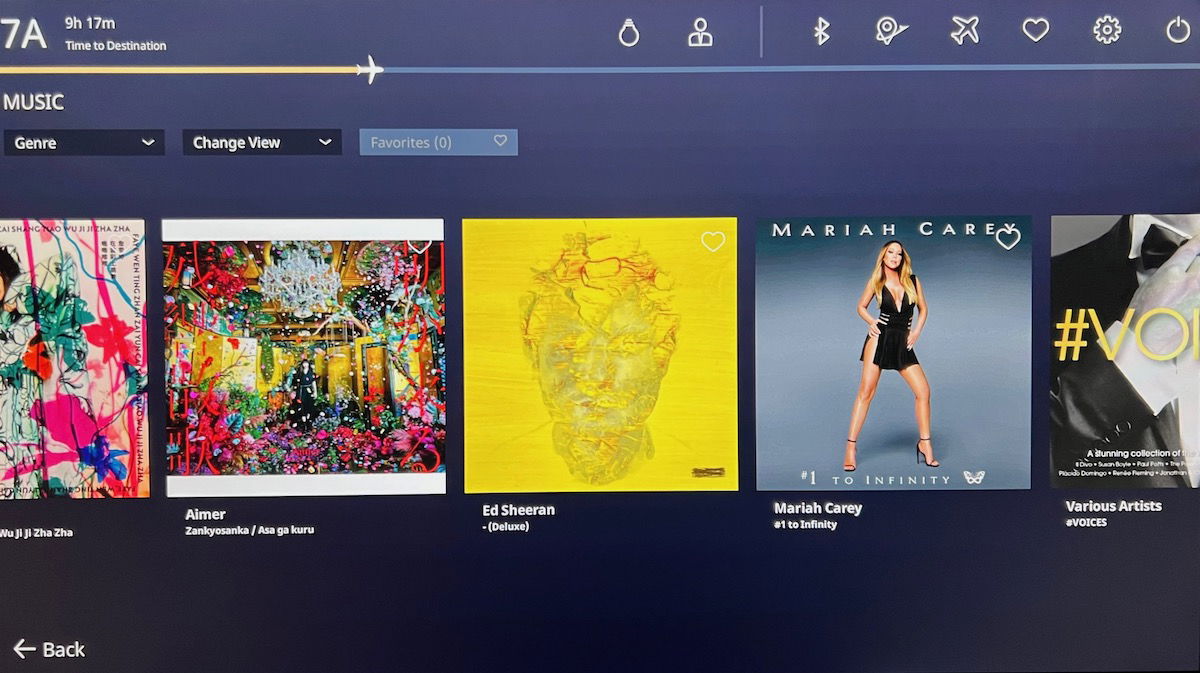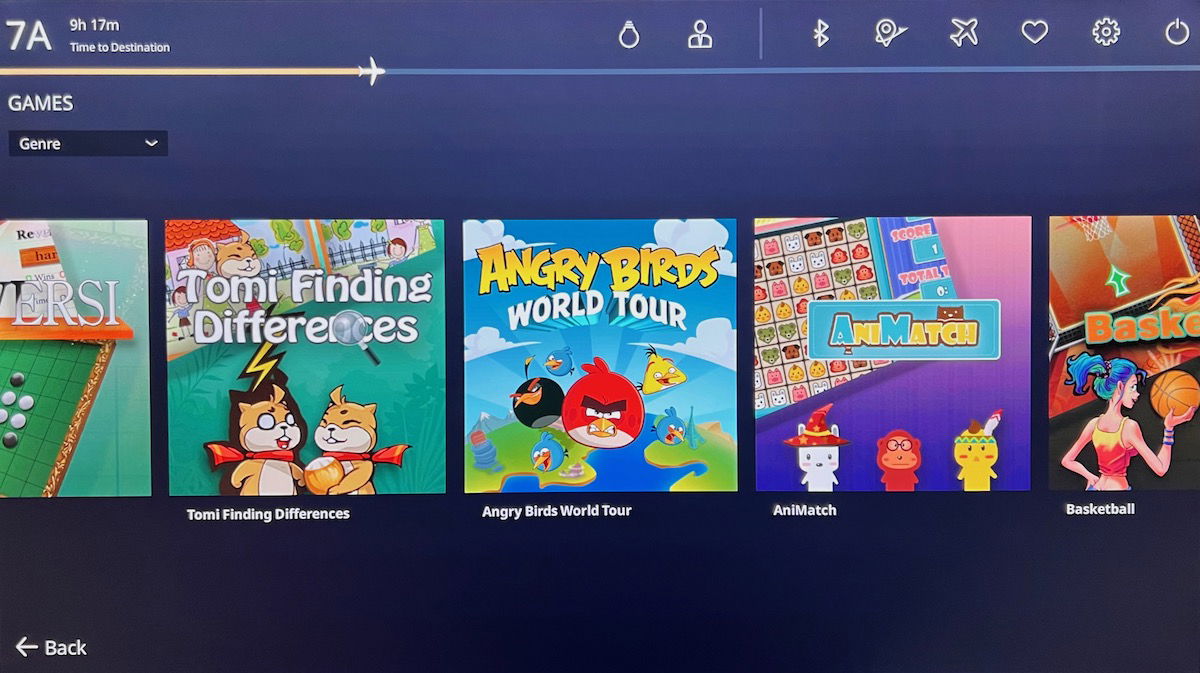 I'm not a huge TV or movies guy, but I ended up watching a couple of food related shows, including "Food Affair With Mark Wiens," and "The Lost Kitchen," both of which I enjoyed (the latter is an especially cool concept that I had never heard of).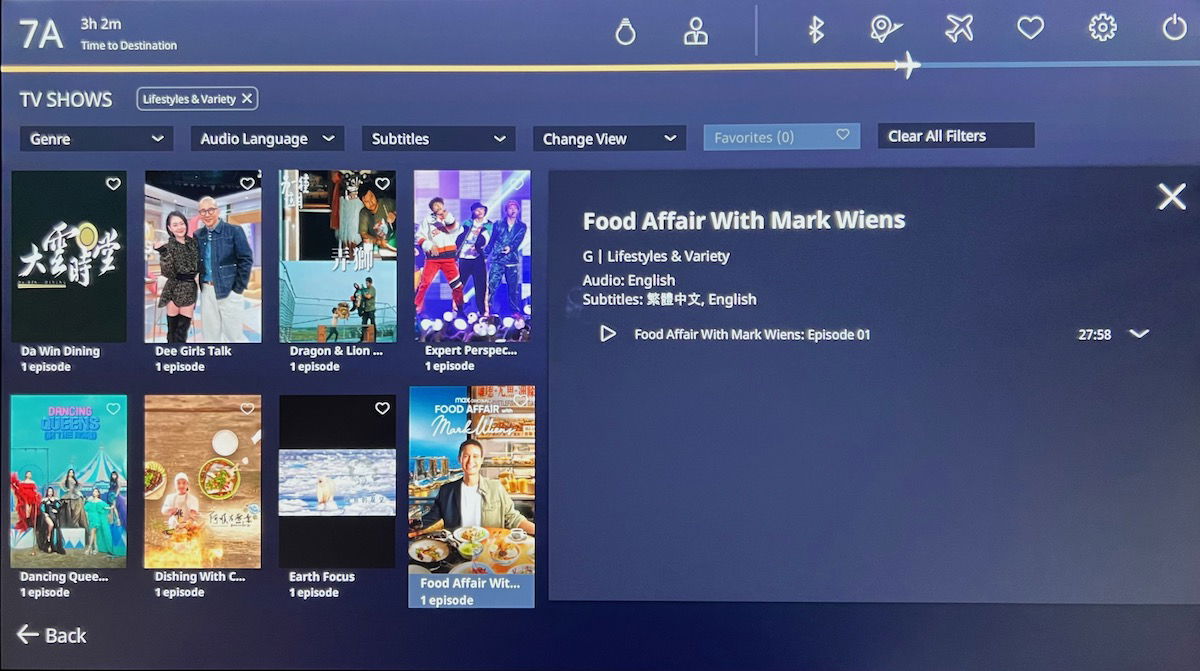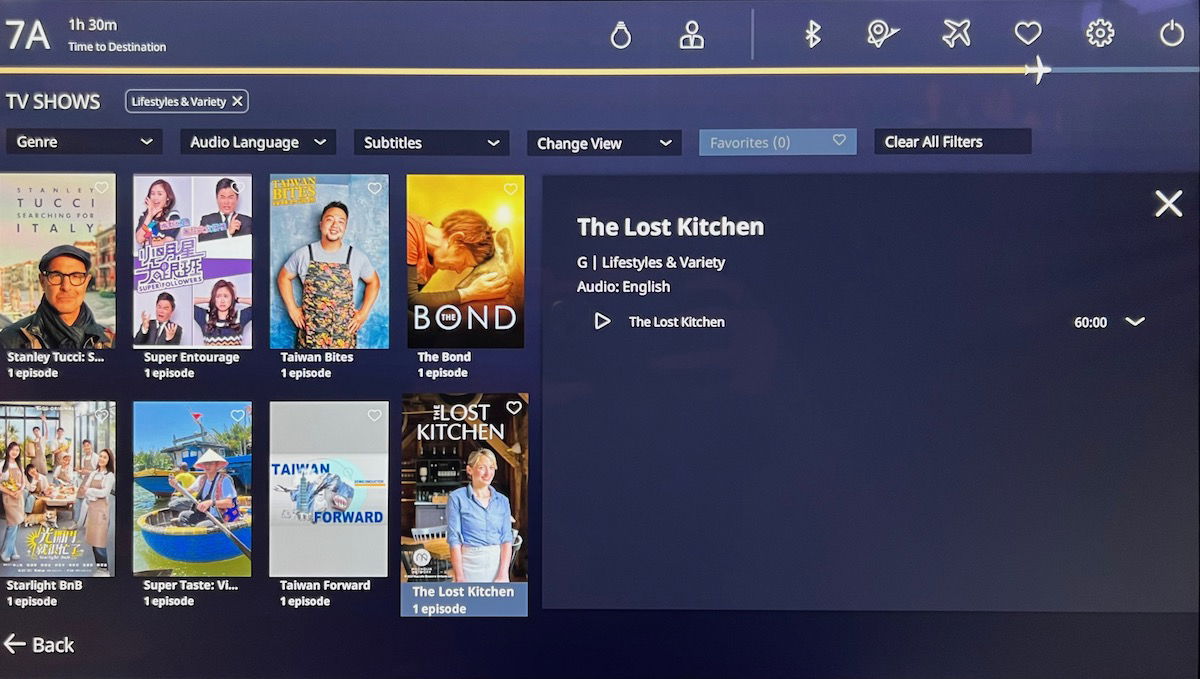 For the most part, rather than enjoying the entertainment, I just kept an eye on the map feature for most of the flight. Starlux has a great interactive map feature, where you can easily adjust settings to change the vantage point. Unfortunately Starlux doesn't have a tail camera on its A350s, unlike on some other airlines.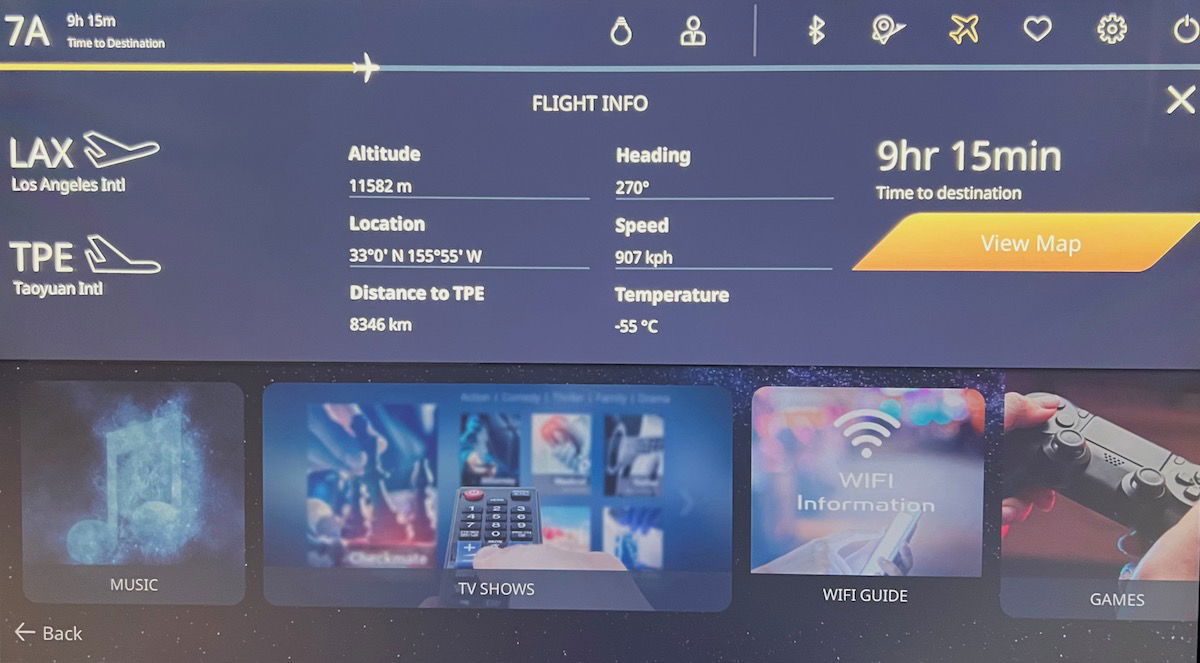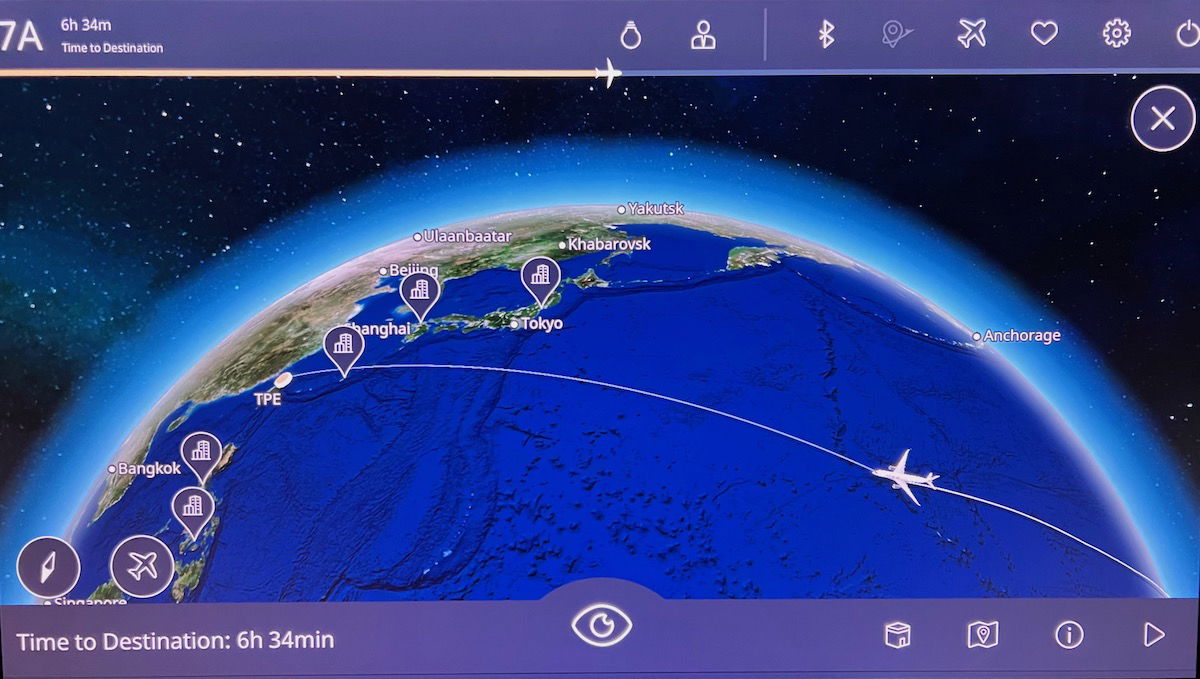 When it comes to Wi-Fi on Starlux, there's both good and bad news. The good news is that Starlux offers all passengers free messaging throughout the flight, and offers business class passengers free Wi-Fi throughout the flight, both with no data caps.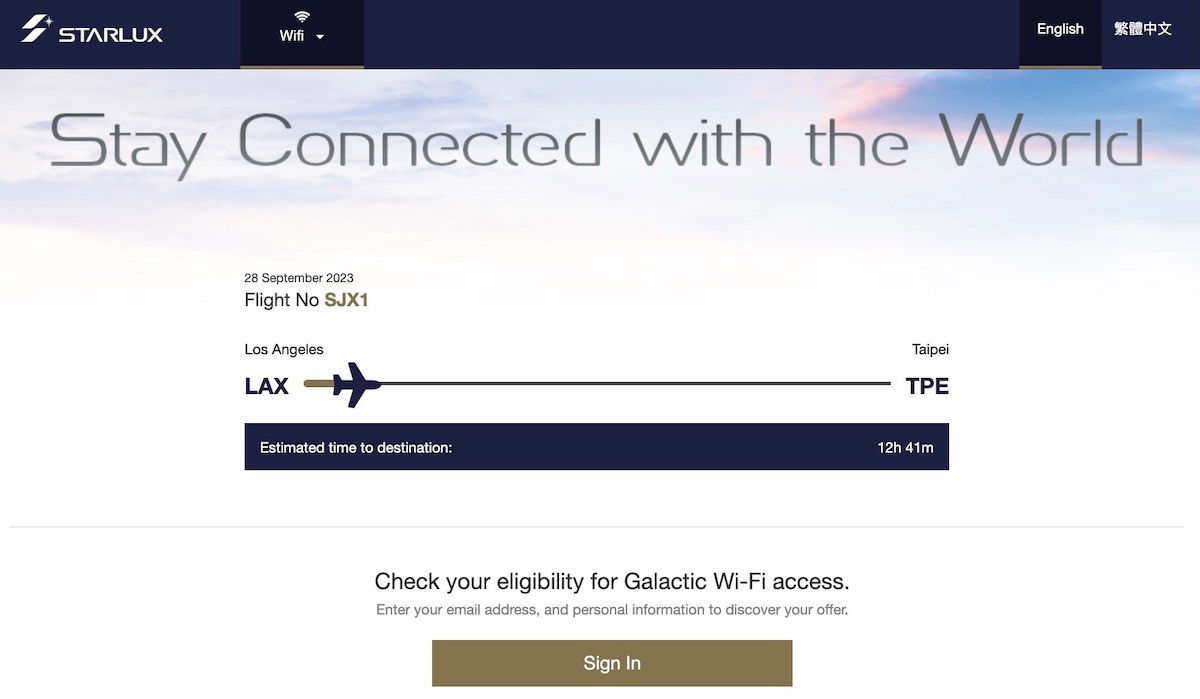 If you're paying, you can expect to pay $5 for 30MB of data, or $10 for 100MB of data.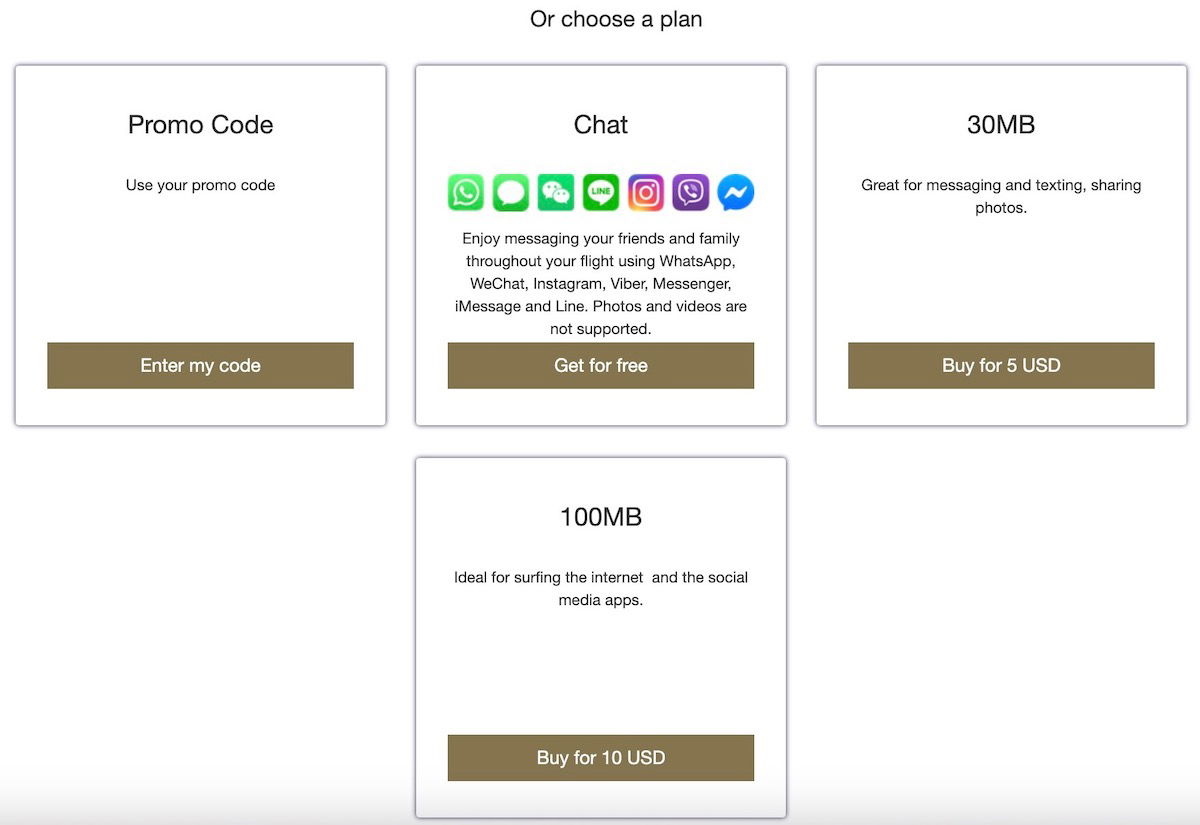 Being in business class, logging in for the free Wi-Fi was easy, and just required entering your email address, last name, and date of birth.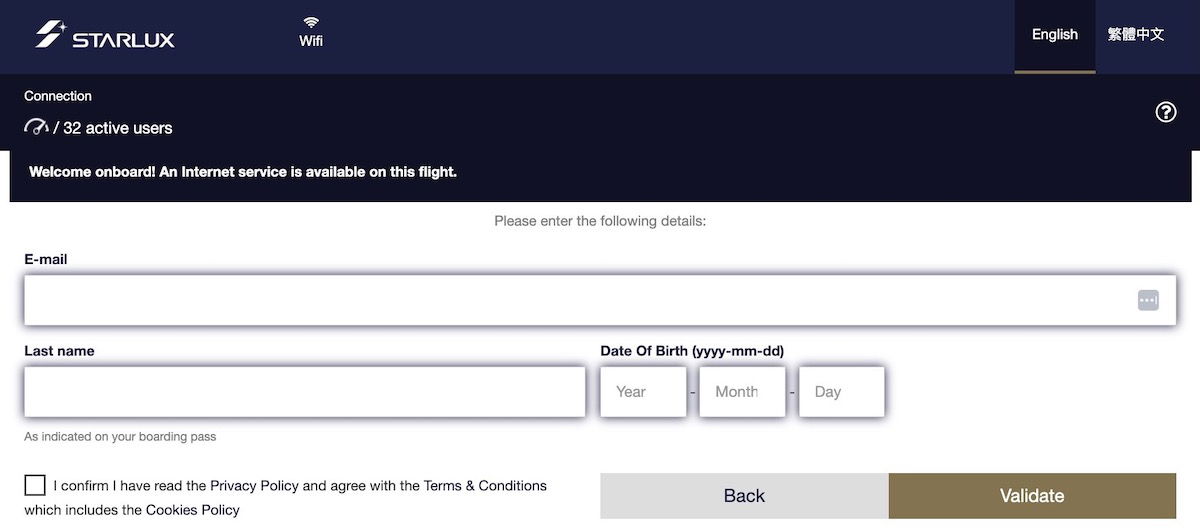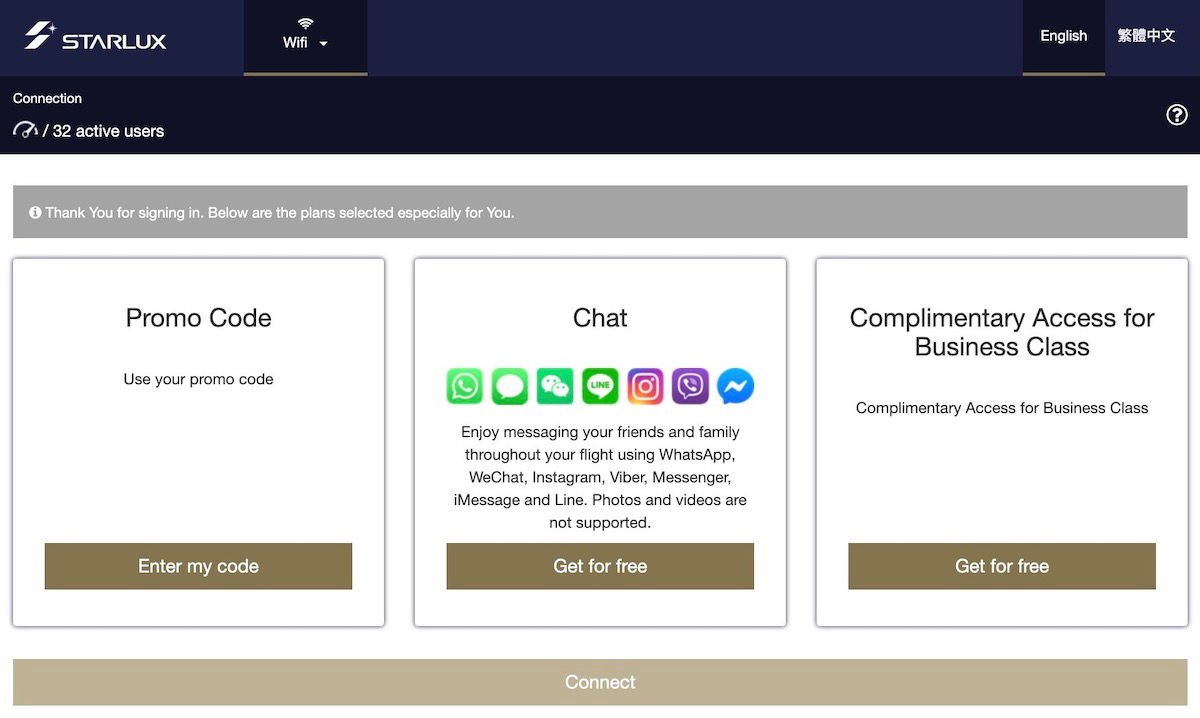 Now, there is also some bad news:
Starlux uses OnAir, which is one of the slowest Wi-Fi providers out there; I'm puzzled by this decision, given that Starlux just recently started taking delivery of planes, so you'd think the airline would have gone with a better system
The Wi-Fi just didn't work at all for the first several hours of the flight; fortunately it started working again just prior to the halfway point of the flight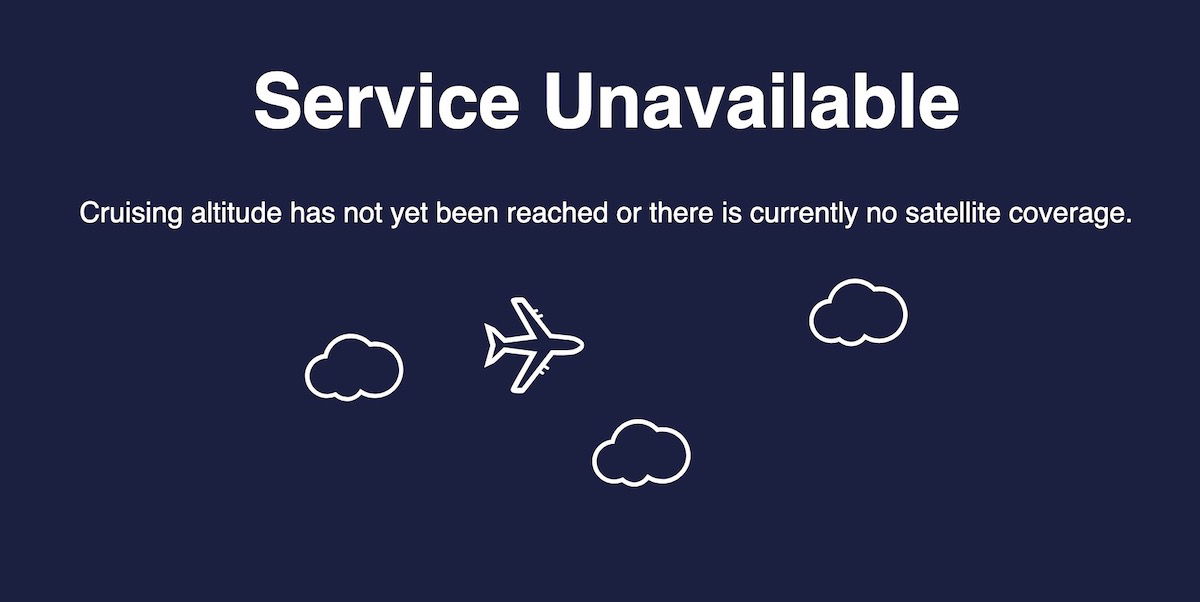 Starlux Airlines A350 departure from Los Angeles
Boarding was efficient, as the flight wasn't full at all — there was no one in first class, business class was less than half full, and premium economy had only a few people in it, though I'm not sure how full economy was.
During the boarding process, flight attendants took very detailed meal and drink orders. They took exact orders for dinner and breakfast, down to what you wanted to drink in 13 hours.
During boarding, I enjoyed listening to Starlux's boarding music. I always like when airlines have their own boarding music, but Starlux takes it to the next level — the airline has separate boarding music and landing music tracks, and also has custom music based on the kind of destination you're flying to.
At 12:35AM the captain made his welcome aboard announcement, and informed us of our flight time of 13hr30min, and our anticipated imminent departure.
At 12:40AM the main cabin door closed, and moments later we began our pushback. At this point Starlux's ridiculously cute safety video played, which has to be one of my favorites out there. If you haven't seen it, I highly recommend watching it.
We had a pretty quick taxi to our departure runway, and at 1AM we were cleared for takeoff on runway 25R. It was a smooth and powerful takeoff, and five minutes later the seatbelt sign was turned off.
Starlux Airlines business class dinner service
Shortly after takeoff, it was time for a (very) late night meal. You can find the menu below.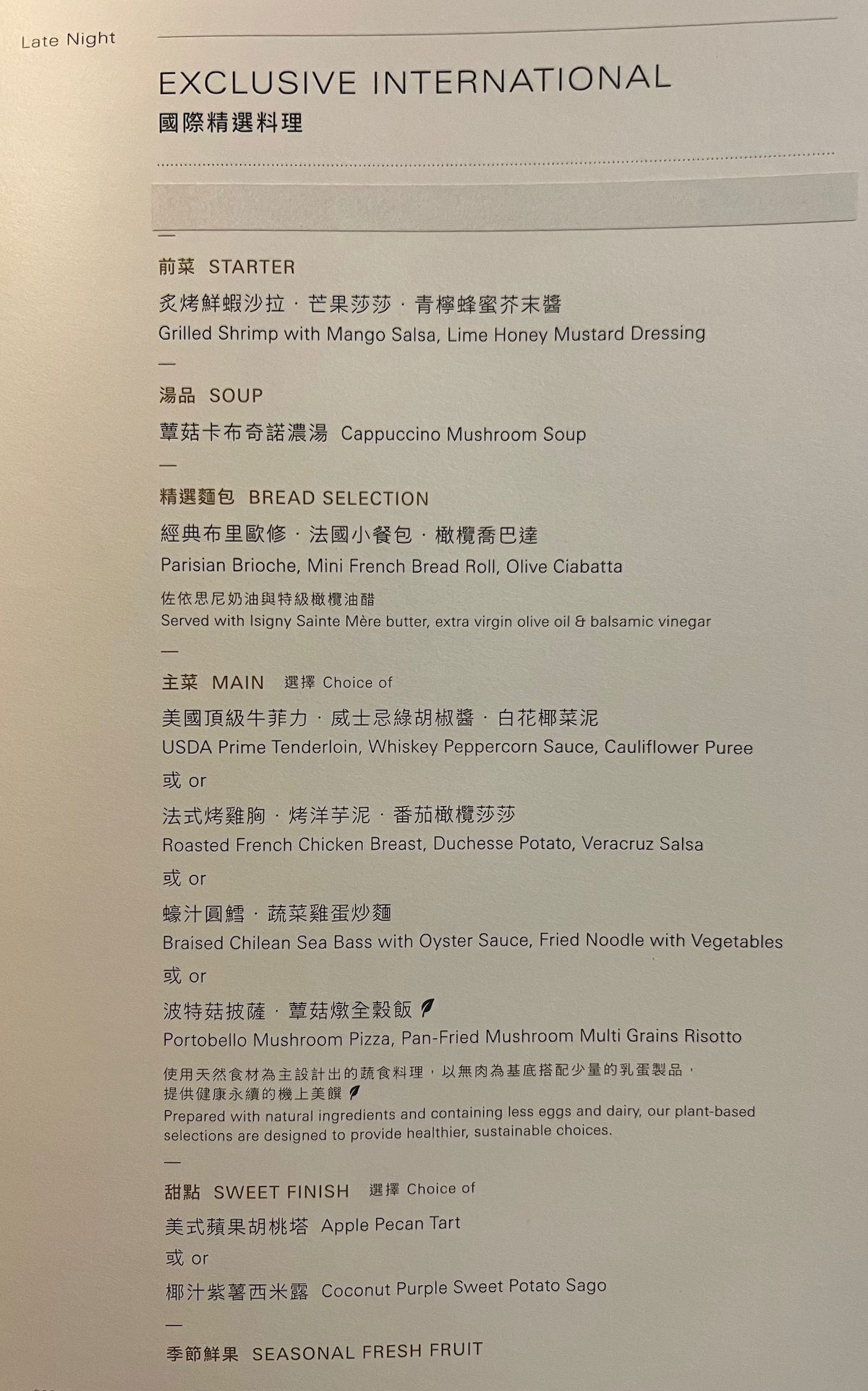 You can find the very extensive drink list below, which includes cocktails, liquor, soft drinks, tea, coffee, wine, and more.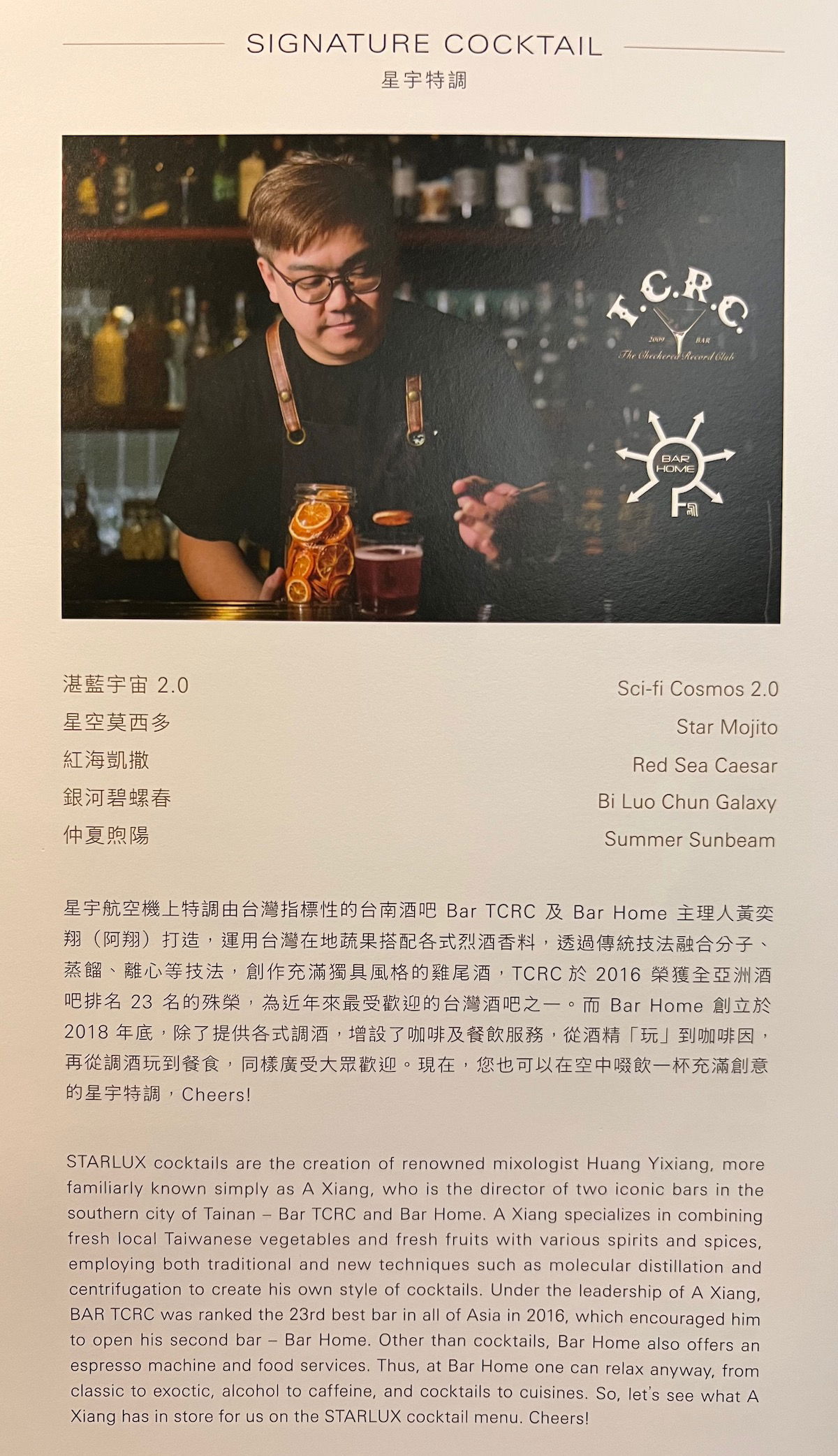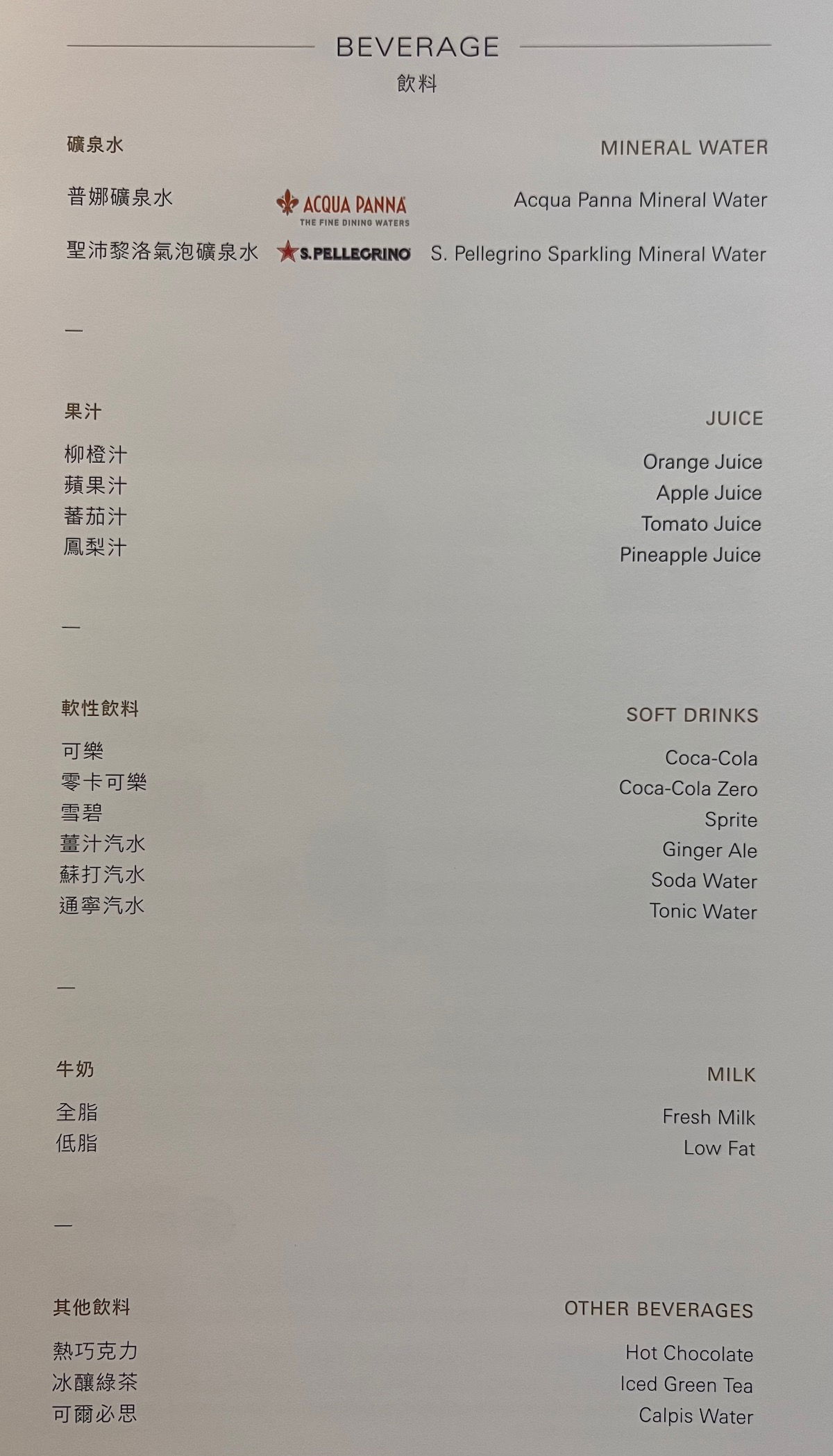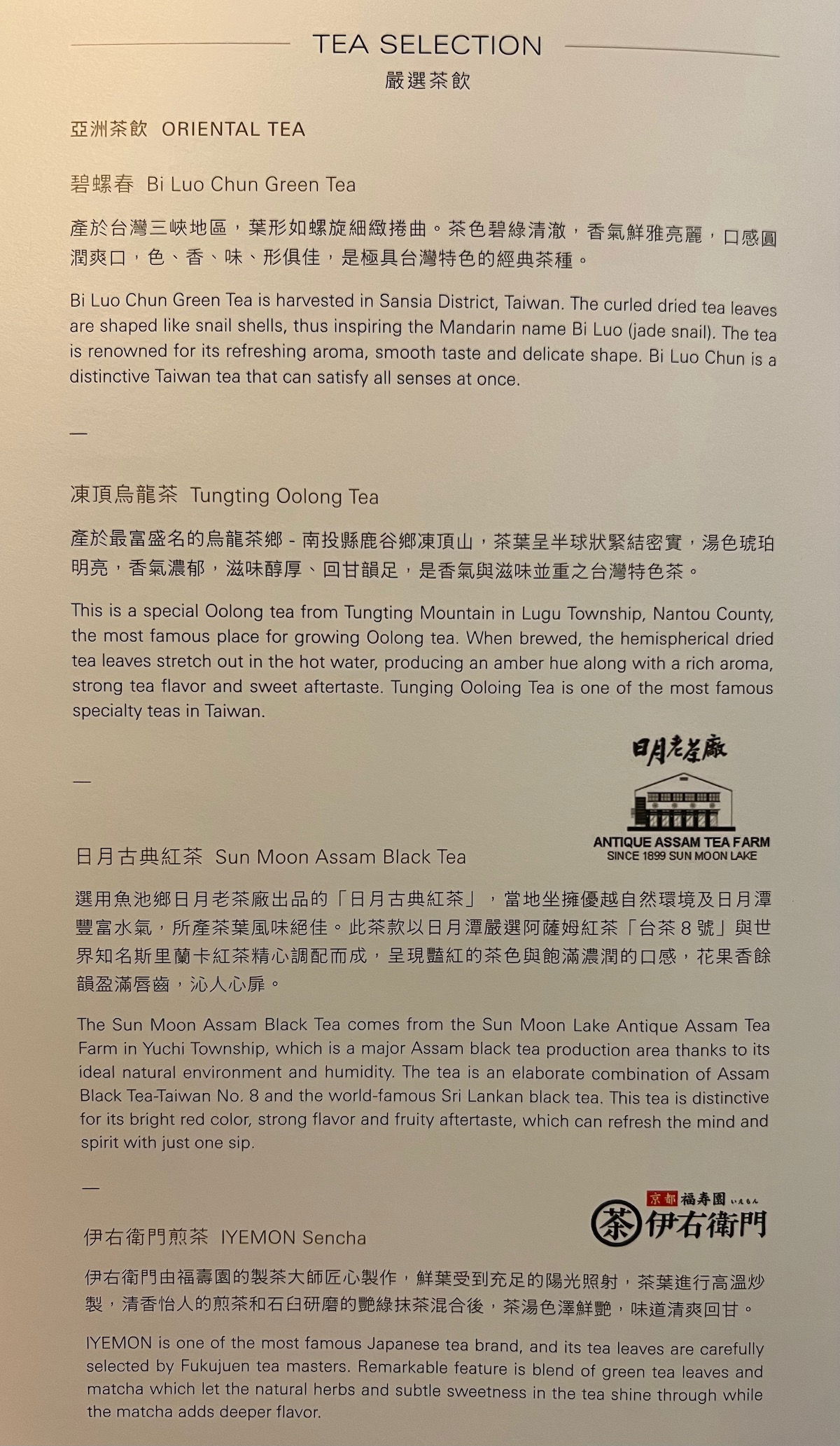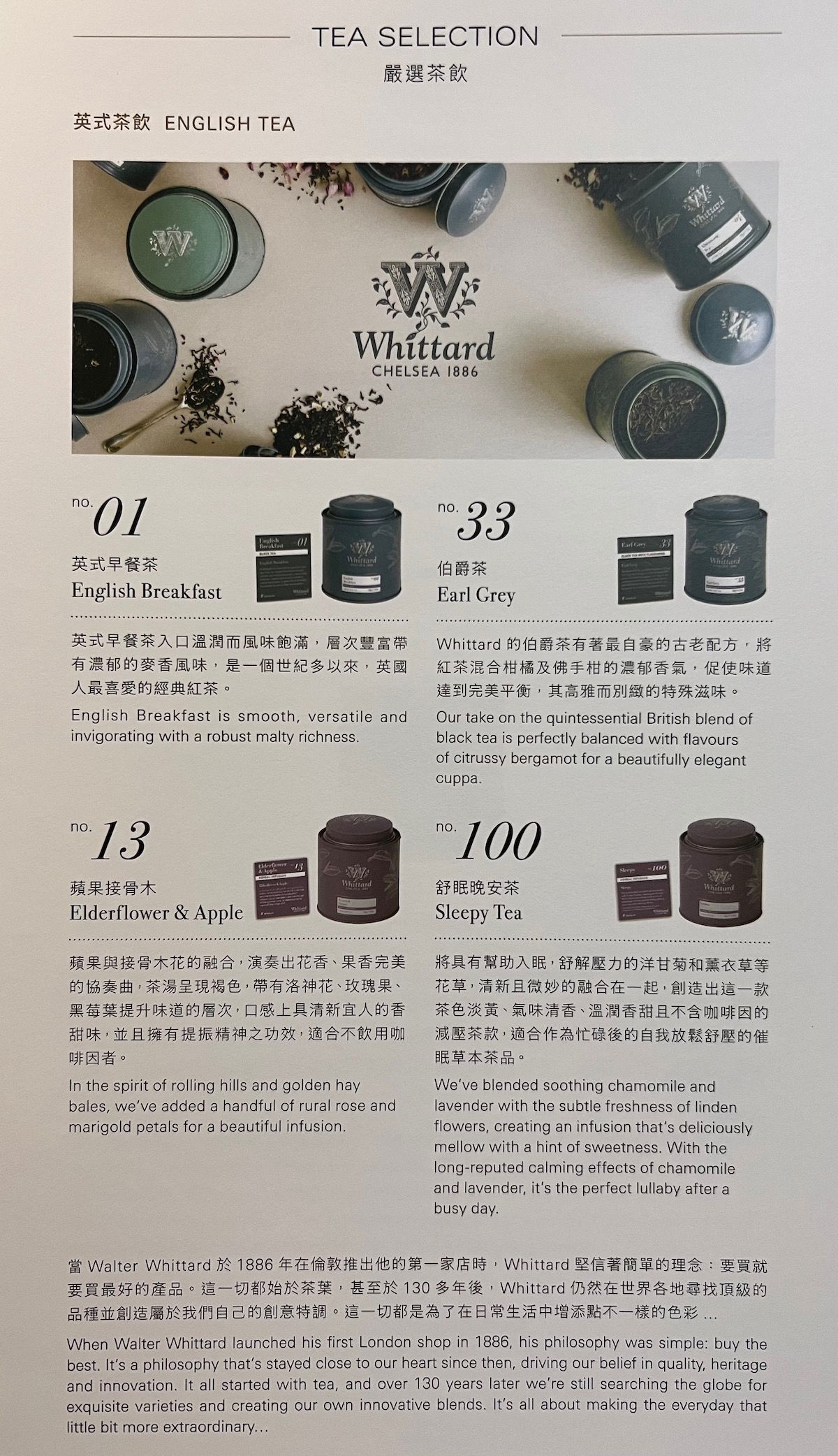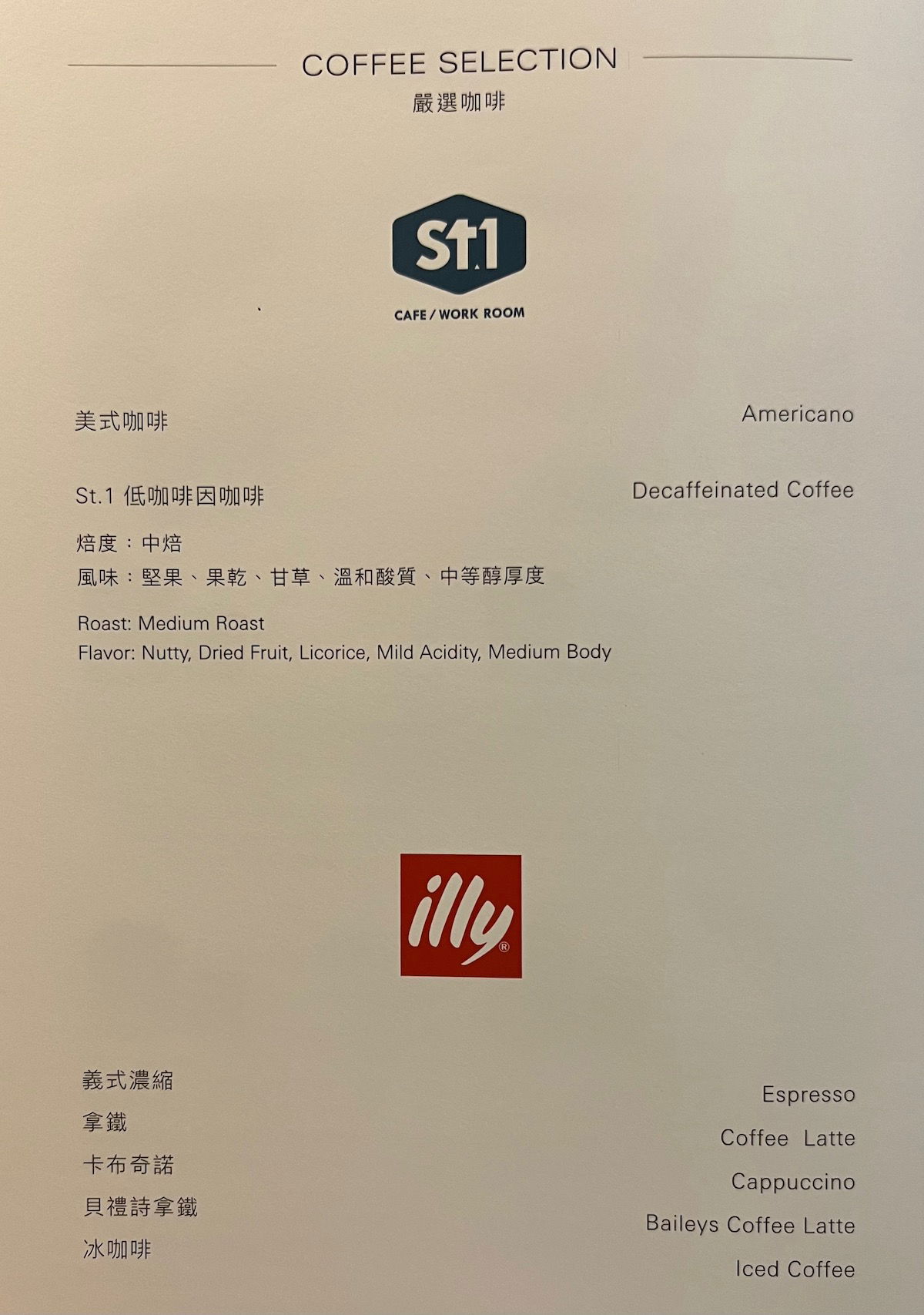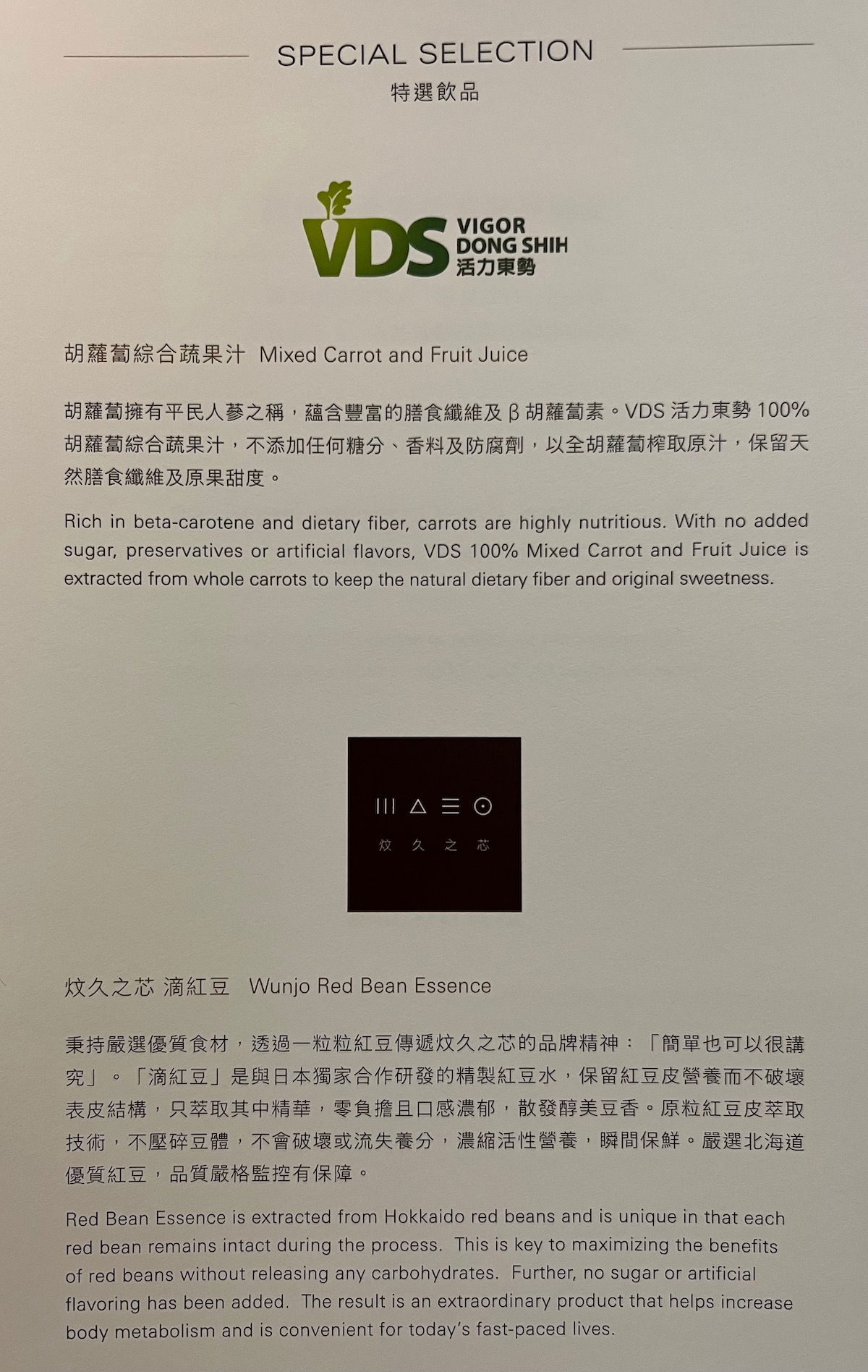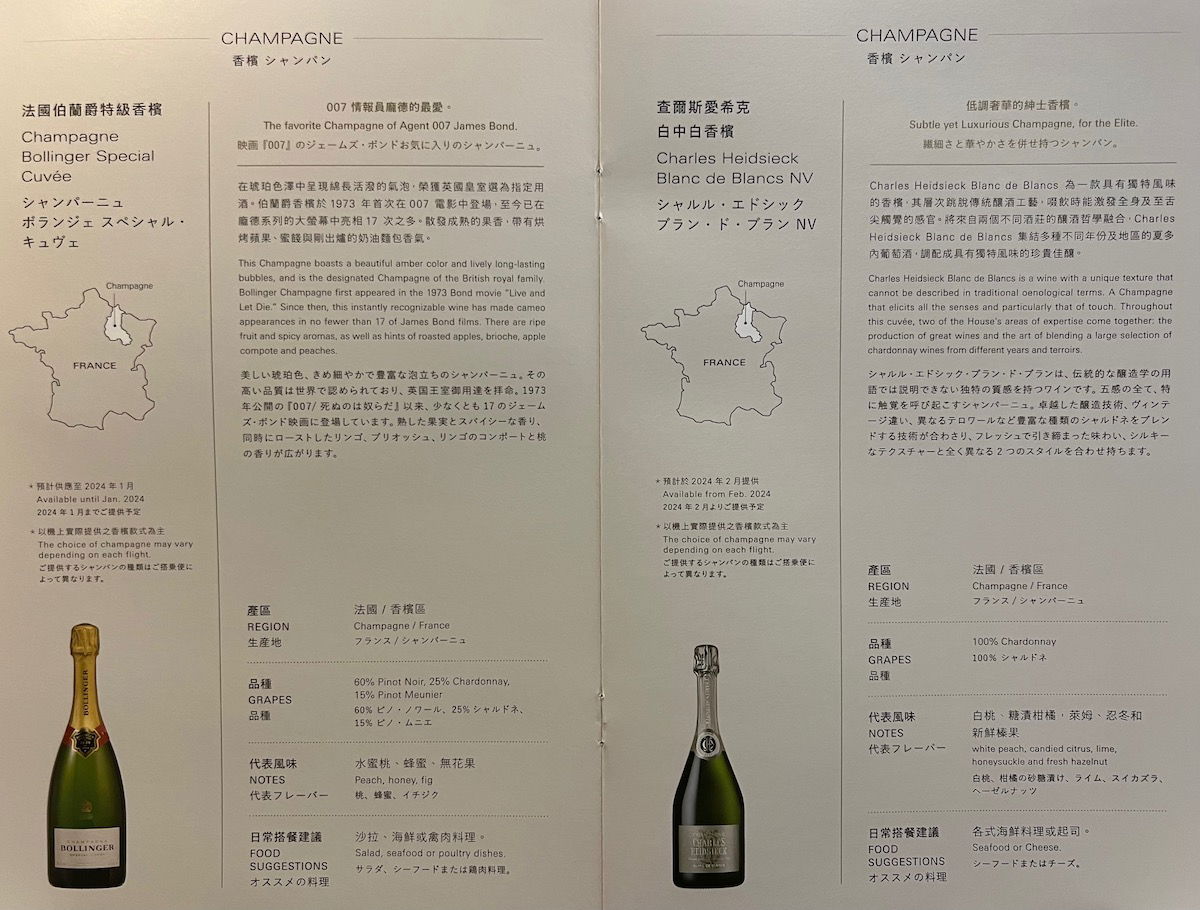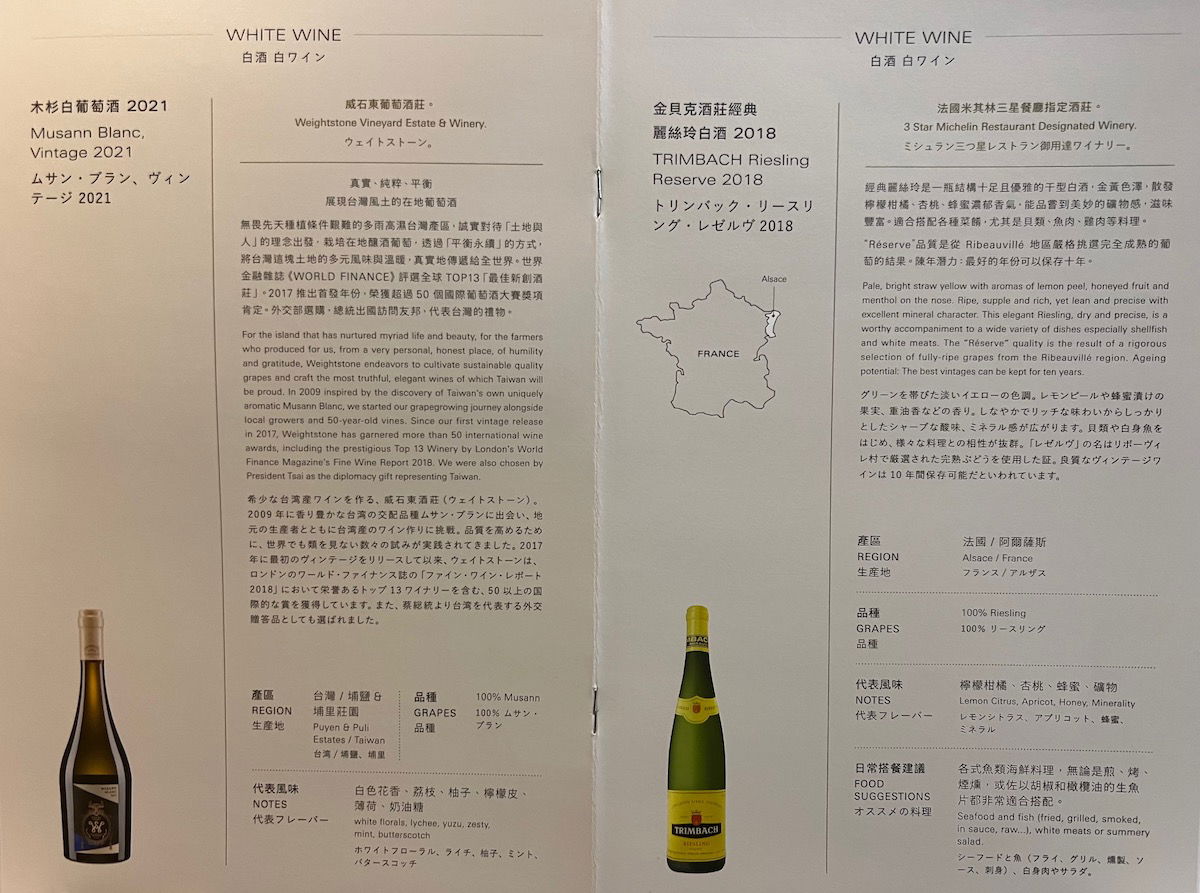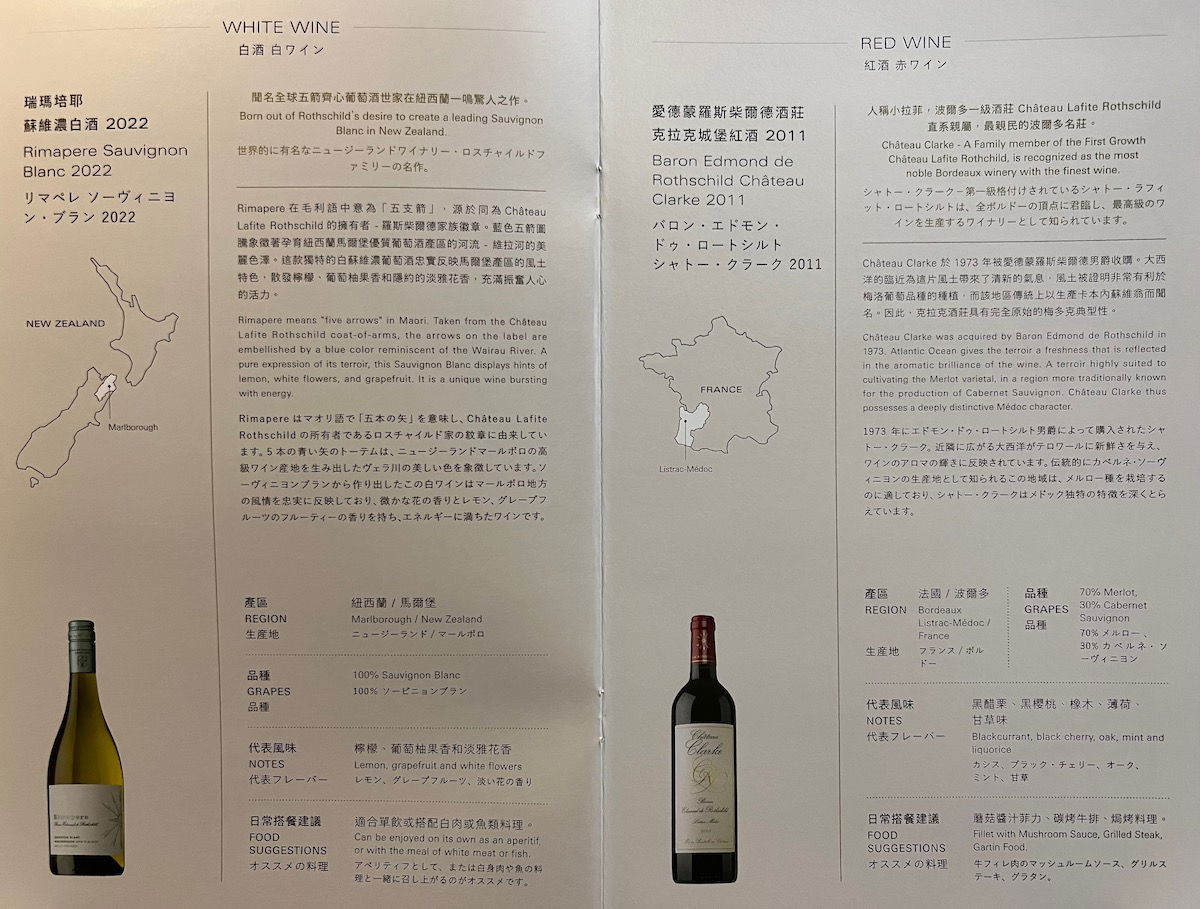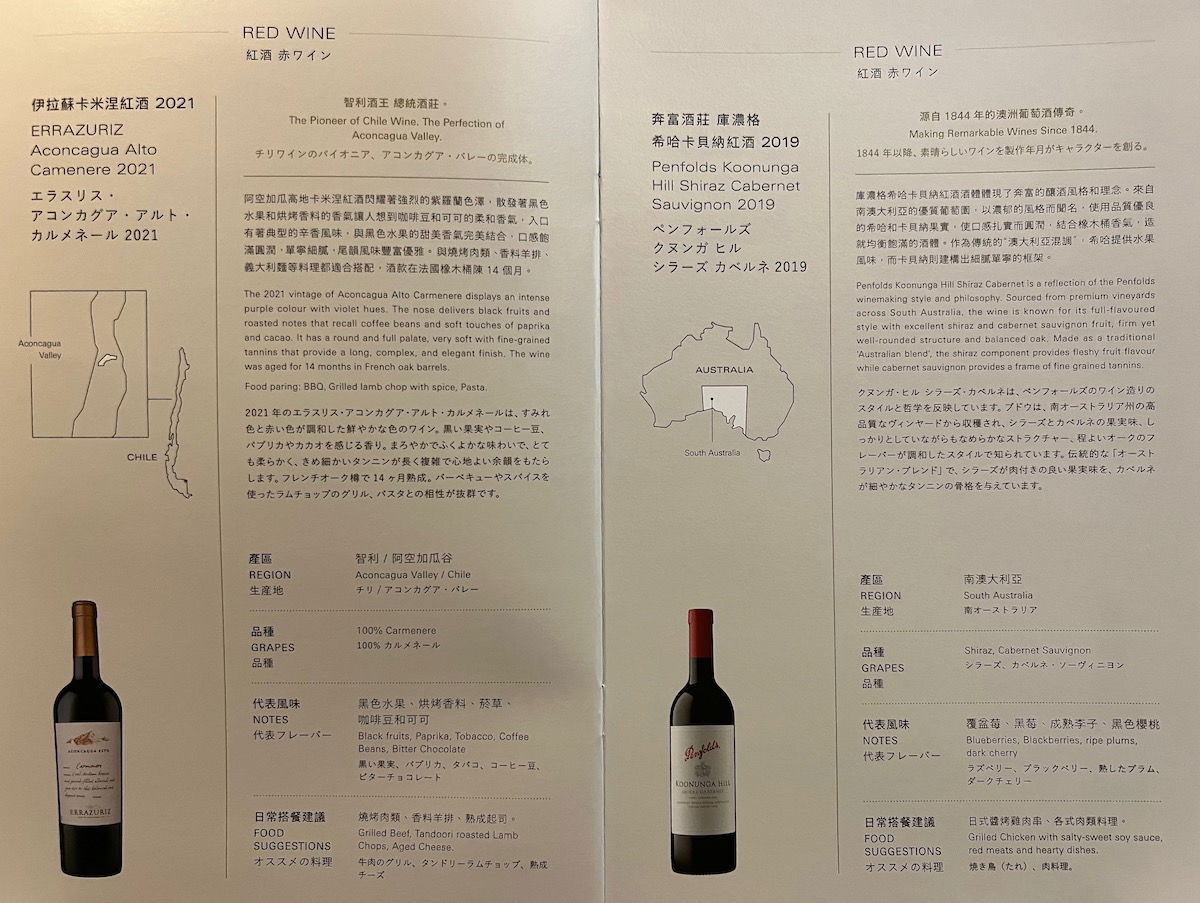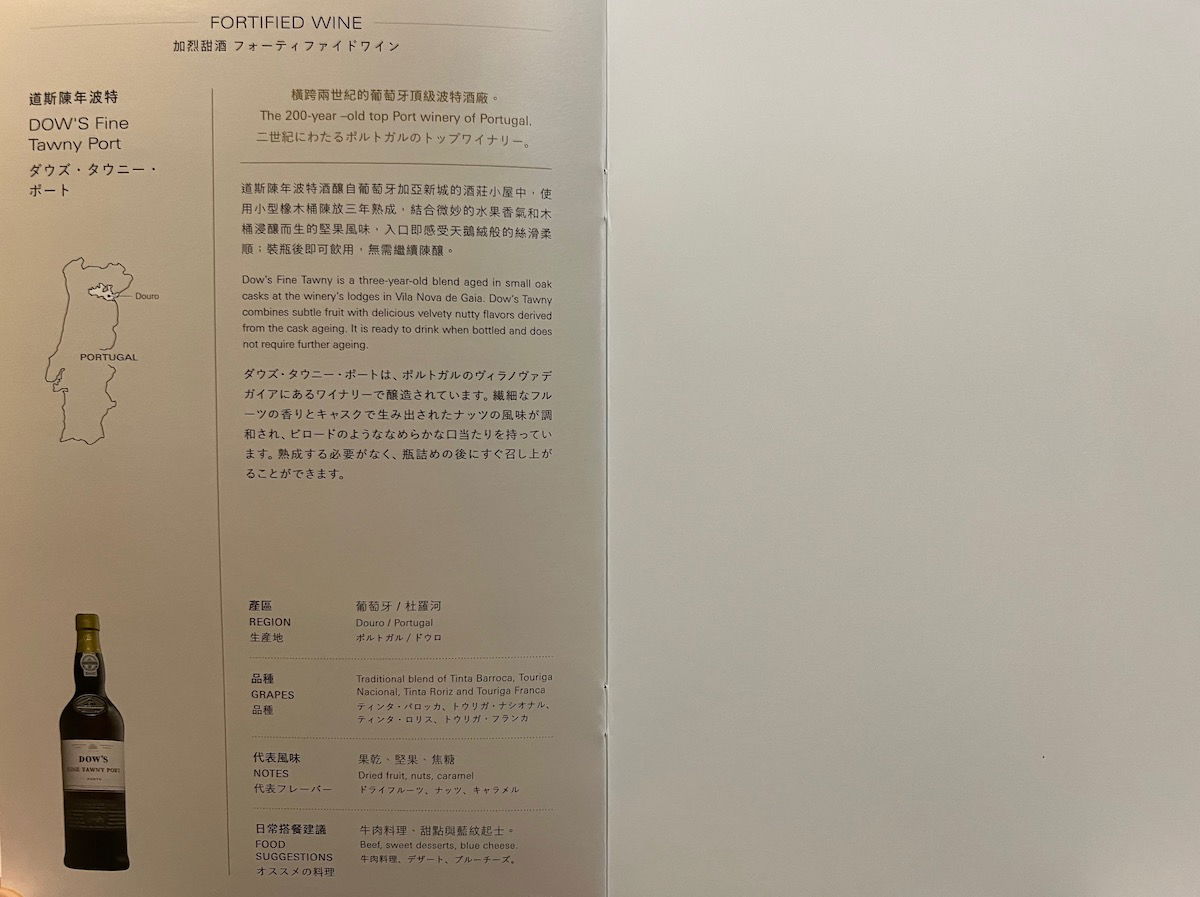 Honestly, what an impressive drink selection! A couple of things to be aware of:
When departing LAX, there's only the Western ("international") menu available, unless you pre-order the Taiwanese menu; the catch is that if you booked your ticket through a partner like Alaska Mileage Plan, the Starlux website doesn't let you manage your reservation online and pre-order your meal (which seems to be more of a technological limitation than anything else)
While the drink list is very extensive, it could use some more details in some areas; for example, it lists the very creative signature cocktails, but unless I'm missing something, there's no description of what these drinks actually are
Before dinner, we asked to first have a cocktail. That seemed to confuse the crew a bit — it's not that they weren't accommodating, they were seemed surprised at the concept of a pre-dinner drink. Ford ordered the Bi Luo Chun Galaxy drink (gin, tea, and sparkling water), and I had the Sci-Fi Cosmos 2.0 (gin with a "lactic acid drink").
It's really cute how Starlux puts some effort into its cocktails, since that's not something that many airlines (other than Emirates) do.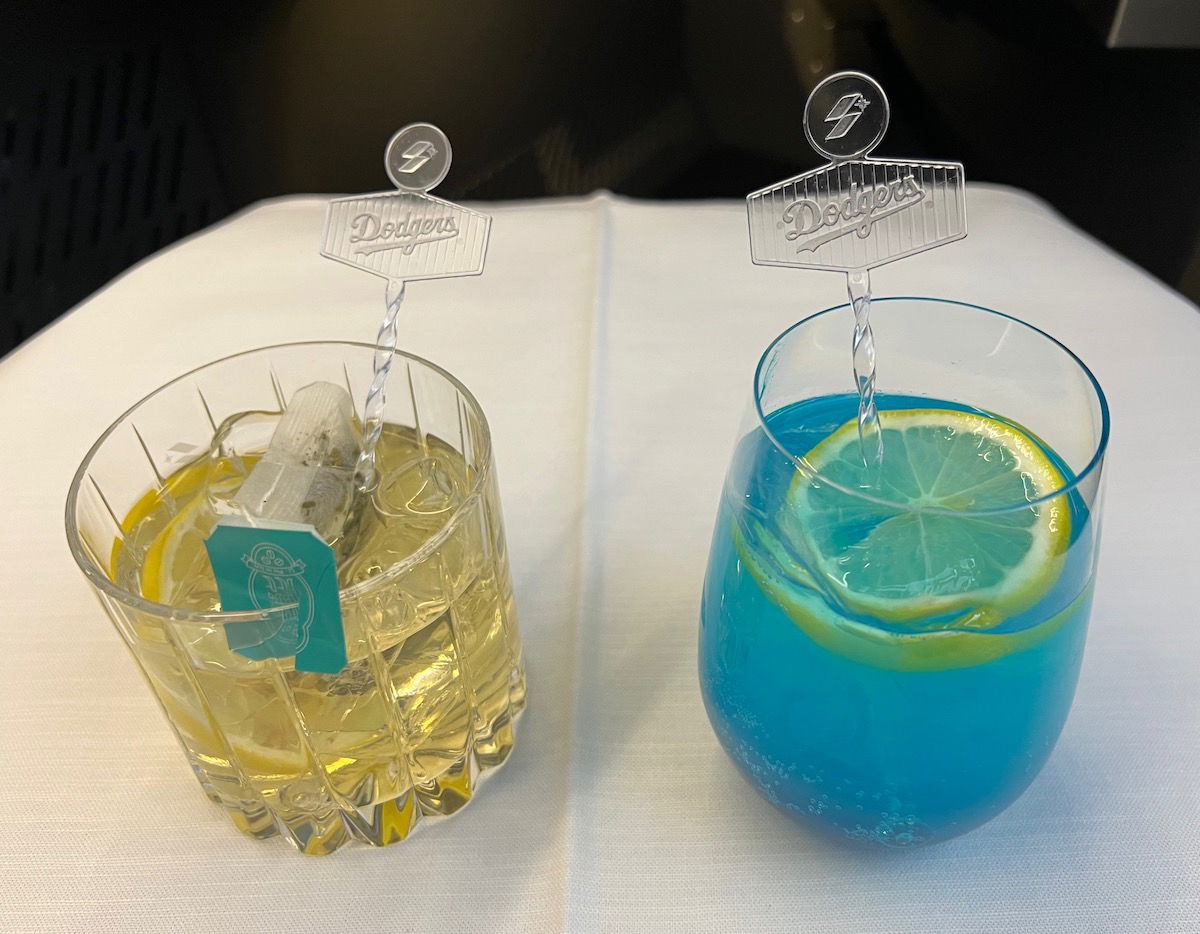 After the cocktail, I decided to switch to champagne — Bollinger was on offer, which was lovely, and I liked how it was poured into the glass at the seat.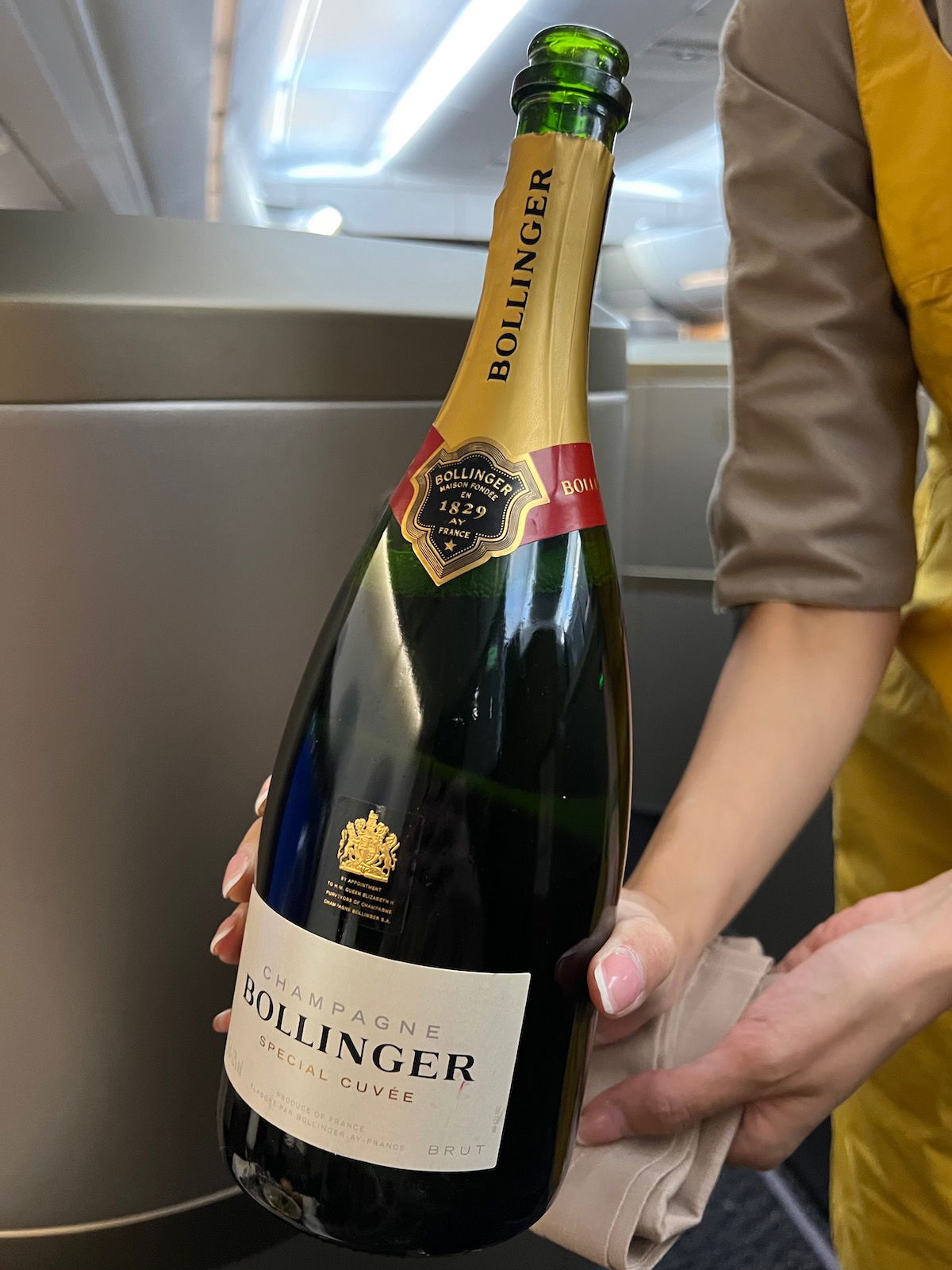 Just over 30 minutes after takeoff, we were served the starter. There was no option, and it consisted of a grilled shrimp salad with mango salsa and lime money mustard dressing. This was also served with a bread basket, and Isigny Sainte Mere butter. This was one of the nicest presented salads I've ever had on a plane, though to be honest, it looked better than it tasted, as the shrimp were quite rubbery.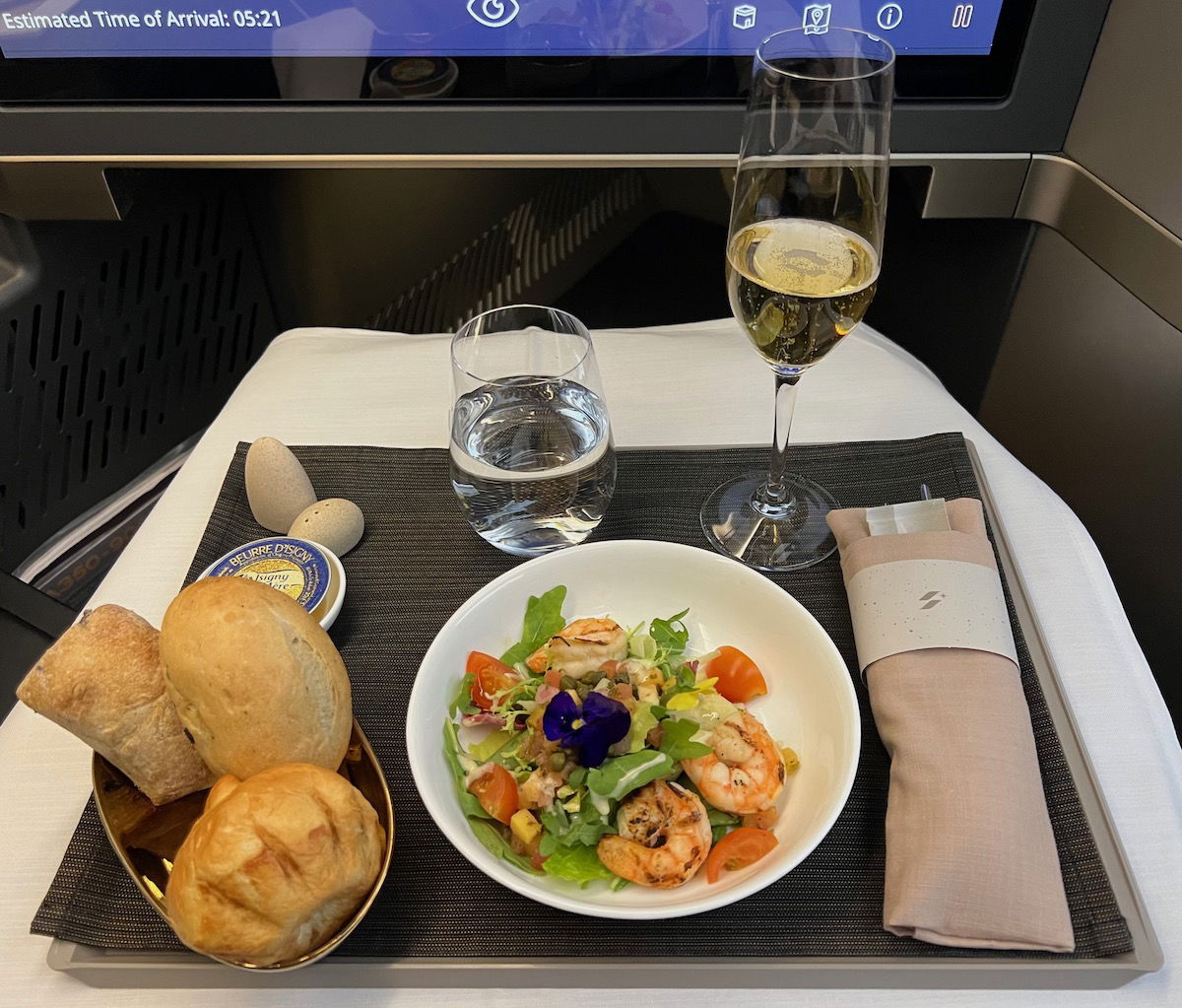 As soon as I finished, that course was cleared, and I was offered the next dish, which was a tasty cappuccino mushroom soup.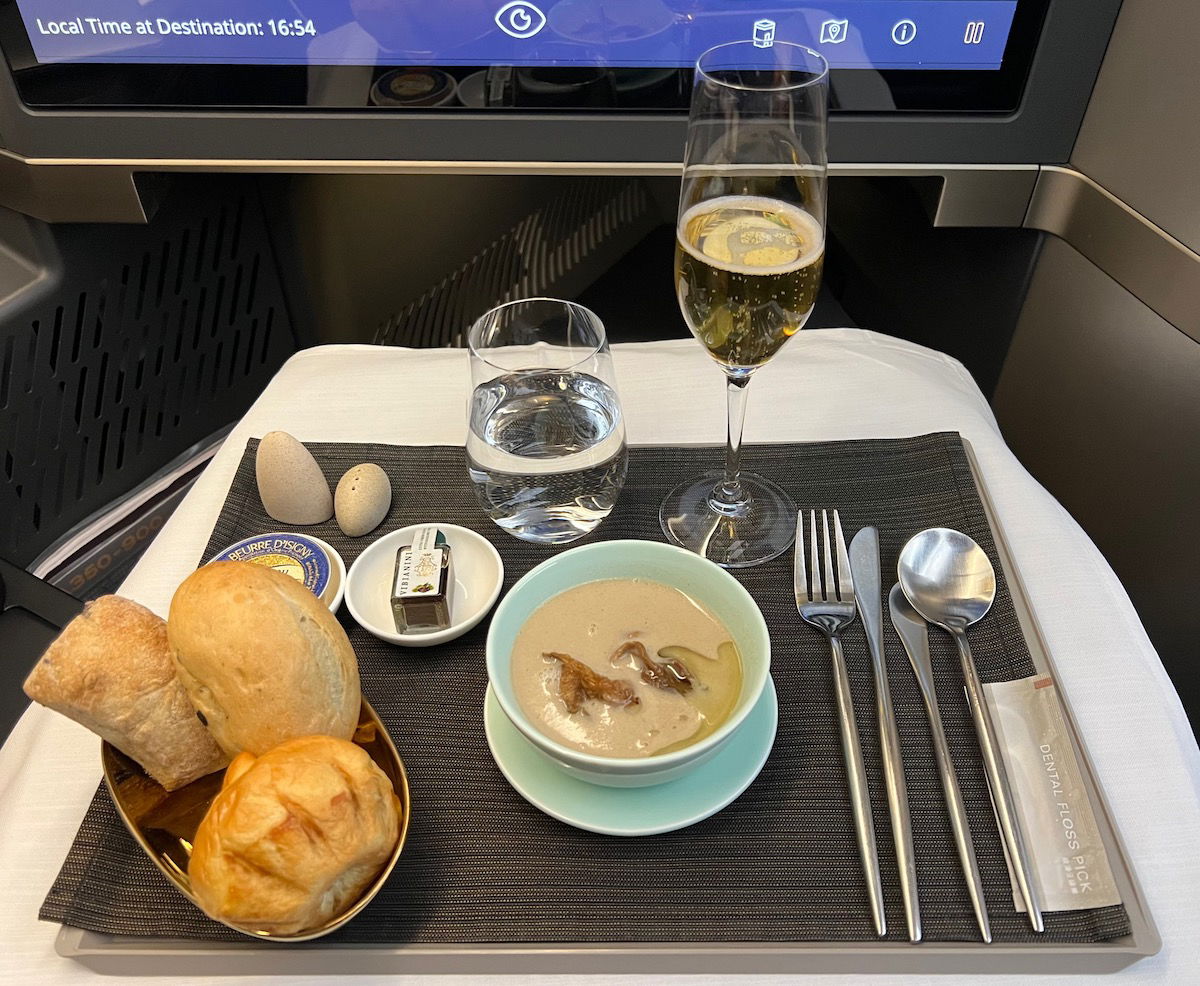 Next up, it was time for the main course. Ford ordered the braised chilean sea bass with oyster sauce, and fried noodle with vegetable.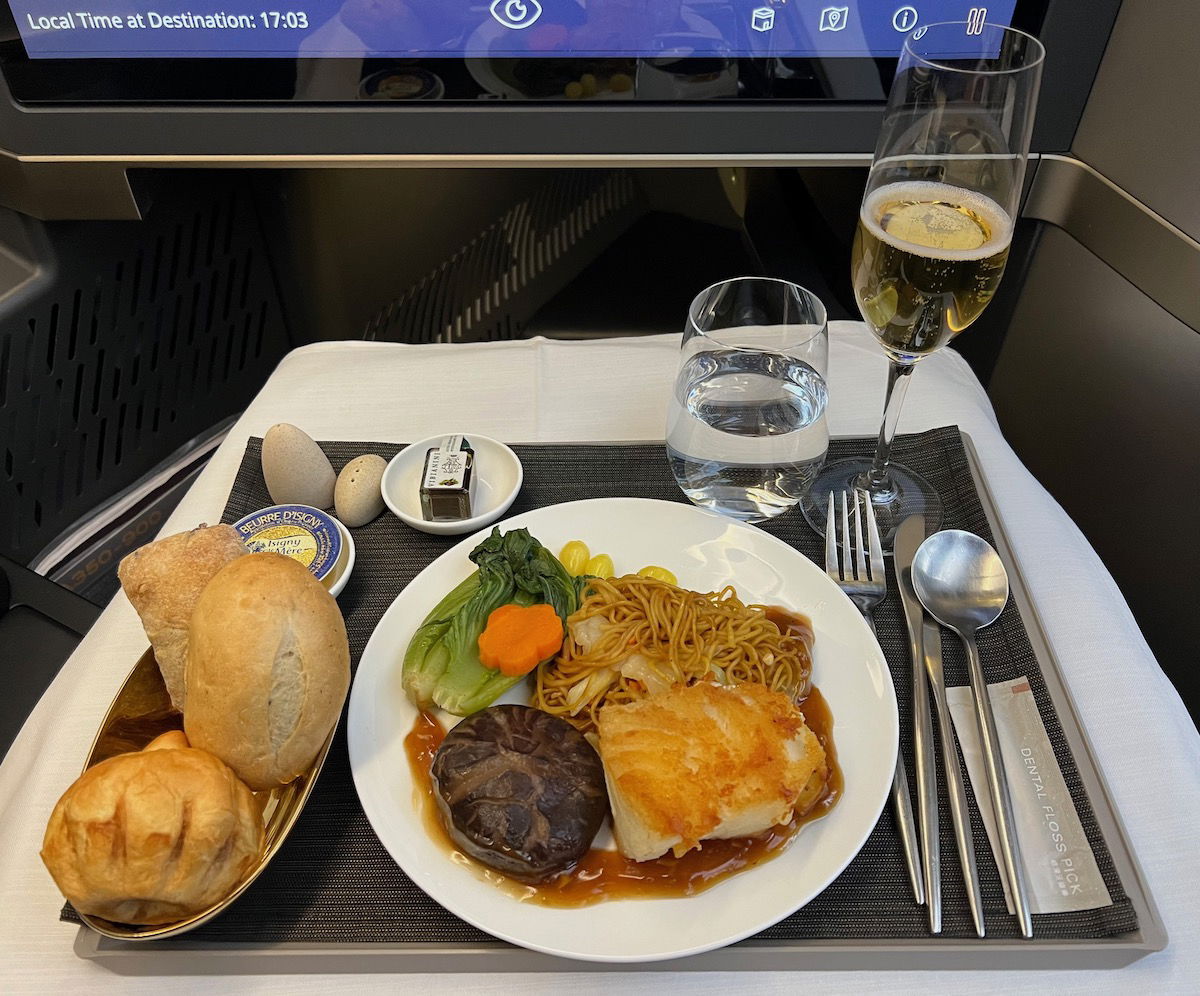 That's also what I would have ordered, but I wanted a picture of a second option, so I instead ordered the vegetarian option, which was the portobello mushroom pizza with pan-fried mushroom multi-grain risotto.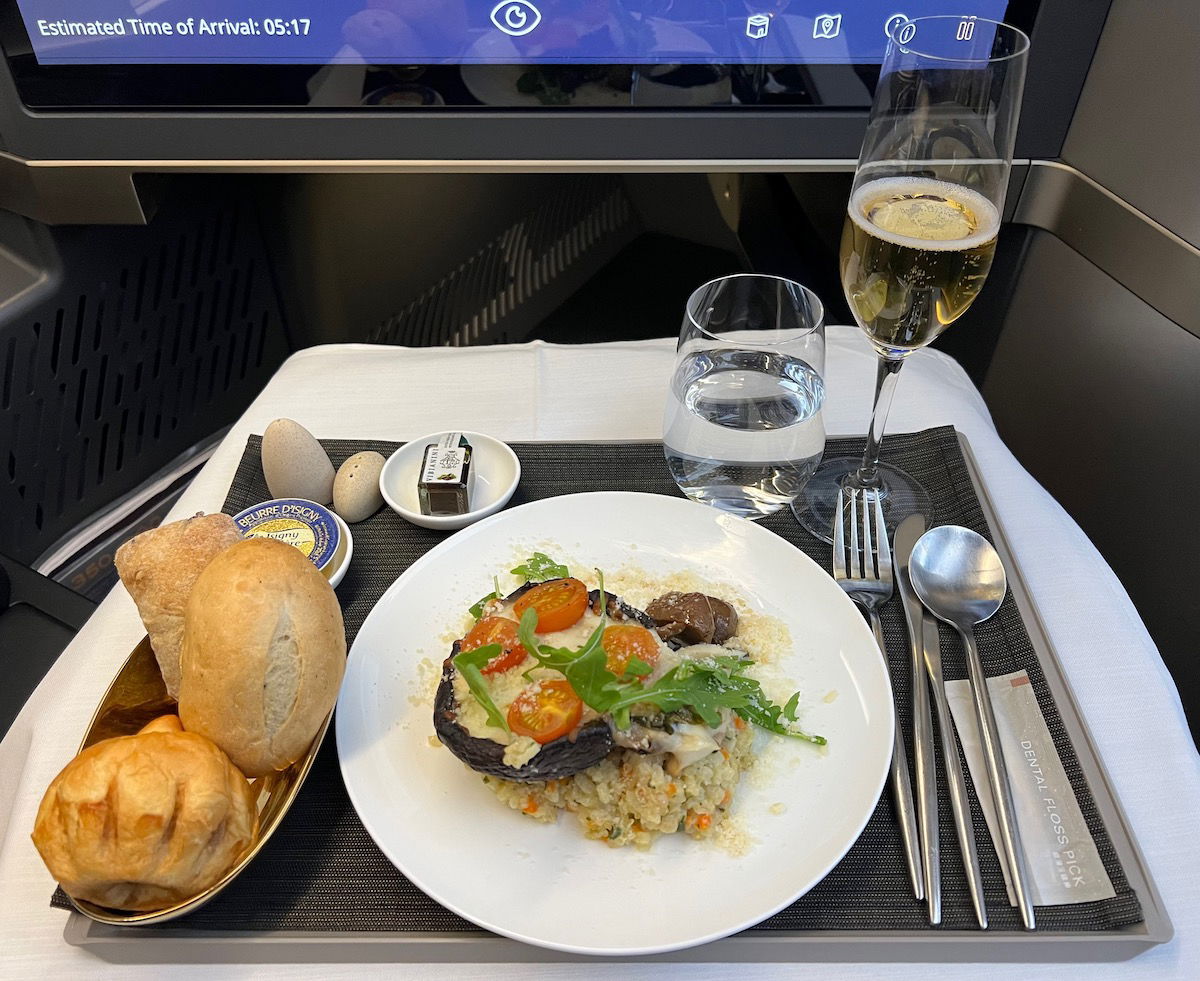 The fish was quite good, while the portobello mushroom dish was… interesting.
Once main courses were cleared, we were asked if we wanted cheese, fruit, and/or dessert. I had a fruit plate and iced coffee, and then we split the two desserts, which were the apple pecan tart and coconut sweet potato purple sago, both of which were very good.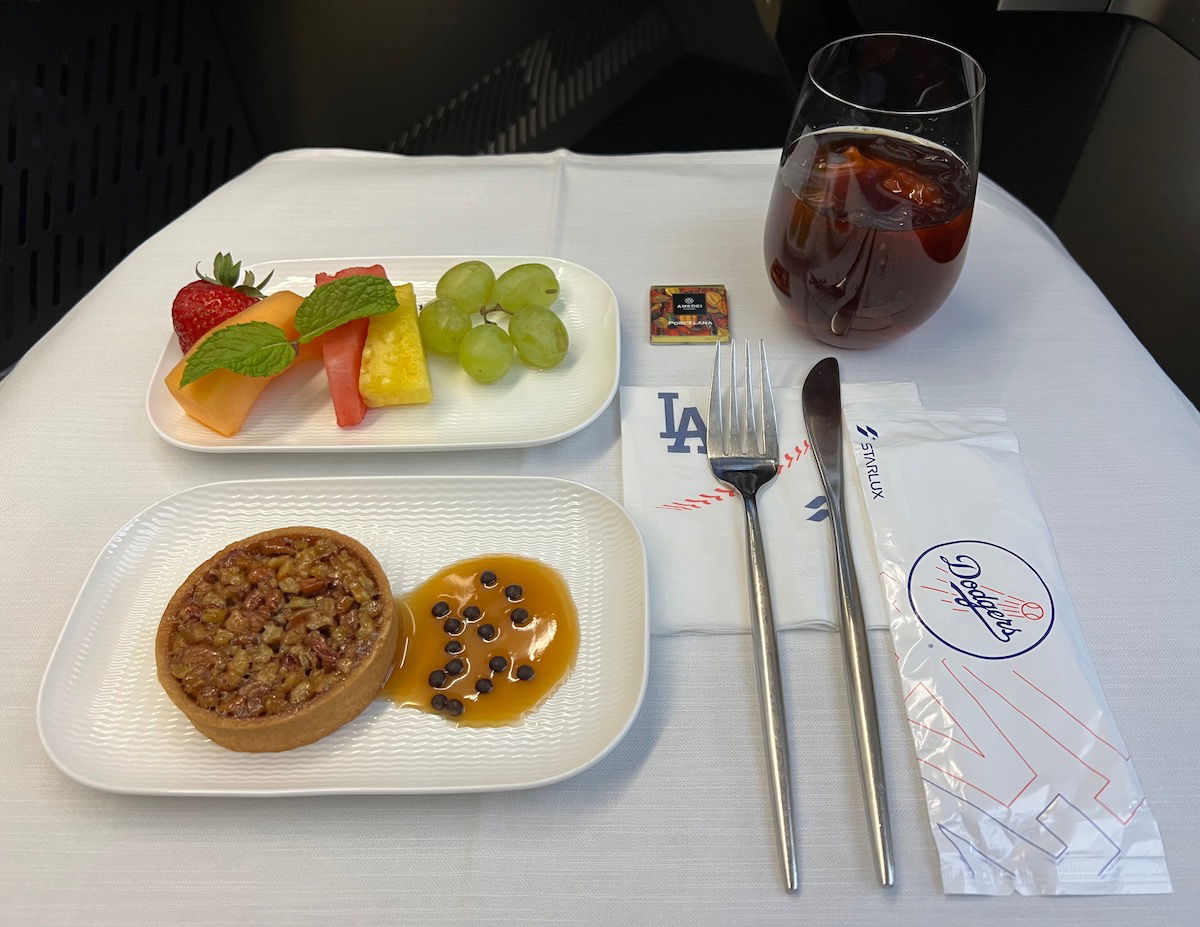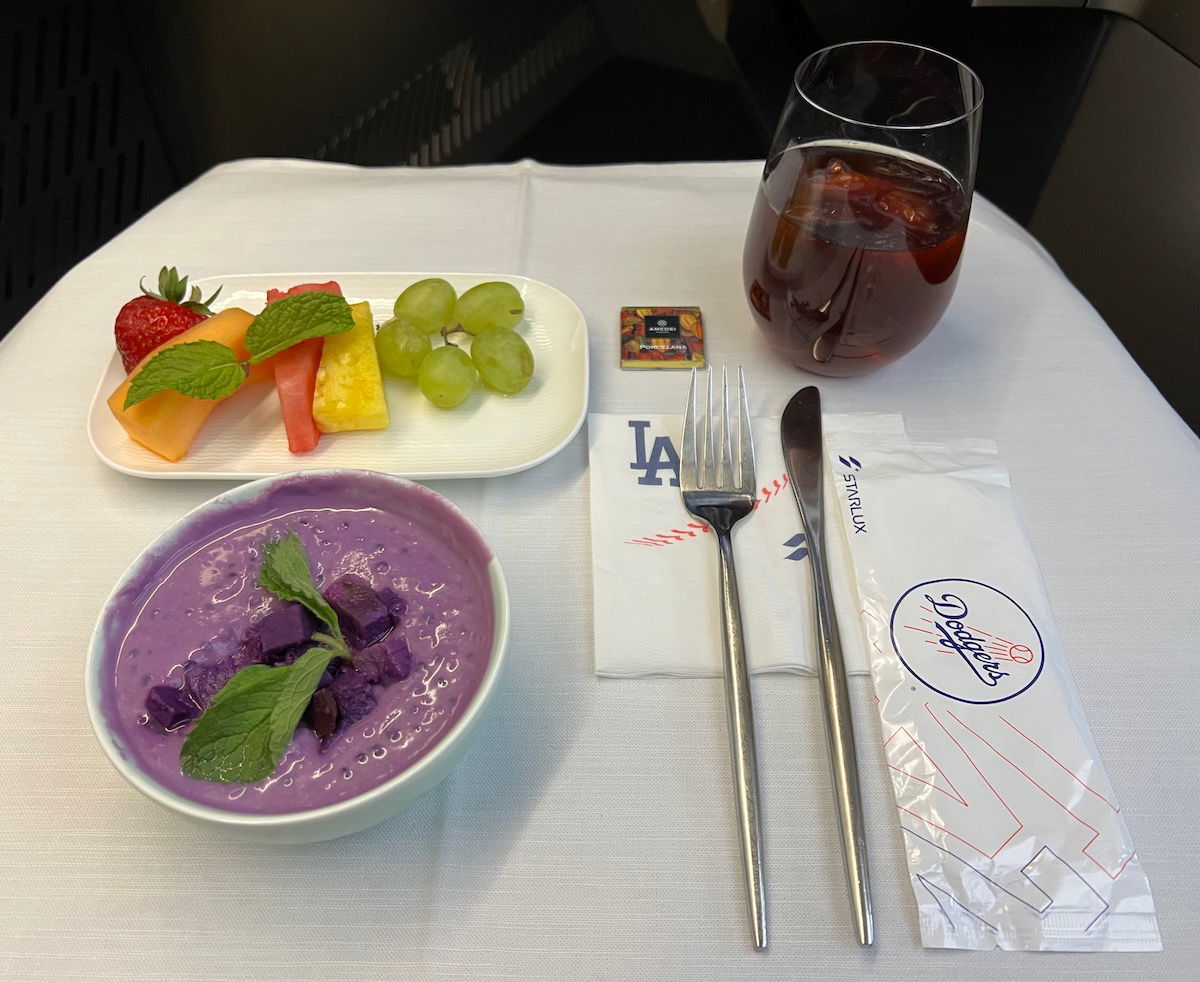 The meal service concluded about 90 minutes after takeoff with warm towels being distributed.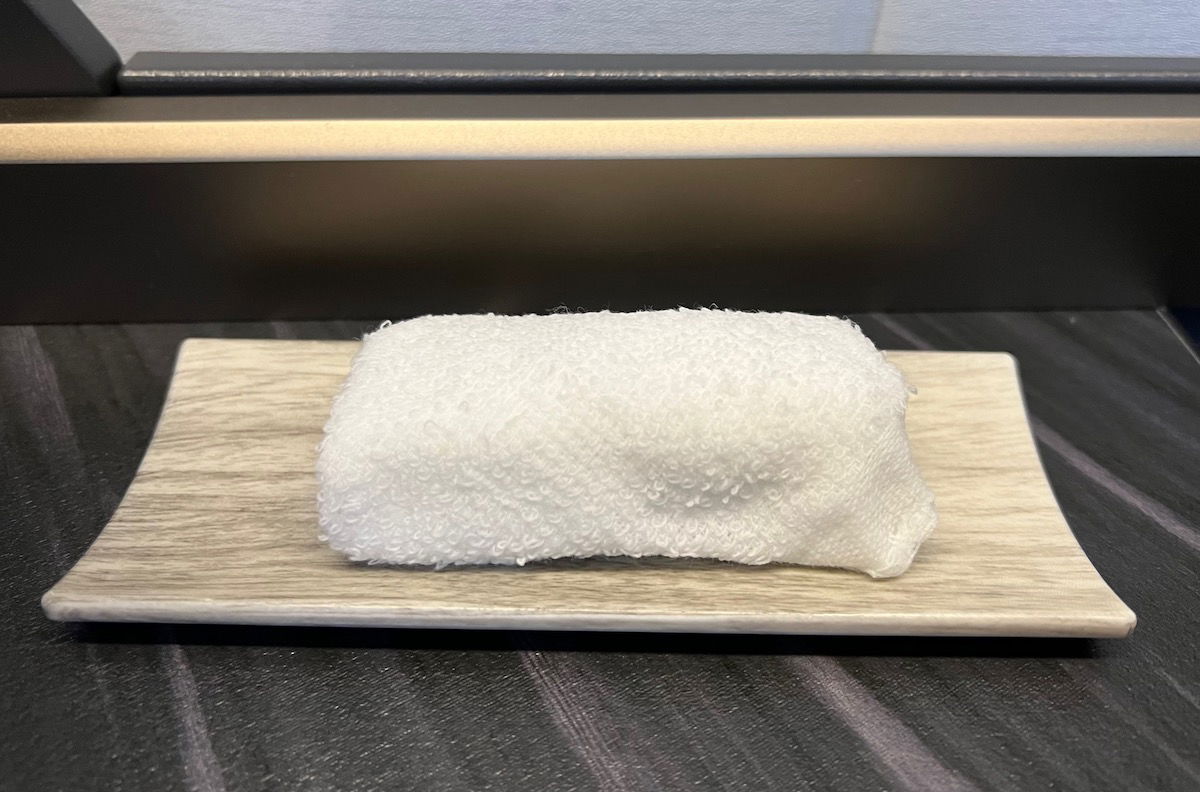 The meal service was ultimately good, with an impressive selection of drinks. However, it wasn't ideal how there was only a Western option for dining, since partner tickets can't be managed online, and as a result there's no practical way to pre-order something else.
Starlux Airlines A350 business class lavatories
After the meal, I checked out the lavatories. Starlux has three lavatories in business class on its A350s — one is located at the front of the cabin by the cockpit, and two are located in the back of the cabin, with one on each side. Note how I say they're located at the back of the cabin, and not behind the cabin.
I find Starlux's lavatory setup to be absurd. Don't under any circumstances assign the two center seats in the last row, as you're literally inches from the lavatory on each side. I know airlines do what they can to achieve cabin density for an efficient configuration, but I don't remember the last time I've seen a lavatory so close to a business class seat, with no separation of anything.
That being said, once inside the lavatories, it was a pretty pleasant experience. The lavatories have spa-like music when you close the doors, which is a cute touch. The lavatories aren't particularly big, but are modern, as you'd expect from a new Airbus A350.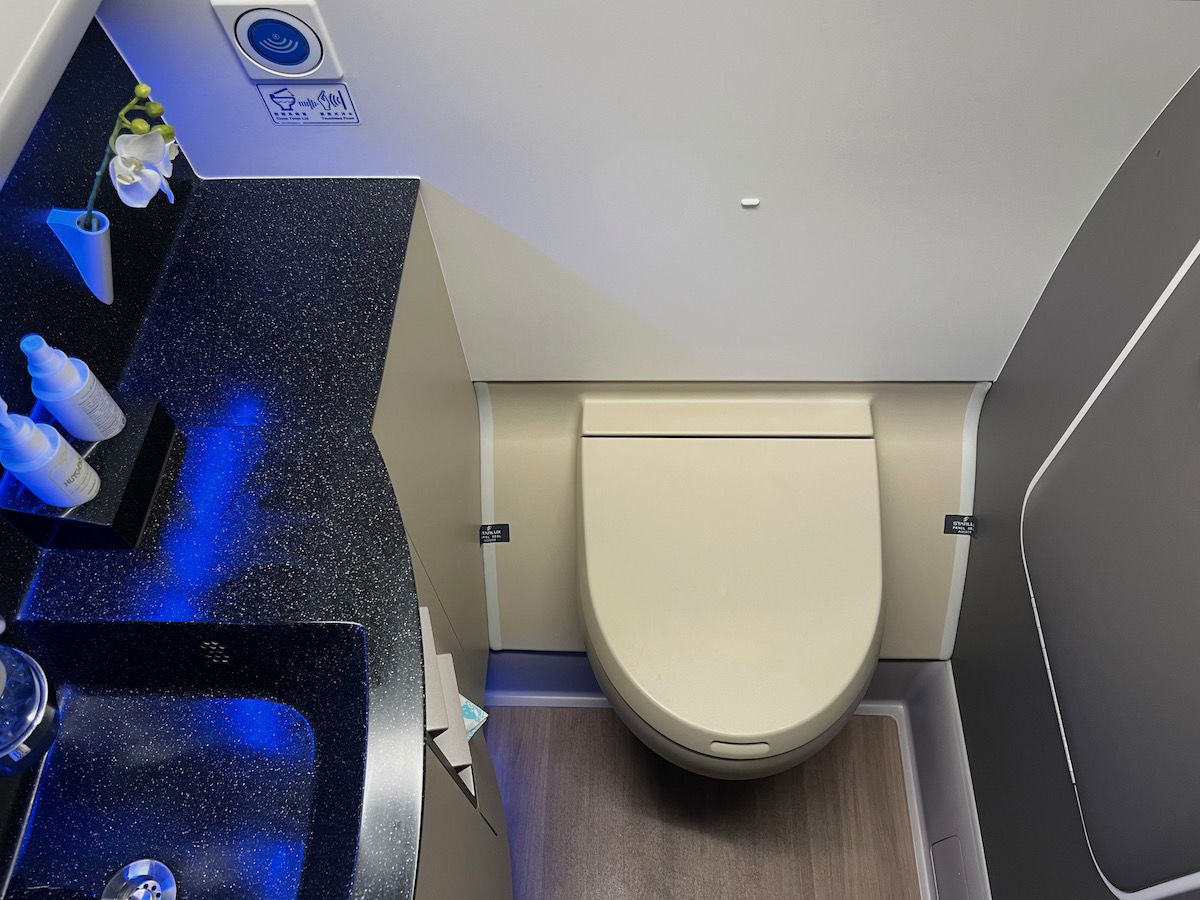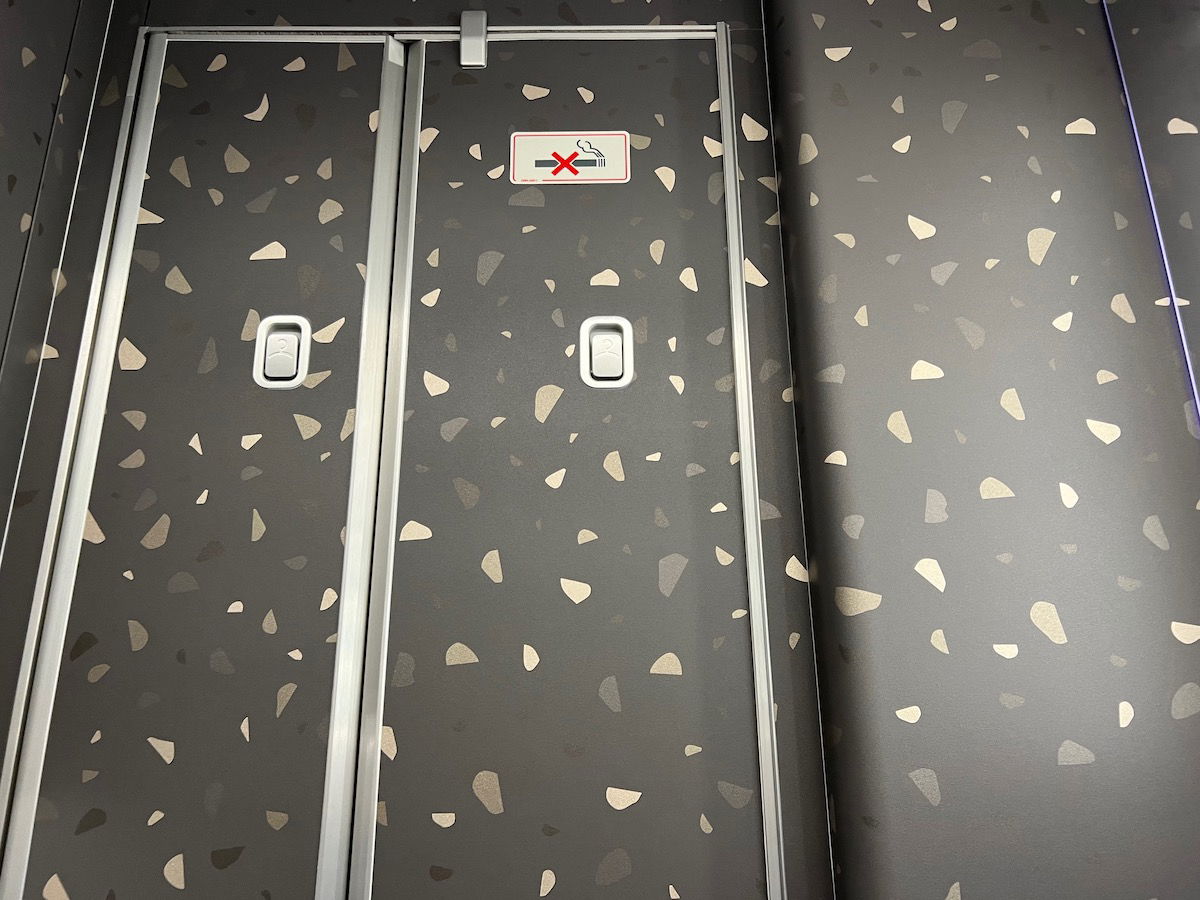 In addition to having toiletries from Huygens, there were a variety of other products, including dental picks, mouthwash, and real hand towels. There was also a Starlux diffuser set.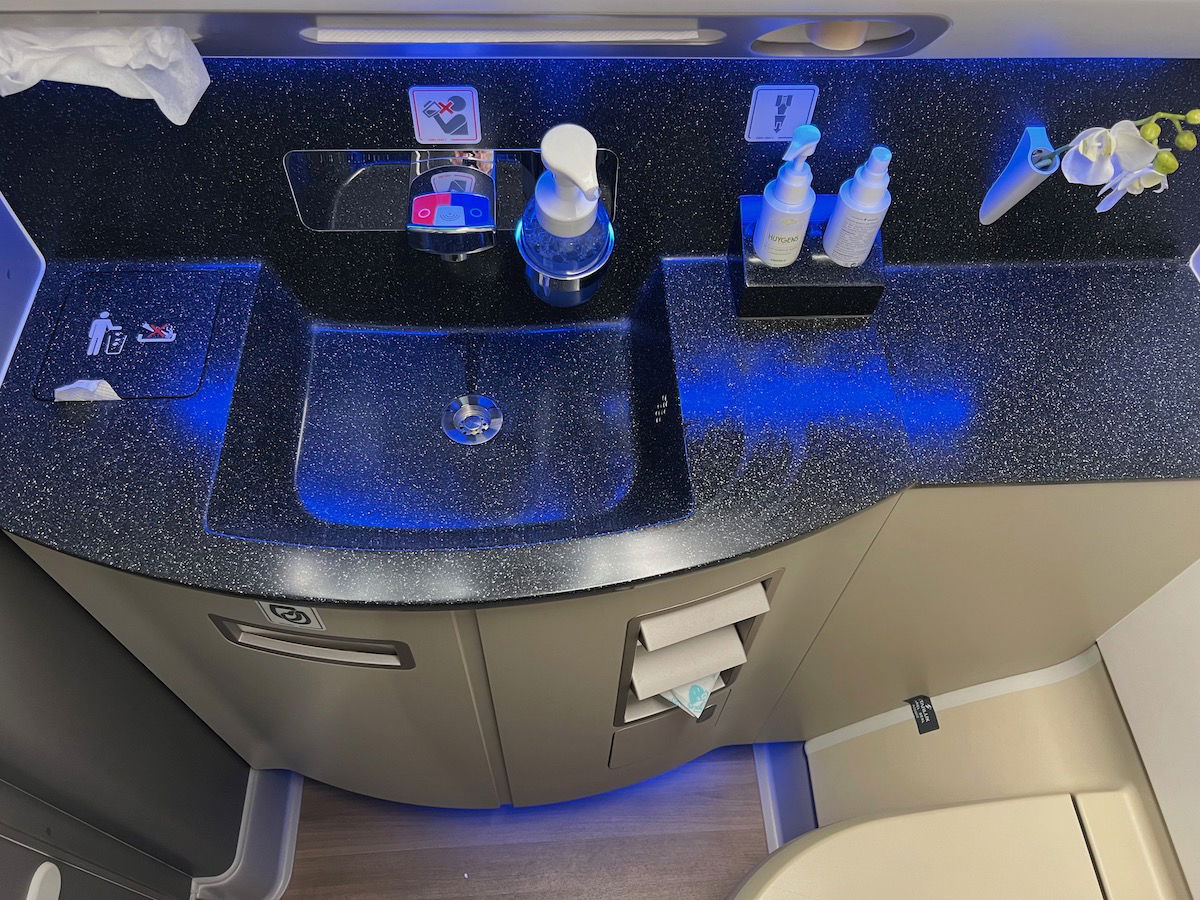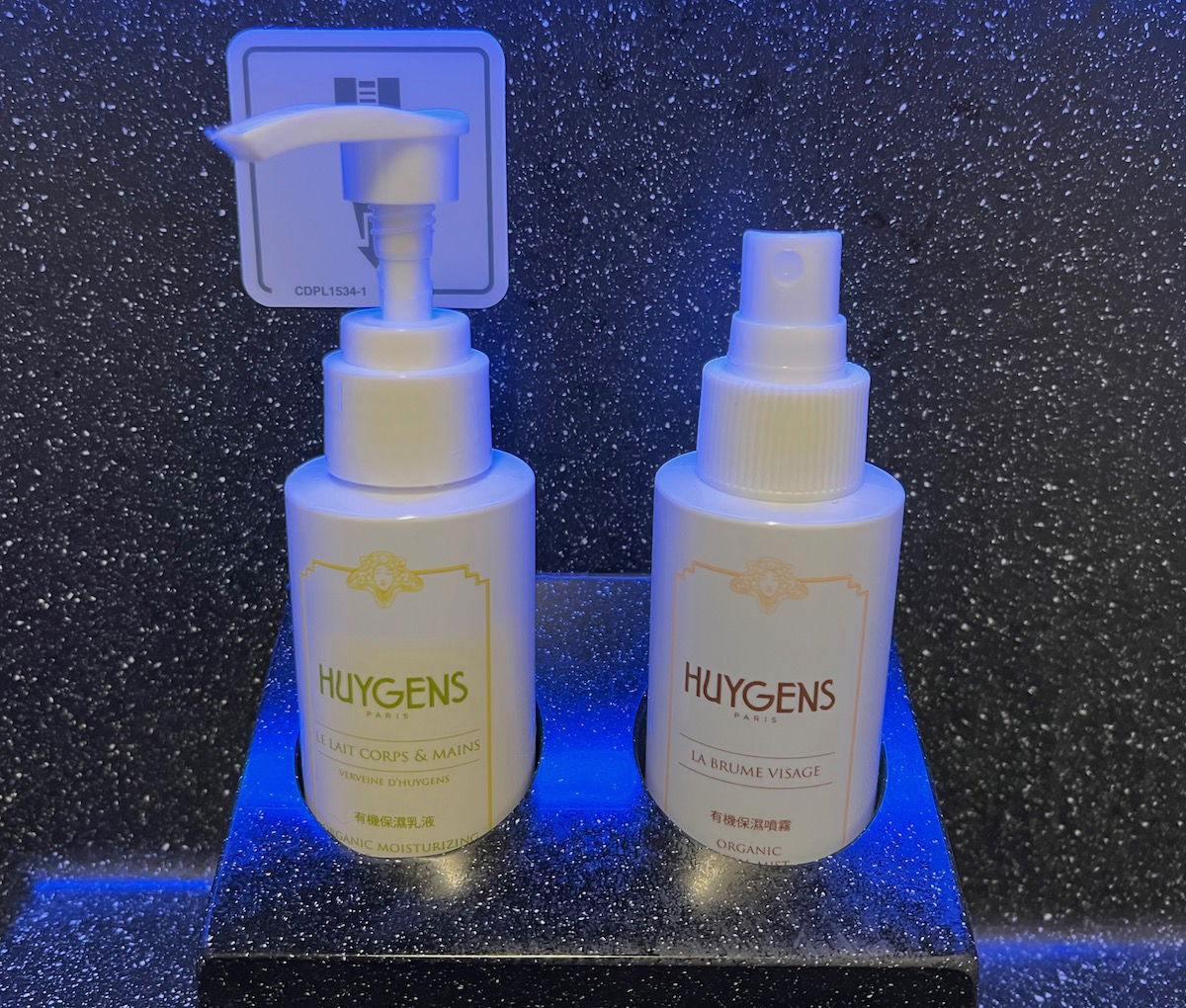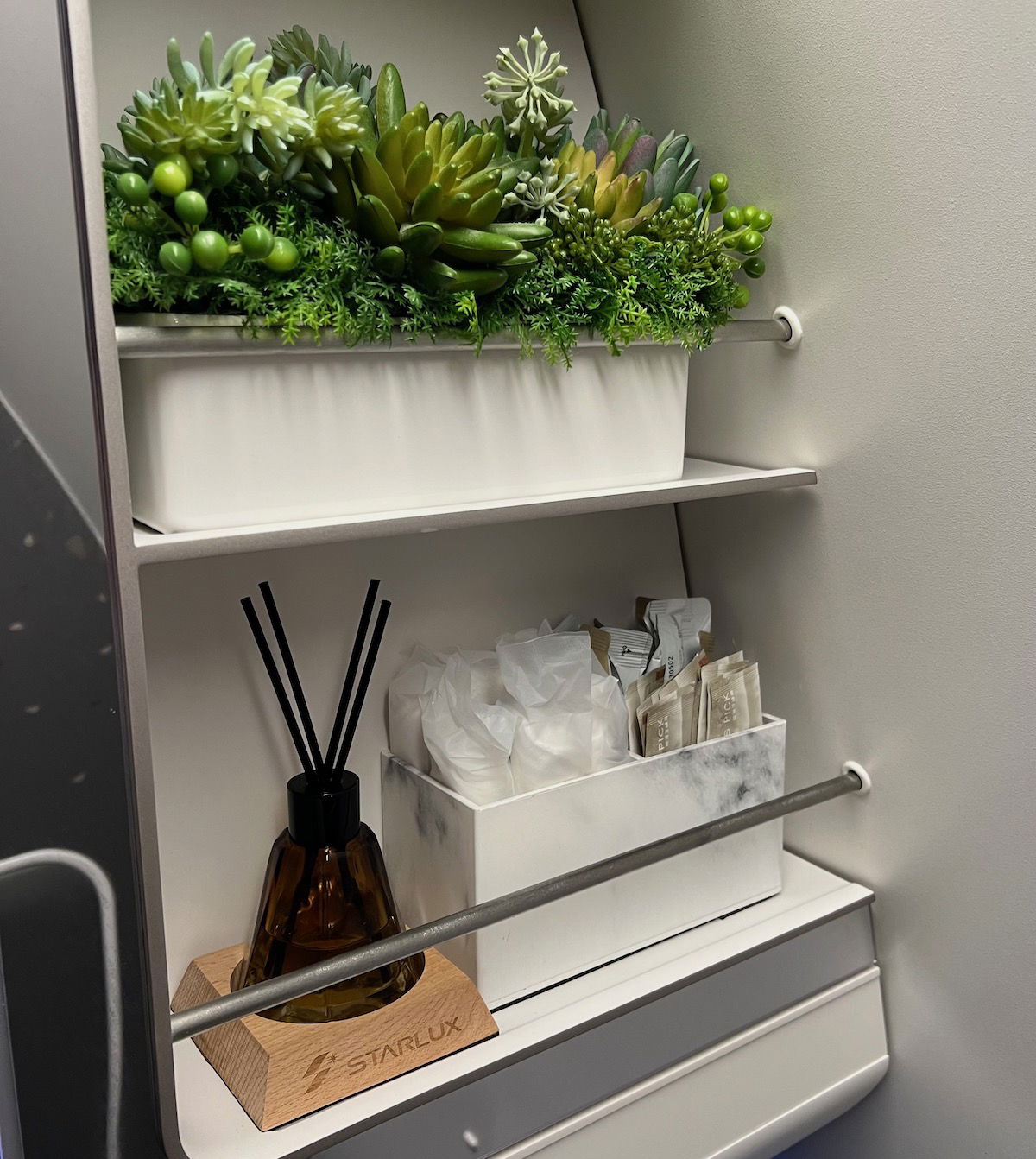 Perhaps most noteworthy of all, though, is that the toilet paper was Starlux branded. Now that's cool!!!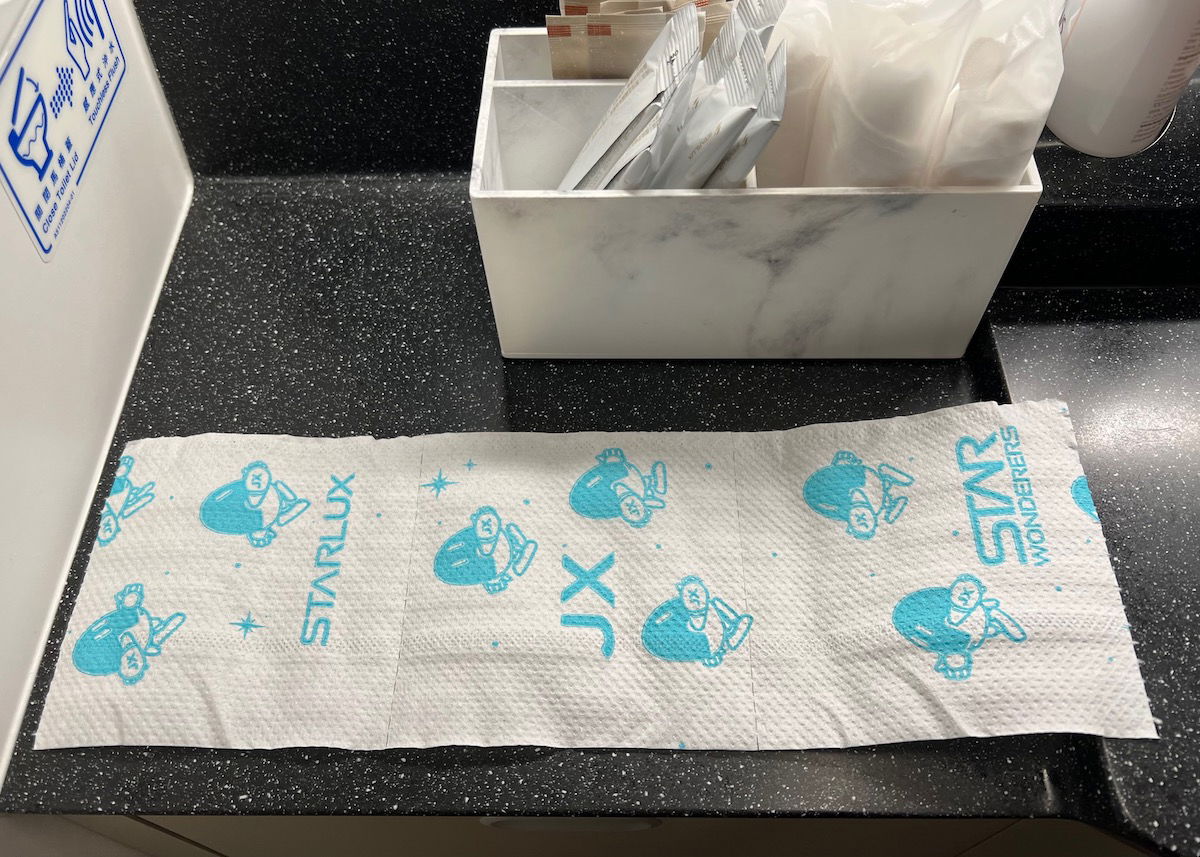 Starlux Airlines A350 business class bed
About two hours after takeoff, I tried to get some rest. Starlux offers mattress pads in business class, so the crew placed that on my seat after the meal.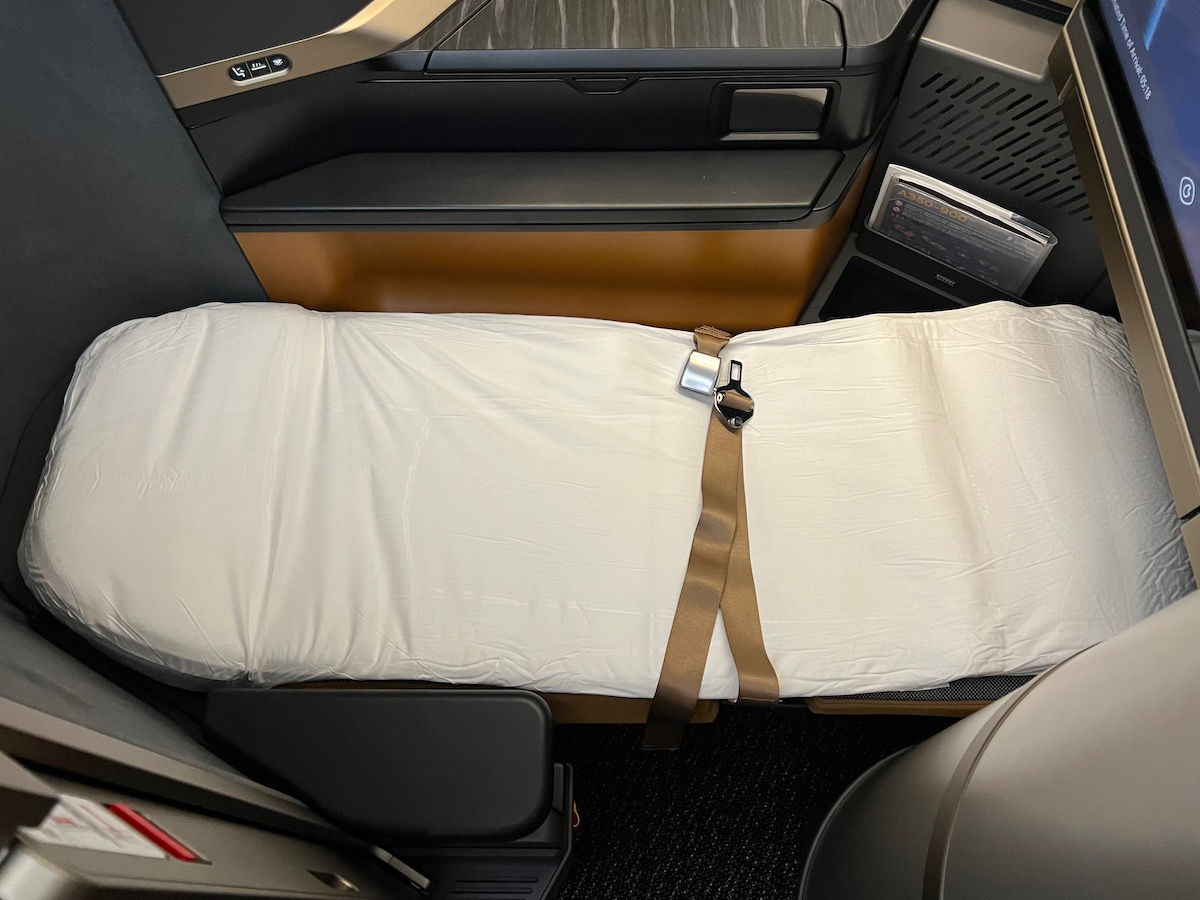 Starlux's business class beds are exceptionally comfortable, perhaps the best of any airline. Not only is the bedding great, but this kind of reverse herringbone seat is the most spacious I've ever flown in, so I'm a big fan.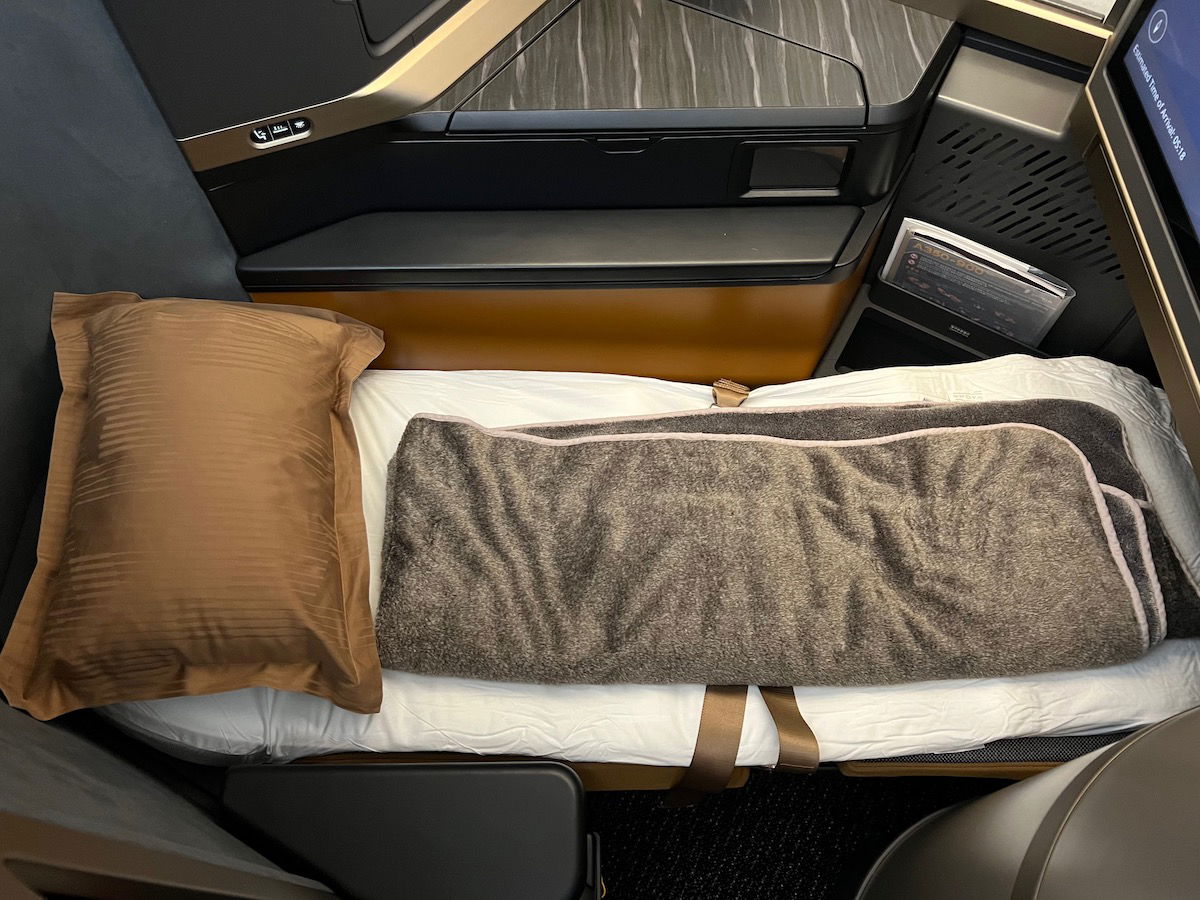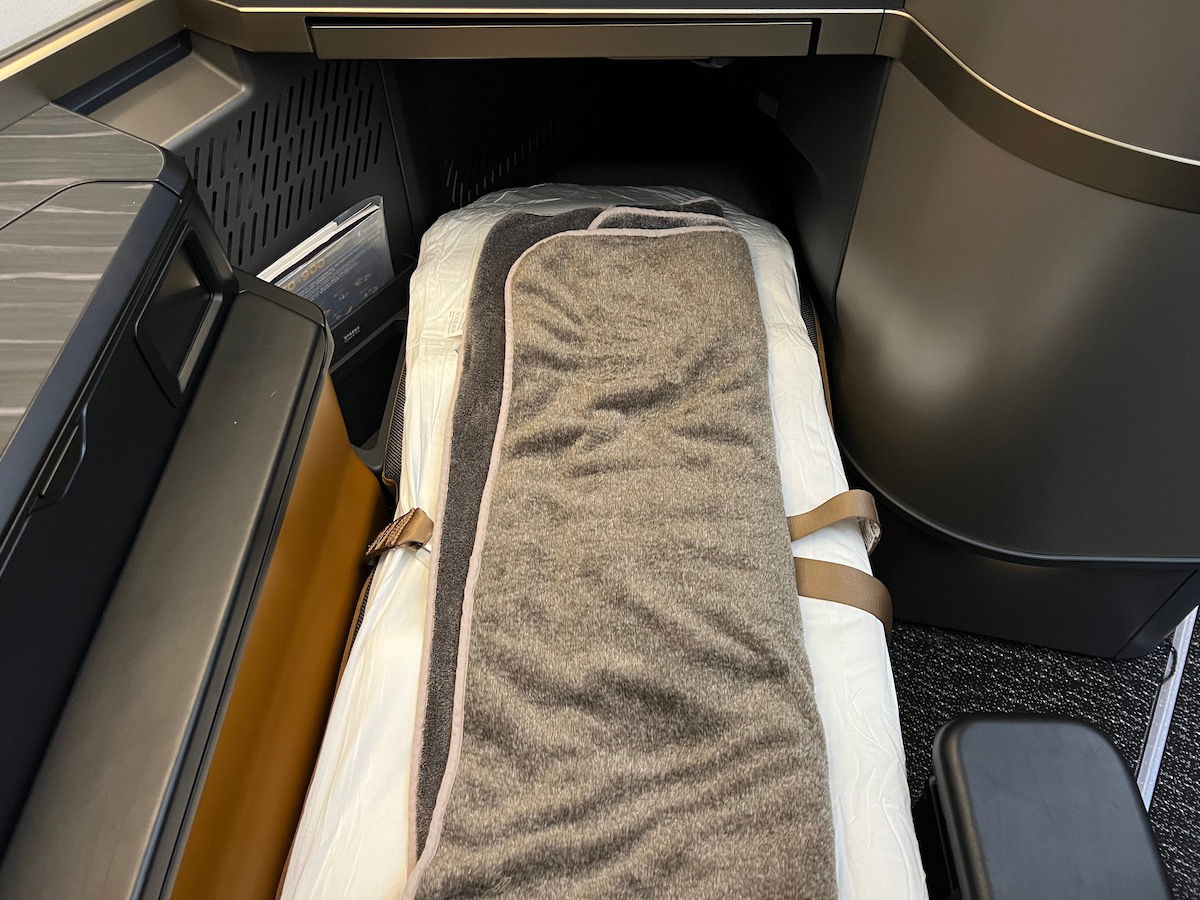 While I was initially worried about the lack of individual air nozzles, the cabin was kept surprisingly cool for an Asian carrier, as they often tend to keep their cabins warmer than average. I managed to get nearly five hours of sleep, which for me is really good, as I'm an awful airplane sleeper.
Starlux Airlines business class drinks & snacks
I spent the remainder of the flight awake and working, so I managed to sample quite a few of the snacks and drinks on offer.
For one, the crew had a snack basket, containing all kinds of sweet and savory packaged snacks.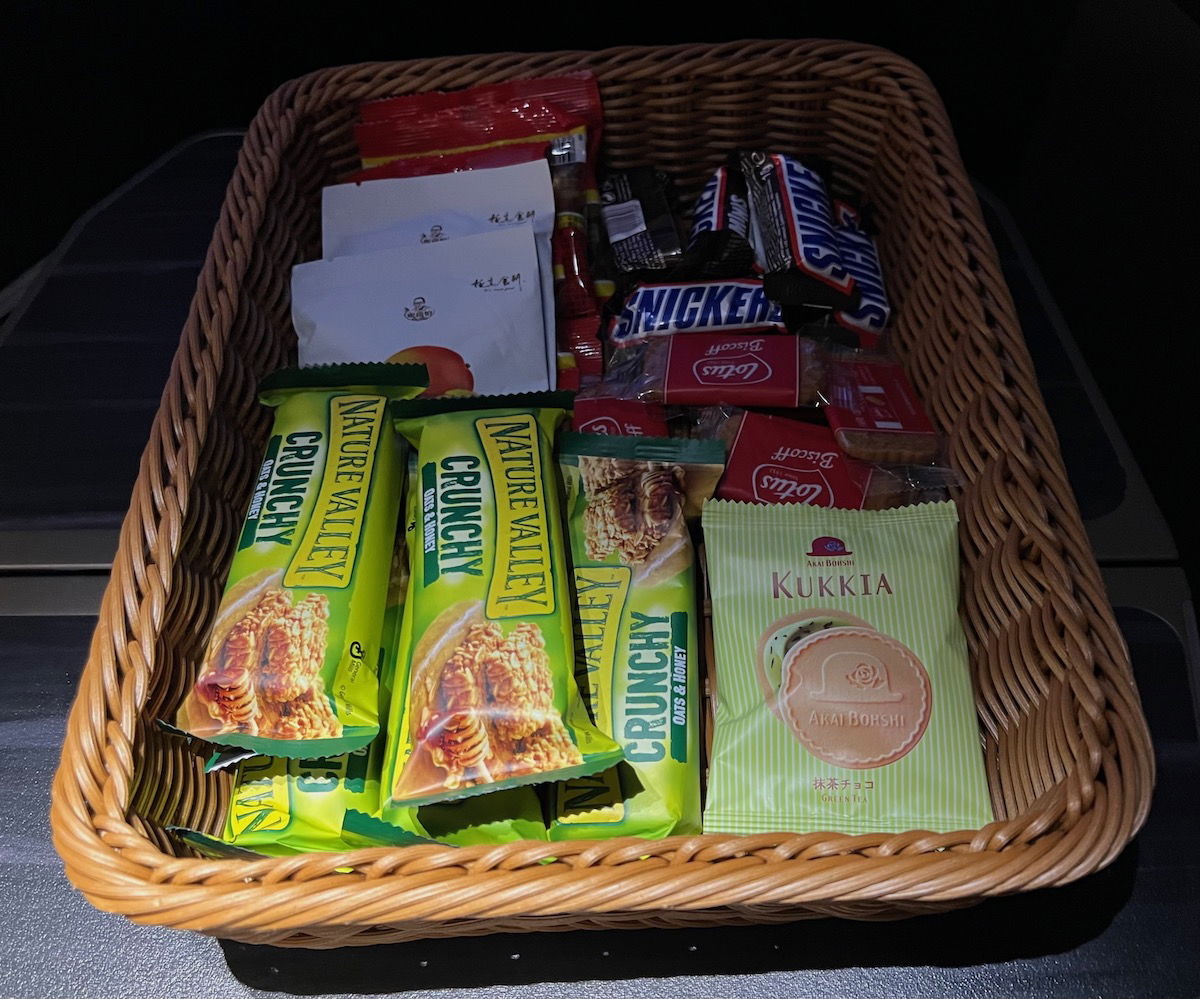 I also ordered a cappuccino, which was fairly good.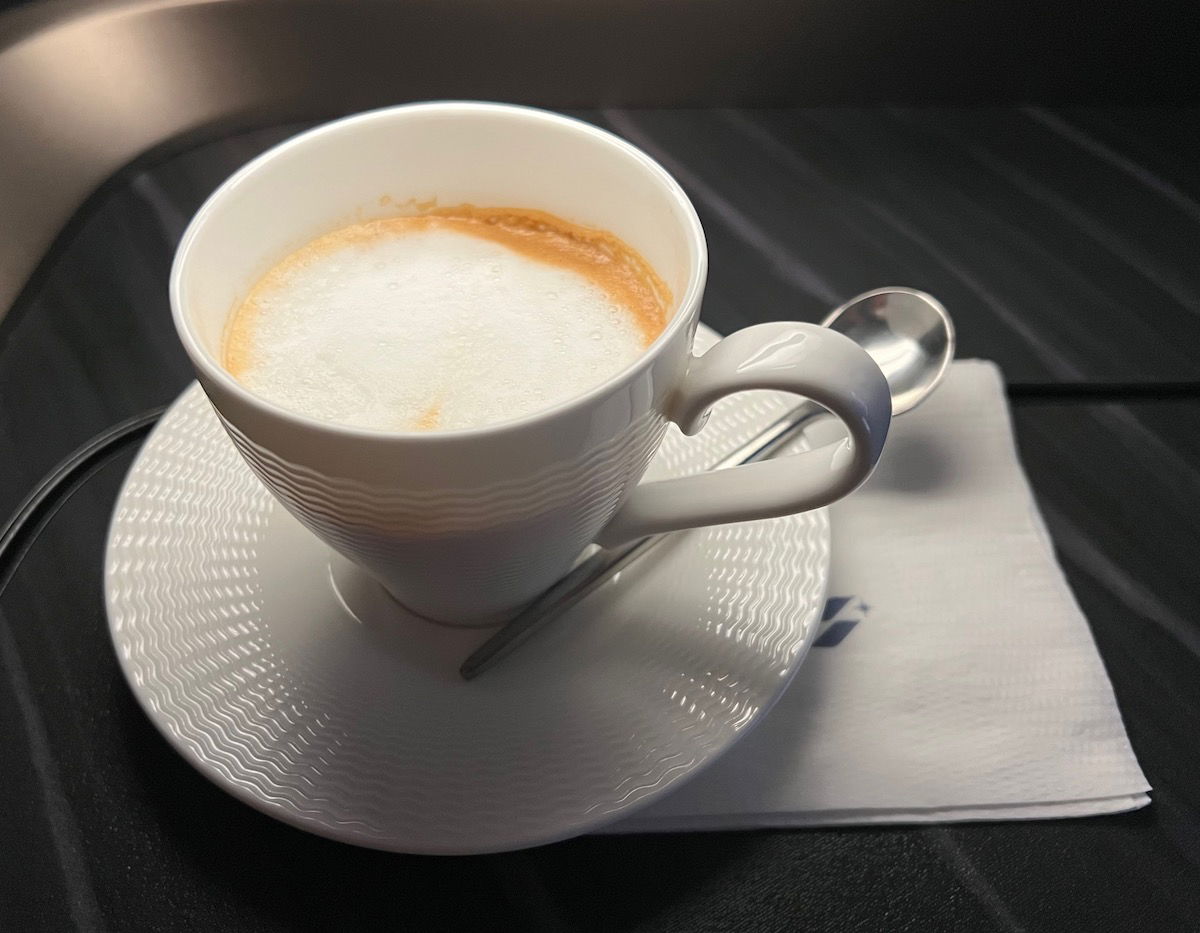 I was intrigued by the Wunjo Red Bean Essence, so ordered that later on. I liked it, though it wasn't particularly flavorful.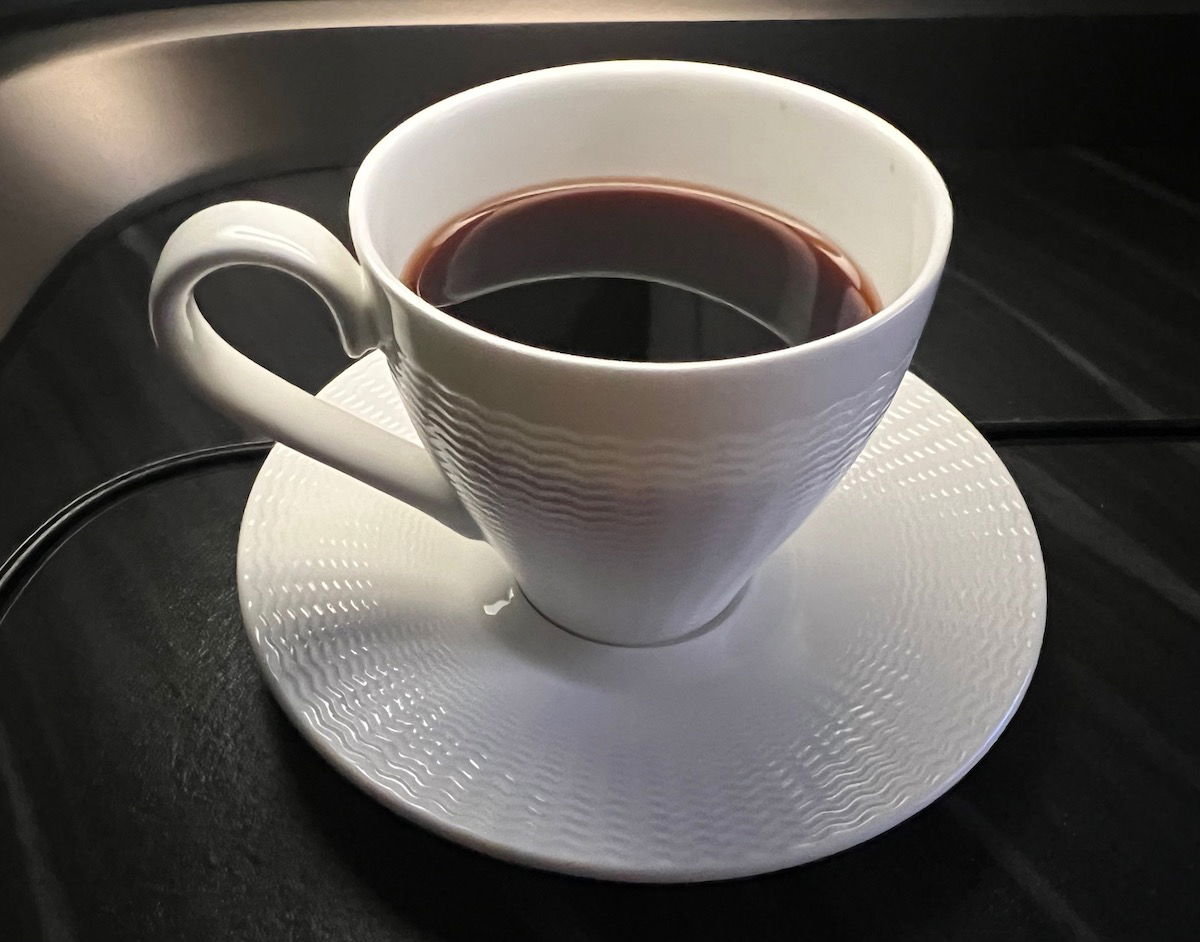 Starlux also has a midflight snack menu in business class, which you can find below.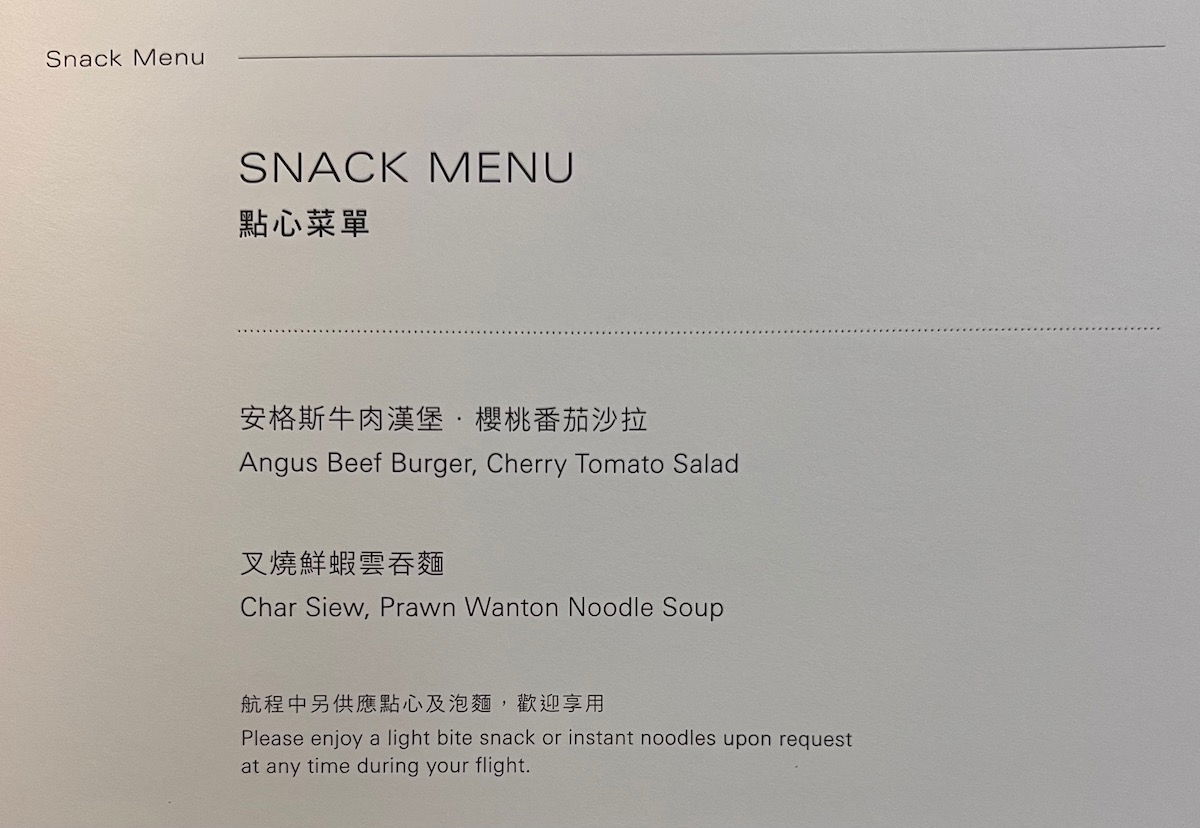 I don't eat pork (which can be tough in Taiwan!), so between the two options, I ordered the angus beef burger with cherry tomato salad. That was served about 20 minutes after I ordered it, though it ended up having bacon on it. You'd think the airline could have the menu accurately reflect what's being served. It also means that both of Starlux's midflight snacks have pork.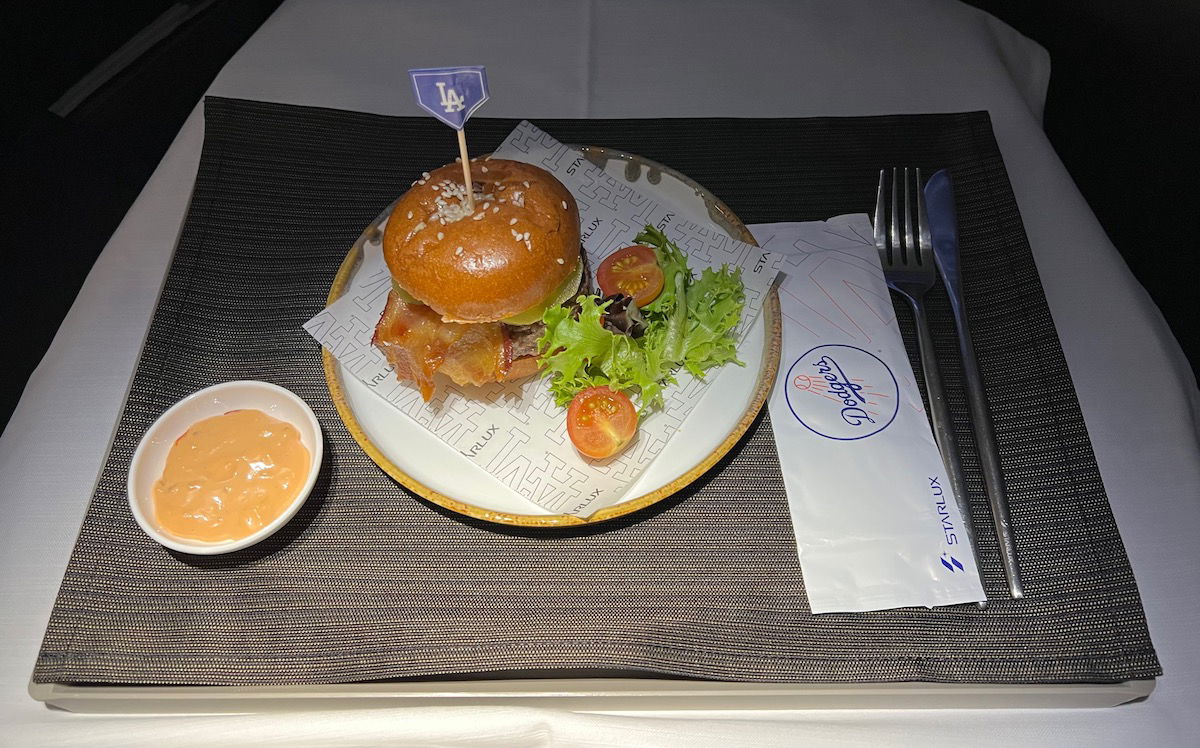 Starlux Airlines business class breakfast
With just under 2hr30min remaining to Taipei, the crew slowly turned on the cabin lights in preparation for the breakfast service.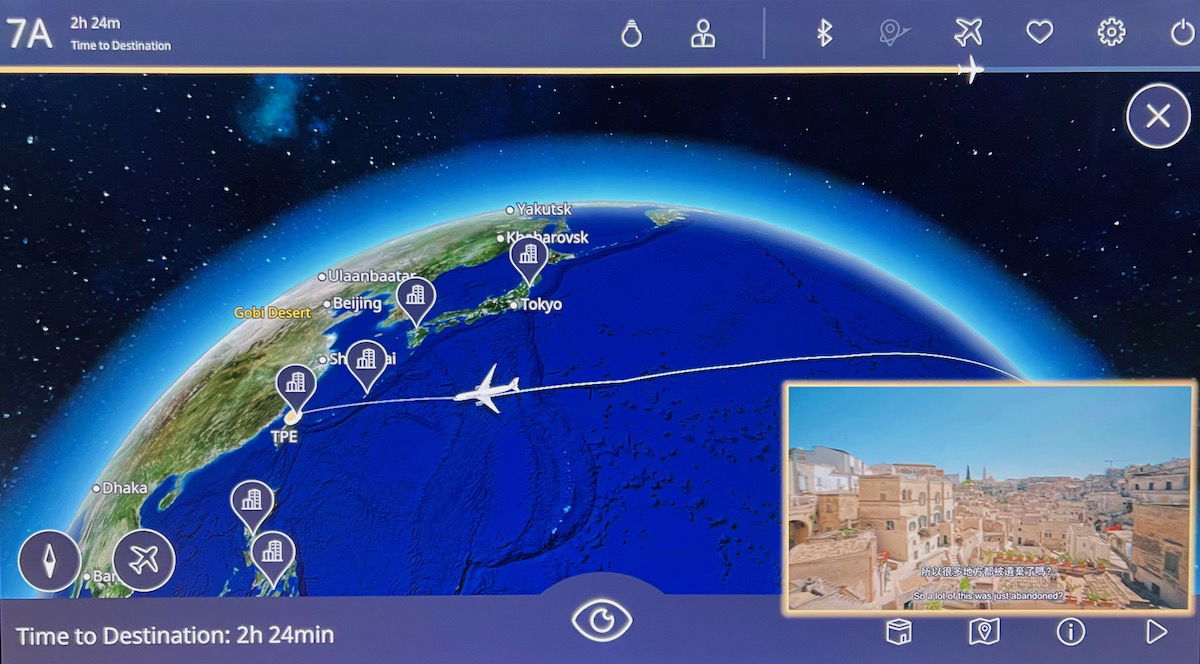 You can find the Starlux business class breakfast menu below, and this time around there were both Western and Asian options.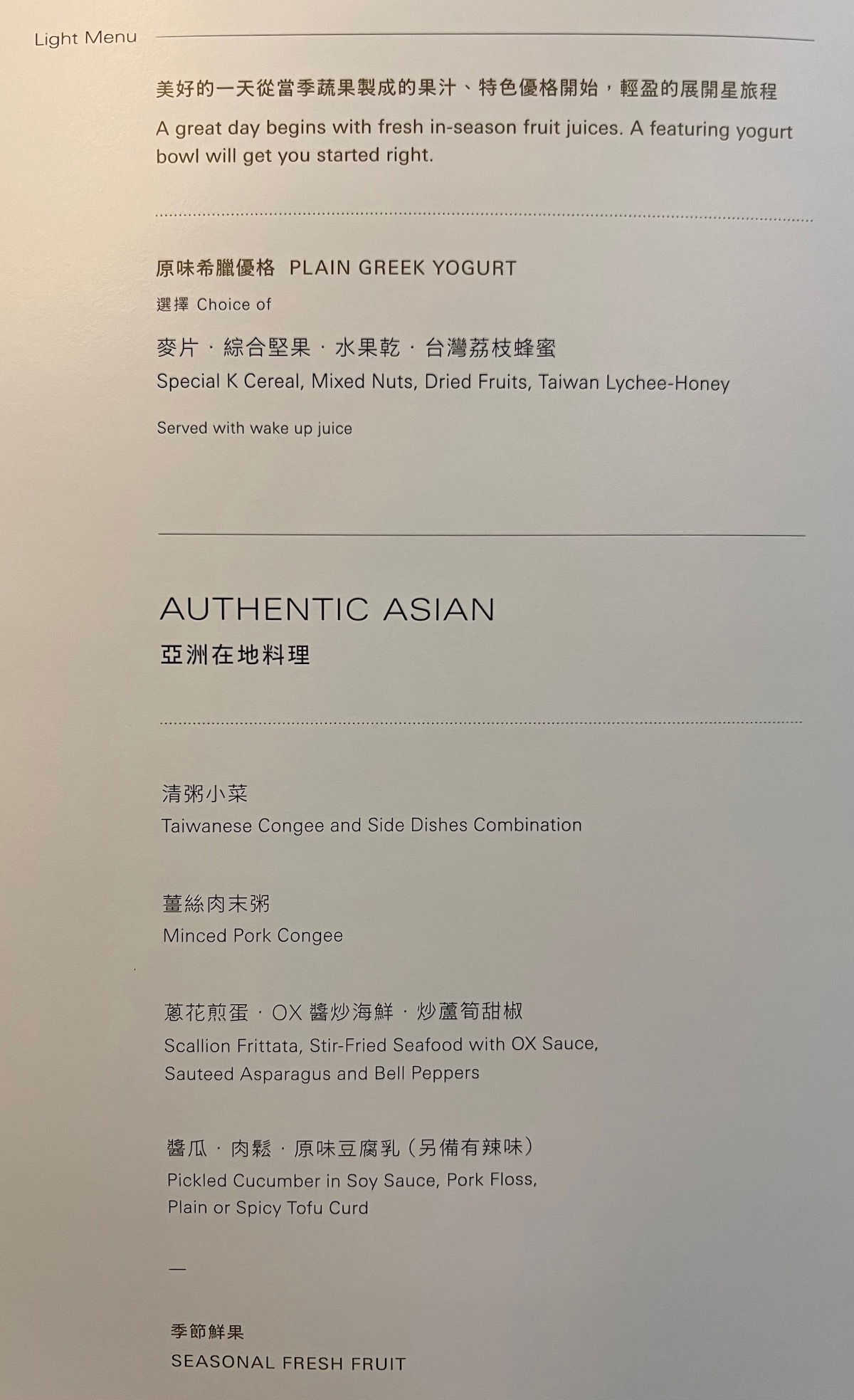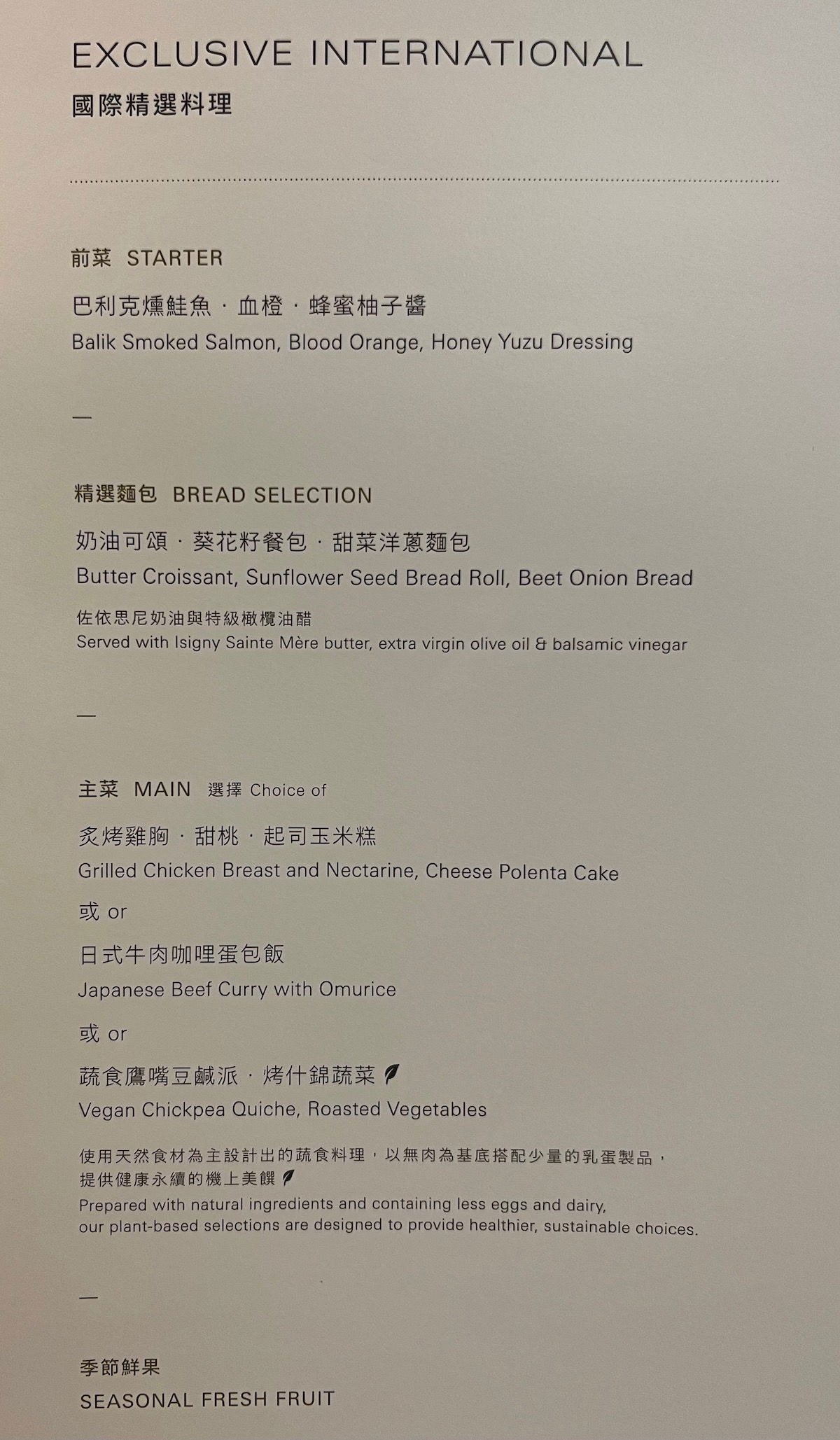 Ford selected the Asian option, and while I would have ordered that, I wanted to get pictures of as many things as possible, so I ended up ordering the Western option. The Asian breakfast looked quite good, and consisted of congee, scallion frittata, stir-fried seafood, and then fresh fruit for dessert.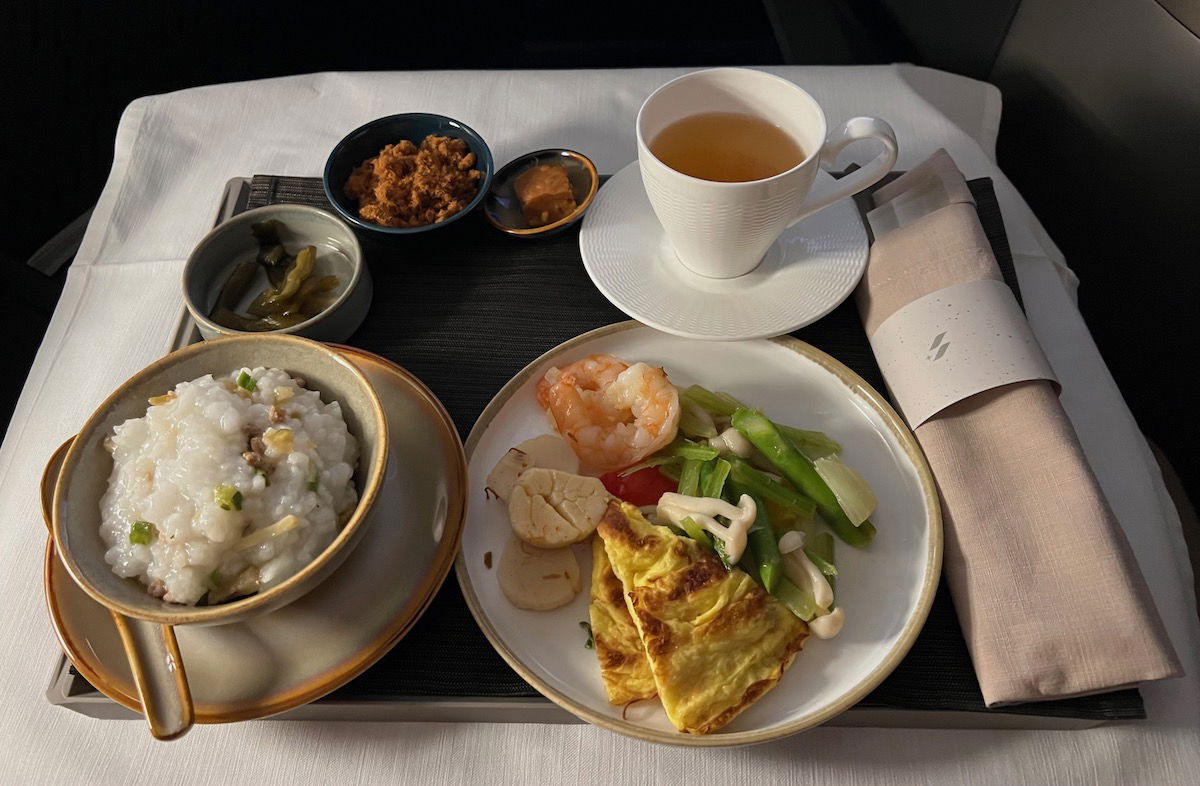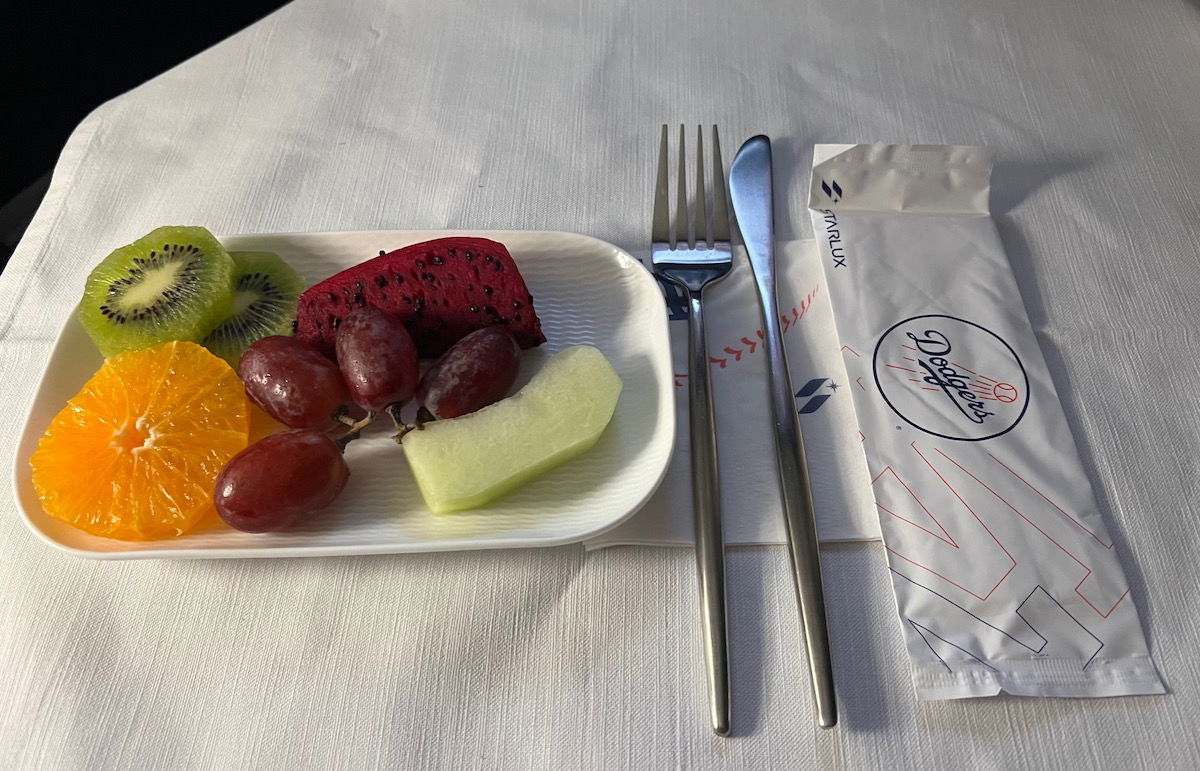 Meanwhile the Western option started with a yogurt, dried fruit, and nut dish, along with more of the juice that was served as a pre-departure drink.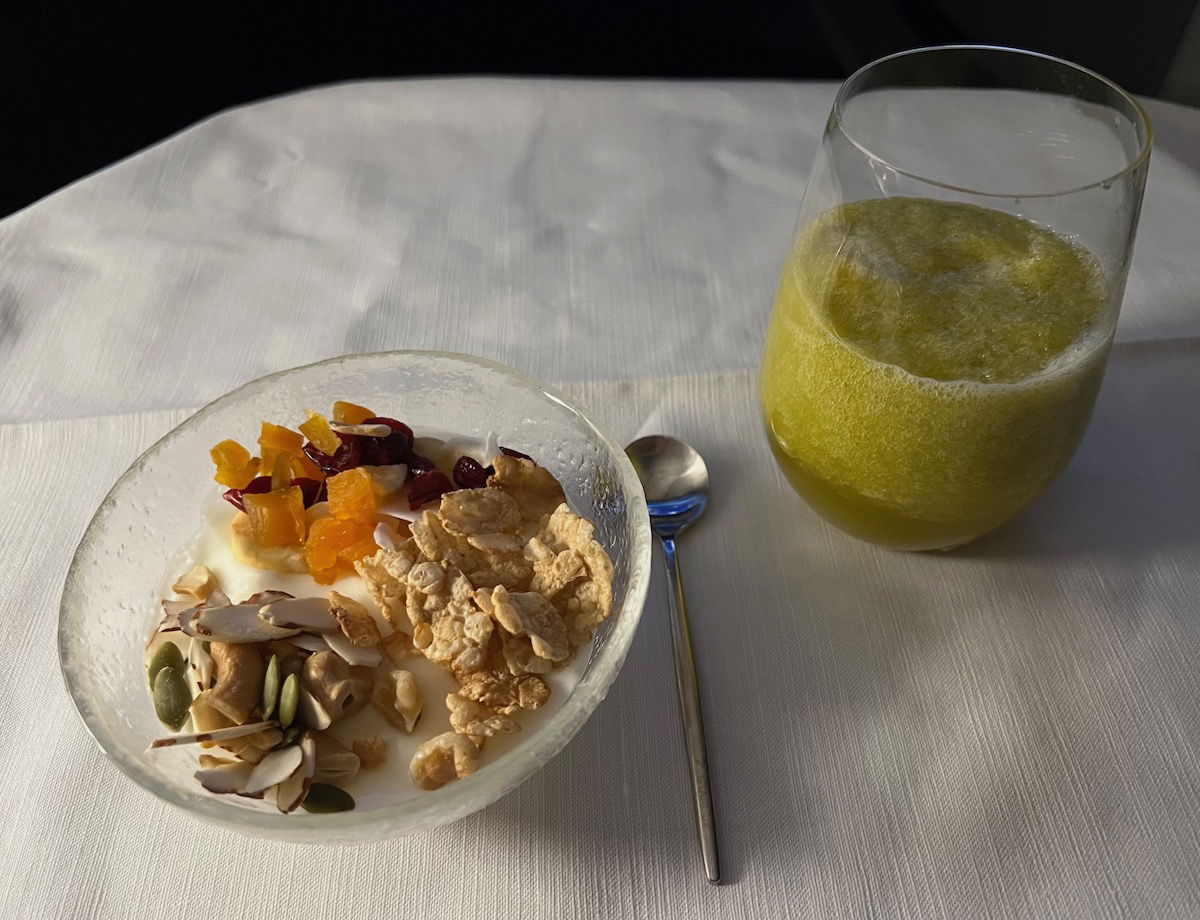 The order in which I was served the meal was a bit odd. After the yogurt, I was brought the vegan chickpea quiche with roasted vegetables, which was delicious.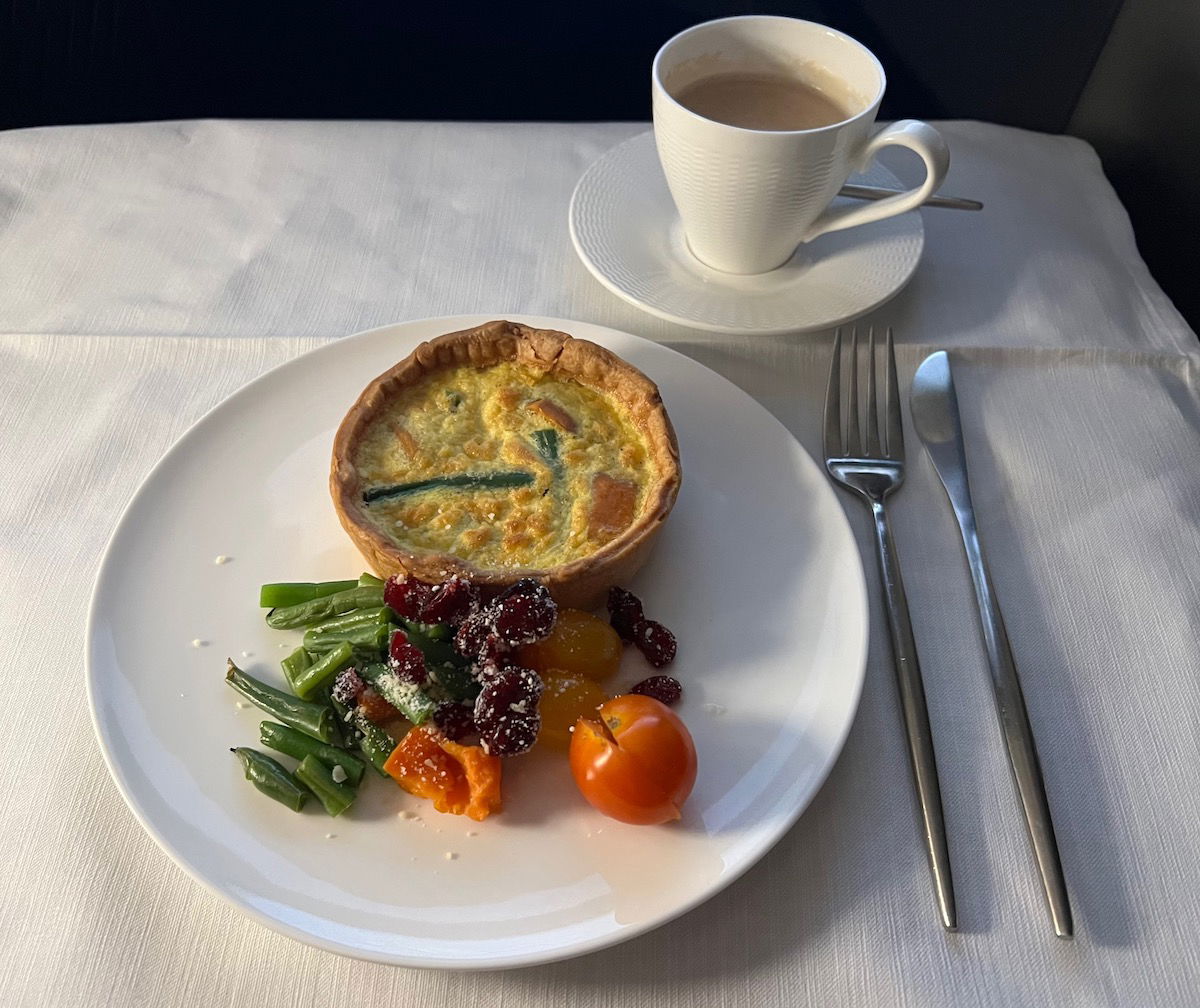 However, the side dishes, including the butter, olive oil, bread, and starter, were all served about 10 minutes later, when I was about halfway through my meal. The starter consisted of a smoked salmon salad.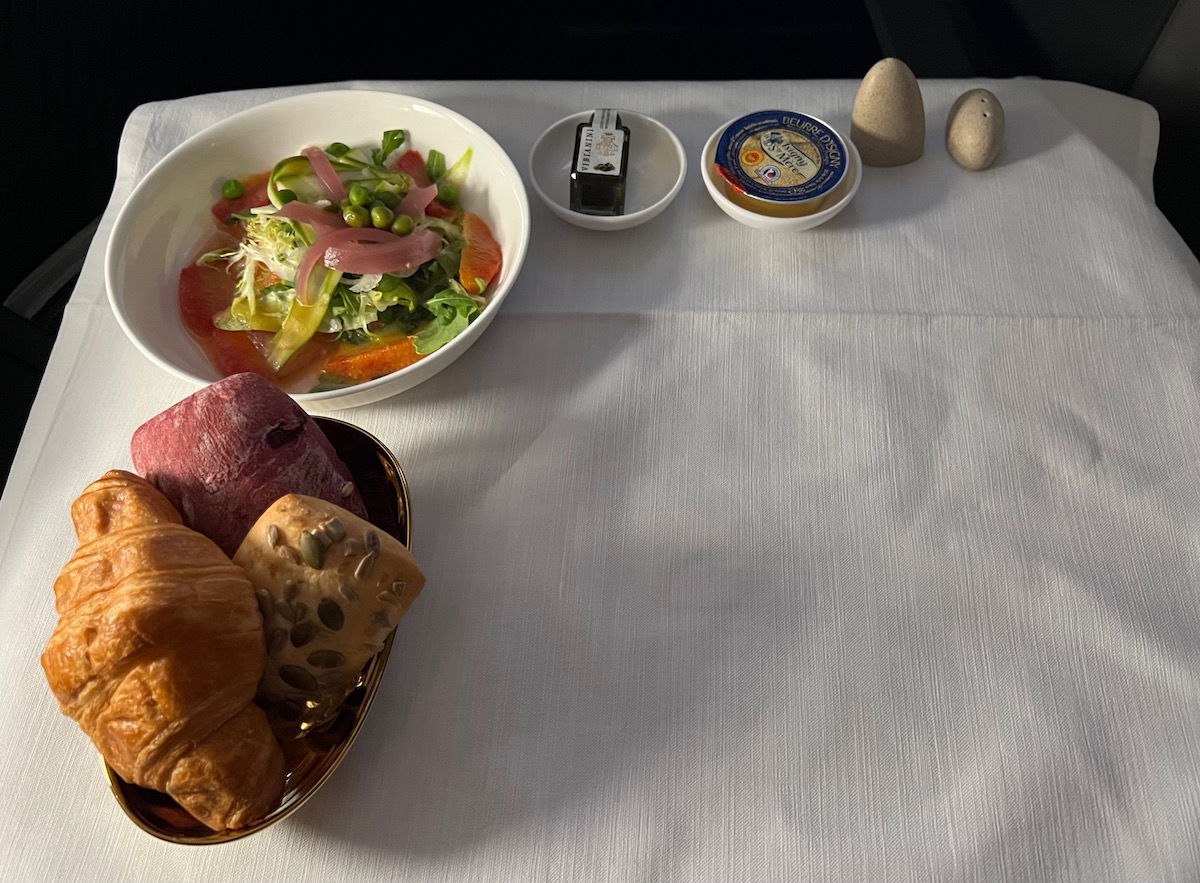 Starlux Airlines business class service
Service is unfortunately what disappointed me most about this Starlux experience. Let me start by saying that the crew was very friendly and well intentioned, so they seemed to be doing their best. They weren't rude in any way.
The thing is, Starlux bills itself as a "detail-oriented luxury airline." The airline is competing with EVA Air and China Airlines, both of which offer great experiences in business class as well. Furthermore, I flew with Starlux shortly after the airline launched, and had fantastic service, so I know what the airline is capable of.
I'm holding Starlux to what it claims its own standard is. And heck, on my connecting flight, I had exceptionally good service. However, I can't help but feel like this crew was just a bit sloppy. All of these points are minor individually, of course:
When I unwrapped all the amenities we were offered, there was quite a bit of plastic packaging at my seat; on Singapore Airlines that would have been proactively removed within minutes, while it sat next to my seat for over an hour on this flight, until I specifically asked them take it
On top airlines, the crew will typically replace your silverware between courses if you place them on the plate (especially if switching between different types of food), while on Starlux they took them off the plate and just placed them back on the tray
Between meals, the crew was much more reactive than proactive, and didn't frequently check on passengers; I'd sometimes have empty water bottles and cups sitting next to my seat for a couple of hours, despite the crew walking by multiple times
With breakfast, the starter was served about 10 minutes after the main course, as the service just wasn't very coordinated
I suspect the issue is that Starlux is growing at such a fast pace, and the airline just hasn't been able to recruit and train high quality crews as well as when the airline first launched.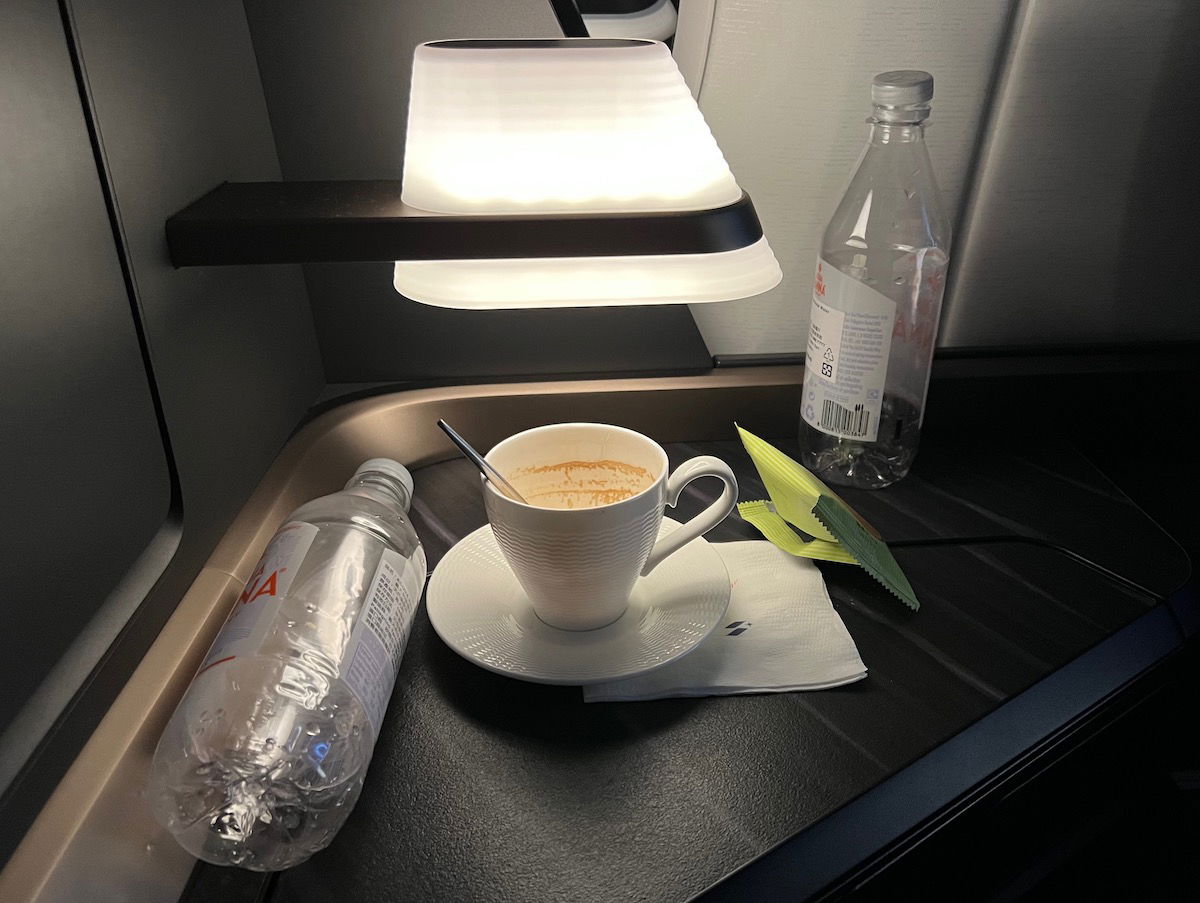 Starlux Airlines A350 arrival in Taipei
At 4:45AM local time, the captain announced that we should start our descent in around 20 minutes, and should land in around 50 minutes. As we started our descent, the crew began to prepare the cabin for landing. During this time, they came around with little packaged candies for each passenger.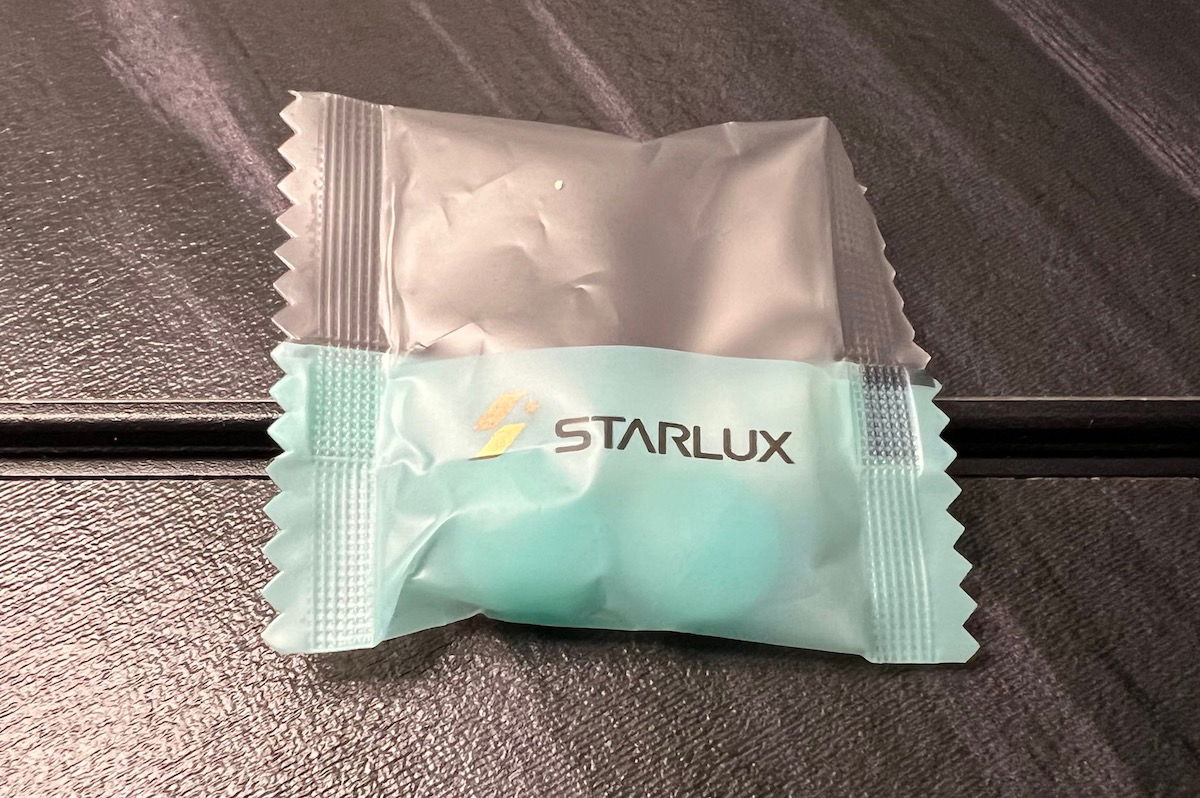 The sun was slowly starting to rise as we approached Taipei.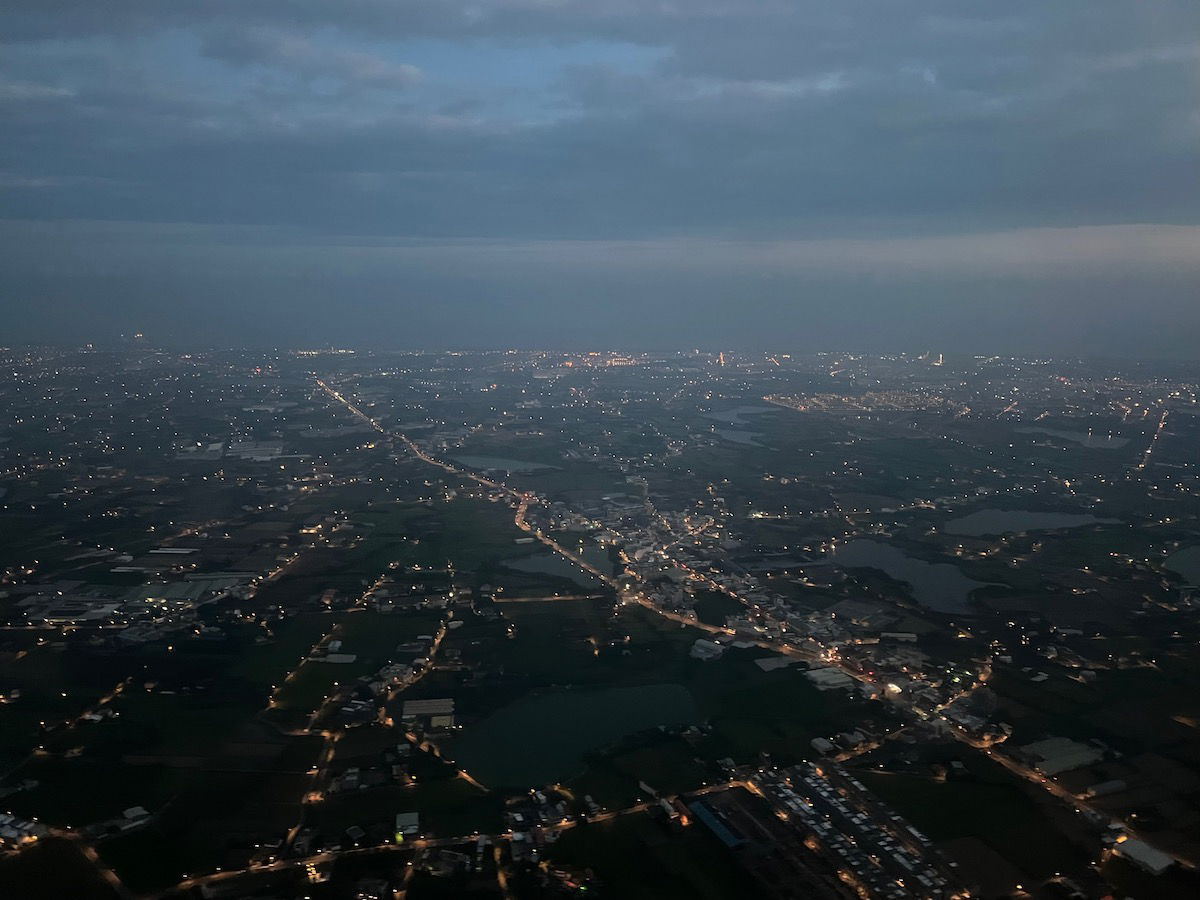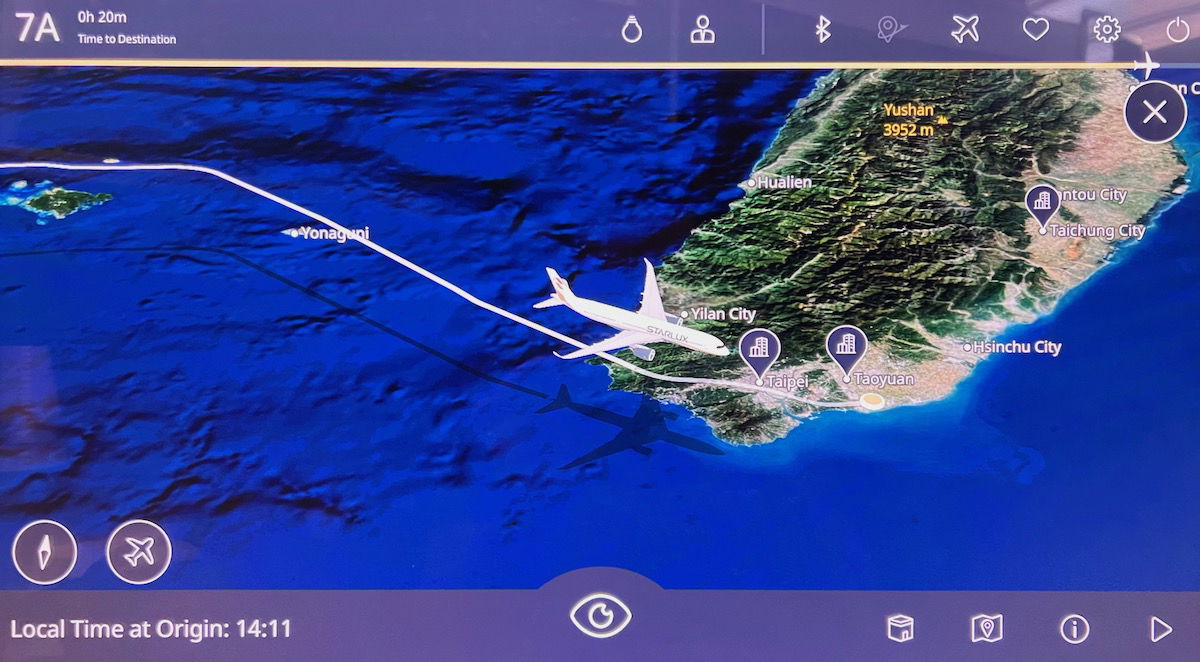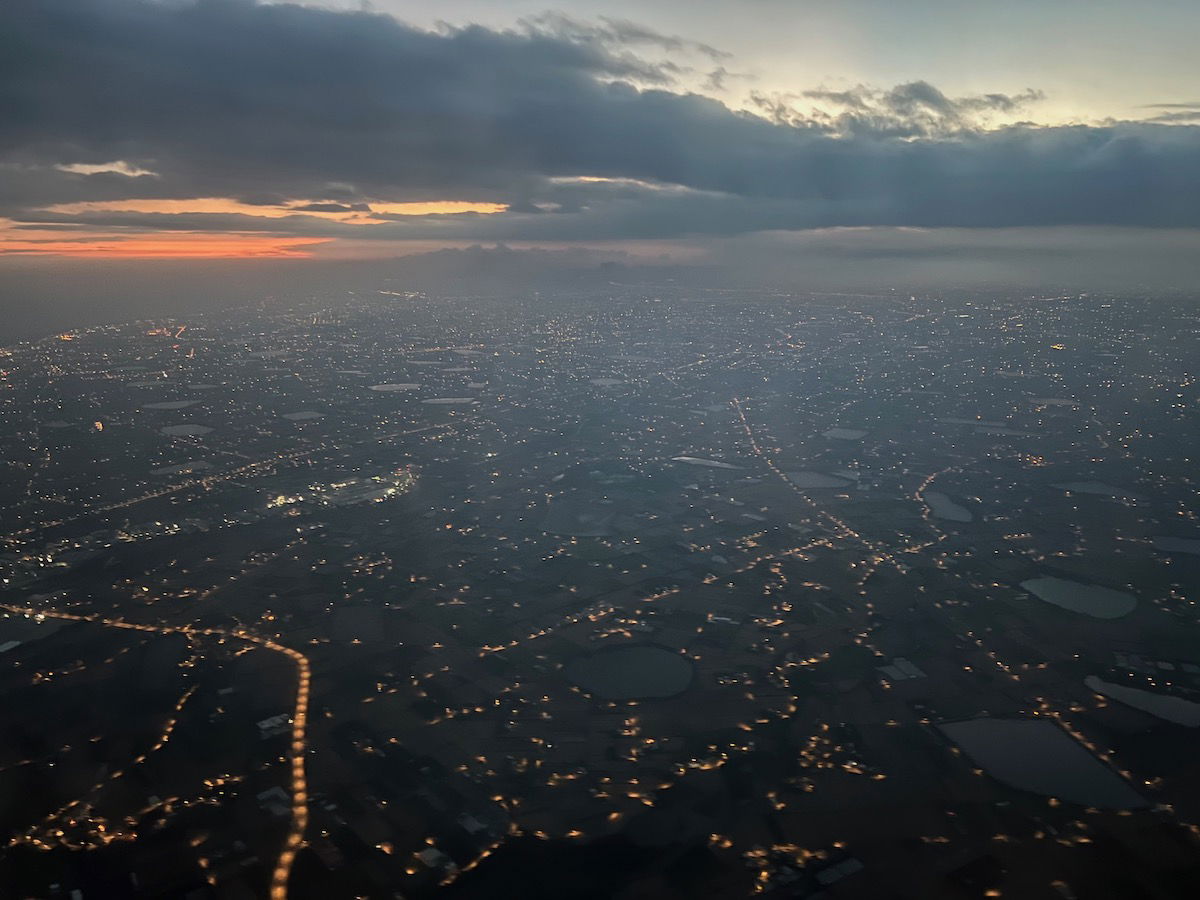 We had an absolutely perfect touchdown at 5:30AM, and from there had a 10 minute taxi to our arrival gate, where we pulled in at 5:40AM. Unfortunately I couldn't get many pictures on the ground, both due to the windows fogging, and due to the unfortunate window positioning in row seven.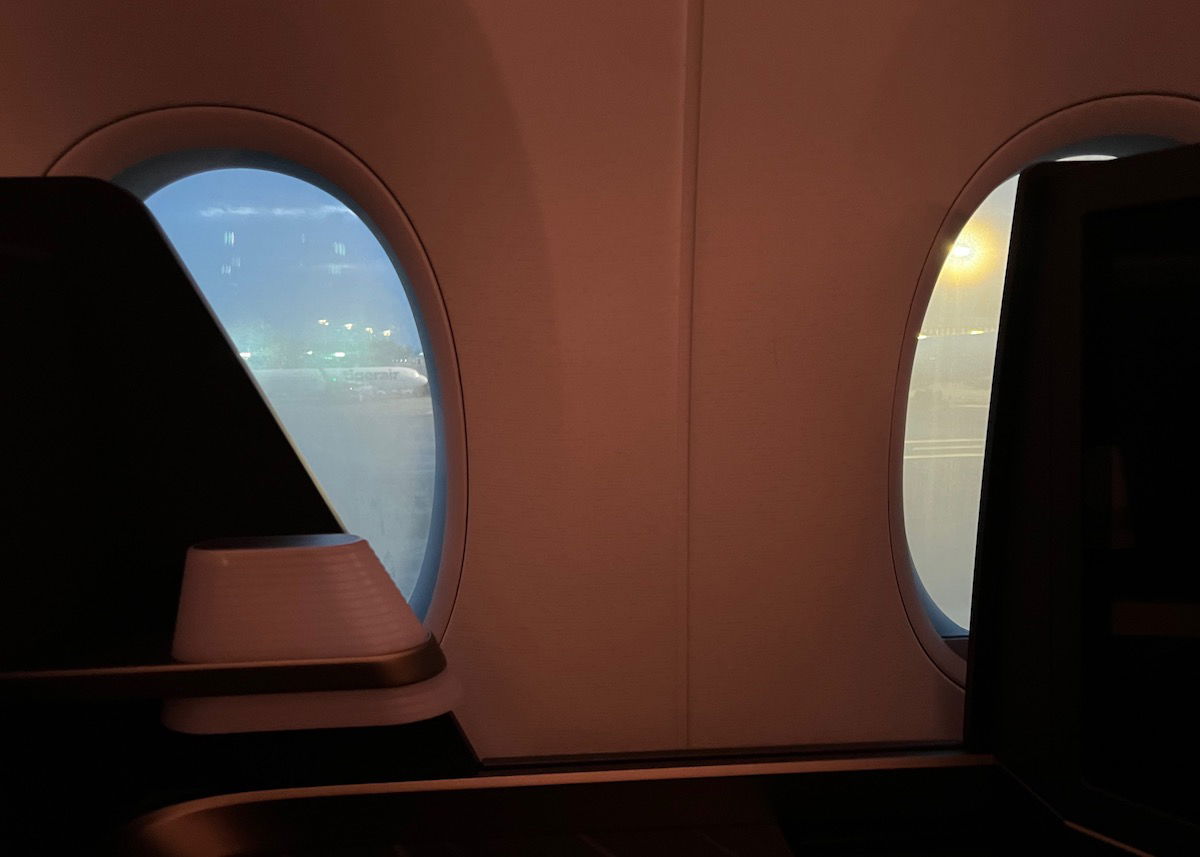 Upon deplaning we headed to the Starlux Airlines Lounge, prior to connecting to our Starlux A330-900neo business class flight to Osaka.
Bottom line
On balance, Starlux Airlines offers one of the world's best business class experiences. The airline is the launch customer for the world's best reverse herringbone seat, the cabin is incredibly elegant, the amenities are endless, the food and drinks are good, and there's free Wi-Fi.
But I've been a huge Starlux fanboy since the airline launched, and I can't help but think that this detail-oriented luxury airline lacked attention to detail with this experience. It's all in minor ways, but it adds up.
From not participating in TSA PreCheck, to not letting those on partner tickets select meals in advance, to selecting OnAir's slow Wi-Fi for inflight connectivity, to the very unfortunate lavatory positioning, to the inaccurate and incomplete menus, to the somewhat sloppy service, I think there are quite a few areas for improvement.
Honestly, on balance this was still a fantastic business class experience. It's just that I think the airline could really have an unrivaled product with some tweaks.
What do you make of Starlux Airlines' A350 business class?